Top 10 architecture office designs
Architects are designers by themselves they design spaces which makes prime important for them to design their own architecture office in there own unique philosophy and  style which reflects their language of working and their personal liking.This results in designing good workspace studio, which becomes an example for the clients that how the architects design or what is there ideology. Architect's office becomes first inspiration to the clients who visit their office. Here are top 10 architecture studio designs which would inspire one to work in that beautiful workspace.
If you've already created the architecture portfolio that you're proud of, don't hold yourself back and showcase your work on the modern and professional-looking website. It'll help you not only find new clients but also reflect the sense of style of your architecture studio.Fortunately, now you don't need to learn HTML code or hire developers who will cost you an arm and a leg. Just pick up a ready-made solution that somebody has created for you. Check the website builder: Weblium with free templates that are perfectly tailored to your future architecture portfolio website.
This is the story of the architects' own office.
When Aurangabad-based architects Gopal Tanwani and Shruti Tanwani realised that they had to shift from their existing work premises to a larger one owing to acute paucity of space felt by the growing interior design + architectural firm, they were clear that their new office would be owned and that it would be a standalone building.
Anagram Architects is an architectural design practice established by Vaibhav Dimri and Madhav Raman in New Delhi in 2001. The partners are graduate architects from the School of Planning and Architecture, New Delhi. The firm's practice is diverse and encompasses public infrastructure planning, urban design, architecture, sceneography, broadcast design, furniture design and interior design.
READ MORE>>>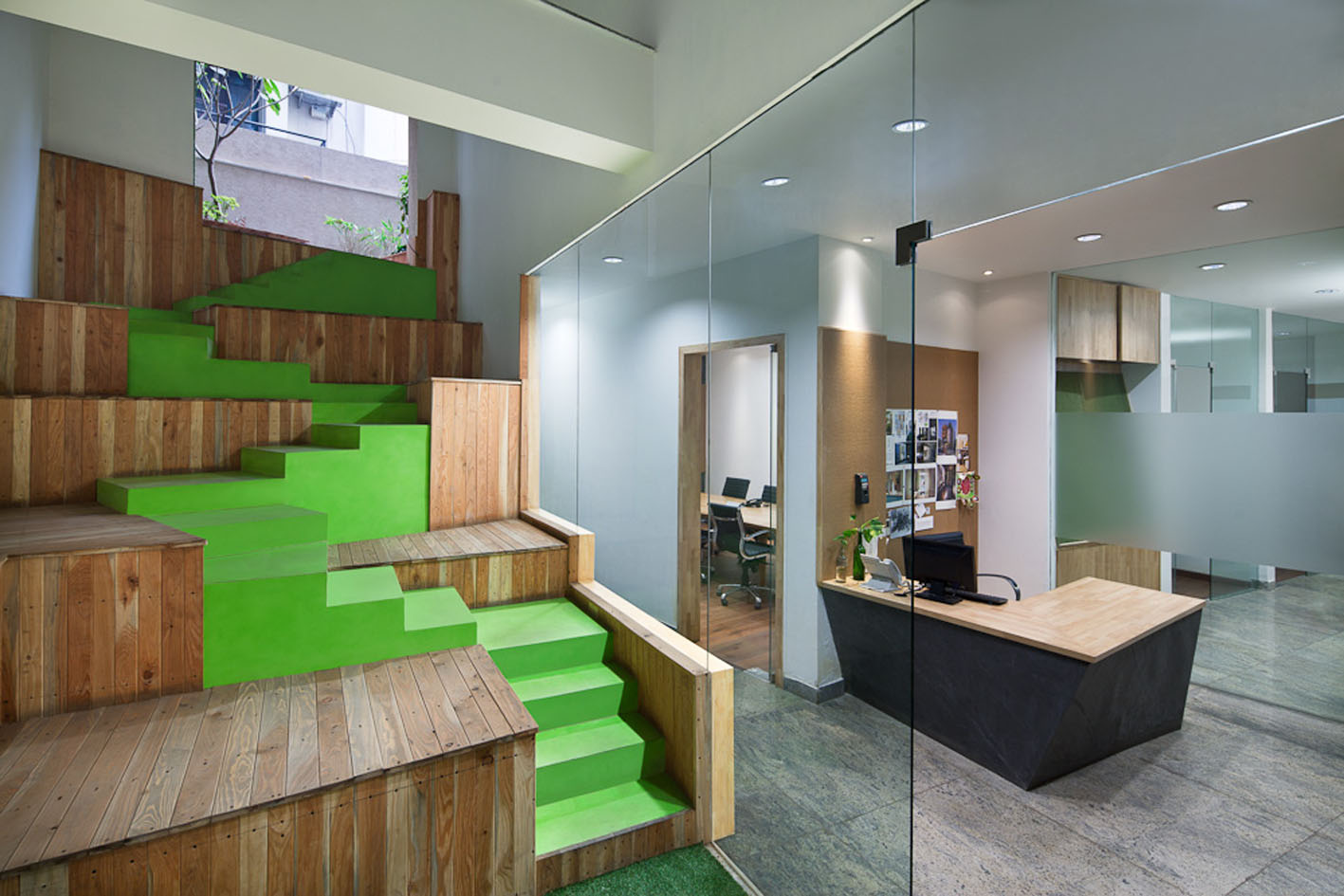 In the middle of developing area stands the office of developer itself; Architect Tejas mistry.
In the area of 265 square feet, the office contains 3 divisions that include- Designer's cabin, Studio, and a small pantry with washroom.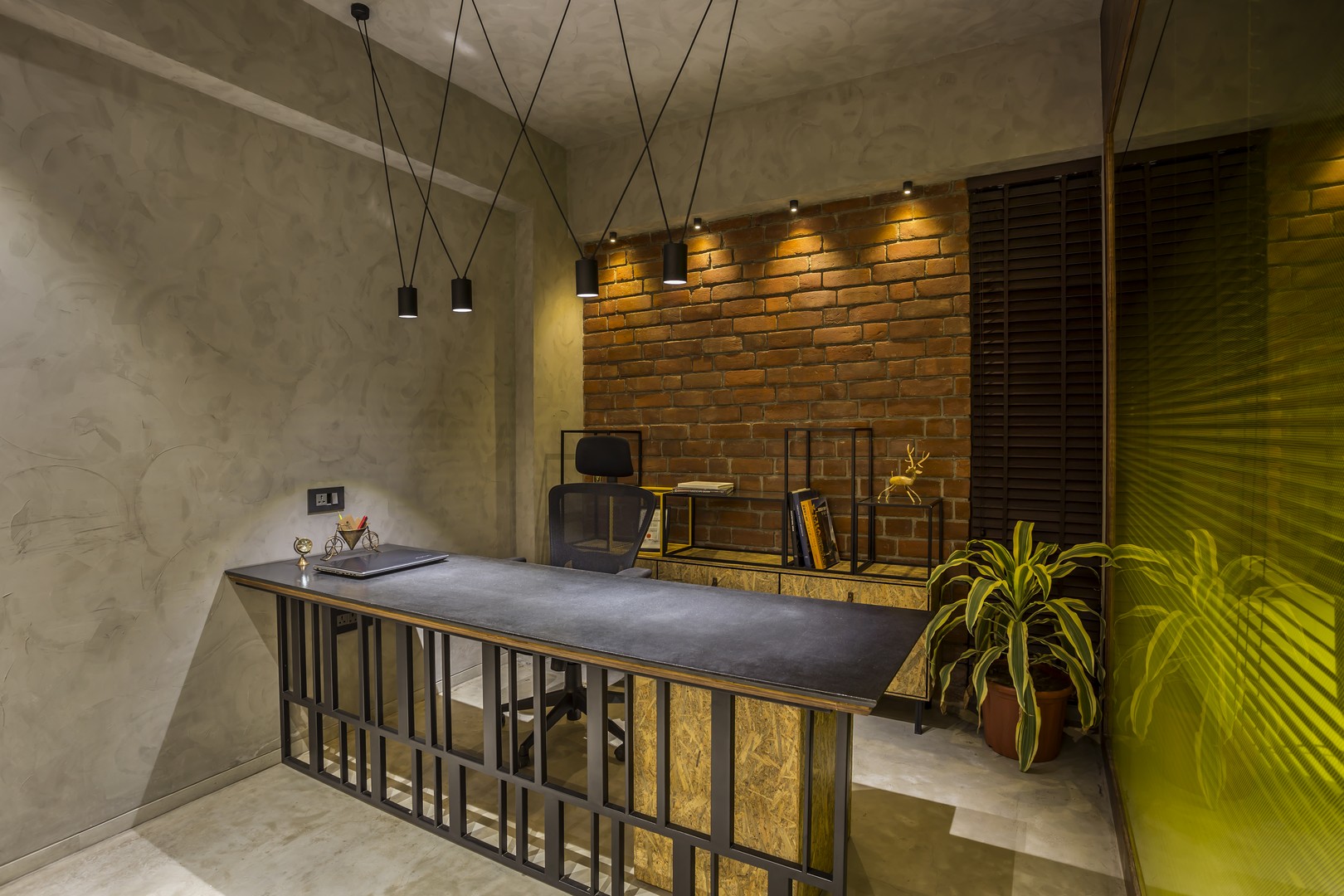 An Architect's office of 1500 sqft. (150 SQM.)in basement has been conceptualized as an open office, the office space on two levels, the lower to be used as workstation. The office design was conceptualized to be place which being leisure is also conductive for people to work in a creative environment, a workplace to enjoy.  The zoning of spaces is justified keeping the main cabin with attached conference at the rear to maintain privacy as well as visually connecting it to front office. As the front office space is narrow with regards to rear part, the front space is used as a gallery with walls in cement finish highlighting the project display.
5.BETWEEN SPACES ARCHITECTURE STUDIO, BANGALORE
Steel shutters fold open to bring plenty of fresh air into this studio for Bangalore architecture firm BetweenSpaces, which is situated above the home of one of its founders.
The building is located on a north-facing plot in a densely urbanised district of the Indian city. It accommodates the offices of BetweenSpaces on its two upper two levels, while co-founder Divya Ethirajan's home occupies the ground and first floors.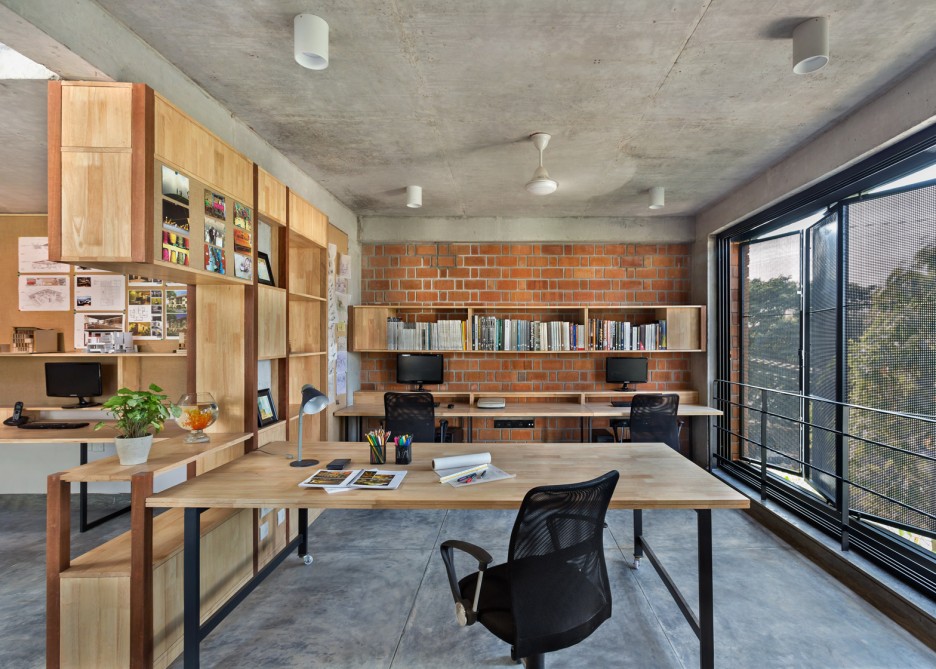 Going by the famous quote "A MAN IS KNOWN BY THE DESIGN HE KEEPS ", an Architect's own office is supposed to reflect his design philosophy and style. As simple as it may sound, to design one's own space is quite a task as compared to handling clientele of different sorts. It's actually a herculean task to fight with one's own apprehensions and zero down on an idea that truly justifies your philosophy and space as well.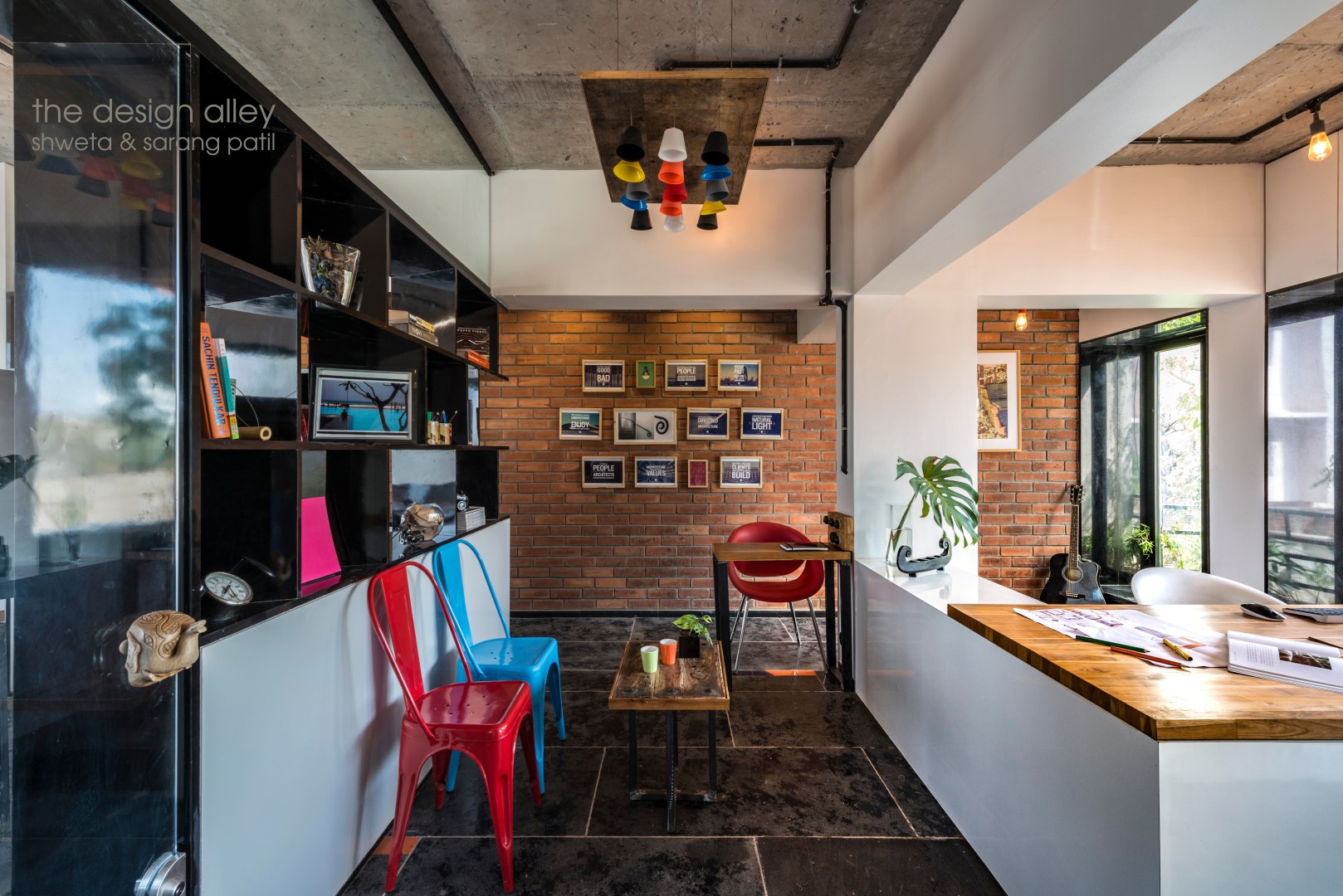 CREATIVE DESIGNER ARCHITECTS COMPLETED THEIR NEW OFFICES CALLED "THE SPATIAL STIMULI" LOCATED IN NEW DELHI, INDIA.
An architect's office is a space that is conceived as a springboard for architectural dialogue, creativity and design.
It should, hence unfold and interact in a way that its users feel connected with each other and the spatial setting around. A 2400 Sq. feet open, purely rectangular floor plan had immense potential to explore this aspect. There doesn't exist a perfect definition of what causes 'creativity'.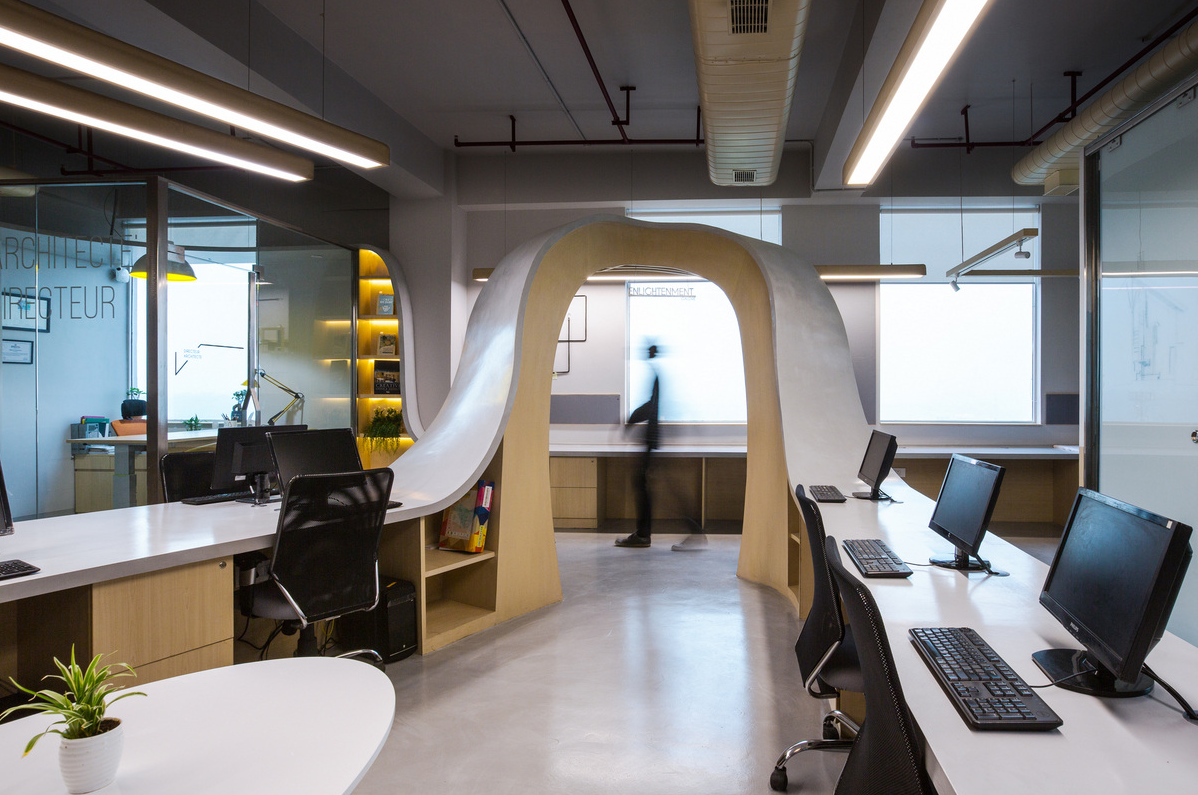 photography Studio interior design | Intrinsic Designs A Personal Space! Photography as a profession is very idiomatic, so the space occupied by a photographer needs to be a reflection of one's self to be in sync. This is where a studio space differs from an office. Our clients are a famous wedding photographer duo from Ahmedabad in their early 20's, with varied nature and taste as compared to one another.
READ MORE>>>