The Design alley-Studio | Ar. Shweta & Sarang Patil
Going by the famous quote "A MAN IS KNOWN BY THE DESIGN HE KEEPS ", an Architect's own office is supposed to reflect his design philosophy and style. As simple as it may sound, to design one's own space is quite a task as compared to handling clientele of different sorts. It's actually a herculean task to fight with one's own apprehensions and zero down on an idea that truly justifies your philosophy and space as well.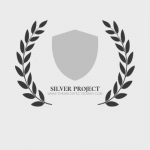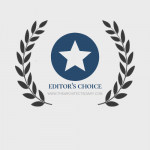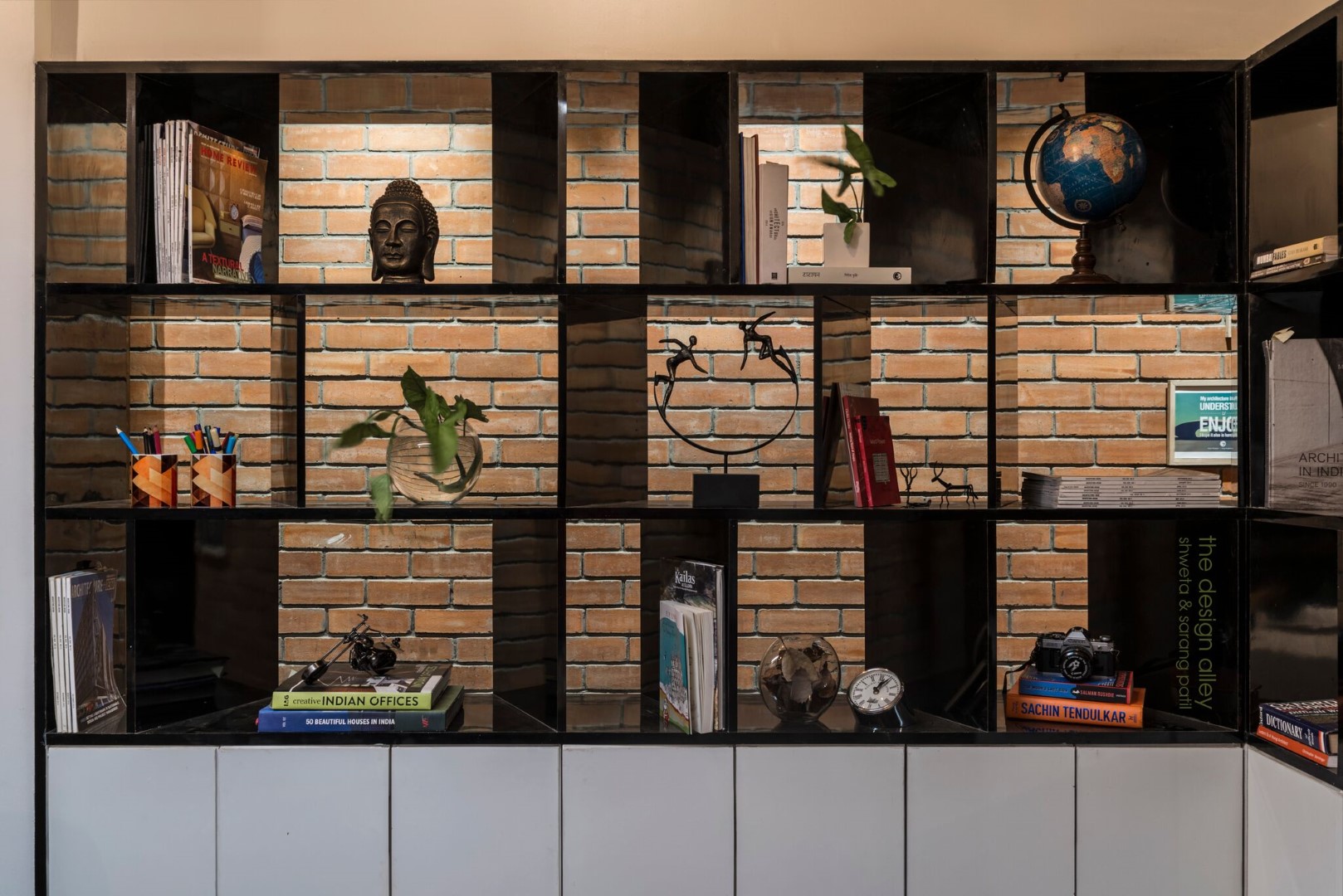 Talking about 'SPACE', the design alley studio has it's indoor and outdoor spaces juxtaposed in such a way that both the spaces merge into one another rendering a feel of "OPEN OFFICE CONCEPT", where the landscape becomes an integral part of the workspace.
So while converting a 2BHK apartment block to an office space, all the external and internal walls were knocked down to create a flowy space that would just effortlessly merge into the exterior and yet limit to its spatial definitions.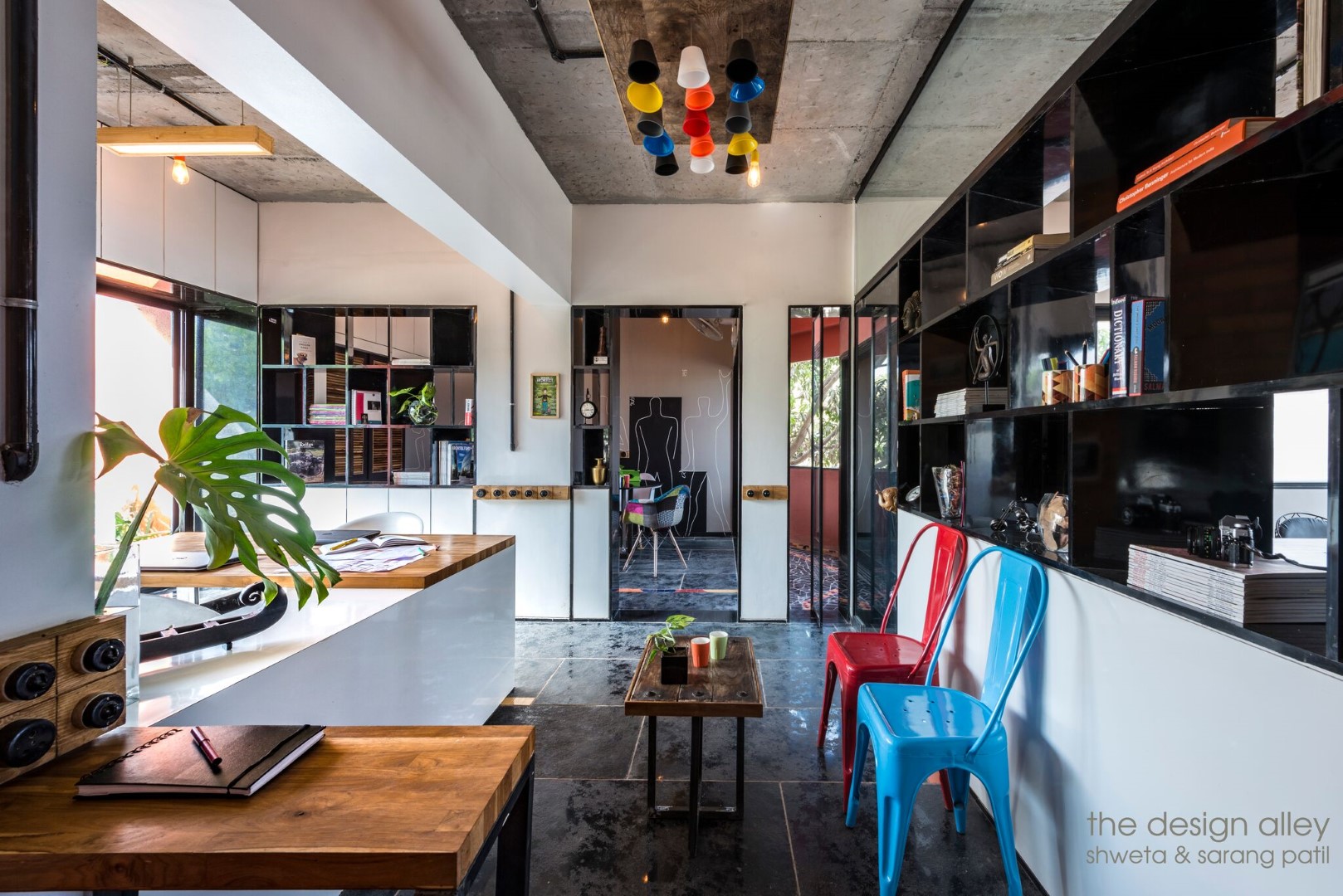 An exposed brick wall leads into the studio, the entrance passage or alley as the name goes,   transpires into a small waiting area with the staff area and director's cabin on its either sides and a conference room overlooking a small terrace, having a small pantry and toilet on its other side.
All these spaces being defined by partitions designed such that they don't obstruct the vision. As a result, greenery is what one sees in whichever direction one looks.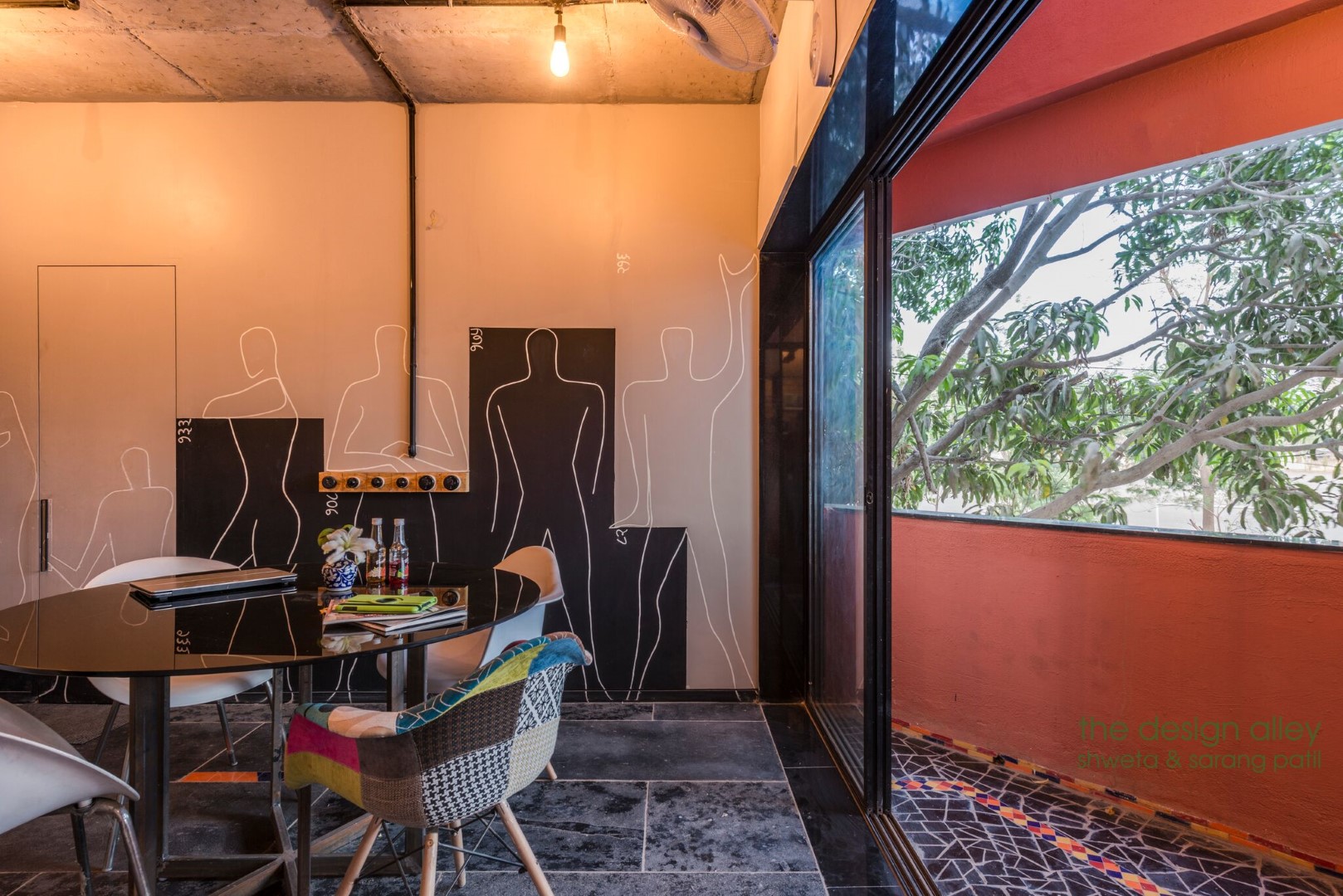 The office is placed on the first floor of a triangular building and faces mainly two sides, the North West and the south-east. Considering the hot and dry climate of Aurangabad, the western side is recessed with a densely planted court to cut down the harsh heat and opened up with huge openings to take the cool breeze inside. Hence doing justice with the studio's philosophy of 'going and preserving green' and being environmentally friendly.
Another philosophy the studio believes in is preserving our rich cultural heritage by blending it with contemporary architectural concepts. This can be seen in the choice of materials and detailing. The exposed brick wall, the exposed concrete ceiling, the rough kadappa flooring brings in the old world charm and it is further fortified by use of old-style switchboards, exposed electrical piping, wooden finishes and so on.
All of these effortlessly merge with modern furniture and glass facades, etc. The exposed brick wall highlighted with spotlights and a number of frames displayed on it add charm to the interior.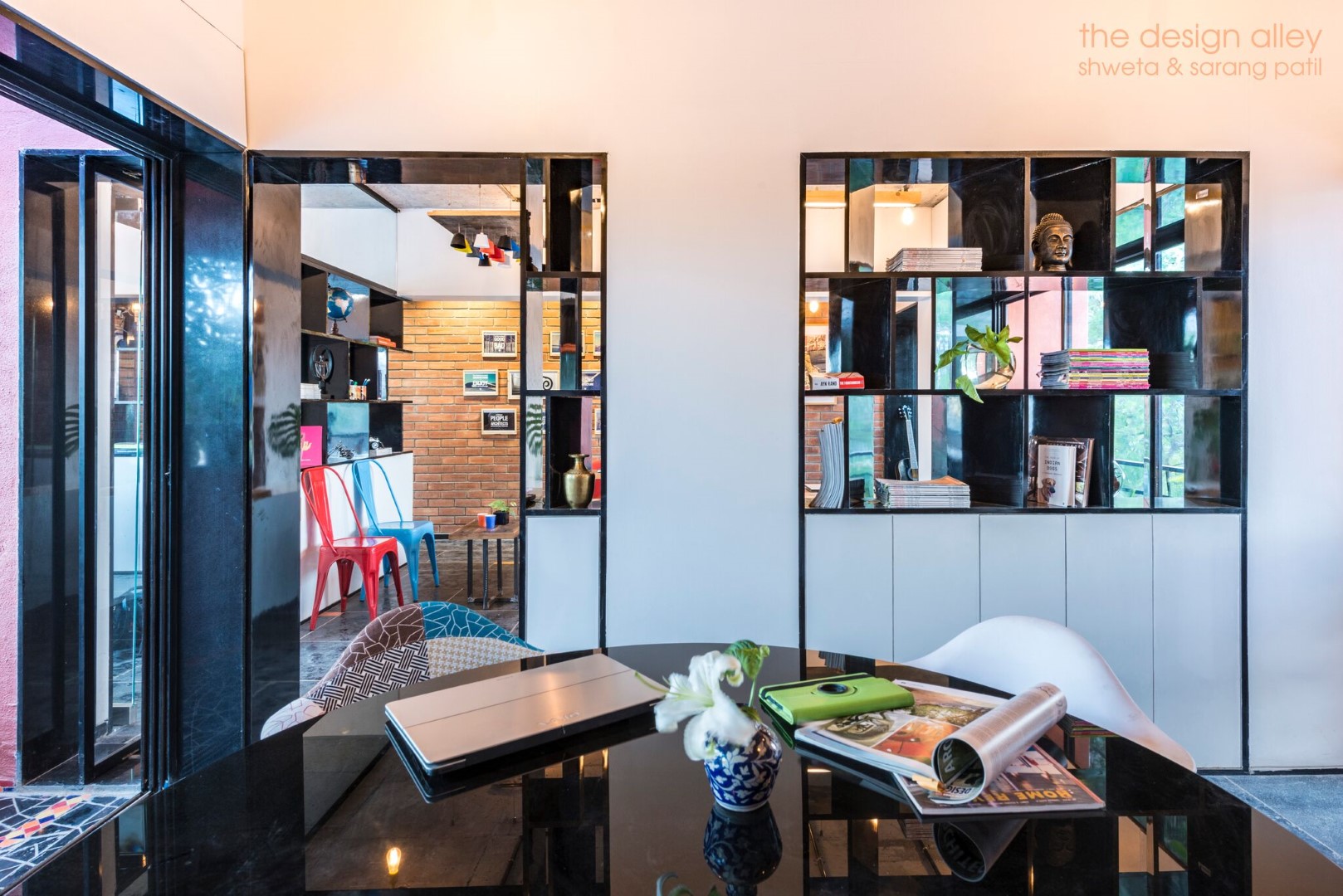 The colour scheme is basically black, white and wooden with hints of vibrant colours here and there so that space becomes soothing but not boring and monotonous at the same time. The colours, the furniture, the décor, the greenscape surely create a positive and energetic vibe. And as Tyler Perry quotes,
"CREATE A POSITIVE SPACE AROUND YOU, EVEN IF IT'S IN YOUR MIND.YOU MUST HAVE AN ENVIRONMENT OF GOOD ENERGY IN ORDER TO GIVE THAT".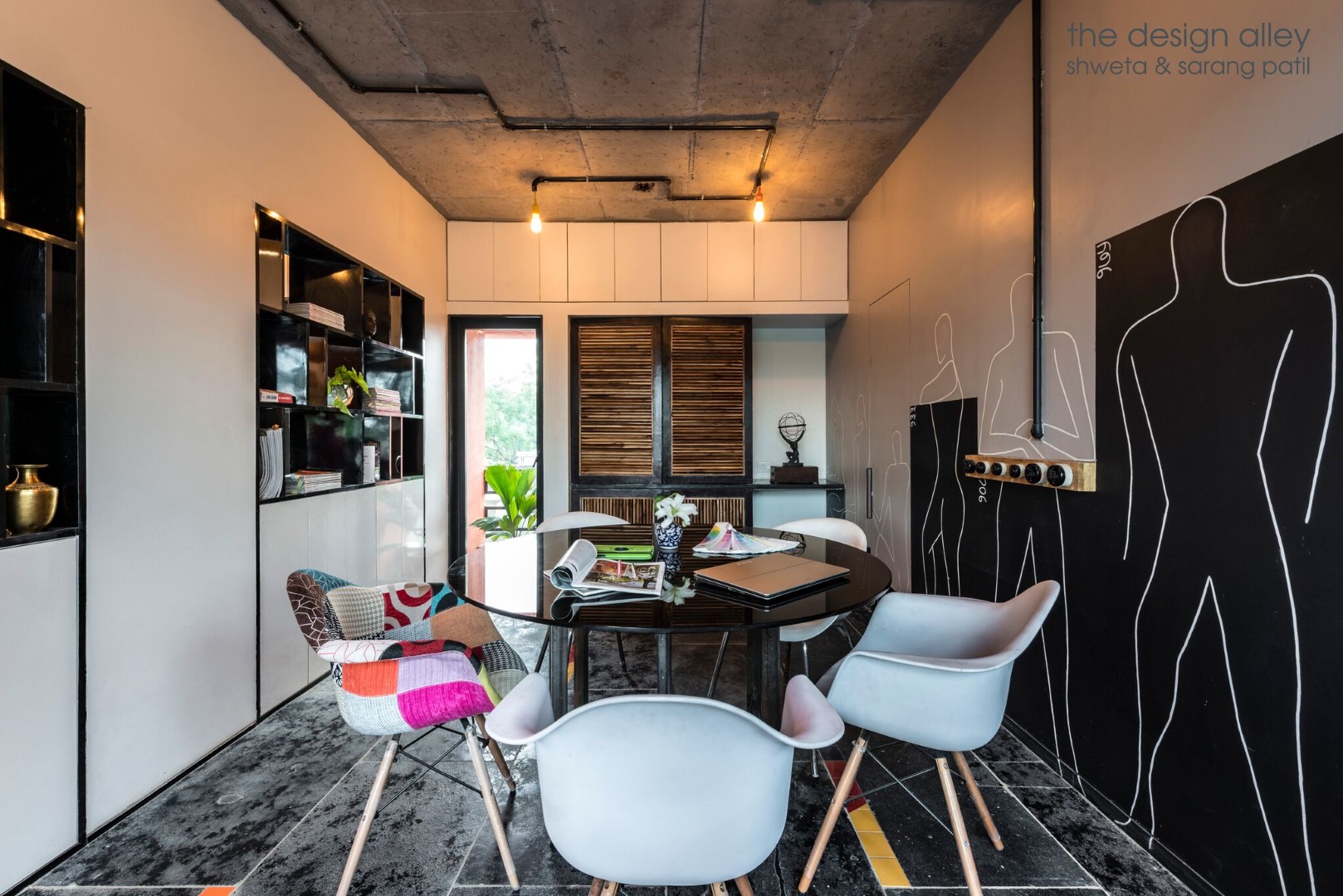 The Design Alley studio believes in taking this philosophy forward through its works.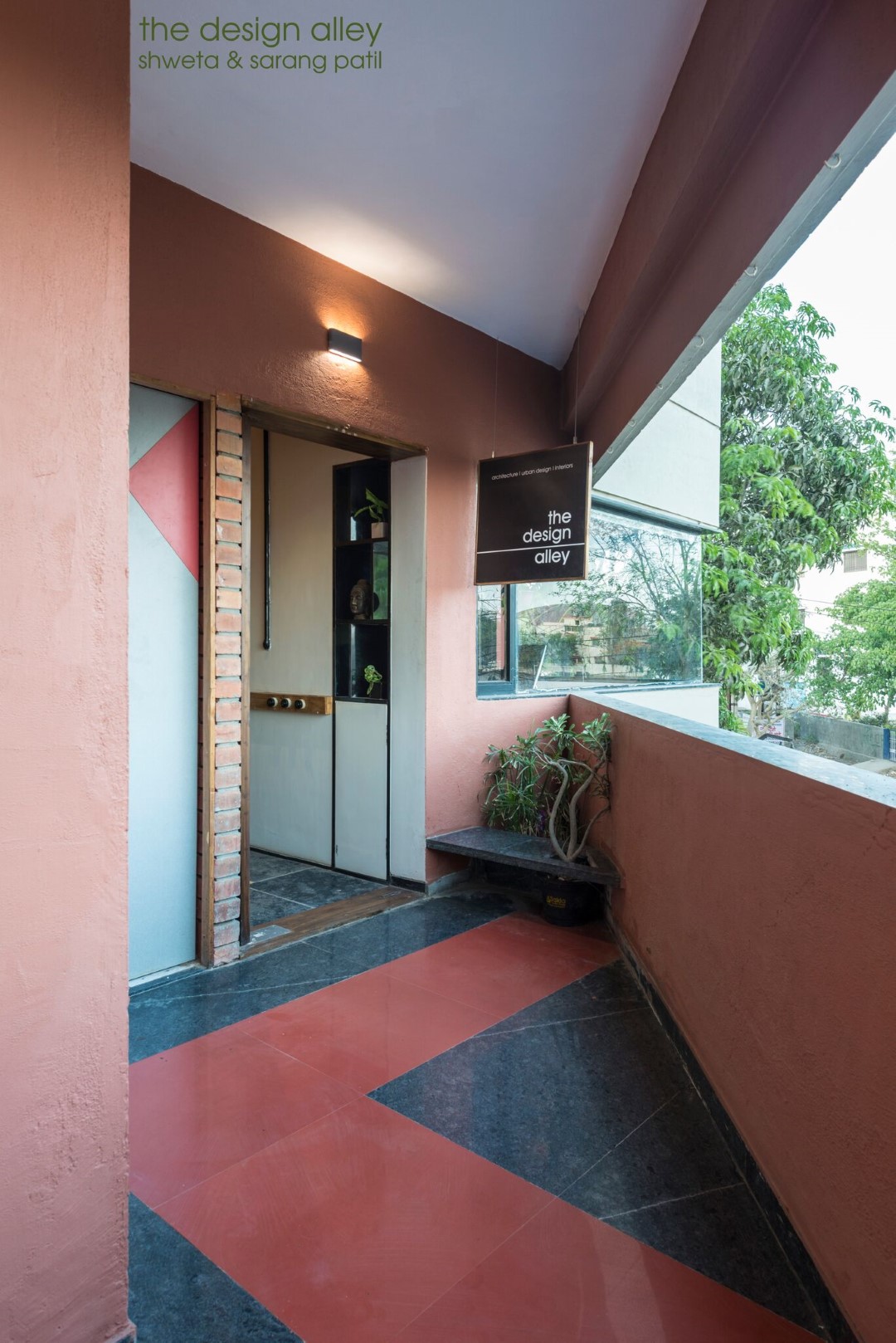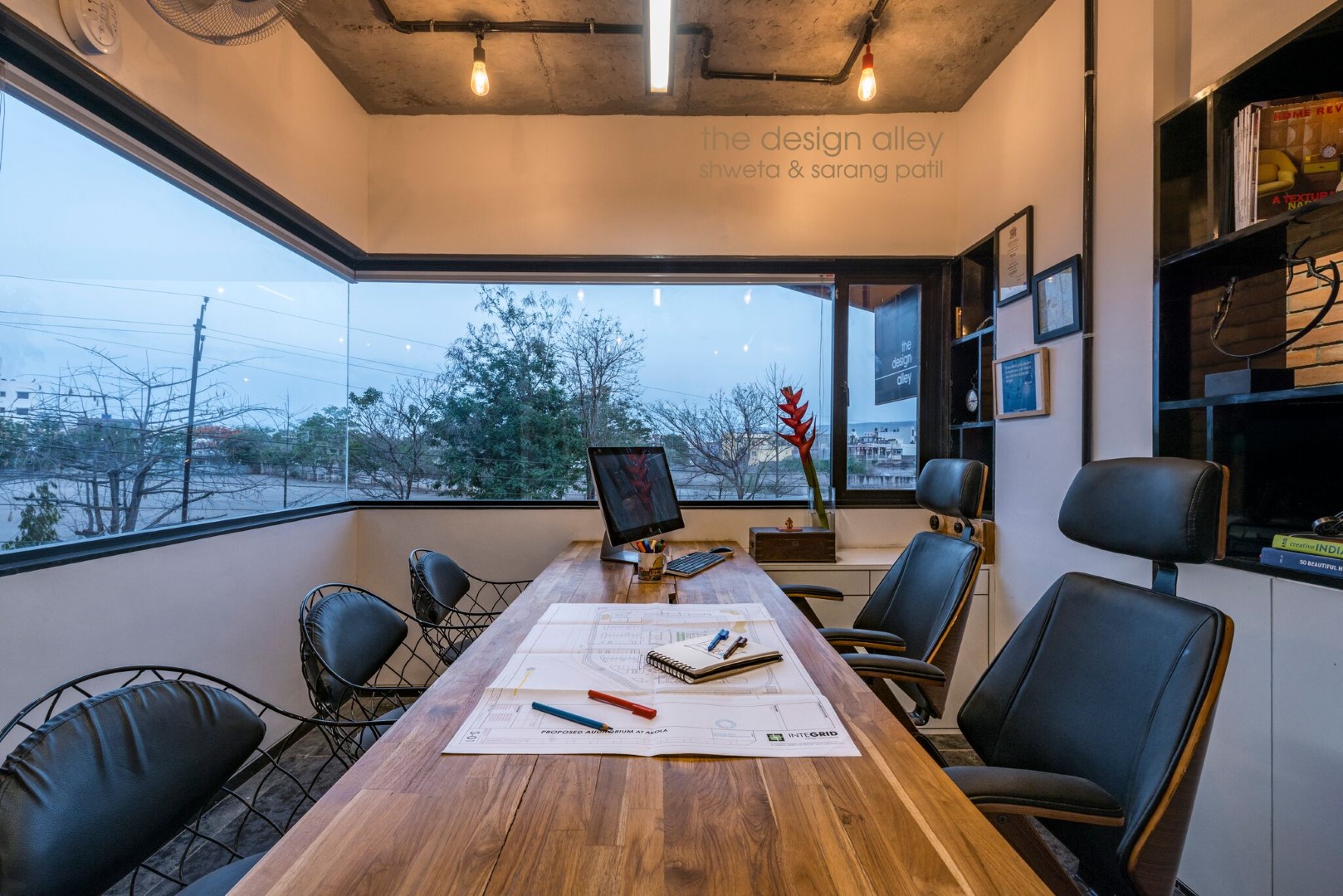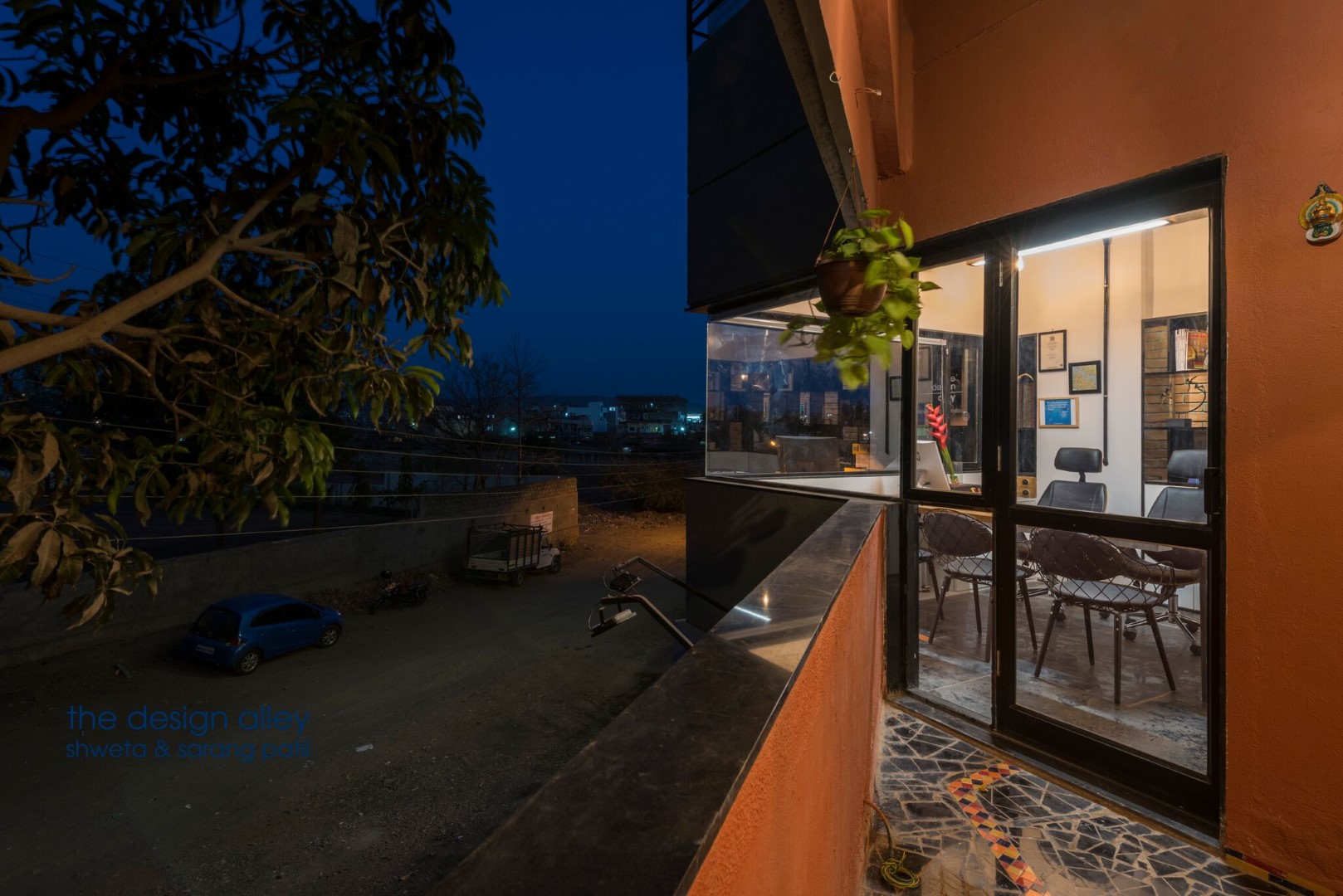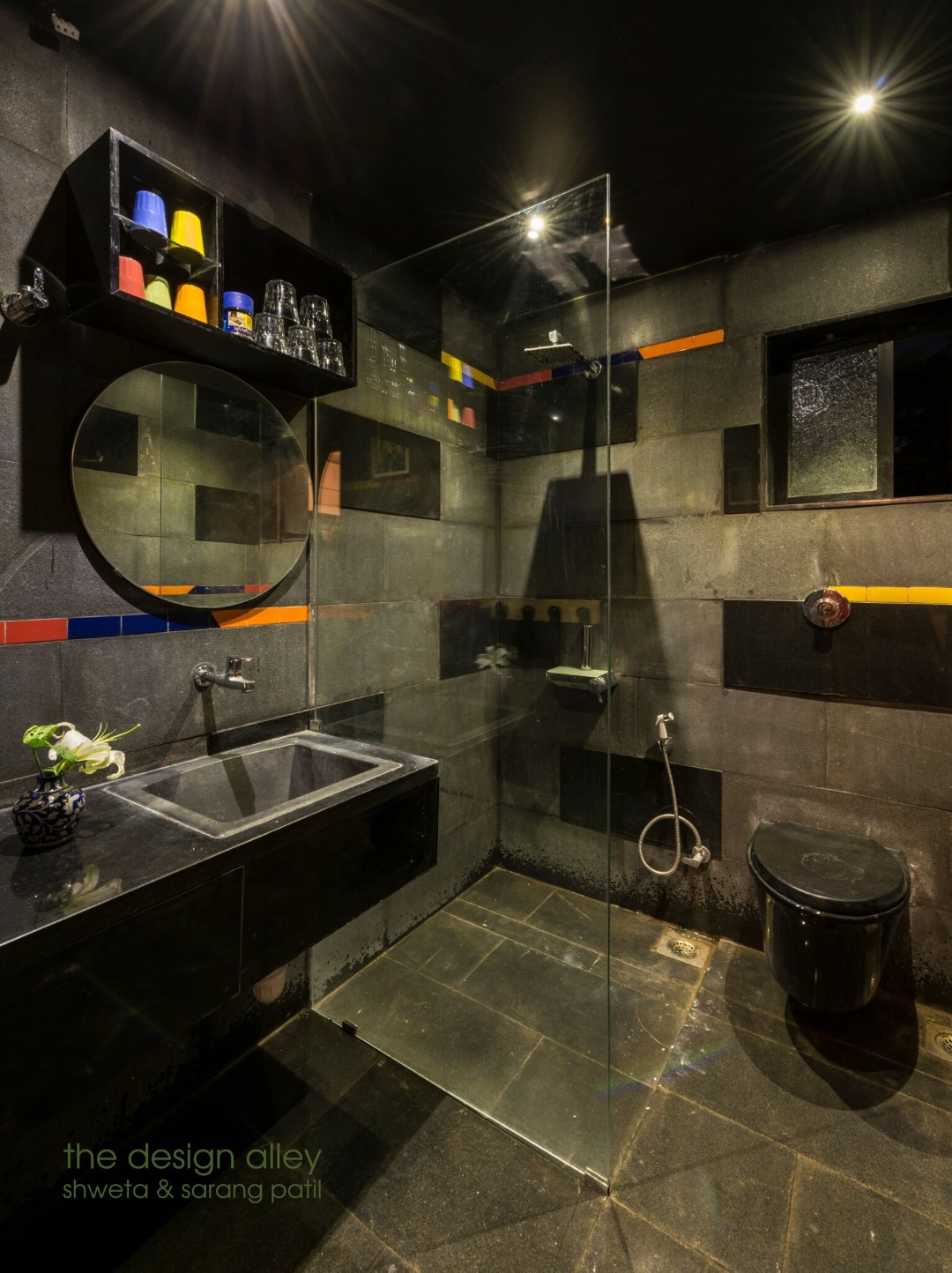 PROJECT-'The Design alley' Studio
Owners – Ar. Shweta & Sarang Patil
Location-101, Ojisha, Beside Podar School, Garkheda, Aurangabad.
Carpet area – 750 SQ.FT.
Completion– JAN 2017
Principal Architects – Shweta & Sarang Patil
Design Team – Rashmi Thakur, Sohel Khan
Photographs – Ira Gosalia, Photographix