Architects Studio | The Interior WORKSHOP
Simple & Subtle
In the middle of developing area stands the office of developer itself; Architect Tejas mistry.
In the area of 265 square feet, the office contains 3 divisions that include- Designer's cabin, Studio, and a small pantry with washroom.
Almost the first thing that strikes a visitor is the main gate. The main gate is Torggler door with a folding mechanism with black colour powder coating finish. The door inside has glass panels with white colour rough finish frame which gives vintage look to it. The entire vocabulary of office is embedded with the contemporary use of raw material.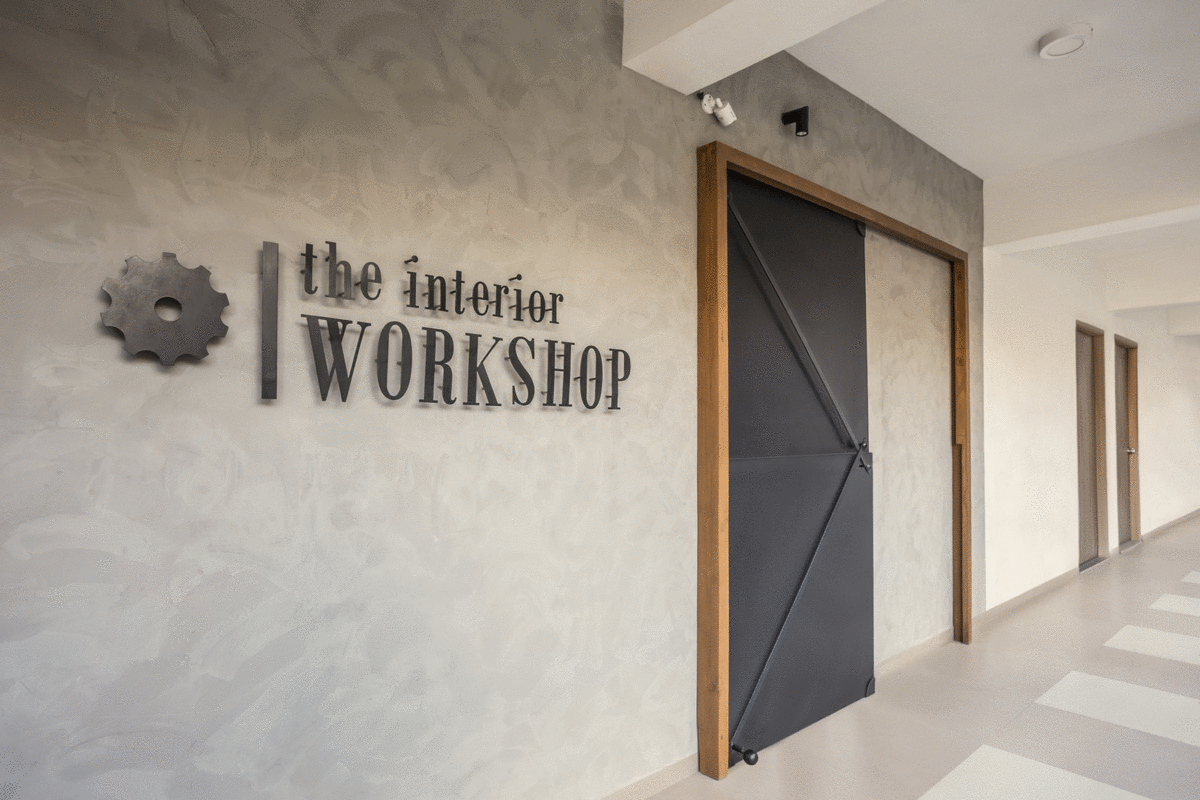 The staff working area has an ambience that encourages the staff to work. Tejas looked for raw and rustic material like the exposed brick wall, IPS flooring, MS, the grey putty texture on wall and ceiling. The staff working area and designer's cabin are divided by glass partition which connects the two spaces with each other. The lights are placed in a way that highlights each area of the office. The materials used are light and easy to the eyes. Greenery at window gives a cool and soothing environment.
The fancy door handles designer's cabin changes the complete look of a plain glass door. The exposed brick wall behind the designer's desk gives a chilling look to the room, which as well as highlighted by lights. The warmth of brick juxtaposed with the grey IPS flooring and texture ceiling creating unusual contrast in the office. The metal bars are cubically joined and is used as a book rack. The egger laminated used is contrasting to the walls.
The office focuses on optimising sustainable material and products. The material palette is simple and unfussy one. The designer table stands on metal frames randomly placed under single piece tile of grey matte finish.
One of the attracting areas of the office is the waiting area of the office. The small space shows the photographs clicked by Tejas himself. The bright colours in pictures displayed at back grab attention of visitors.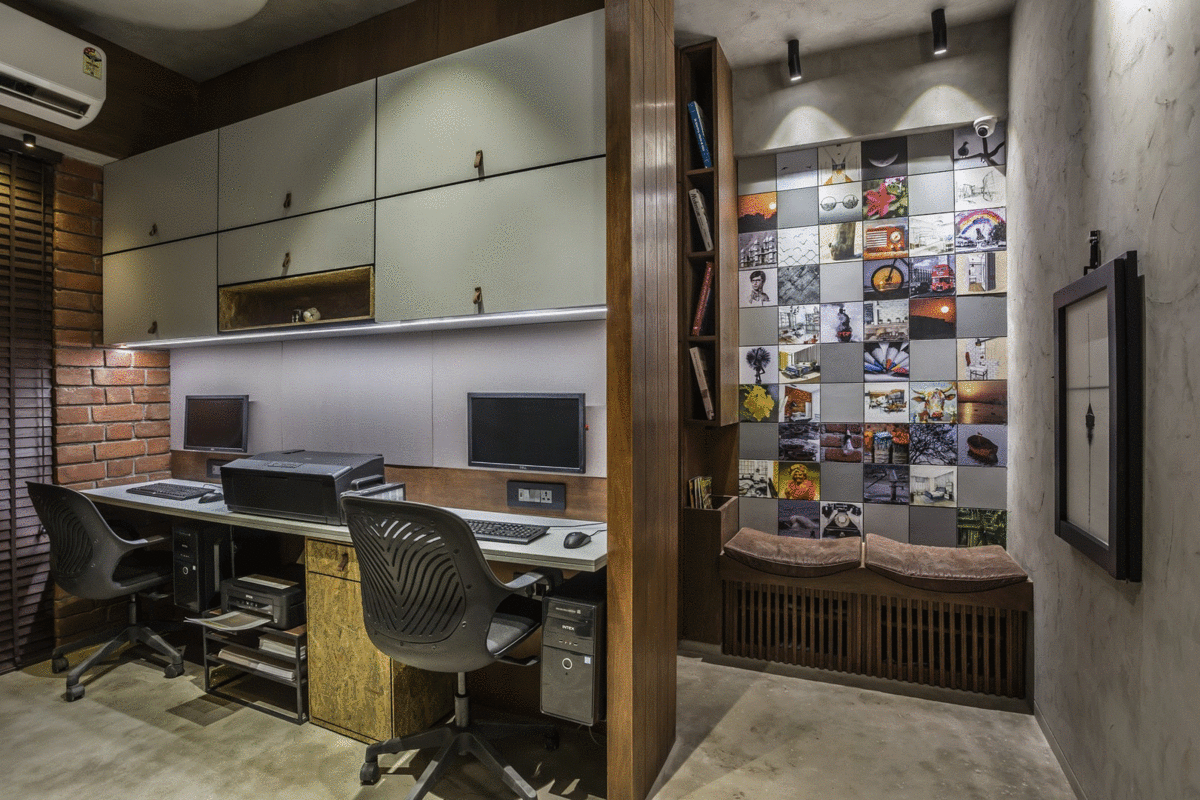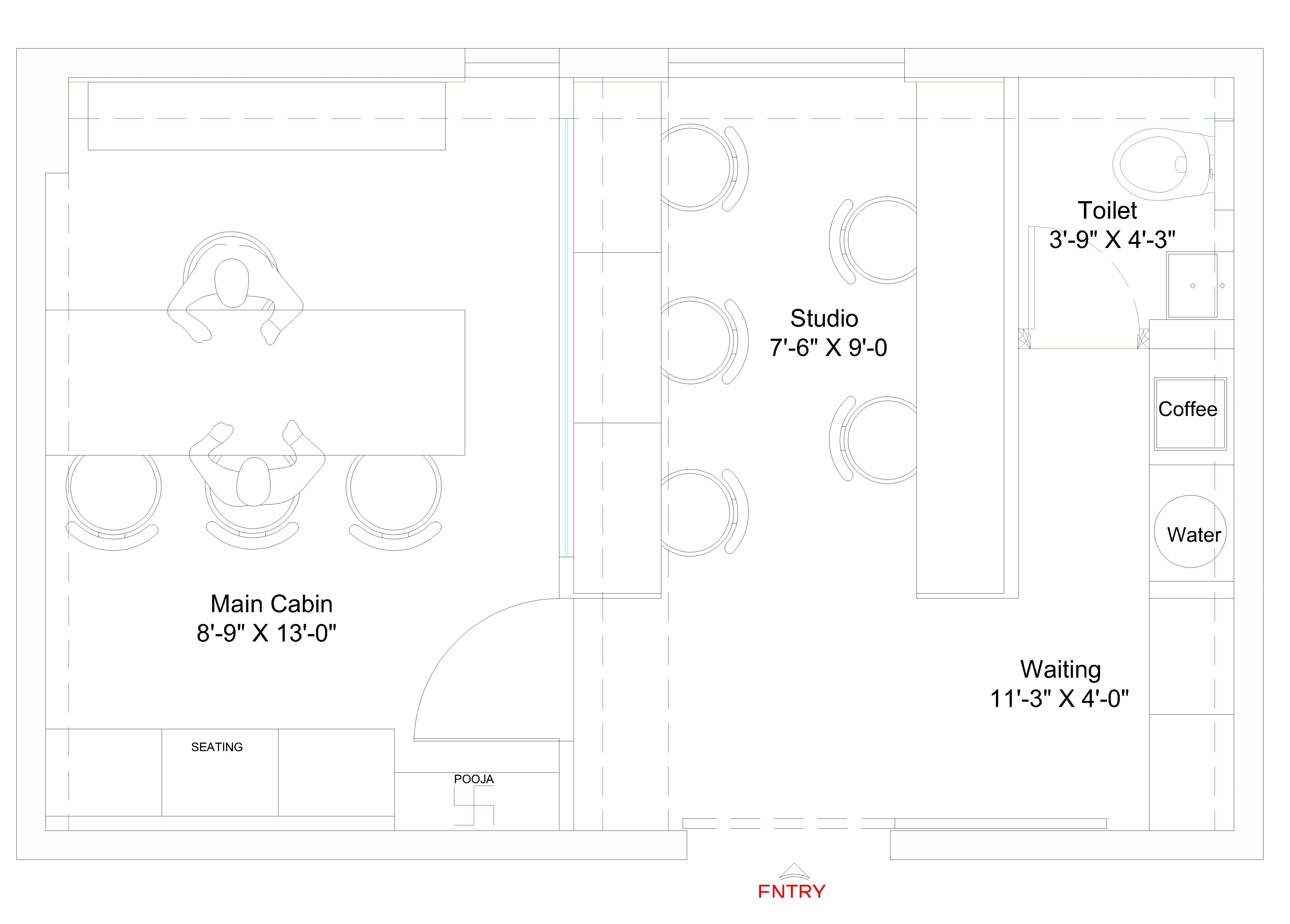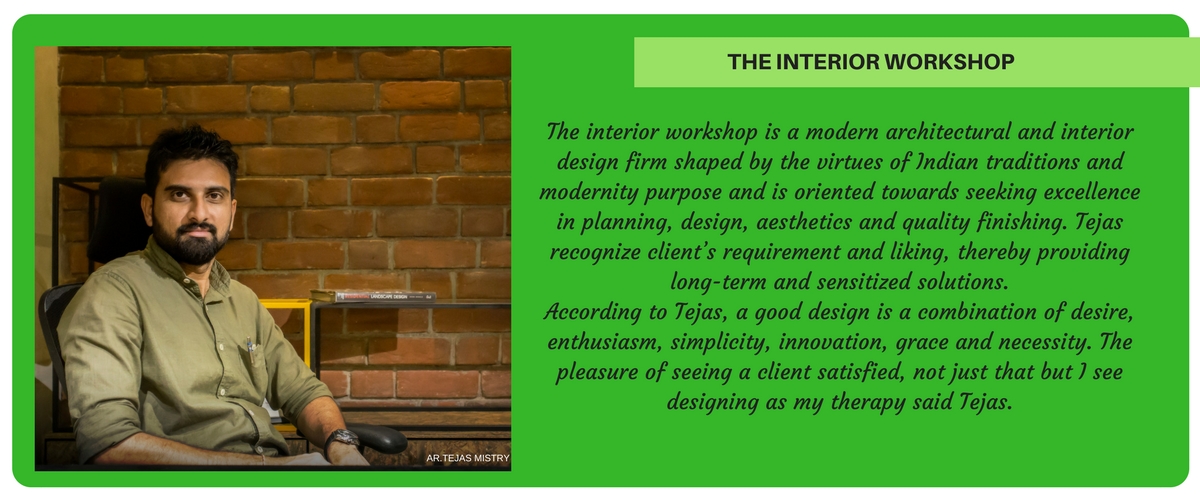 FACT FILES
FIRM NAME: The interior WORKSHOP
 CHIEF DESIGNER: Tejas Mistry
TEAM MEMBERS: Kalpesh Chotaliya, Piyush Pancholi
PROJECT TYPE: Workspace/Design studio
CARPET AREA: 265 sqft
PROJECT LOCATION: Surat, Gujarat, India
PROJECT COMPLETION YEAR: 2017
visit The Interior WORKSHOP