Corporate Office Interior Breaks the Monotony and Boring Environment | M S Design Studio
MS Design Studio has recently completed an office project for "Mrunal Investment Firm" at Vadodara.
The site context is a typical corporate office space located on the 4th floor of a corporate building, which has unusual angled wall's.
Client's specifications were basic, they had fixed number of employees to be accommodated with proper storage and functional space. So we have made an attempt to utilise maximum space available regardless of unusual angled wall's.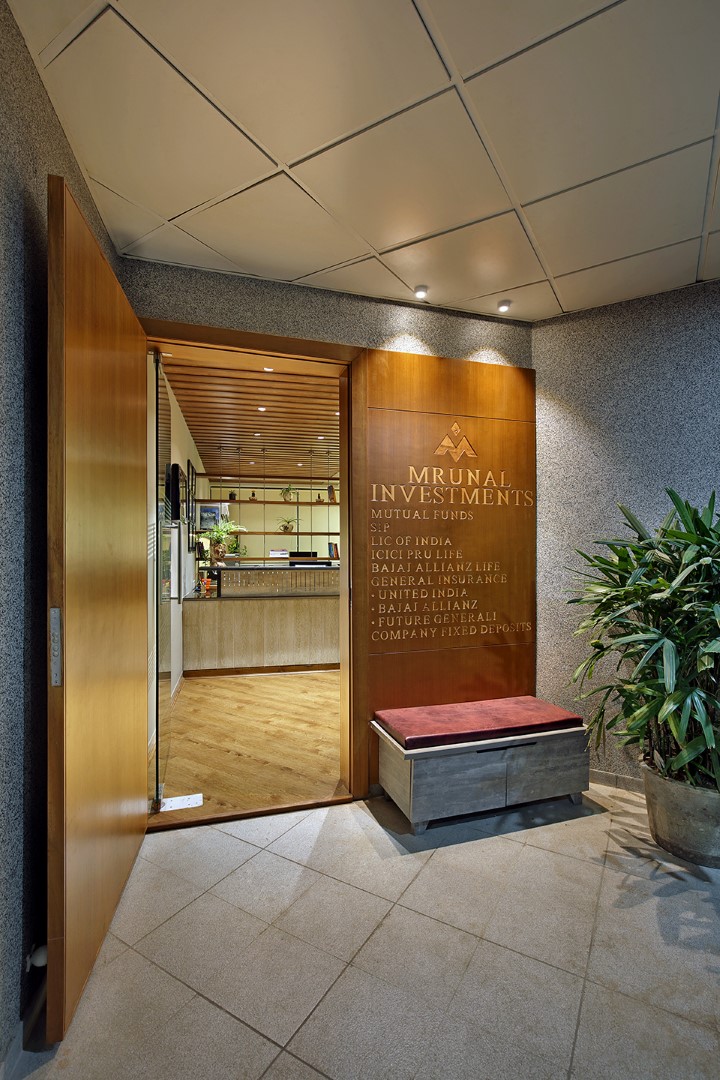 The planning for space division is done in a way that all the dead space created majorly due to diagonal wall and big glass facadebe utilised fully. Needed space for staff working table/seating has been covered at glass façade from inside.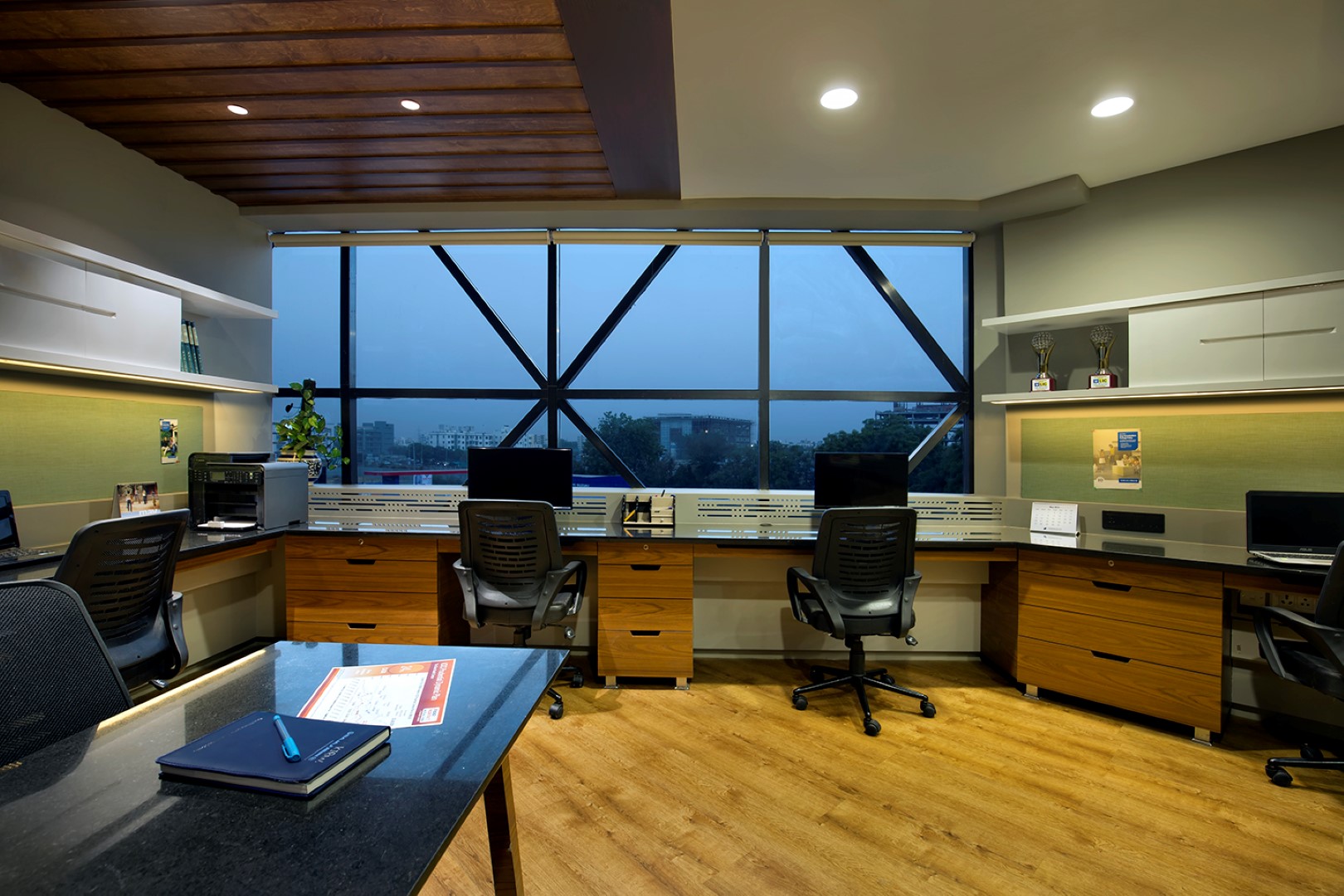 The main cabin is covered with glass partitions, with is treated with buffed pattern film for privacy.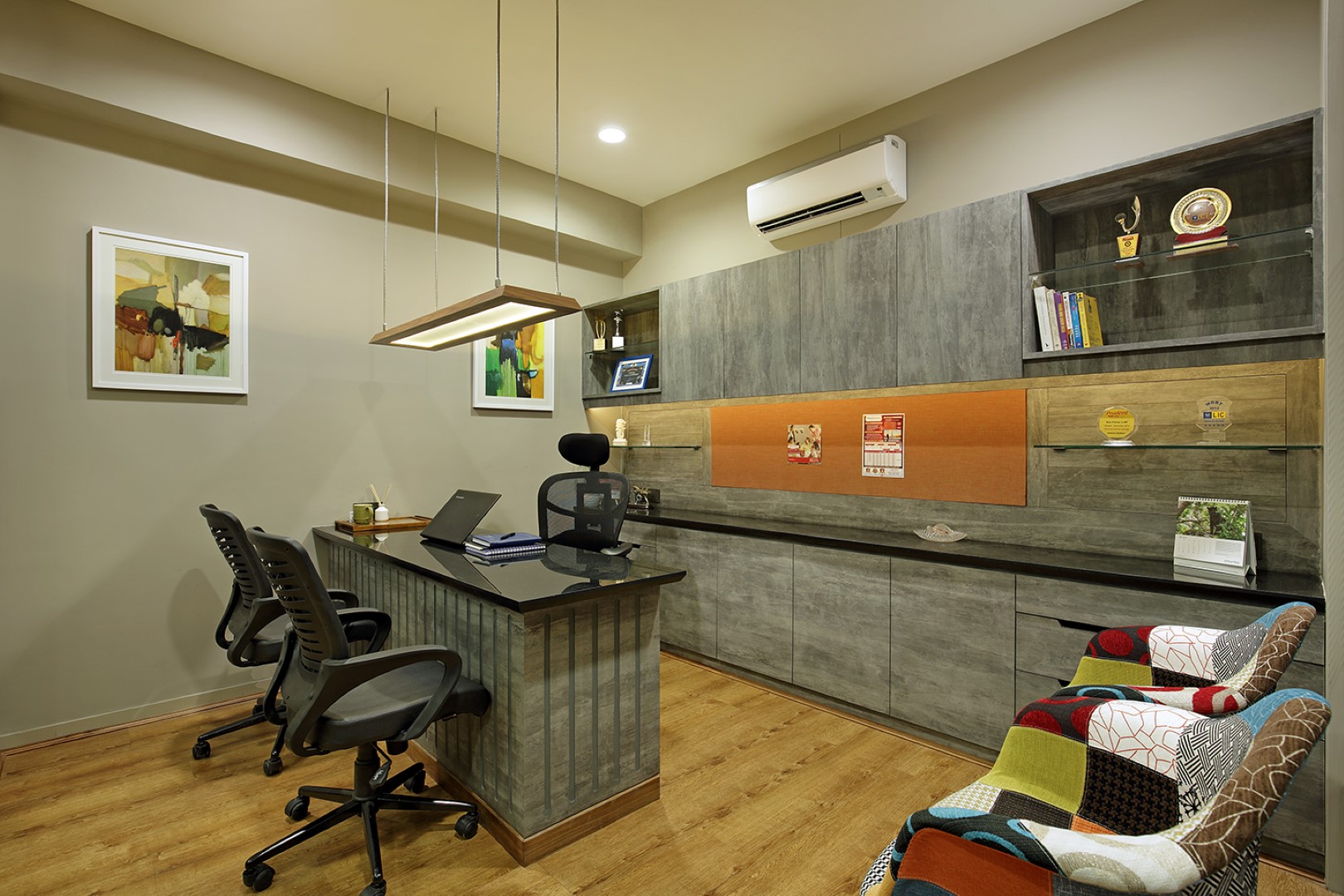 This office space is of 1000 square feet area. We have made quite an attempt to make it appear a big space. The open hanging partition behind reception desk plays a key role in making the space look big.
Also this hanging partition acts as a rack to showcase artefacts, books, or achievements/trophy's as it is positioned right in front of entry door.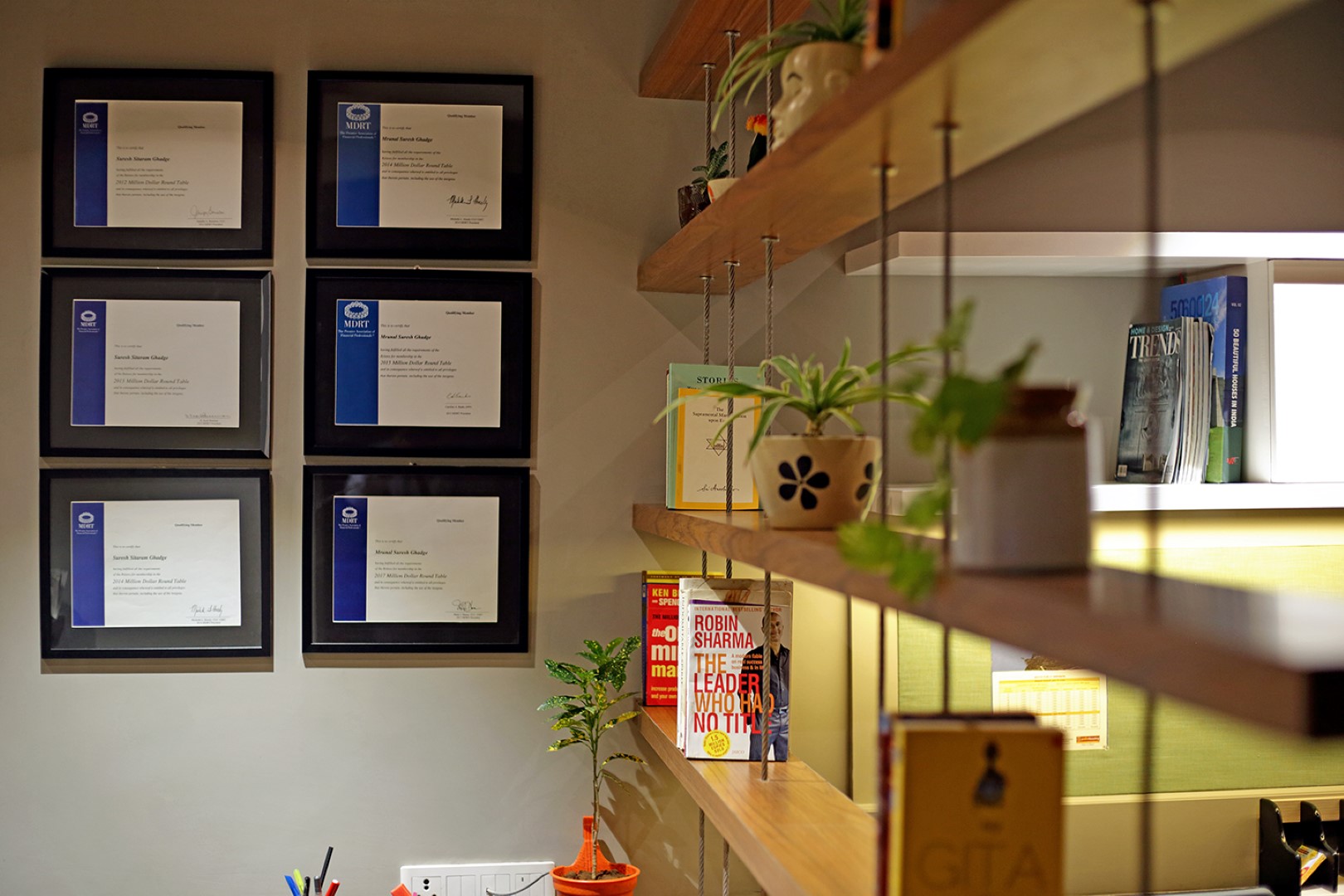 The materials that we have emphasised on are wood/veneer, mirror polish black granite & glass. Our idea was to give a minimal approach to the ambience.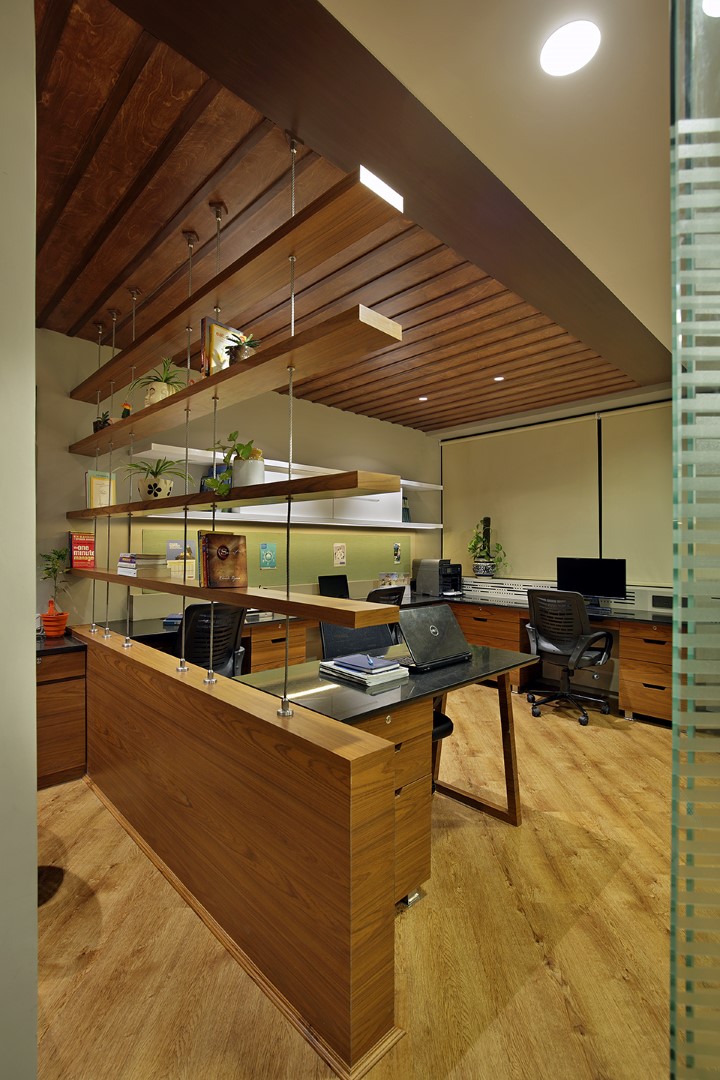 The colours used for the furniture is mainly grey and black. Orange coloured fabric for pinup board and vibrant chairs comprehends the monochrome colour pellet.
Wooden Ceiling design play's a key role in enhancing the overall aesthetics of the office space.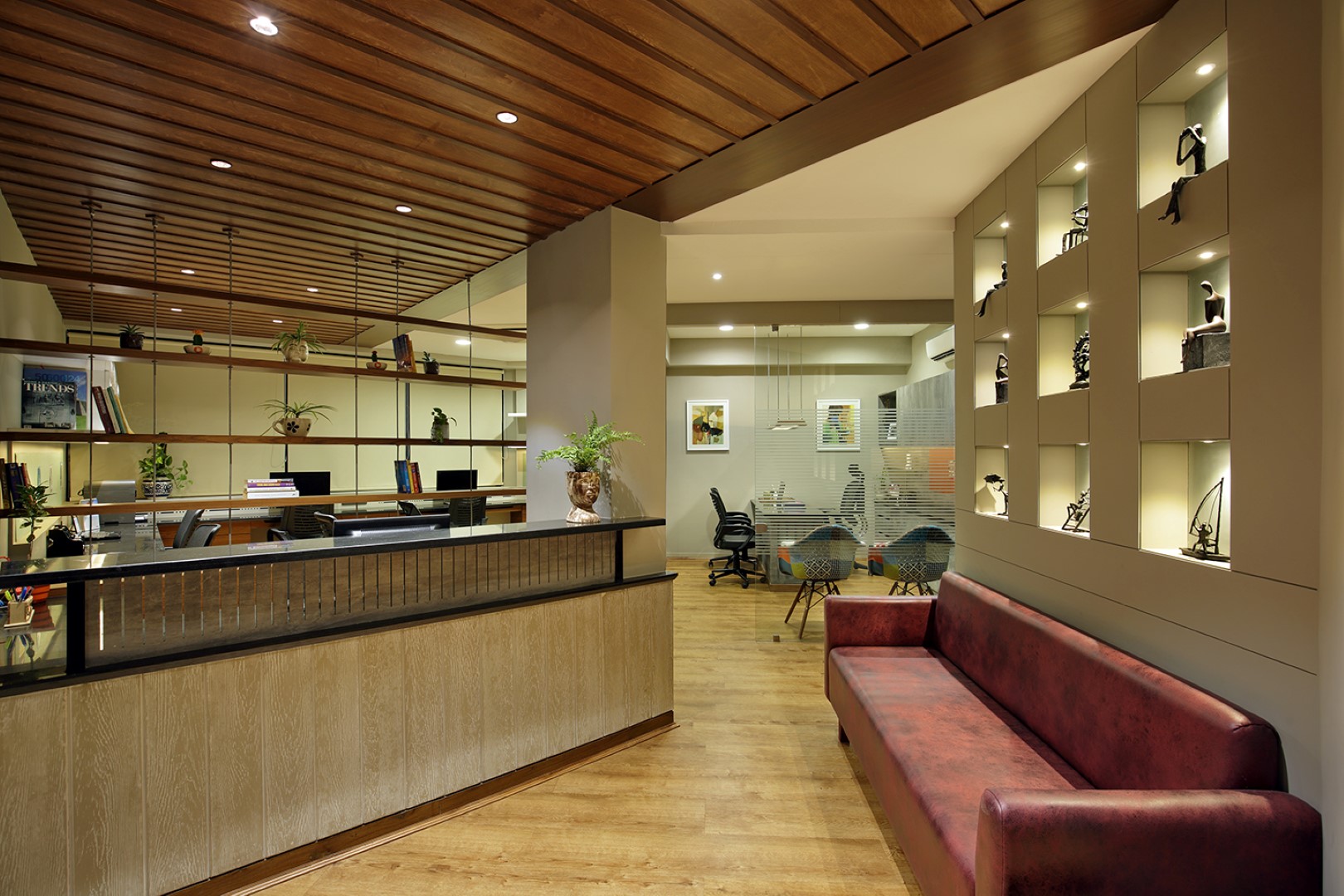 To avoid and break the monotony and boring office environment we have played with metal artefacts, which has been placed in the lighted niches adjacent to entry. Small green indoor plants and creative pots also contributes to bring fresh, creative and playful vibes.
MS DESIGN STUDIO
Principal Designers – Manav Patel &Shivangi Patel
Design Team            -Ekta Shah &Deepika Khatri
Email                           –[email protected]
Project size                – 1000 sq. ft.
Location                     – Vadodara
Photography             -Tejas Shah