&nbsp
Retail designs in India are inclining more towards 'generating experiences' rather than just providing a service or a display. Designers are focusing more on concepts in amalgamation with needs. Not only the requirements are being targeted but, the spaces are carved out in a way that a person can get attached to them in totality. From a furniture store design to a bespoke boutique, everything is about feelings a person can generate for the product through aesthetics.
Retail Designs trends in India are not only bound to experiential commercials but are also designed with the aura of luxury. Every design is a unique take of designers' interpretation of luxury, depending on the type of retail space. Ambiance plays a major role in any retail designs i.e. from a relaxing salon to an alluring jewelry store.
Elevating the trends of the retail designs, some of the firms who are working extensively towards creating qualitative space are:
1. Manoj Patel Design Studio – Shefali's Studio
The fashion boutique is the finest women's wear retail designs that enhance crafted elements exhibiting interiors to bring a contemporary experience throughout highlighting a unique experience for the clients. The layout combines two rooms together across graphics and material frames, giving different perspectives when viewed from any edge. As a cost-effective and environment responsive, the project makes reusing of various scrap materials ideal for designing and cladding optical interior surfaces for pleasing ambiance.
Fact File:
Design Firm: Manoj Patel Design Studio
Photographer: Tejas Shah Photography
Area: 350 sq. ft.
Location: Vadodara, Gujarat
2. Studio Patternmaker – Demode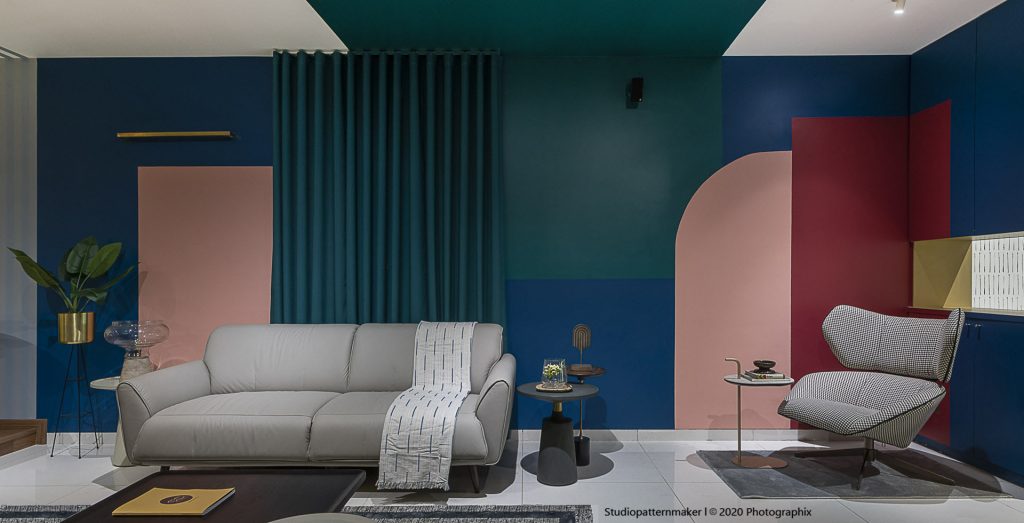 A furniture store is not just a place to display and do business, it has to be about the vibe and essence that resonates with its philosophy and ethics. To tie various makes and kinds of pieces they house, together, we thought of 'Colour Blocking' as the basic principle for retail designs, styling, and curation of the store. Colour Blocking is defined as pairing well thought solid hues to create one single look which is of high impact.
Fact File:
Design Firm: Studio Patternmaker
Photographer: phxindia
Area: 1500 sq. ft.
Location: Ahmedabad, Gujarat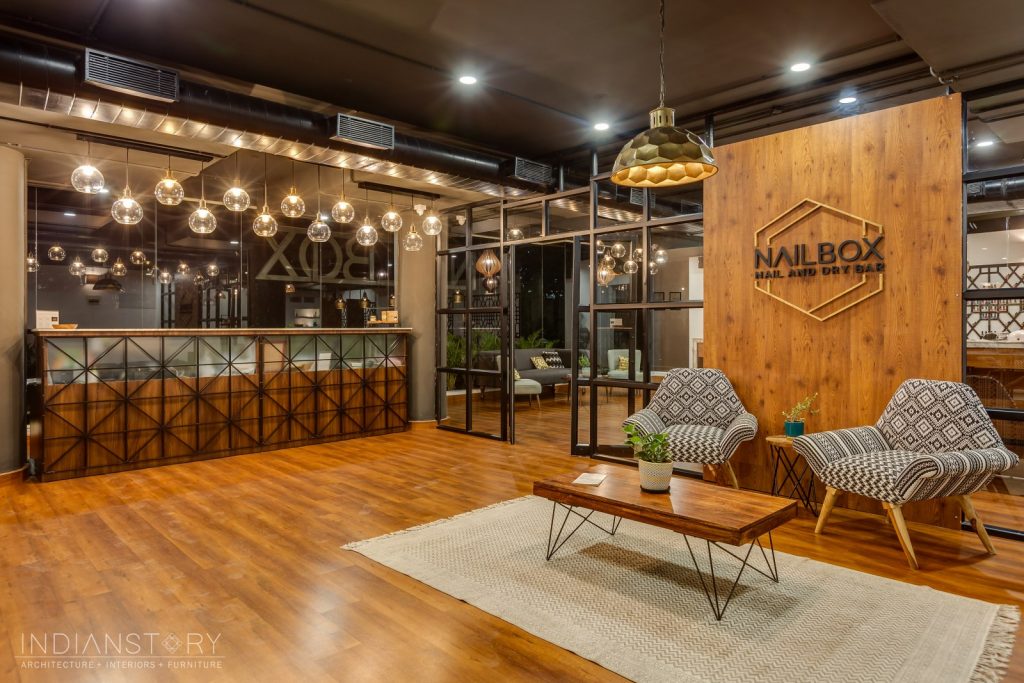 Minimal, Geometric, Functional, Warm, and Comfortable. When people think of a salon, we visualize a quick-paced space and bustle. These retail designs are designed to be a refuge for one, in oneself. The warmth we were able to achieve with space. It was a result of good fabric selection, the correct furniture type, the warm tones with pops of brass, the lighting. It is a perfect marriage of function and aesthetics in our clients' eyes.
Fact File:
Design Firm: Indianstory
Photographer: Link Studio
Area: 2000 sq. ft.
Location: Bangalore
4. The Crossboundaries – Olvvi Luxury Furniture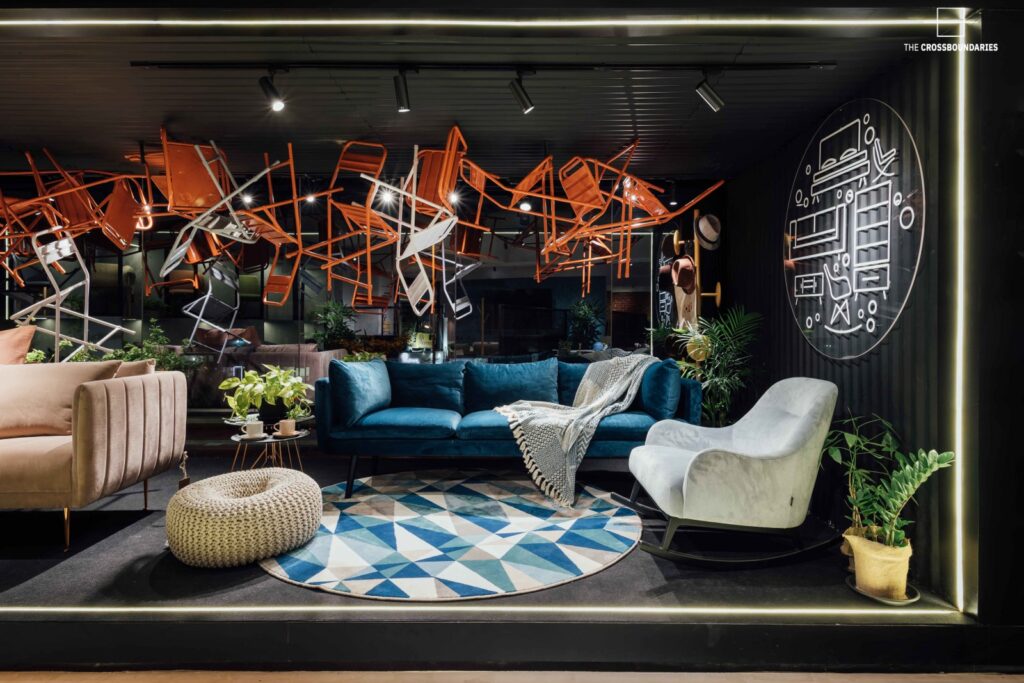 The experience from the shopfront to the interiors is aimed at creating unmissable drama and appeal, especially to strike the curiosity of passers-by. Through different scales of experiences, from the intimate and personal to a strikingly massive visualization, the designers have strived to showcase furniture aptly. Each object and furniture piece is displayed in its natural, home-like setting, embraced by abundant greens and the usual teacup. Designed as a "blank canvas", a neutral showcase such that the furniture pieces and lifestyle objects, through their own color, form, and design details are highlighted.
Fact File:
Design Firm: The Crossboundaries
Photographer: Ishita Sitwala (Ishifishy)
Area: 2080 sq. ft.
Location: Vadodara, Gujarat
5. Studio Ardete – Bansal Ply Chandigarh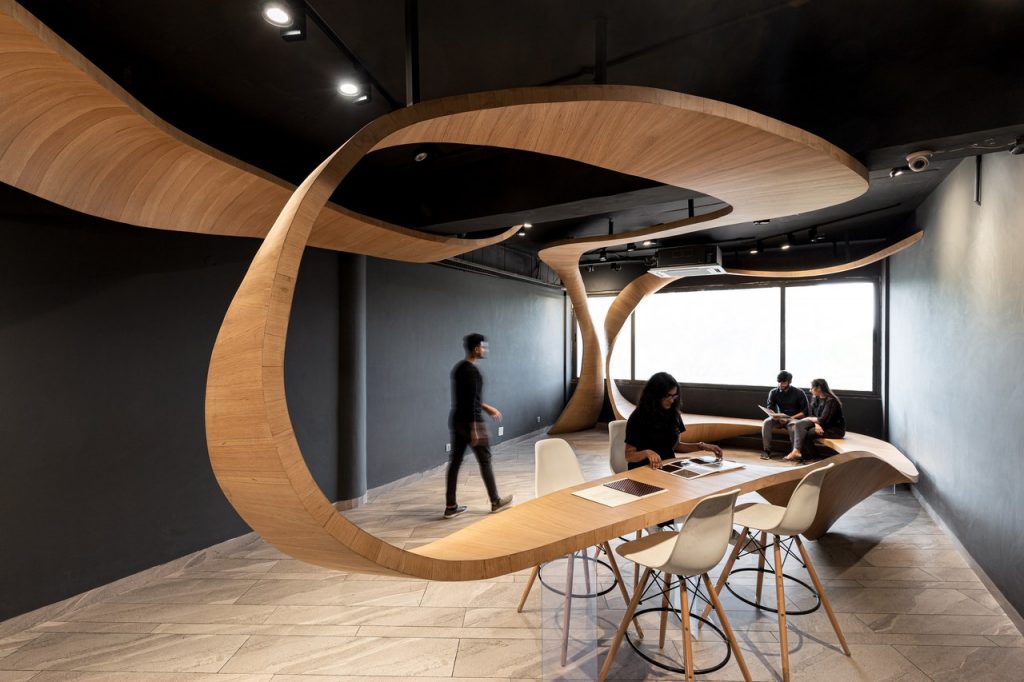 SHOP NO. 851 became the voice given to the material sold by the store owner and the client – who deals with veneers and plywood and tells the story of the traditional relationship between the craftsman and wood. The result is an interior installation instantly poetic: a "spatial matrix" that has evocative ribbons of wood twisting and turning within the space, almost like it has a mind of its own. A new take on retail designs.
Fact File:
Design Firm: Studio Ardete
Photographer: Purnesh Dev Nikhanj
Area: 134 sq. mt.
Location: Chandigarh
The client wanted an offbeat yet classy space that reflected her art and all that surrounds it. She wanted it away from the usual herd and sought a pop space where interiors translated makeup trends, colors, shimmers, and techniques. For this, the design team set out to start off with the story of makeup and fashion meets interiors. The whole concept of retail designs thus can be summed up revolving around colors and the identity of the artist.
Fact File:
Design Firm: Bora Da
Photographer: Surtan and Dang
Area: 200 sq. ft.
Location: New Delhi
7. Neeta Kumar – Inhabit Retail Store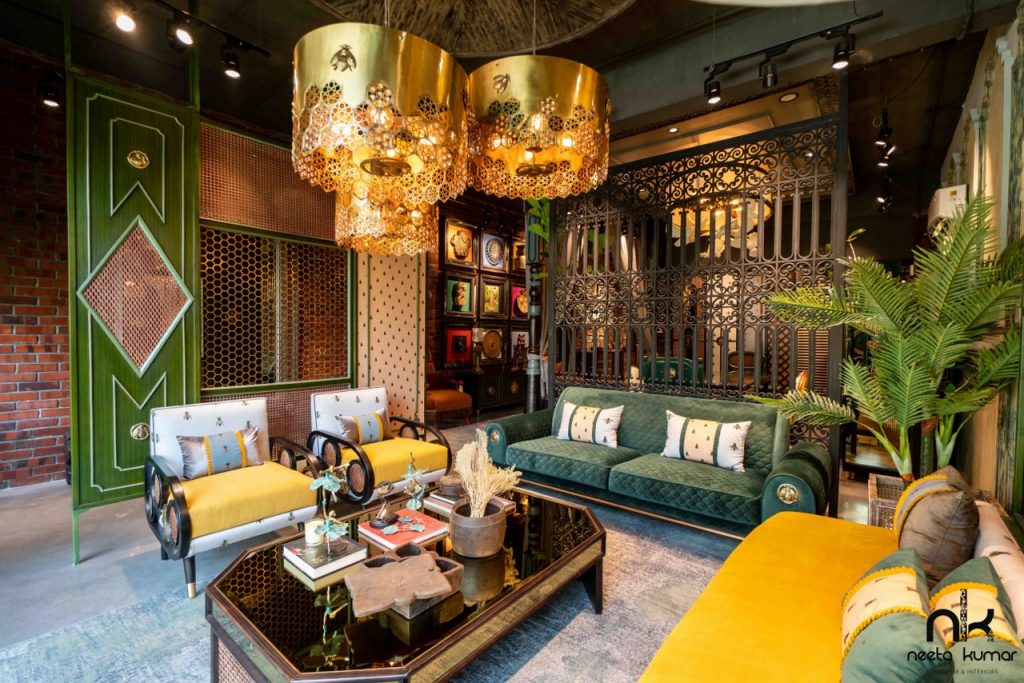 The store follows designer Neeta Kumar's signature style of classic values woven into contemporary mores with a sprinkling of design influences from around the world to evoke a quaintly grand vibe. Carved wooden pillars, colorful carved life-sized candle stands, intricate iron screens, cane screens with arched tops, embellished walls, ornate floor lamps, all create a charming otherworldly environment.
Fact File:
Design Firm: Neeta Kumar
Photographer: David Dawson
Area: 7000 sq. ft.
Location: New Delhi
8. Amogh Designs – Tamraa: Bespoke Jewellery studio
Designing a jewelry studio is exciting, it opens up so many possibilities for explorations. The theme of the studio was 'Jaipuri' to complement the jewels. A modernistic approach with a traditional touch to the jewelry studio was the idea. With a theme of Traditional Jaipuri elements, we have created an ambiance that transports you back to the time. Studio Theme and jewelry products are creating a cohesiveness that pleases the eye as well as captivates attention.
Fact File:
Design Firm: Amogh Designs
Photographer: Inclined Studio
Area: 600 sq. ft.
Location: Ahmedabad, Gujarat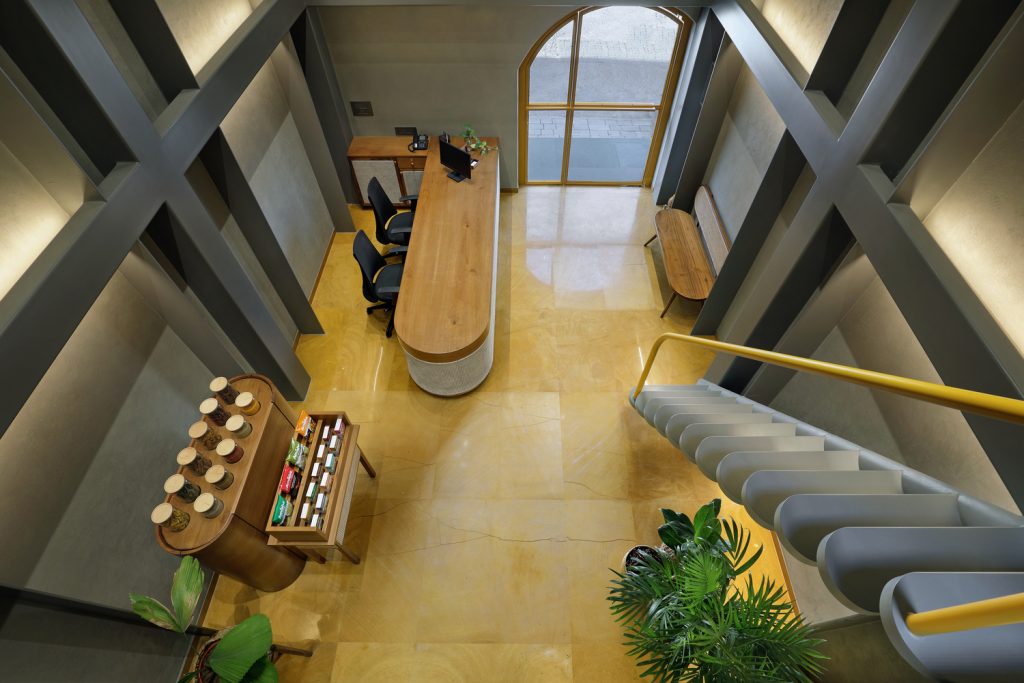 The overall design concept, the idea of arches, the color yellow and the material palette of grey lime plaster & wooden wicker furniture were derived from Indian culture. Plain rectangular mass with a rather restrained palette of exposed grey lime plaster provide a subdued backdrop to the contemplative yellow arched openings producing a bold minimalist façade in contrast to the chaotic surroundings. The interior and exterior had to be conceptualized synchronously to allow simplicity and playfulness exist cohesively.
Fact File:
Design Firm: TRAANSPACE
Photographer: Tejas Shah Photography
Area: 1050 sq. ft.
Location: Vadodara, Gujarat
10. I-Con – EvenFlow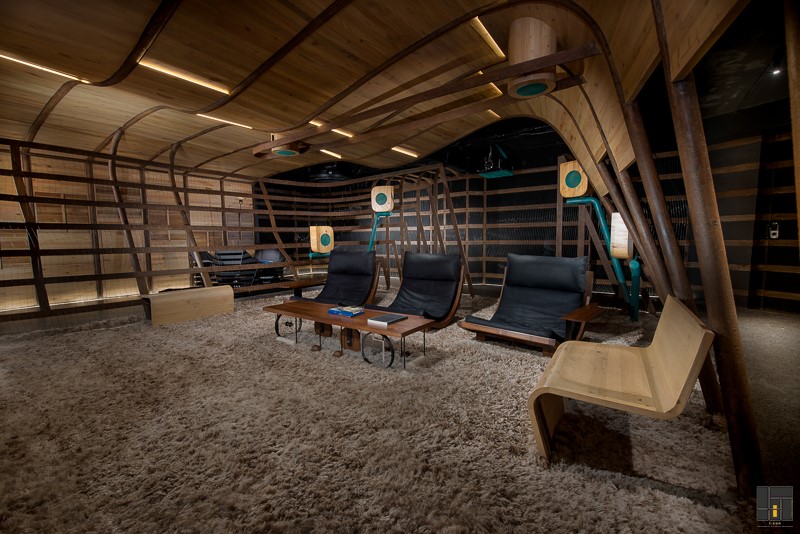 The elemental ethos was based on how the human senses work in a fixed space. Over 900 sq. ft. of unrestrained space in a commercial building, with a high public footprint, made for the perfect space. The intention was not only to go beyond the confinement of four walls, used in general practice to design a home theater but to also use challenging materials that are not conventionally audio friendly and yet create the perfect experience of sound and vision in these retail designs.
Fact File:
Design Firm: I-Con
Photographer: Mr. Bhavesh Raghavani (Yellow Frames)
Area: 950 sq. ft.
Location: Surat, Gujarat
Thus, retail design in India has been focusing more on experience and providing every small detail in an artistic manner. Every space, every detail, and every element speak 'out of the box when it is designed intrinsically. Such designs break the regularity and generate possibilities of space design through a different perspective.
*The order of Projects has nothing to do with any sort of ranking. We have NOT ranked any projects in a sequence of 1,2,3, etc.