TAMRAA: Jaipuri Themed Jewellery Studio Interiors In Ahmedabad | Amogh Designs
Whenever you enter a Jewellery Studio, in the back of your mind, you imagine a regal look of yourself flaunting those beautiful pieces. With this project, Amogh Designs has brought that regal experience through the exquisite Interiors. 'Tamraa' can be described as all things Traditional and Eye-Catching, transporting you back in time as you enter the Studio. Experimented cleverly with Color-Pallette and Interior Elements, it is a Jaipuri Themed Jewellery Studio located in Ahmedabad, India. ~ Radha Hirpara (Editor)
Each space is unique in itself and requires a holistic approach as it reflects the character of its occupants and functions held there. TAMRAA is a jewellery studio with a wide collection of traditional jewels based in Ahmedabad. Designing a jewellery studio is exciting, it opens up so many possibilities for explorations. But the most exciting & challenging part of the project was to transform a residence into a studio within a short span of 3 weeks. The theme of the studio was Jaipuri to complement the jewels.
Visit: Amogh Designs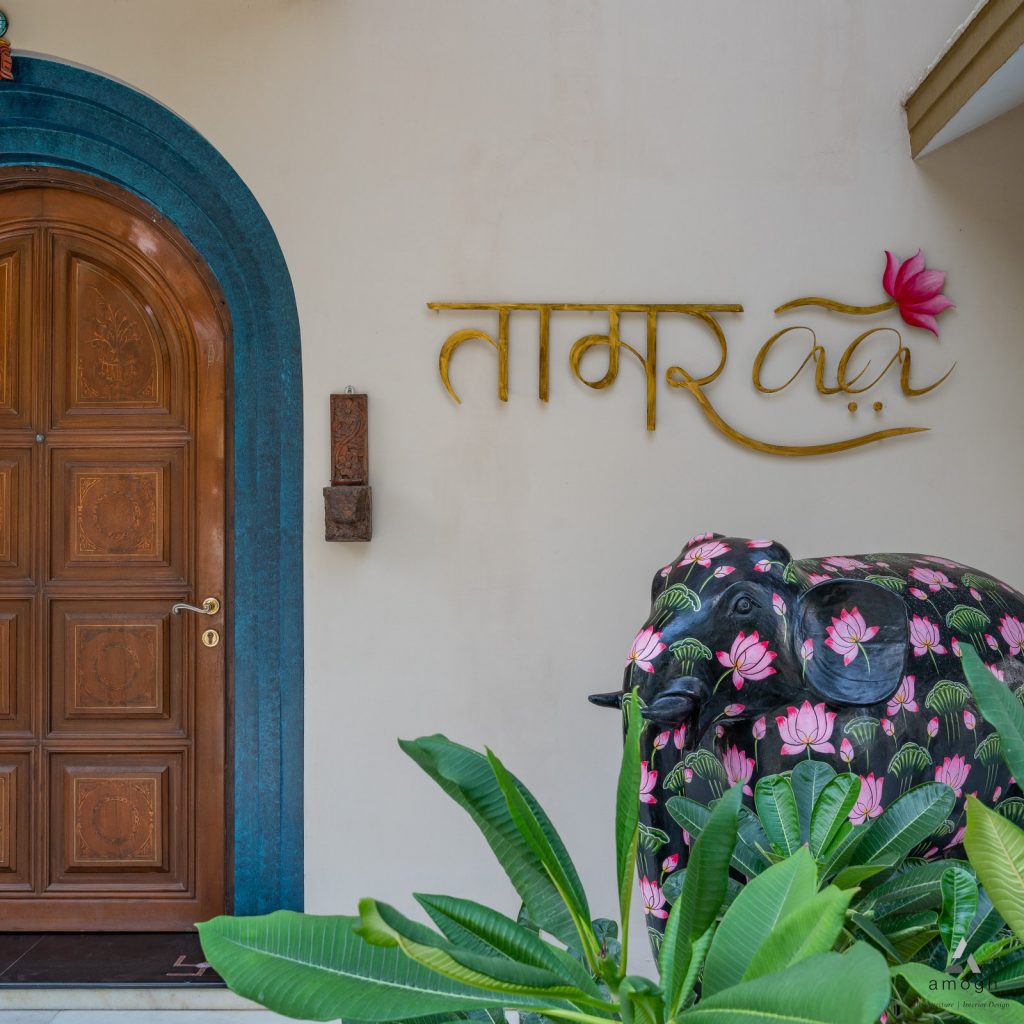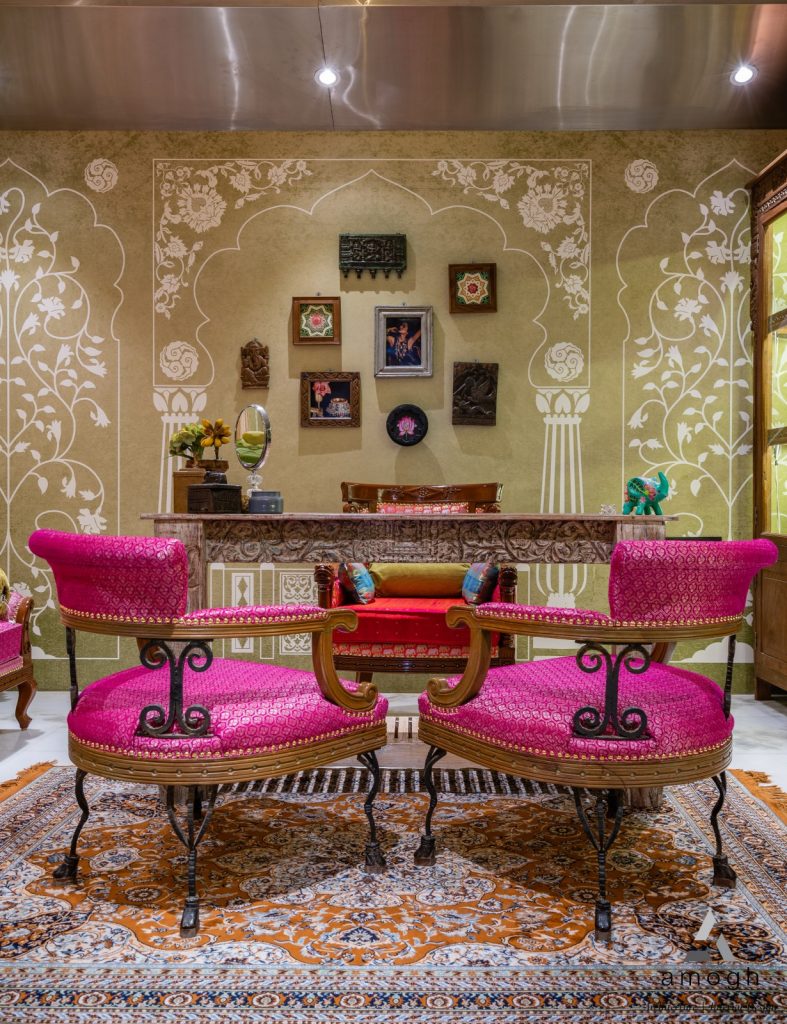 A modernistic approach with a traditional touch to the jewellery studio was the idea. Walking up to the studio, a wide front yard with an enchanting combination of granite and Moroccan tile flooring greets you. Down the alley, as you move towards the cozy veranda, a vibrant indigo portal stands still to take you for a journey. The entrance of the studio is well created by the majestic elephant sculpture with lotus pichwai painting on it. Just before the studio – a beautiful wood engraved partition is kept to elevate the elementality of the studio. A vertical copper waterfall creating a soothing sound like a flowing river outside the studio enchants the space.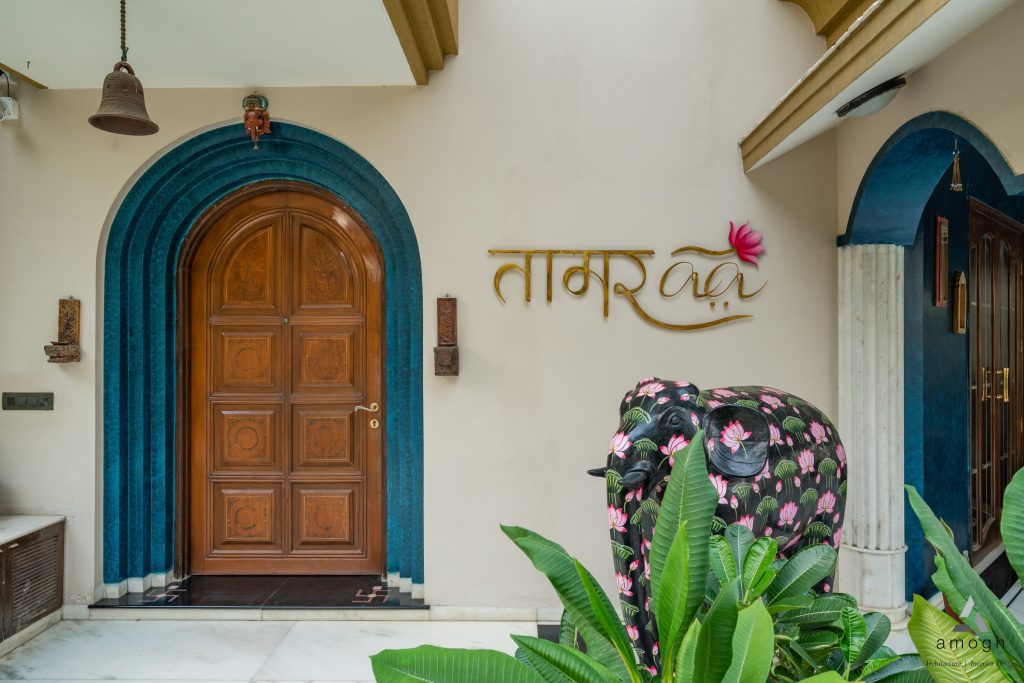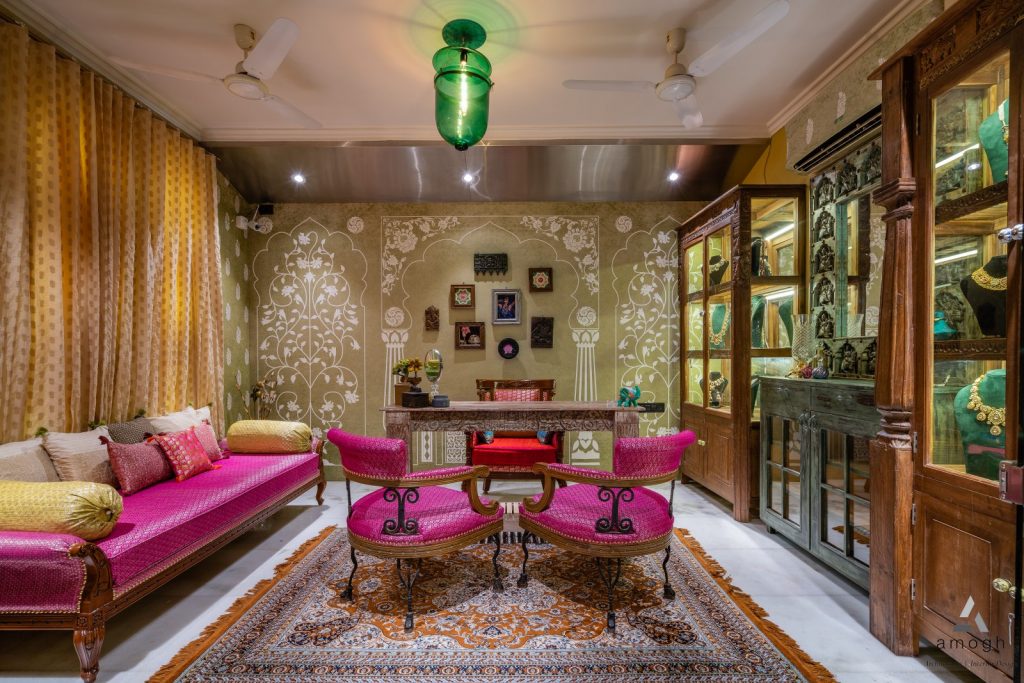 Entering the studio, you are welcomed by the hues of vibrant colour. Keeping in mind the budget, walls of the studio are not hand-painted but wallpaper is customized based on a theme. In the centre, antique carved wooden desk with vintage wood and metal brocade chairs personifies the beauty of the space. On the left wall, two glass cabinets with thick carved wooden framing display the jewellery. A mirror in centre with moulding on edge is kept to make the visualization of space large. And for people to make most out of it.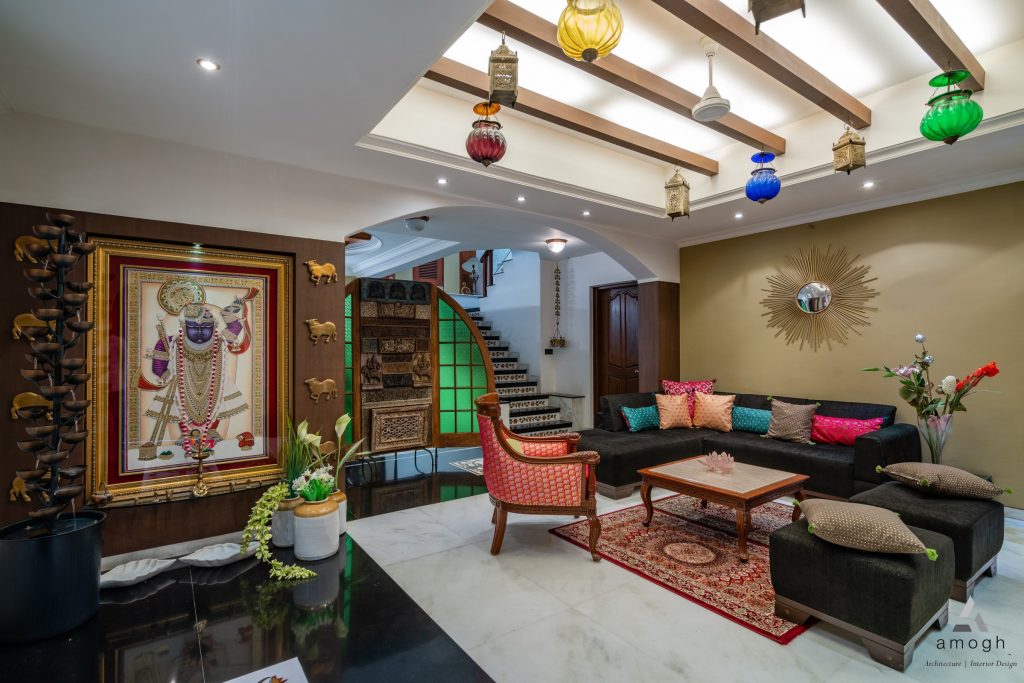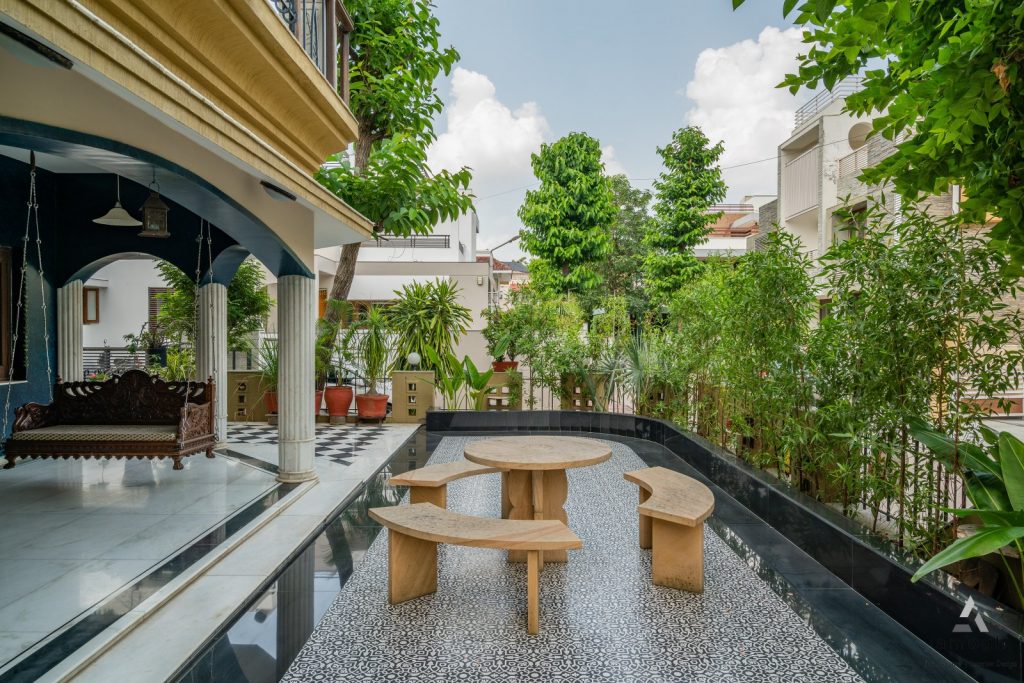 With a theme of Traditional Jaipuri elements, we have created an ambience that transports you back to the time. Studio Theme and jewellery products are creating a cohesiveness that pleases the eye as well as captivates attention.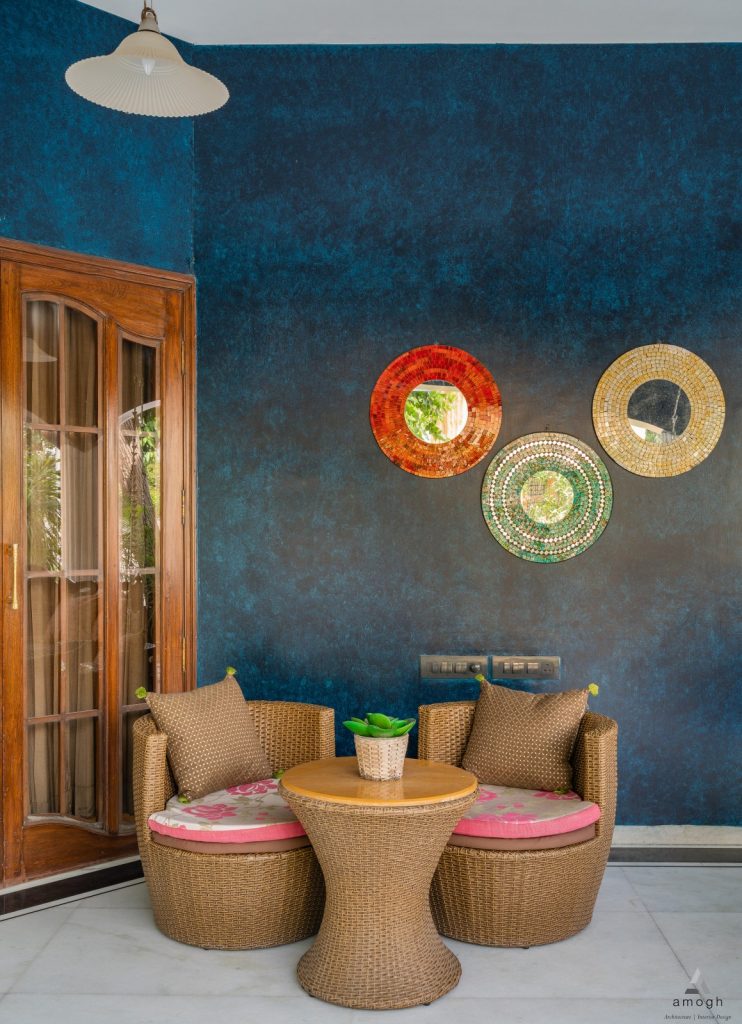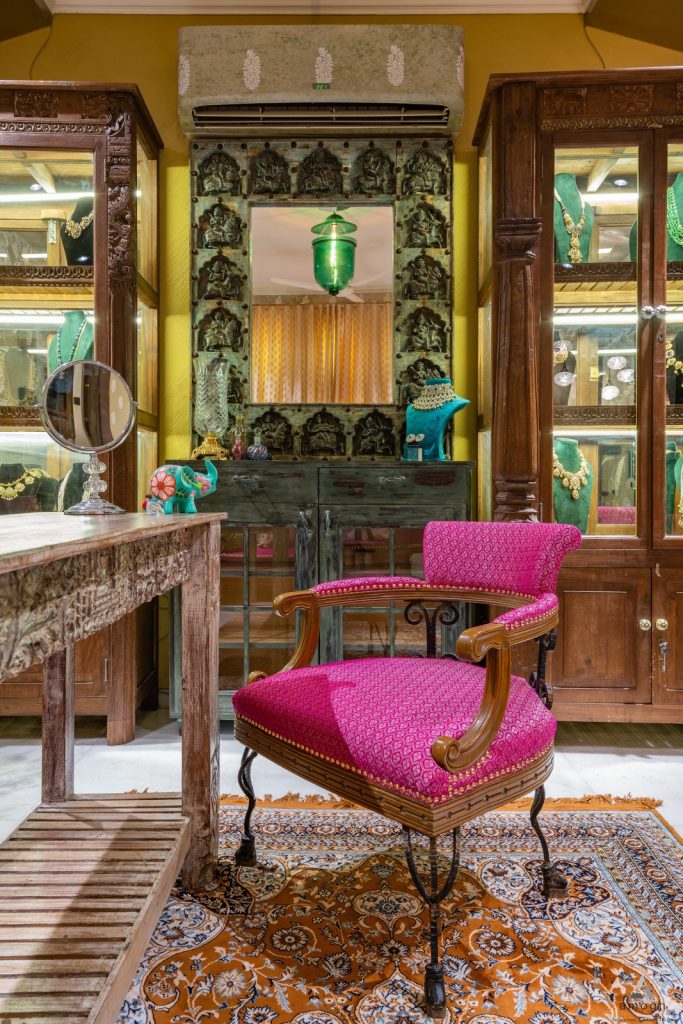 FACT FILE:
Designed by: Amogh Designs
Location: Ahmedabad
Site Area: 600 sq feet
Year built: 2020
Project Cost:appx: 8-10L
Principal Architect: Ar. Pankti Shah & Shalvi Shah
Project Name: Tamraa: Bespoke Jewellery studio
Theme: Jaipuri Style
Colour Palette: Olive green, Pink
Material Palette: Wood & Metal
Photograph courtesy: Inclined Studio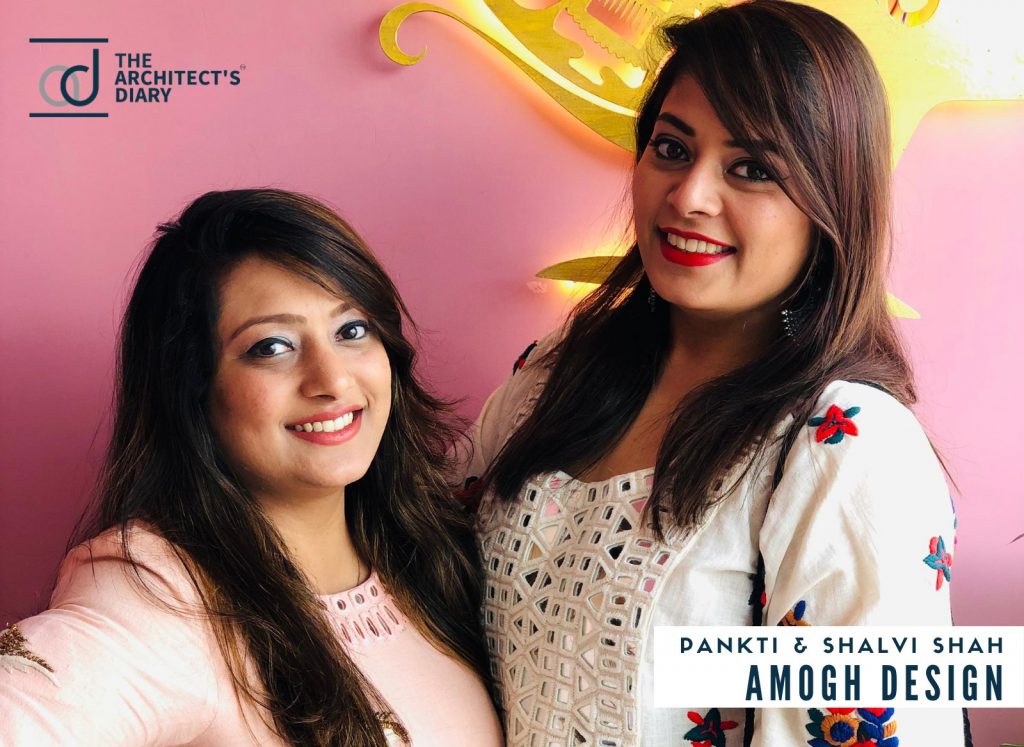 Facebook: https://www.facebook.com/AMOGH.Archidesign/
Instagram: https://www.instagram.com/amogh_archidesign/