Renovations leave behind a lot of unwanted waste, so you have to be careful with proper disposal. It won't be long before you have accumulated many old materials taking up all of your backyards. However, a home renovation project can be incredibly fulfilling—whether it involves a series of repairs and furniture replacements or a total fixer-upper.
As soon as the dust settles, you can see there are still some crucial things to do. Proper disposal of leftover construction materials and trash from your project is what's going to be prioritized next. This is important to be considered as storing old stuff within the newly-furnished property would instantly ruin the aesthetic you have spent time developing.

Waste Disposal After Renovation
You would have piles of rubbish that you just can't disregard in the bins, so how do you deal with them? These waste materials—bricks, tiles, wood, damaged furniture, broken glasses, copper, and PVC pipes—would present an obstacle in disposing of. You could end up driving to the nearest landfill site or you could load up the trucks and go away. However, doing so would entail another set of responsibilities.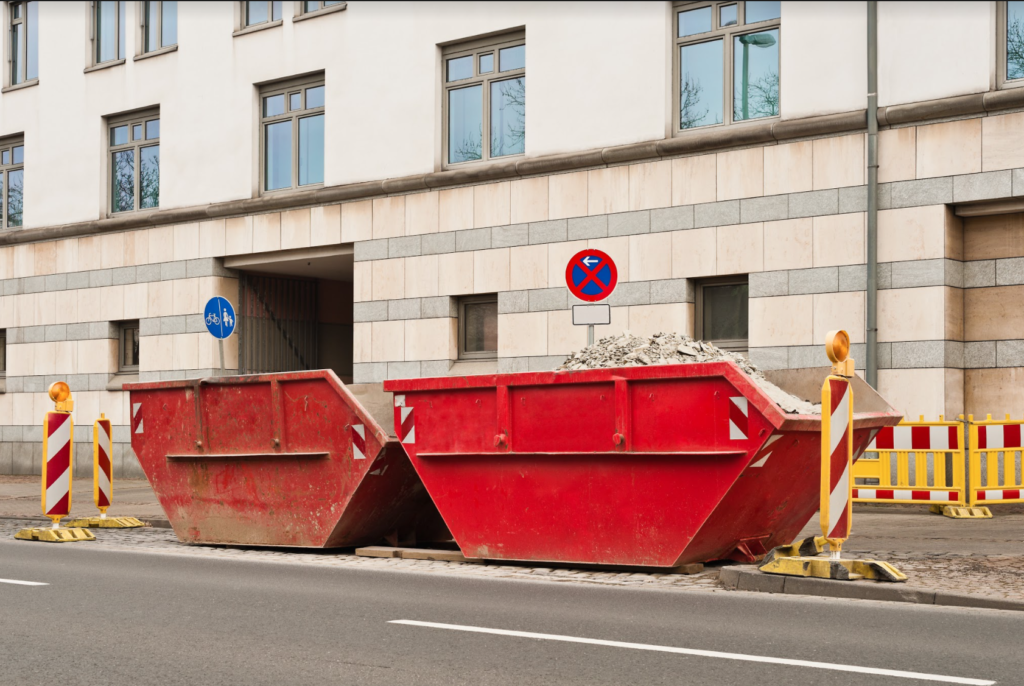 Here are some easy ways to efficiently and effectively remove renovation waste from your home:

1. Rent A Roll-Off Dumpster Or A Mobile Skip
Construction and renovation programs often use roll-off dumpsters. They typically range from 10-40 cubic yards in size and can be used for either yard clean-up or new construction projects. It may be necessary to apply for a permit to install the dumpster on the side of your property if you're involved in a more extensive project or if you don't have enough space on your property to accommodate the dumpster.
Be sure to double-check any limitations on the type of materials you can throw away. But in case you won't be able to secure a permit, availing a skip bin service like Mobileskips.com.au and other mobile skip bins could help you dispose of it without needing any clearance. Any rubbish is acceptable, giving you an easier disposal method.

2. Donate Your Renovation Waste
Offering construction debris to another person in your neighborhood or simply donating stuff that can still be used could be another means of waste disposal. By donating your waste, you can get rid of your wasted renovation materials in a free and eco-friendly manner. Instead of throwing your old items away if you think upcycling is too much work, you could ask friends and family if they would take your stuff.
It may have been your intention to simply throw away building materials, hardware, doors, mirrors, etc., after tearing them out of your house or rather leave them by the street, hoping the local garbage service would remove them themselves, but this may not always be the case in some neighborhoods. That's why the act of donating should be considered as it involves no activity involving altering your scraps or consuming other things so they could potentially be utilized by someone else.
A refrigerator that's been sitting in your garage could be used by another person. Cupboards you no longer need could benefit others. The vast majority of usable items in good working condition can be dropped off at different facilities and locations. Several recycling centers accept functional appliances, light fixtures, and kitchen worktops as well.

3. Take Advantage Of Garbage Disposal Services
You can schedule any bulk waste collection with your local garbage collection service. You'll just want to tell them where to pick up the waste and let them know the types of items or sizes to expect. A renovation waste disposal service is commonly cheap and usually based on your renovation waste volume and weight.
Don't be concerned since this is an excellent choice while still being environmentally friendly. By choosing a professional recycling company, you can let them take care of the dirty work, separating the things that can be salvaged from the unusable ones. Even though the services will be billed, they should involve little effort while ensuring you don't harm the environment. Choose a company that knows what they're doing and has a good reputation.
Consult their advisors about how they function and what the organization does with the sort of waste you're putting out.

4. Use A Collapsible Trash Bin
When you need to dispose more negligible construction waste, you might want to consider a collapsible trash can. Before considering this, make sure that one is available in your area. There are plenty of them online, but you can also find many at your local hardware store or waste management firm.
Using a collapsible bulk container would allow you to store your waste materials easily and have them collected. This proper storage would also make it easier to transport it to another place. Once you've reclaimed your space, fill your bin with renovation waste, then call the service to schedule the pickup.
The container and pickup service are also required for this option, so it tends to be a little more costly. However, the process would be much easier.

5. Implement Proper Waste Disposal
Learn more about waste disposal since it's a good practice to separate waste materials for reusing and recycling, regardless of whether the project is residential or commercial. Keeping similar items together can make tracking recyclables and wastes more manageable since they are often disposed of in the same way. You should separate non-recyclables from toxic materials, and when necessary, use extra precautions in the proper disposal of these materials to avoid hazards.
Some other practical methods that could reduce your disposal include composting yard wastes and reducing the use of plastics materials.

6. Visit Some Architectural Salvage Shops
An architectural salvage yard is like an antique store, but with building materials instead of antiques. Several items they collect are cabinets, light fixtures, door hardware, bricks, and old floors. Afterward, they resell those to renovation companies. One person's trash might be another person's treasure, and that's the idea behind salvage.
Other shops may merely function as clearinghouses for buying and selling, while others offer demolition or deconstruction services. Most of what comes and goes from these companies is shipped and donated by clients. However, these companies sometimes go to someone's home or business to remove salvage pieces.
Salvage items usually don't generate much cash. It's sometimes possible to resell wood floors, but if the materials need a lot of work to get them usable again, architectural salvage companies will be glad to help you get rid of them.

7. Restore Valuable Pieces
You could also consider restoring items of historical significance or value before getting rid of them. For example, if you have antique wallpaper or custom track lighting, you may want to do some minor fixtures or maintenance. Builders, interior designers, and developers can advise you as to which pieces are worth restoring and which should be replaced.
Old homes usually contain vintage and antique pieces that are more valuable than you expected them to be. Be careful in segregating these items, and don't quickly dispose of them. You'll be surprised at how much that old vintage telephone would cost in an antique shop. You may also be able to restore some old furniture that possesses some sentimental value or perhaps salvage the old memorabilia collection of your grandparents.
If an item can be repurposed rather than converted to its original form, then you may be able to do so. Restore these pieces, and you'll be surprised at how they may still fit in your newly renovated home.

8. Learn Upcycling
Upcycling is not the same as recycling. You can upcycle something you don't need anymore and give it a new lease on life with a bit of creativity and a fresh coat of paint. You could dismantle a vintage TV that you no longer use and have the pieces as pots for your plants or pet beds instead of tossing it in the trash. You'll not only have a piece of furniture that has less impact on the environment, but you'll also have a conversation starter that is beautiful and retro.
While recycling involves using the waste and breaking it to its base product for another use, upcycling would still be of the same material but have another function. Upcycling modifies an old product and has it utilized in another way. Not only will you be able to store some of your personal belongings, but you could also innovate on how to use them in another manner.

9. Sell Your Discarded Materials
If you plan on selling your discarded renovation materials, they've got to be in excellent condition. They are sold because they're not waste and trashes. This is an even better strategy than donation since you can scrape back some of your renovation costs.
Perhaps you have some leftover construction materials unused and are still technically new. You can resell materials like tiles, cement, lumber, worktops, carpets, and some unused paints. Someone out there doing the same renovation project will be more than interested in buying your stuff, especially at cheaper rates than the hardware stores.
You should, however, ensure that they are in a good condition since more money can be demanded if the situation is better. Taking this path will provide three winning benefits: you'll save money, you'll avoid having your property cluttered, and you'll spare the landfill from becoming full.

10. Repurpose Some Items
It's something you'll appreciate more than doing something else, and the best part is that you don't even have to throw out your old materials. Take those old renovation scraps and make them into your treasure. It's a brilliant way to prevent waste from being thrown away while giving your home a fresh look for very little money.
It doesn't take much to achieve inspiring results. You could start with a can of paint, sandpaper, nails, and a hammer. Not only is this therapeutic, but it will give you a sense of pride knowing you've saved and created something new out of an almost scrap material.
Renovation projects often involve waste materials like boards and wood, which can be reused in various ways. The boards from old furniture can be used as strapping. Ensure that you have enough in good quality and uniform dimensions to use. If you have access to clean framing lumber, there are many ways it can be repurposed and reused, so don't throw these materials in the garbage before considering your options.

11. Drop Off Your Waste
Are you close enough to your local landfill? What about the recycling center? Do you have a small amount of trash to throw away? Taking care of your renovation waste yourself will be more convenient if you own a truck. However, if you don't, see if your friends have a car that will fit your needs and appeal to their generosity.
Some items in your renovation waste cannot be reused or donated. In that case, you need to dispose of it at a dump or landfill. It might be a good idea to separate all of your materials since there are different stations for different stuff. The majority of places have sections for large and bulky trashes or any particular kind of material.
Before throwing away something, check with your local landfill or dump first. Inquire about how other people are disposing of their wastes and how you could properly dispose of your own.

Conclusion
These are the many ways on how to get rid of wastes from your renovated home. However, it is important to consider what can still be reused before disposal. You may want to consider sorting through the junk first to see if something is recyclable.
Afterwards, narrow down your options as to how you would get rid of your stuff. There would be instances wherein hiring the right professional disposal service team would be the best choice, but you can still have other alternatives. Nonetheless, remember to prioritize not harming the environment when you finally decide on the best way to dispose of your rubbish.