From designing lavish and luxurious homes to compact and concise modern homes, AN Design has a diverse aesthetic background. Natural materials contrasted with neat, modest geometric shapes are the attributes of AN Design work. Carefully designed and thoughtfully presented works lays its emphasis on playful textures, creation and selection of unusual wallpapers, artworks and startling pops of colors. The firm came to recognition from 2005 in Surat, Gujarat.
To conceptualize the interiors for Mr. and Mrs. Reddy's home, which is a 4070 sq. ft. apartment in Hyderabad, the lead designer approached the contemporary neo-classical style of interiors. The home is serene and soothing at every turn with airy, light-filled spaces, accented PU-based pieces of furniture on a muted color palette, floral and medallion printed wallpapers and aureate artifacts. The interior aesthetics effortlessly encompass a casual and cozy ambiance. The overall design focuses on striving and recreating that original sense of harmony that resonates to the word 'graceful'!
The Interior Aesthetics Effortlessly Encompass A Casual And Cozy Ambiance | AN Design
VISIT : AN Design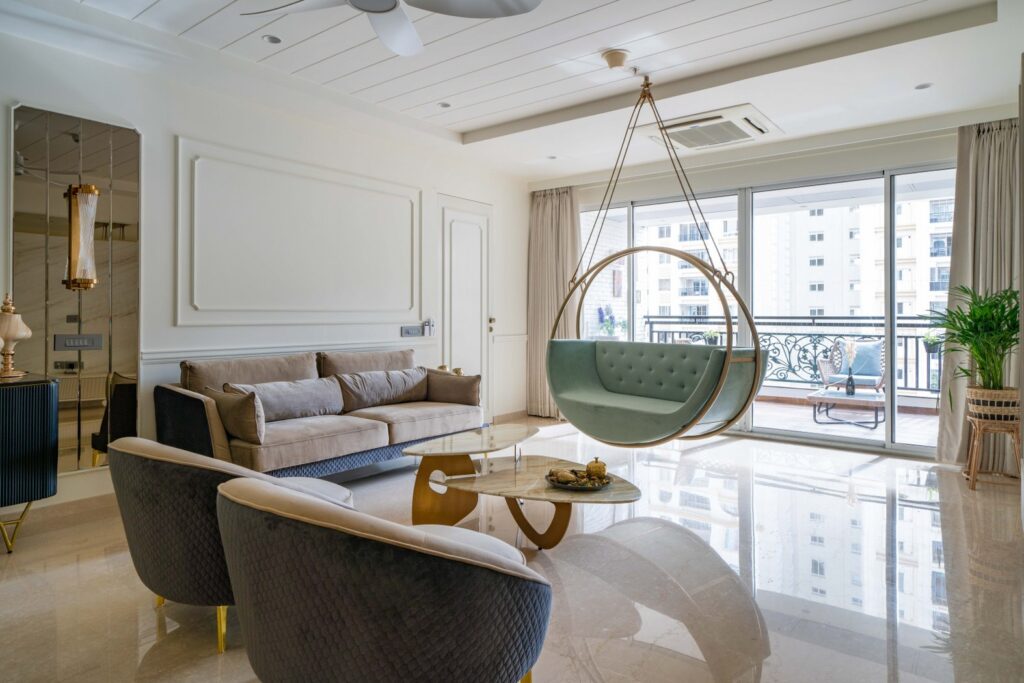 The open and uncluttered design of the living room transcends the limit of time. It uses paneled walls with a touch of brass inlay, adding soul and personality to the space.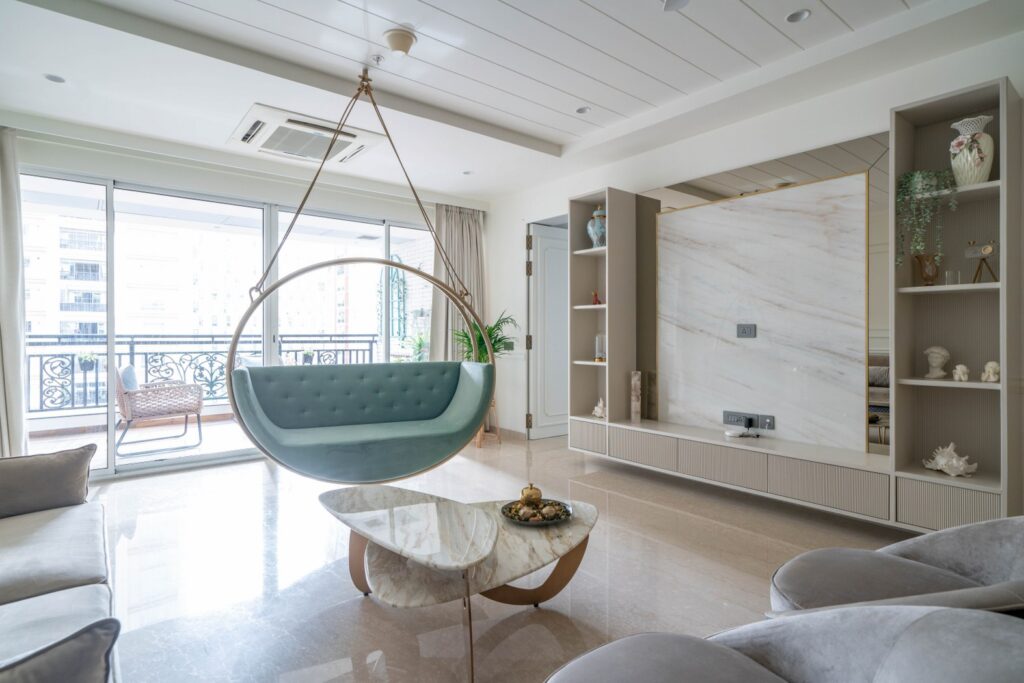 A Chesterfield sofa along with a pair of accent chairs from Elevate Furniture accompanied by a fire hearth from Baaroq Fire Systems gives additional warmth to the space, keeping it cozy and comfortable.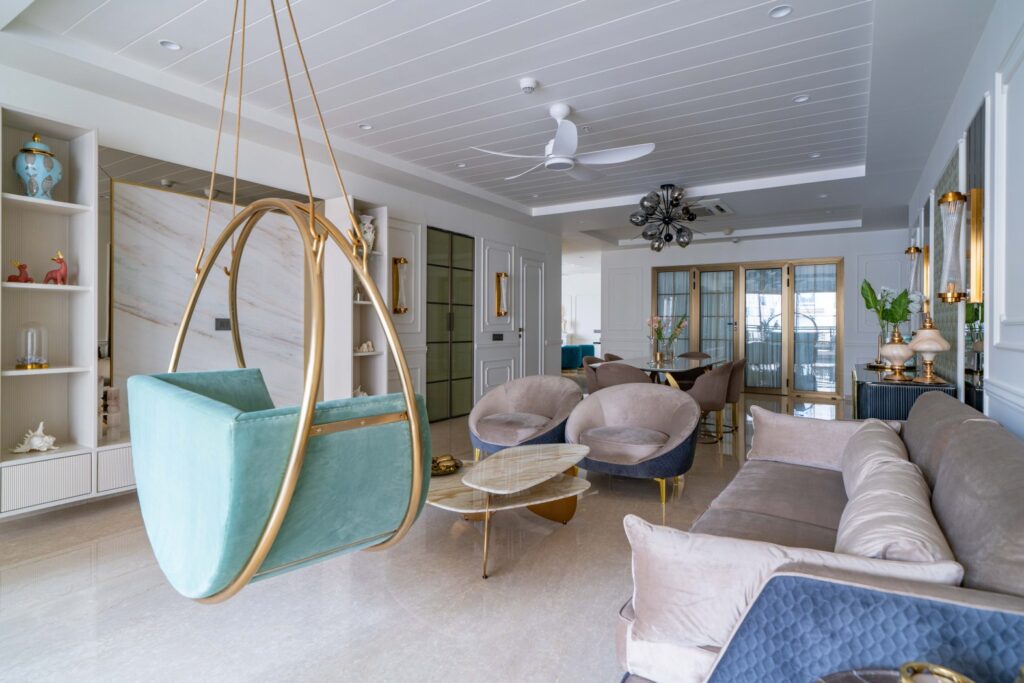 It is an entertaining area with individual, interesting, and ready to party pieces of furniture. Each element here has been designed and curated with care, from selection of the wallpapers to finishing materials, enhancing the flamboyancy of the space.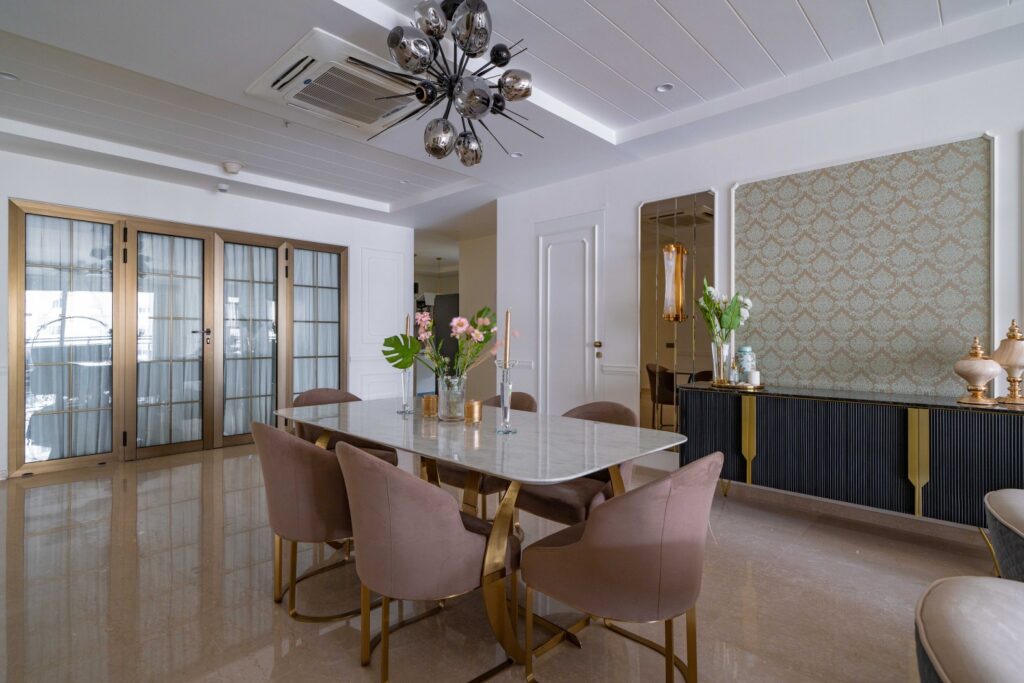 The dining experience is resolutely a combination of contemporary neoclassicism style with antique lights from the White Teak Company, carefully picked wallpapers and a muted colour palette.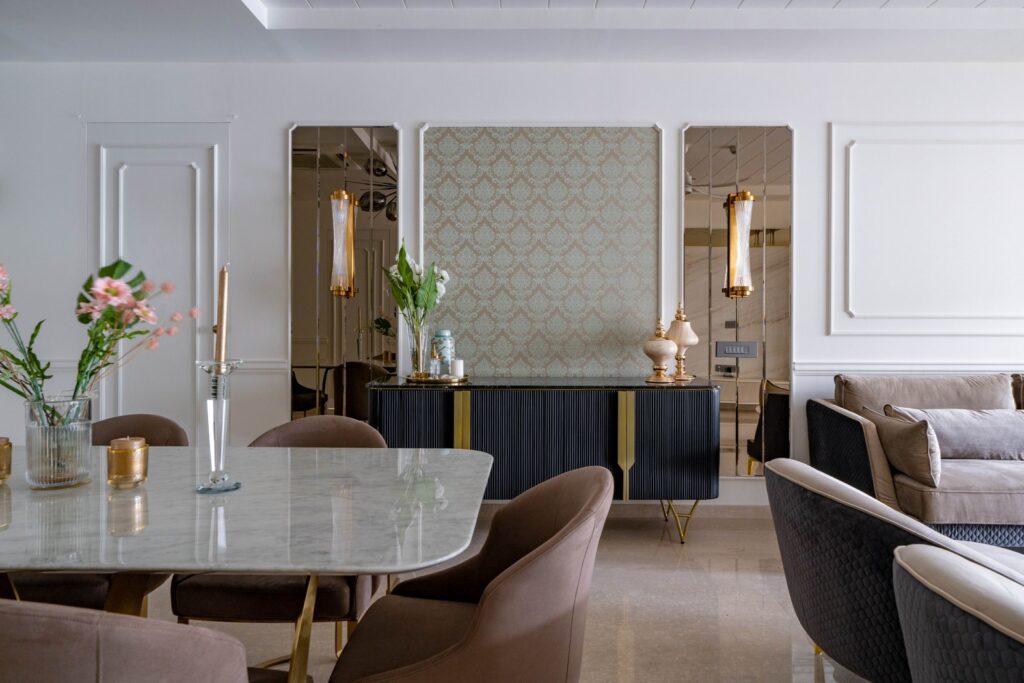 The sleek and glamorous TV Unit has been designed using marble stone and fluted panels painted in pastel colors. The neutral beige velvet sofas and chair from Elevate Furniture complimenting the swing from Fusion Art altogether makes a space an undeniably lavish spot, intensifying the experience of culinary delights.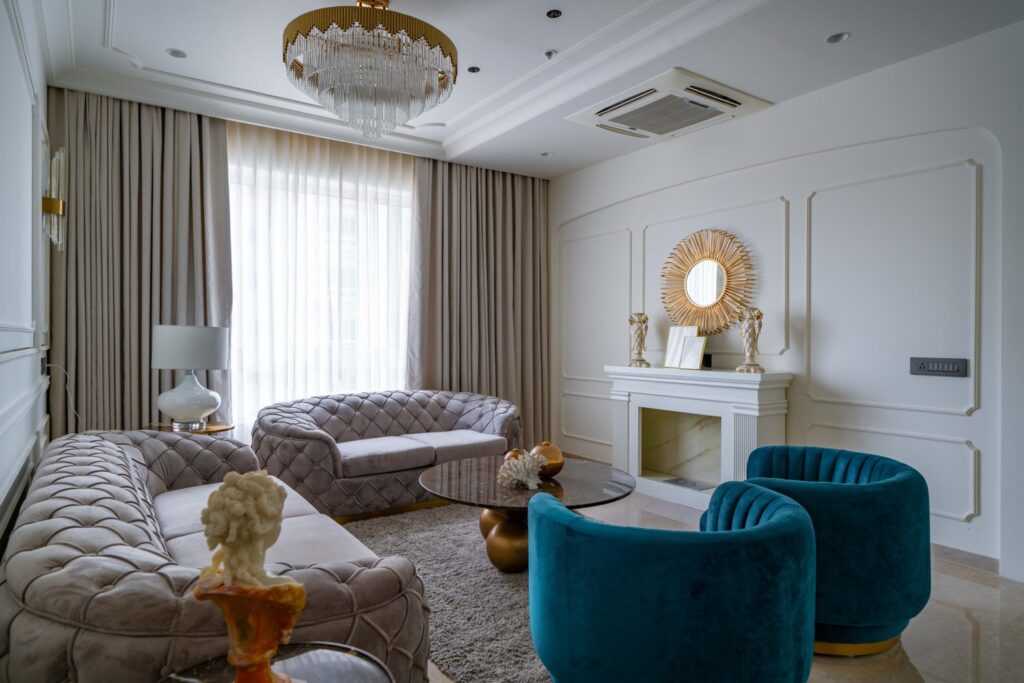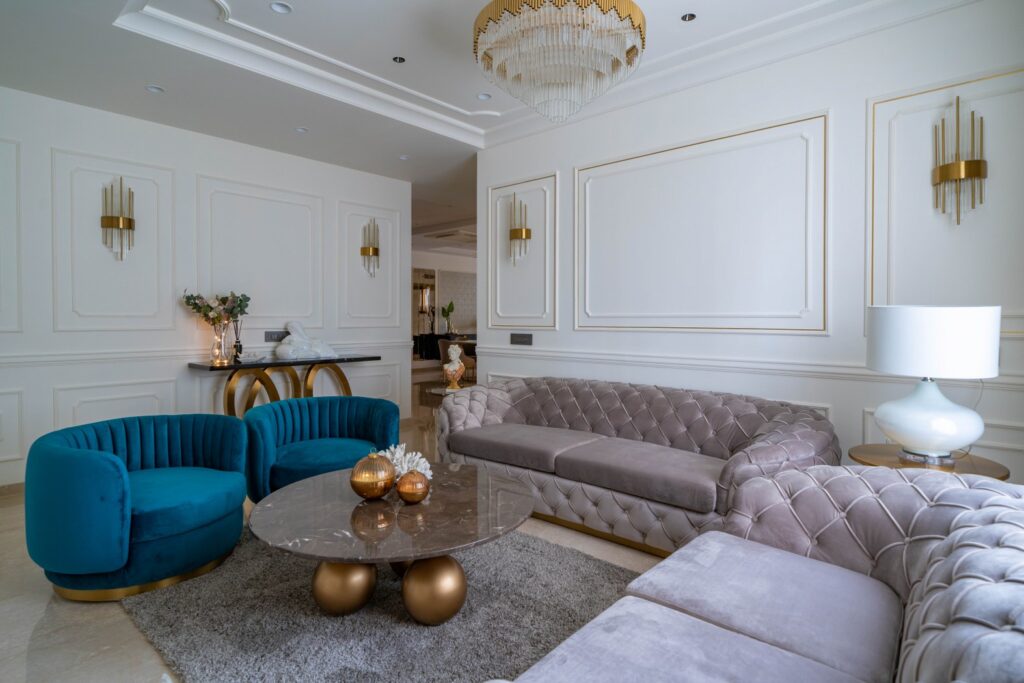 Repleted with modern amenities, this informal living area is designed in a contemporary neoclassicism style. The informal living room has pullable furniture to perch on and create conversation cocoons.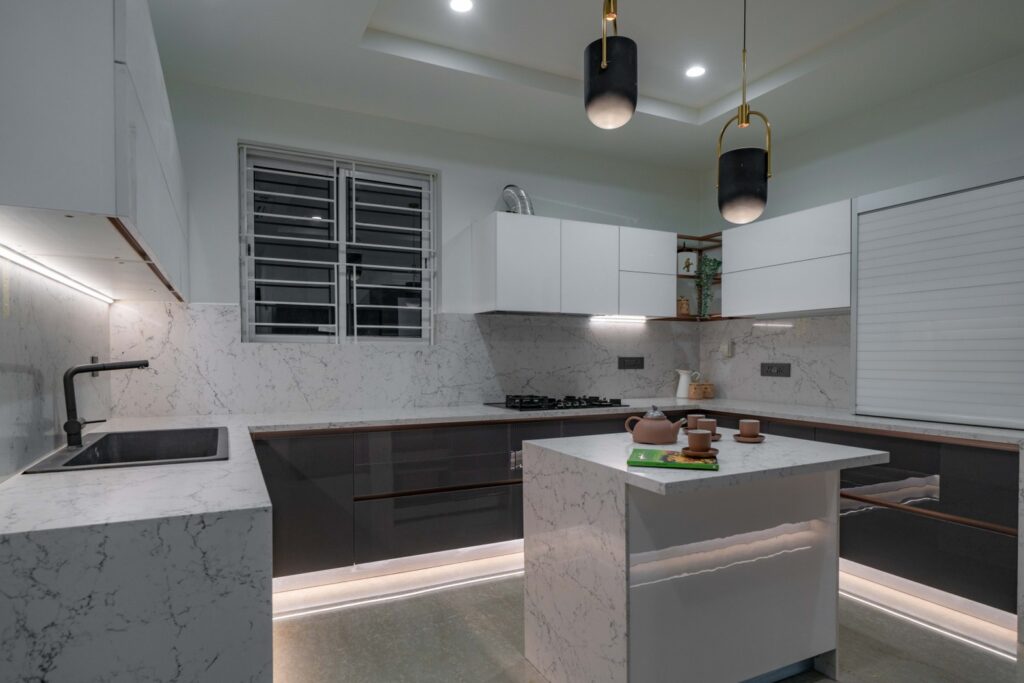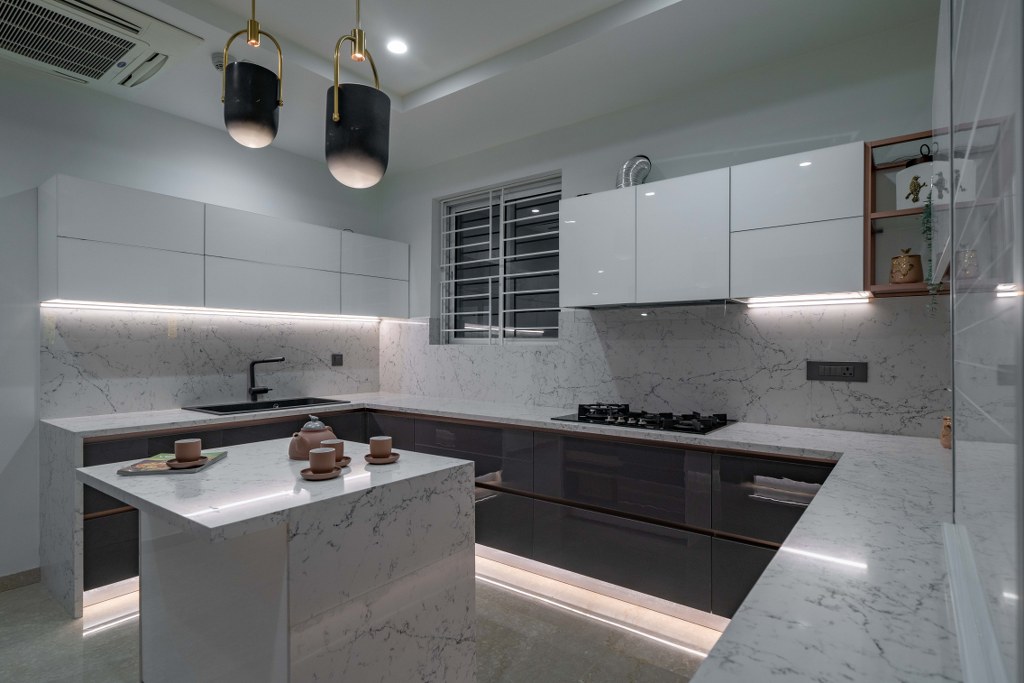 The bedroom brings in gentle powdery tones of olive green and brown to temper the dramatic shades of grey with a bed from Elevate Furniture.
The study table is placed on the side of the wall coupled with a simple chair and floating shelves.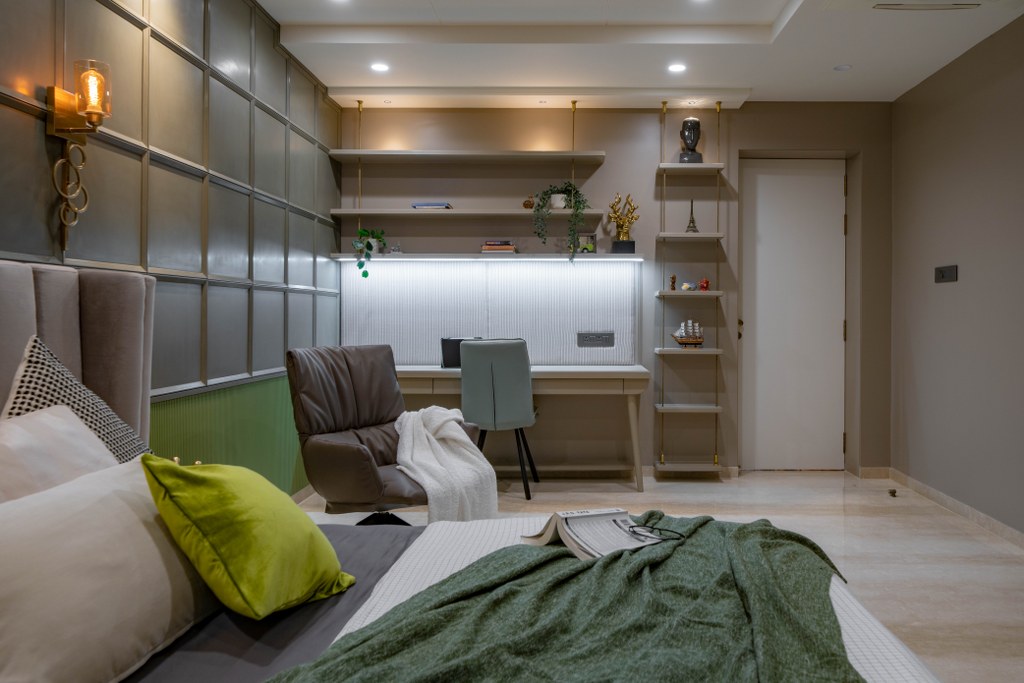 The space is finished off with brass handles and sleek brass lamps, which add a touch of glamour, making it incredibly versatile.
The space was created for children who enjoy elephants and cars. This bedroom's neutral colour scheme makes it a happy place to live.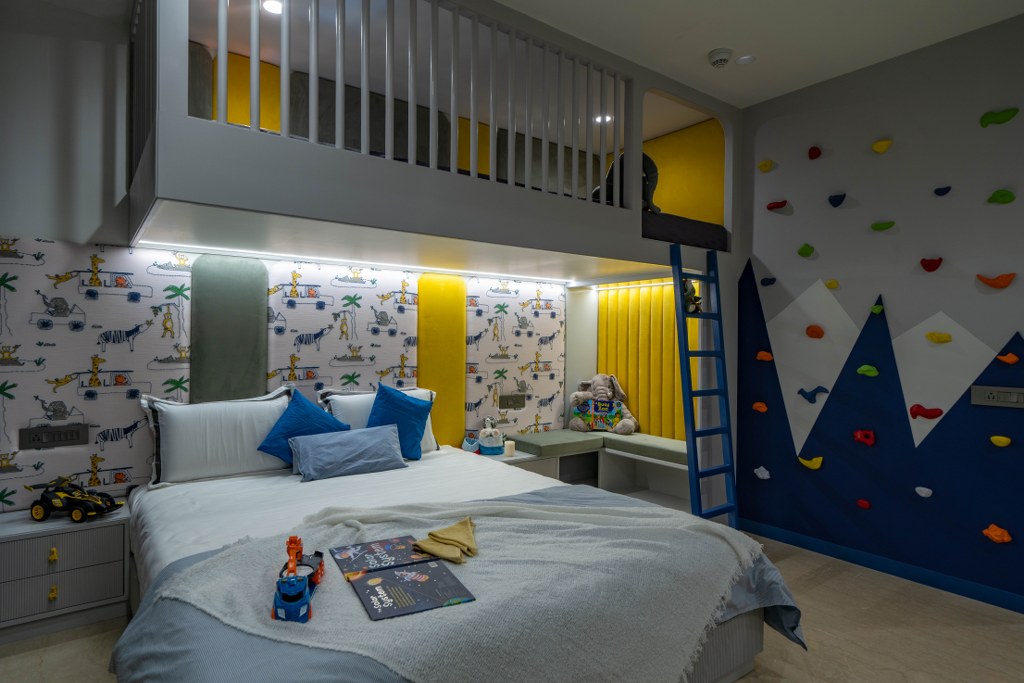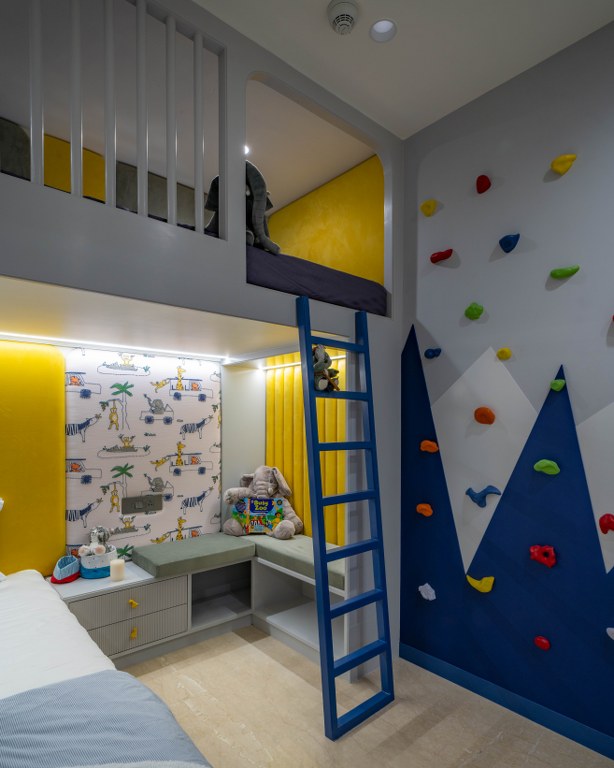 Additionally, it has a cosy bunk bed, a small study area with an open bookcase, and lots of room for play. A ladder and the rock-climbing grips create a delightful play area for children..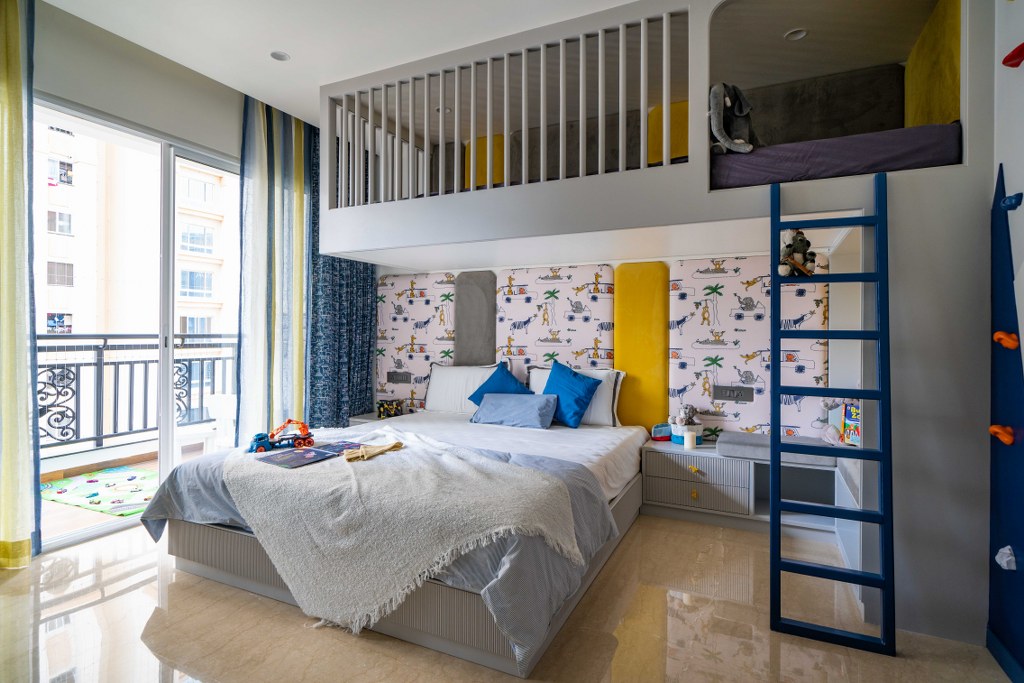 A gorgeous balcony has been constructed with floating shelves for the cars and a small play area with dazzling sun beams to create a getaway zone from the bedroom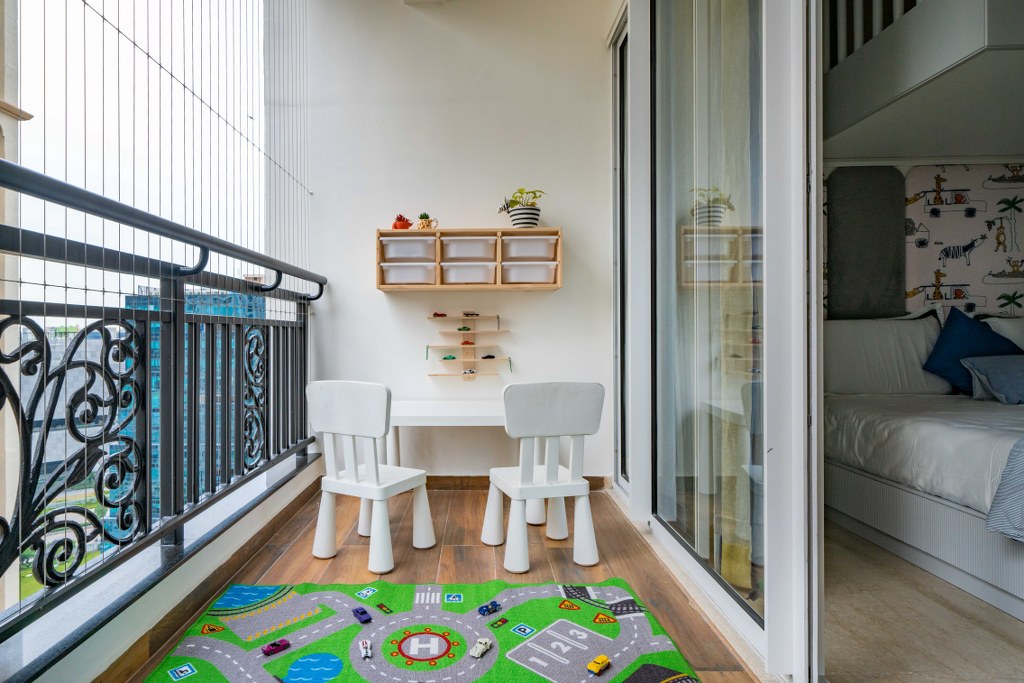 The kid's play area, which is frequently associated with garishness and mess, is here built with a vibrant colour scheme, ingenious storage, and a carefully chosen notion that transforms the kid's play area into a realm of imagination.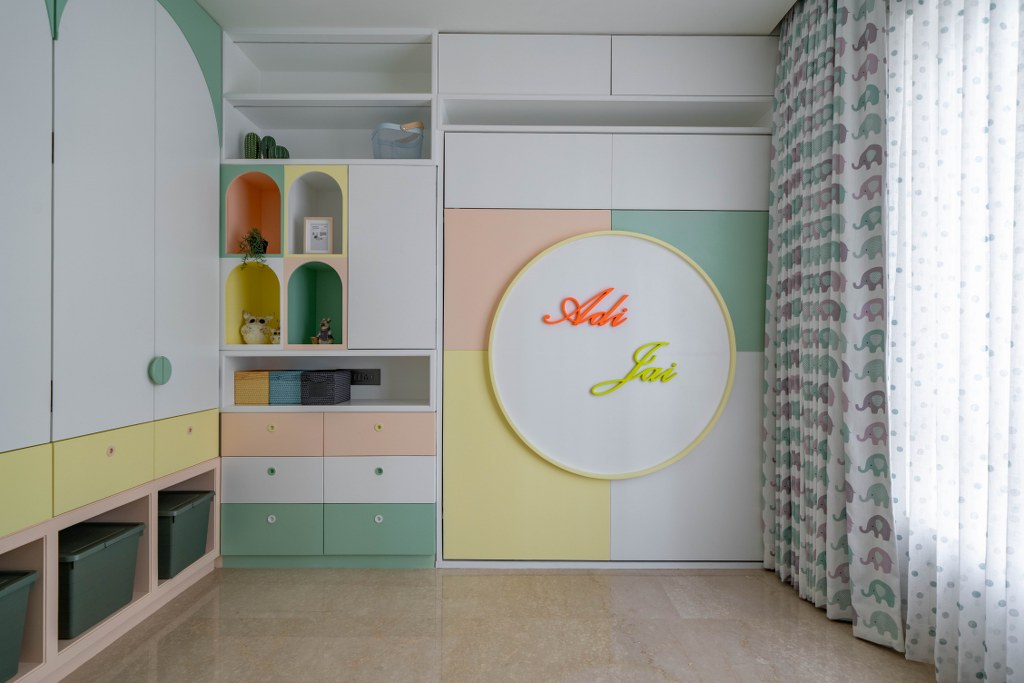 The room contains a foldable bed from Hafele India, and the walls are covered with a map of the world that children may use to learn about geography.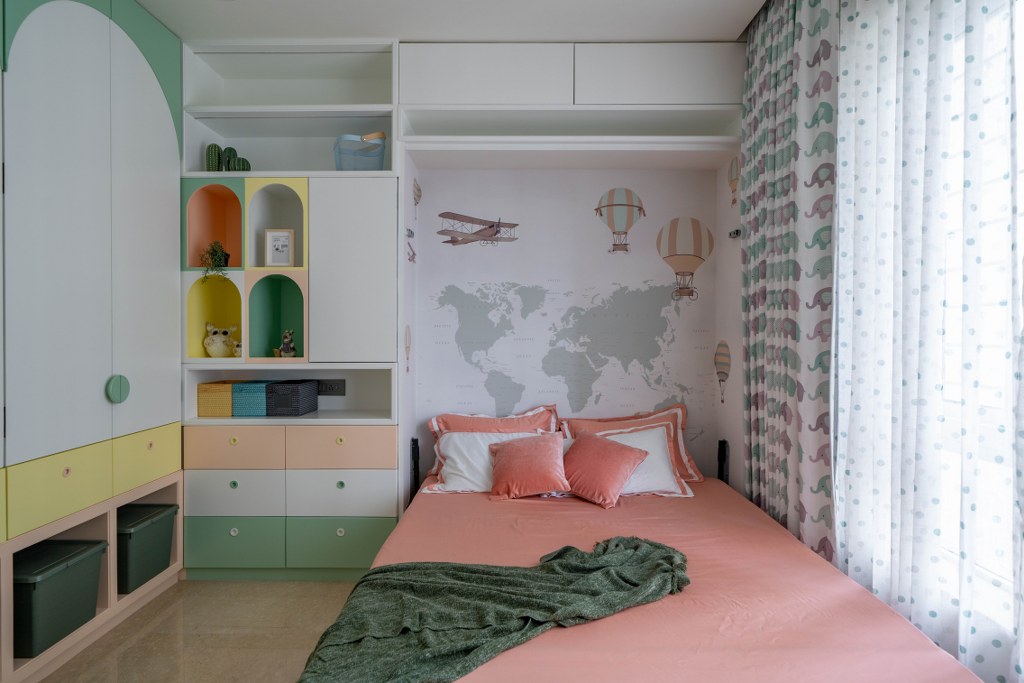 To delight themselves, it also features a climbing ladder, a rope holder, and a tiny swing.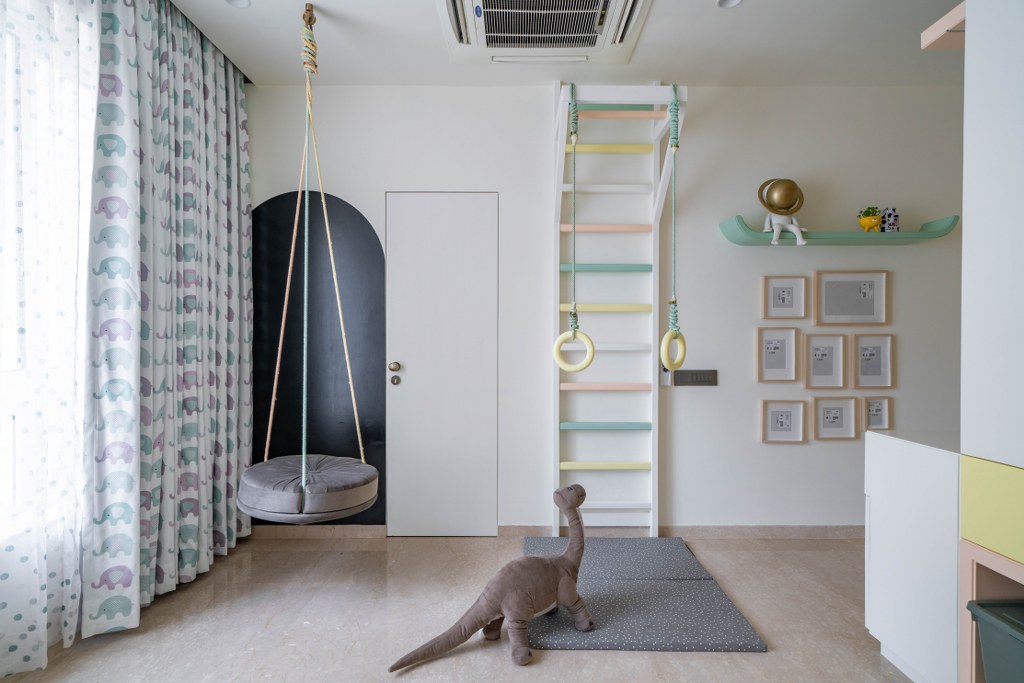 The kids can draw or doodle on a portion of the wall that has been transformed into a chalkboard.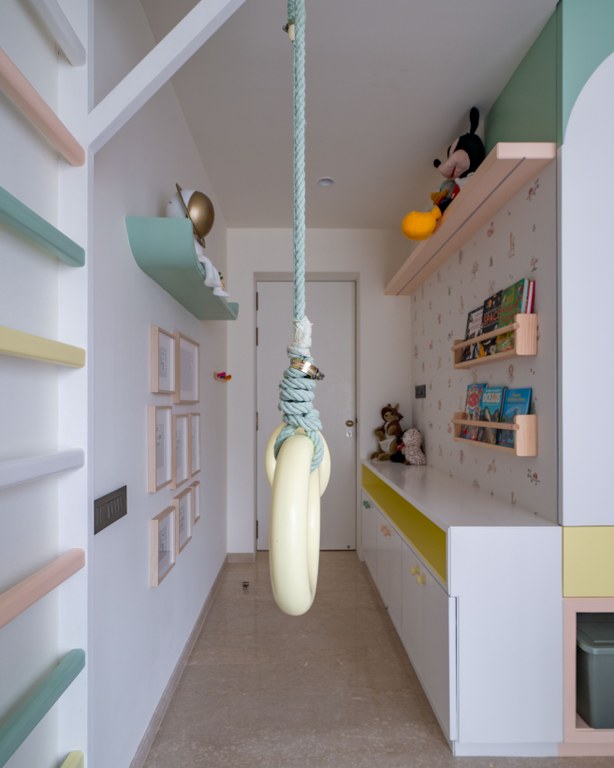 With the addition of colourful accents through soft furnishings, the typical grey colour is beautifully adapted in this room.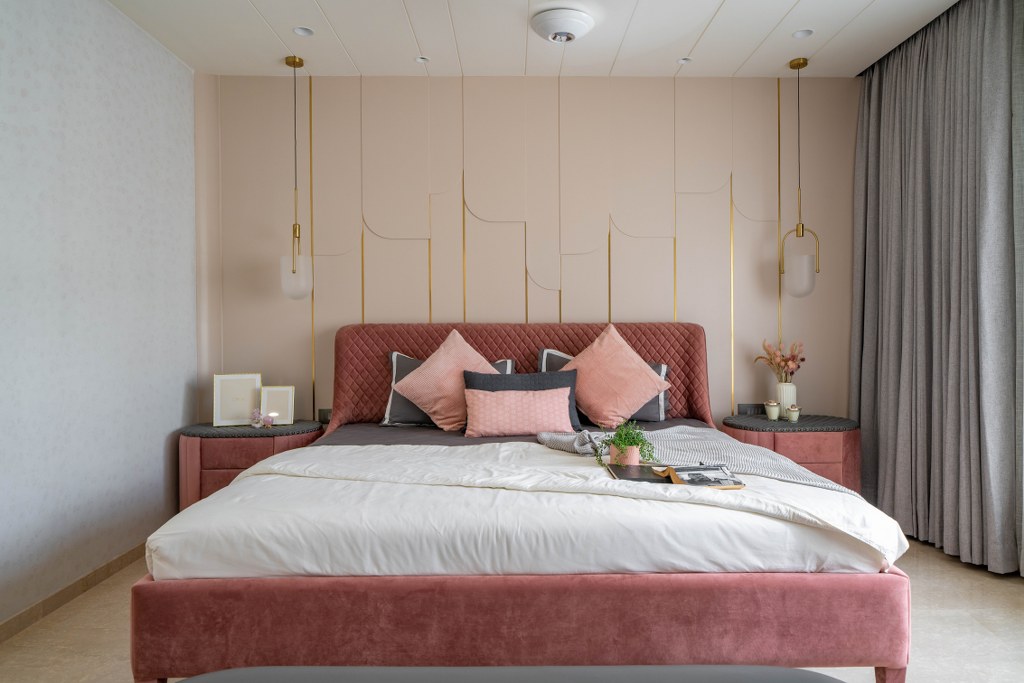 The idiosyncrasies of this area are recognised by striking a balance between colours for a sombre ambiance. Elevate furniture is used in the room's furnishings.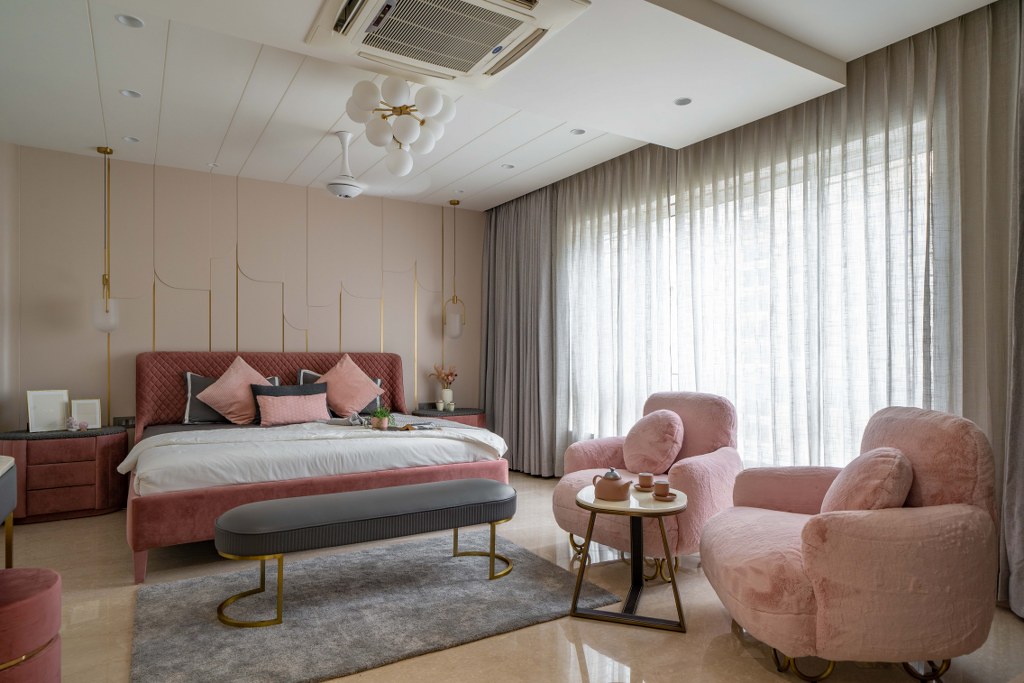 To give the room character and flair, the walls are painted in pastel colours with a touch of brass inlay.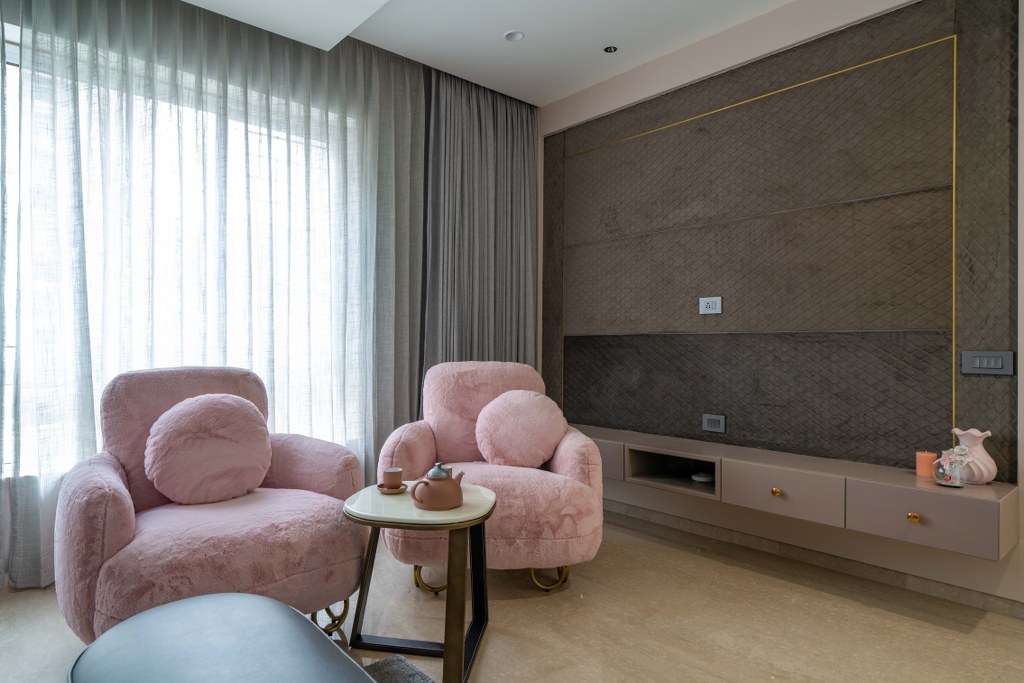 The room has a beige colour scheme with a wine coloured hidden bar by Nivasa to balance out the other half of the room with an uplifting colour tone.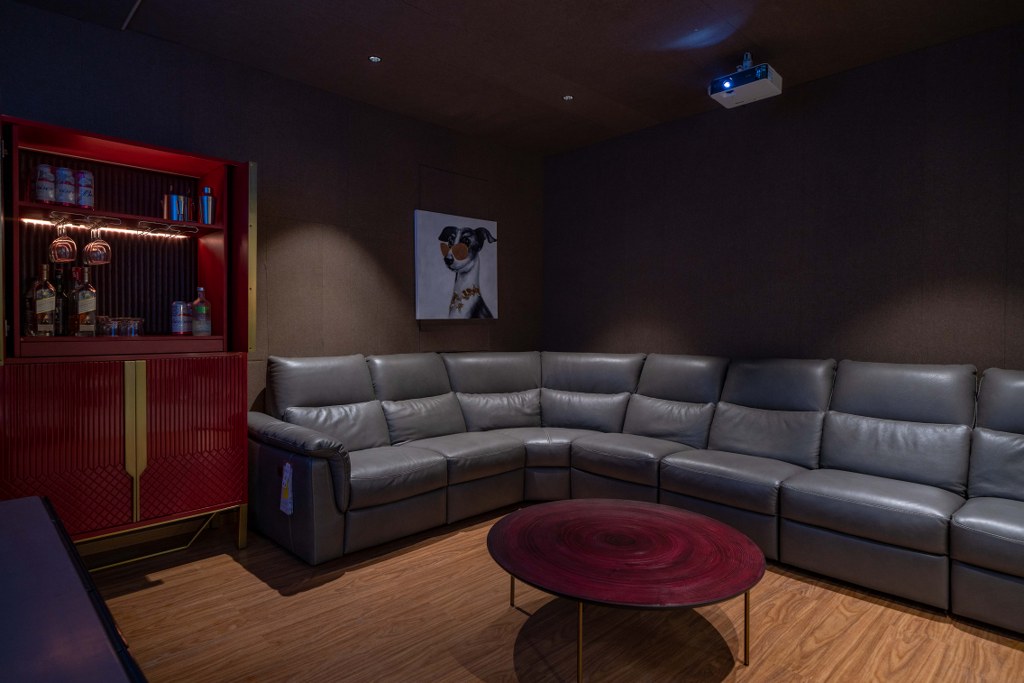 The dark decor and dimmable lighting of the space creates an authentic cinema mood. The area can be combined with the informal living room by sliding slide folds that expand into the informal space.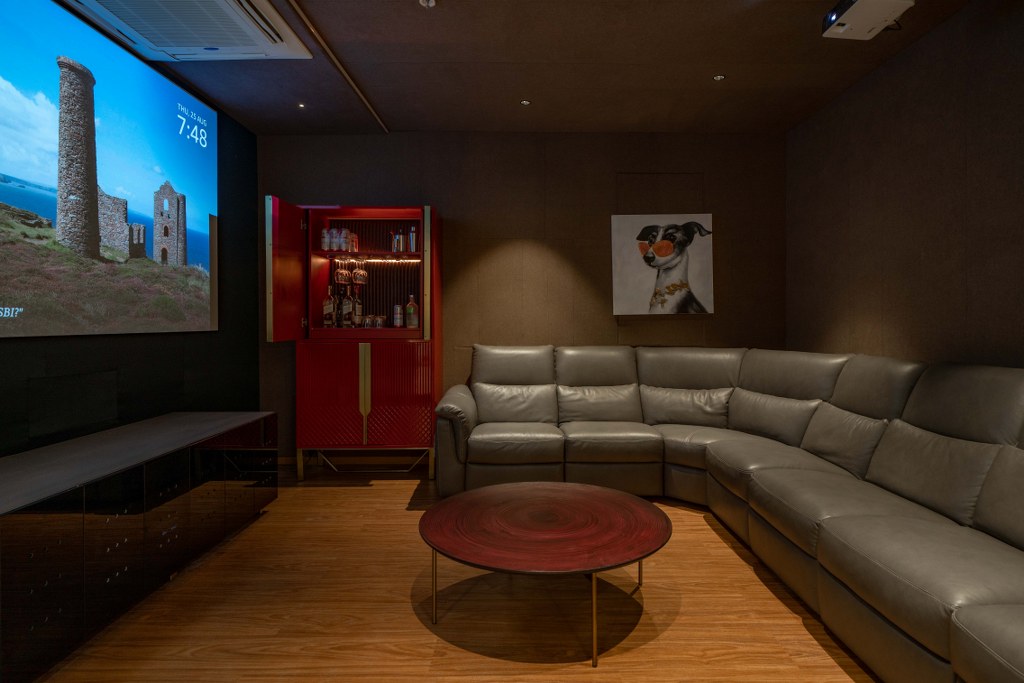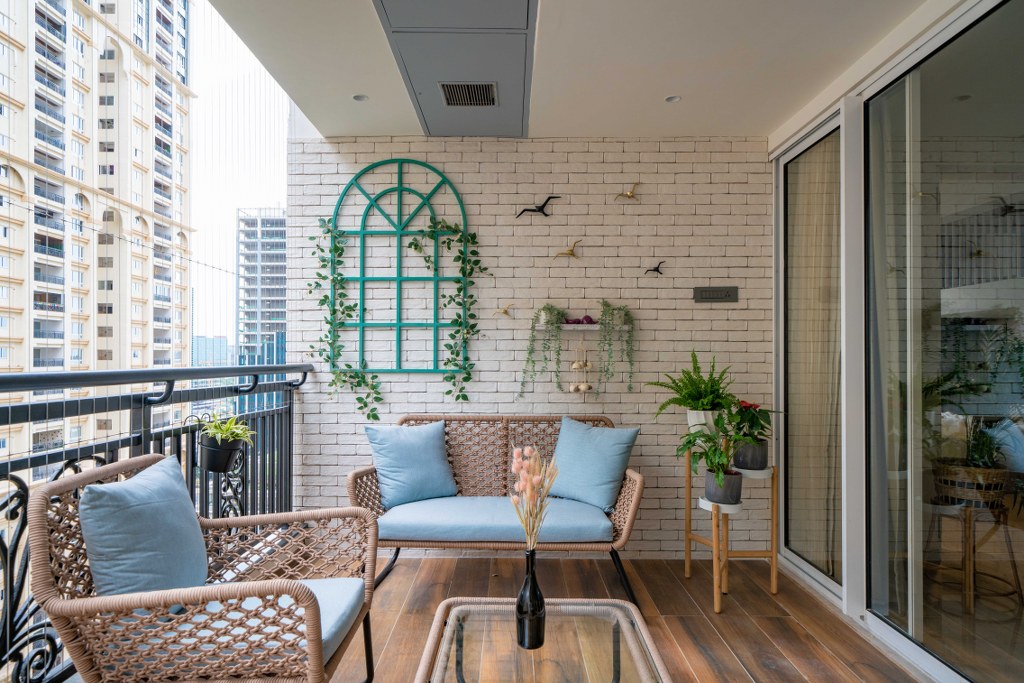 The area has the ideal environment for family gatherings where they can sit in recliners, think of old times and laugh about it.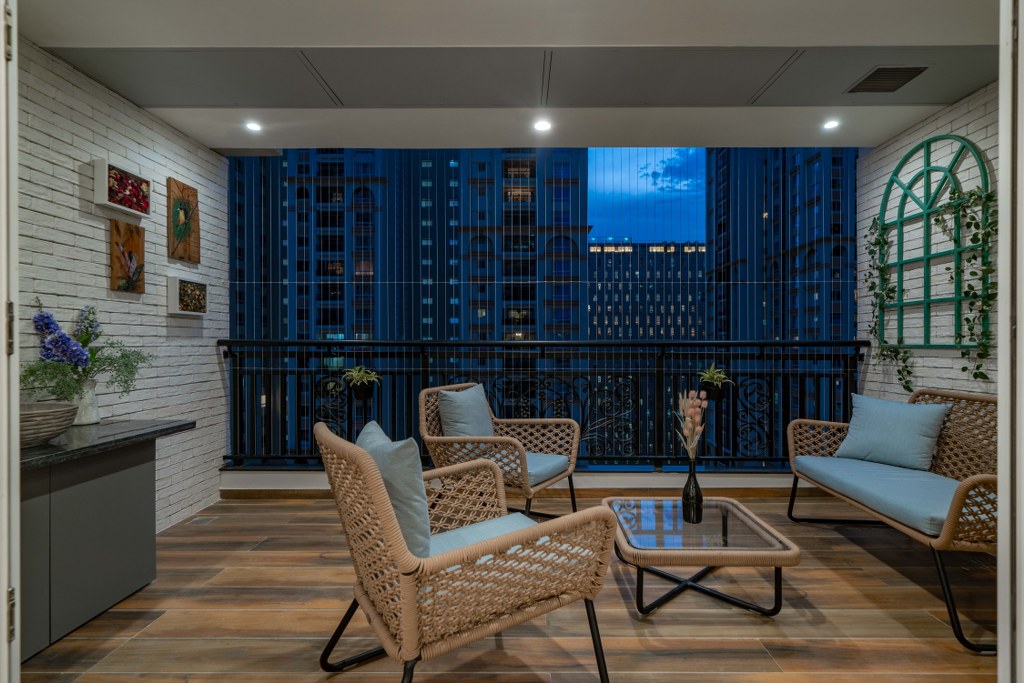 FACT FILE
Designed by : AN Design
Project Type : Apartment Interiors
Project Name : THE NEO HOUSE
Location : My Home Bhooja, Silpa Gram Craft Village, Rai Durg, Telangana 500081
Year Built : Aug 2022
Duration of project : 8 MONTHS
Project Size : 4070 sq. ft.
Project Cost : 2 cr.
Principal Architect : ID. NIKITA MEHTA
Team Design Credits : AN Design Team
Photograph Courtesy : Ricken Desai
Products / Materials / Vendors : Finishes – Asian paints PU Finish / Lighting – The White Teak / Doors and Partitions – Odaville Windows / Furniture – Nivasa / Elevate X / Kitchen – Hafele / Artefacts – OMA Living , IKEA , VENUS FURNISHING / Wallpaper – Wallpaper Scissor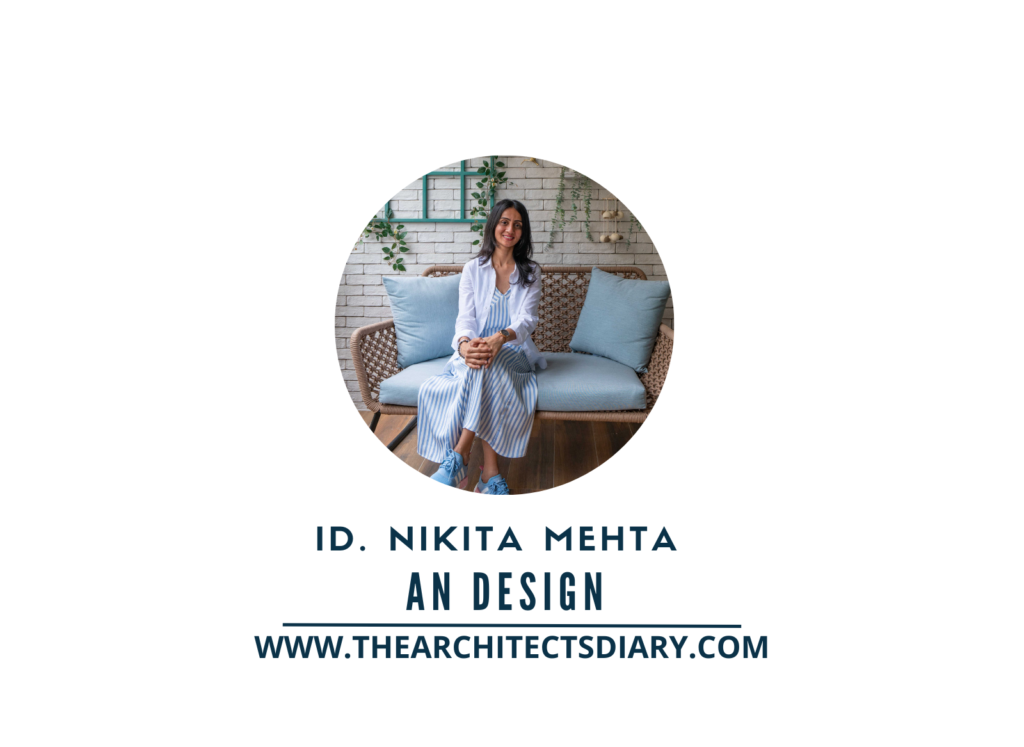 Firm's Instagram Link : AN Design
Firm's Facebook Link : AN Design
For Similar Project>> MODIFYING THE FURNITURE DESIGN OF ONE'S HOME TO MODERN STYLE