&nbsp
Sprawled across 1200 square feet, stepping into the newly designed workspace by 'Kstudio Designs' will surely leave anyone dazzled. Complemented with thoughtfully curated furnishings, exceptional craftsmanship, metallic artwork, ample greenery, hushed hues with meticulously chosen lounges, unique seating spaces, and a refreshing workstation, 'Sun Orbit' embodies the personalities of the power couple hailing from two different professions.
Meticulously Chosen Lounges, Unique Seating Spaces And A Refreshing Workstation | Kstudio Designs
visit : Kstudio Designs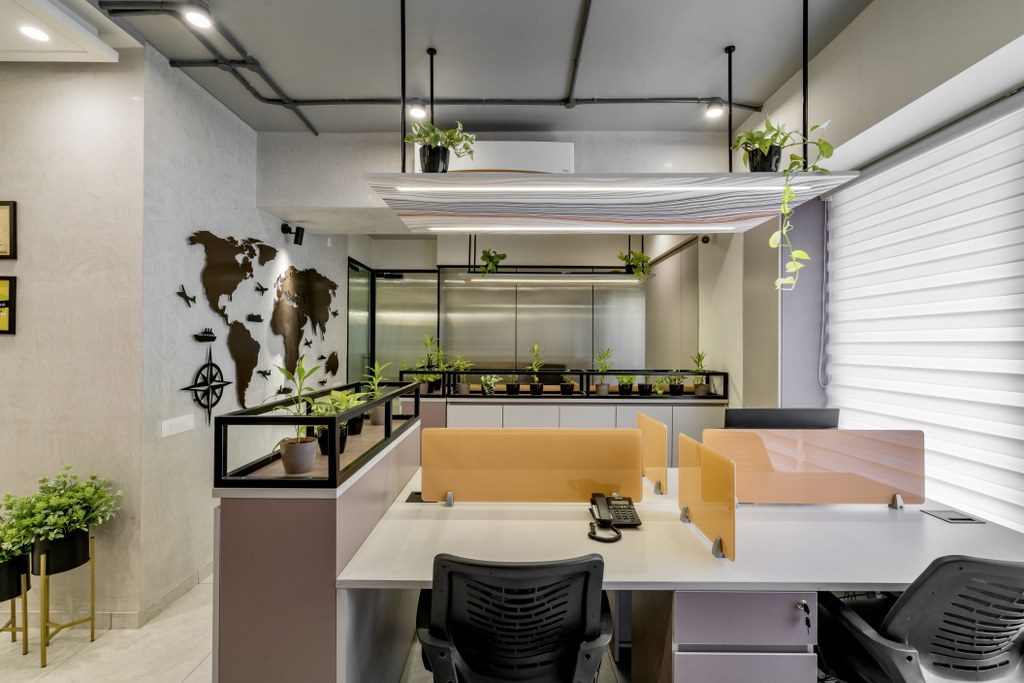 The eclectic artwork of the world map creates a striking entrée into a carefully thought-out passage of the workstation and waiting area. For privacy, a minimal yet modish tinted glass partition was installed between the workstation and the waiting area, keeping the spaces open with minimum visual obstruction.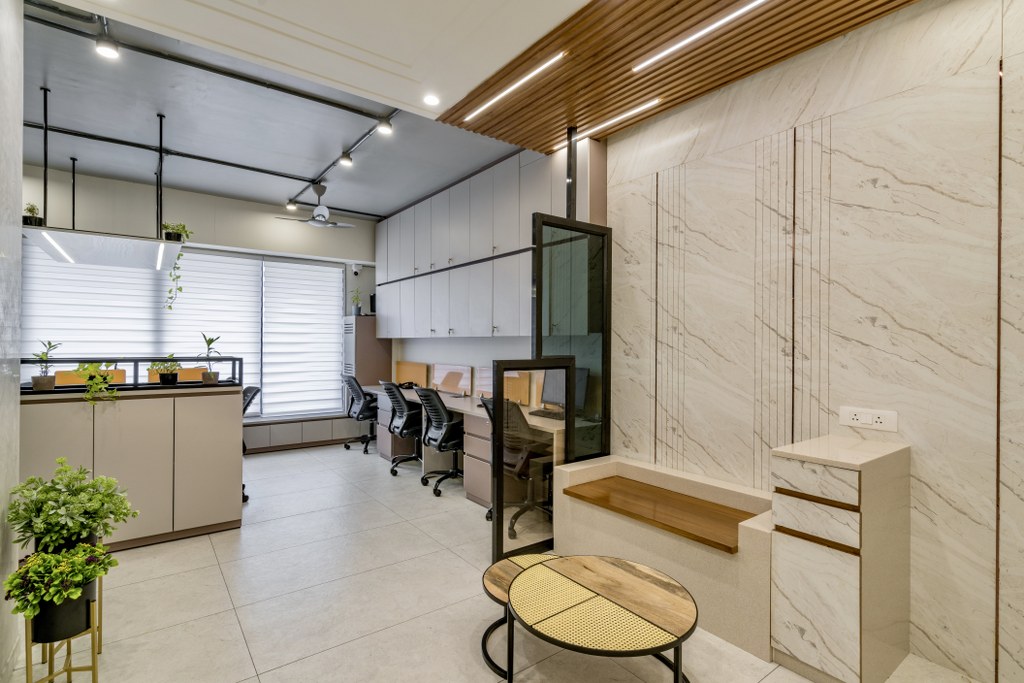 Also, from a utilitarian perspective, to prevent the workstation from seeming cramped and enclosed, the ceiling was left bare. The two panels that descend from the top not only add an element of aesthetics but also address the lighting issue.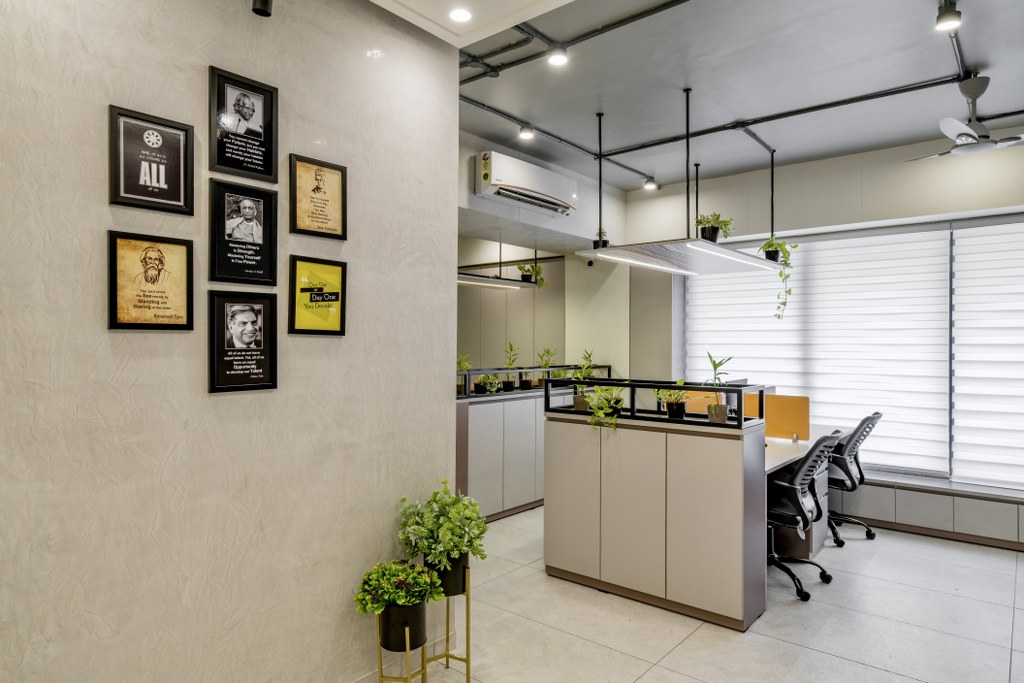 The overall Italian marble finish of the wallpaper-wrapped panels brings finesse that lends the space a sense of splendour. The corner is adorned with exquisite hanging plants along with opulent art in the form of a big designer clock mounted on the wall.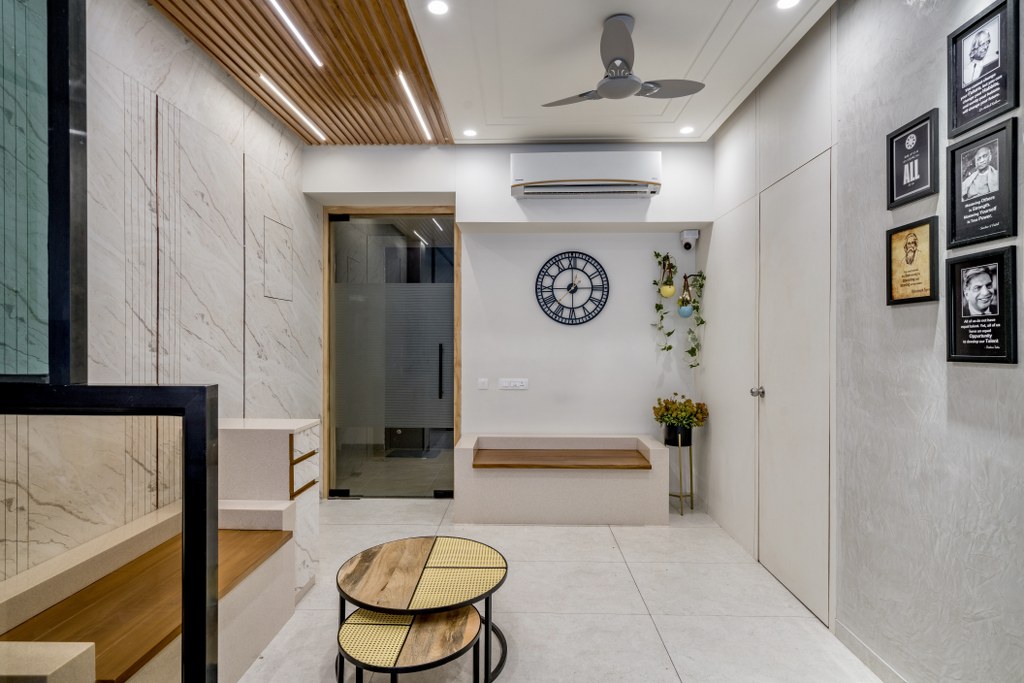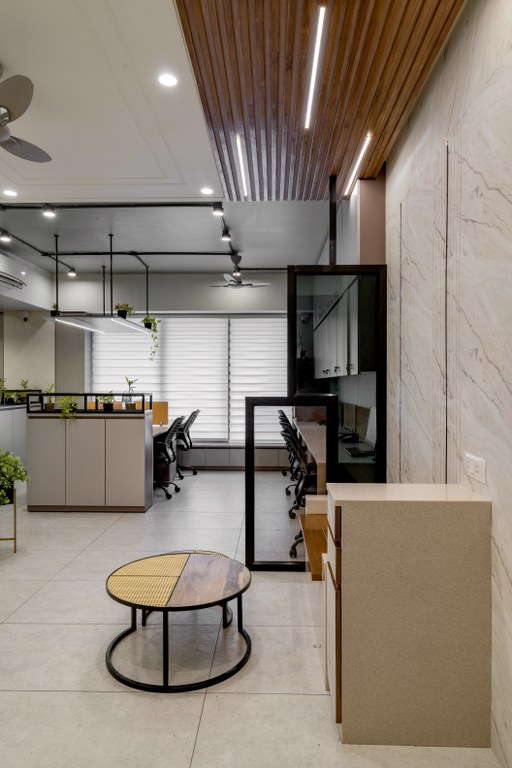 A business coach by profession, my client already had a vivid picture of what she wanted for her cabin: elegance, charm, uniqueness, and finesse that would complement her personality and inspire the clients to open up during the discussion sessions. Outfitted with a striking curved brick ceiling, it lends an essence of modernity and sophistication to the cabin.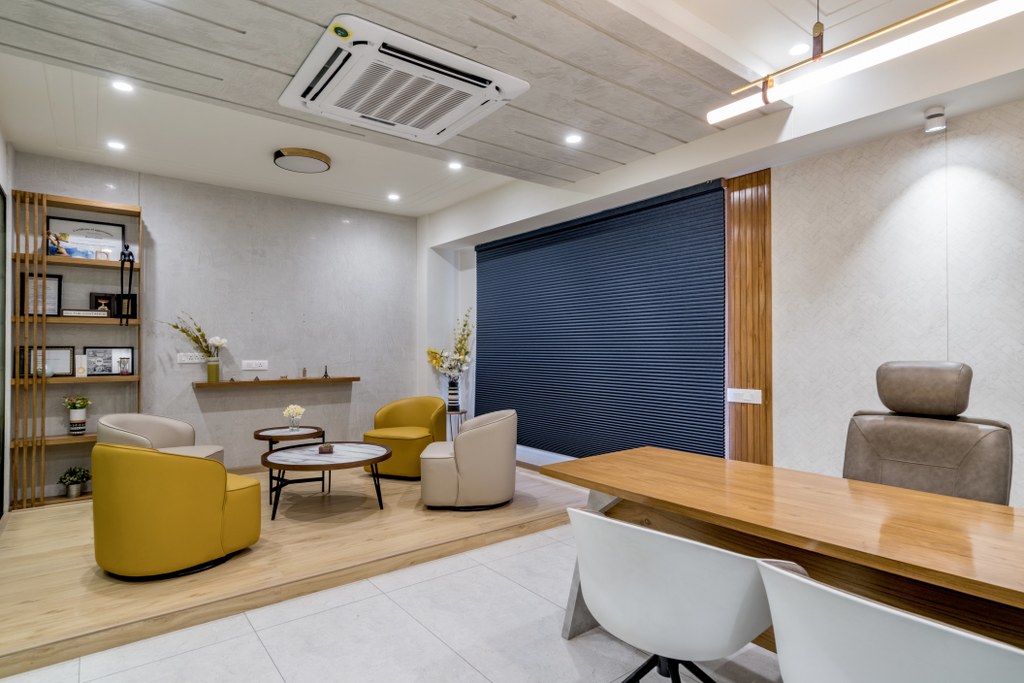 The library unit that stands sentinel to one corner offers a cozy nook for reading and relaxation, while the designer metallic based curvature table in Corian finish, the soft pastel tone of the couch, and the unique visitor's chairs elevate the overall décor.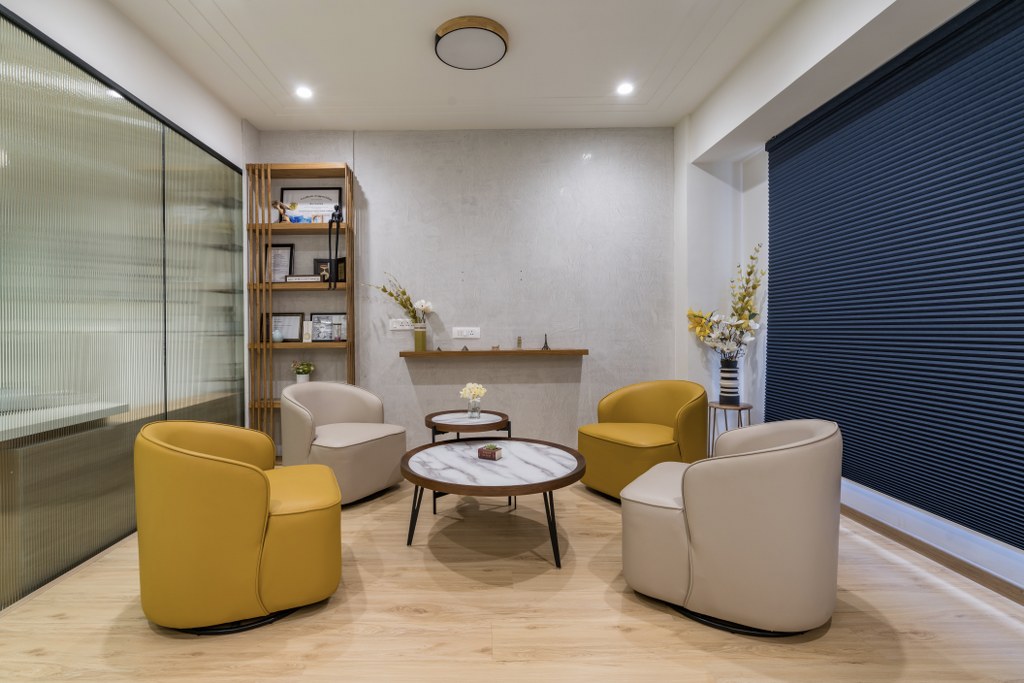 The artistic overlay of the mural and butterflies, foregrounding the theme, "transform, evolve, and grow," adheres to her objective of inspiring the clients and helping them through their journey. Even the minutest details, the small plantation with the stone pieces on the table she could use during her sessions were, to her delight, curated to perfection, keeping her preferences and profession in mind.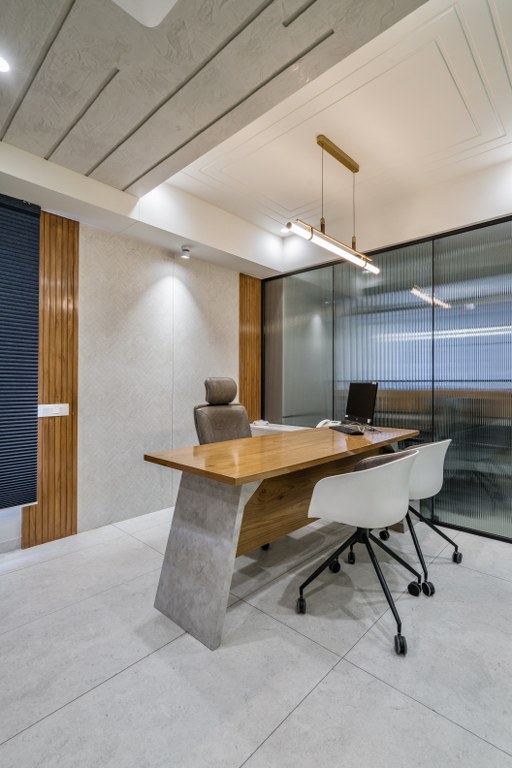 Separated by a fluted glass partition and very similar to the other areas, the design of Ravi's cabin, an industrialist by profession, was designed to suit his taste to look modest, minimal, and sleek.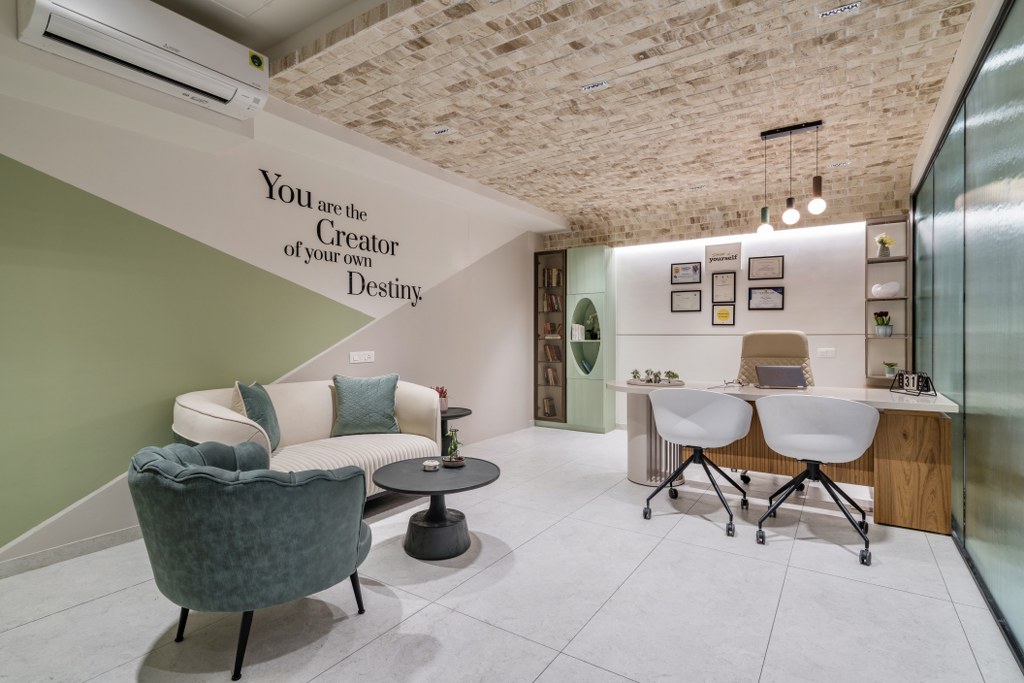 The stage installed beneath the coffee table gave the space added dimension and flare.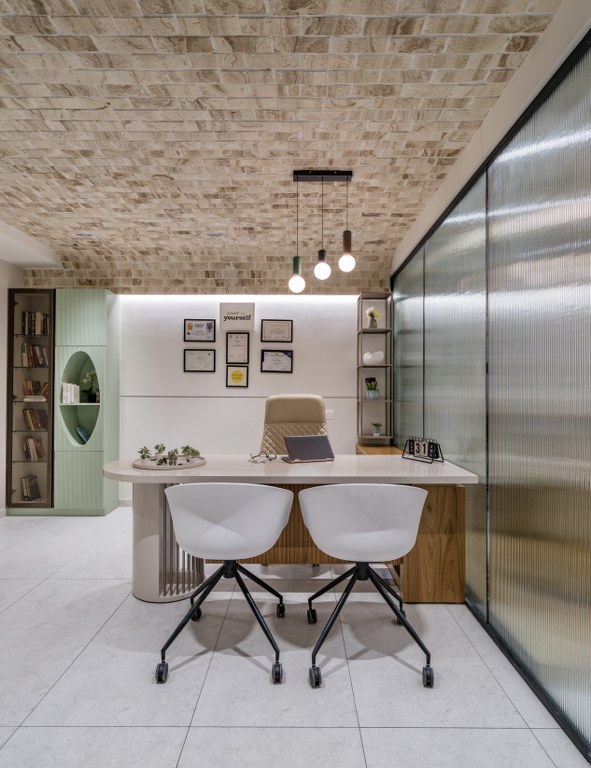 With details such as this, Karishma Sutaria and her team have once again showcased their competence by taking on this project that stands out from the rest.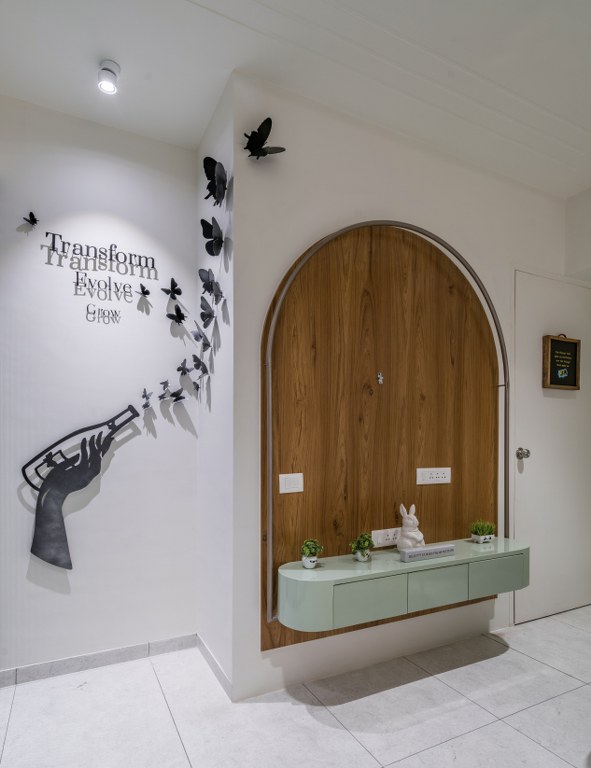 FACT FILE
Designed by : Kstudio designs
Project Type : Office Interiors
Project Name : SUN ORBIT OFFICE
Year Built : 2022
Duration of project : 3 MONTHS
Project Size : 1200 sq.ft
Principal Architect : KARISHMA SUTARIA
Photograph Courtesy : Inclined Studio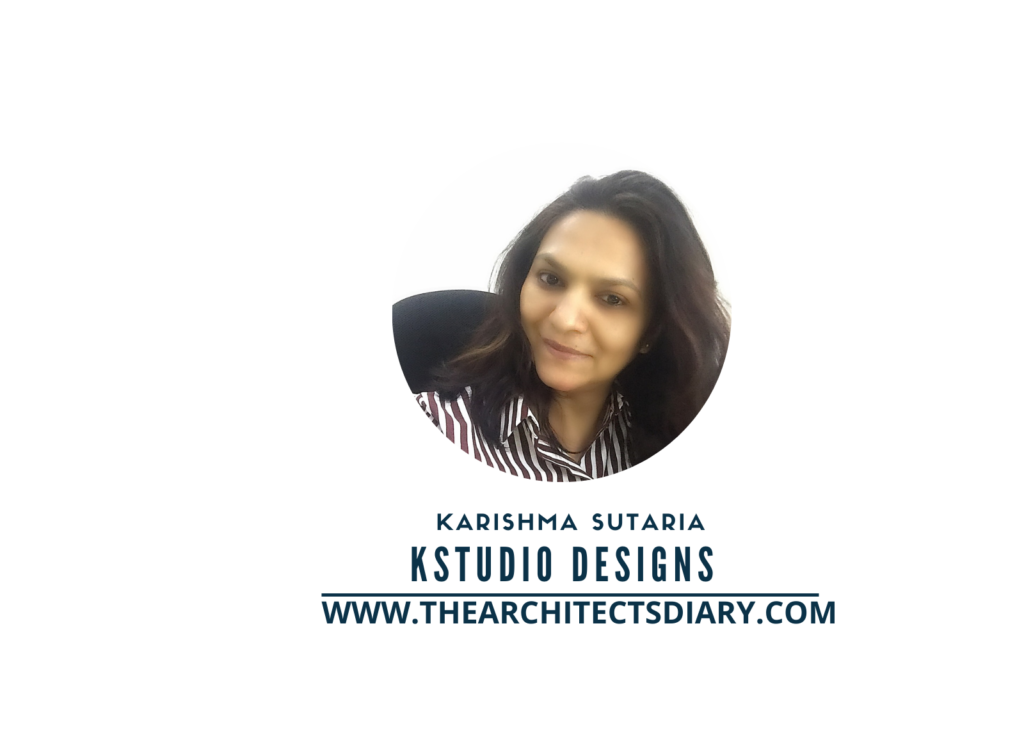 Firm's Instagram Link : Kstudio designs
Firm's Facebook Link : Kstudio designs
For Similar Projects >> FOCUSING MORE ON NATURAL LIGHTS THUS ENHANCING THE OFFICE INTERIORS