&nbsp
This new studio was being built as the country was being re-opened post the nearly two years of various lockdowns, hence a colourful tropical theme bringing cheer and vibrancy to the decor was aptly considered. A small footprint in an old building has its own set of challenges such as ceiling heights, AC piping etc. The studio uses the clean minimalist lines with a pastel palette with plenty of references to tropical, be it the wallpapers or the real plants. The studio also has a very open plan with thoughtfully designed space for workstations, breakout, collaboration room – all in 475 square feet.
Artisanal Design Collective is a new design studio whose roots are in collaborative design and a focus on uber luxury homes and hospitality projects. Founded by Rashmin Perla, who have over 3 decades of project and design management expertise and is based in Bangalore.
A Colourful Tropical Theme Bringing Cheer And Vibrancy To The Decor | Artisanal Design Collective
visit : Artisanal Design Collective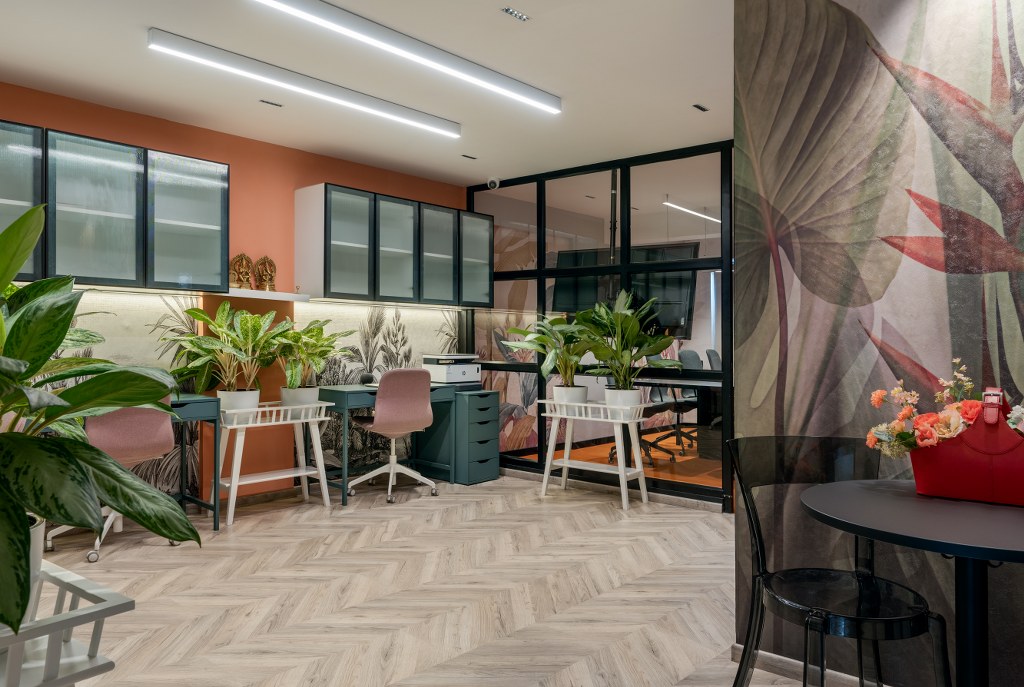 The entry to the studio has a small discussion table and acrylic chair backed by a custom wallpaper and wall washing laser blades. The open workstation area is separated by planters with custom fluted glass overhead cabinets.
A play on Matt finishes with pastel overlay with custom wallpaper completes each workstation.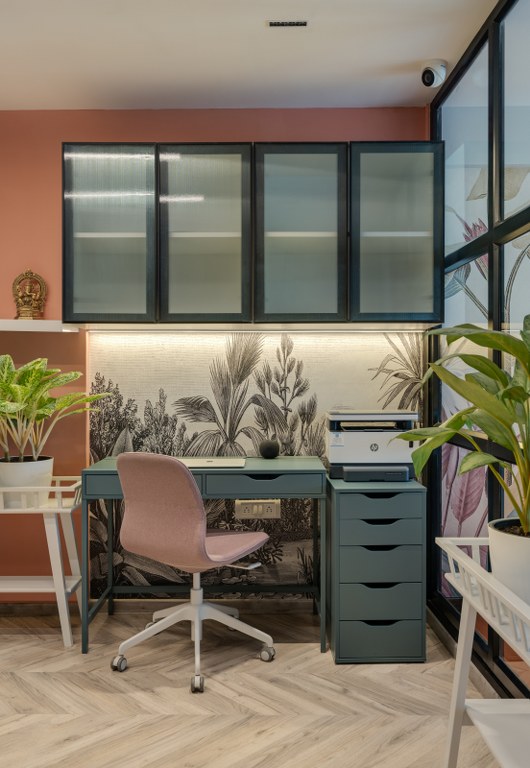 Another view of the four work stations and the printer station.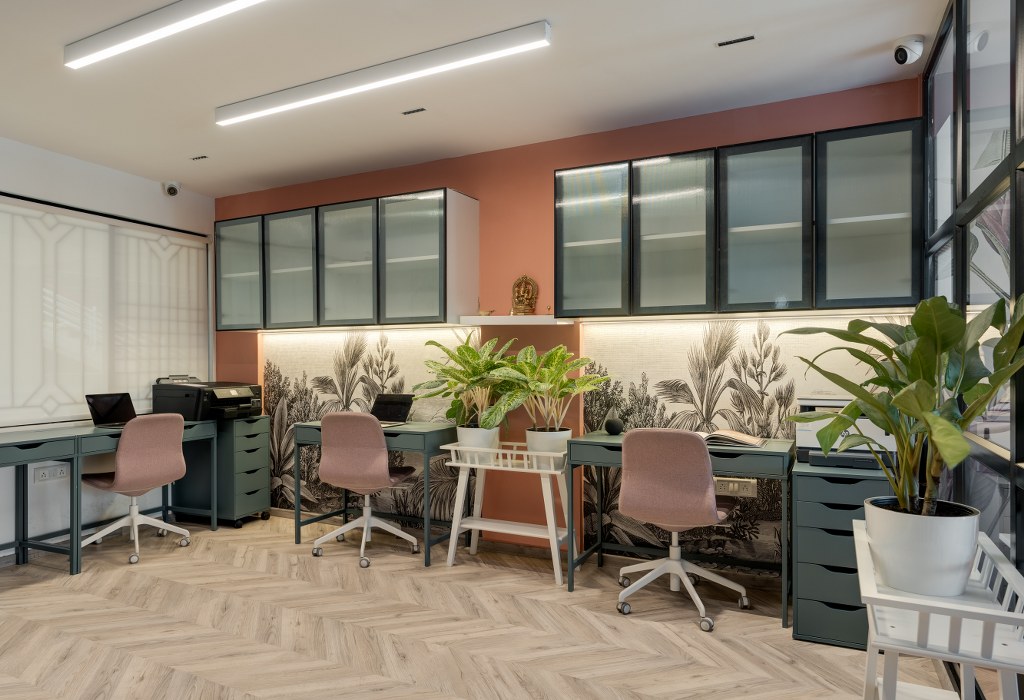 The collab space features flotex flooring for low maintenance with custom wallpaper.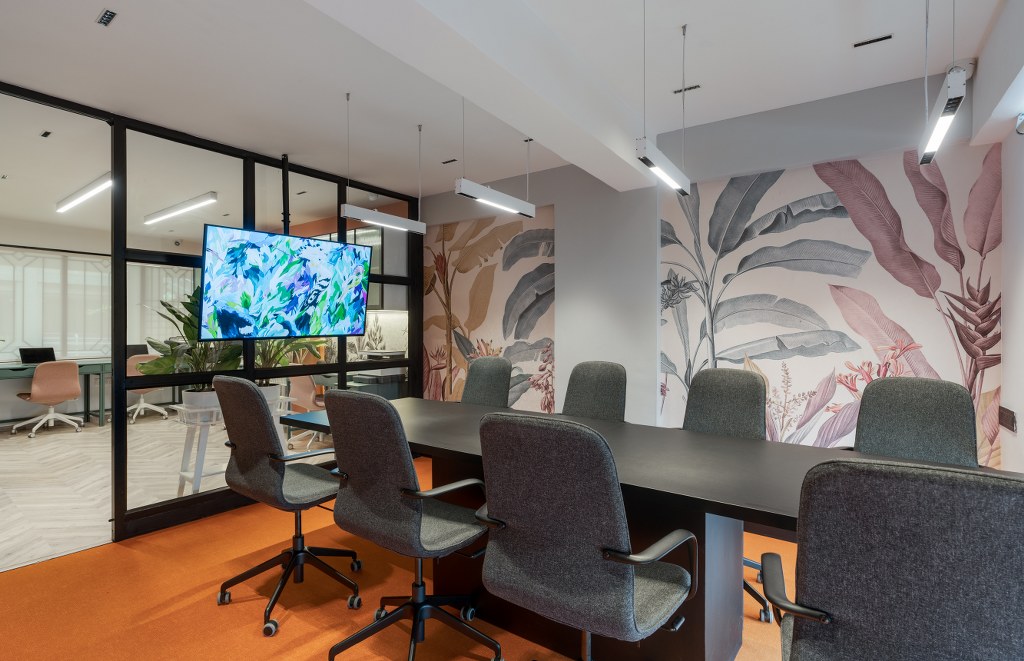 The video conferencing system features a mersive collaboration tool and completely connected via with ceiling.
The breakout space has a casual vibe with custom coloured stools with houndstooth upholstery.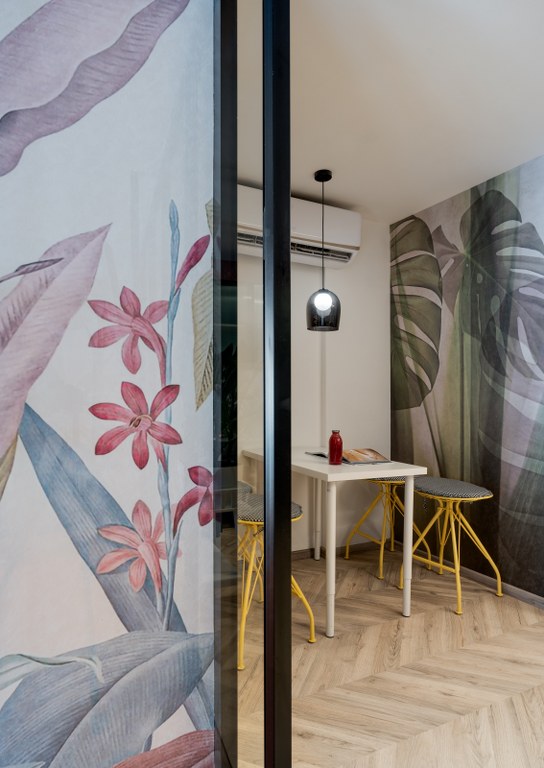 Yet another view of the breakout space.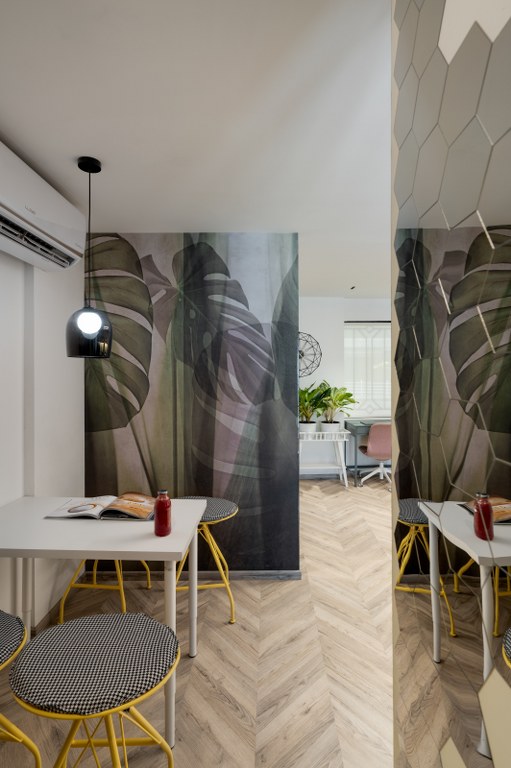 Ankita's preferred design signature is 'Indochine' and also likes to use modern design aesthetics with the colour vibrancy that is India in her design development.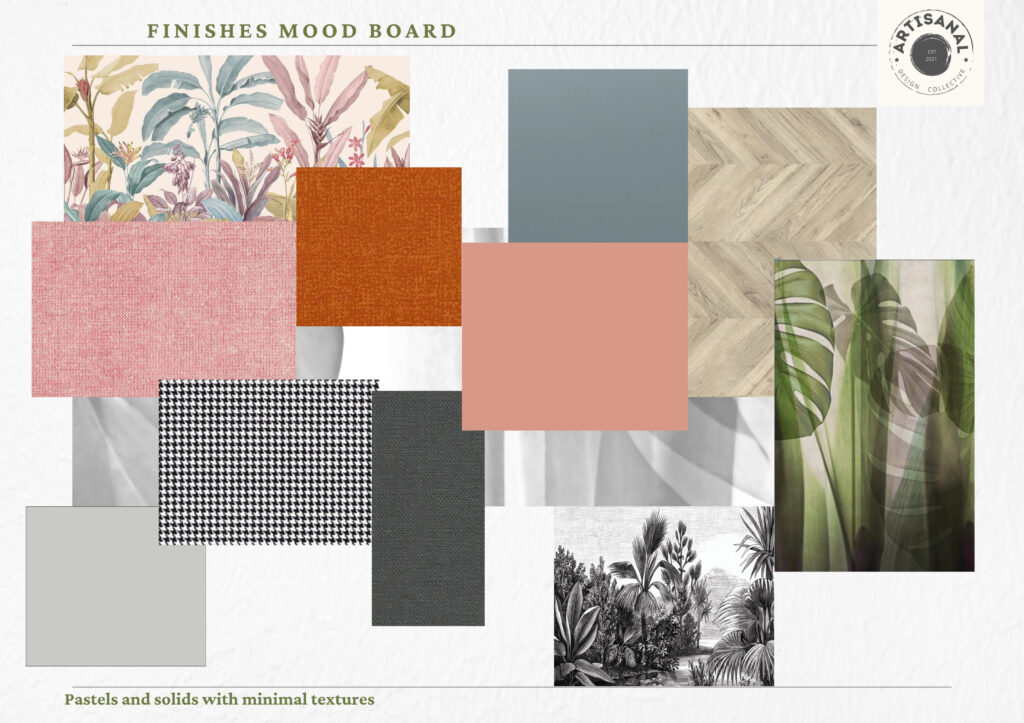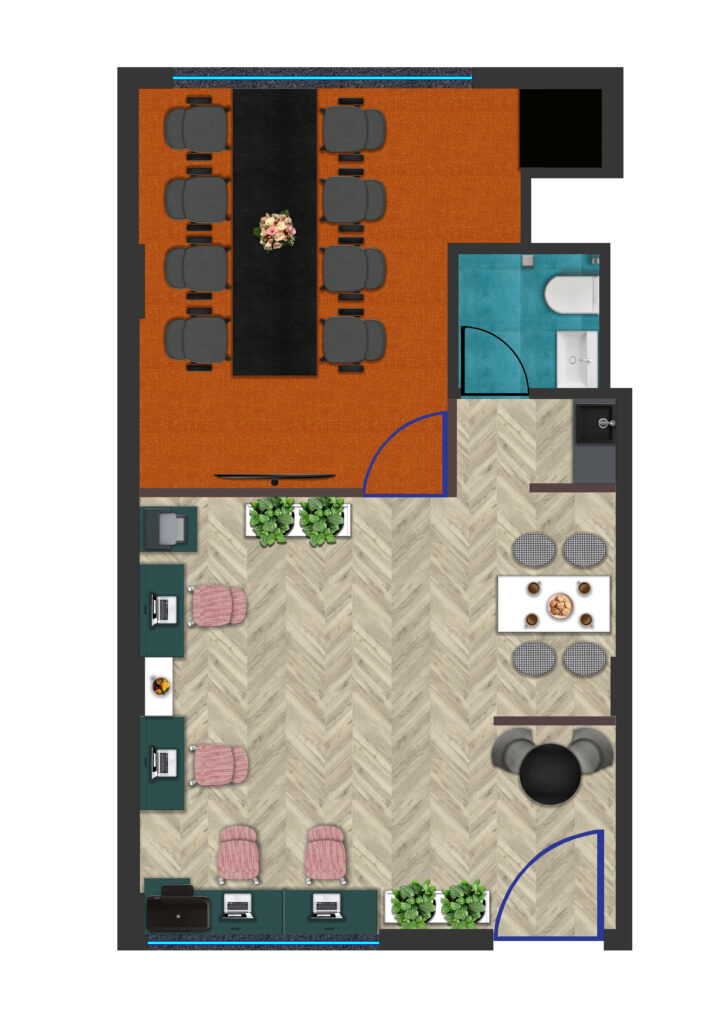 FACT FILE :
Designed by : Artisanal Design Collective
Project Type : Office Interiors
Project Name : Studio Of Artisanal Design Collective
Location : Prestige Centre Point, Cunningham Road, Bangalore
Year Built : 2022
Duration of project : 24 days
Plot Area : 475 sq. ft
Project Size : 475 sq. ft
Project Cost Approximate : 22 lacs.
Principal Architect : Ankita Gullia
Photograph Courtesy : Shamanth Patel
Products/Materials/Vendors : Lighting – Prism Lighting / Flooring – Laminate Flooring – Box Plank Flocked Nylon – plaunshe / Wallpapers – In House Bespoke / Chairs and workstation – Ikea / Planters and Planter – Beruru / Tiles and Sanitary ware – Aman Trading.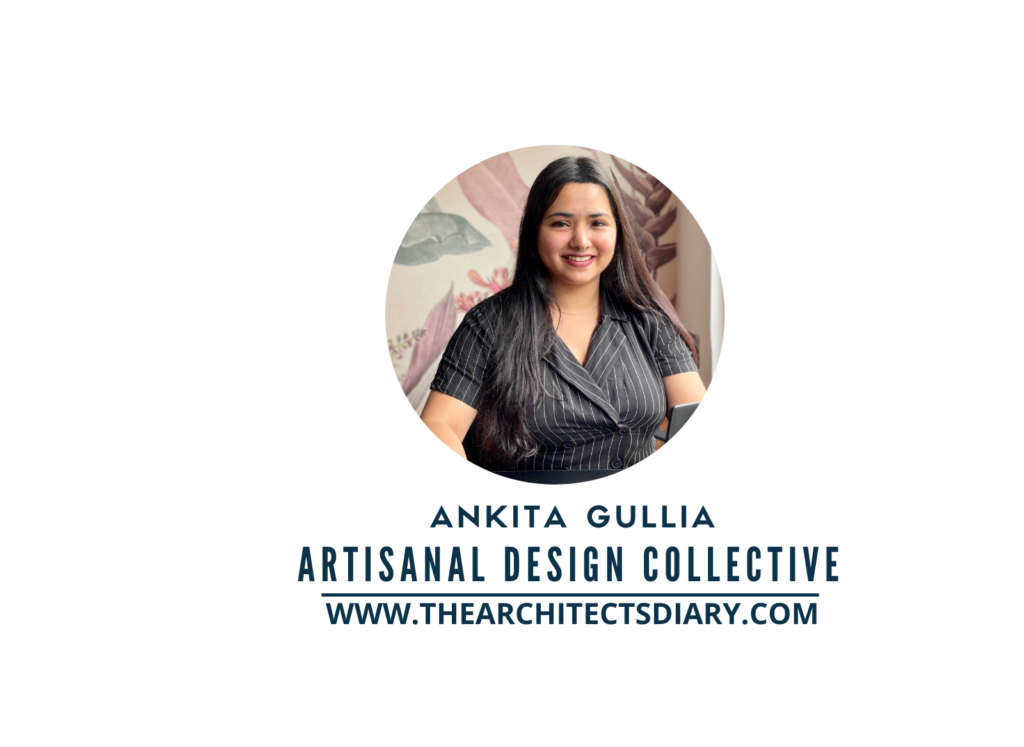 Firm's Instagram Link : Artisanal Design Collective
For Similar Projects >> OFFICE DESIGN WITH BASIC GEOMETRIC SHAPES WITH THE HINT OF POPPING EARTH COLORS