By Mr. Pranesh Chhibber, Country Director, Canadian Wood
Forests are one of the key areas of focus when it comes to conservation of nature, which in turn is protection of the entire ecosystem. Conservation seeks responsible and sustainable use of natural resources.
Needless to mention here that Canada is a world leader in "Sustainable Forest Management" despite being a leading exporter of lumber and other forest products in the world, in order to conserve its natural resources for future generations.
Given the rising global concerns over climate change, it is high time that nations come together to share best practices and share knowledge on eco-conservation. One such step could be forest certification by independent agencies devoted to this cause, where again Canada is a world leader by a wide margin. Certification aids adoption and reinforcement of sustainable forest management practices, which also involves regulating harvesting and re-forestation.
Canada for instance, does not harvest more than 1% of its forests annually and reforests the harvested area with 3 saplings for every single tree harvested. It must be mentioned here that harvesting forests is essential to keep them healthy. The degenerated forests with decaying old trees are less efficient in absorbing carbon dioxide (CO2) and giving out oxygen (O2).
Yes, forests can be managed sustainably!
Forestry is not just an important business but a way of life in British Columbia (B.C.), the western most province of Canada, which alone exports over 50% of nation's forest products. Here the Govt. Industry, and the Communities work together to ensure sustainability of its natural resources through stringent laws, skilled forestry, comprehensive monitoring, compliance, and enforcement, not forgetting the careful consideration given to protecting the wildlife habitat and their ecosystem by ensuring that the ecosystem of soil, waterways, animals, and birds, exist in harmony and avoid any conflict. This commitment to forest regeneration results in 200 million new seedlings planted every year ensuring continuous replenished of forests for generations to come.
Certified forests products ensure legitimate utilization of natural resources.
B.C. forest products industry is known for supplying only certified lumber (sawn wood) to its customers globally. Independent certifications by international rating agencies such as PEFC & FSC add credibility to the assurance of protection of forest resources. The province's forest management practices backed by firm laws and regulations fully exemplify the importance of sustainable forest management (SFM) in B.C. and highlights actions on the public forest land. B.C. is thus a trusted source for legally harvested forest products obtained from sustainably managed forests that are certified and endorsed by independent (international) forest certification programs in the world such as "Program for the Endorsement of Forest Certification" (PEFC) and "Forest Stewardship Council" (FSC) etc.
Wood, an environmentally friendly building material.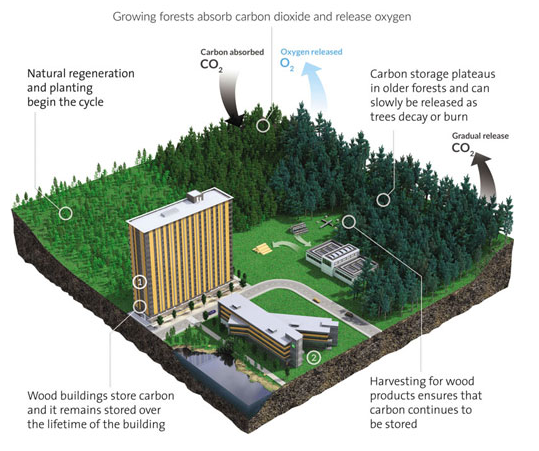 Trees clean up the air we breathe by absorbing carbon dioxide from the atmosphere and storing it while they release oxygen back into the atmosphere. As such when trees are harvested, the CO2 gets locked inside the trees and stays that way for the life of the product made with its wood. To effectively tackle climate change, the businesses and consumers must do our bit by promoting use of products made from certified wood from sustainable sources.
Manufacturing products with wood requires far less energy than other materials and has not adverse impact on the environment, in fact it being a bad conductor of both heat and cold wood also helps mitigate global warming.
Wood is also known to have high seismic, fire resistant, and aesthetic performance qualities. Recent studies have further established a strong correlation between wood and overall wellbeing, and the positive health outcomes among humans. Cumulative evidence based on occupants' self-reported outcomes shows that green buildings with maximum use of wood reduce symptoms of sick building syndrome and contribute to a healthier lifespan for humans.
India responsibly shifting to the use of sustainable solutions.
India being a fibre deficit nation has to depend of import of wood to meet its needs, in this context it would be great to have laws and regulations that would permit import of wood only from countries having sustainably managed and certified forests. The consumers too can pitch in by demanding wood products made using certified wood as a raw material and manufacturers can contribute by insisting for 'certificate of origin' along with other import documents from suppliers.
Move in the right direction has already begun, with international buyers demanding furniture and handicrafts made in India with certified, in addition many well-known furniture brands in India too followed suit by insisting on products made with certified wood. It'll be good to see a much larger number of furniture retailers and brands and in India insisting on certification. This movement needs to spread further towards manufacturing of every possible wood product in India using only certified wood including door/windows and other products in reman applications in addition to it spreading to use of wood in structural applications such as building Country Homes, Farmhouses, Resorts and Wellness Spas.
In conclusion it may be good to remind here that B.C. Canada is well positioned as a long-term source of legally harvested, certified wood to meet India's needs for competitively priced quality wood from sustainably managed forests.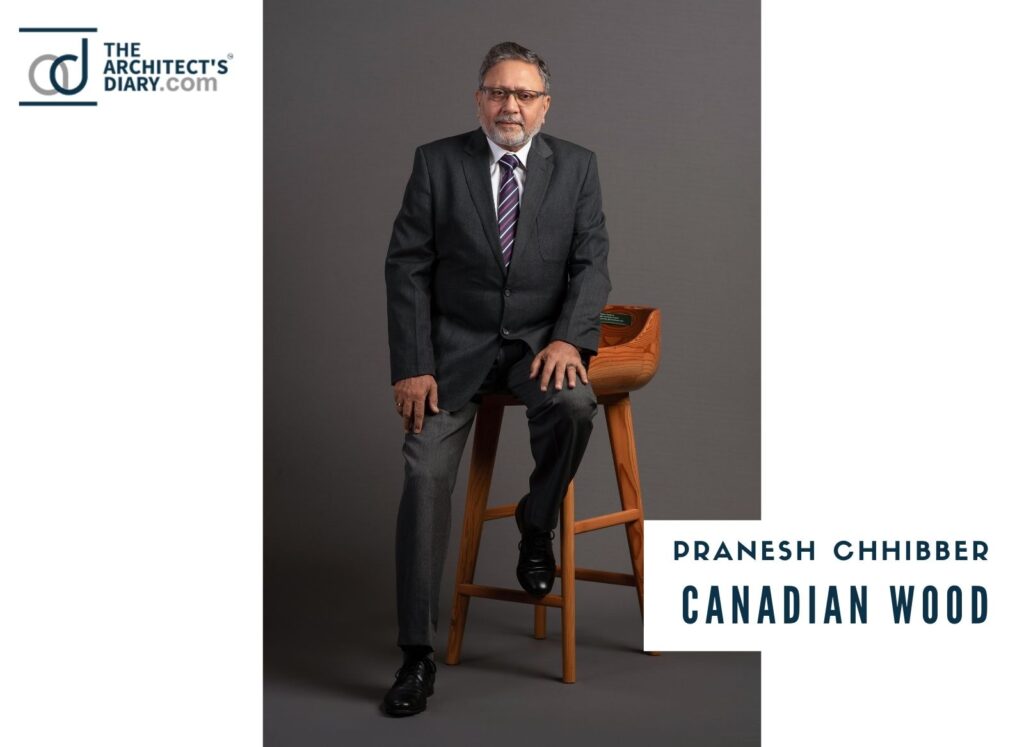 About Director :
Mr. Pranesh is the Country Director of FII-India since 2014, better known as Canadian Wood within the industry, a not-for-profit crown agency of the Govt. of British Columbia supported by the federal Govt. of Canada through NRCan – Natural Resources, Canada.
He brings over 40 years of rich multinational experience to the position and has been closely associated with wood-related industries for close to 20 years.
Over the last 5 years, he steered FII-India to be a name to be reckon within the wood and wood working industry with innovative initiatives of promoting Canadian Wood lumber and its applications and facilitating import of techniques and technology from B.C. Canada for wood in structural use and building with wood