We have listed the 20 Best Architects and Designers in and around Ahmedabad, Gujarat who has shaped some of the best architectural residences and commercial spaces. Of the many architects in Ahmedabad, these shortlisted few are the ones with an array of award-winning projects done by them that puts them over the edge which will aid you in consulting with the experts for your next dream space.
Vastu Shilpa is a Sanskrit word denoting the Art of Built Environment. Established in 1955, they hold a reputation of being a worldwide leader and undoubtedly the best architects in Ahmedabad in the fields of architecture, planning, and urban design.
In their organization, each project is dealt with in a unique manner & approach. Perhaps that is why most of their projects today stand as benchmarks in the profession and are used as examples in academic circles, besides being recipients of several national and international awards.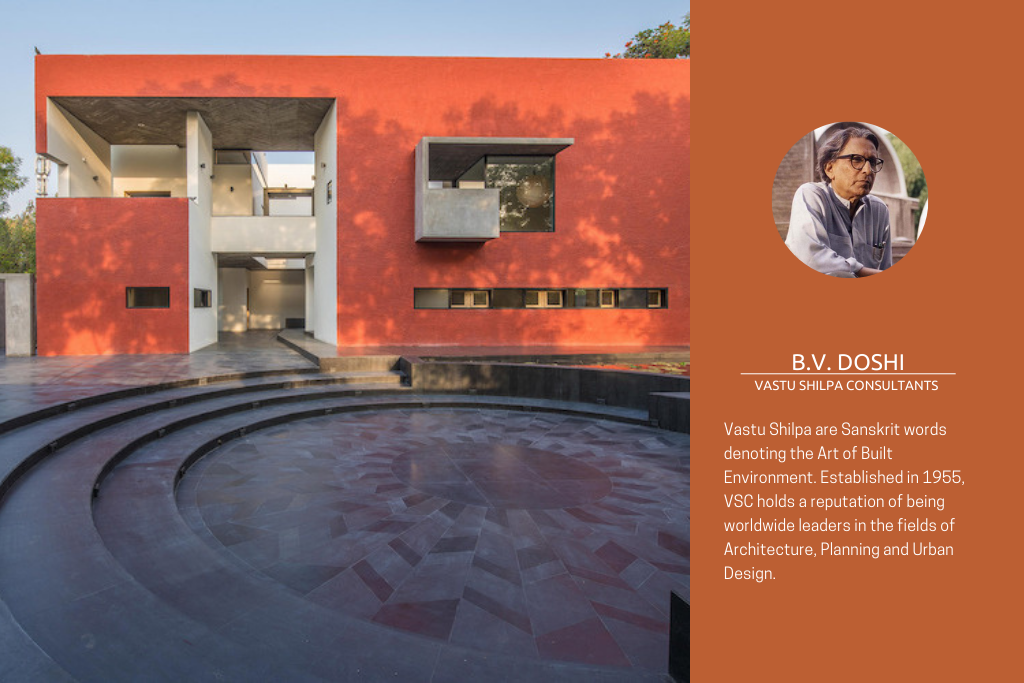 Firm Name: Vastu Shilpa Foundation
tHE gRID Architects is a multi-disciplinary design firm and one of the leading architects in Ahmedabad that incorporates an array of design combinations and experiences, qualifications and skills and deeply committed to excellence. This firm aims at providing complete and high-level design services for the full range of projects. They have created a team of passionate professionals under this firm and they currently employ from various respected design schools across the country. They comprise of civil engineers architects and Interior designers who are dedicated to the satisfaction of the client and design philosophy.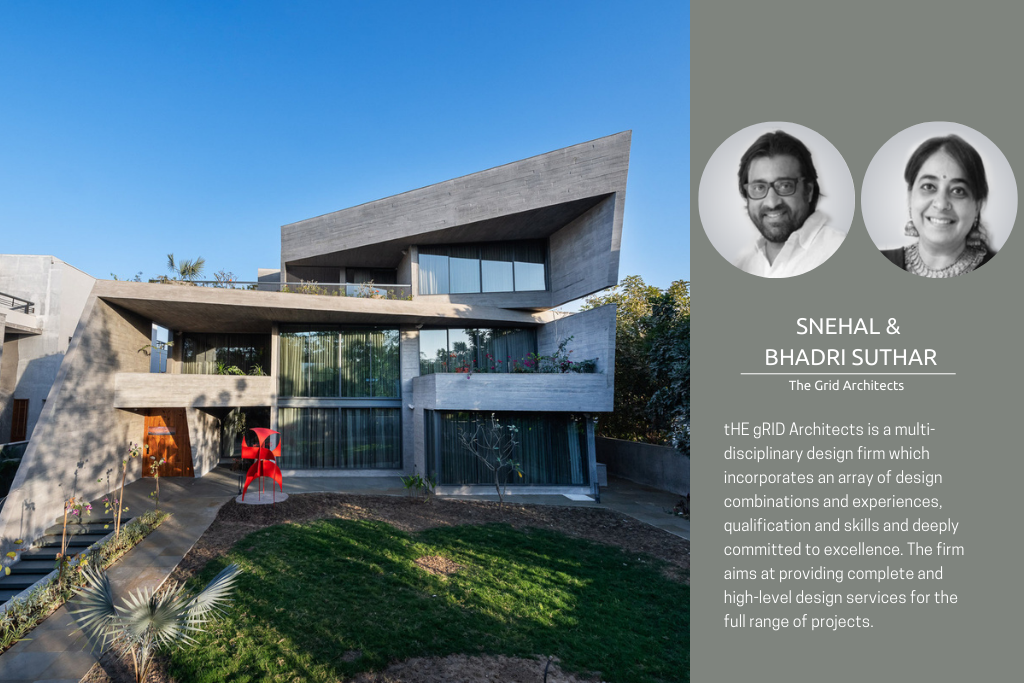 Firm Name: The Grid Architects
"Modo Designs' is an architecture firm set up by Ar. Arpan Shah in the year 2002 in Ahmedabad, India and involved in residential, institutional and corporate projects. The firm derives its name from a latin word 'MODO' which means 'of its time'. In this sense, architectural designs are approached as progressive and appropriate. For them, design is a participatory and an exploratory process, a process of research, exploration and refinement. It involves initial spontaneous response in a design, coupled by open ended explorations.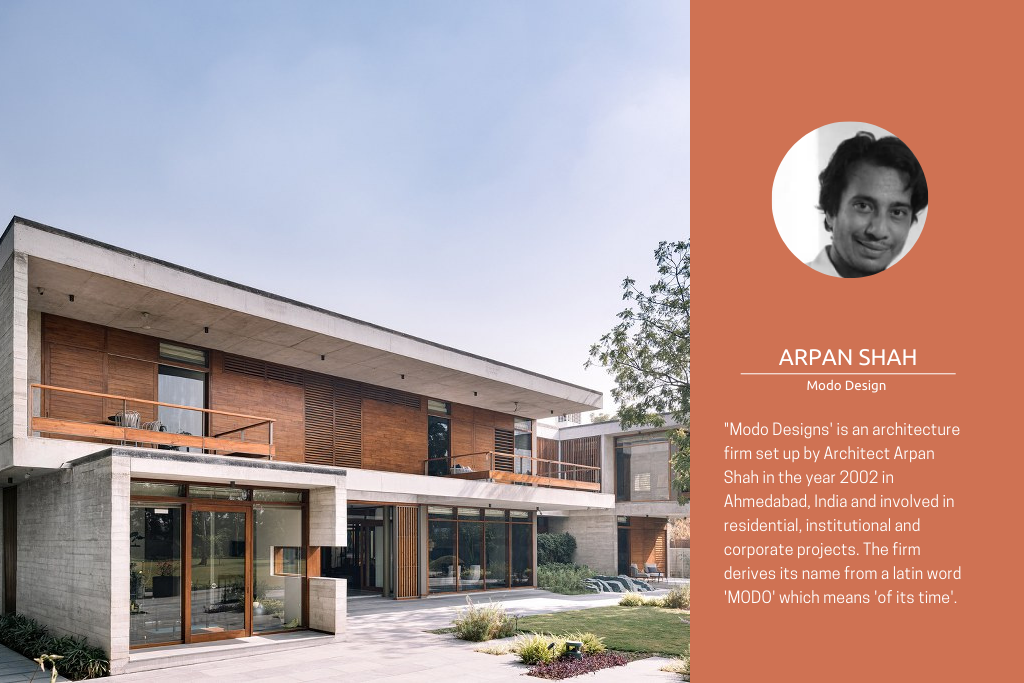 Firm Name: Modo Design
Vipul Patel Architects (VPA) was founded in 1994, by Ar. Vipul Patel. VPA has commendably completed various projects in the field of architecture, interior designing, landscape designing, and product designing. Aesthetics and practicality are at par in all their works. The projects are an amalgamation of interesting ideas, great teamwork, and fresh creativity, since the involvement of the second generation of architects from the family.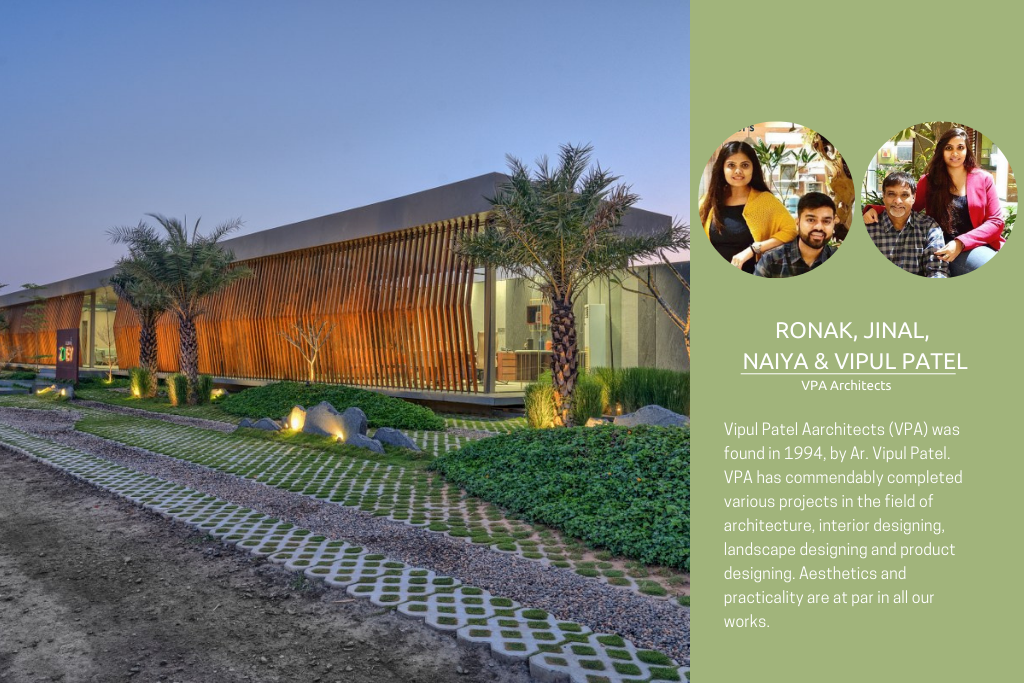 Firm Name: VPA Architects
Groundwork Architecture is an architecture and urban design firm established in 2010 by Brijesh Bhatha. He holds an undergraduate degree in Architecture from CEPT University, Ahmedabad and a Master of Urban Design degree from University of California, Berkeley.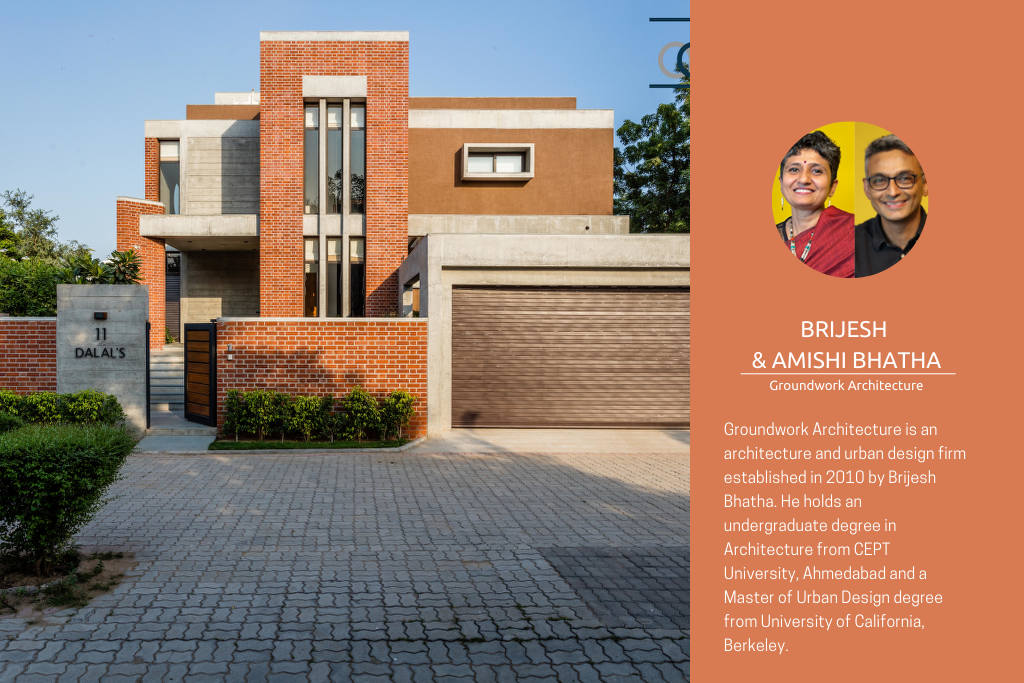 Firm Name: Groundwork Architecture
UA Lab is a multidisciplinary design studio headed by Vipuja and Krushnakant. Their portfolio comprises of wide scale of design projects ranging from private residential spaces to community housing and community space design. They provide design services in architecture, landscape design and interior design.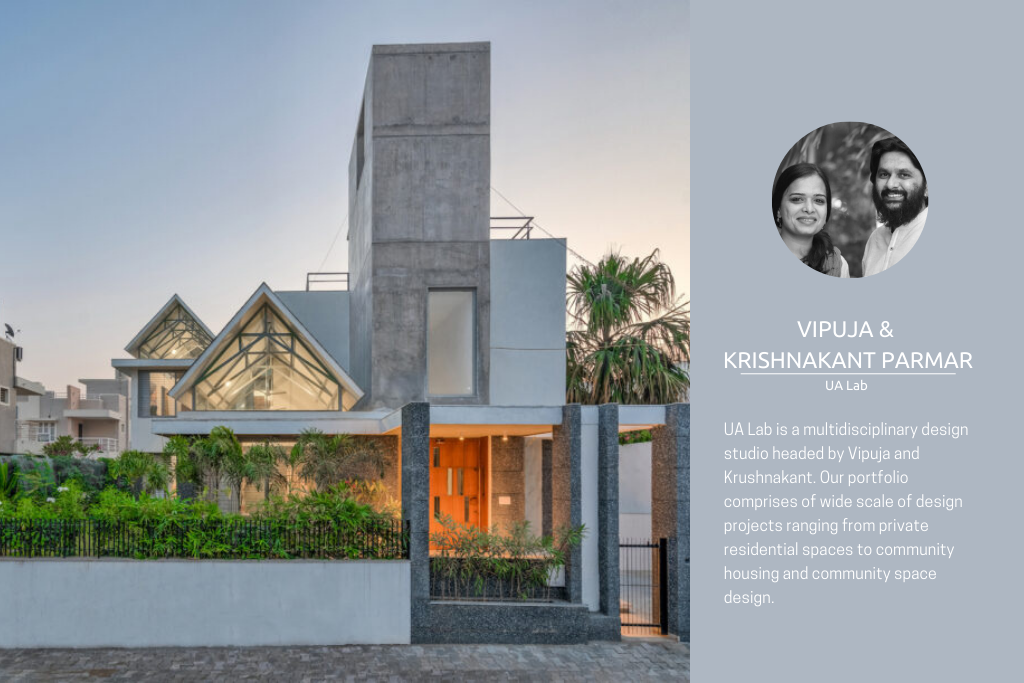 Firm Name: UA Lab
"d6thD design studio" d 6th D means The 6th dimension. Now what is the 6th dimension? Any object or space can be measure in 3 Dimension but to feel good about it is 6thD. The 6th dimension is not restricted to measure the physical world but to explore the feel good spaces. They are interested in exploring the ways in which spaces can create experiential happiness. They visualize the practice as a sheltered and collaborative place for reflection, where a community (including clients and other collaborators) can reflect on how to make life happy and feel good through architecture.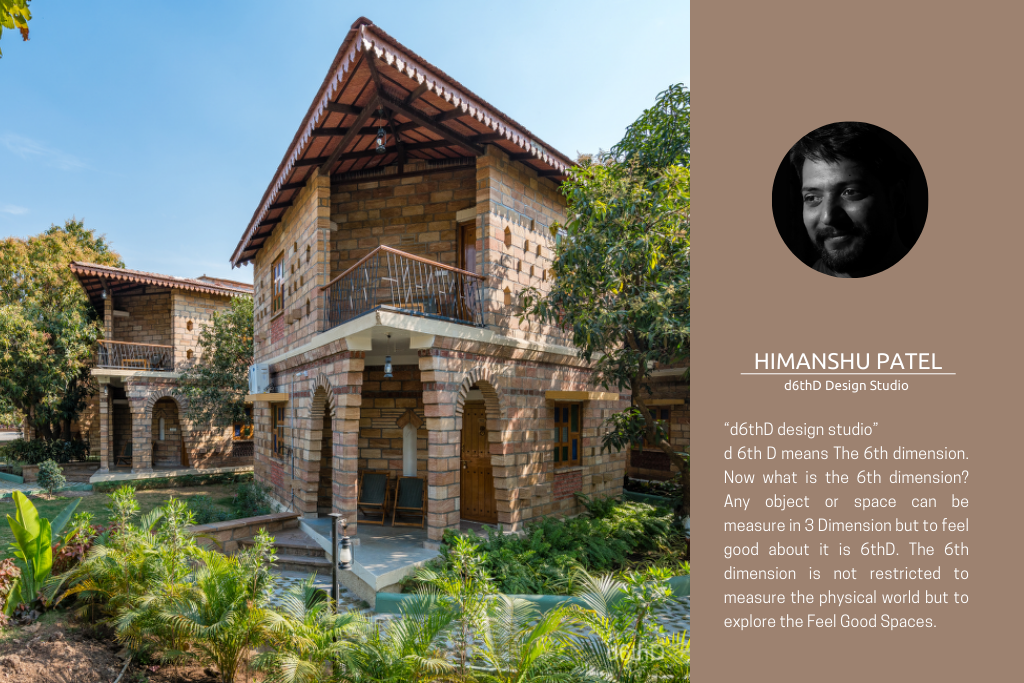 Firm Name: d6thD Design Studio
They believe that the best design comes from a completely holistic approach from conception to execution. They have a strong architectural and interior design team who learn from one another and combine their knowledge to devise wholly integrated design solutions. The design teams are backed by numerous in-house practices, assuring that they have the knowledge base to create buildings that are environmentally sustainable.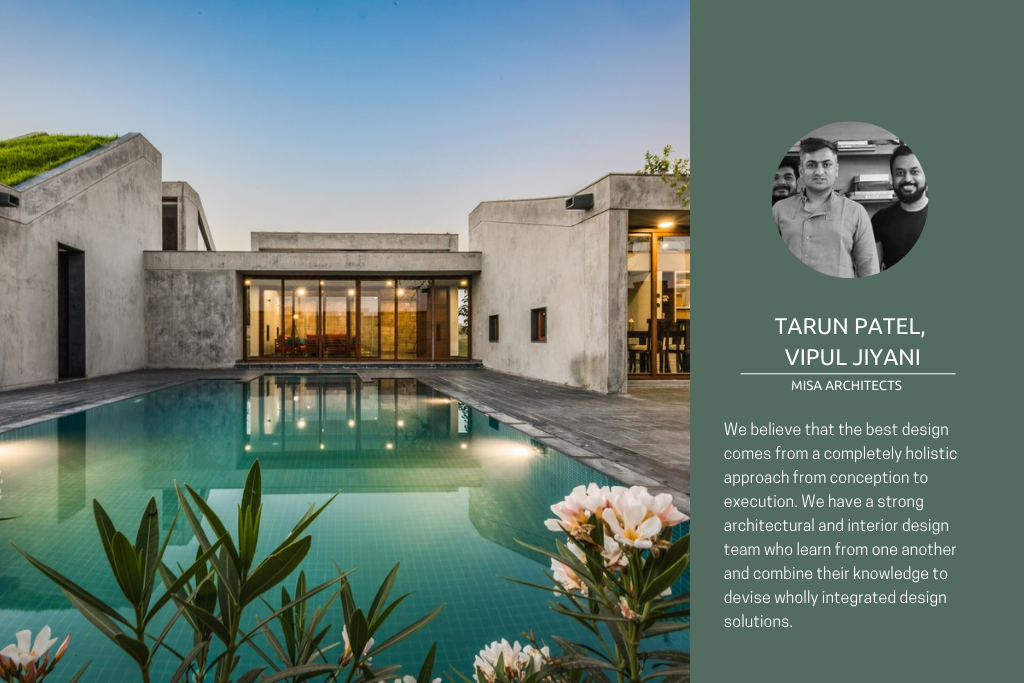 Firm Name: Misa Architects
They are an Ahmedabad-based architecture firm dealing in planning, designing, constructing, and managing habitat spaces.
Firm Name: Dreamscape Architects
Saransh is an architectural partnership studio based in Ahmedabad, India, operating in the fields of architecture, planning and interior design. The studio was founded in 1994 by Manish and Malini Doshi – architects, and alumni of CEPT University. Saransh currently employs a full-time staff of 16 architects and interior designers, in addition to long-standing collaborative relationships with a number of consultants and agencies from allied fields; together, these teams help us achieve a precise execution of the assignment at hand.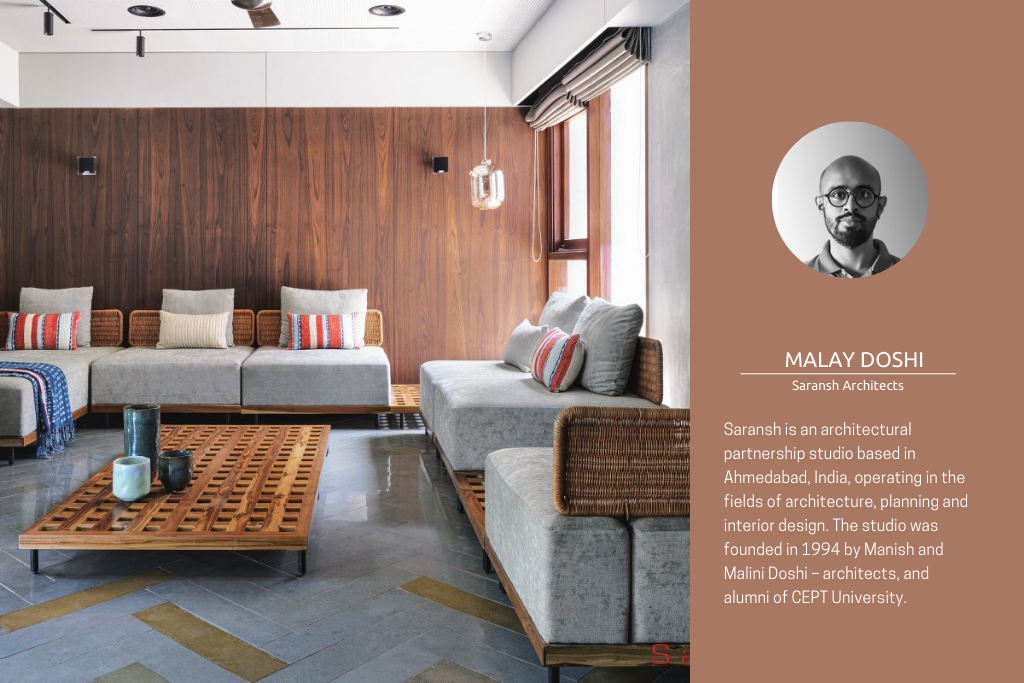 Firm Name: Saransh Architects
The Designers Quadro has form the design firm "Ace Associates" as result of their long academic association which faciliate them to understand the skills and orientations of individuals. Ace associates is a practice of young architects who provide innovative and environmentally sustainable architecture which is driven by function, clarity and beauty. (Based in Anand, Gujarat)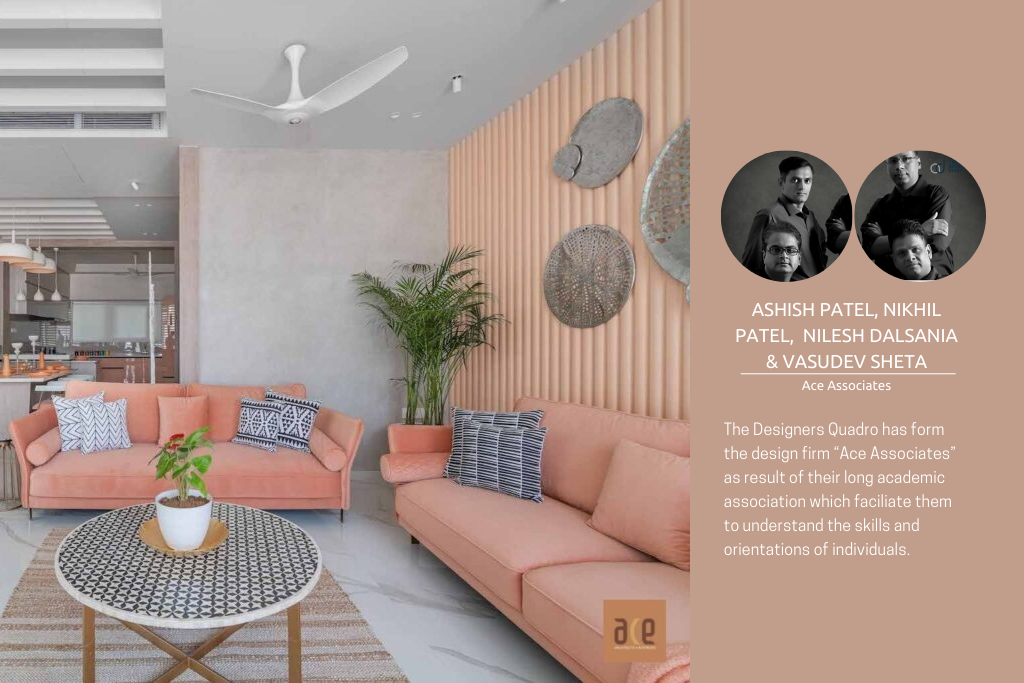 Firm Name: Ace Associates
Designers Circle was formed in the year of 1987 with the intention of bringing high-quality original interior design to the home, offices, and retail marketplaces businesses.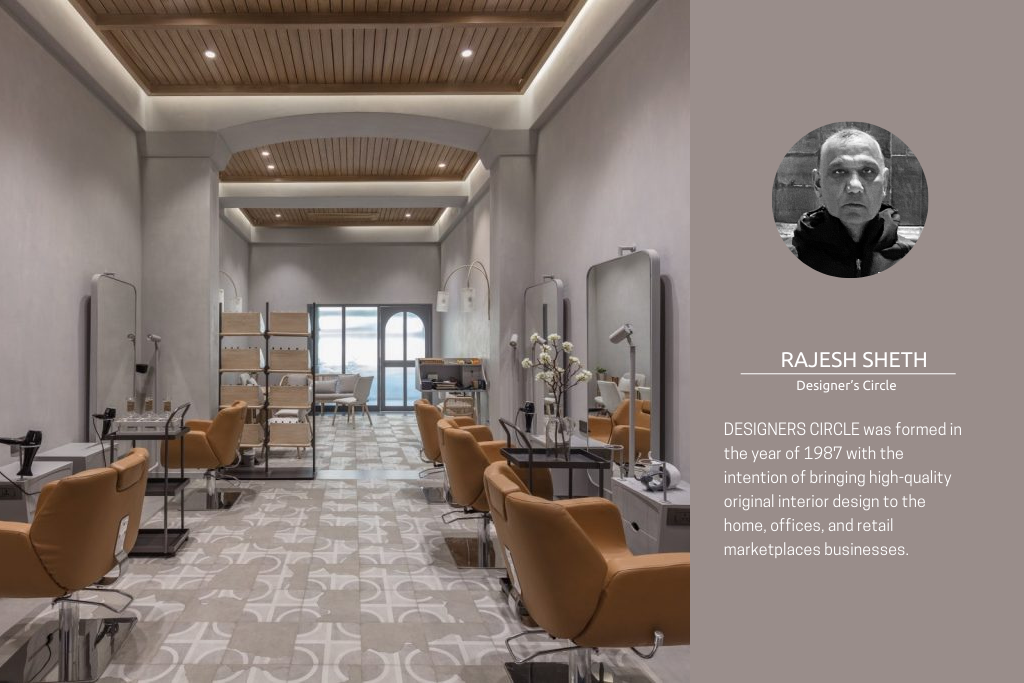 Firm Name: Designer's Circle
Their core ideology at AMOGH, one of the best architects in Ahmedabad is to keep design simple yet elegant. They are dedicated to meet timeline of the project without compromising the quality. Their palette of work includes everything from residential to commercial but the driving force behind the success has always been the openness to continuous learning. You can bank on us for not only providing technically sound advice but good advice in both engineering and modernist design in architecture.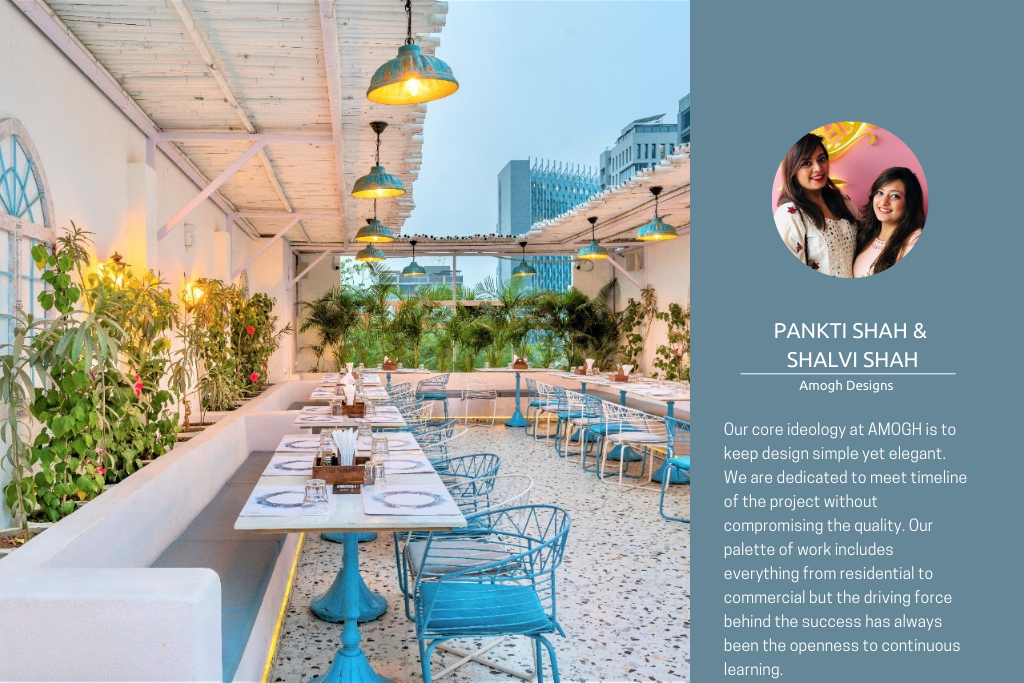 Firm's Name: Amogh Designs
Marigold Interiors is leading the interior designing and architecture industry since 2008 under the leadership of founder and principal, Kshama Parmar. With more than 200+ clients spread across Gujarat, Maharashtra and Rajasthan to vouch for their work and commitment, Marigold Interior has managed to stay ahead of the competitive curve because of its perfect balance between the client expectations and the unique design concepts.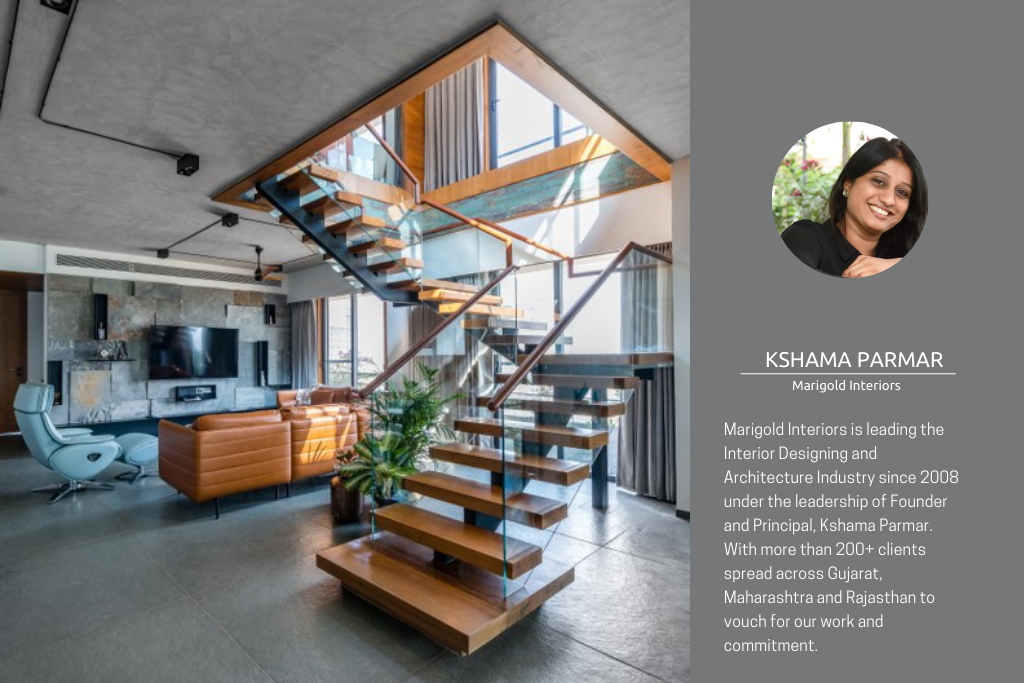 Firm's Name: Marigold Interiors
OpenIdeas is a multidisciplinary design studio based in Ahmedabad & Surat initiated in 2009 ,led by Monarch Champaneri, Nilesh Gajera & Niralee Champaneri. They believe by collaborative engagement with their clients and team; they can develop innovative ideas that will provide unique and valuable design solutions.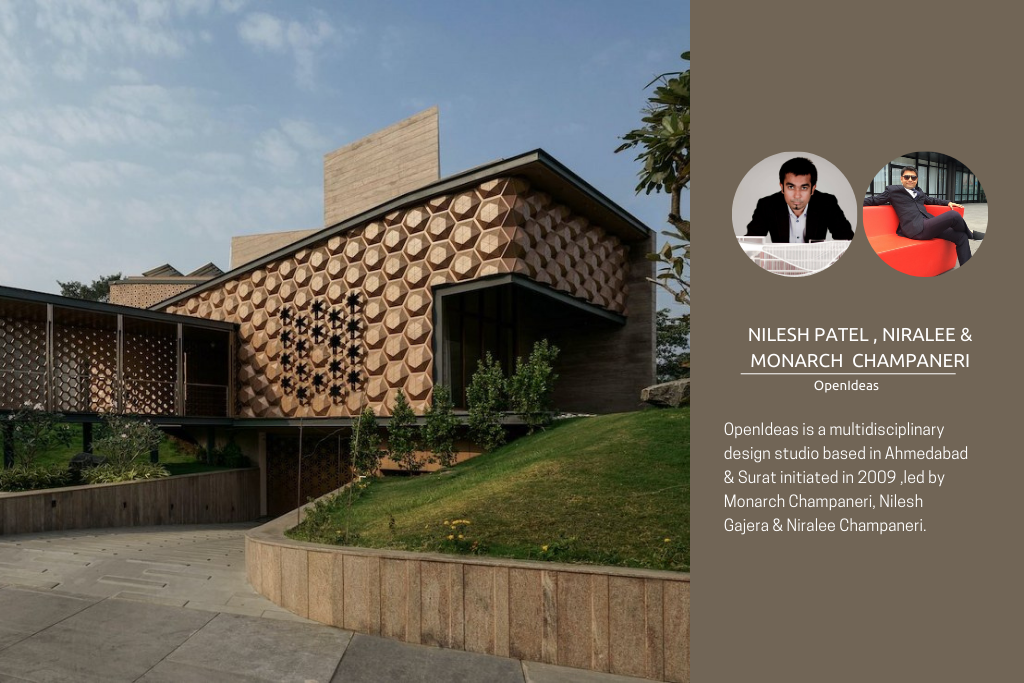 ​Firm's Name: OpenIdeas
At studio 2+2, again one of the best architects in Ahmedabad they are creative group of young landscape architects, gardeners, architects, space designers, and illustrators who have been consciously carrying out the responsibilities to form new, beautiful and ecologically sound designs.
Firm Name: Studio 2+2
They are one global community based in Ahmedabad and believe that strength in architecture and interior emerges when there is a passionate interface between space and work. Their purpose is to design holistically and their unique integrated design approach enables them to develop multidisciplinary spaces having a minimal and contemporary approach.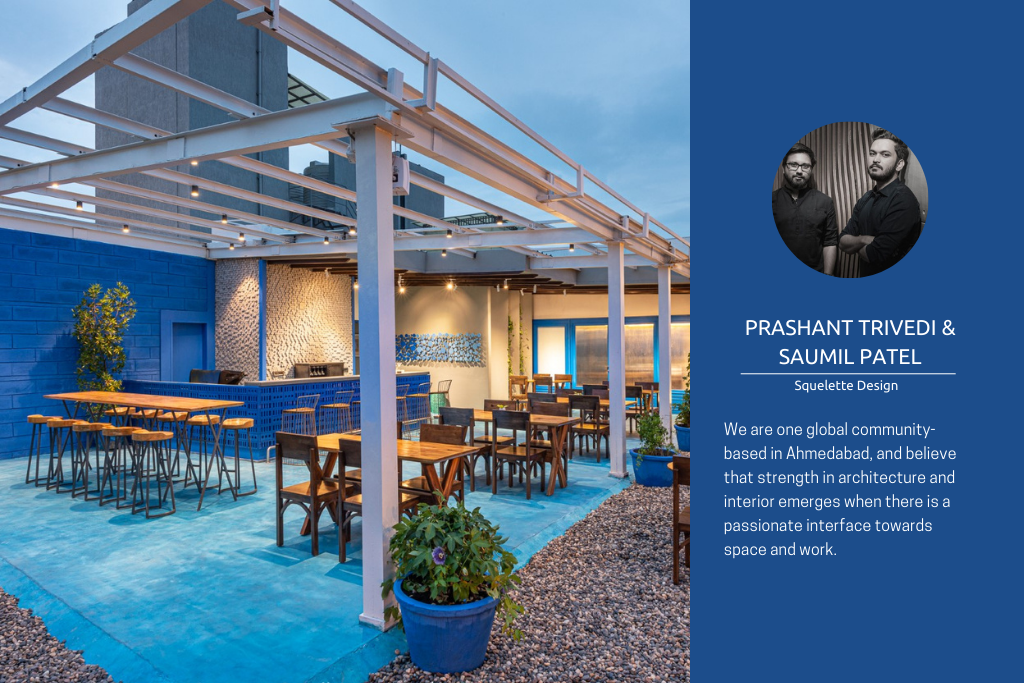 Firm Name: Squelette Design
20. Adhwa Architecture Interiors
Adhwa architecture interiors established in the year 2013, owned by Ankita Jain and Dhwanil Patel. The firm provides interior design consultation for all segments including residential, commercial, retail & hospitality. They believe that unlike the solitary pursuits of painting or poetry, design is, by its very nature, a collaborative process. Adhwa Architecture Interiors encourages and welcomes input from their clients. Together they formulate a common vision and come to understand the deeper intentions of the project. This inclusive approach most often yields a broader, richer, more satisfying result.
Firm Name: Adhwa Architecture Interiors
Content Curated By Ankita Sharma, Editorial Team, The Architects Diary
For each project, they establish relationships with partners who they know will help them to create added value for your project. As well as bringing together the public and private sectors, they make sector-overarching links to gather knowledge and to learn among themselves. The way they undertake projects is based on permanently applying values that reinforce each other: socio-cultural value, experiental value, building-technical value and economical values.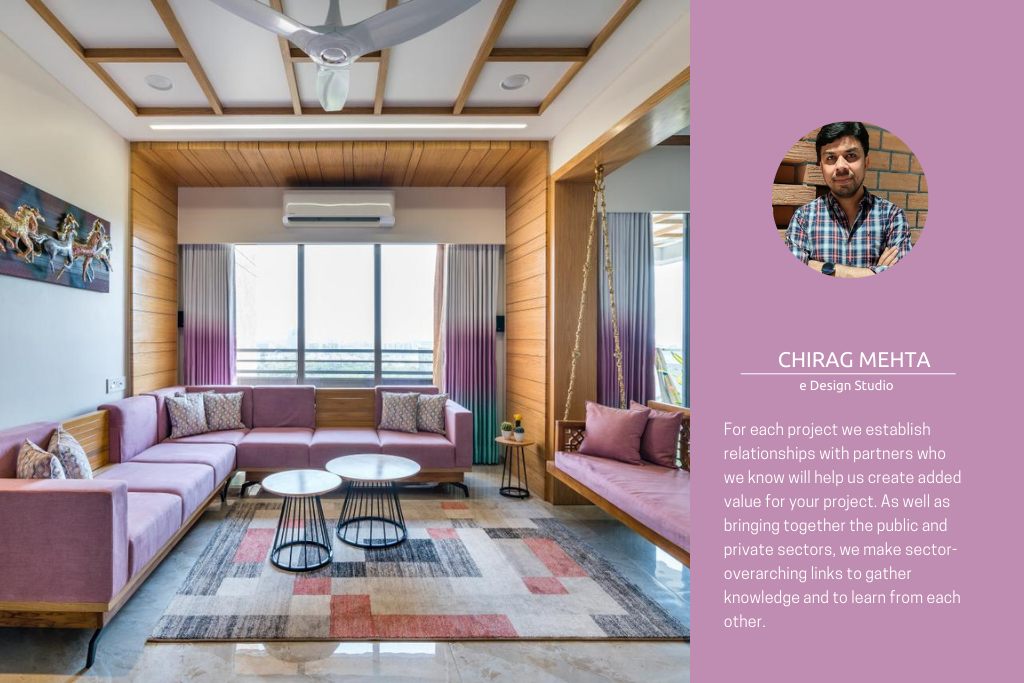 Firm Name: 9 Degree Design Studio