&nbsp
The outcome had to reflect what we believe in, stand for, and intend to bring out in our projects, i.e achieving a combination of simplicity, utility, conceptual elegance, and beauty. In 700 Sq.ft of modern workspace, on the 2nd floor.
The Simplicity of this Modern Workspace Magnifies Strength and Creativity | Aarna Architects
Visit: Aarna Architects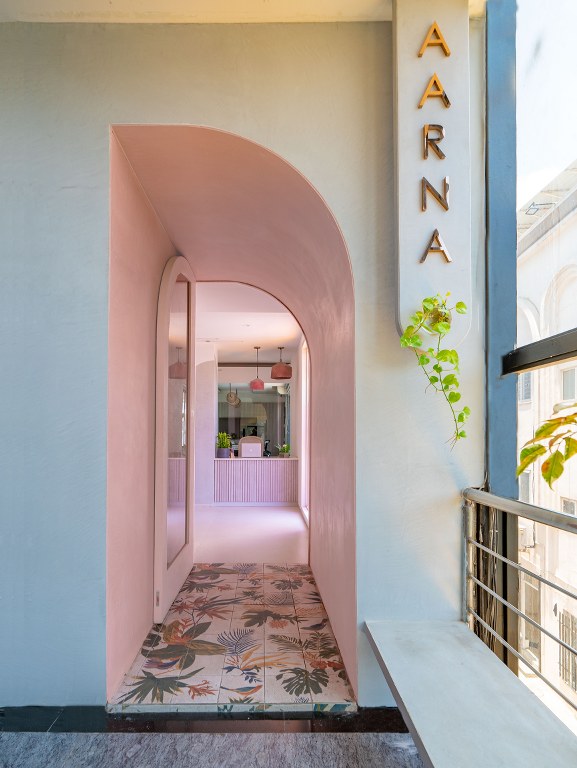 We intended to break the monotony of the narrow linear space with the natural effect of light and shade through caustic reflection, vibrant patterns, textures, and forms to create interest and drama.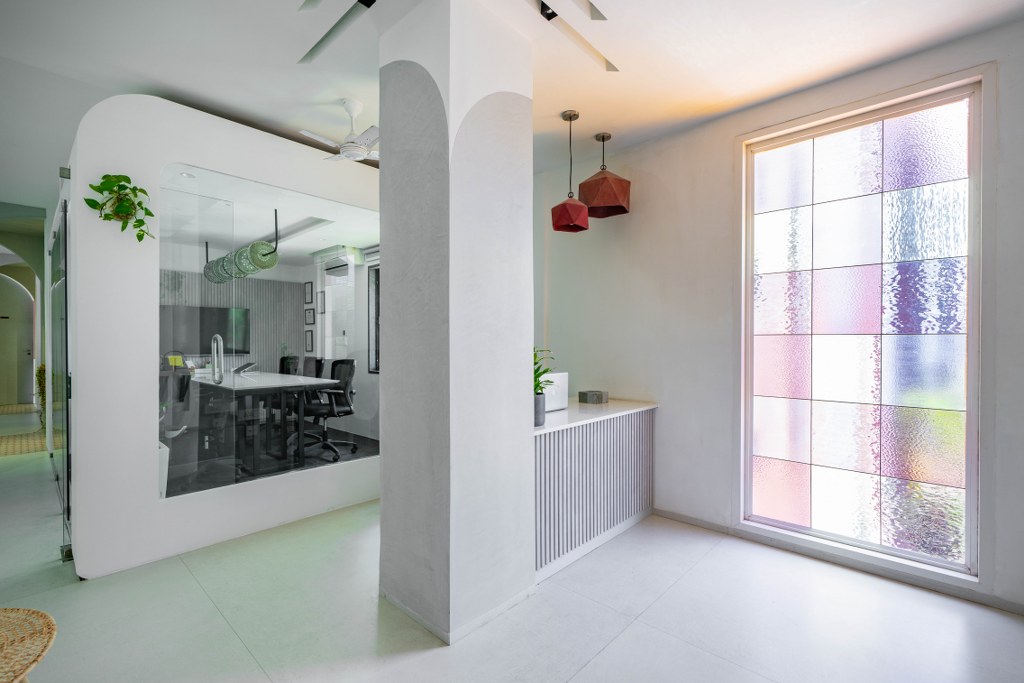 Our concepts evolved ensuring space optimization, and play of light and shade with natural ventilation while creating architectural illusions of larger volume than physically available.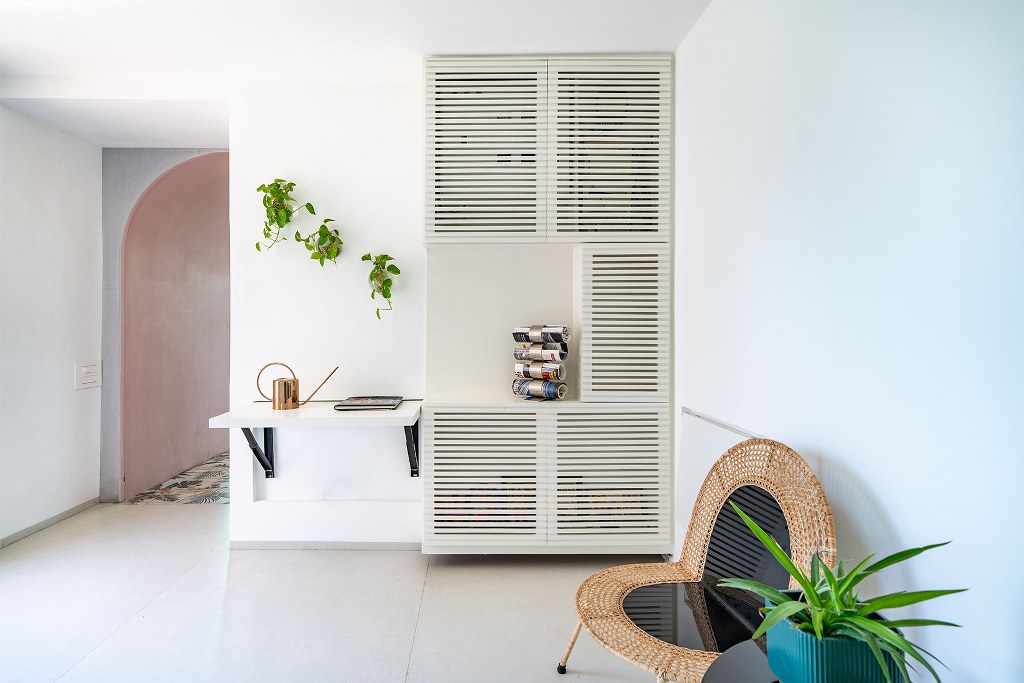 A functionally aesthetic space intended to cater to the demands of now and the future. Subtle demarcation of spaces while maintaining the elegant design language was maintained. The space should work, feel and appear as beautiful during the day as under artificial illumination.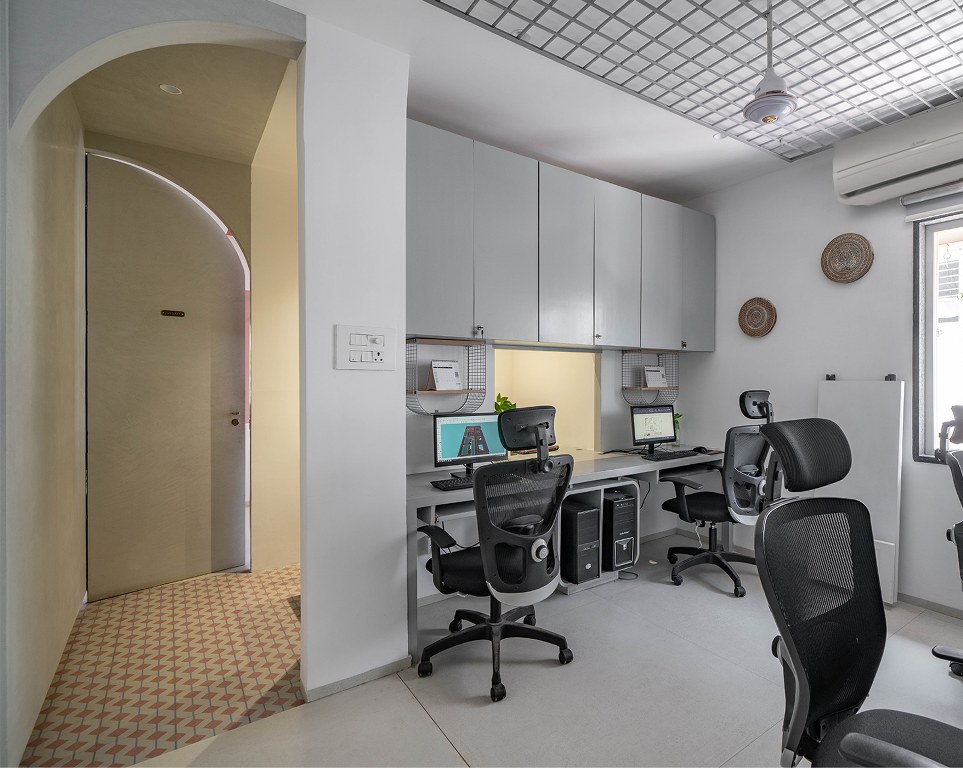 The entrance is a welcoming half arch tunnel finished in pigmented lime texture. The door follows the same profile having sandwiched linen door, to create moderate opacity with transparency building up the curiosity of the spaces to follow. A camouflaged luminaire throws the light accentuating the curve. Upon entering, our conceptualized, designed and cast in situ 3mm textured glass with lead beadings casts caustic reflection mimicking ripples of water in a subtle palette of wines travelling from the floor on to the wall and ceiling with the movement of the sun. Arches in lime texture decorate the column, to which our smooth flowing quartz front desk is fixed.
The language of the arch continues with floating effect as displayed by the 7 seater conference, flanked by plants to the west and a wall with frames adding un-missable decor in the passage. The curves continue creating an arcade of alternating half arches accentuating the volume of the premises while breaking any possible monotony.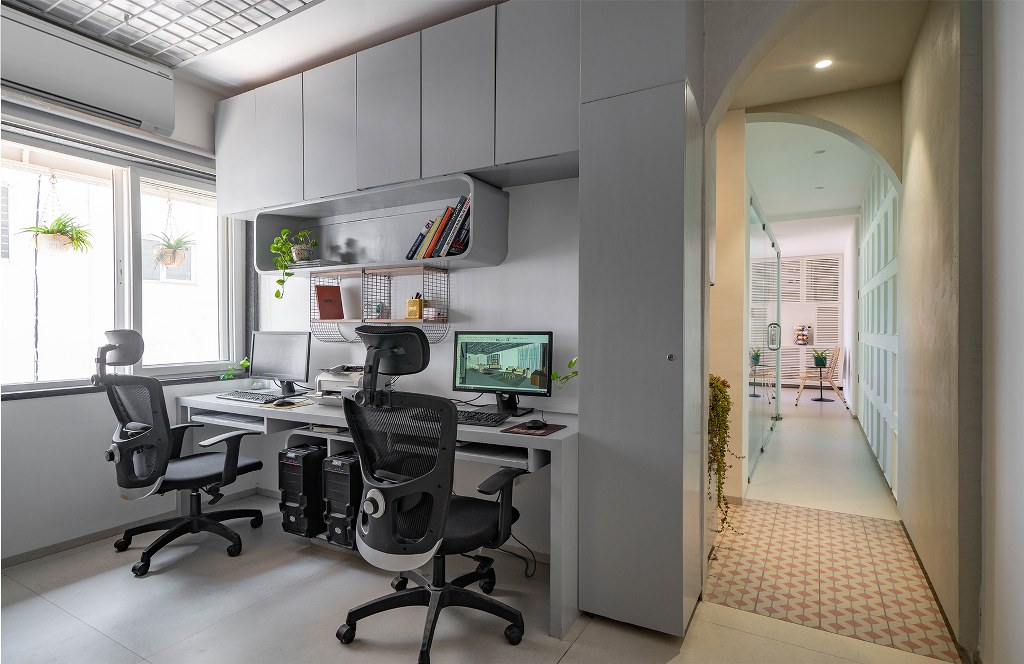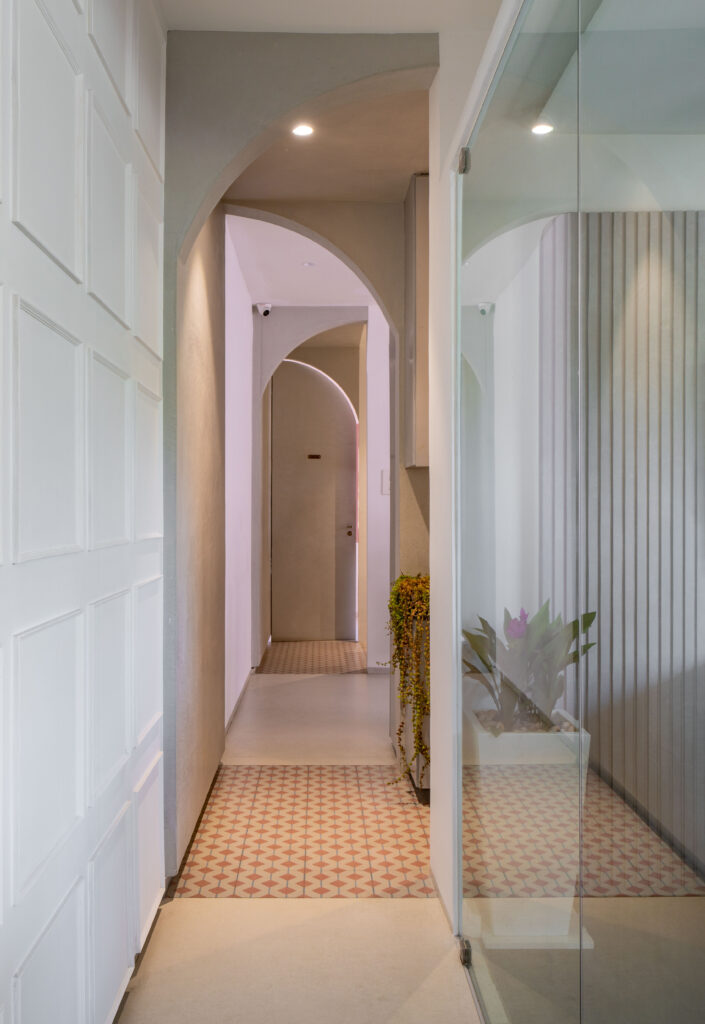 The work area resonates with the theme while stimulating work efficiency and creativity. The principal architect's cabin is wrapped in pigmented lime texture on the walls creating a ribbon effect. The ceiling is donned in fluted pine wood with camouflaged lights providing illumination after sunset, while a retractable wall-mounted veneer bench doubles up as informal seating, otherwise serving as an artwork of a roller bird.
Space-saving techniques such as retractable wall-mounted desks, dining tables, foldable chairs, and benches cater to the future needs of expansion.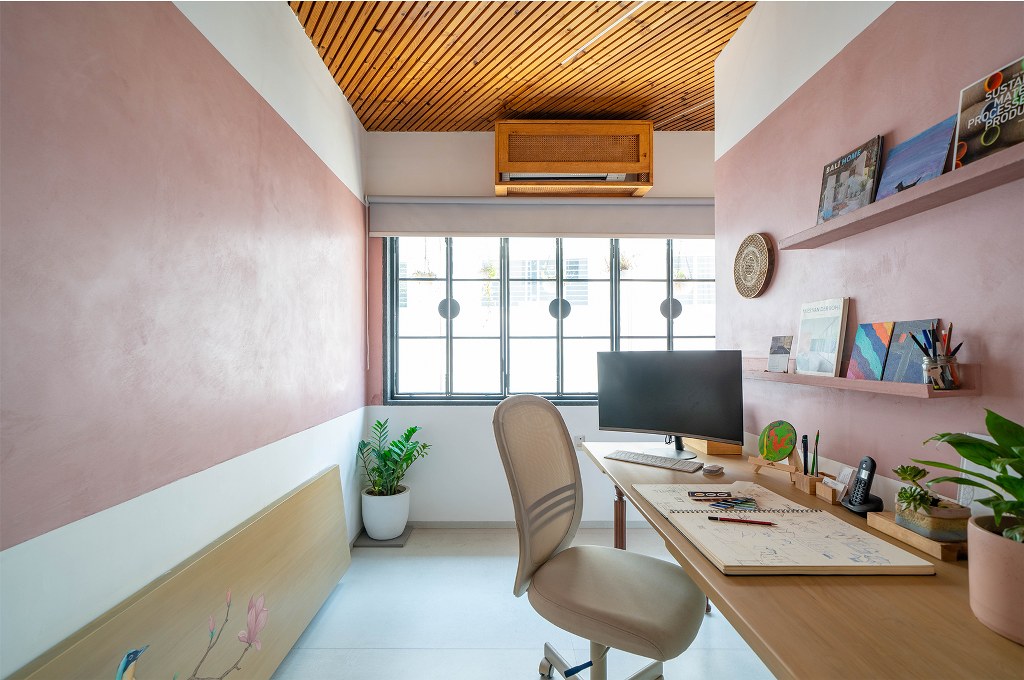 Summing it up, we designed to achieve a combination of simplicity, utility, sustainability, conceptual elegance, and beauty in this modern workspace.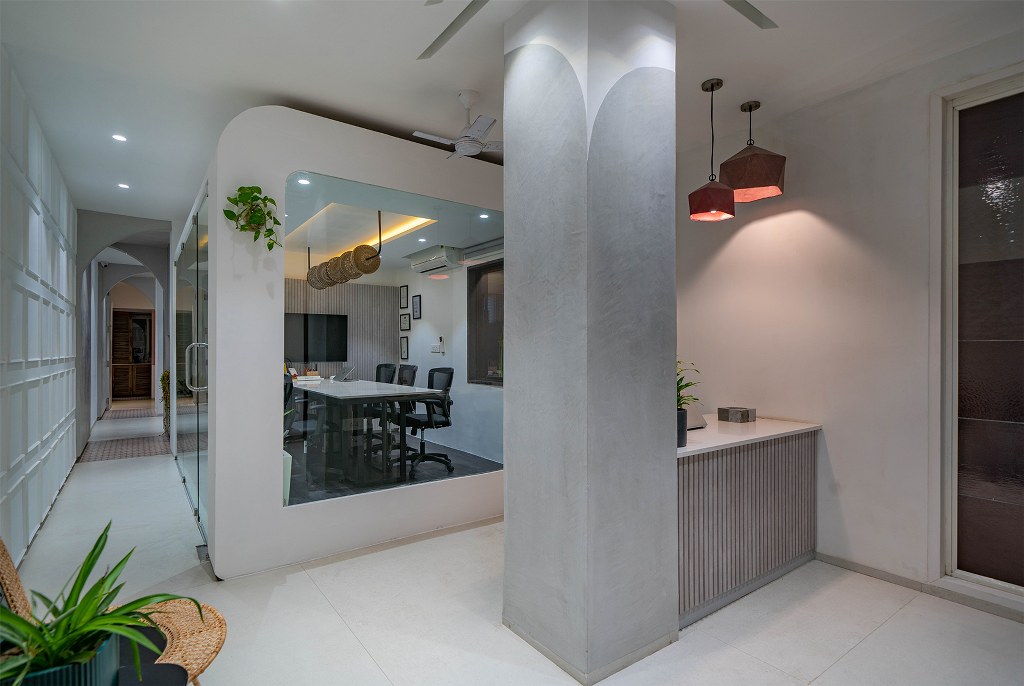 Fact File
Designed by: Aarna Architects
Project Type: Office Interior Design
Project Name: The Atelier
Location: Hyderabad, Telangana
Year Built: 2022
Duration of project: 6 Months
Project Size: 700 sq.ft
Project Cost Appx: 25 Lac
Principal Architect: Manasa Devabhaktuni
Team Design Credits: Achyut, Akshidha & Ravi
Photograph Courtesy: Ricken Desai
Products & Materials: Wallcovering / Cladding: Lime plaster, Paint, Marble & Granite, Pinewood, fluted panel | Construction Materials: Brick, Glass, MS, SS, Ply, Wood, Ceramic & vitrified tiles, Paints, Quartz, Granite, Indian Marble, Pinewood, repurposed teak and rosewood, veneers, LED lights | Lighting: Nirvana, Lafite, Lumens Lighting | Doors and Partitions: Saint Gobain, AIS, Green Ply | Sanitary ware: Hindware, Grohe | Furniture: Transteel, Wildflower_Hyd | Flooring: Aparna, Tranceform, BTC | Paint: Asian paints, Lime texture paints | Artefacts: Bo Concept, Textile printing blocks, concrete pendant lights, acrylic art, Glass terrarium wall bowls | Hardware: Grohe, Ashirwad, Hindware, Ebco, Hafele, Hettich,
Firm's Website Link: Aarna Architects
Firm's Instagram Link: Aarna Architects
For Similar Project>>Residential Design Playing Meticulously with the Volumes