&nbsp

When the founders of 'Paradyes', a DIY hair colour brand gave us the brief about their home – 'pop of colours' the ethos of brand to be reflected in their space; thereby adding coloured nooks that form the core palette in a neutral toned shell. The apartment situated in the outskirts of Vadodara, the young couple briefed about creating a home that encloses all the necessary requirements that showcases bold corners with depths of neutrals, striking the right balance between eccentricism and minimalism. The designers were careful to create a balance between the clients' striking personalities and their own minimal aesthetic. Rather than using bright colours, neutral tones for the overall shell were opted to tone down the space with visible bold coloured furniture units that intrigues a user without overwhelming the space.
Striking The Right Balance Between Eccentricism And Minimalism | Darshali Golani & Vidhi Malkan
visit : Darshali Golani & Vidhi Malkan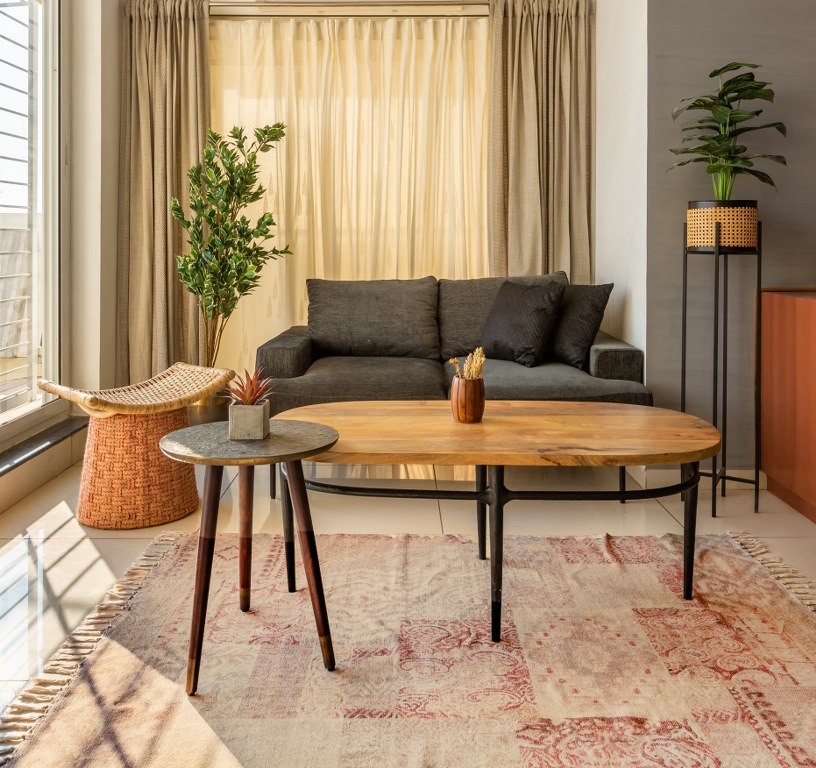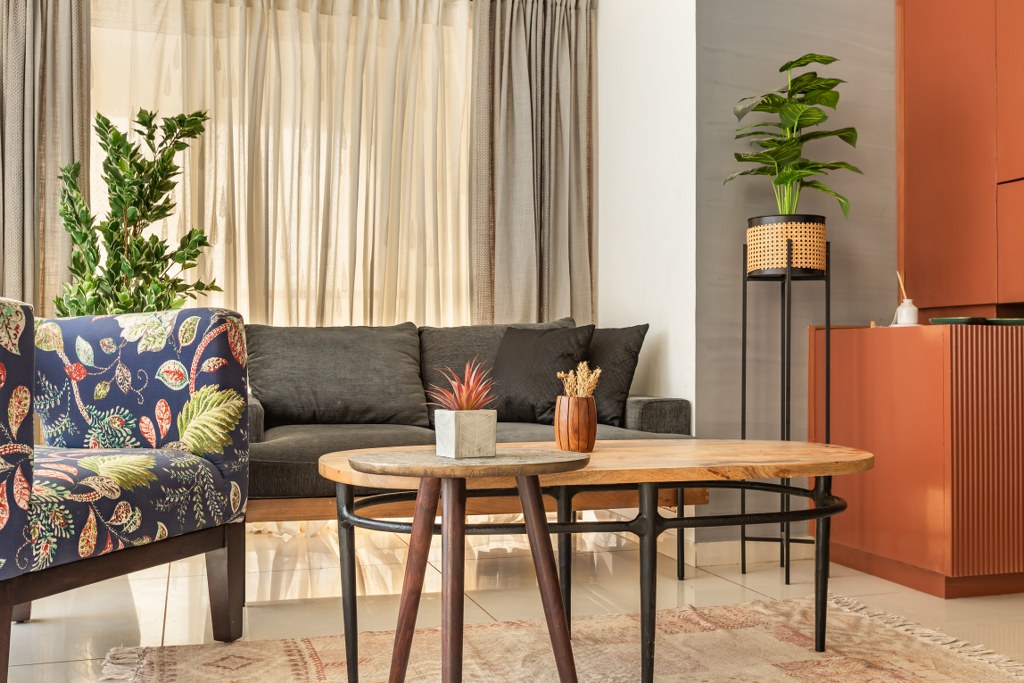 The attempt was to build a free-flowing space, wherein the client converse easily with one another, a space for the pets to move around along with hosting friends and family. The first step towards this direction was to create an open plan which enhanced the connection between the living, dining and kitchen areas. A retractable bar, multipurpose dining table, compact kitchen and a lounge area placed in an open volume, accommodate the various activities that the client hosts in the living room.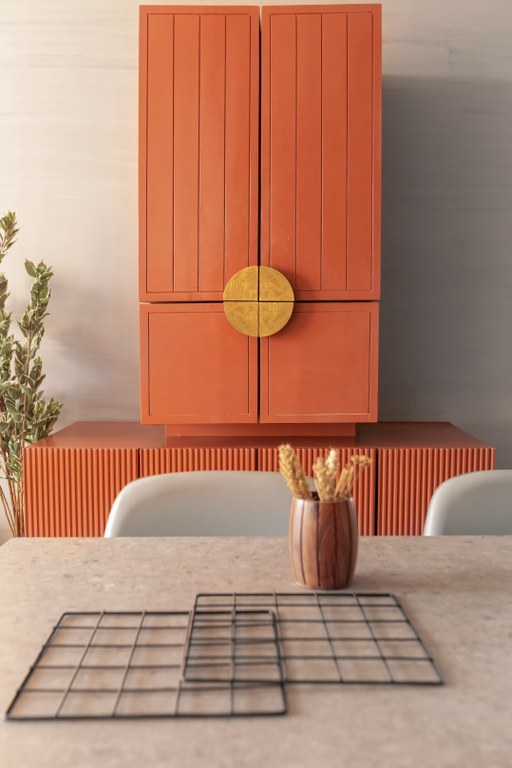 Inspired by the cube, the bar unit shows the various facets using different permutations. It also adds a pleasing pop of colour to the otherwise neutral hued dining area. Varied ambience is created whilst opening and closing of the unit.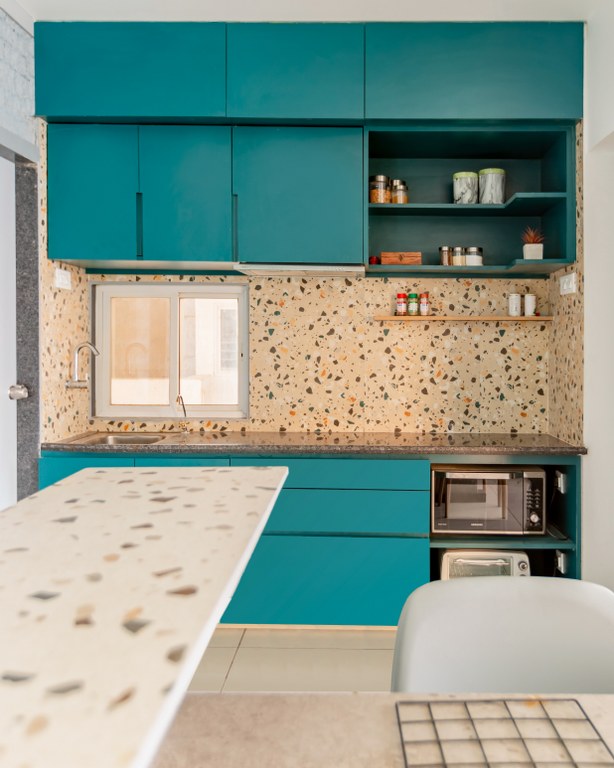 The terracotta-coloured bar unit coupled with pine green kitchen breaks the monotony by adding bold corners in the space. The pine green kitchen coupled with the terrazzo backsplash breaks the monotony with a bold corner. Coloured chips in the terrazzo inspire the colour pallete of the entire space. Illustration depicts different moods created whilst opening and closing of the bar unit.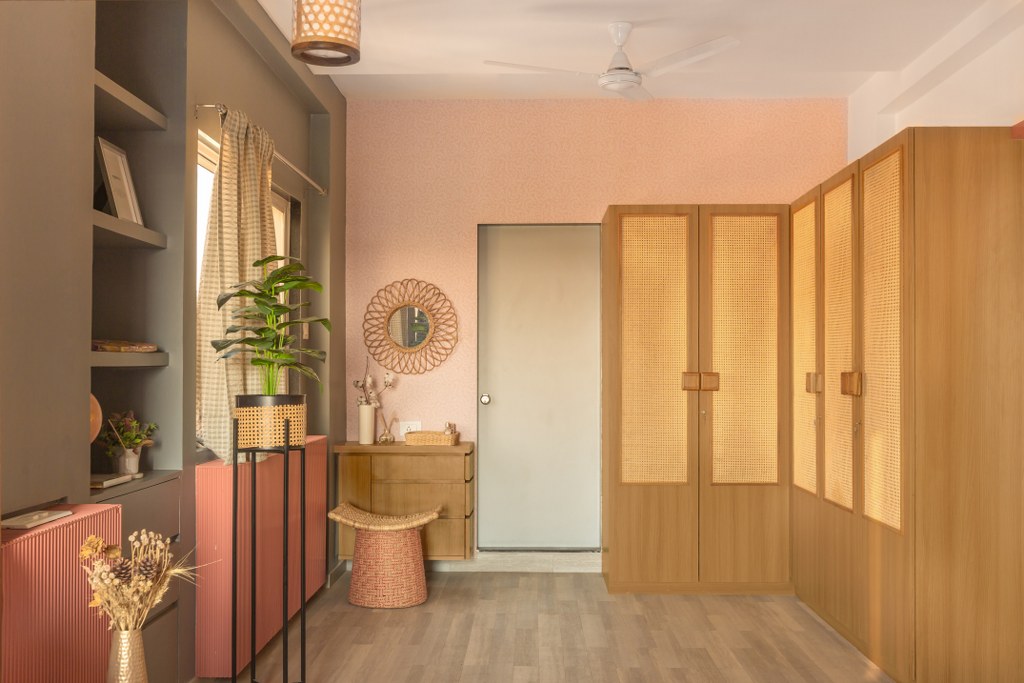 Demolishing the common wall between two bedrooms freed the enclosed space and opened up the master bedroom volume. The grey wooden flooring gives a sense of warmth and texture while differentiating the bedroom from the common areas. Cane on the wardrobe shutters offsets the wooden flooring with a sense of earthiness, while a blush toned wainscoting strikes the shell, thereby making it playful.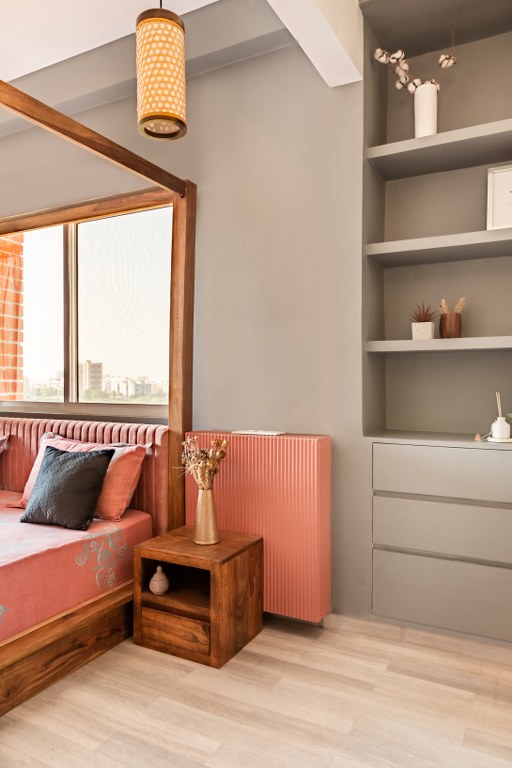 The project was named 'Quirk Box', as the colour palette blends with prominent stand-alone pieces that spring up on every corner against the neutral shell which reflect the client's personal tastes.
FACT FILE :
Designed by : Darshali Golani & Vidhi Malkan
Project Type : Apartment Interior
Project Name : Quirk Box
Location : Vadodara, Gujarat
Year Built : 2020
Duration of project : 4 months
Built up : 500 sq ft
Principal Architects : Darshali Golani & Vidhi Malkan
Photograph Courtesy : Pixellus Photography
Designers' Instagram Links : Darshali Golani & Vidhi Malkan
For Similar Project>>> 3BHK APARTMENT REVELS A STRONG BLEND OF COLOURS AND TWISTS