Spanish Style Inspired Apartment Decor | INK Inc Corp
A Masterpiece of extravaganza, is what sets the theme to the apartment which lines up luxury and statement interiors. Situated in posh locality of Surat, the apartment expands to 7000 sqft of area. Designing a flat for a couple who has travelled the world was an intimidating task for the team at INK Inc. After a lot of brainstorming, we decided to have a Spanish touch of style to the otherwise contemporary interiors. Precise styling, infusion of contrasting materials and dynamism formed out of varied colour palette assembles the house which is a habitat to two generations, based overseas. And that for a fact, determines the essence of concept that molds the entire space.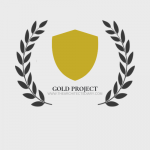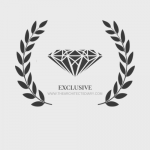 visit:INK Inc Corp

&nbsp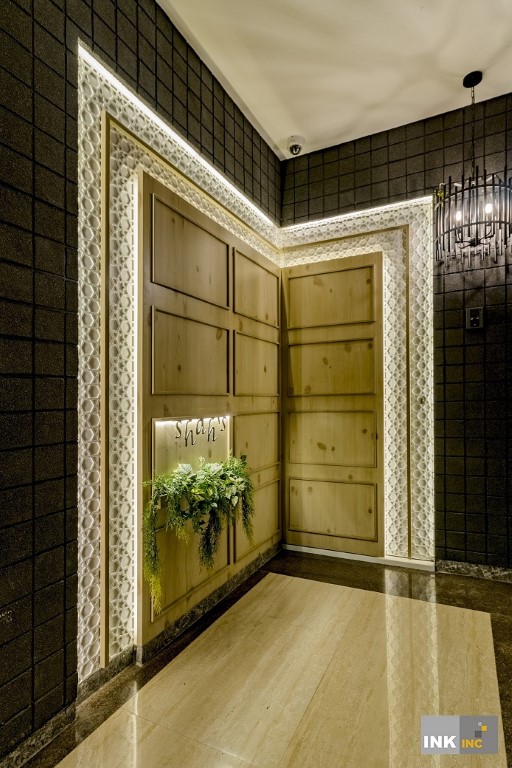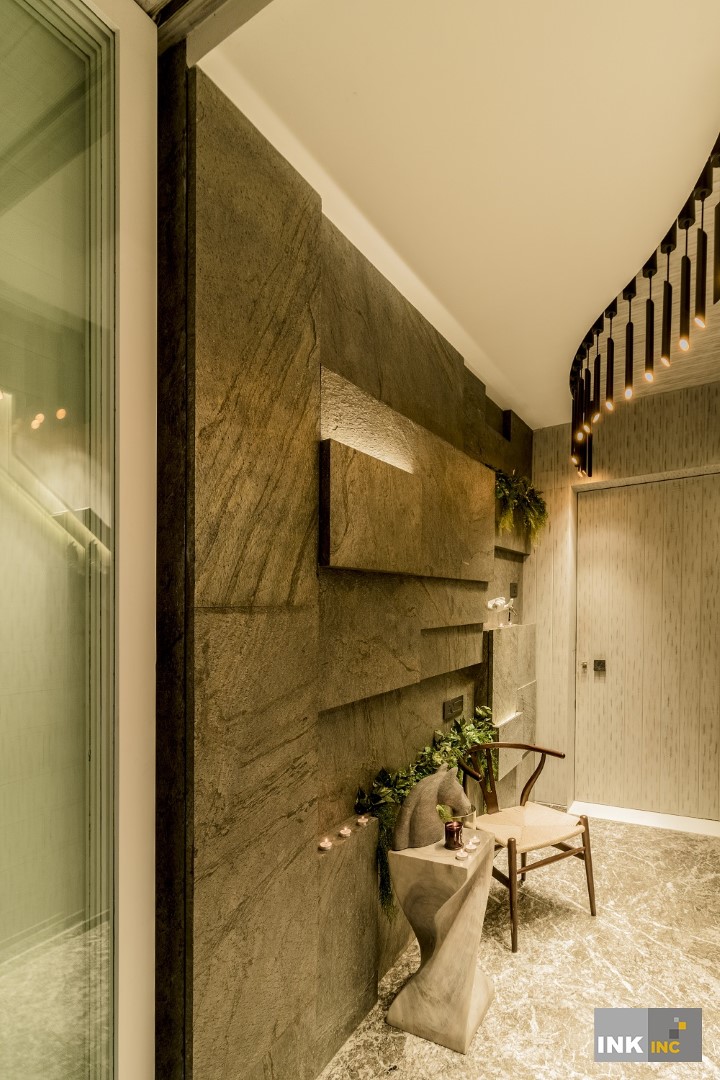 Access to the house is embracing with name plate foliaged and intricate lit panels on either side. The colour scheme to the outdoor is coded with that in the foyer which syncs the space and offers a sense of homogeneity. Entryway is enticing with accent chair backed by stone cladded wall and a dim lit ambience that furthermore brightens up while following us to formal living space. Foyer ushers to living area and dining on its either sides delivering outspreaded expanse.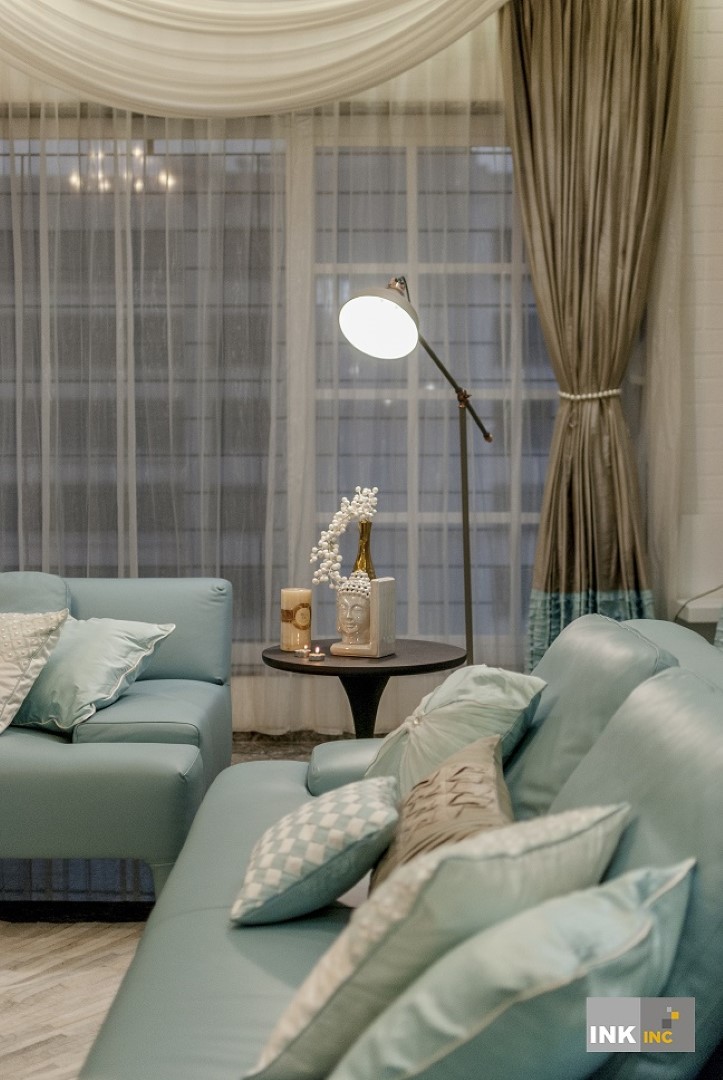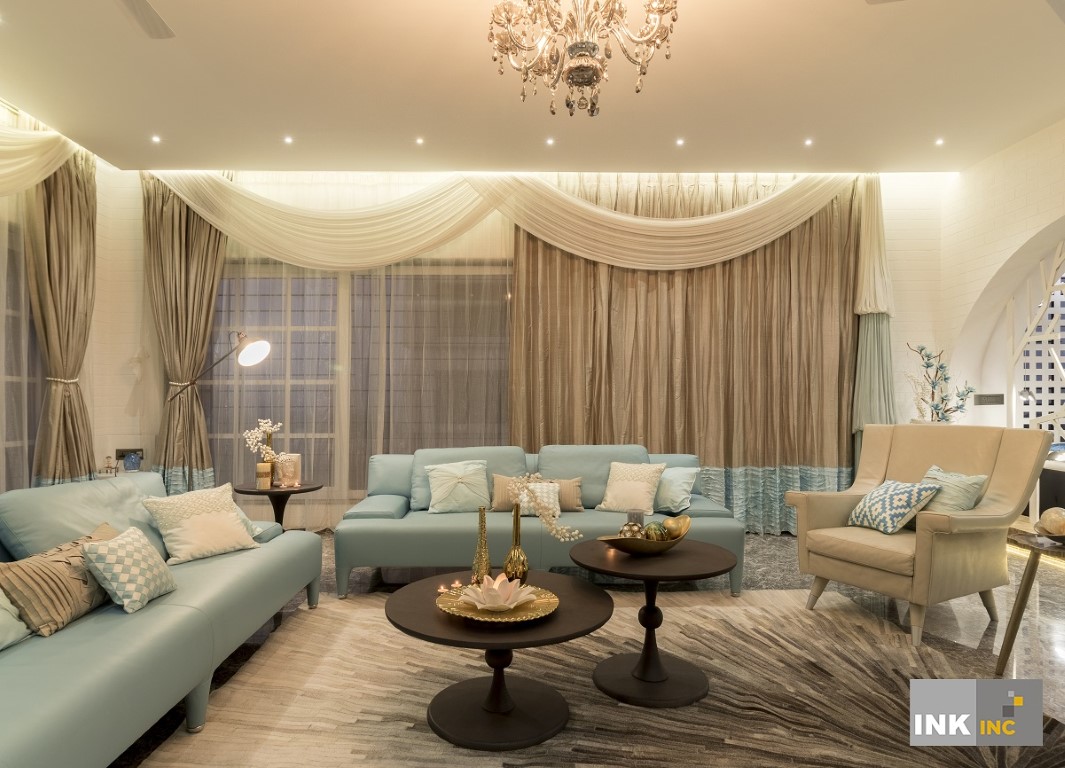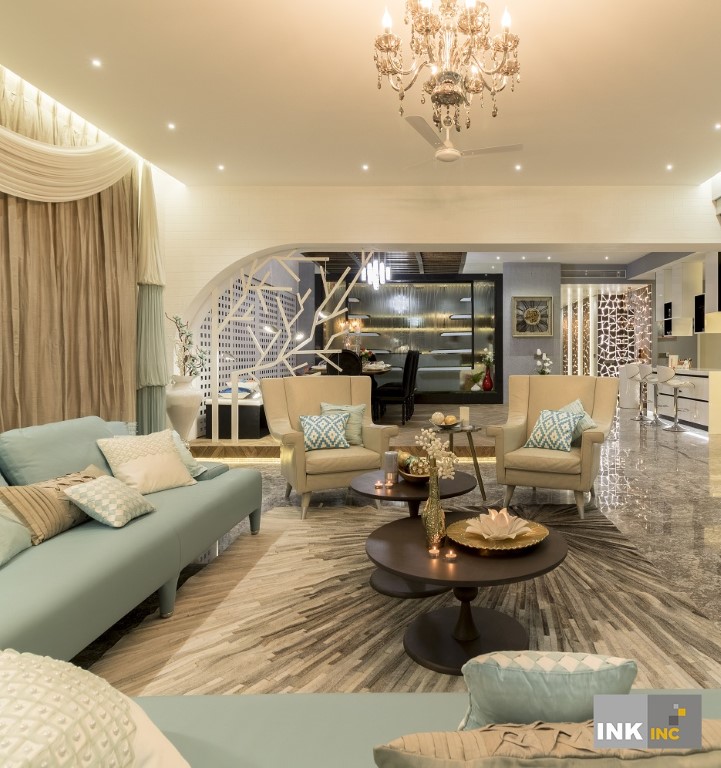 Living area is nevertheless epitome of magnificence. With expansive enclosure the space lets in ample amount of daylight with extensive and heighted windows, while the blackout and sheer draperies aids in blocking the excessive sunlight as and when required. Although, the formal living encompasses discrete furniture offering solitary significance, the dining area therein is planned over a raised platform making it firm and thus bringing in juxtaposition to the entire enclosure.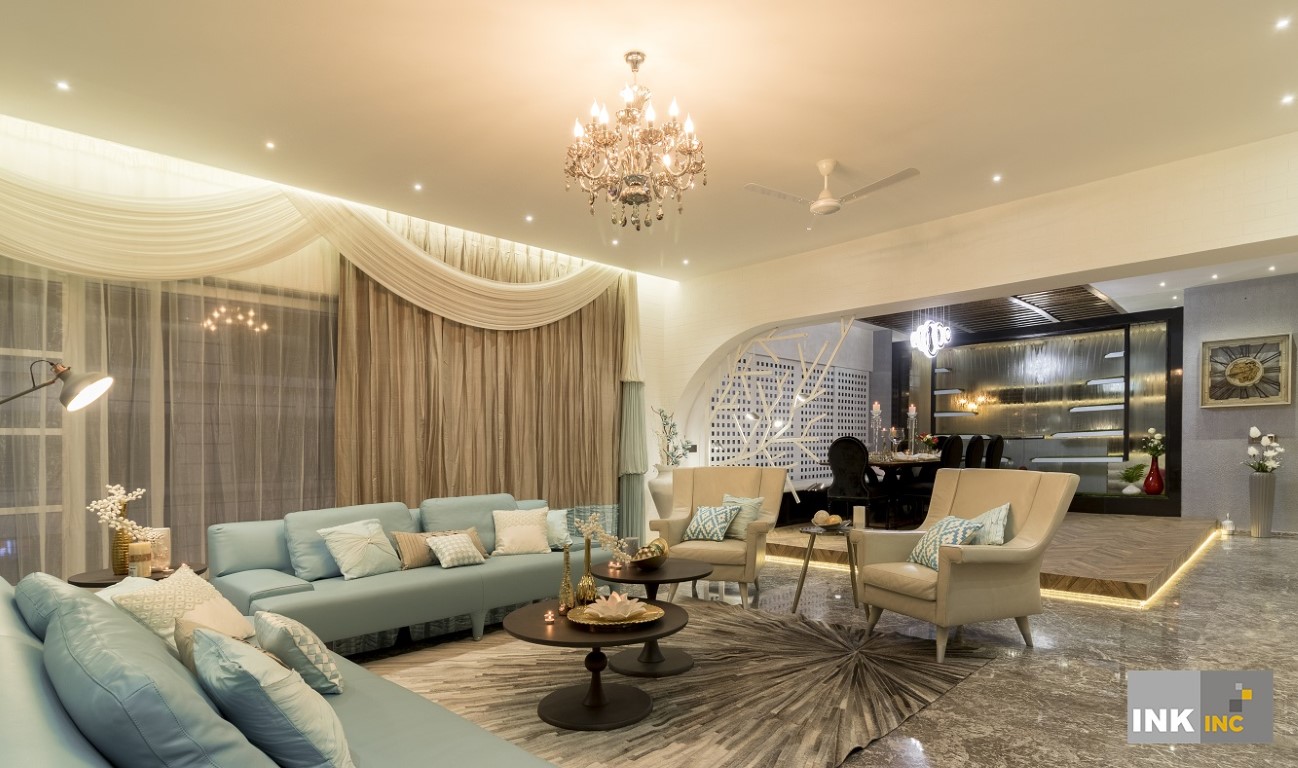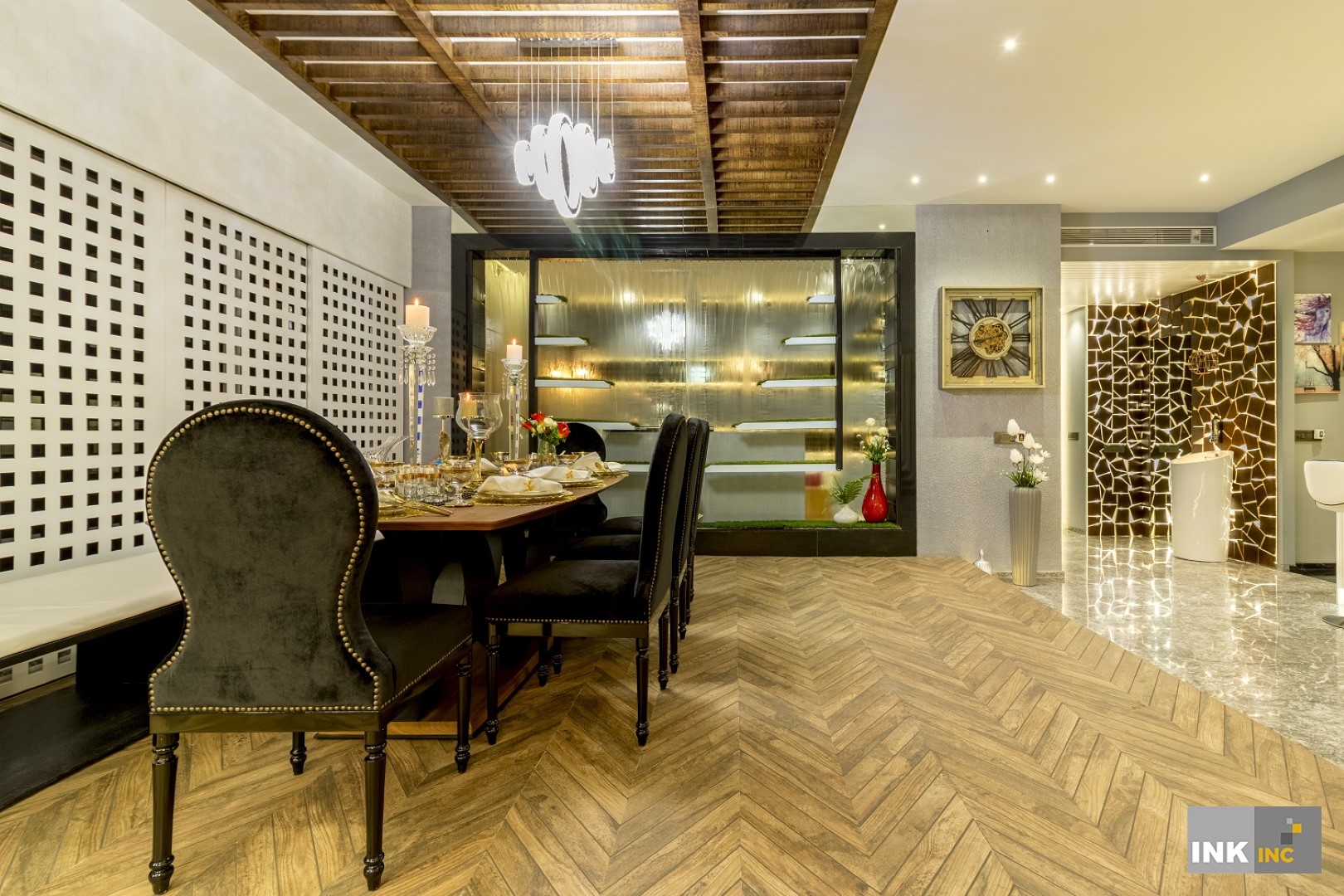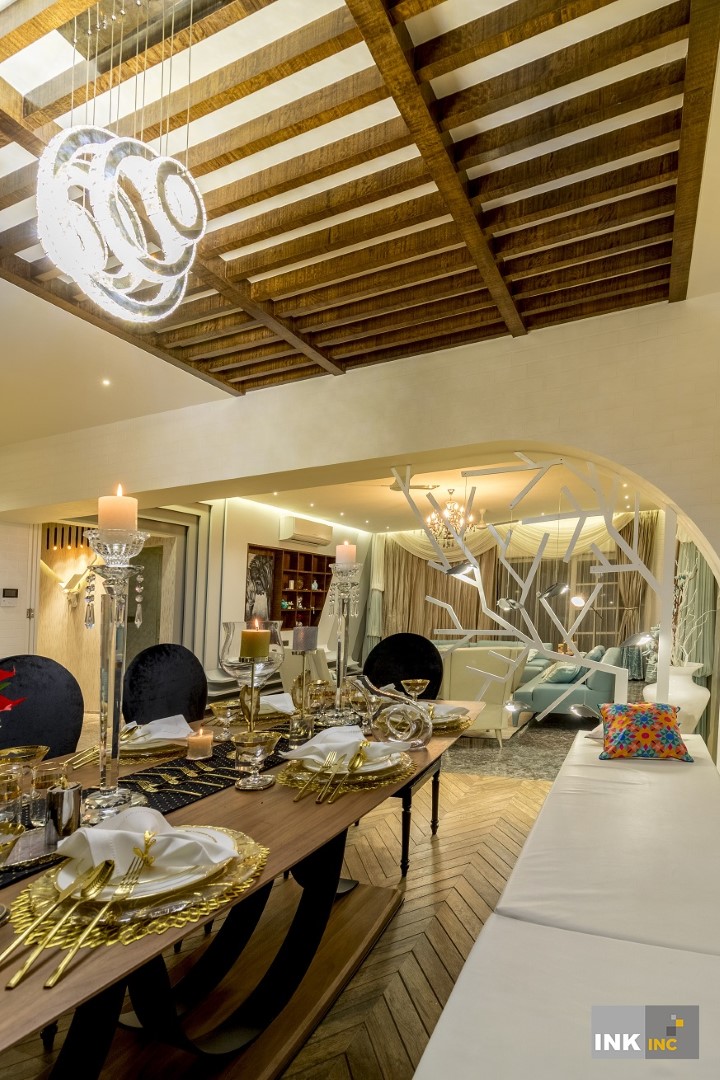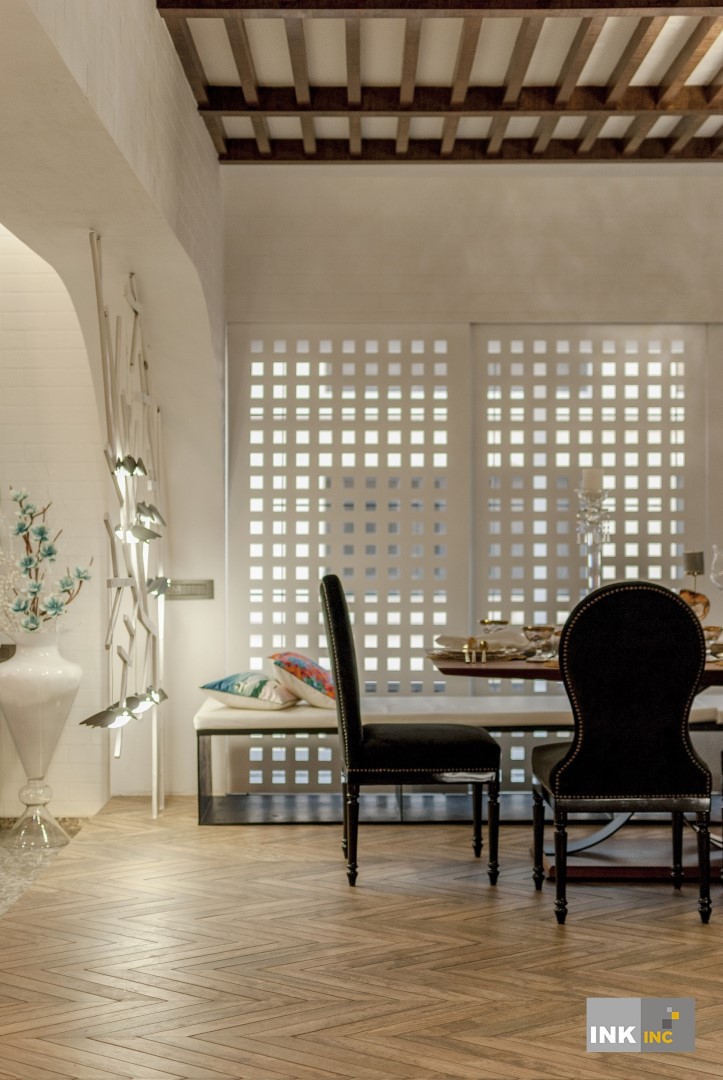 Following a neutral color palette the decor is enriched merging it with a pop of Bahaman blue. Keeping the furniture conventional, however the aura is glamorized with elements such as elegant chandelier, table decor and a cut work panel along the dining area.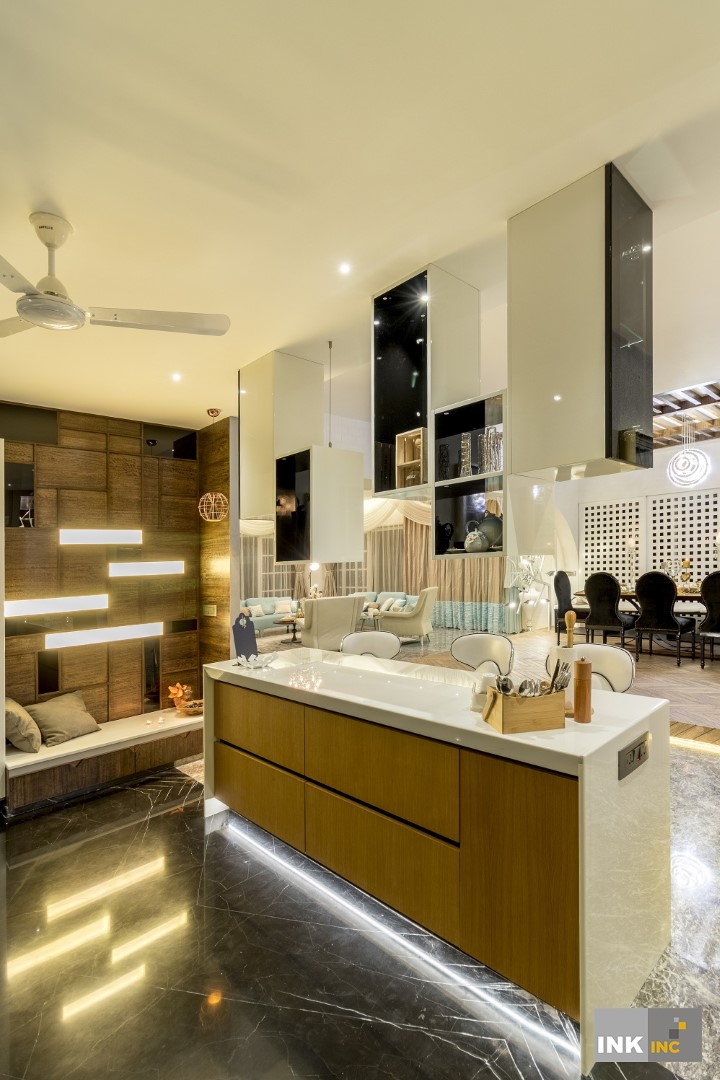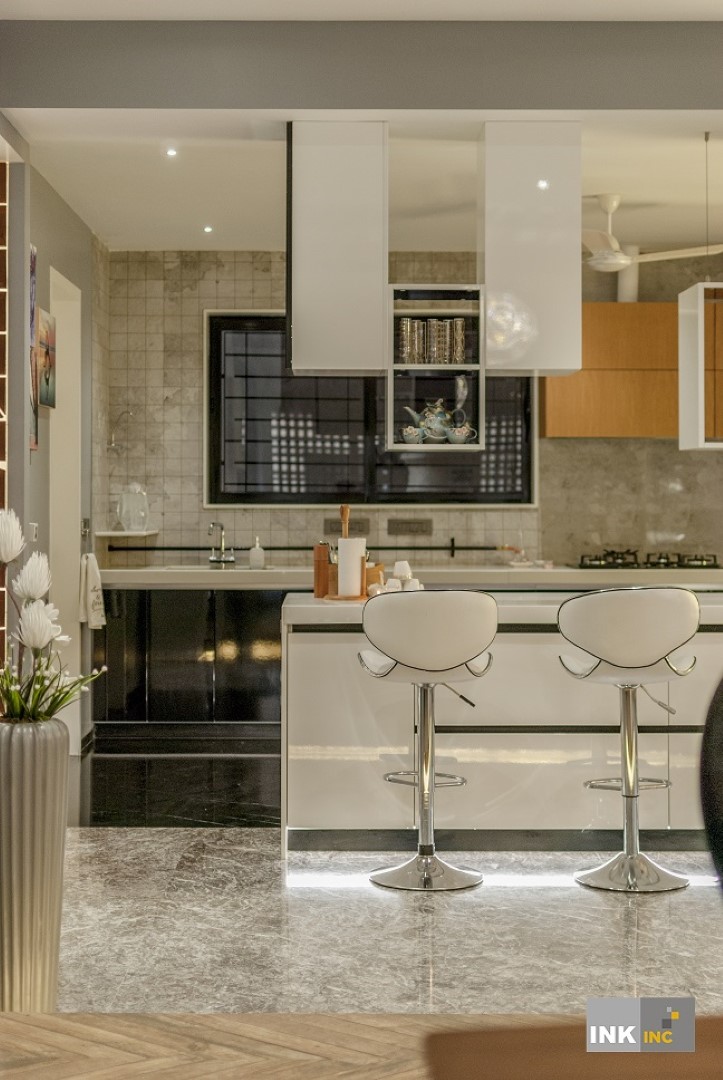 It further spreads into an open kitchen which is commenced by a serving counter with high bar stool that of course seizes the emphasis while is topped by cantilevered open shelves hanging from top. Something that predominantly makes the space stand apart is the provision of alcove seating induced right in the kitchen.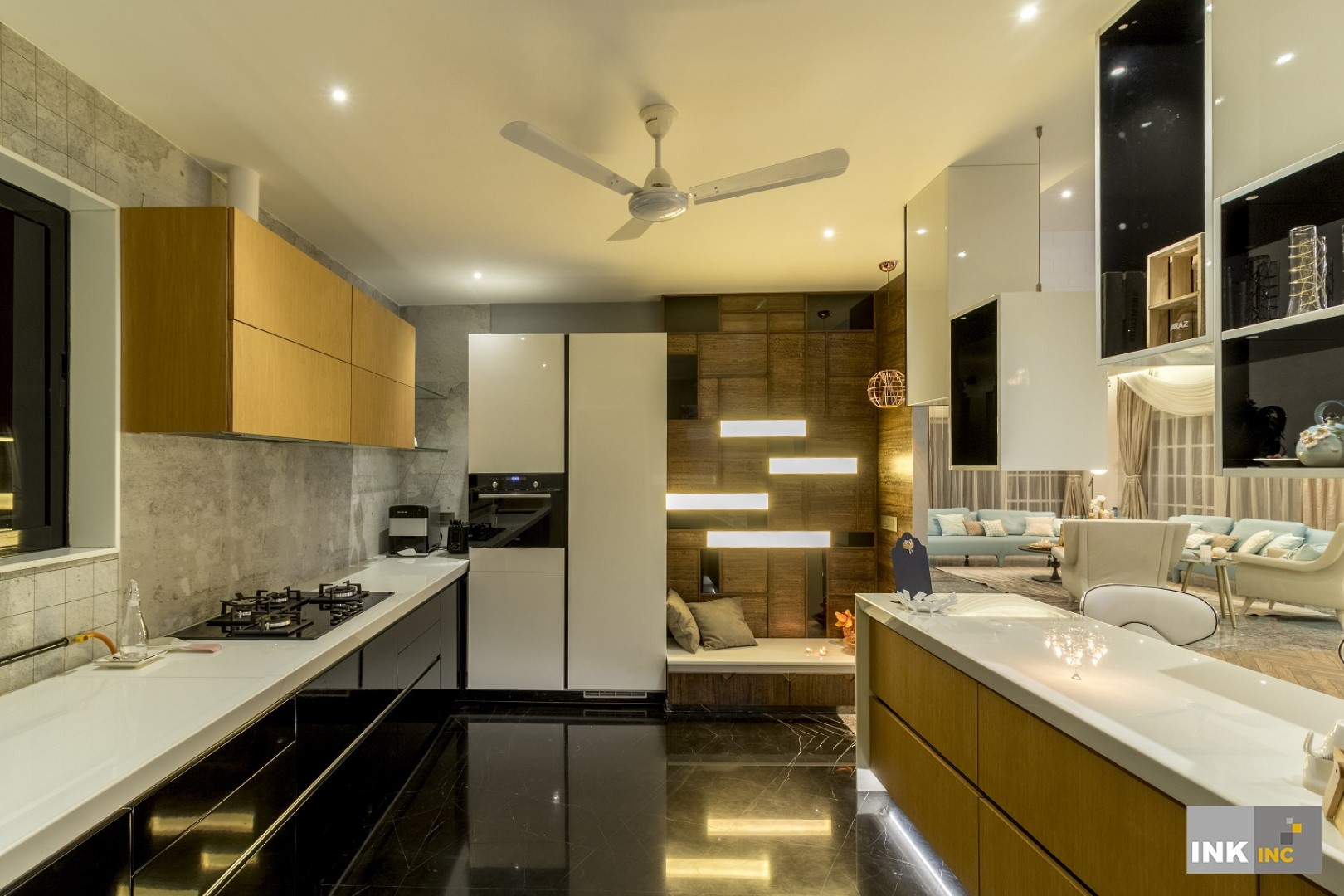 An achromatic color palette with a hint of wood and apt supply of required elements is what makes kitchen space aesthetically appealing and functional while perforated glazing and sleek water feature with splendid Buddha piece assembles dining area much closer to serenity.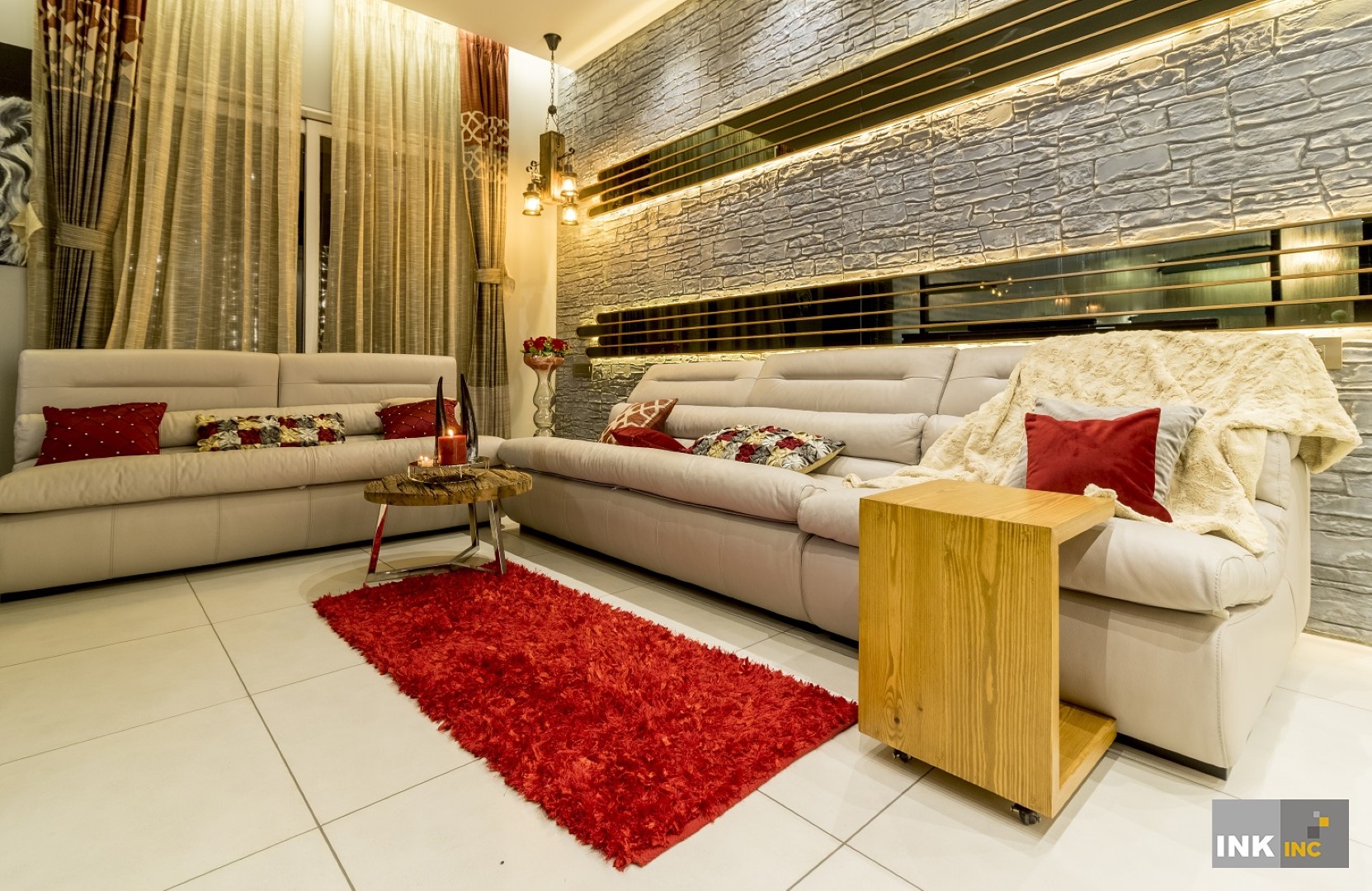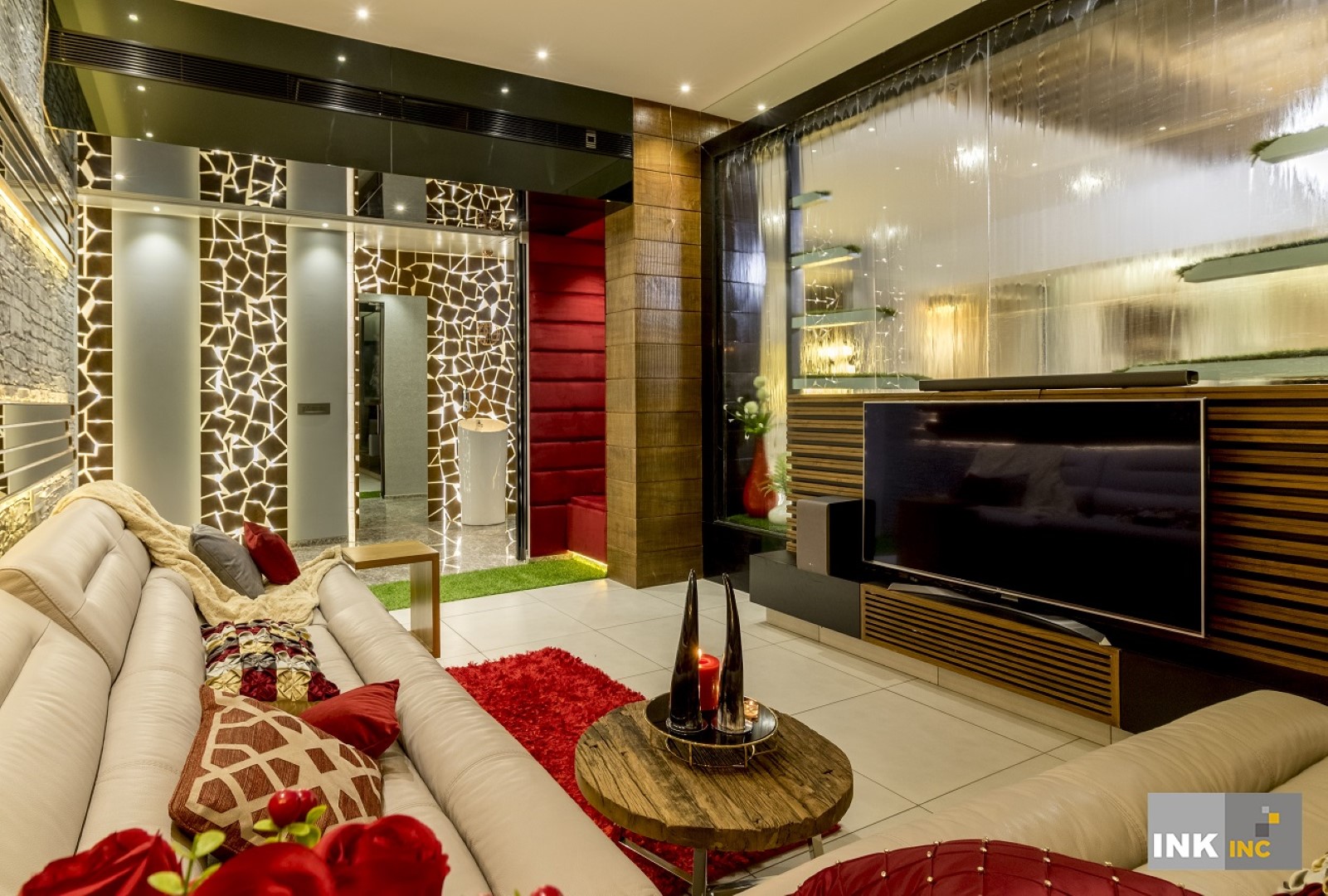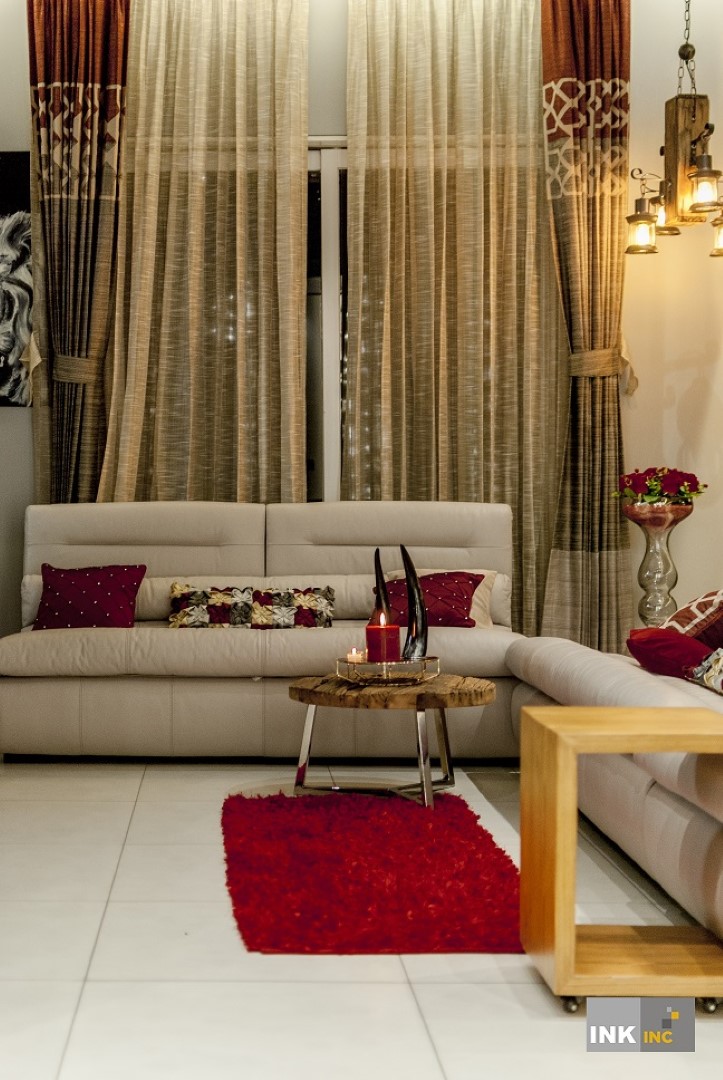 Leading to audio visual lounge is a passage via kitchen and dining wherein you find a pedestal basin, but more engaging is the backing wall detail resembling much to those ashlar masonry, this backlit panel continues throughout the passage. AV lounge is created much like a family living and cosy space, while a see through water feature in dining splits these two areas providing a wider perspective, a neutral color palette is followed yet but with a pop of red this time that makes the place more vibrant.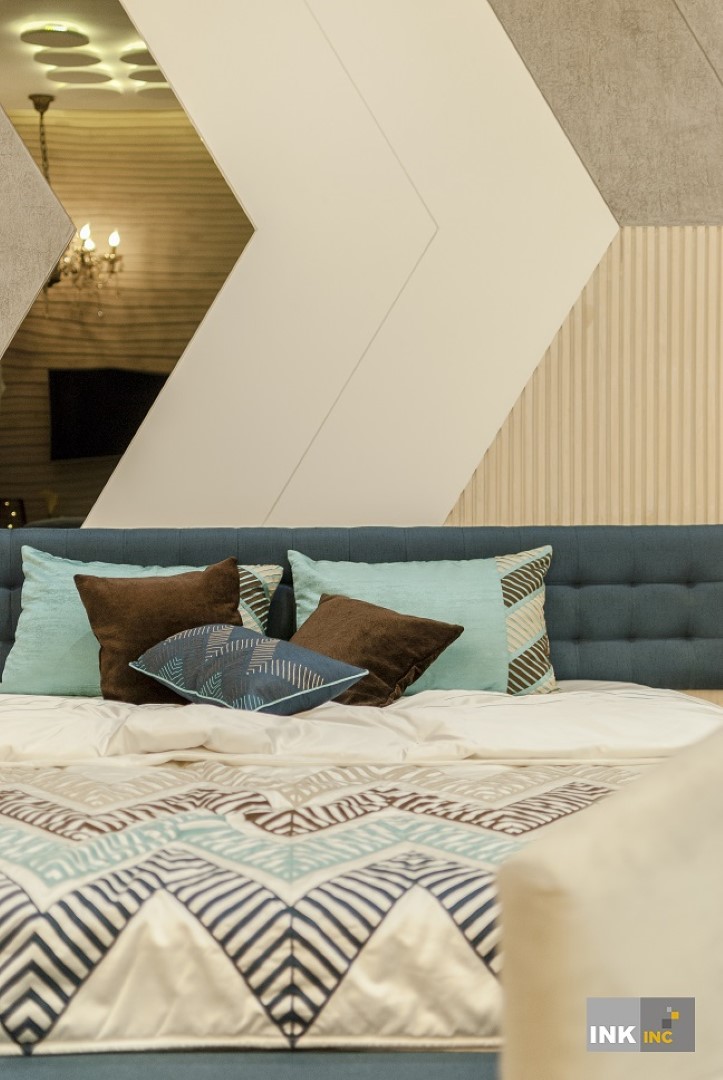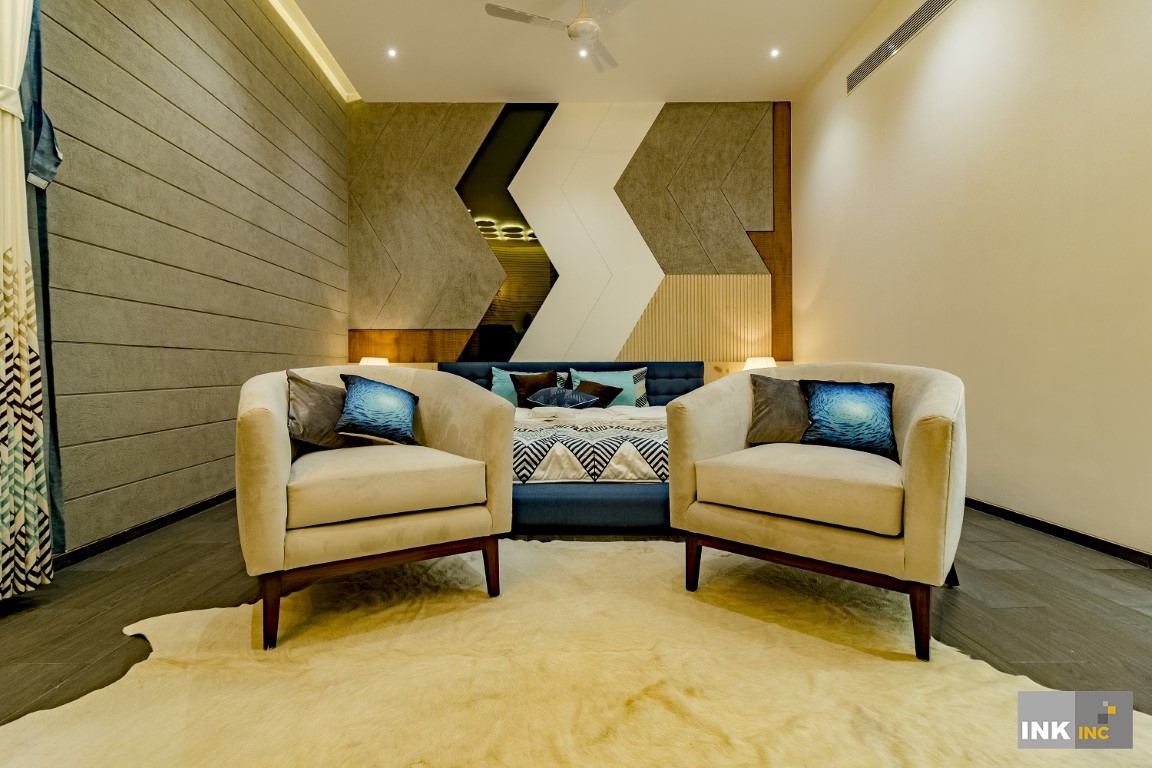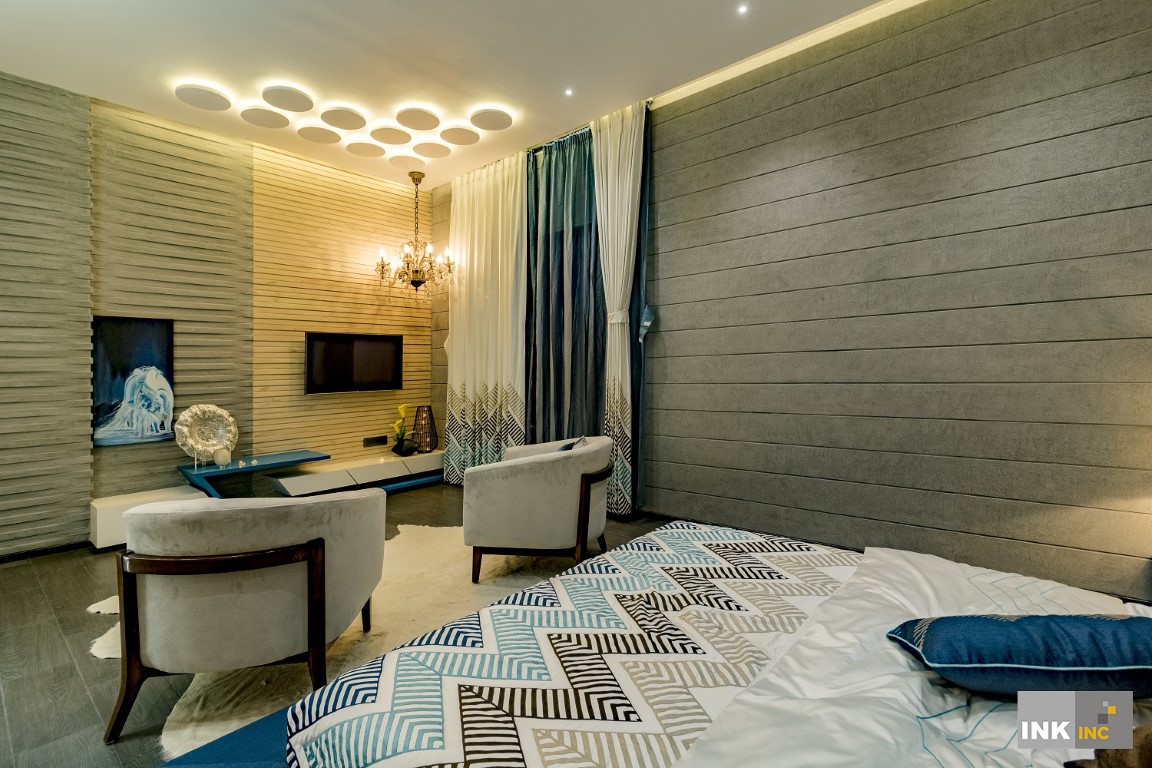 Moving ahead is planned the master bedroom. Stating client's specification and fondness this room however exhibits similar colour palette as of the living room but yet made distinctive with the exclusive elements such as varieties in wall panelling, furniture styles and majorly the lights and the lighting fixtures.
The bathroom appears earthy, enriched with marble throughout. The lit onyx backing the water closet is absolutely captivating.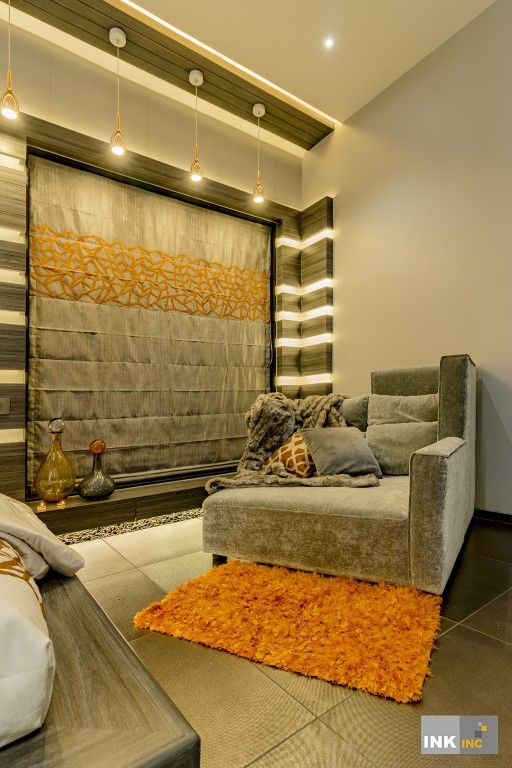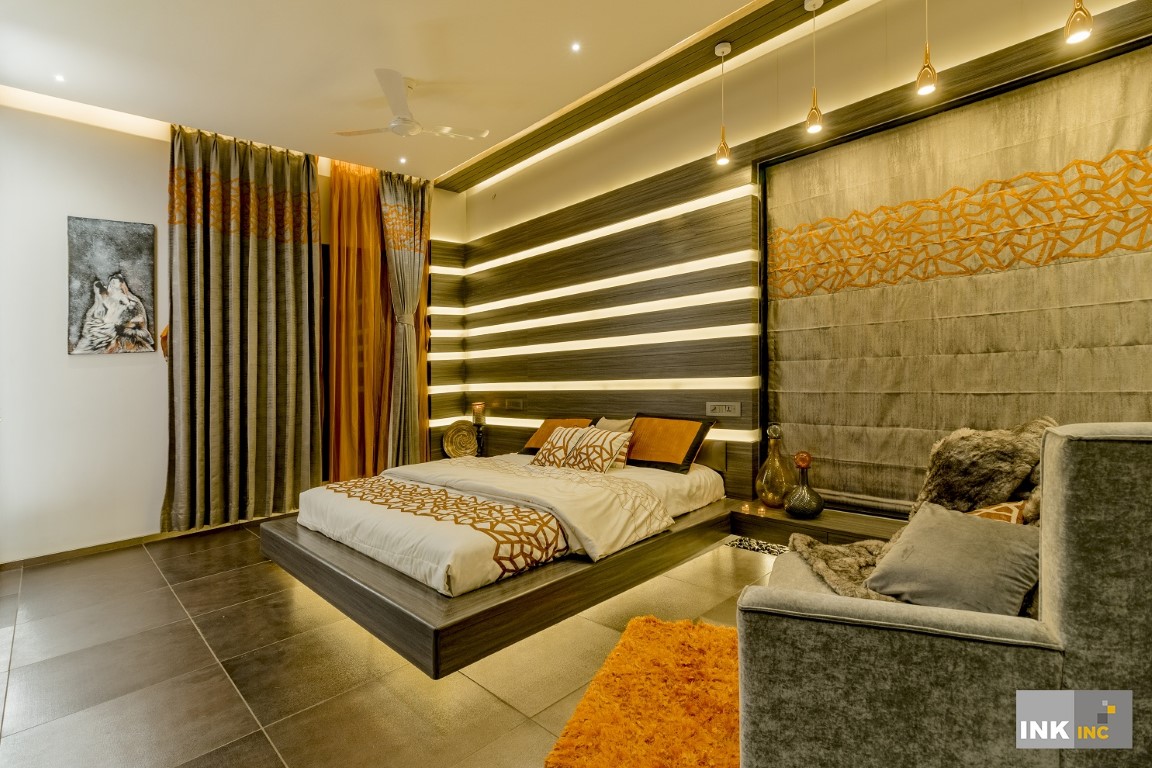 The son's bedroom adorns a sophisticated interior, contemporarily contradicting the remaining house still harmonized with elegant design and finishes. Straight lines manifesting the base, complete expanse is conceptualized more towards a modern style with masculine palette and materials rather than keeping it vibrant and jazzy. The horizontally lined panel following the headboard is kept backlit in respect to retain indirect sources of light thus creating an intimate atmosphere.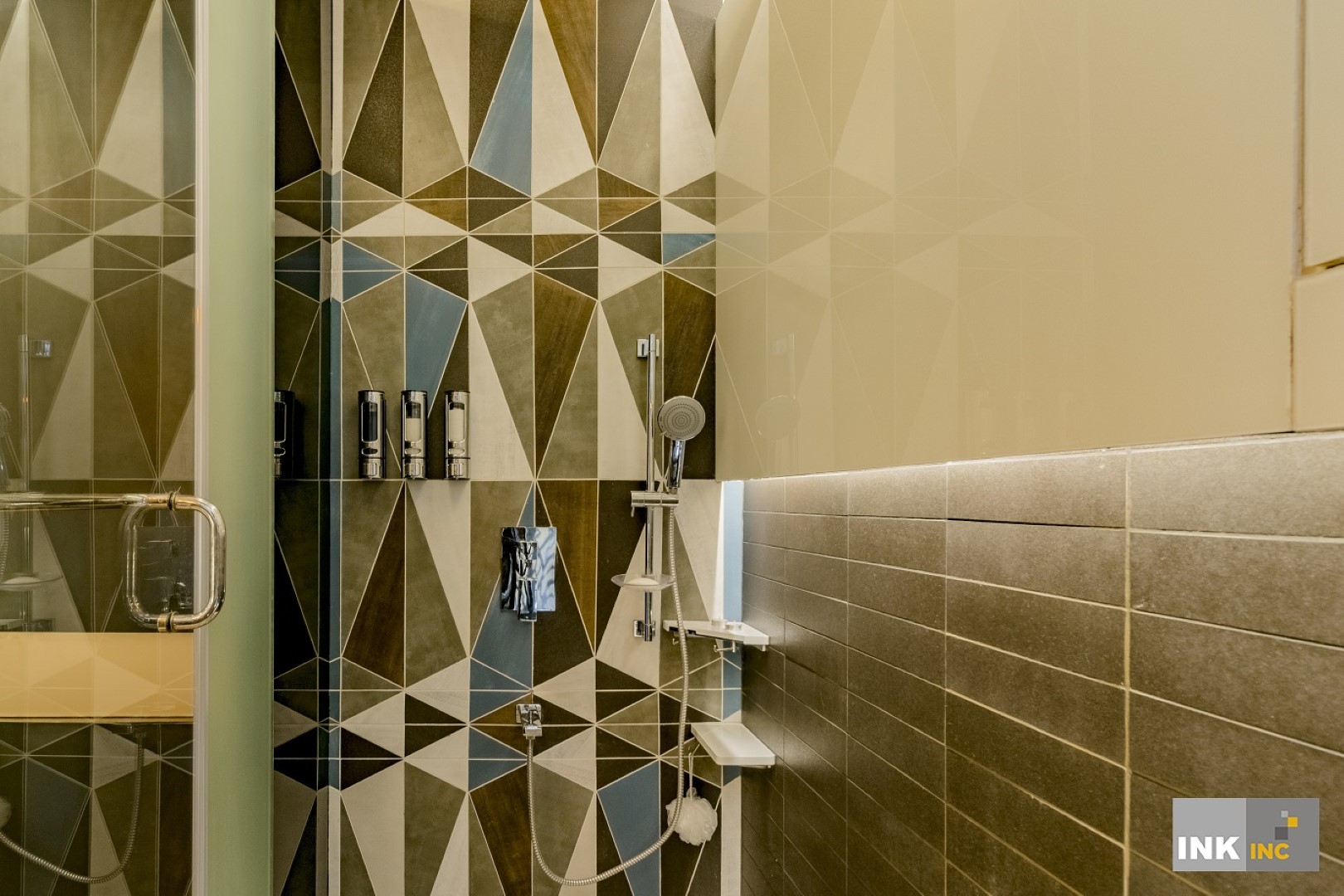 Exquisitely crafted bathroom is for sure worth a bathing experience which is transpicuous from the dresser room.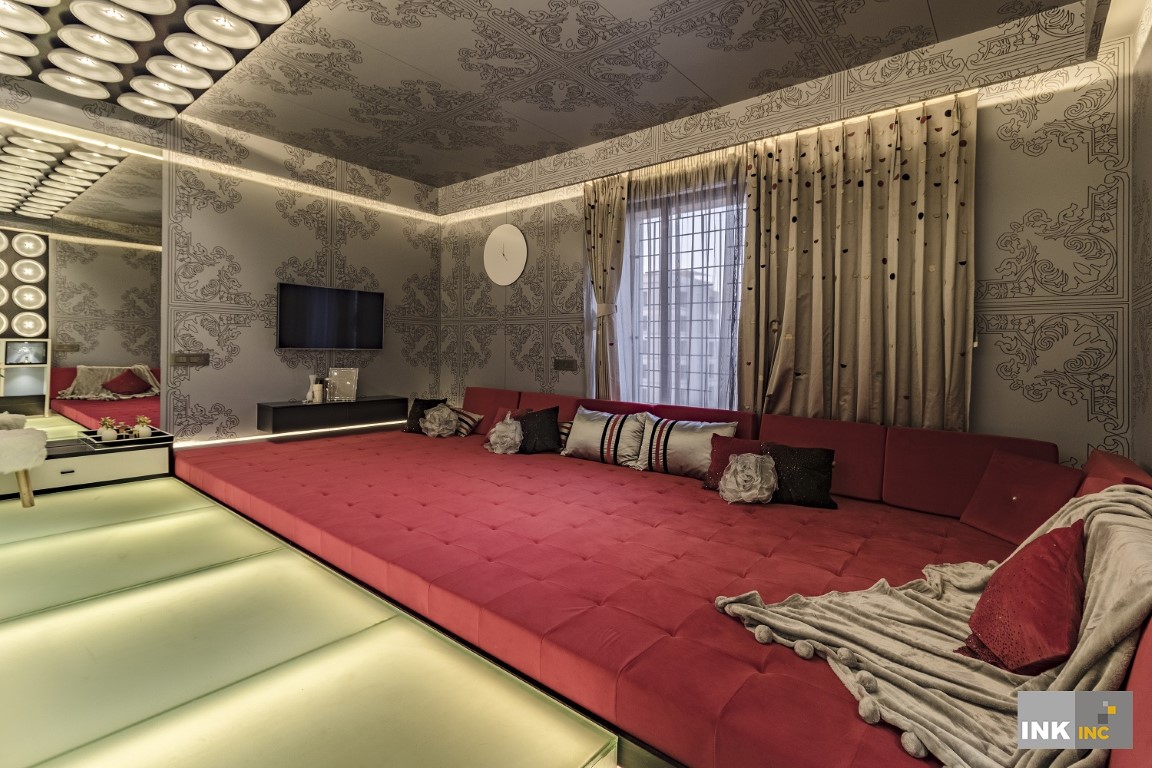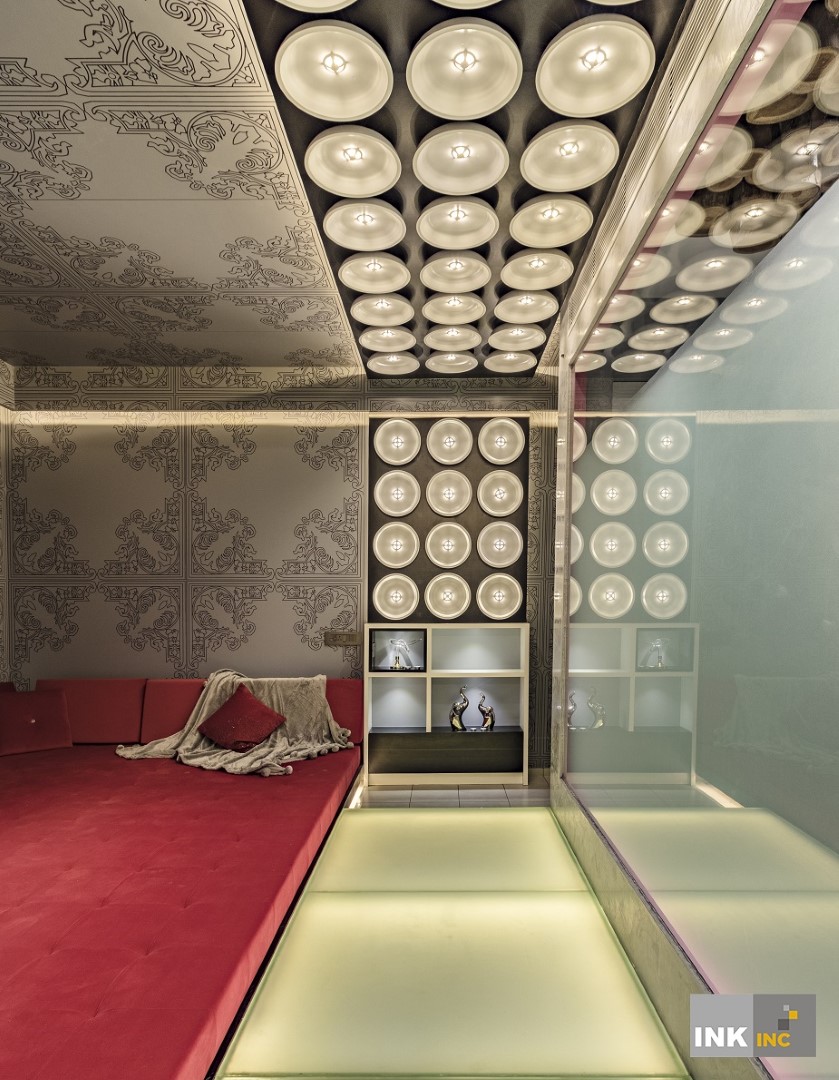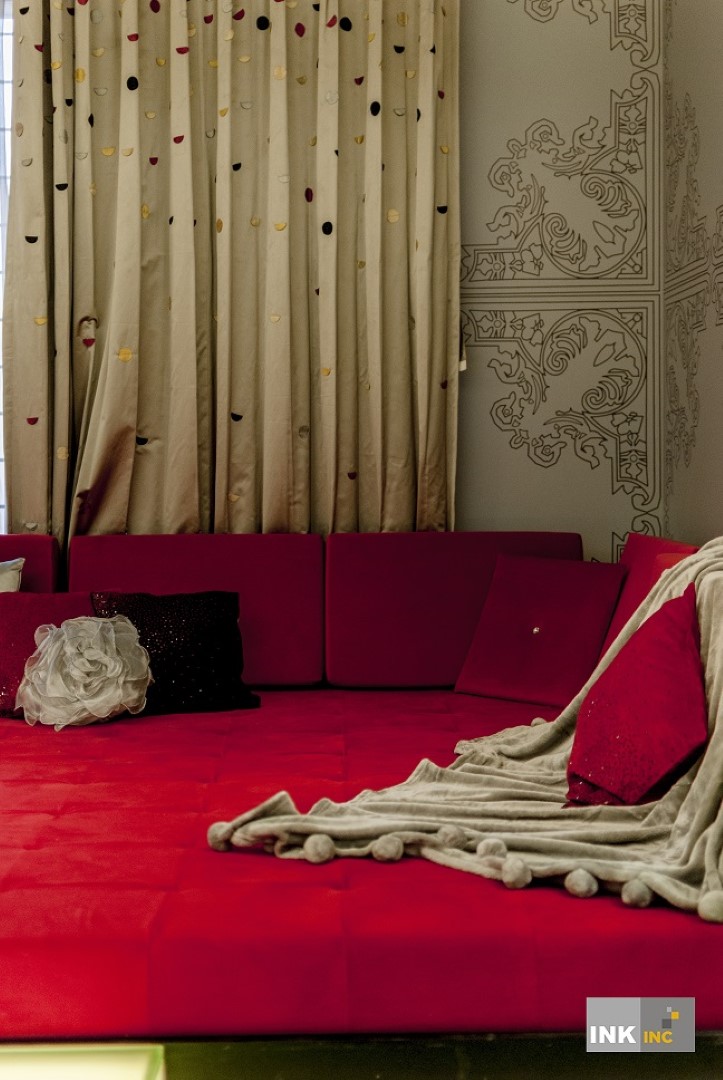 Contradictory to the son's bedroom is daughter's bedroom, Flashy and exceptional this bedroom is expansive with elongated bed being the most perceptible character of the house. The low heighten bed is solely cushioned providing utmost comfort. A classical wallpaper envelops the walls although keeping the entire ambiance subtle and highlighting 'the bed'.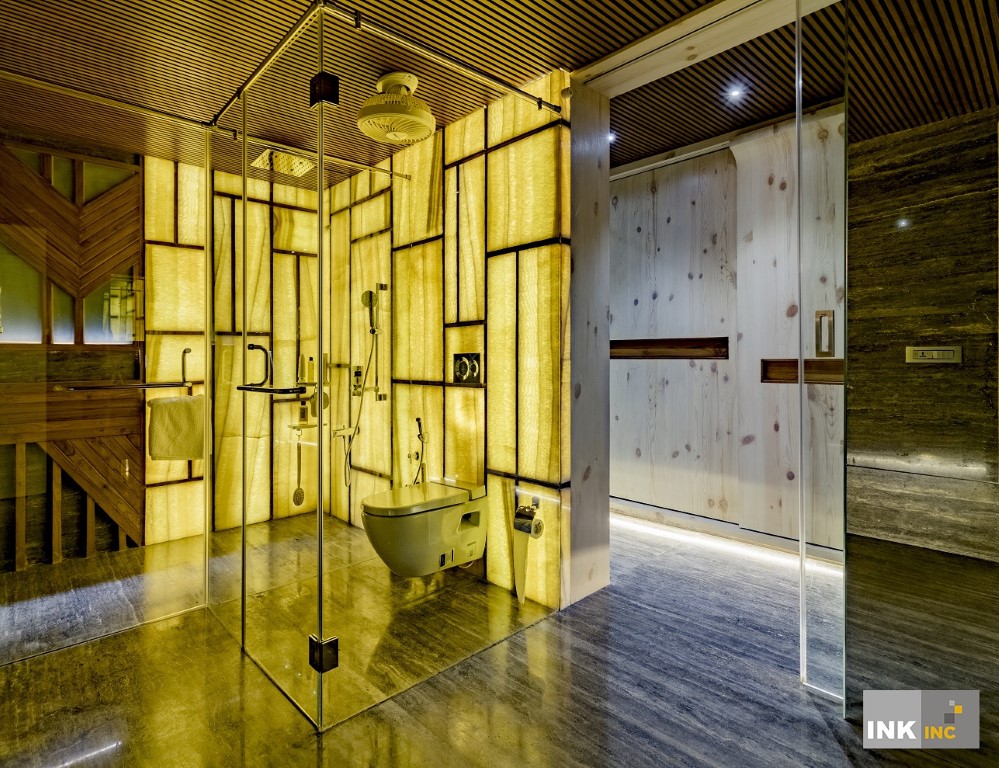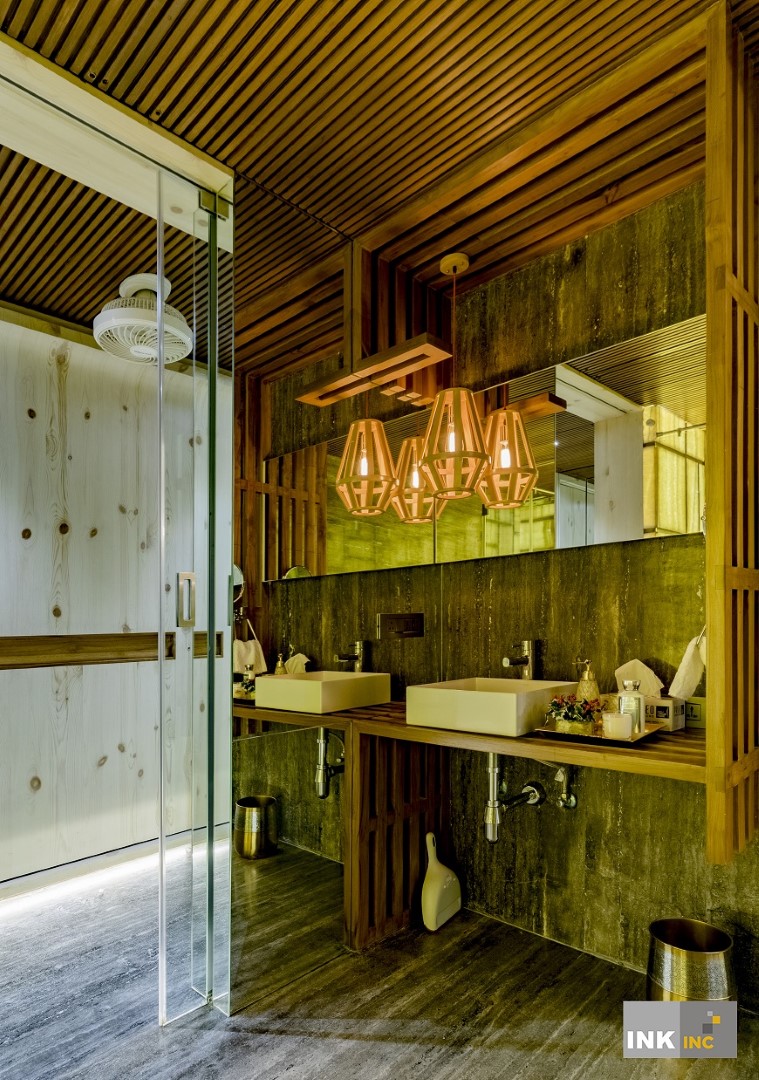 Another feature brought about is the crystalline bathing view, wherein the clear glass divides the bathroom while dry area in bathroom is still kept private by providing film. False ceiling is characterized by a rafter running from wall to ceiling with annuls detailing for the light fixtures, whereas for the bathroom concentric and eccentric radial patterns hung to ceiling forms astonishing roof.
The complete house is a visual feast of sumptuous fabrics, perfectly blending color palettes, warmth provided through lights and of course the outcome of functionality given the supreme sign ificance.
Fact File:
Firm: INK Inc Corp
Project type: Residential
Location: Surat
Area: 7000 sq ft
Project Year: 2019
Principal Architect: Rohin Agarwal , Khushboo Shah
Design Team: INK Inc Corp
Text Credits: INK Inc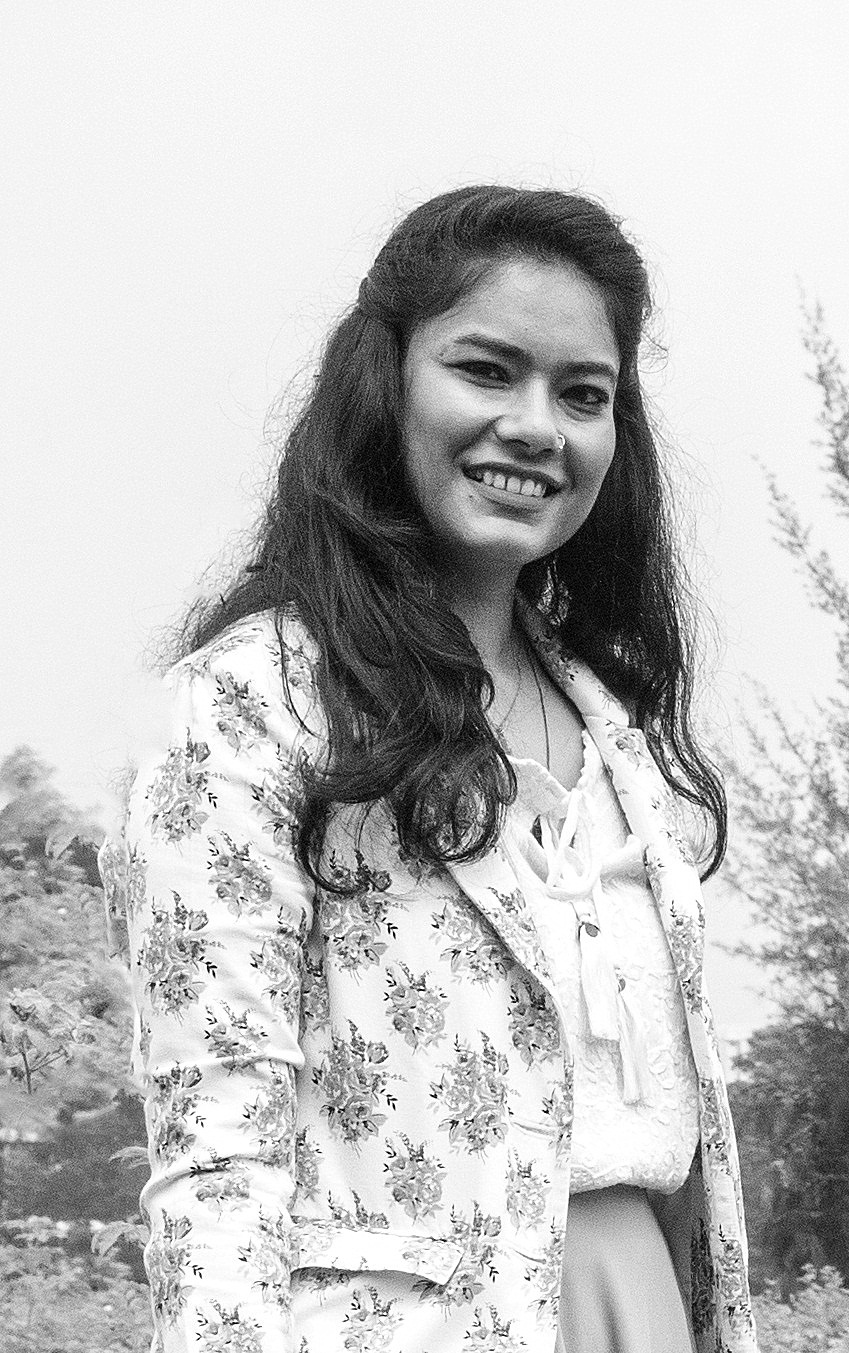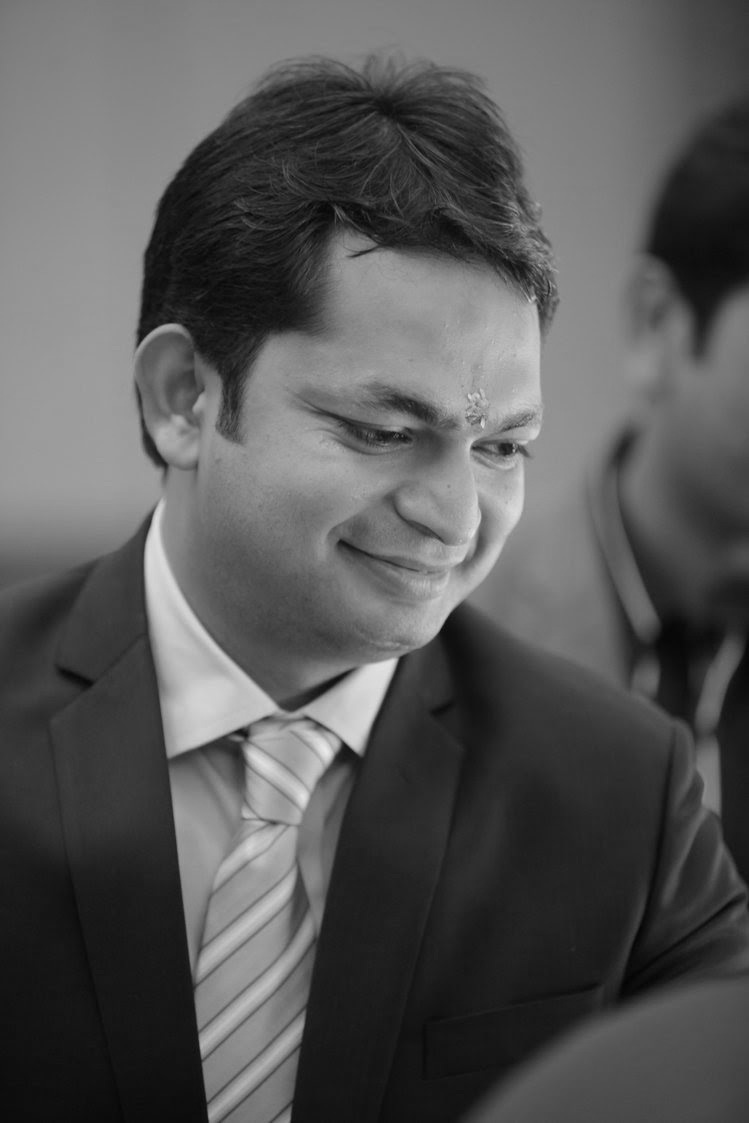 &nbsp