Tasked with the design of this 2000 sqft apartment space, Aayushi Mor, founder of Auriga Design Studio, holds the creation of this home very close to her heart. Simple, Pragmatic Modern Home: 'A nod to Mod', as the name suggests, is a home situated in the lush green city of Bhopal, where every zone has been treated in a characteristic hue, ensuring an instant visual identity. Crafted with finesse and keen attention to detail, this 2000 sqft residence oozes refined elegance. Sunlight sweeps every corner filtering an ambient glow and highlighting textural nuances. The main focus has been on optimizing functionality and maximizing ventilation of natural light and air, with an emphasis on decluttering zones and reorganizing the layout in a way that enables user interaction.
Simple, Pragmatic, Modern Home: 'A nod to Mod' | Auriga Design Studio
Visit : Auriga Design Studio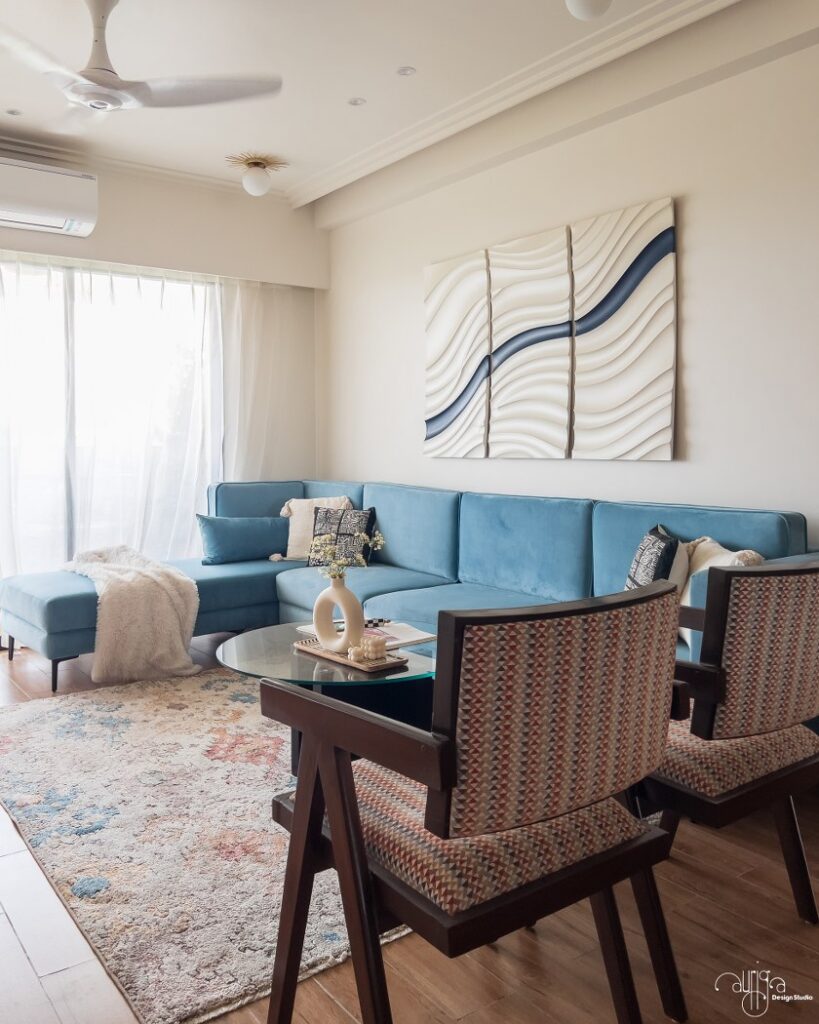 The living and dining room celebrates an uncluttered, minimal design with highlights of colors and tactile materials. A large mirror has been strategically placed on one of the walls to create an illusion of expansive space. The base palette comprises wood tiles for the flooring with walls and ceilings in white, providing a neutral backdrop. In harmony with the muted scheme, the wall behind the sofa is adorned with tangible artwork crafted from leftover boards and paint.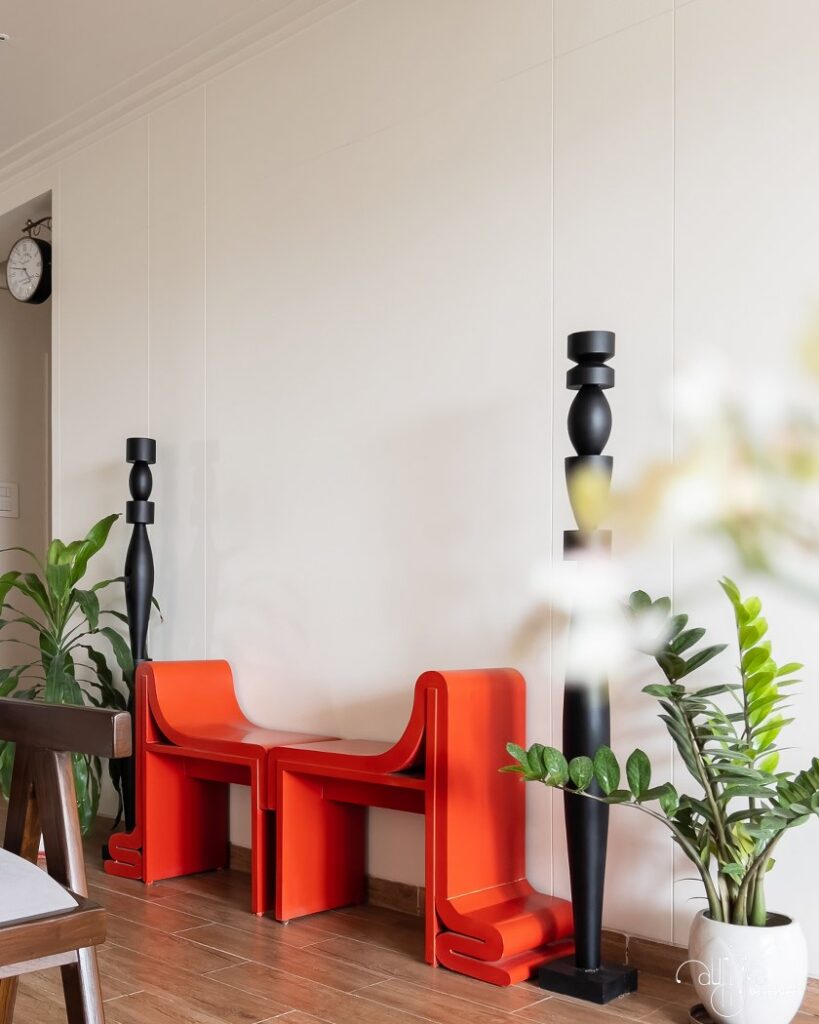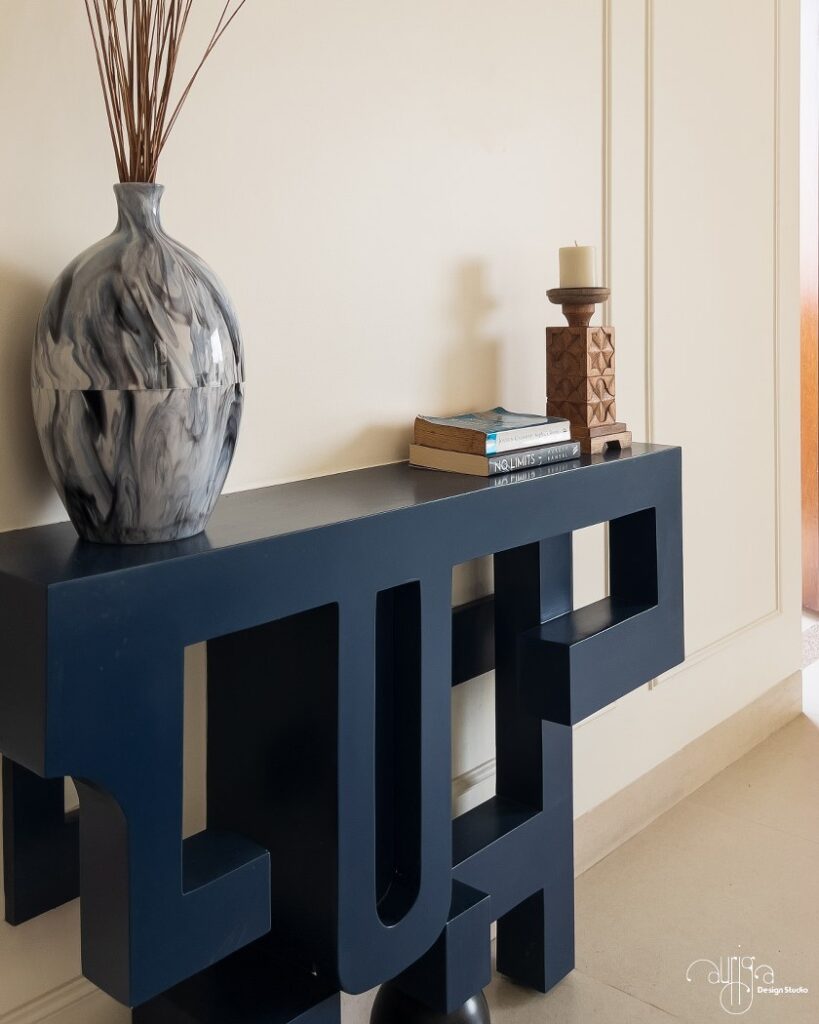 Another noteworthy element is the gilded sculptural base of the dining table made on-site. The living and dining areas come together with indoor plants that are blended with warm tones of the veneer and eye-catchy furnishings.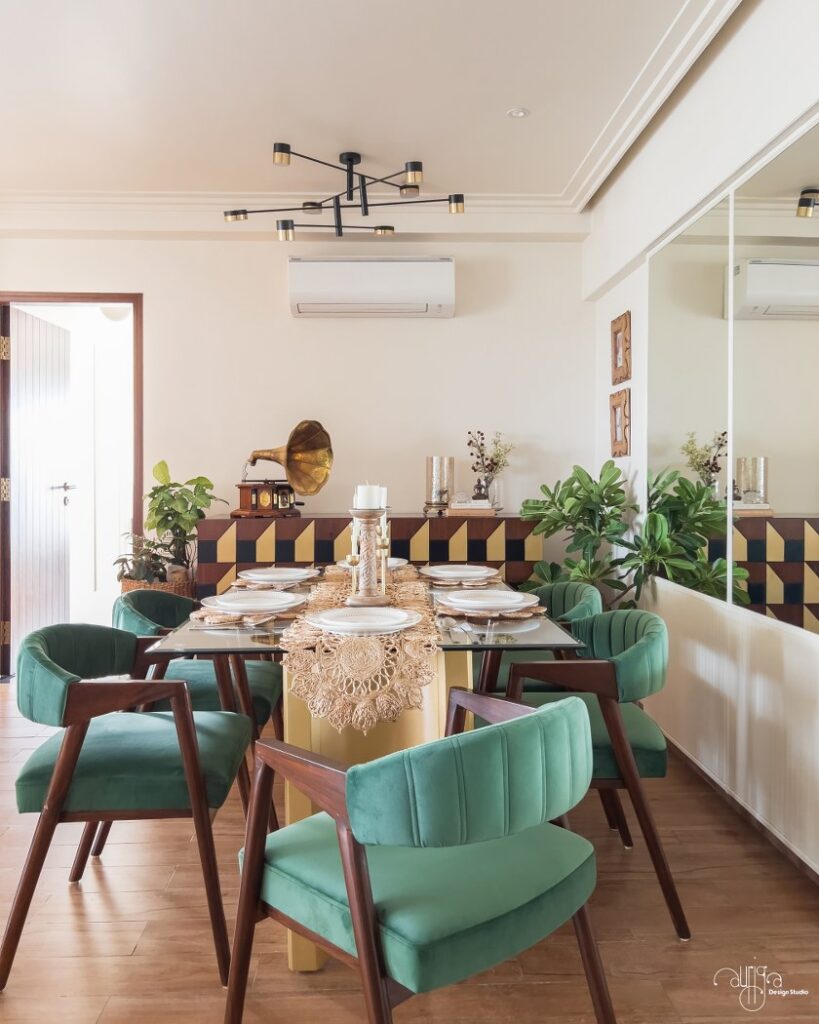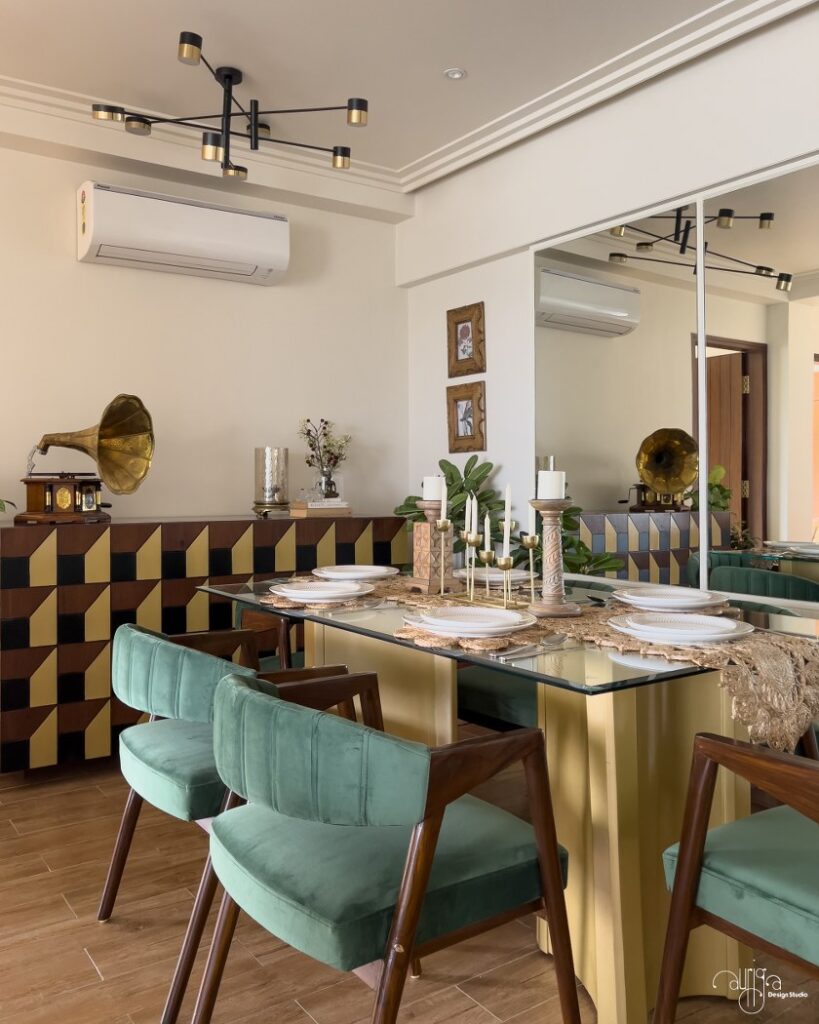 Creating a strong visual effect is a custom-designed curvaceous bench positioned against the linear patterned wall. Wooden furniture dots the interiors with quite a few custom-designed pieces, including the TV console, dining sideboard and credenza. The kitchen is reflective of Scandinavian style, with a focus on functional and purpose-driven spatial planning. The balcony features a wood swing and cane pendant lamps, with walls that adorn an exposed brickwork detail. Smart planning ensures that compact spaces have been effectively used, thereby maximizing storage and making provisions for multiple functions.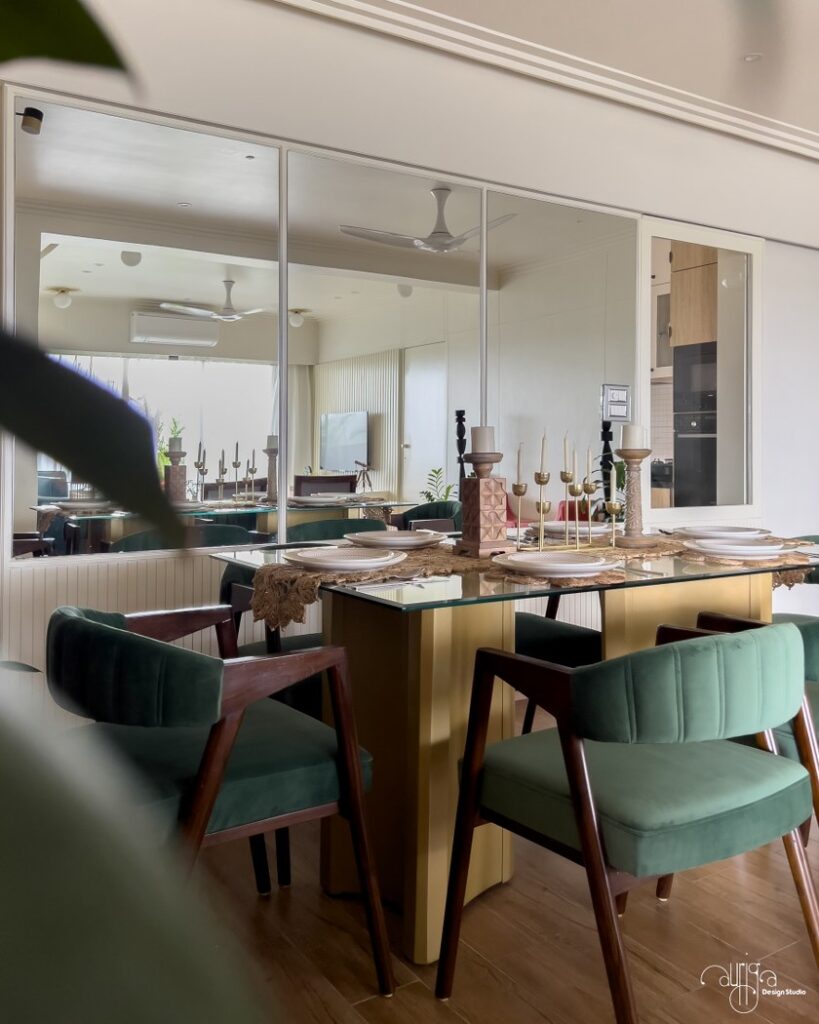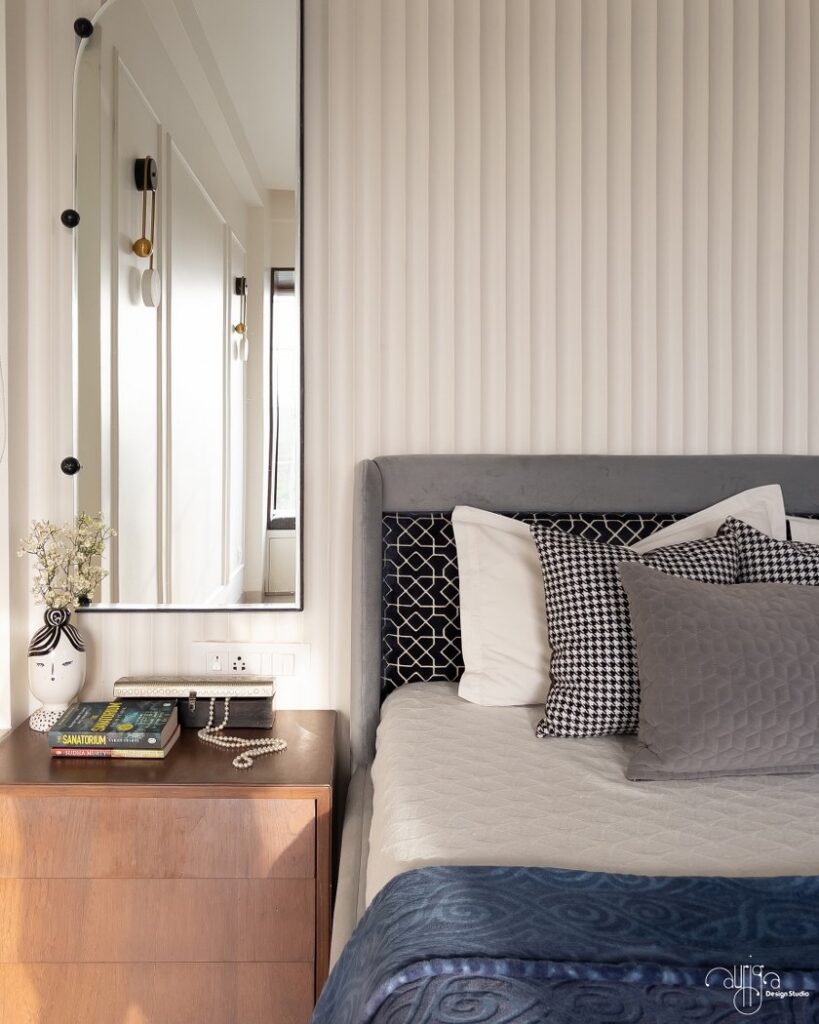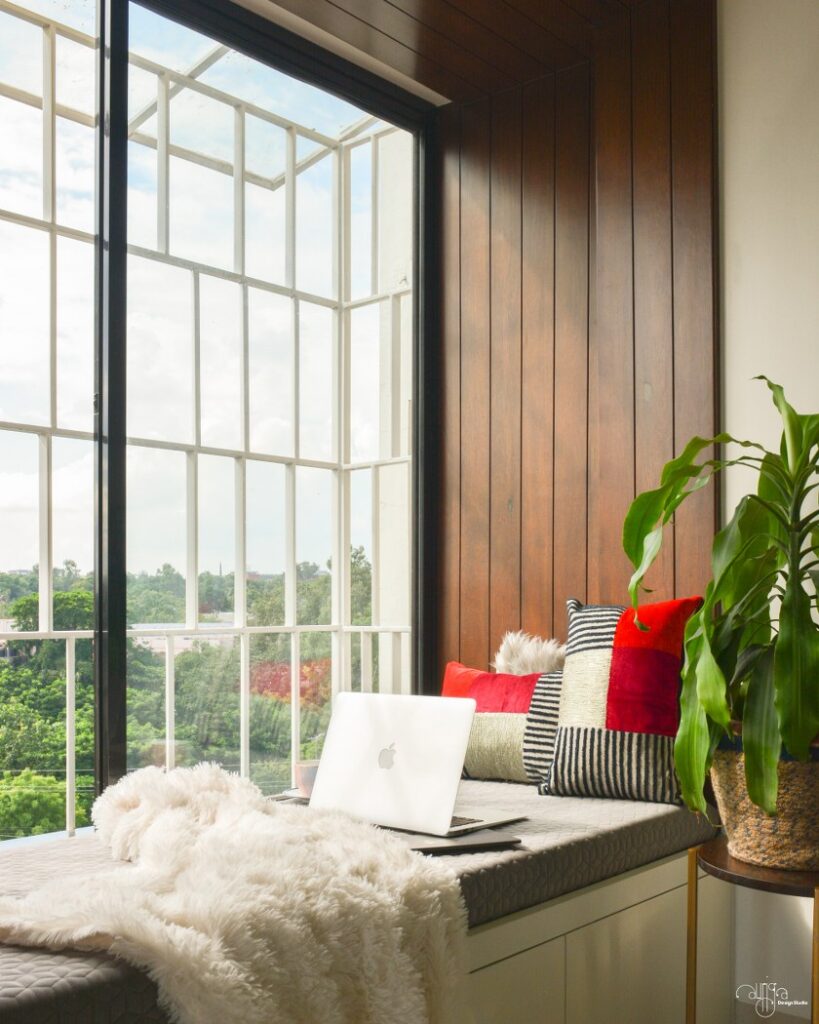 The Master bedroom is contemplative of a hygge lifestyle, showcasing simplicity and discretion in its lines as well as in its colors and materials. The juxtaposition of solid and patterned fabric in the bed evokes a feeling of warmth. The multifaceted oxford blue console table takes center stage in the bedroom. The visually attractive palette consists of blues, greys, and muted tones which co-exists aesthetically with its sophisticated intent, maintaining a natural balance with its surroundings.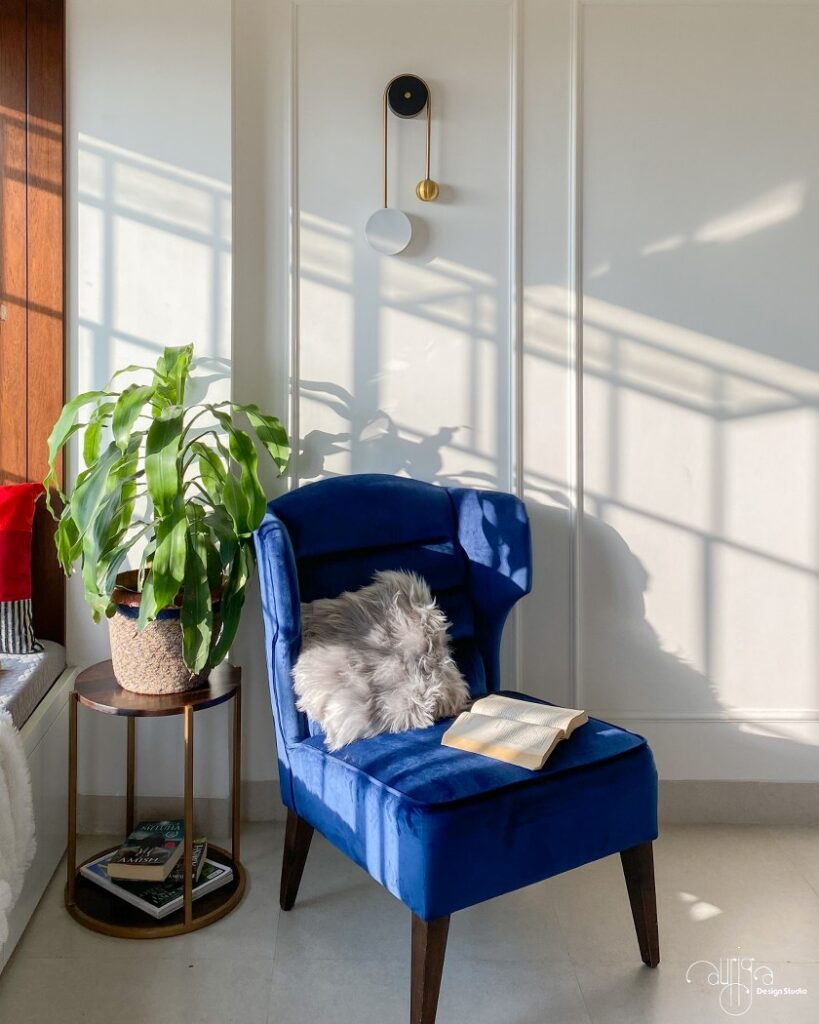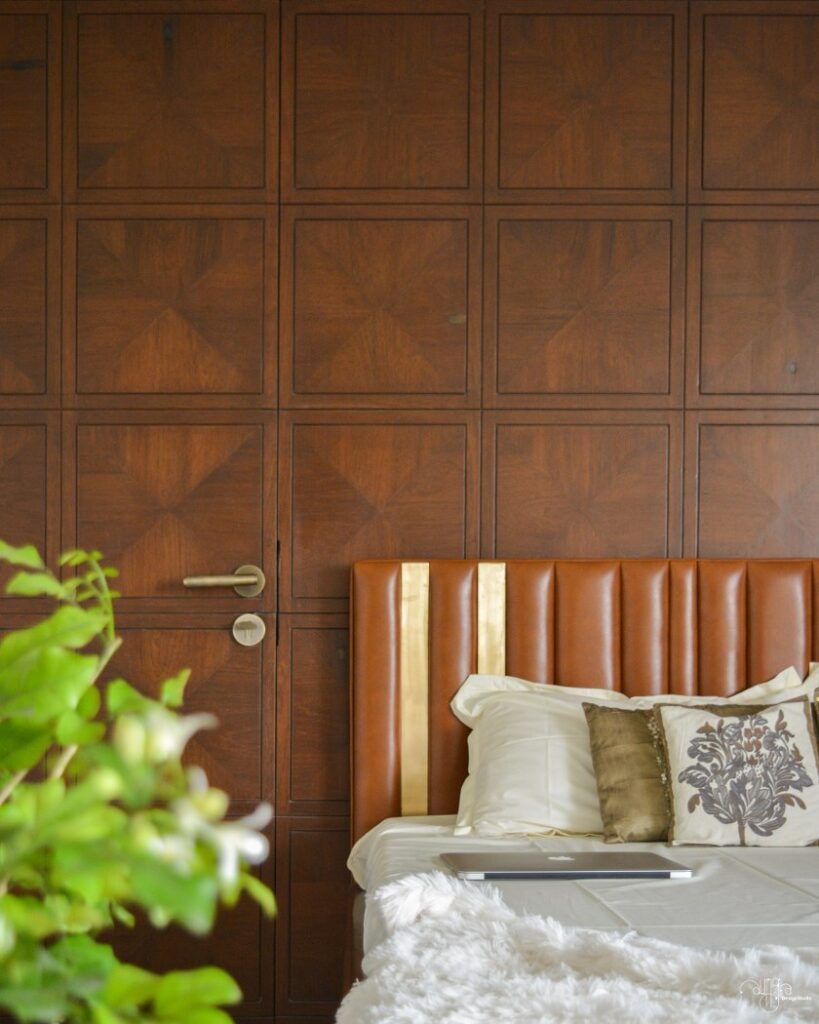 Bringing a new style narrative, the second bedroom renders a striking architectural expression through a fascinating interplay of leather and brass in the headboard. The cross-grained teakwood wall paneling cleanly hides the bedroom door. The threshold between indoors and outdoors has been blurred through bay windows further elevating the spatial experience. Linear silhouettes, curated accents, and a subdued palette of colors and materials play their dutiful part in breathing
life into the soul of the home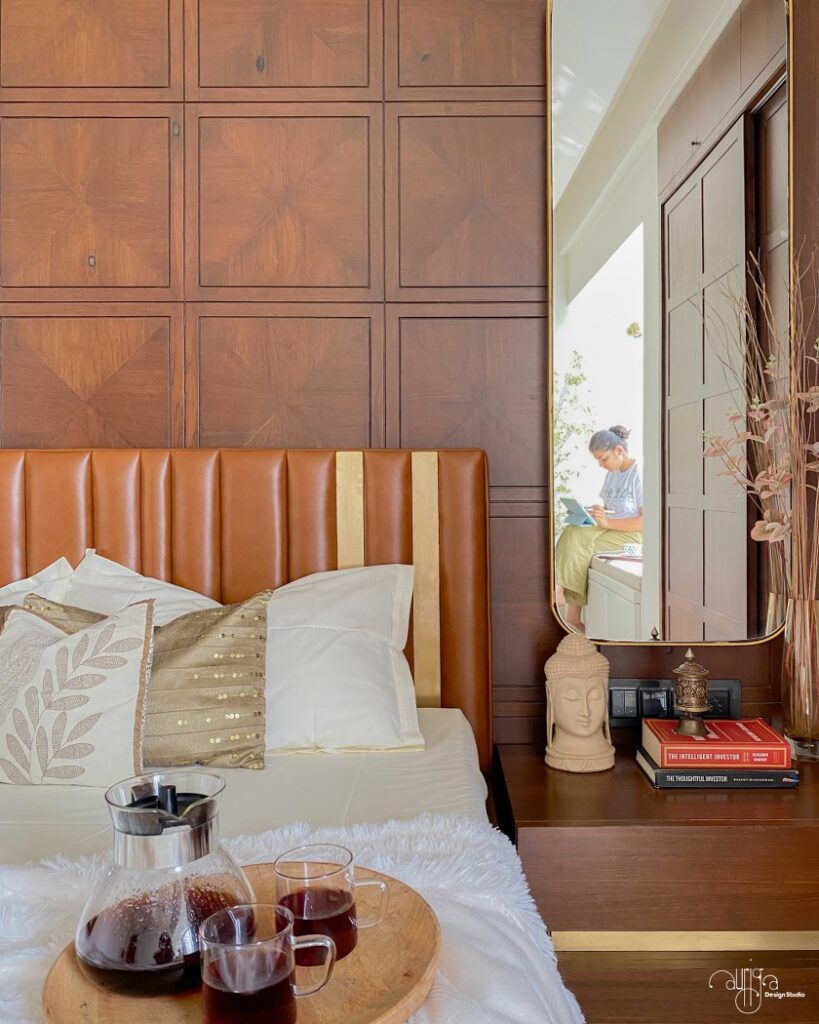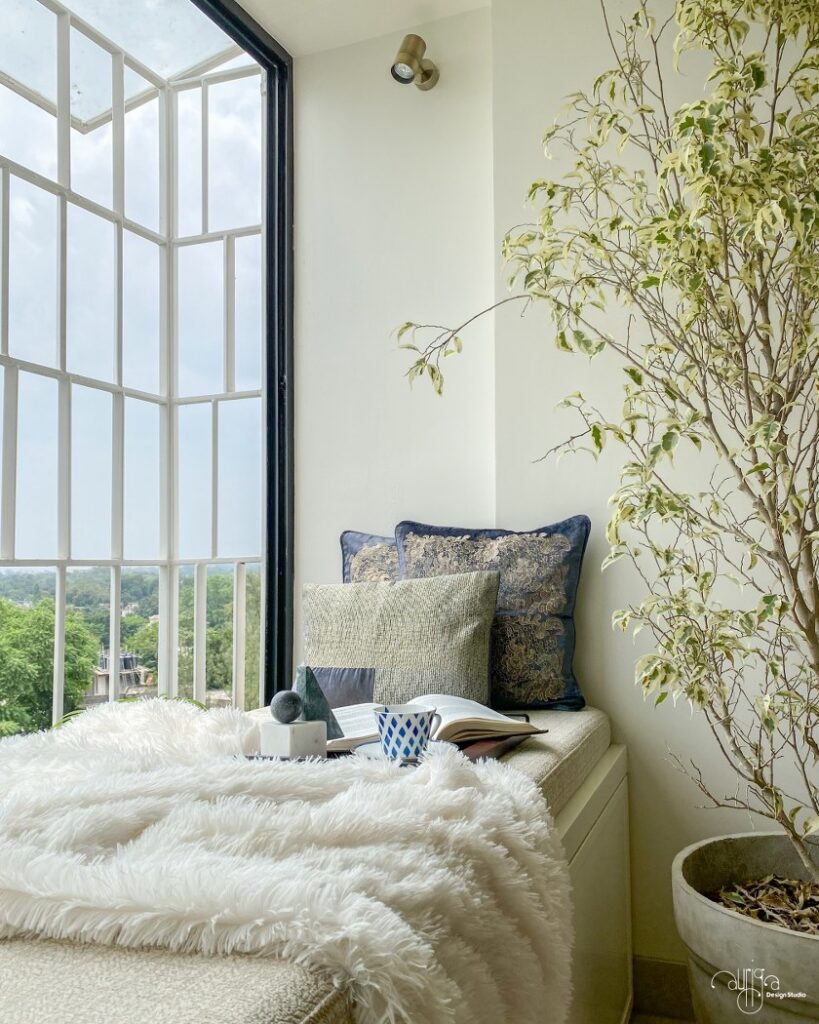 FACT FILE
Designed by: Auriga Design Studio
Project Type: Residential
Project Name: A nod to Mod
Location: Bhopal, Madhya Pradesh
Year Built: 2021
Duration of project: 9 months
Project Size (square feet): 2000
Principal Designer : Aayushi Mor
Photograph Courtesy: Aayushi Mor
Products/Materials/Vendors : Wallcovering / Cladding: Patel Timber, Bhopal / Construction Materials: Shankar Trading, Bhopal / Lighting: Jaquar Lighting, Mashal Lights Bhopal / Doors and Partitions: Patel Timber, Ebco Solutions / Sanitaryware: Jaquar Sanitaryware / Facade Systems: Maan Aluminum systems / Furniture: Westside Store / Flooring: Shankar Trading, Neha Sales Bhopal / Kitchen: Hettich solutions Paint: Sirca Paints, Asian Paints / Artifacts: Westside Store, Pantaloons home decor / Hardware: Krishna Hardware, Bhopal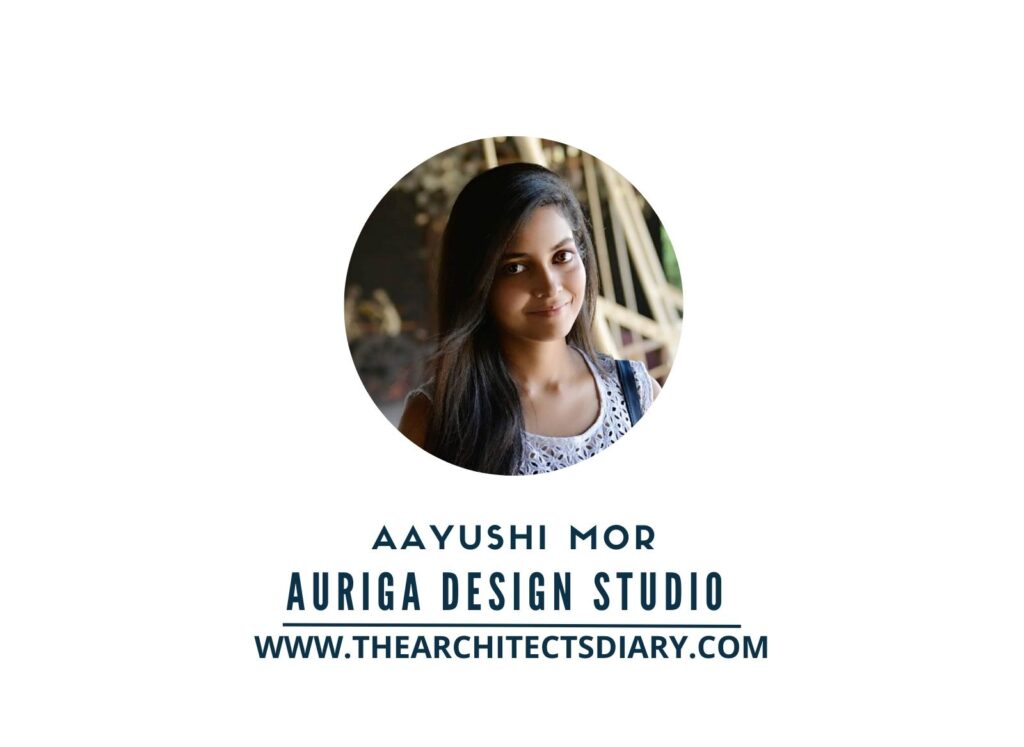 Firm's Instagram Profile: Auriga Design Studio
For Similar Project>> A MINIMALISTIC APPROACH THAT INFUSES THE IDEA OF 'LESS IS MORE'