When one thinks of bold colors, rustic textures and asymmetric elements together, harmony is not the word that comes to mind. But that is exactly what we aimed to create in designing this four bedroom luxury interior design apartment for a family of three.
Rustic Textures and Asymmetric Elements compose this Luxury Interior Design Residence | Design Dialogue Studio
Visit: Design Dialogue Studio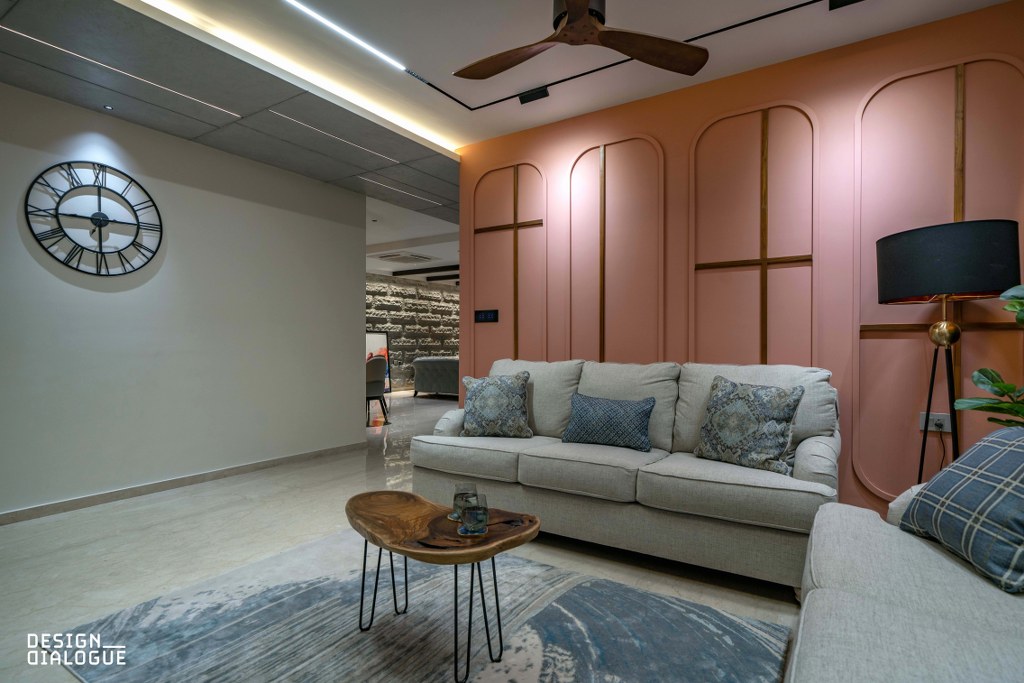 Right after the first few conversations with our client, we shared a common vision for the space – playing with loud elements to create bright and interesting spaces whilst also being welcoming and warm. The design goal was to create a perfect amalgamation of elegance, vibrancy and coziness.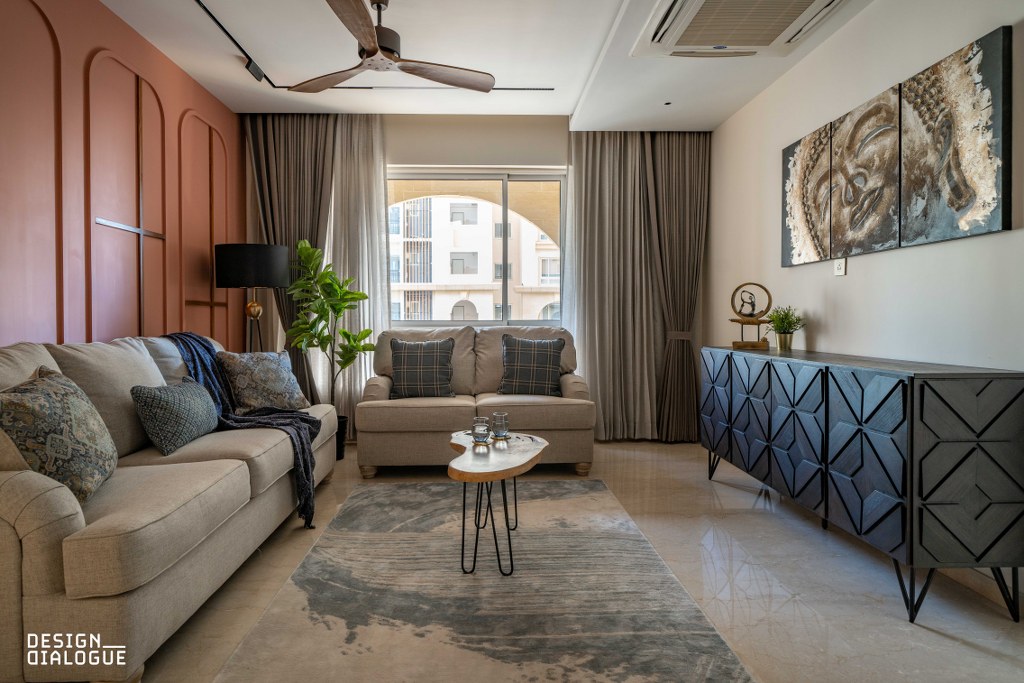 As one enters the drawing room, the eyes are treated with a visual of the pastel toned accent wall and a unique console piece which are color balanced with light beige tones. The asymmetrical lighting of the passage adjacent to this area further instils the constant element of surprise that is imbibed into every space of this house.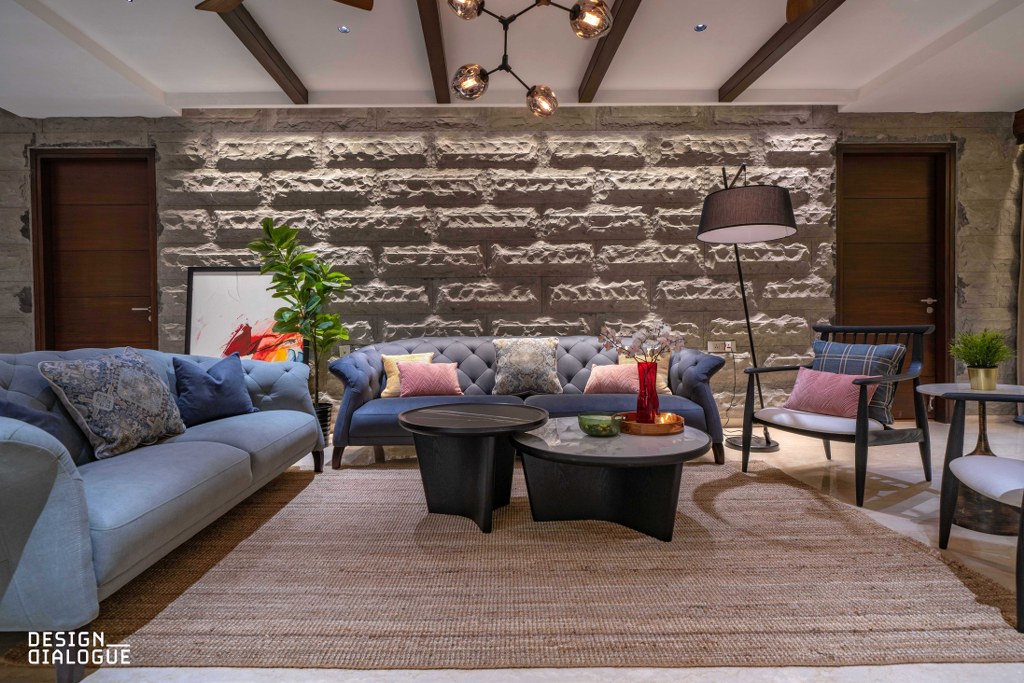 The core of the house – the living room is highlighted with a statement stone-clad wall that spans across the whole area. The lightness of the walnut wood toned rafters, along with the custom made sleek glass partitions cuts through the robustness of stone-clad wall. The juxtaposition of these two contrasting elements plays into our theme – Rustic Luxe – beautifully.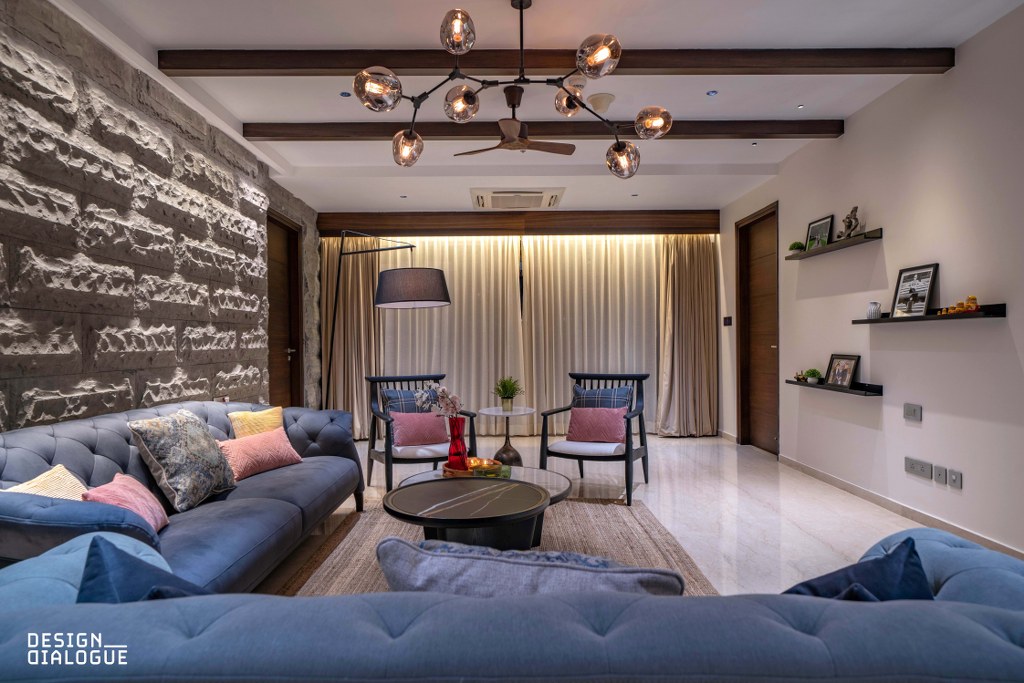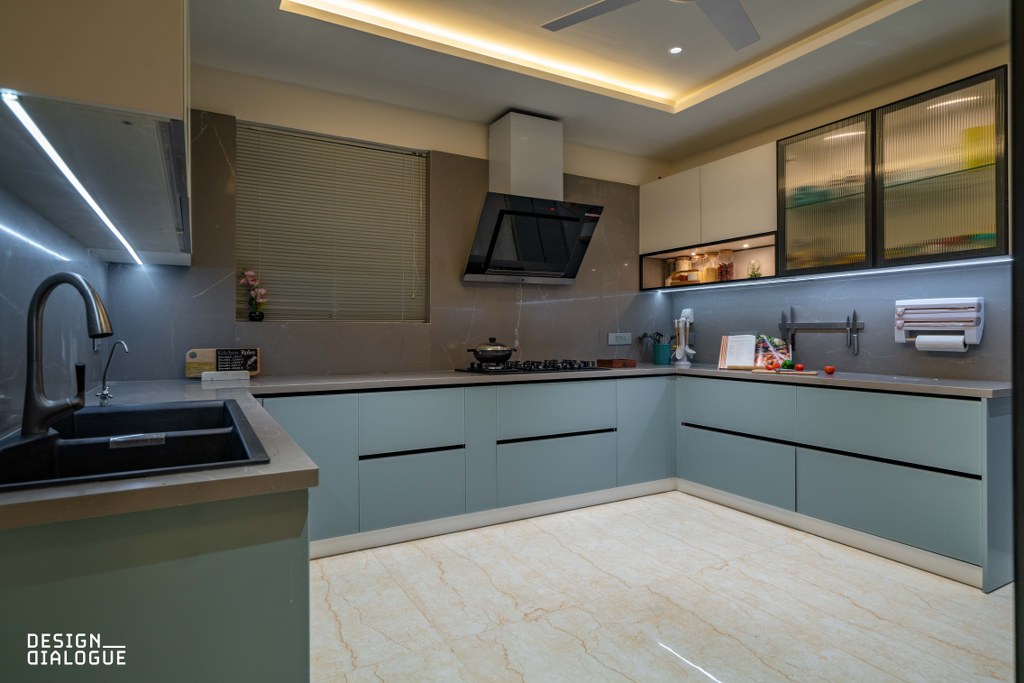 The multimedia room, which is visible all the way from the sit out, has been designed with bright reds, metallic textures and a dark ceiling to create a dramatic effect adding to the entertainment flair. The bold red leather couches further cater to the theatrical experience.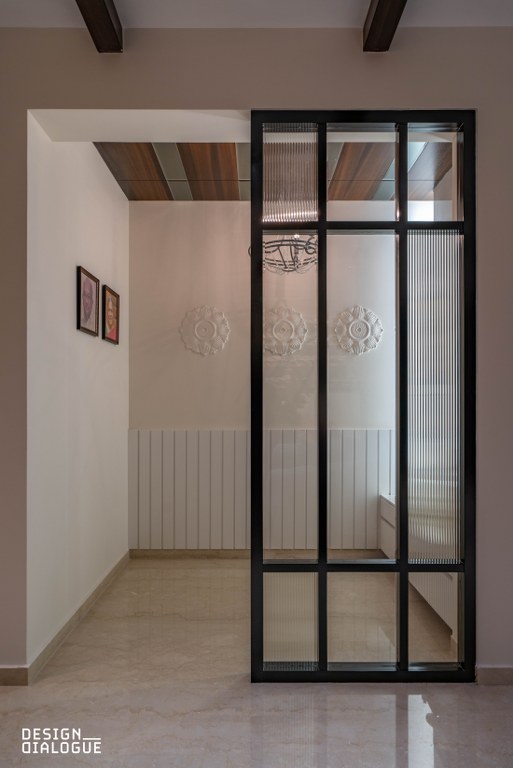 The bedrooms have shades of winter blues and ochre yellows which blend together seamlessly, in every arrangement of all three bedrooms. The break up of visual experiences from light to dark themes is a continuing factor in all of these spaces.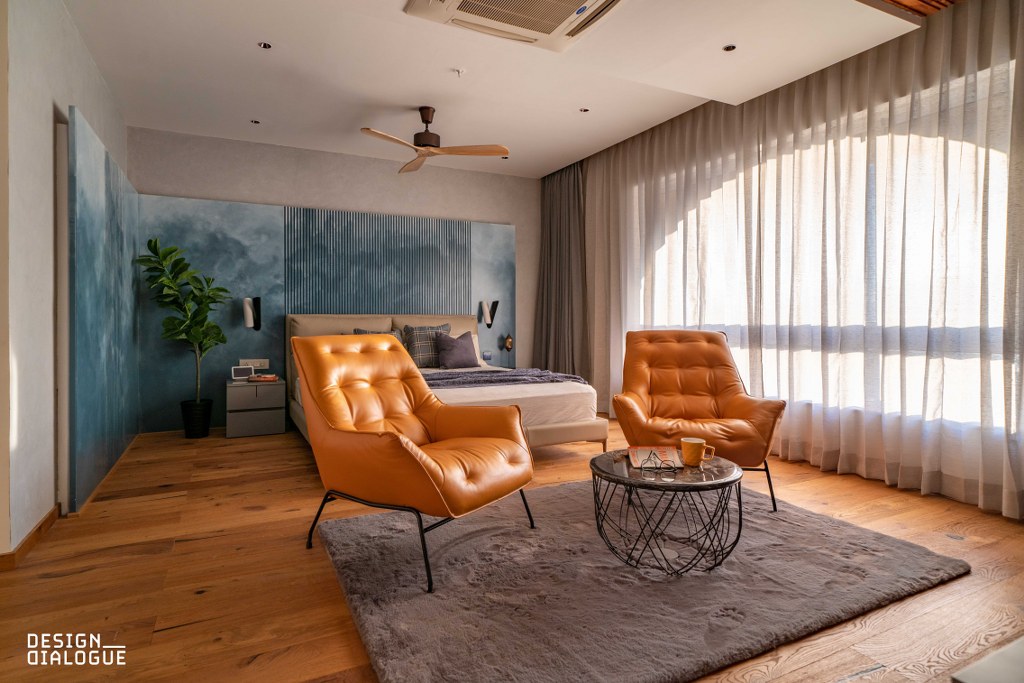 The den room consisting of the library and home office stimulates the mind and the eye with the bold bright blue with a contrast of the walnut wood texture. The colours and textures accurately give off a productive and creative air to this space.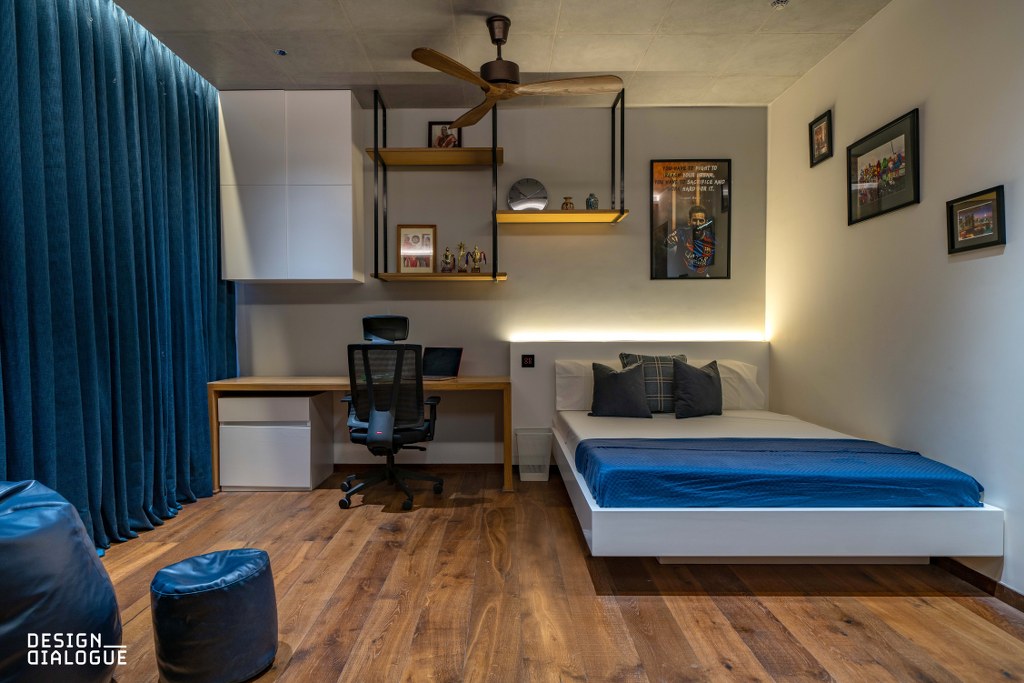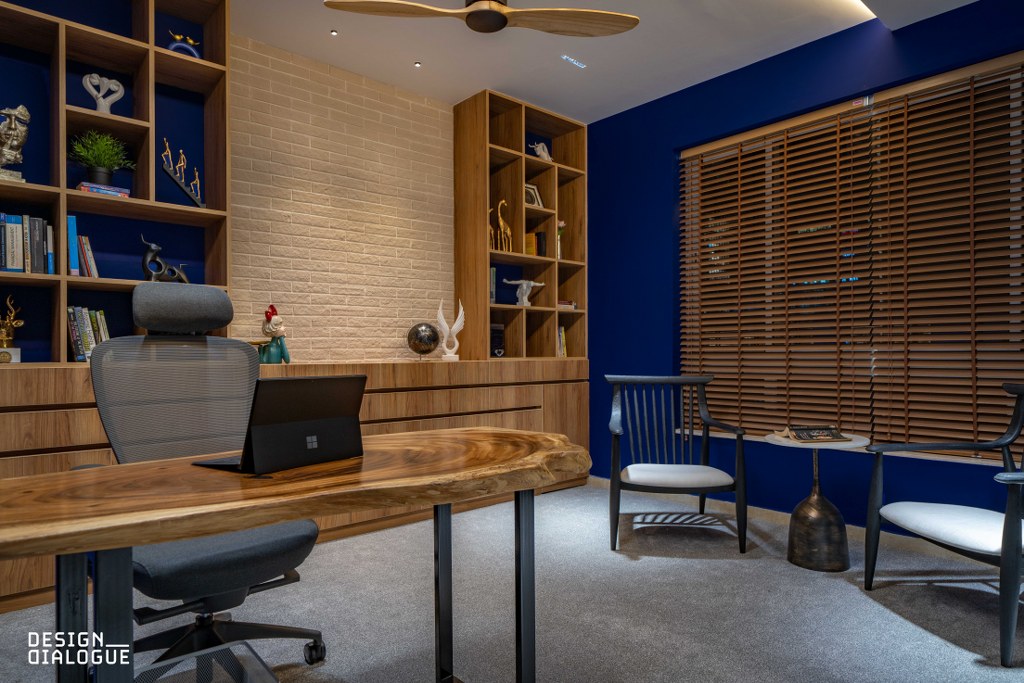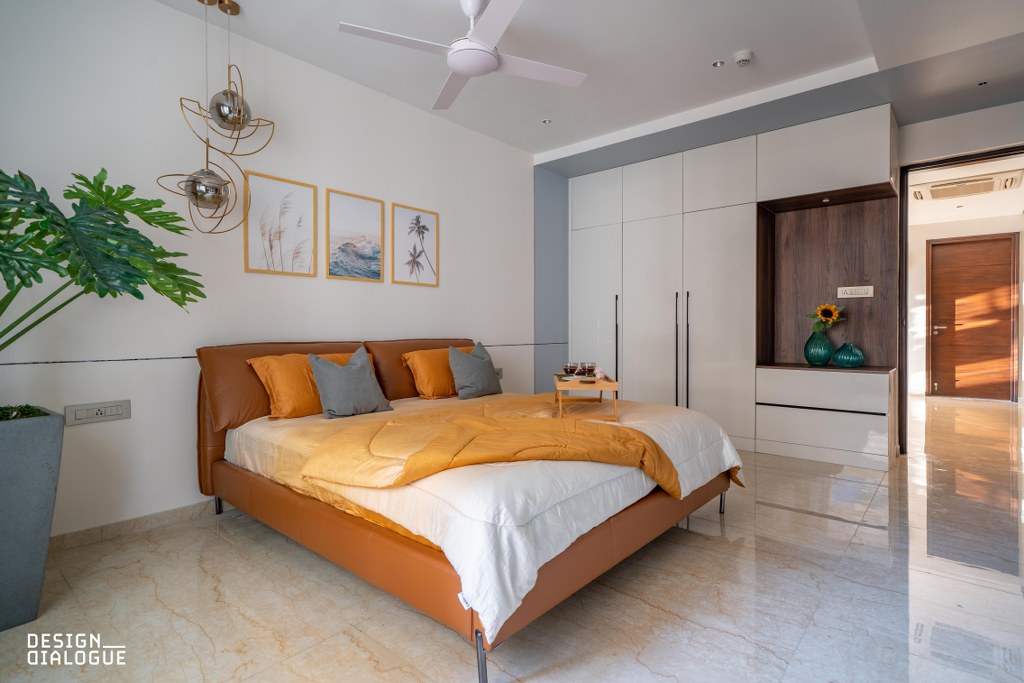 What the client wanted and was quintessential to our design approach in any part of this project – is for the spaces and the designs to truly reflect the client's personality. This Rustic Luxe and Bold elegance theme gave us an opportunity to
create a fun, inviting and a cosy home.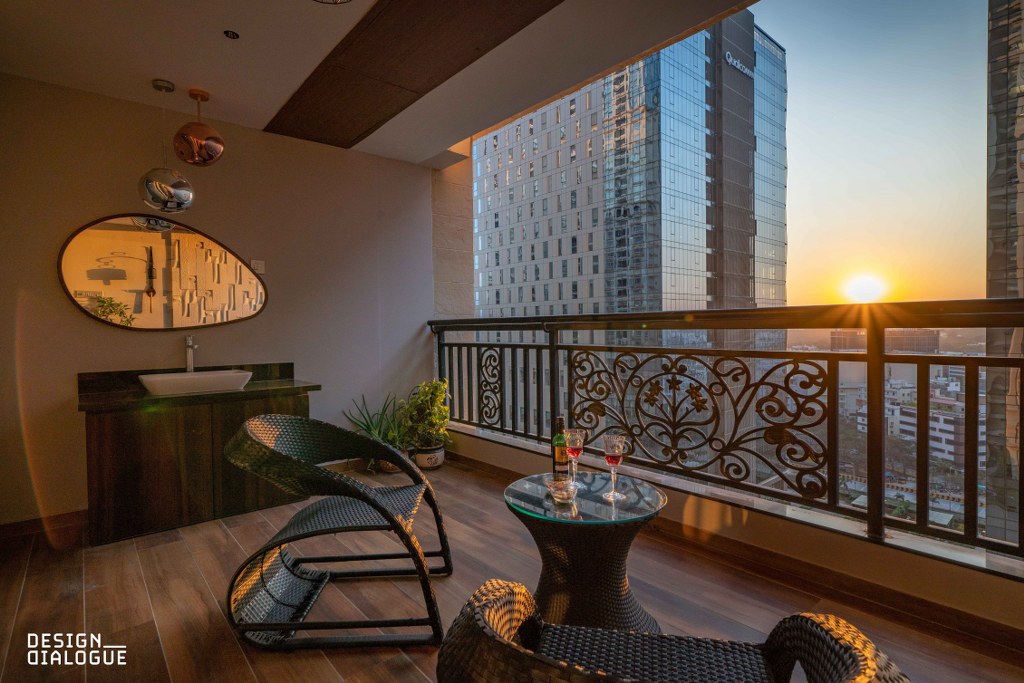 Designed By: Design Dialogue Studio
Project Name: My Home Bhooja
Location: Hyderabad
Year of completion:2021
Project size: 4000 sq ft
Client: Mr. Ganesh Raghavan
Principal Designers: Amulya and Prashanthi
Design Team: Navaneet and Ria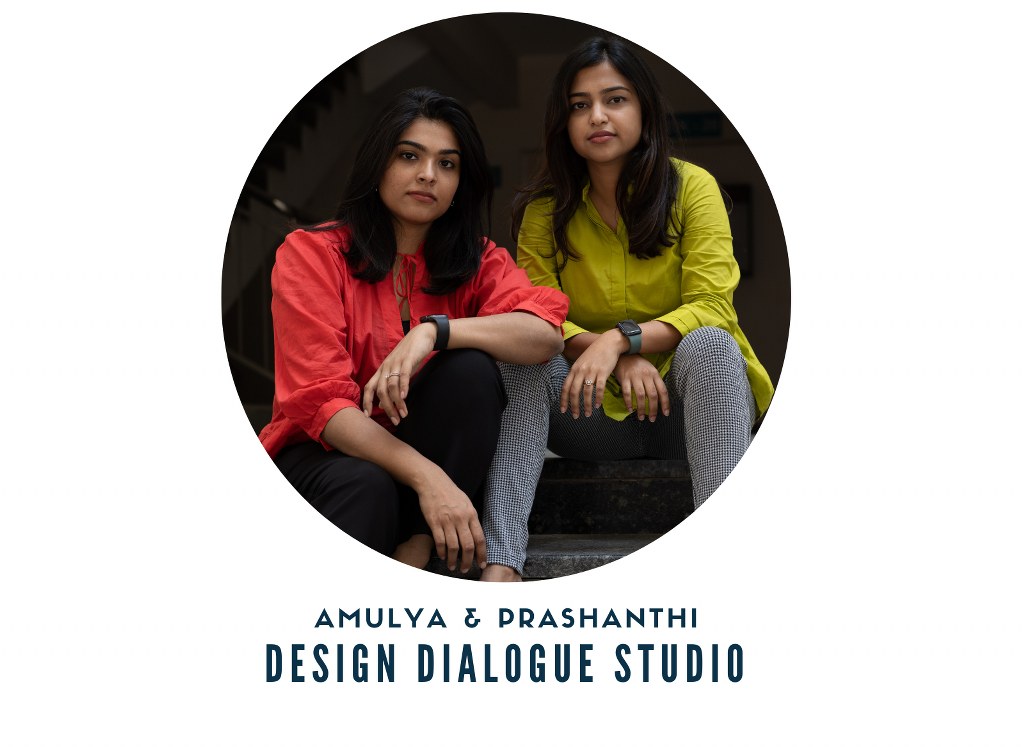 Firm's Instagram Link: Design Dialogue Studio
For Similar Projects >> Classic Elements and Neutral Palette make for Luxury Interior Design for House Of Neutrals