&nbsp
This show-unit is a Japanese inspired concept, made for a Game Designer where factors such as comfort, a warm yet fun ambience were important factors.
Inspired by Japanese Interior Style, This Apartment Interior Oozes Serene and Calm Ambience | ETHOSpace Pte. Ltd.
Visit : ETHOSpace Pte. Ltd.
Starting from the living area with a study corner and working table for 3 people, we included a sofa set for more formal discussions such as client presentations or business discussions. Wood elements were used on the ceiling and walls to add warmth to the space. Television panels displayed graphics with decorative paint and animation, along with a laser-cut platform on the left wall were used as accents to the living space.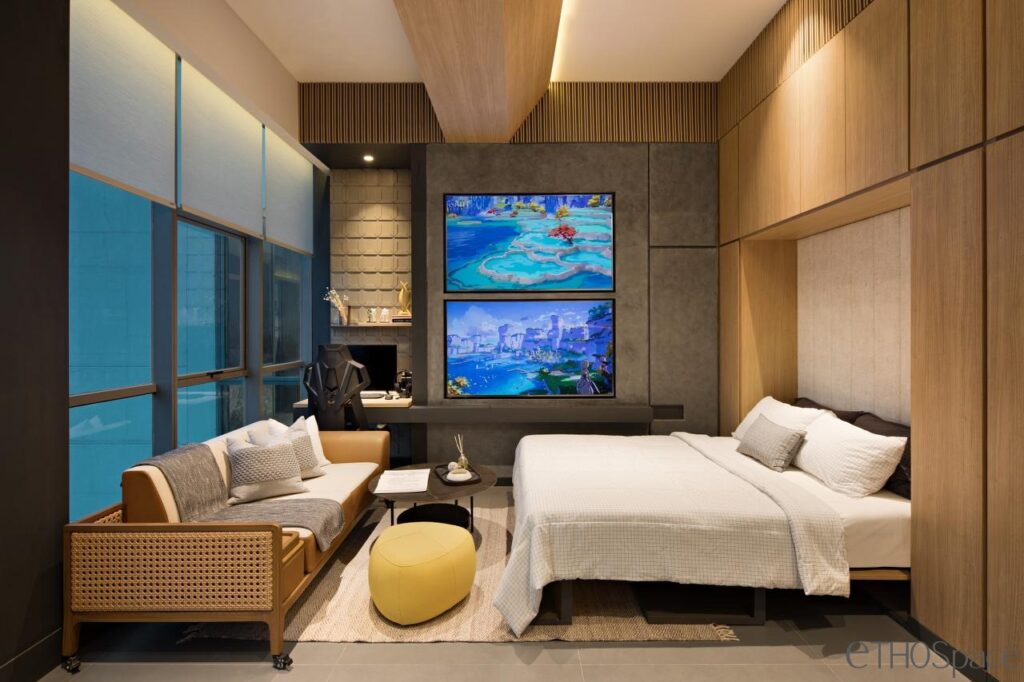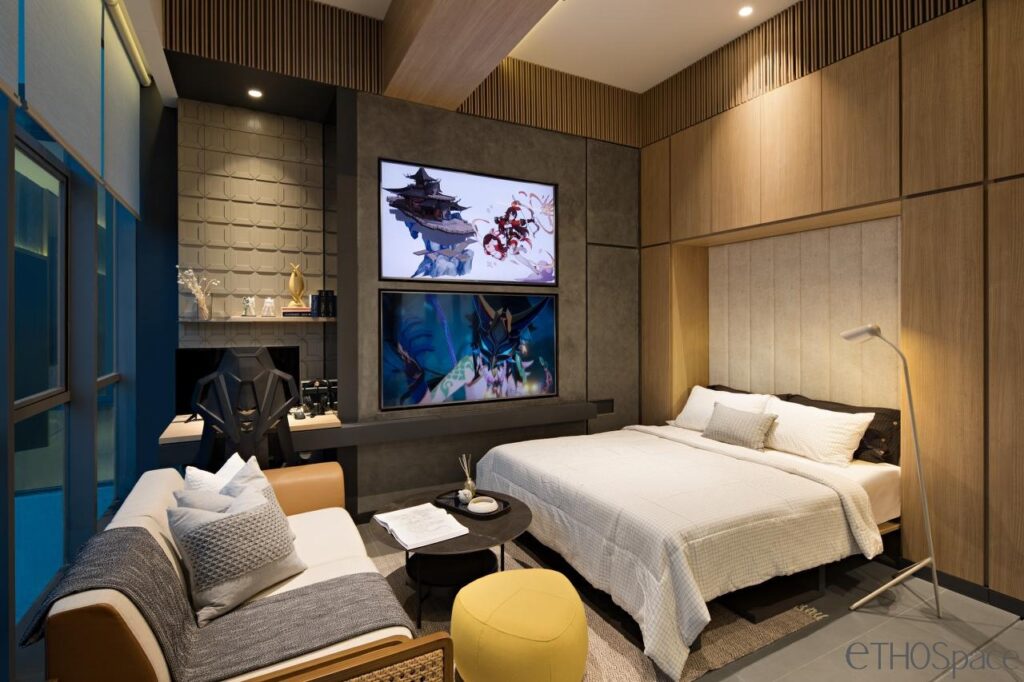 The living area can also be converted into a bedroom at night for guests. The furniture has been carefully custom made with castors to facilitate easy manoeuvring from one configuration to another. This includes a foldable bed with a smooth and easy-to-use mechanism. This space savings, Japanese inspired concept, was designed not just for practicality but is also inviting and exudes a contemporary stylishness.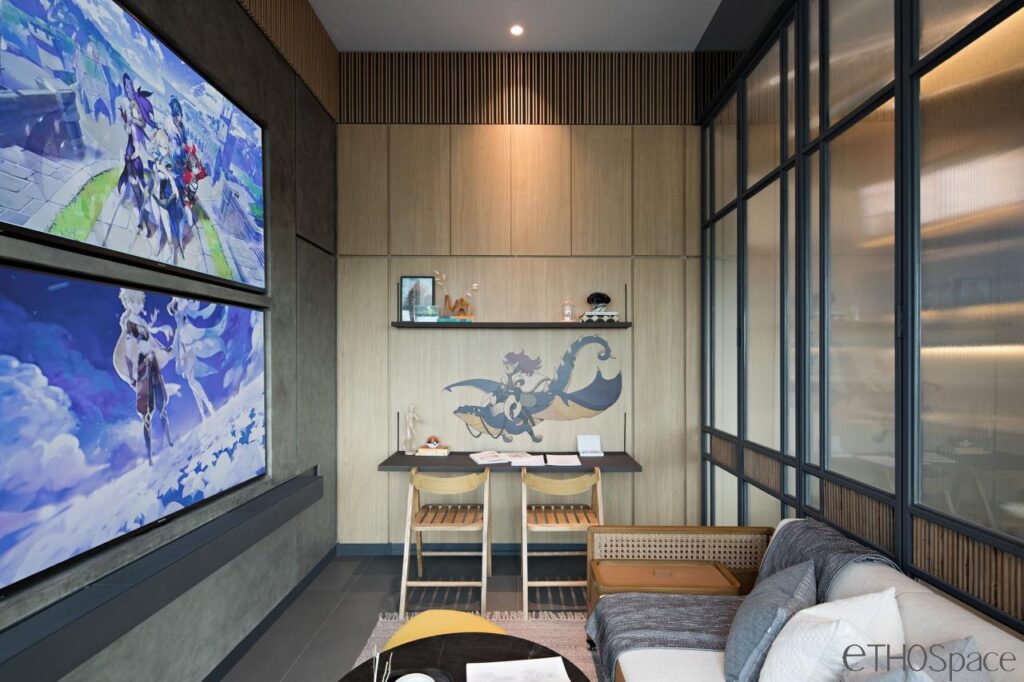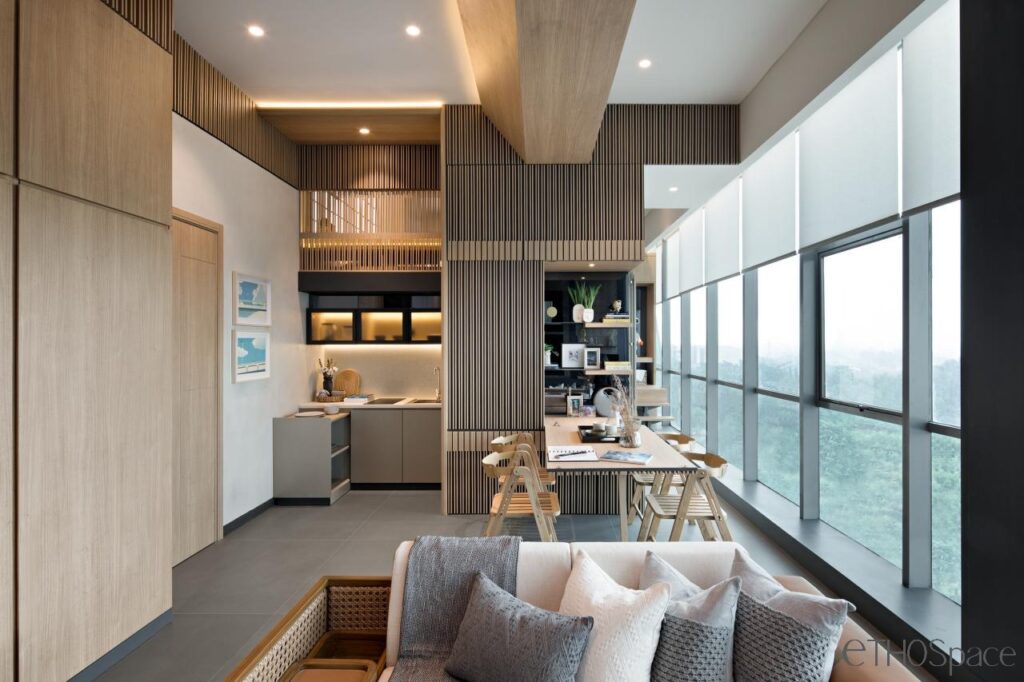 Multi-functional spaces are crucial elements in designing an apartment. From the photo above, a sliding glass panel can be pulled out to divide the area so that the living room becomes either a private workspace or a public one for client meetings or social gatherings. In the evenings, these glass panels can be stored by folding it in the cabinet. From above, you have a full overview of the living, dining, kitchen, and bedroom all in one open space. Coupled with materials such as light wood, grey tiles, and a grey mirror, this adds to the warmth and contemporary elements to the space.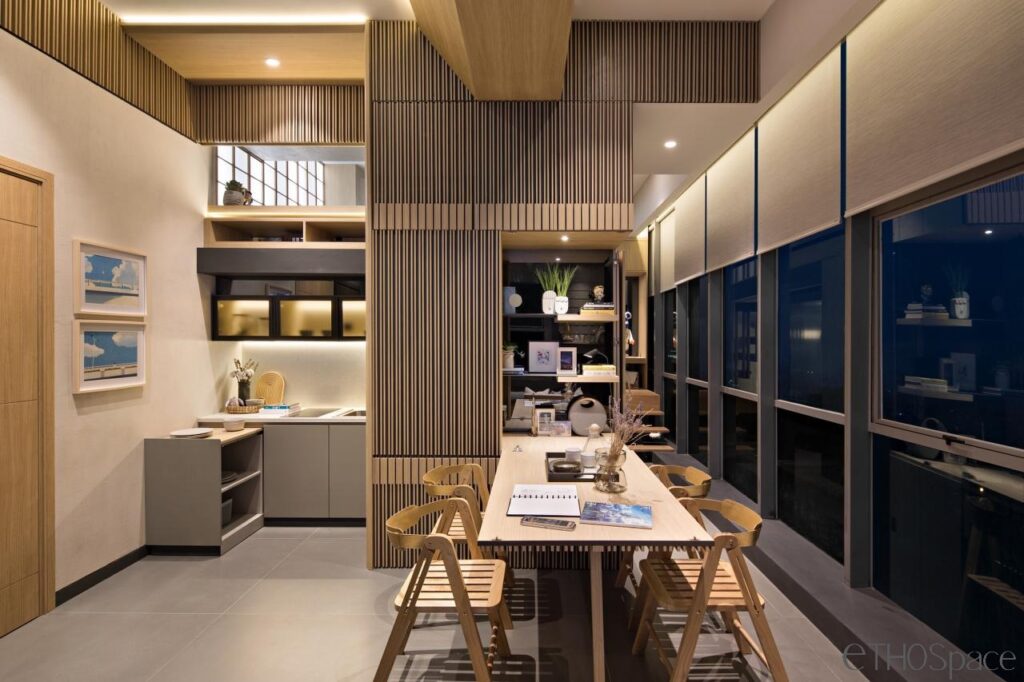 Interesting kitchen with a pull-out cabinet and acid-glass cabinet for storage purposes. The bedroom can be seen from below where there is a sliding panel that can be opened to not only enable air circulation for the bedroom, but also to communicate with friends from the kitchen area.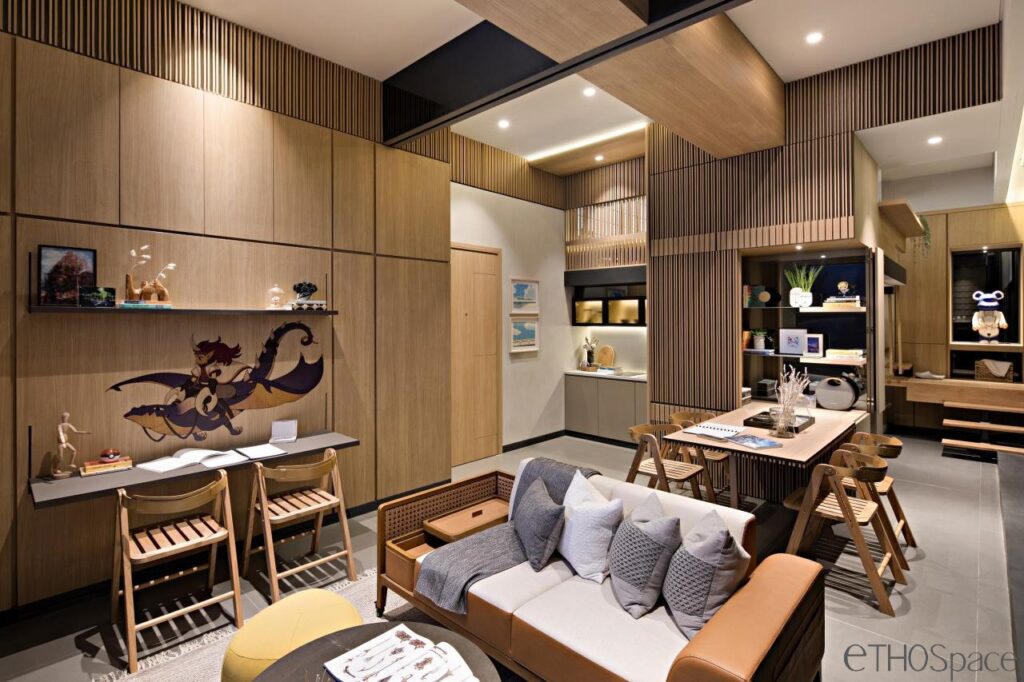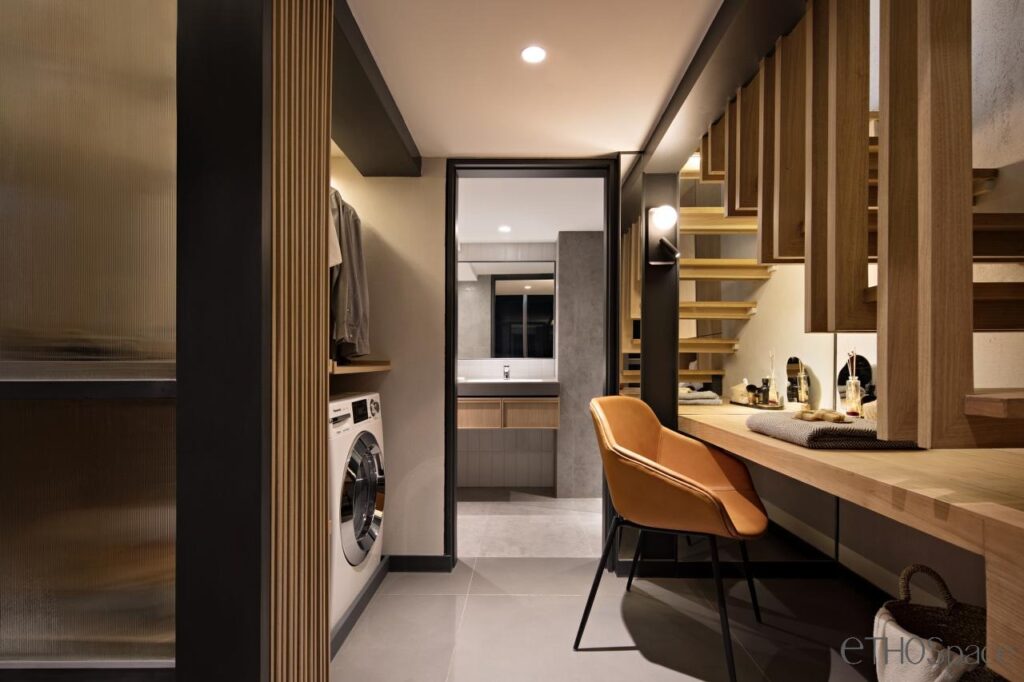 Let's move to the private areas such as the bathroom, walk-in wardrobe, and the bedroom upstairs. We can see the walkway and steps that lead to the bedroom above. Another unique and creative idea is a hanging ledge for one to read or study in the bedroom. Rest assured that one would not want to move from this cosy and comfortable corner. The light staircase with high ceilings, create a sense of spacious grandiosity. Simultaneously, not a single inch of space is wasted where the area below the bedroom is filled with cabinets, and open shelves for storage. All important aspects of living have been carefully considered with efficient space planning in this apartment.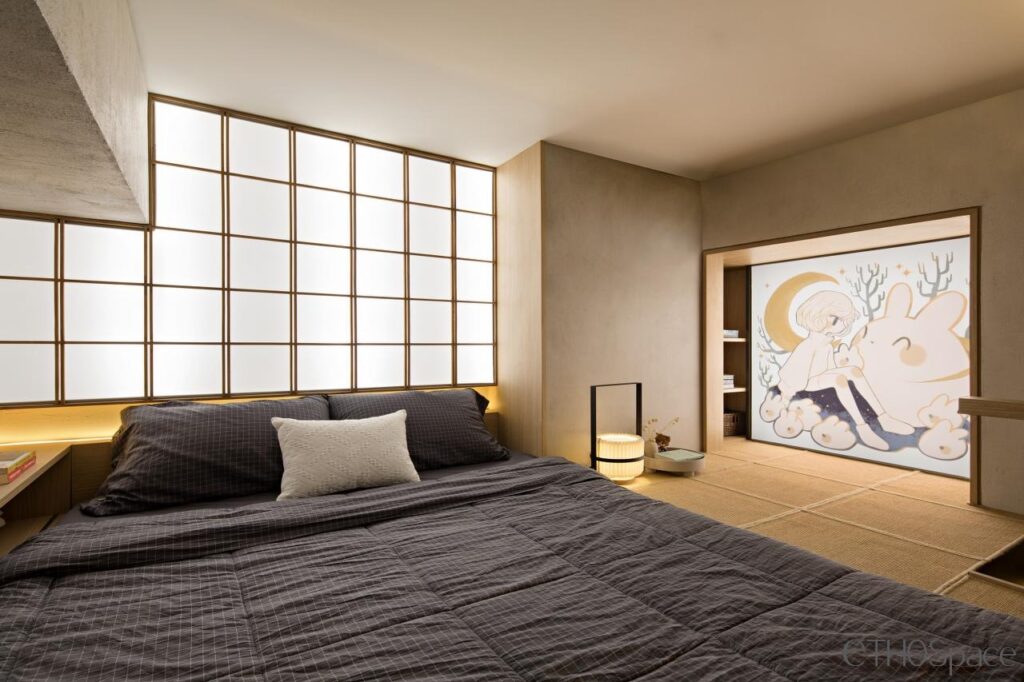 The bedroom with a hint of traditional Japanese culture via the use of a tatami, coupled with a special membrane that makes the space comfortable, yet modern for the millennials to rest at night. The combination exudes a Japanese Ryokan vibe with a splash of contemporary.
FACT FILE
Designed by : ETHOSpace Pte. Ltd.
Project Type : Apartment Interiors
Project Name : SOHOFLEX
Location : Tangerang – Indonesia
Year Built : 2021
Project Size : 600 sq.ft
Principal Architect : Mr. David Christopher Tay
Photograph Courtesy : Mario Wibowo Photography
Text Credits : Provided by Design Firm
Products and Materials : Wood, Metal, Decorative paint, Stretch membrane, Glass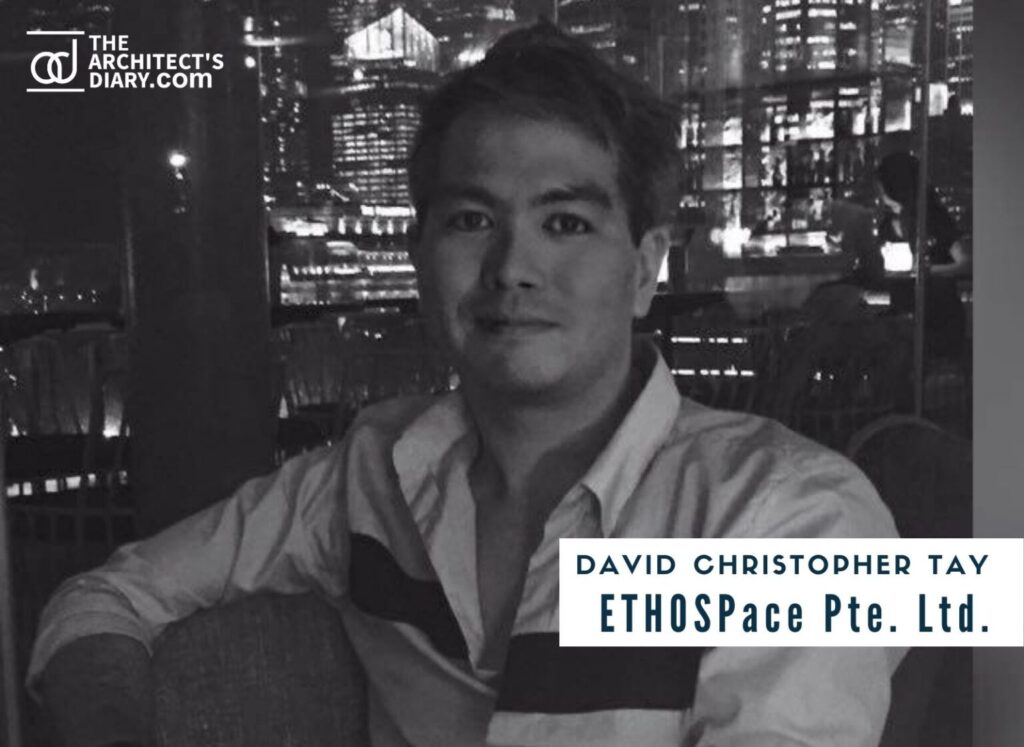 Firm's Website Link : ETHOSpace
Firm's Instagram Link : ETHOSpace