&nbsp
Adorned beautifully in hues of soft hazy greens, blues, grays, and neutrals, one can feel the vintage modern dream into life while feeling the sounds of nature and birds chirping here and there in the house.
House of Chirping Walls: A Vintage Modern Dream Home | Acacia Creatives
Visit: Acacia Creatives
Before you enter the home, the entry sets the mood and the tone for the rest of the house. conveying the sense of style and aesthetic right away with a well-designed entryway. The entrance of the house is designed with a lion head in antique golden color. a huge metal flower in blue and golden shade on the side wall and some flowers to complete the look. A beautiful wall lamp over the metal wall art that illuminates the area and makes it look prettier. The main door consists of grooved stripes finished with blue color PU coating and arched metal grill. The small wooden carved piece gives an extraordinary charm to the entrance.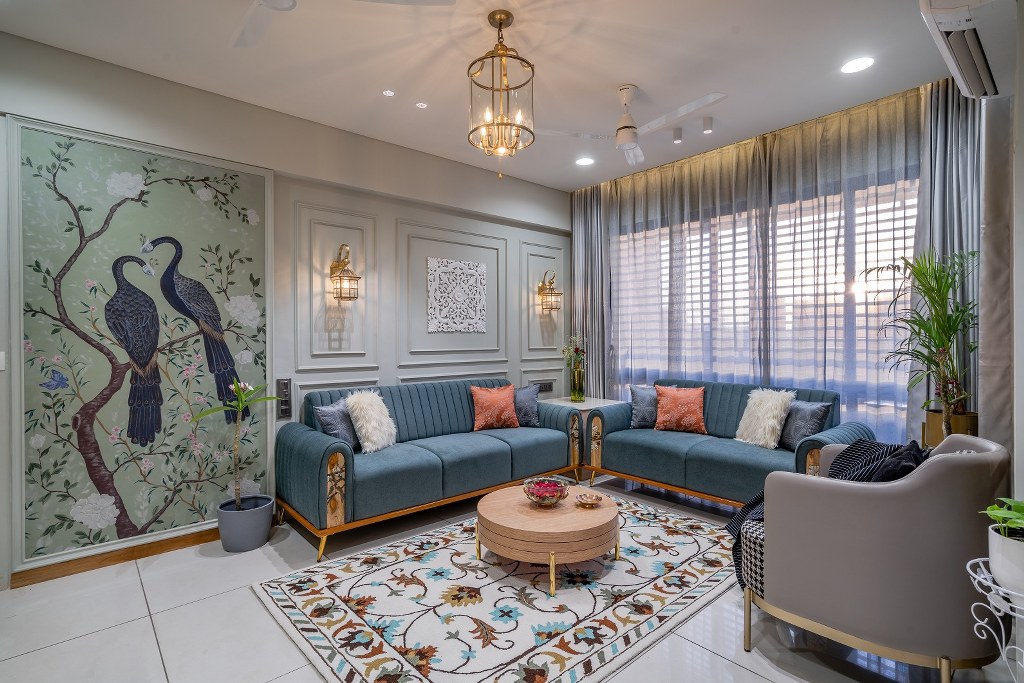 As we call it "The house of chirping walls" different elements of the home are accented with pretty and delicate paintings of birds and nature. Be it sofa handles or wardrobe handles or paintings or wallpapers. They all are combined together to create a home with harmony.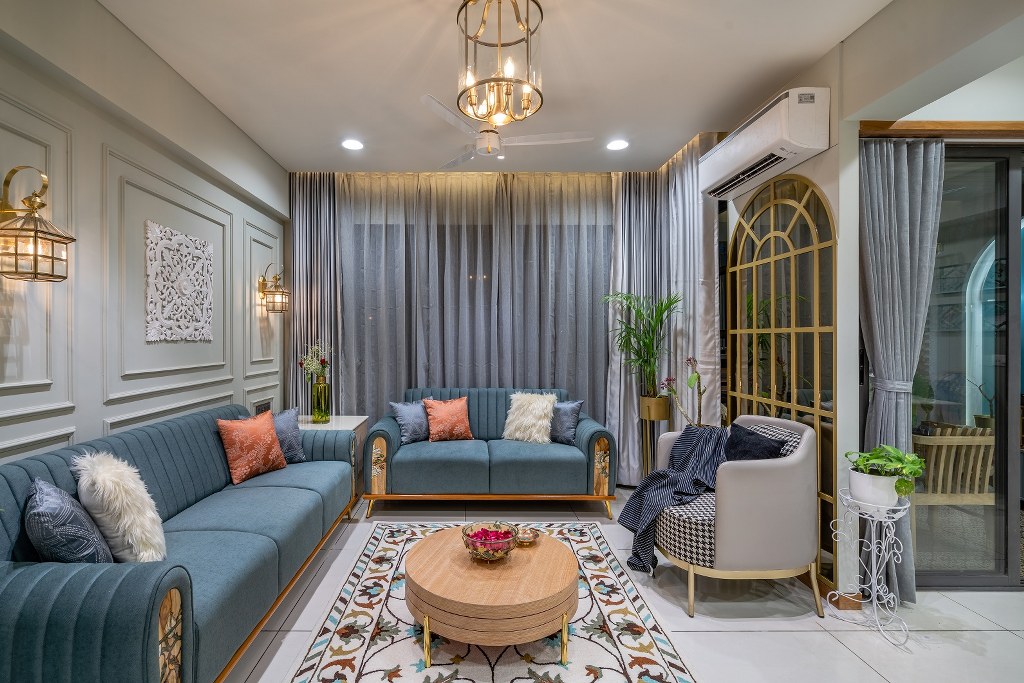 While some furnishings are accented with subtle solid grays to capture the simplicity, some are done with floral sheen and velvety solids to reflect class and elegance. We can say that this home is a vintage modern dream with sophistication and simplicity with a hint of "Chirping birds charm" that spreads fresh and positive vibes to the occupants.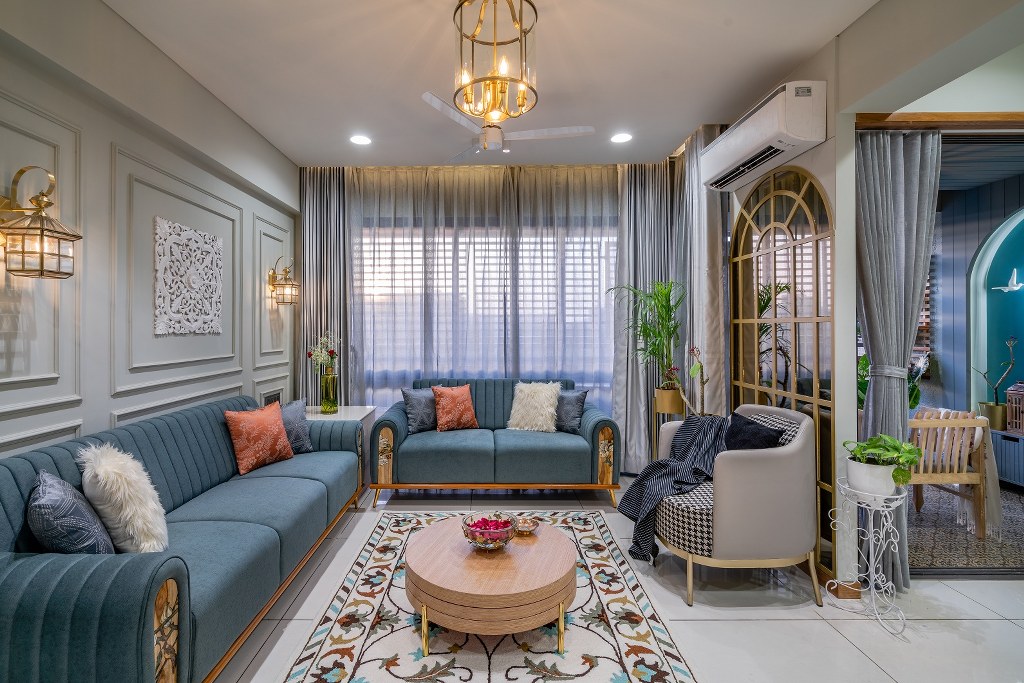 Each area of the home has a unique vibe to it, yet they blend together harmoniously with the perfect transition of warm and cold tones. The idea was to create connected areas that makes personal spaces without losing the touch of cozy family Home. This overall approach was able to transform the space into a simple but elegant and very Serene home.
It was started with the thought of using green as an accent threading through the home. A bluish green sofa along with hand painted wooden handles, the huge French mirror in arch shape, and walls that are paneled in a classic French style and painted in soft hazy green color. Ceiling left simple so that we can experiment with the furniture and other elements by using color and texture. Custom designed wall lights and chandelier with gold tones give luxurious feel to the living area.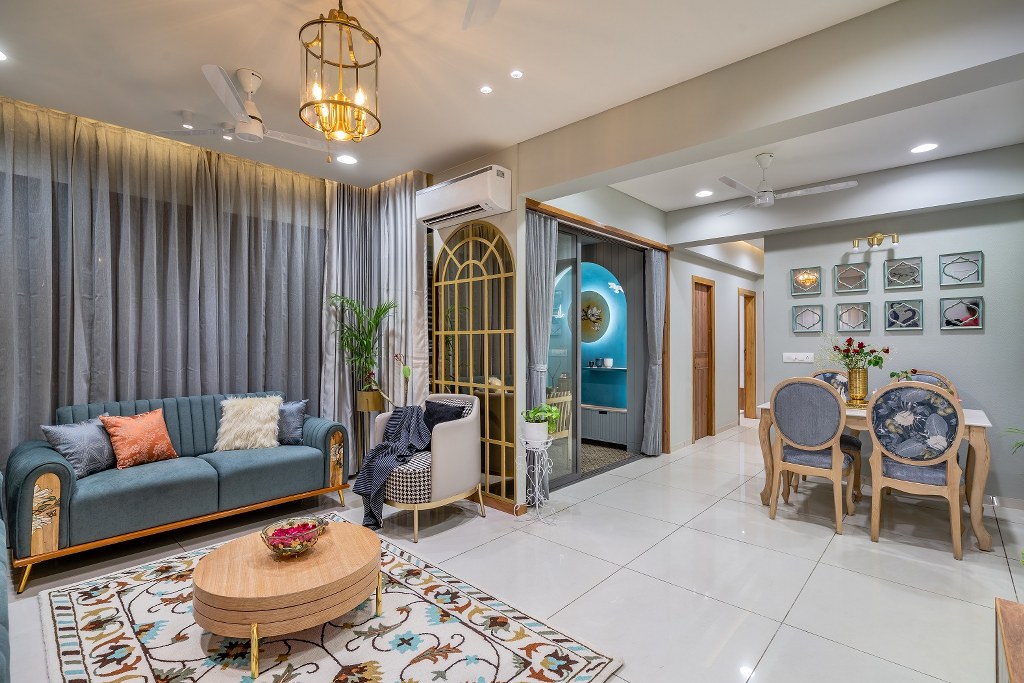 The dining area has an intimate yet luxurious eye catching setting with an ash wood table for four in a cozy nook and a marble on it completed with statement upholstered ash wood chairs with tropical print upholstery in very subtle gray color. There is a huge flower painting and small mirrors in carved frames on the walls add all the charm to the space. We added the classic hanging clock to give the space that vintage vibe blends in modern aesthetics.
We can say that the balcony is a focal point of this entire home. We designed in a way that transforms this balcony into a dreamy gorgeous space with a comfy ash wood bench, chairs and ash wood round table, perfect for brunch days, the space certainly is the highlight of any conversation. This is one of our most unique balcony design. With a huge arch on a wall in the color of sky blue and a round chirping bird painting, full height bronze mirror in sections on the other wall and so many plants, this space surely makes a powerful statement. We love how the space is sprinkled with splashes of rays of metal golden light as well. One can Rejuvenate themselves in this garden balcony.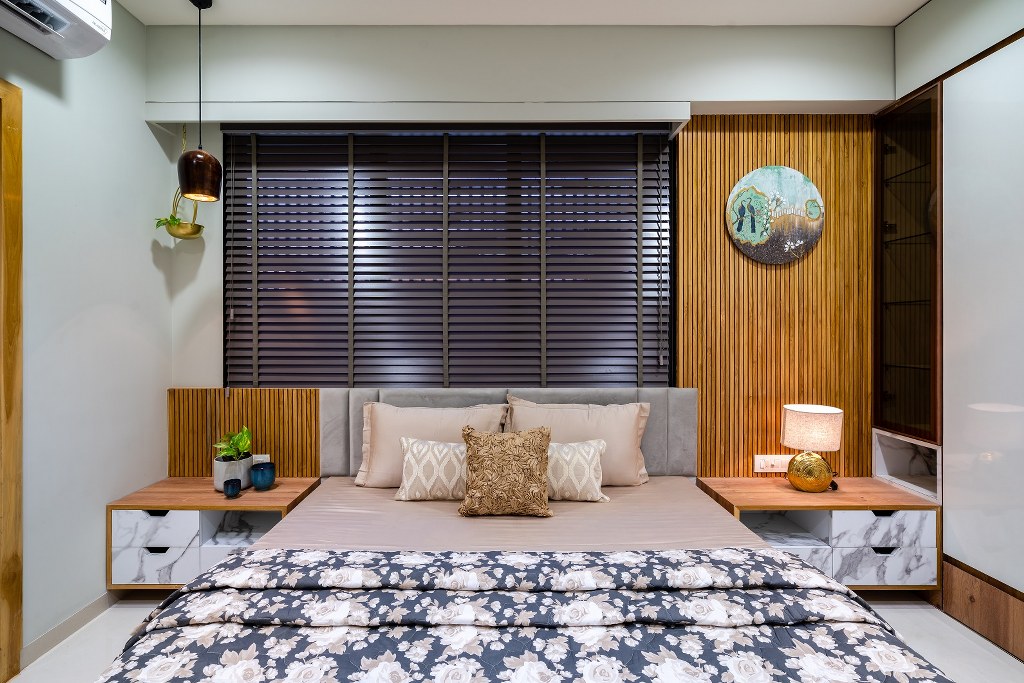 We decided to highlight the wardrobe mainly, keeping everything else very subtle. Leaning against beautiful wallpapers and beige headboard, marble on TV cabinet and paintings in round shape that seamlessly blends in to complete a master bedroom space. Wooden blind curtains, wooden hanging light and white wardrobes, styled with floral beige quilts and neutral shades smocked pillows and throw cushions amalgamated for a sense of calm and luxury.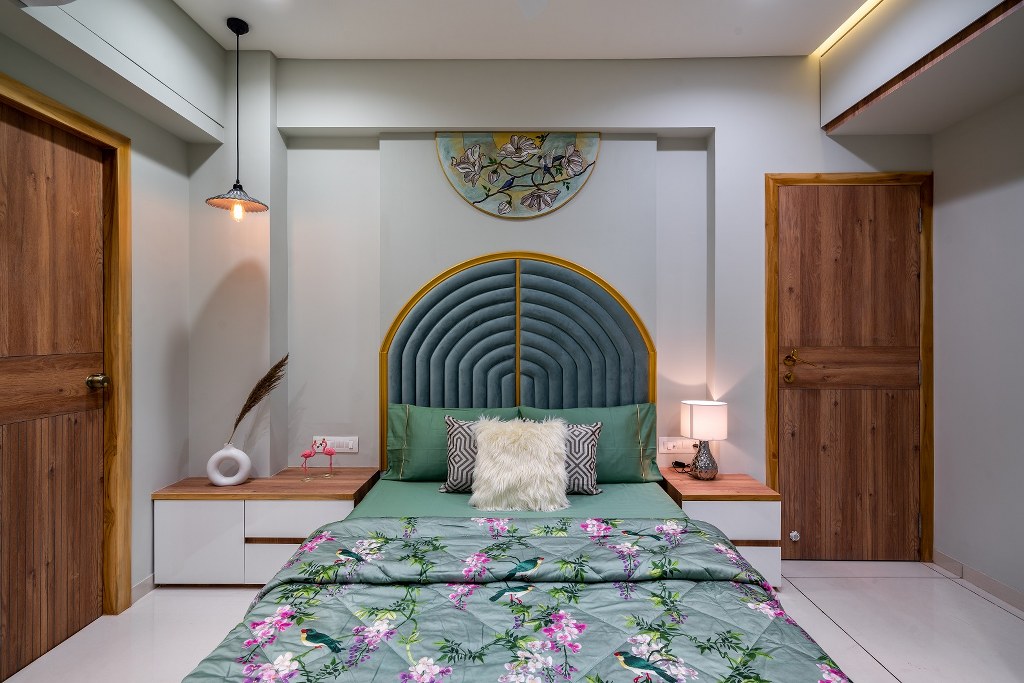 In this bedroom we incorporated birds paintings with a touch of European styling and detailing to give a sense of feminine and chic character to the room. We highlighted the headboard by giving it a shape of arch, upholstered in soft green velvety fabric and again a semi-circle painting of "chirping birds" above the headboard and on the wardrobe handles too, make strong statement.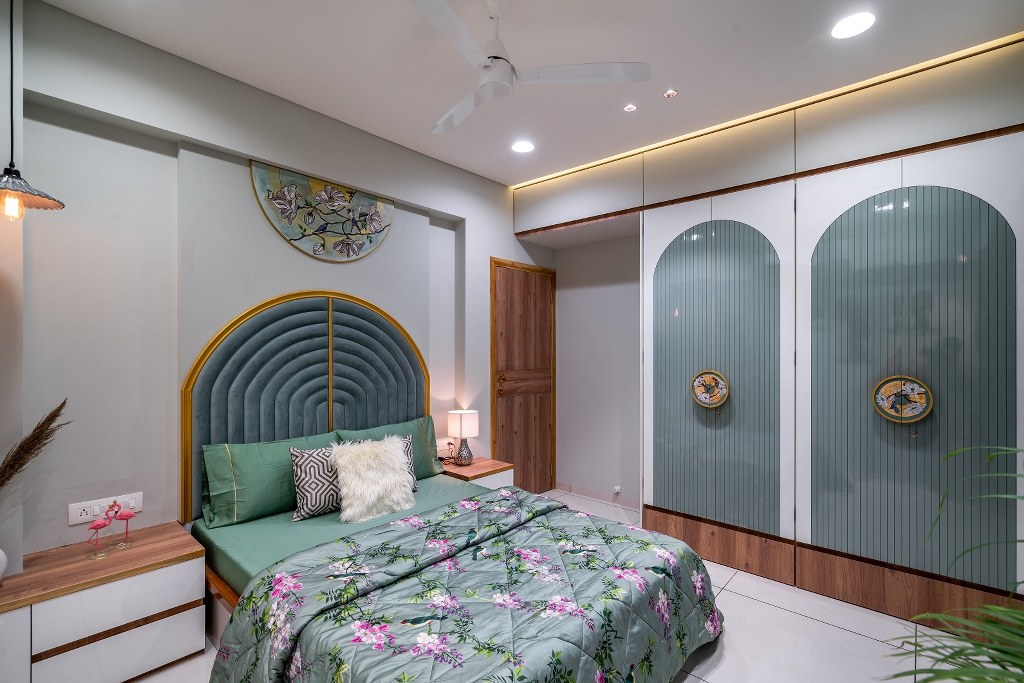 Fact File
Fact File
Designed by: Acacia Creatives
Project Type: Residence Interior Design
Location: Ahmedabad, Gujarat
Project Name: The house of chirping walls
Year Built: 2022
Principal Architects: Jigna Chauhan & Jatin Chauhan
Photograph Courtesy: Inclined Studio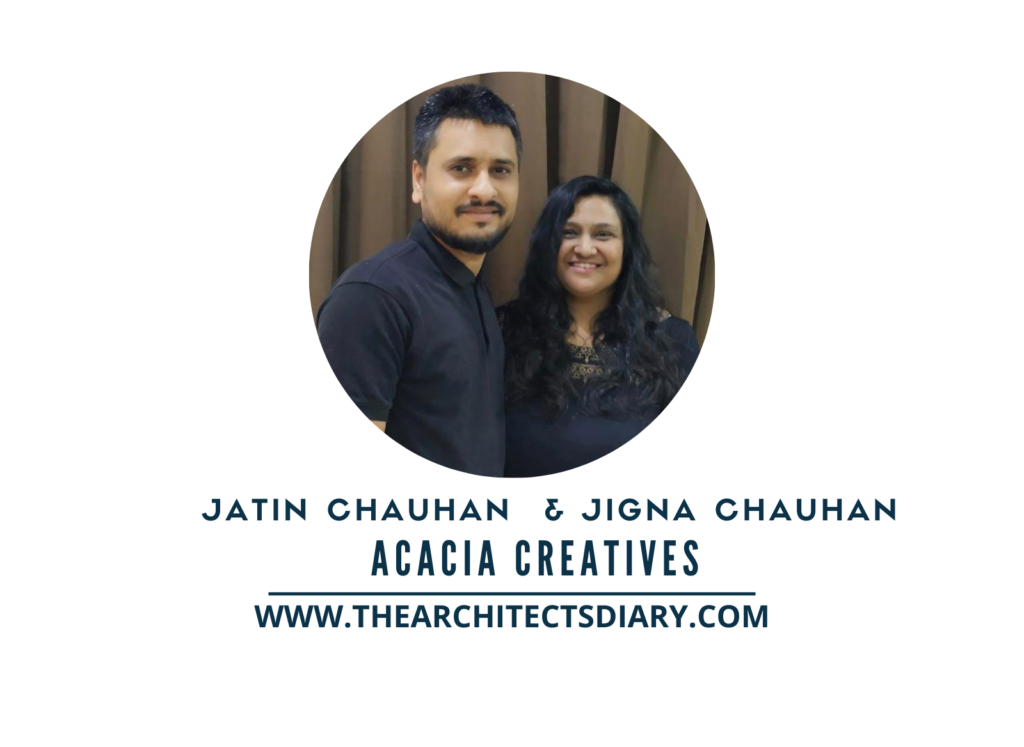 Firm's Instagram Link: Acacia Creatives
Firm's Facebook Link: Acacia Creatives
For Similar Project>>Seamless Luxury with Minimalist Elegance