&nbsp
Ar. Ruchir Sheth and his team have mastered the art of extravagant living without going overboard with this fresh traditional Indian design 62,800 sq. ft. residence in Vadodara.
Contemporary Architecture with an Essence of Traditional Indian Design | Design Studio Associates
Visit: Design Studio Associates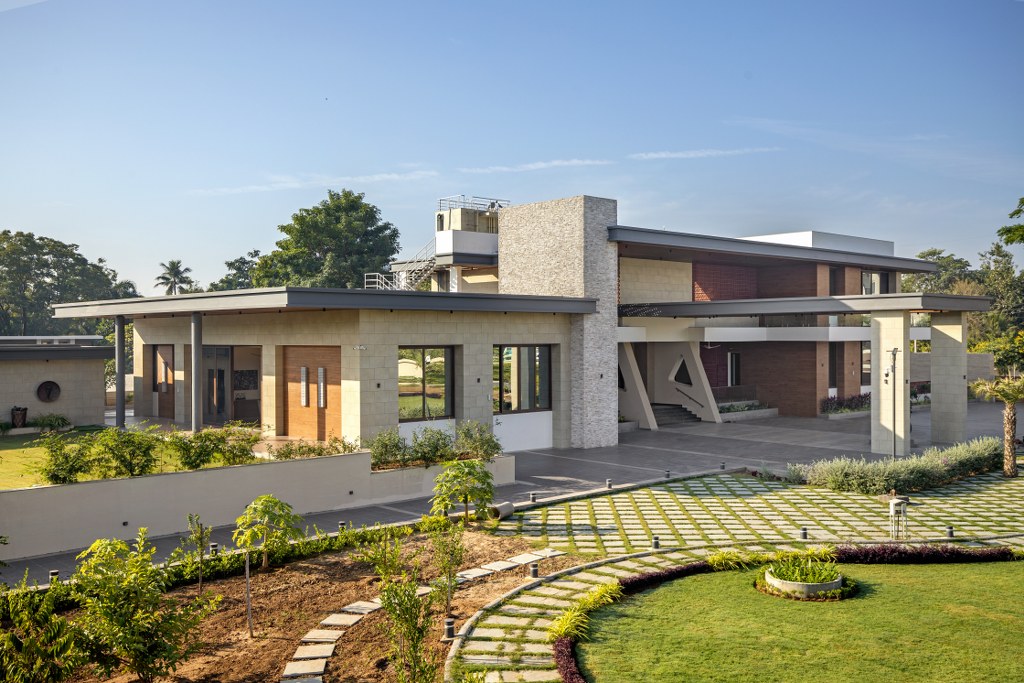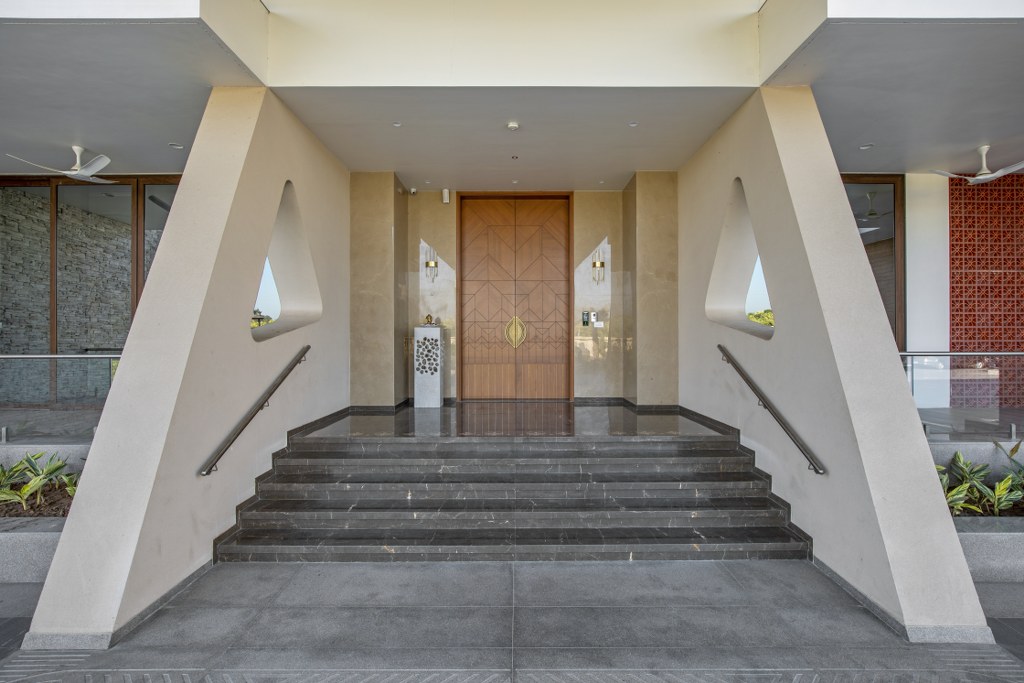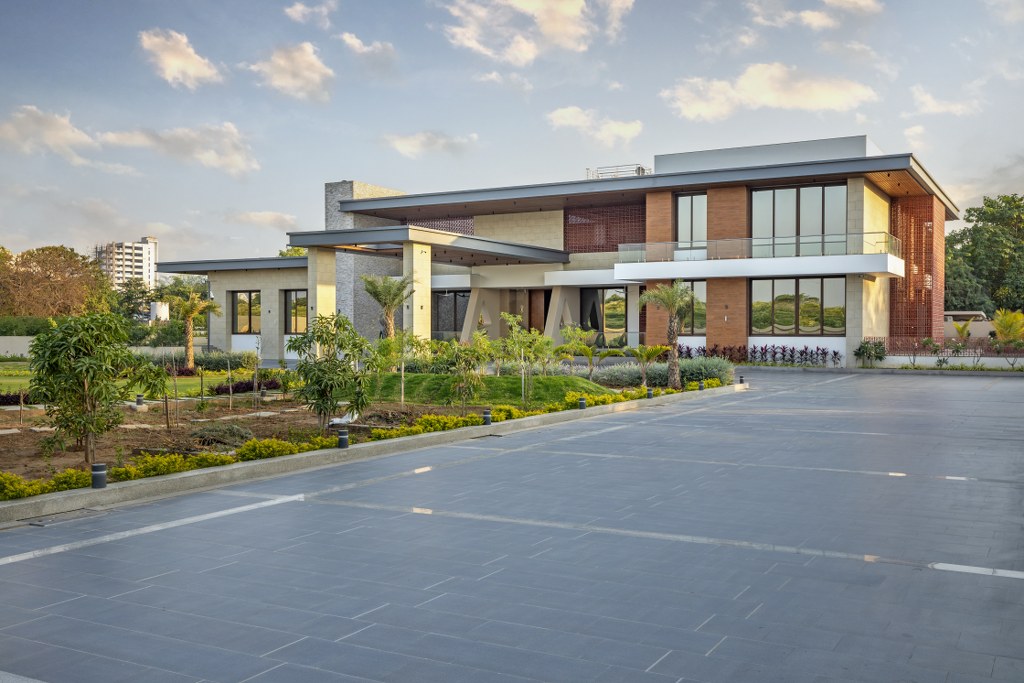 Principal Ar. Ruchir Sheth and his team Harsh Shah, Jitendra Singh Matharoo, and DhirenSoni embellishes this gold-gilded mansion by mixing a host of luxe materials like wood, and glass, fluted glass in partition, with metals like brass and copper, imported stone inlay works to add a hint of glamour.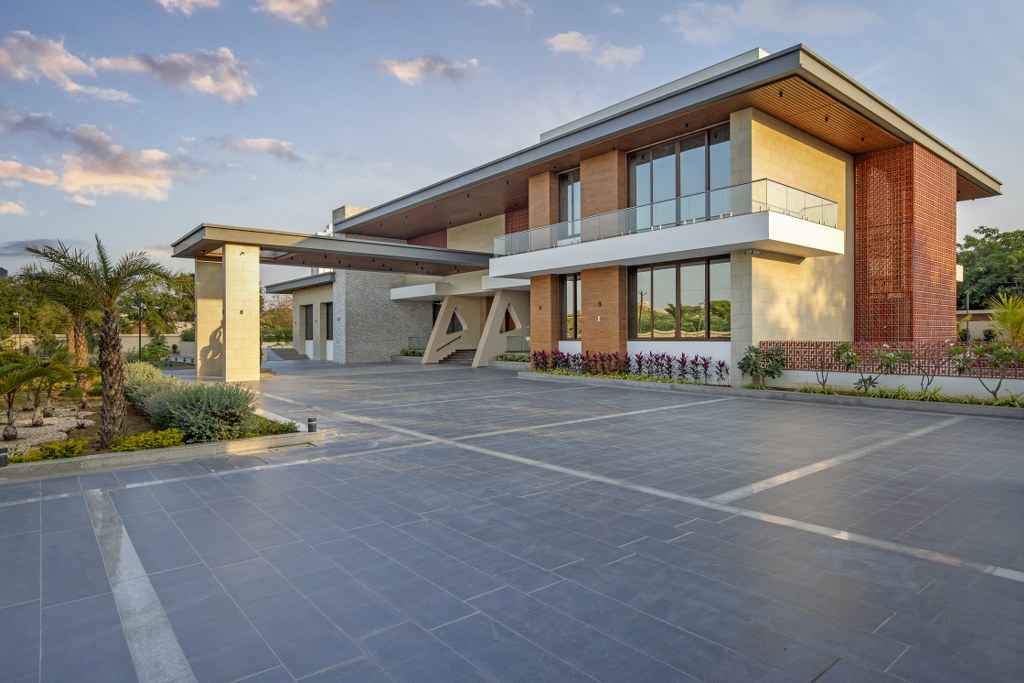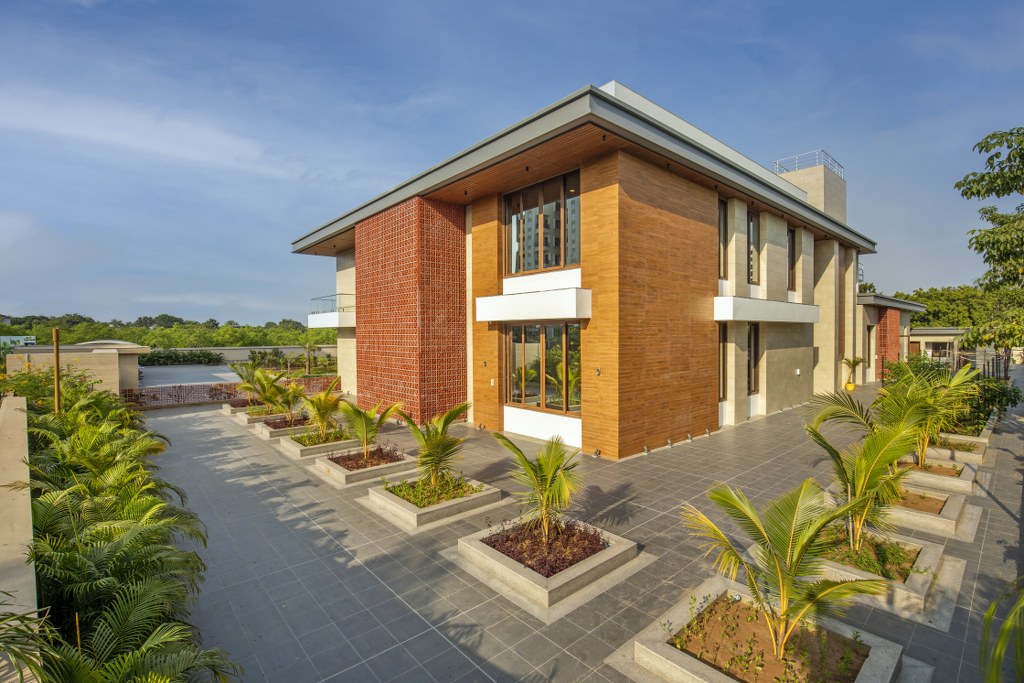 The abode is designed and built in accordance with Vastu Shastra – the ancient principles of spatial design and architecture. The natural light fills all of the rooms, and some are directly exposed to the surrounding greenery. The exterior finishing of the mansion includes tile cladding, flex stone, cladding, vox ceiling, and terracotta jali.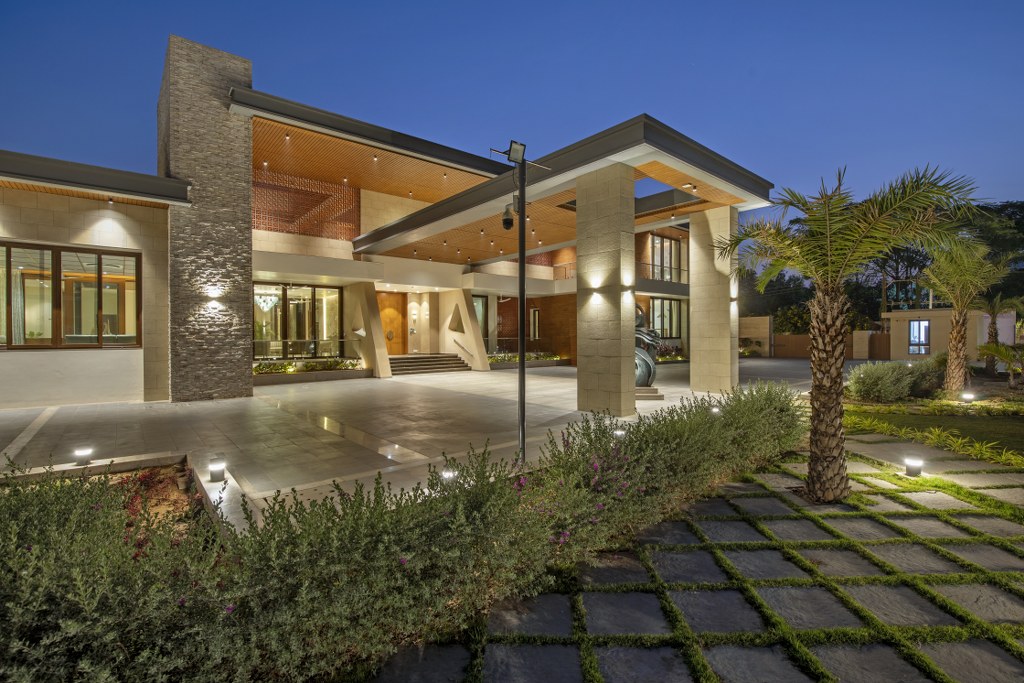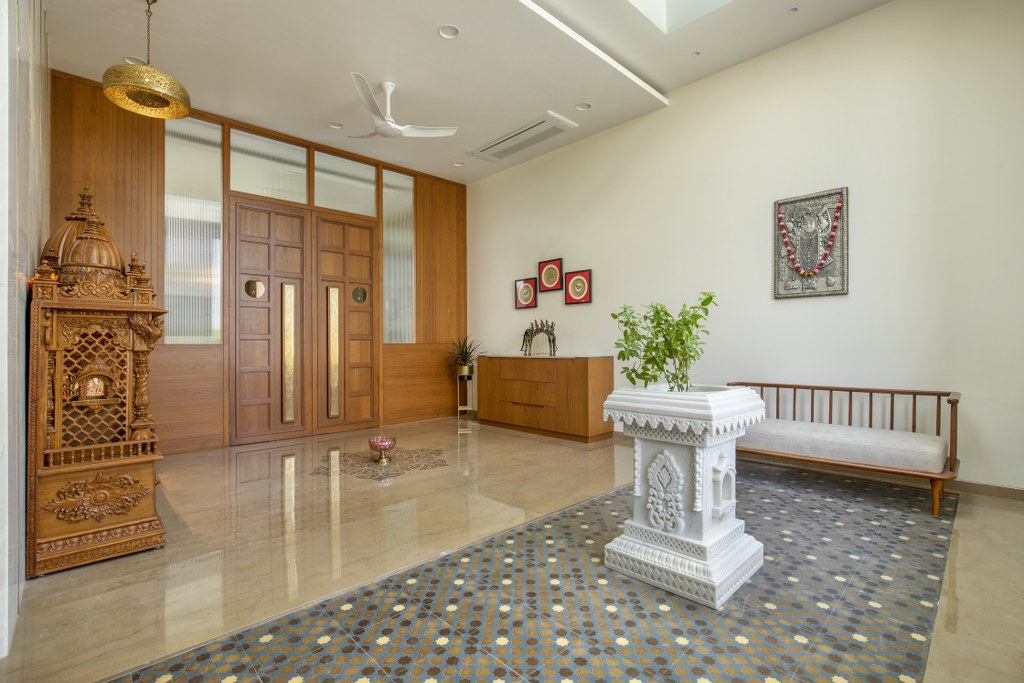 The entrance of this vast mansion is an apple of the eye! It is covered with a porch having track lights that radiate the area with its mild lighting. The lawn welcomes you with sprawling greenery surrounded by bushes, plants and trees that splendidly hike the aura of the mansion. A miniature water body and bridge over it on the walking track are awe-inspiring.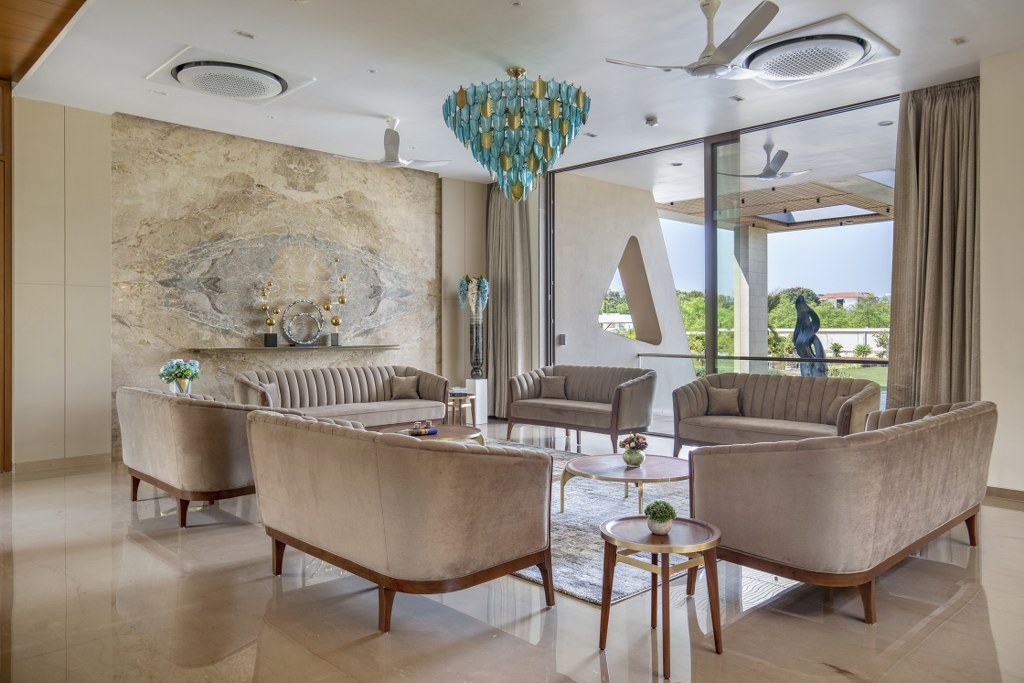 The living room has an open-to-sky pocket and a perfect integration with its natural surroundings creating a dreamlike atmosphere, and the classical elements enhance the space's beauty. The hint of blue in the chandelier and vases furnishes a classic fresh look. The beautiful wall art is done by Mr. Milan Bhatt which adds a beautiful charm to the pleasant sitting arrangement.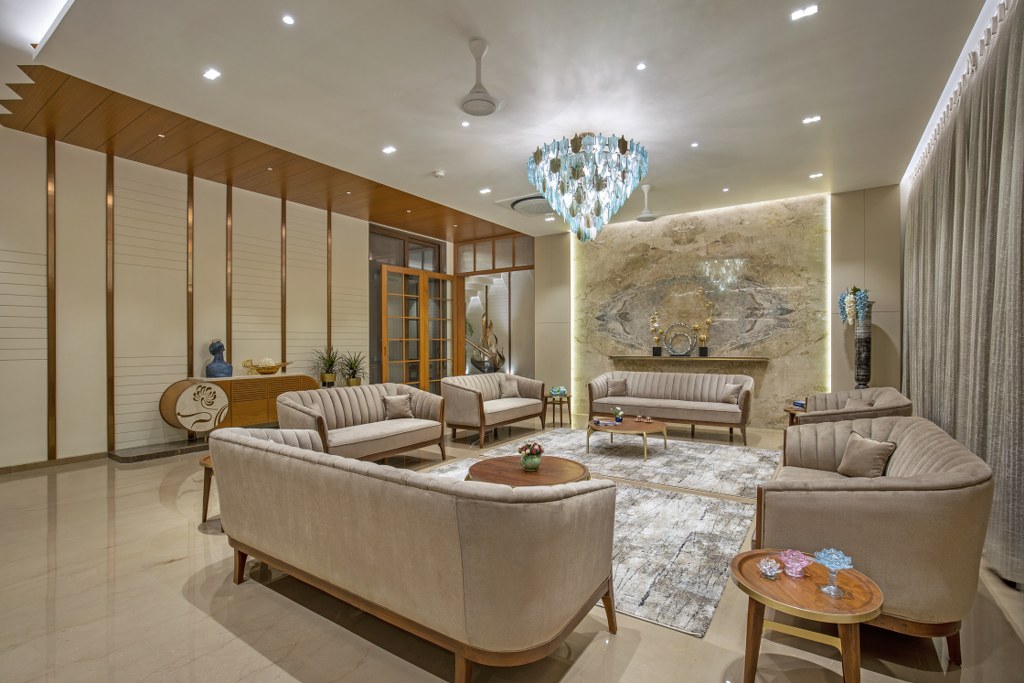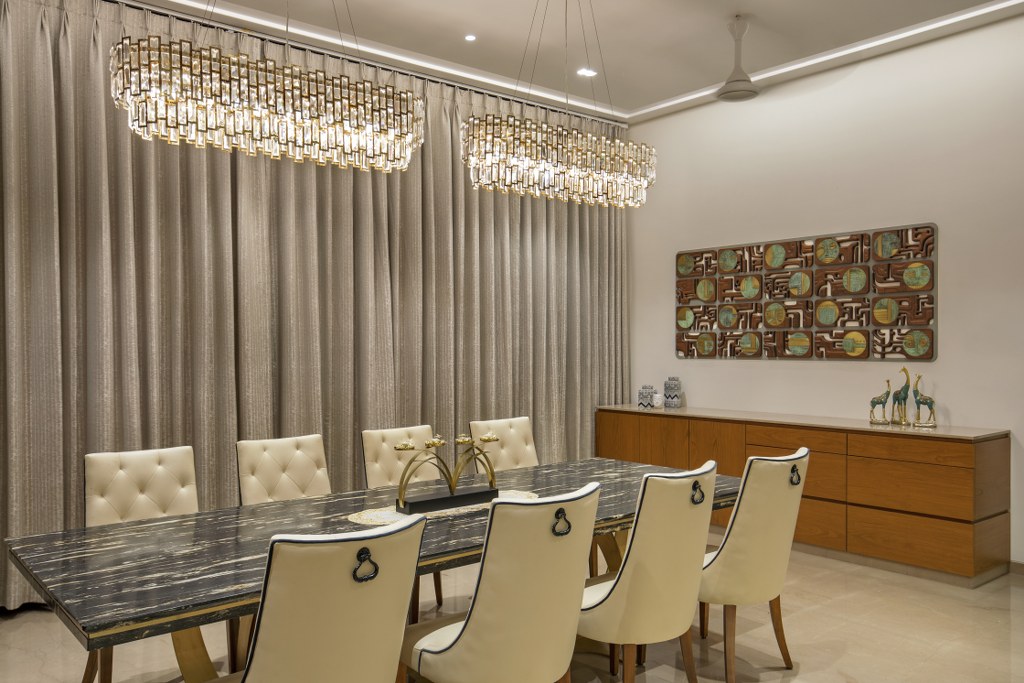 The artistic flair of the furniture and other décor items, which emphasize symmetry and balance, enhances the appearance of the entire space.
The interior of this mansion is a lovely blend of modern and traditional styles. The mansion's modest layout allows for a seamless transition between its public and private spaces.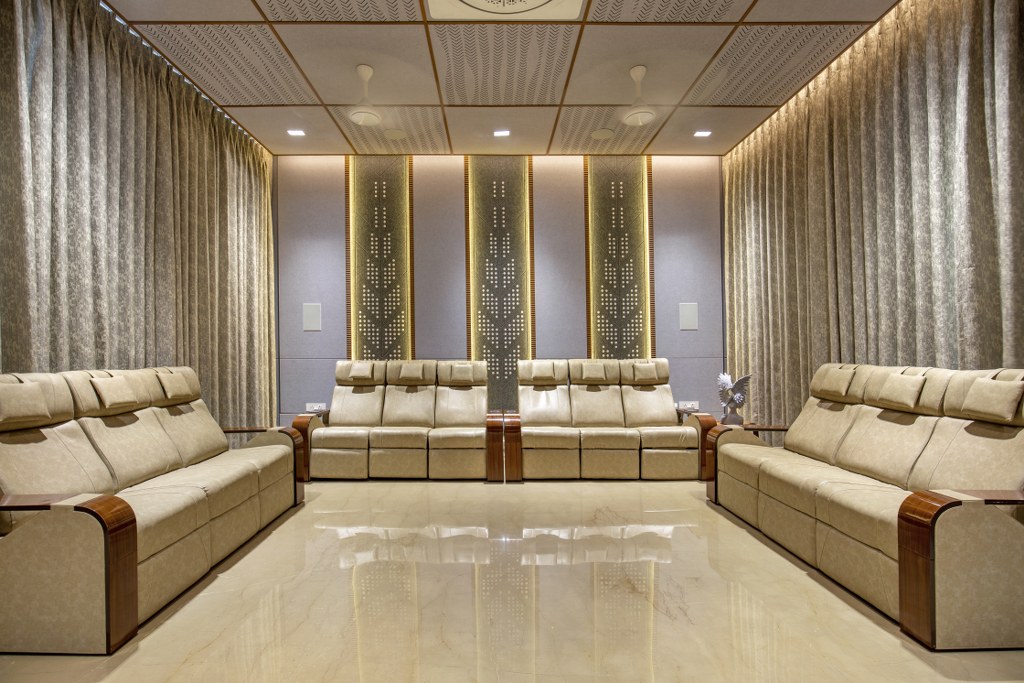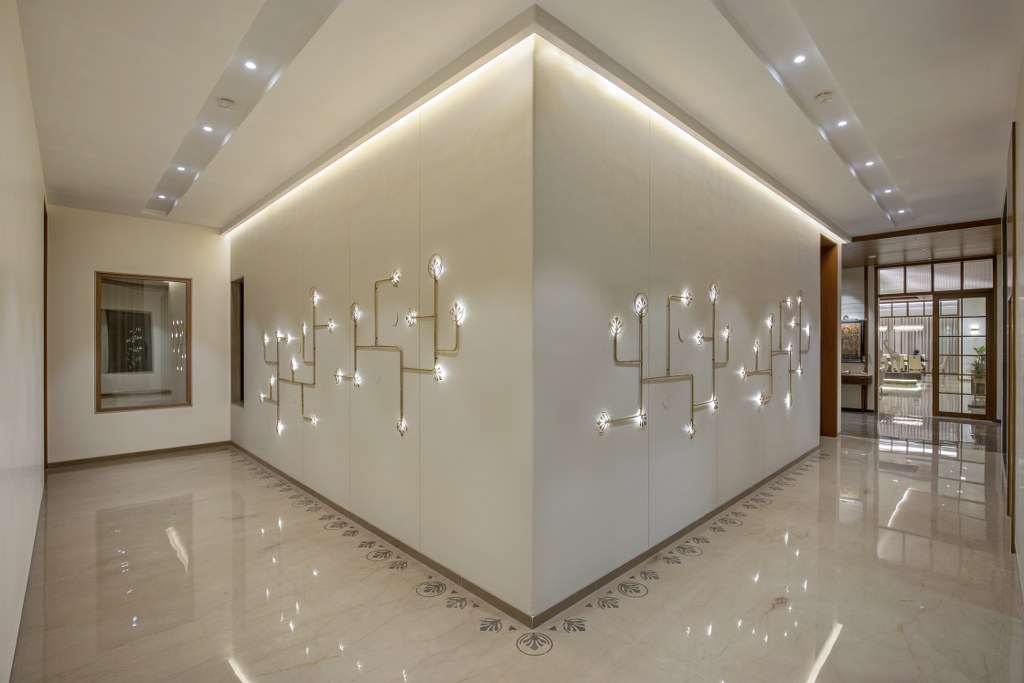 The grandeur living room looks past the distinctions between modern and classic styles to create muted eclectic rooms that gently accommodate the client's tastes with a touch of finesse.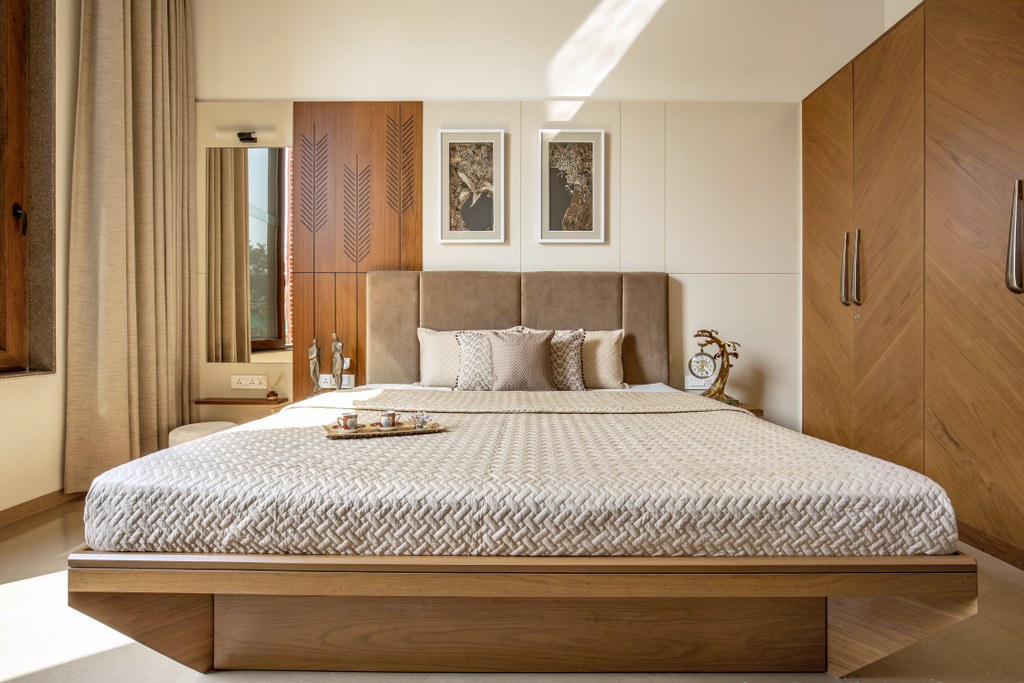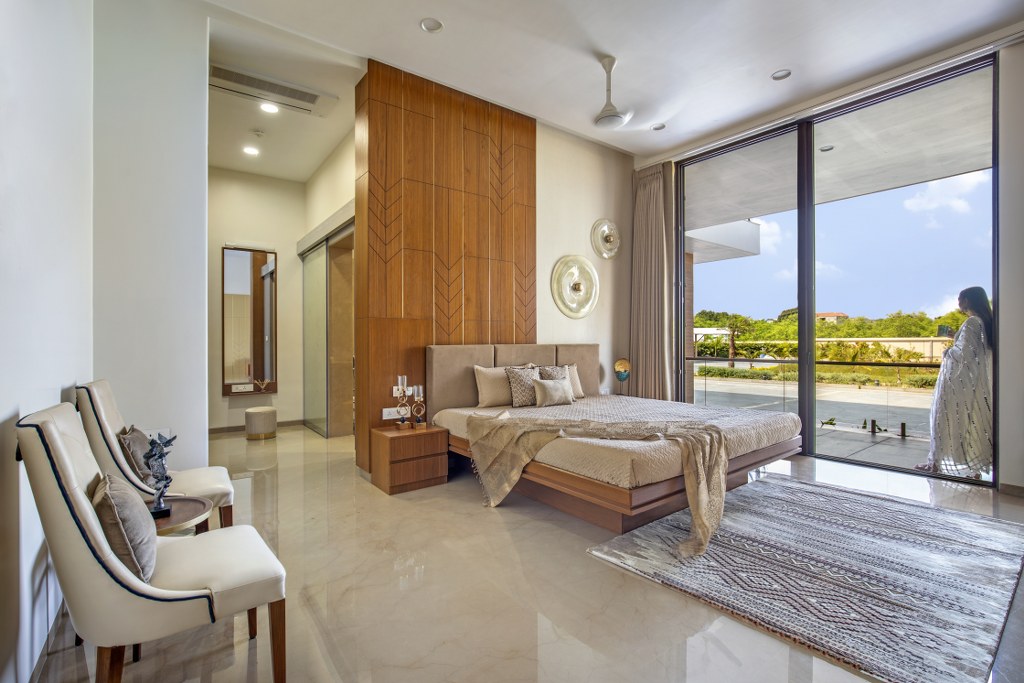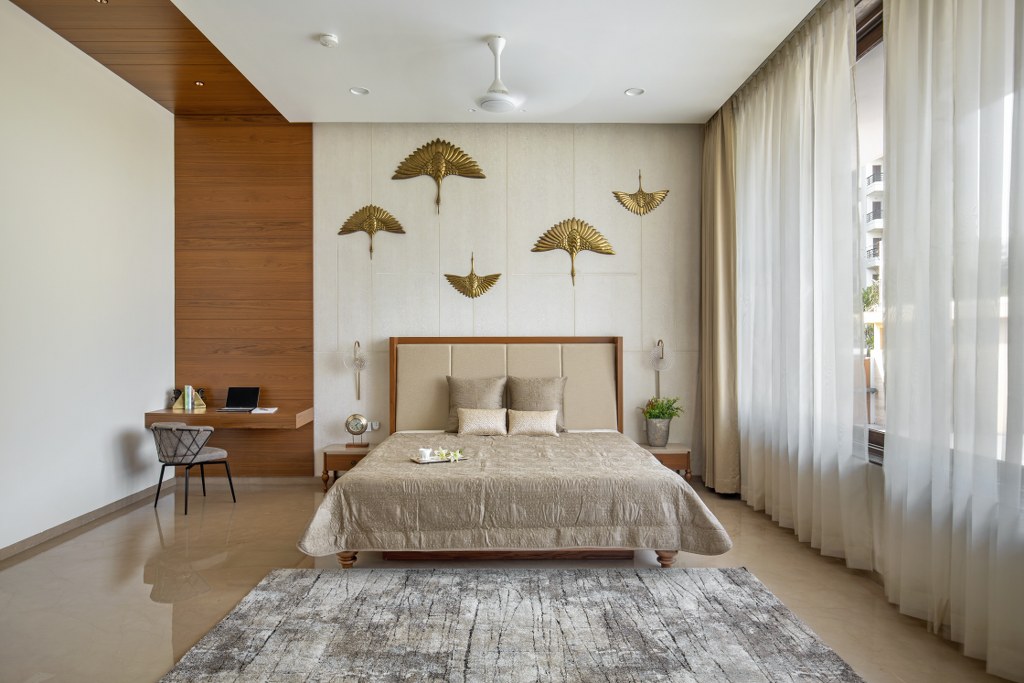 The design style has an alluring air of elegance and majesty, and the subtle elements seem understated and ageless. The mansion has extraordinarily smooth, pristine surfaces that can withstand the test of time without being old, as well as crisp, clear lines, quiet neutral tones, and clear shapes that are all perfectly executed.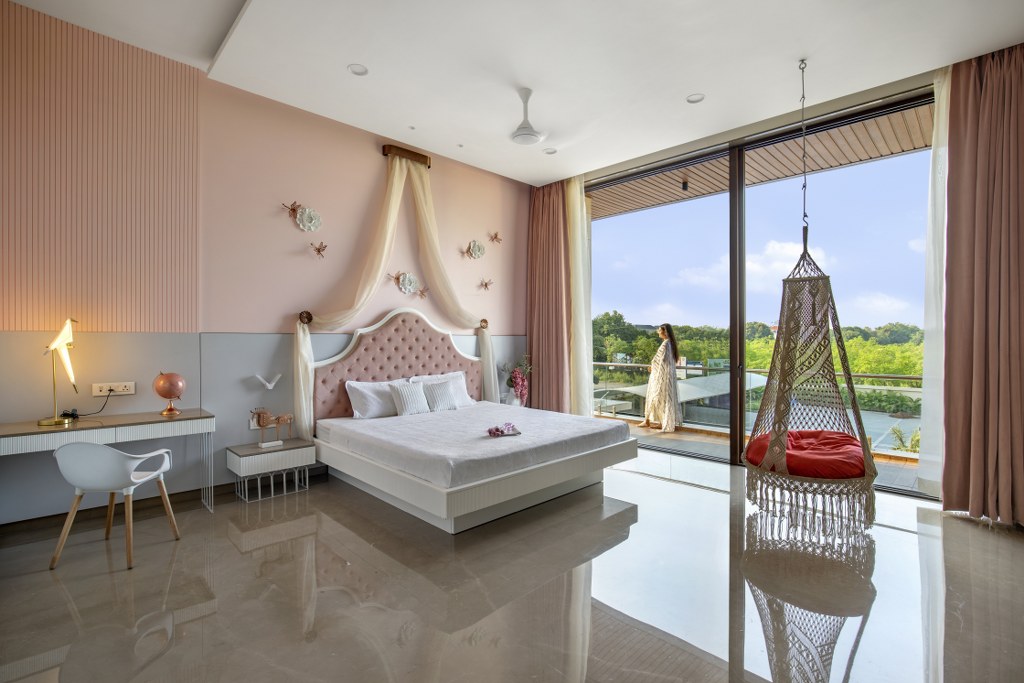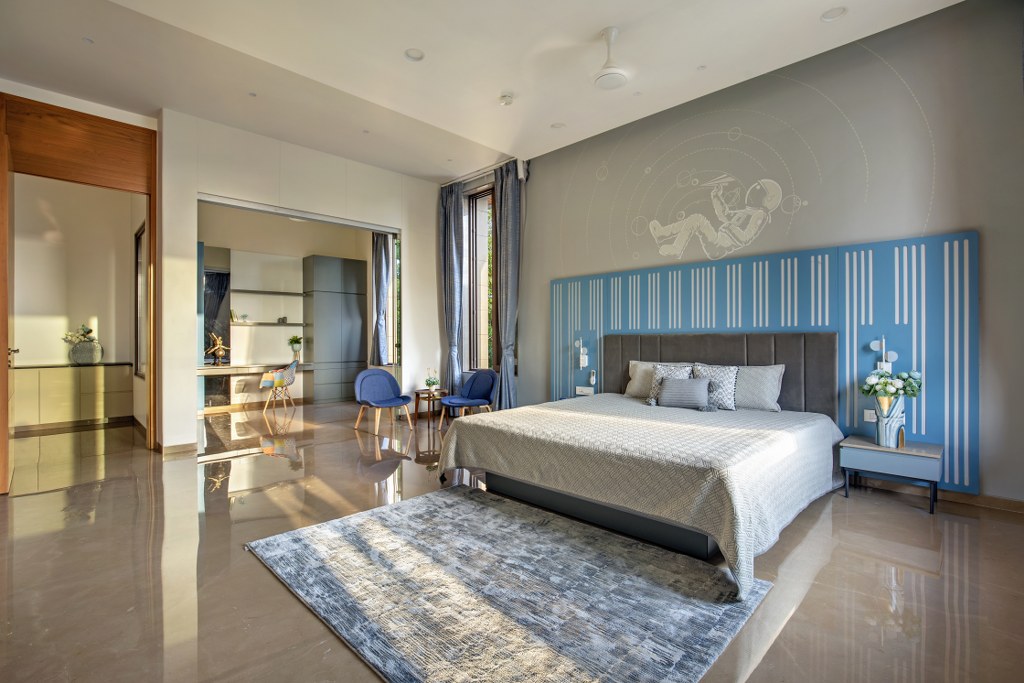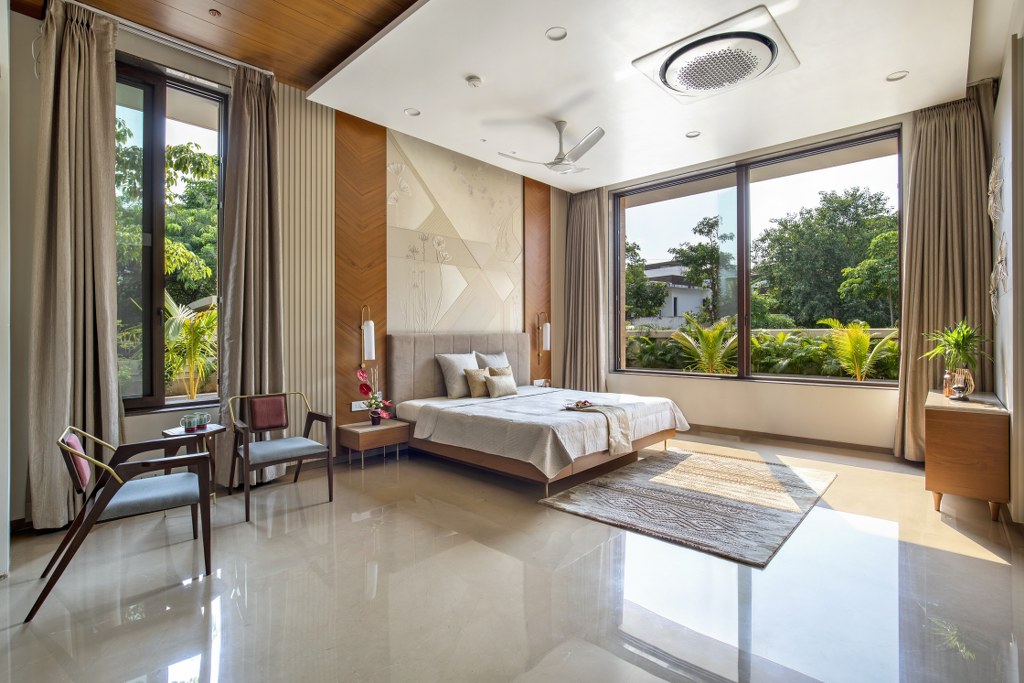 This puja room design is highlighted with mild lights and a white shrine of Tulsiji stands out exquisitely. The idea behind designing the puja room was to bring around brightness and a positive and peaceful aura.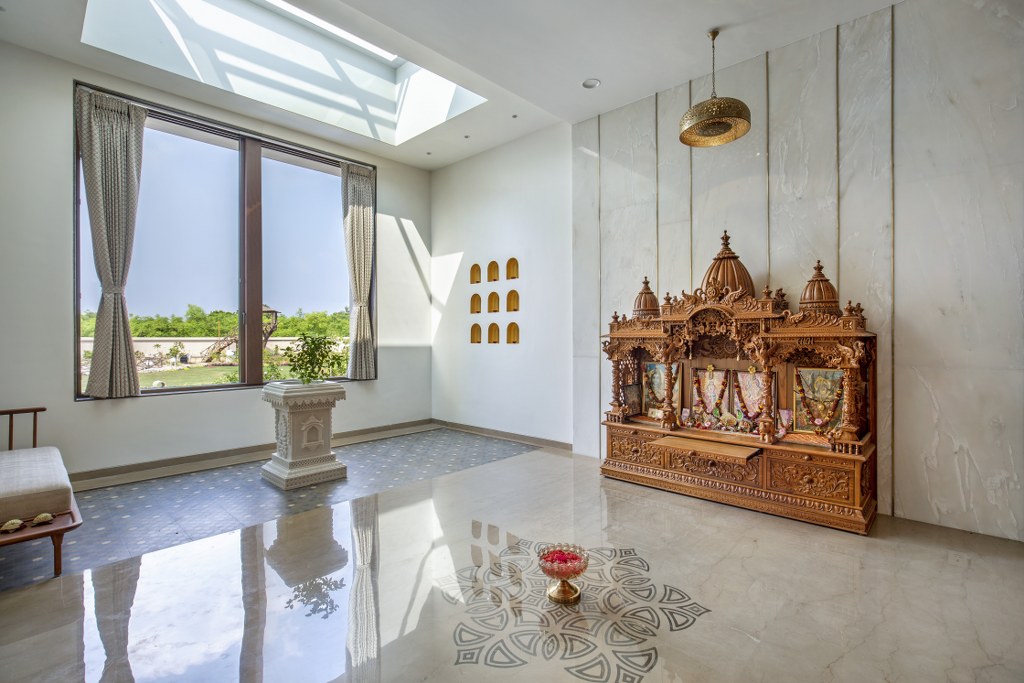 The swimming pool is decked up with wooden flooring, exterior cladding, and perfectly suitable pool tile to space to enhance the beauty of the pool patio.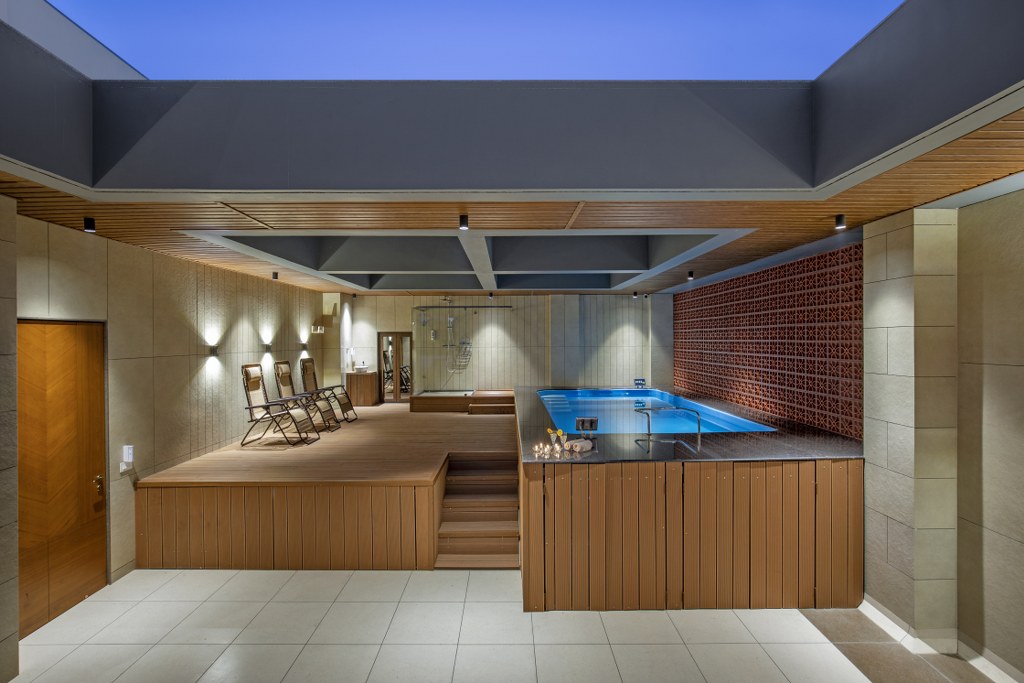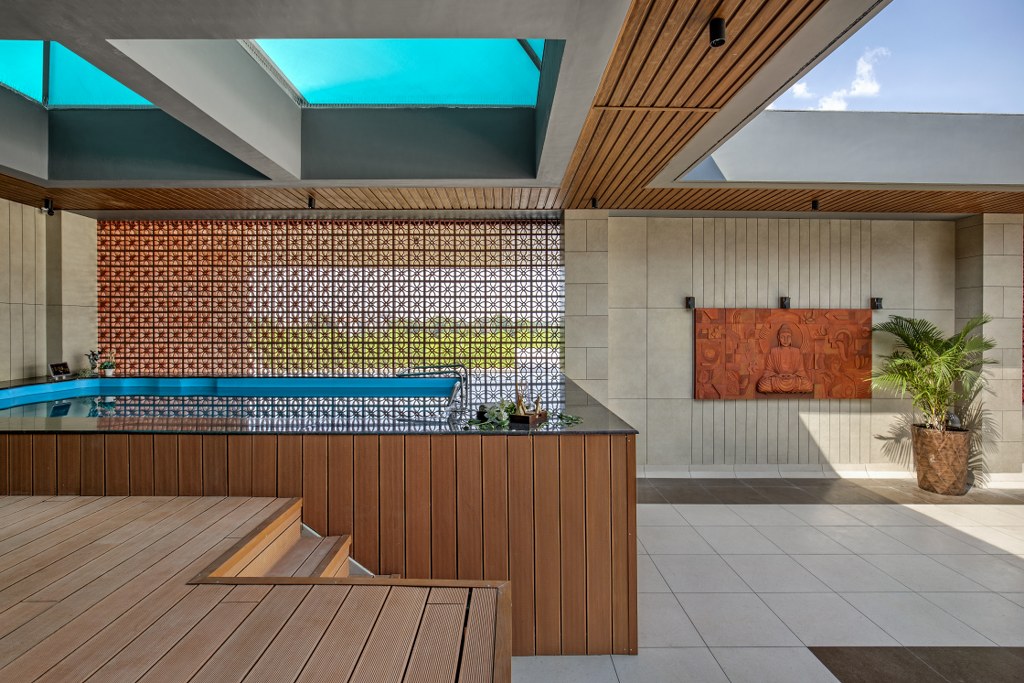 To create calming places that transform these bathrooms into tranquil havens, a thoughtful combination of materials and subtly contrasting colours is used.
Fact File
Designed By: Design Studio Associates
Principal Architect: Ruchir Sheth
Project Size: 62,800 Sq.ft
Project Name: Jeet Manyu
Project Type: Residence Architecture & Design
Location: Vadodara, Gujarat
Principal Architect: Ruchir Sheth
Team Design Credit: Harsh Shah, Jitendra Singh Matharoo, and DhirenSoni
Firm's Website Link: Design Studio Associates
Firm's Instagram Link: Design Studio Associates
Firm's Facebook Link: Design Studio Associates
For Similar Project>>Reflecting Modernist Techniques With A Hint Of Contemporary