The existing Office Design space of the client in the complex occupies an area of 1440 sq. feet. Within these dimensions, the functions are articulated in such a way that there seems an easy, fluid and functional flow of the hierarchy of spaces. This fluidity is mainly achieved because of the rhythm that is generated within the circulation.
Visit: Vedhas Arch_design
Fluid and Functional Office Design that Fosters Creativity and Discipline | Vedhas Arch_design
With a sense of arrival provided through a large pivot door, the entire space opens up to a compact reception area that is completed by an information desk along with a small pocket of a waiting area. A monolithic grey matte tile floor with polished Italian black marble desk and travertine Italian marble as the backdrop with profile led light, this preliminary space acknowledges the design of the office. The waiting area further branches to reveal the conference room through one door and an employee workspace through another.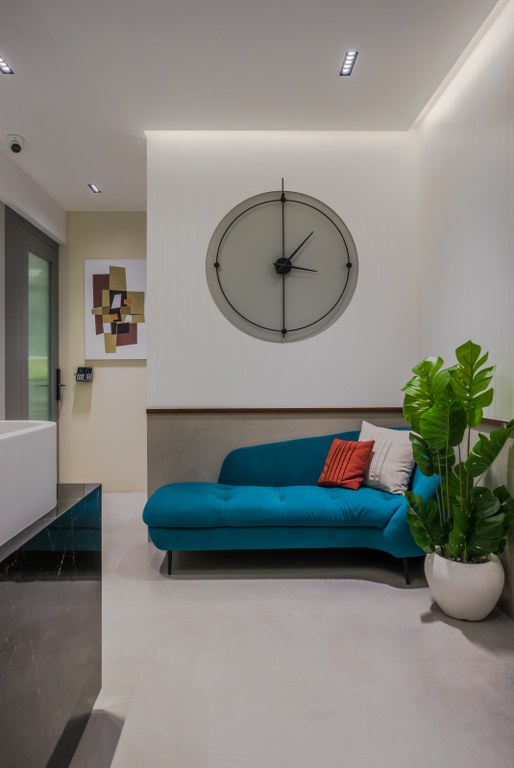 The waiting area further branches to reveal the conference room through one door and an employee workspace through another.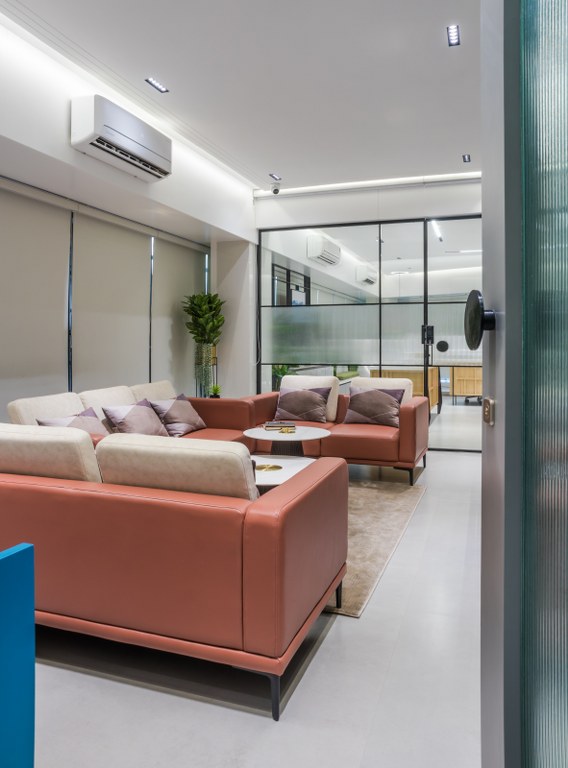 Continuing with the same idea of breaking the monotony of greys by adding in bold colors, this compact conference room provides free informal seating and creates an introvertedness to the entire space, thus making it convenient for meetings.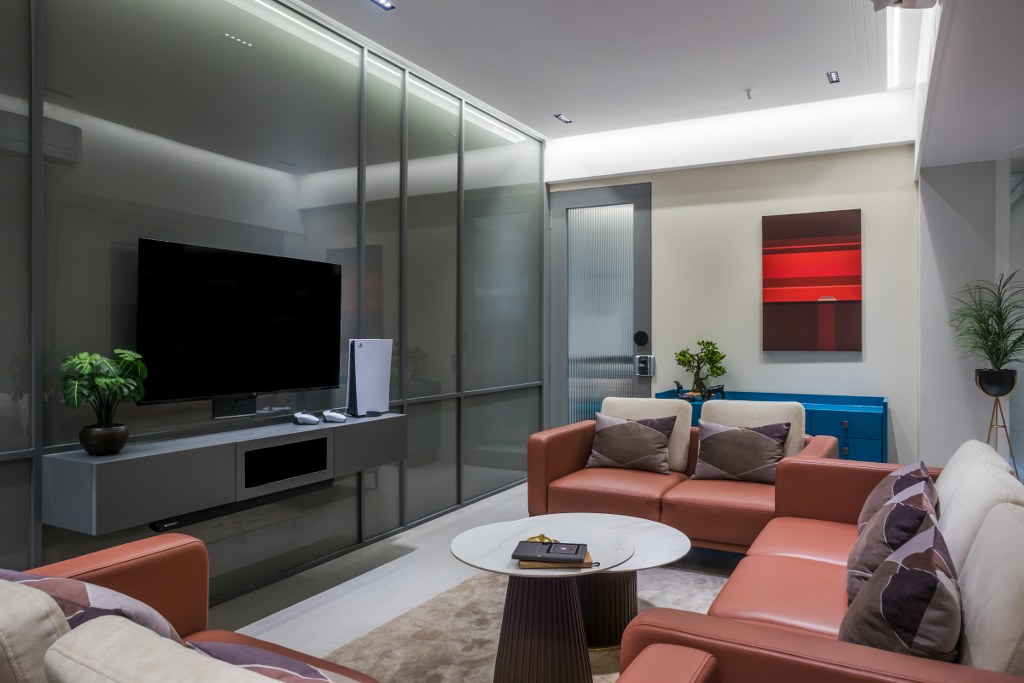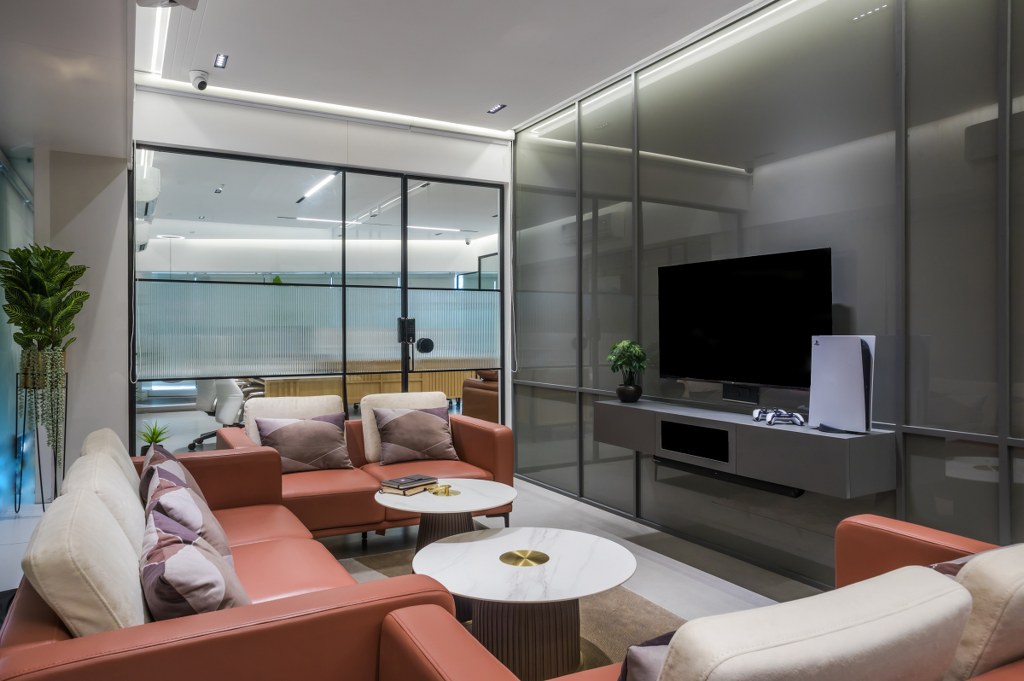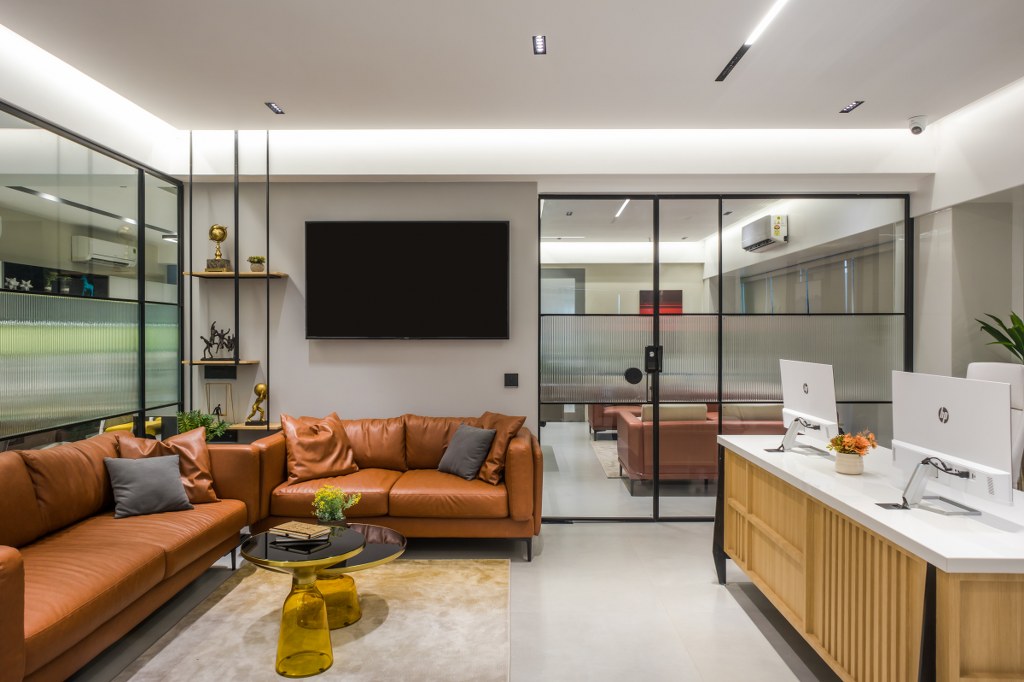 The managing owner's cabin also faces towards the roadside and is set apart from the rest of the spaces by using a wooden veneer finished desk that acts as an emphasizing focal point in the entire space. On the corners of the desk are black steel frames that rest on the bottom supporting the entire base of the desk.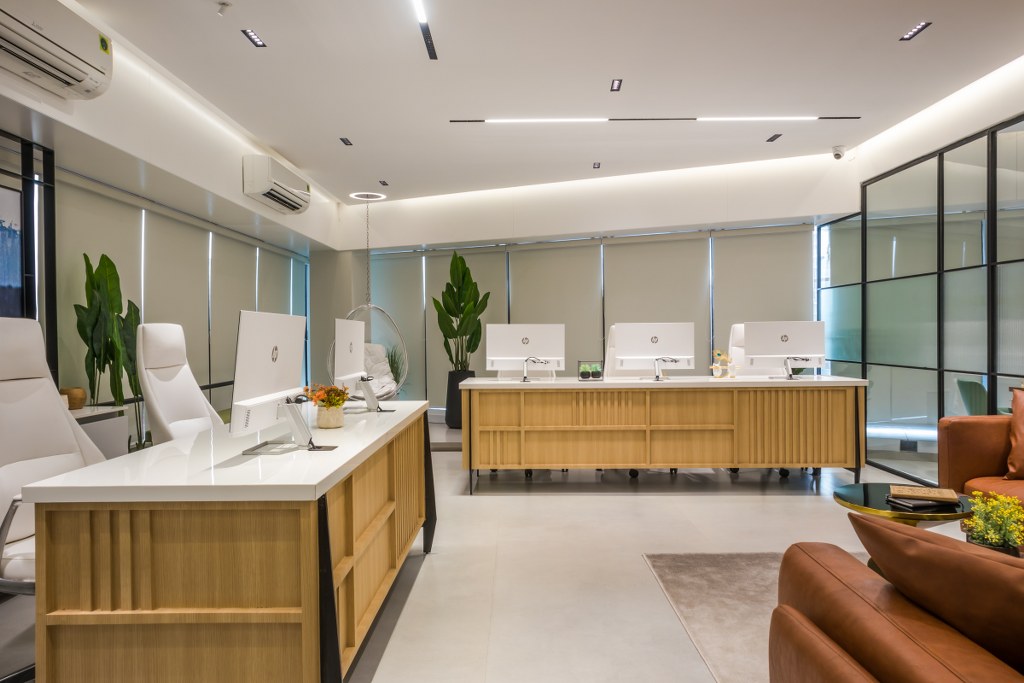 A leather brown sofa on the other side of the room dominates the ambience of the space. This pushes the ideaof an office beyond its expected limits and helps generate an experience that is a juxtaposition of work and play.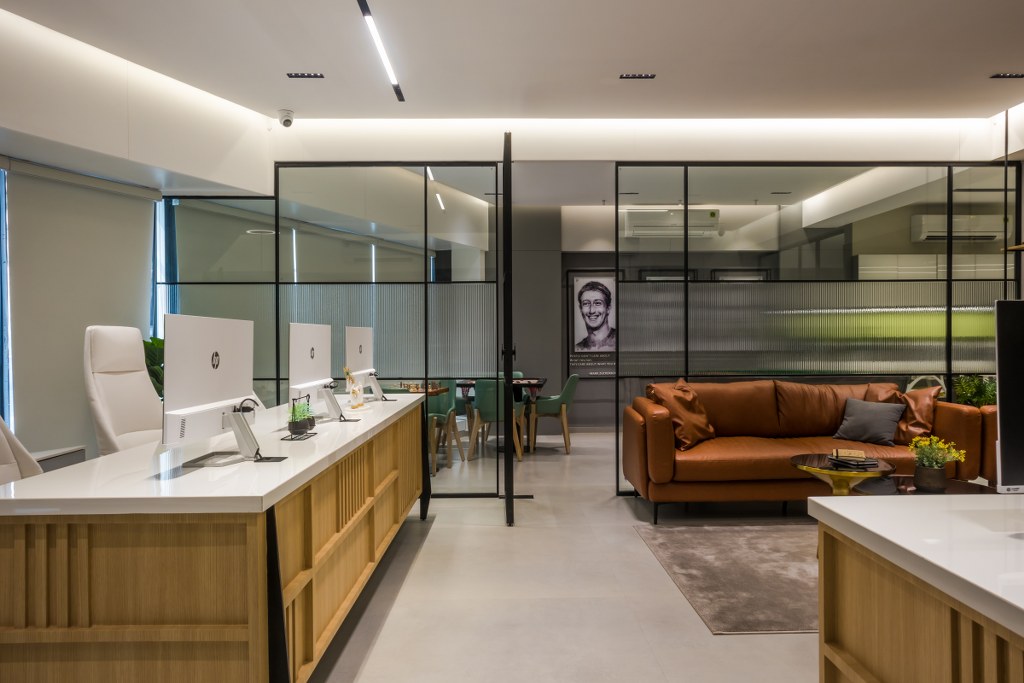 The communal workstation zone has a strategic placement of furniture layout such that it guides conscious movement from its entry door and slowly opens up into the play area at the other end. The furniture is further embellished by grey laminated table tops with black metal frames that hold the edge of the tables.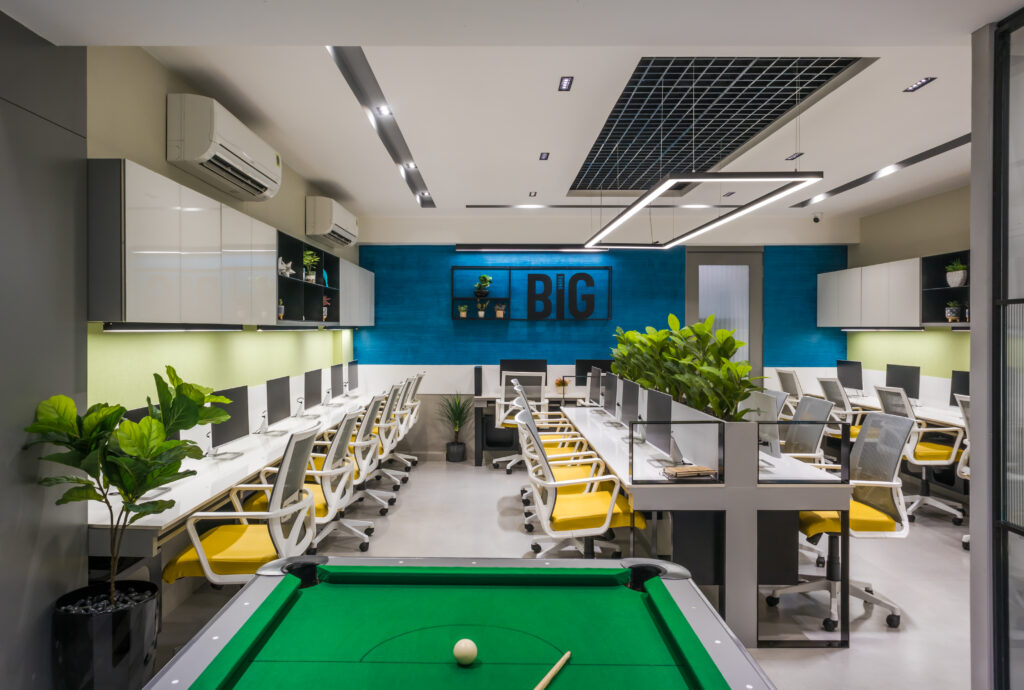 The play workstation with bold colors alongside the series of desks acts as a major space of stress buster for theemployees both physically as well as psychologically. This play workstation connects the employee desk space to the main cabin office which is enclosed within frosted glass held together with a black frame. This porosity helps maintain transparency between the employees and the heads.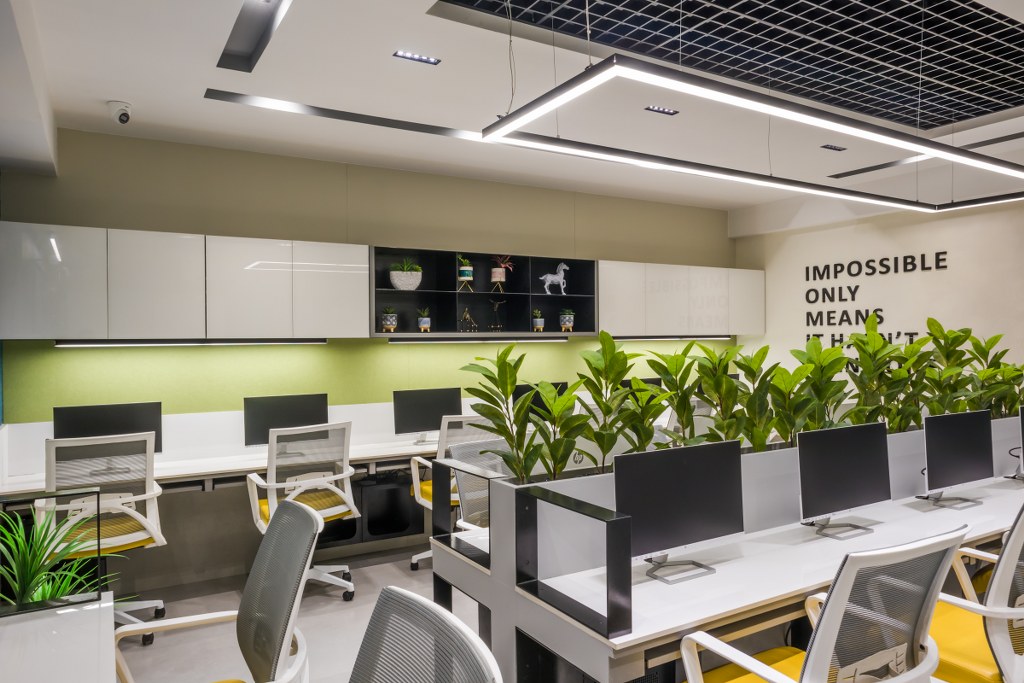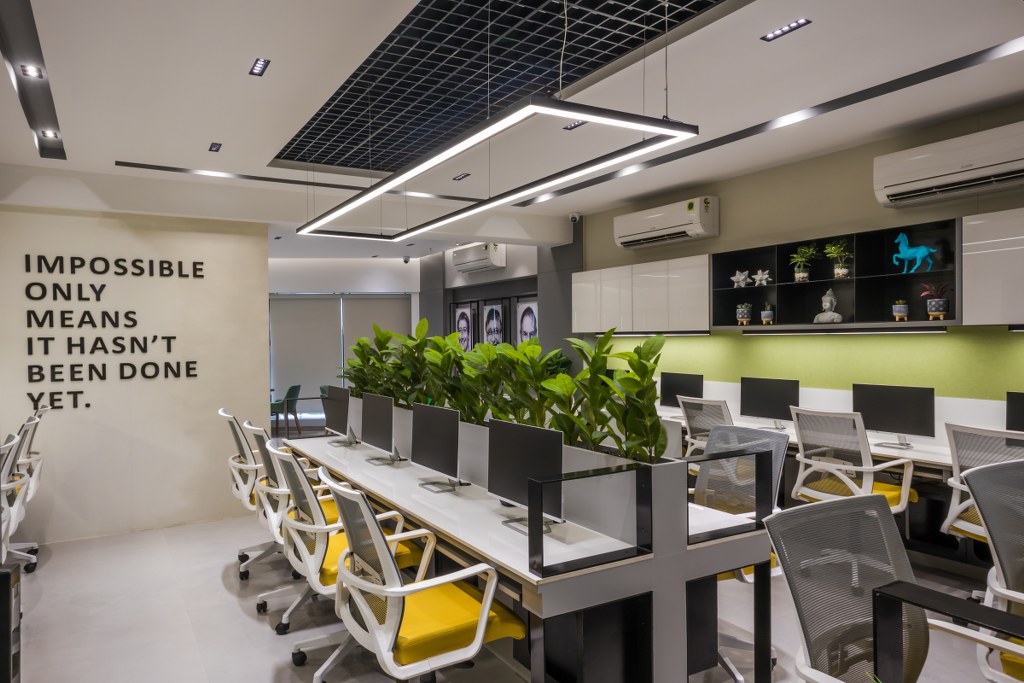 The rows of desks aligned opposite to each other are separated by a series of plantations that act as conversation and interaction generators amongst the employees.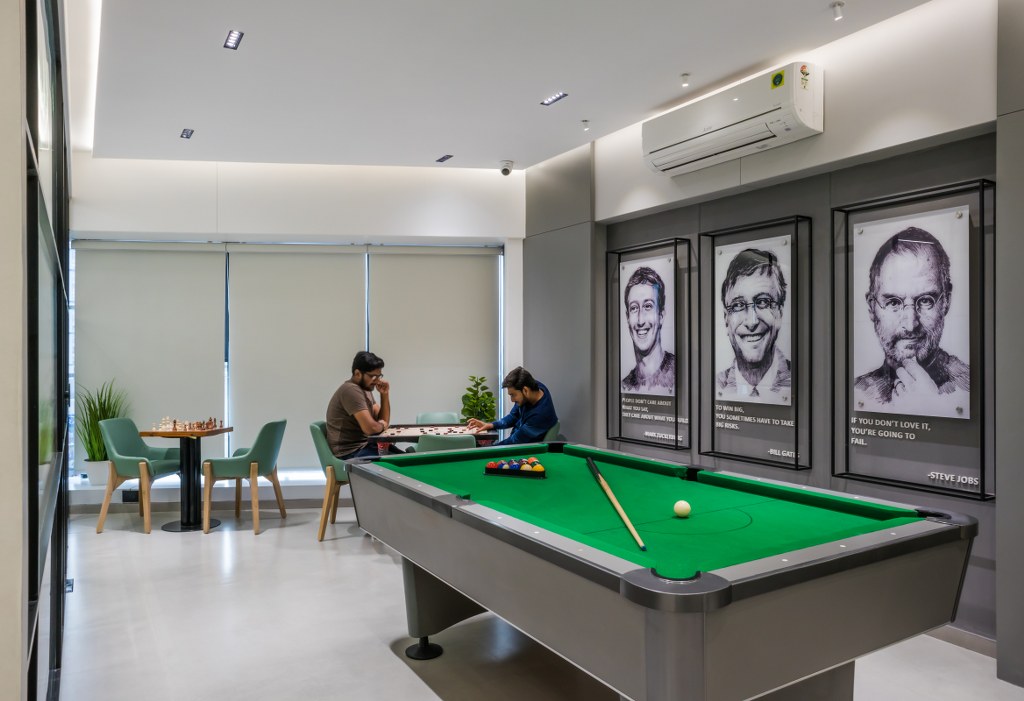 FACT FILE
Designed by: Vedhas Arch_design
Project Type: Office Interior Design
Project Name: Exomoon Infotech
Year Built: 2021
Location: Surat, Gujarat
Duration of Project: 7 Months
Project Size: 1495 Sq.ft
Project Cost Appx: 52 Lac
Principal Architect: Hiren Savsaviya
Team Design Credits: Pinak Dhameliya, Chirag Shiroya
Photograph Courtesy: Rohan Patel
Firm's Website Link: Vedhas Arch_design
Firm's Instagram Link: Vedhas Arch_design
For Similar Project>>Concise Material Palette Punctuated by Striking Accessories for this Office Design