Toby Johncox of Enness Global, the world's leading brokerage of high net worth mortgages and bridging finance, in conversation with Nicolas Roux, Founder of Rive Gauche, the luxury interior design company. They discuss important factors to consider, such as cost, expectations, timescales and quality, when renovating luxury property investments.
Toby Johncox
What costs are involved in planning a major redesign and development project of a luxury property?
Nicolas Roux
The cost is always a tricky question. What's important at the beginning of a project is showing people exactly where their money is going to be spent. Because on any property, you could spend, say, £500,000, or £1 million or £2 million – on the same property. So I think what's key is first to understand where you spend your money. And make sure that when you plan a project, your cost plan is complete, because you're going to have costs for the pre-construction, consultants, planning application, survey. Then you obviously have all the cost of construction finishes. You also need to make sure that in your cost plan, you've got not just financial costs, but also inflation, construction risk, because there are always items that you haven't allowed for. So completing a cost plan, that's the first part, and then being able to define where that money is going to be invested in your property. Because ideally, you want the money to be added to refurbishments or developments that add value to make sure that you'll get that money back.
There are two areas to look at – there is the shell and core of the property i.e. the structure, the windows, the roof and the floors. Look at the efficiency of your house from an energy point of view, the durability and the maintenance. British Standards will give you a minimum standard of what you should do in terms of energy efficiency, but you will probably want to improve on that.

&nbsp
Toby Johncox
How do you manage quality and client expectations and the result you give them at the end?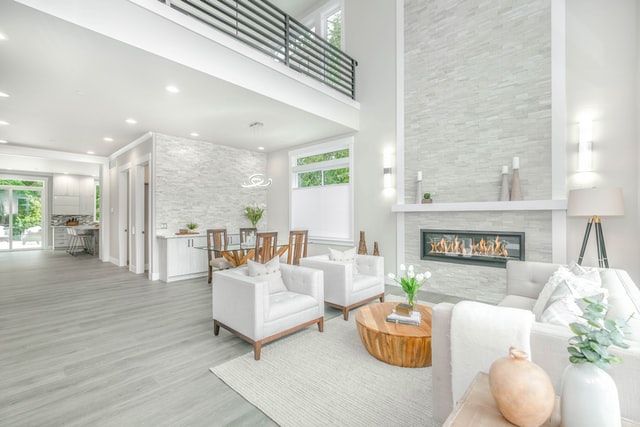 Nicolas Roux
On the quality side, once you understand the base build elements where you put your money and investing in the shell and core, and the efficiency of your building, then there is obviously the interior finishes. That's always a bit of a tricky thing, because you can buy a door for £1,000 or for £8,000. So what we do most of the time is define three different level of quality from bronze, silver to gold, which is basically trying to express the different detail and finishes between one product and another. You don't want to add gold standard throughout, I don't think that makes sense, you probably want, for instance, at the back of house something which is a little bit more functional. And at the front of the property, the highest standard. We go through every item of the project from the doors, bathrooms, kitchen, and show the different levels of quality. With a door for example, the bronze standard will probably be a very good quality off-the-shelf door. You might have 5 or 10 finishes to choose from. The silver might be a more bespoke door, that might be different heights. And then the gold will have intricacy of the metal trim, the finishes. There is obviously quite a large gap between the bronze and the gold, but we help clients decide whether they want that gold standard everywhere. You have the same thing for the stone finishes, you have the same thing for bathrooms and other areas.
Toby Johncox
You could go gold standard on everything but when you come to sell the property, you don't necessarily get the gold market price, whereas having a combination of all of the above still gives you the gold market price.
Nicolas Roux
Absolutely, you don't want to put Carrara marble in the back of your utility room, it just needs to be a balance between functionality and making sure you invest money in the right places. So front room, you want to impress your guests. In the back of house you need to be more functional, more toned down. And you will probably think more about the durability of the finishes as opposed to the wow effect.
Toby Johncox
I can never get my head round in a lot of big houses in Dubai, the kitchens are never particularly well set up. And it goes back to the fact it's not used by the owner or the inhabitant of the house. It's used by the people that are helping him or her at the house. So they don't finish them with the gold standard but they put in a quality cooker, and everything else might be stainless steel or very practical items.
In terms of timescales for projects, how does one manage the time scale? And how long does it take to complete these projects?
Nicolas Roux
Every project will be different. It depends on which structural works you're going to do on a property, whether you do a renovation, or whether you do a full new build house. I think there are a couple of elements that are really important to grasp when you're looking at timing for projects. The first part is going to be making sure that you understand the critical elements of your project. So you might have the planning application, that's going to be critical, that might have a risk to it. It will take eight weeks to get planning approval in the UK and a full project could take a year or two years. Those elements need to be understood and should be quantified from a risk point of view. The other part is the long lead time for some items. Sometimes we will order, for example, an air conditioning system before starting construction because of the two or three months of lead time. And the third part which also affects timing quite a lot, especially in central London, is logistics and working restrictions. There are restricted hours so you need to factor that into your programme because you can't make noise throughout the whole day, because you've got people living above and around, so there are quite stringent restrictions.
Toby Johncox
In Dubai, that's not a consideration. I lived in the marina for three years and it's just endless cranes swinging, hammers and drills and concrete pouring overnight. We may be slightly more sophisticated in the UK.
Nicolas Roux
Abroad you could build a hotel in two years, but it will take you two years to renovate a house over two floors in the UK. So obviously, those elements are important to take into consideration, because it's just the way that it has to work.