Edgy yet Graceful: Family home in Ahmedabad | DND Architects
Lucky are the designers who get an opportunity to work uninhibitedly on a refurbishment project, and deliver unparalleled results!  This was the case with Architect Hardik Ghelani of DND Architects, Ahmedabad, who worked over 9 months to deliver re-newed spaces for the client.
The 650 sq.mt built-up area of the bungalow, set in a plot of 1375 sq.mt was to be re-furbished, with the elevation re-designed and aspects of the landscape taken care of as well.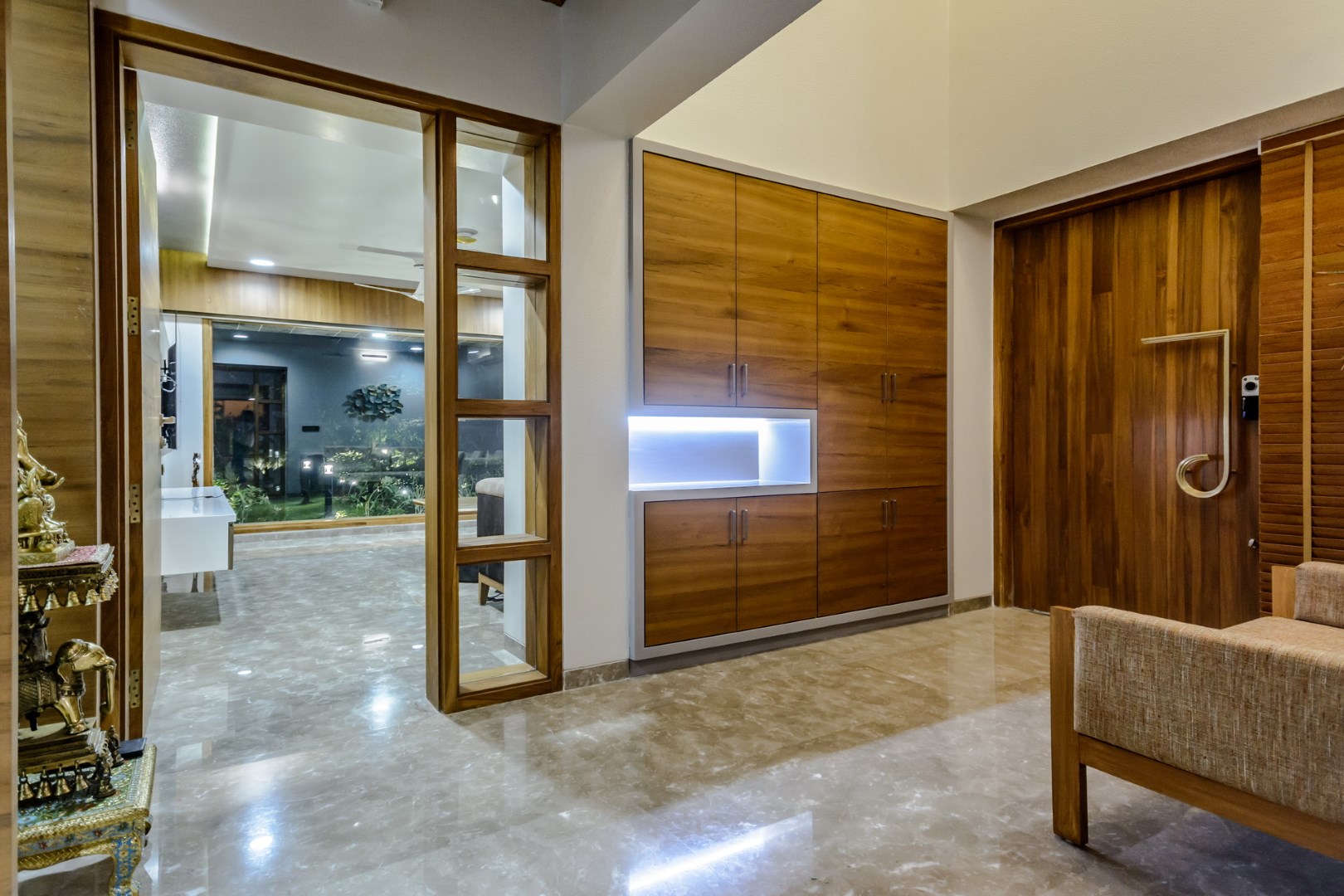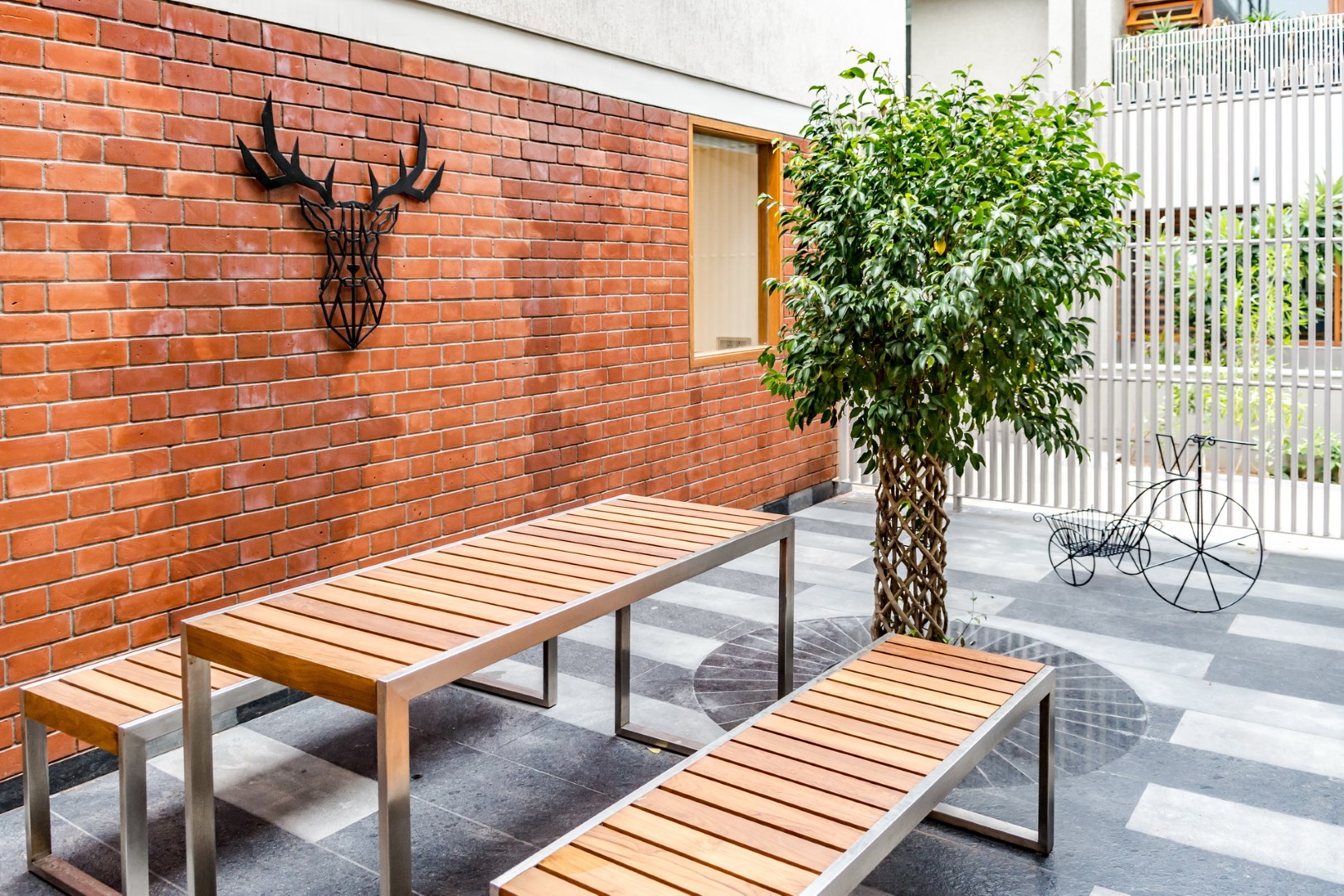 At first glance, the interior spaces combine the simplicity of some finishes with the swankiness of glossy surfaces, further highlighted through accent lighting. This look is carried forward throughout the house, beginning from the entrance lobby and foyer. Wooden paneling is combined with niches of bright lighting, each complementing the other and creating several well-lit accessory spaces.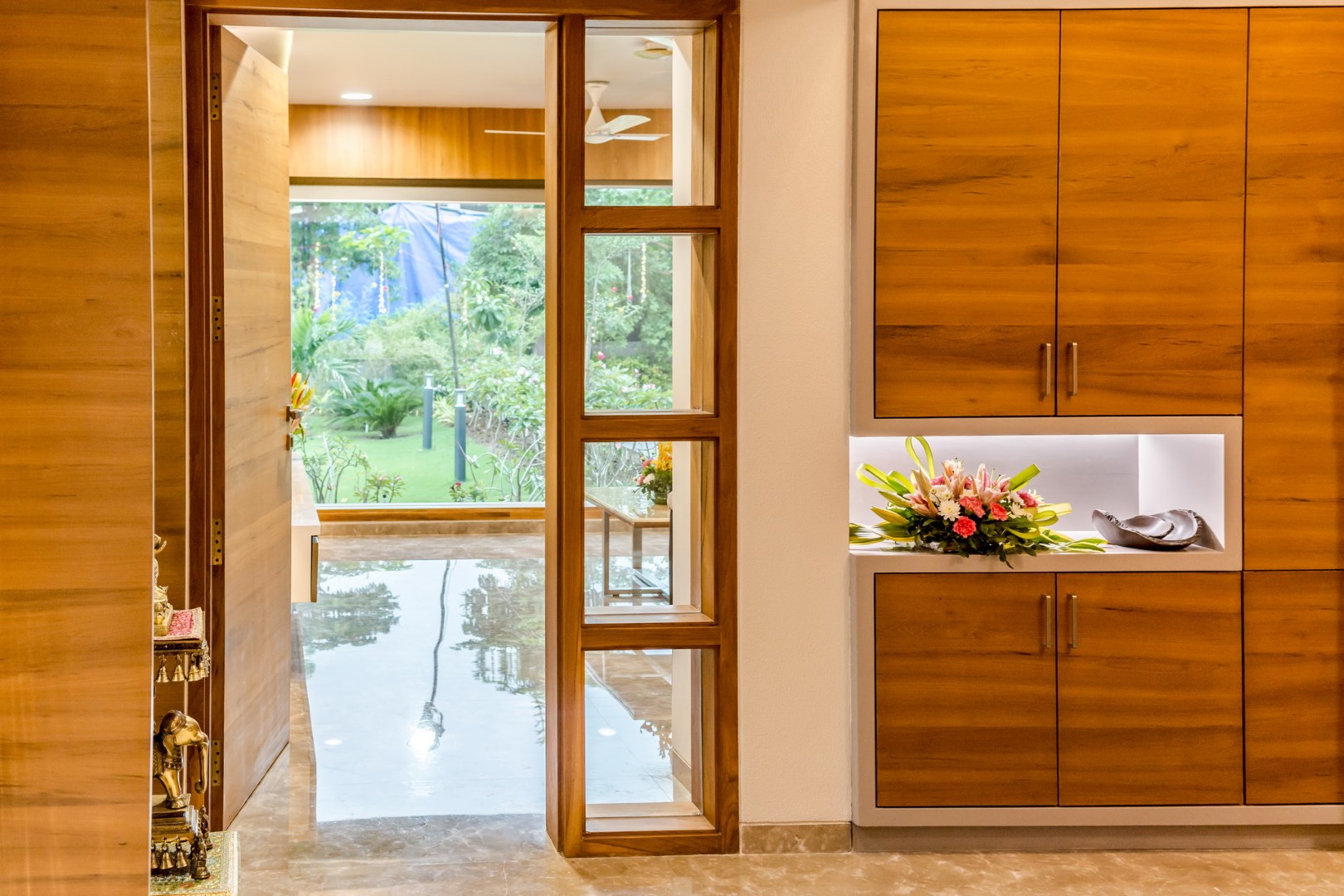 The entrance lobby is separated from the foyer with wooden frames partitions of glass, to create a sense of transparency as well as connectivity. On the exterior elevation, Laminam tiles from Italy are paired perfectly with exposed brick to humanize the scale. Innovative elements, such as the curved brass handle on the main door, complement the overall golden-ish polish of veneer all around.
Areas such as the passage, are not left bare and are thoughtfully addressed through wall and ceiling panels. Here, a geometric ceiling panel creates a sense of linearity while adding little details to the overall space, which ultimately makes a difference to the look and feel of the residence.
Otherwise ordinary elements such as a staircase are highlighted and exposed, in order to create a seamless transition between the levels. In this house, seamless transitions happen not only between levels but also between interior spaces and beautiful outdoor spaces.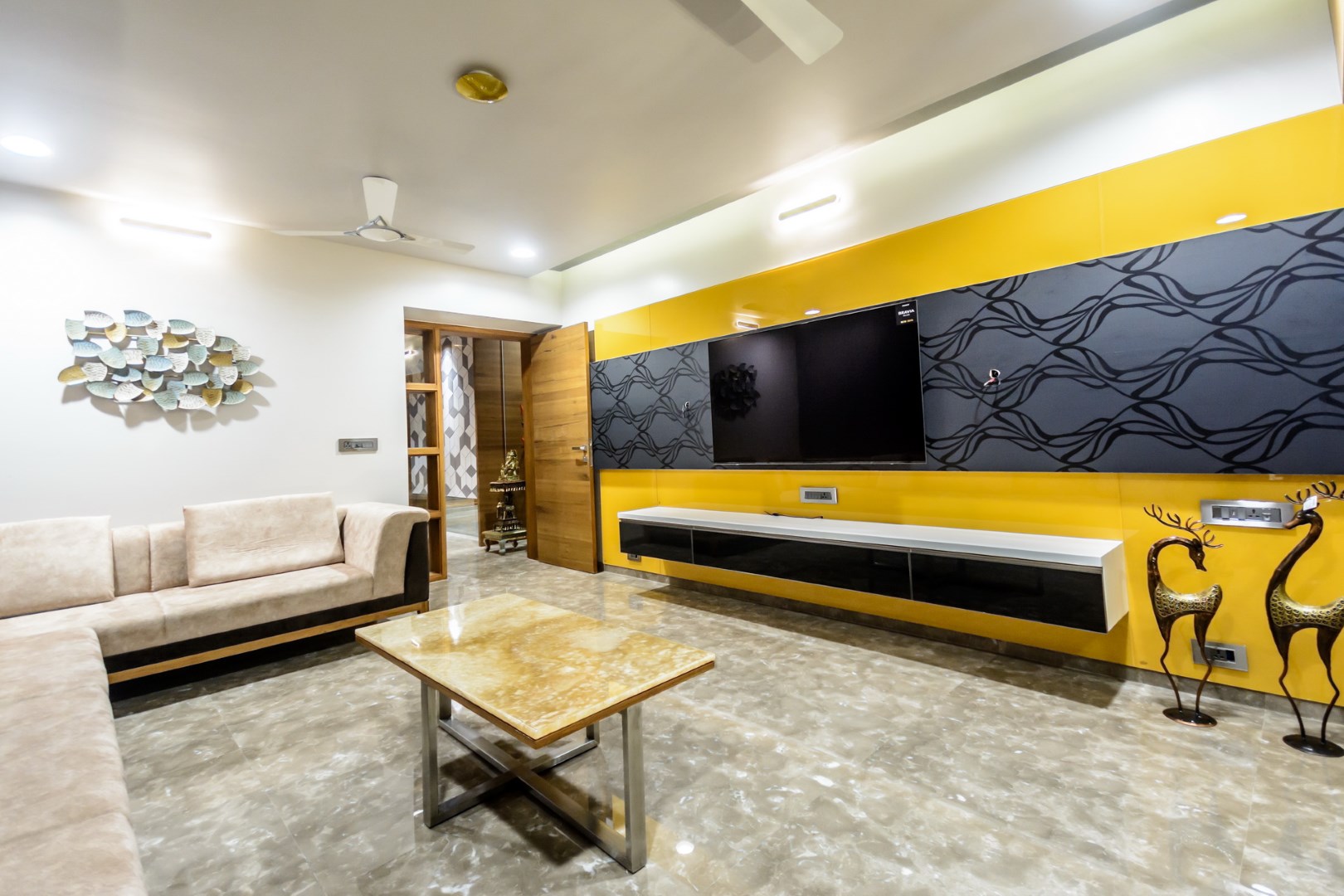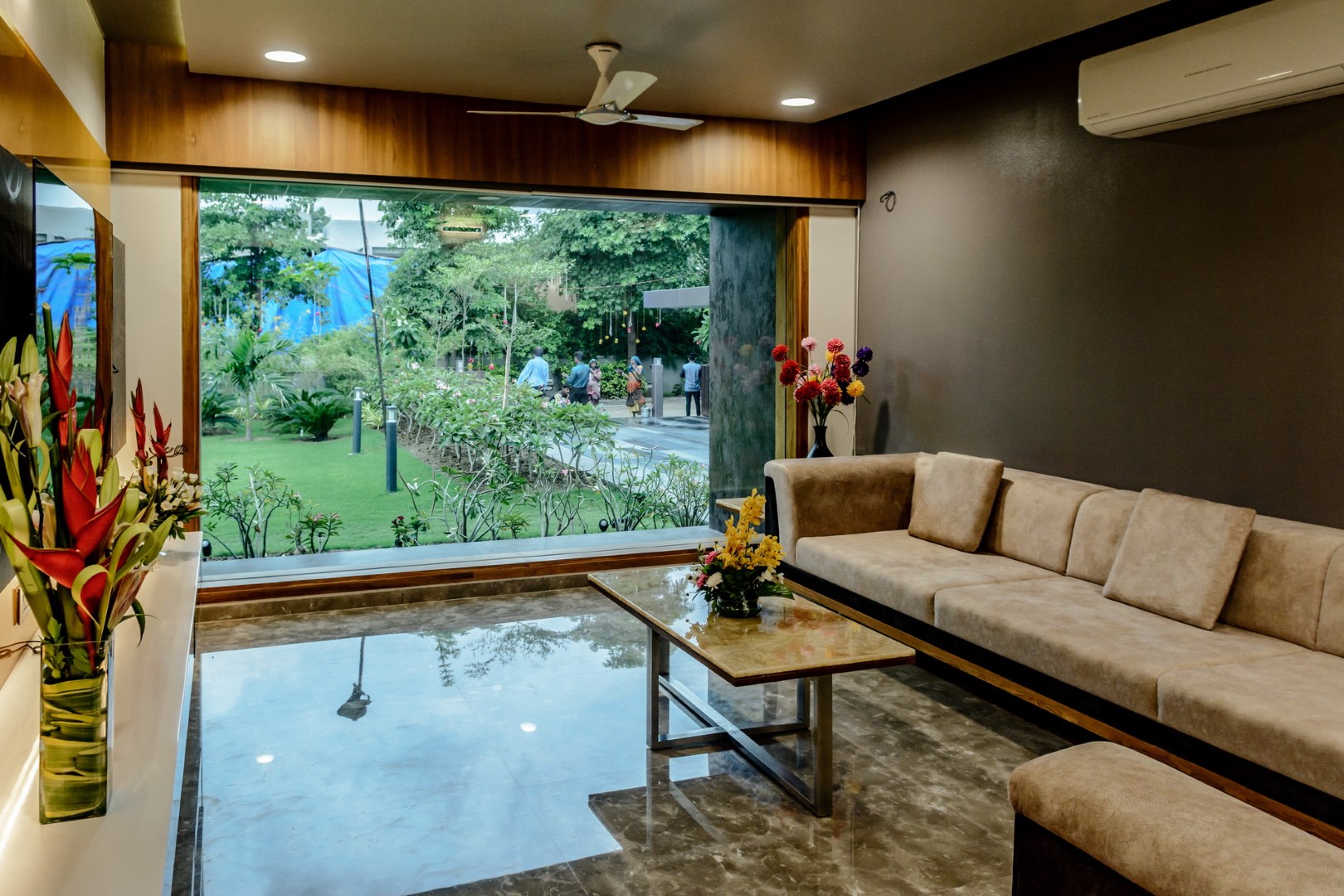 In the living room, for instance, a large glass opening allows for spaces to breathe amongst each other, uncluttered by any other elements except for clean wall paneling and dark grey walls. It is here that one can dream of relaxing, in plush comfort, on a pleasant Sunday evening! Being a family home, the dining area forms a very integral part of the residence, and is given due importance in terms of grade of finishes and forms.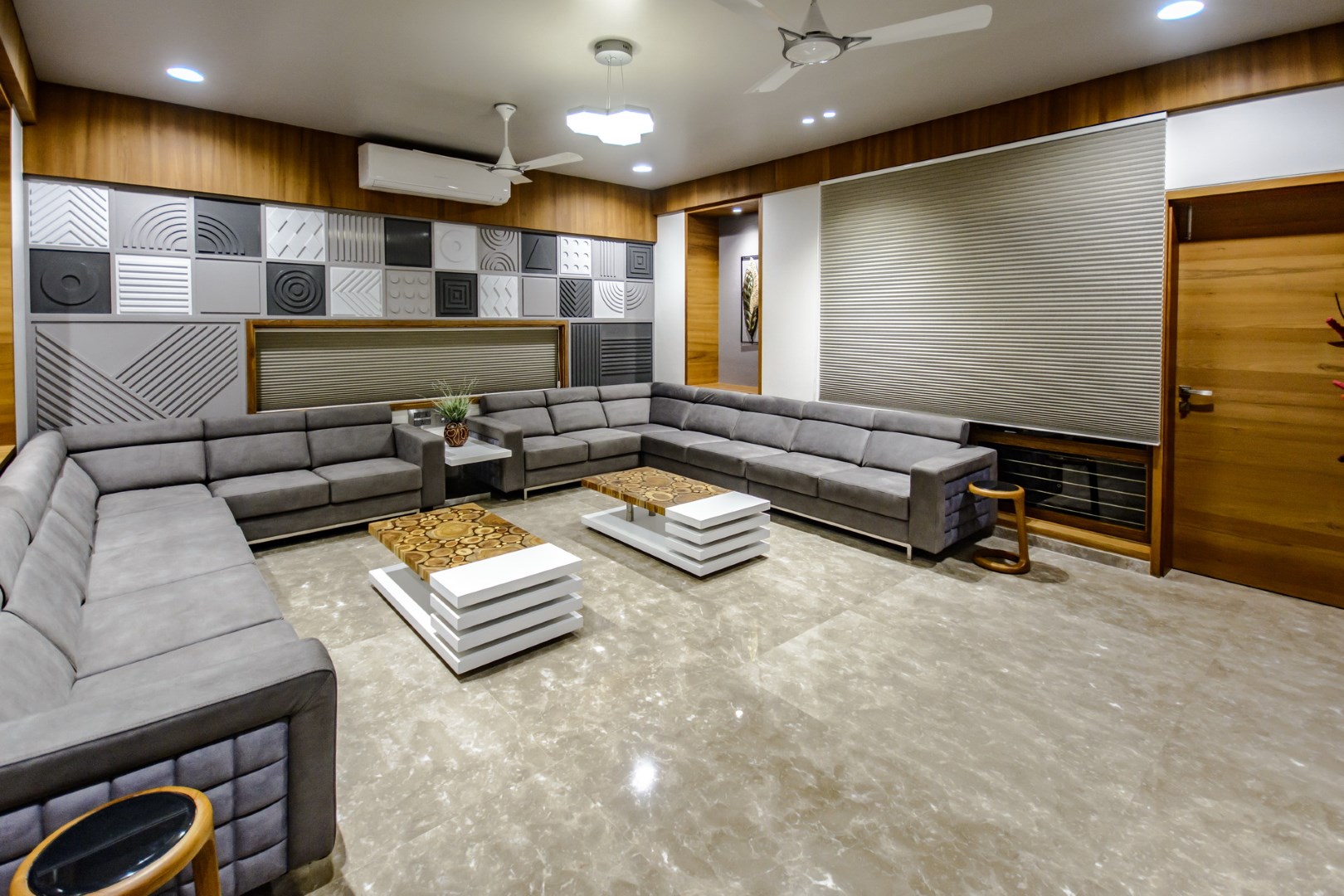 An affinity for glossy finishes is heightened through the dining table top, wherein wood is finished with transparent epoxy resin, standing on stainless steel legs. A large world map in metal is used to highlight this family area, where large gatherings are expected to take place.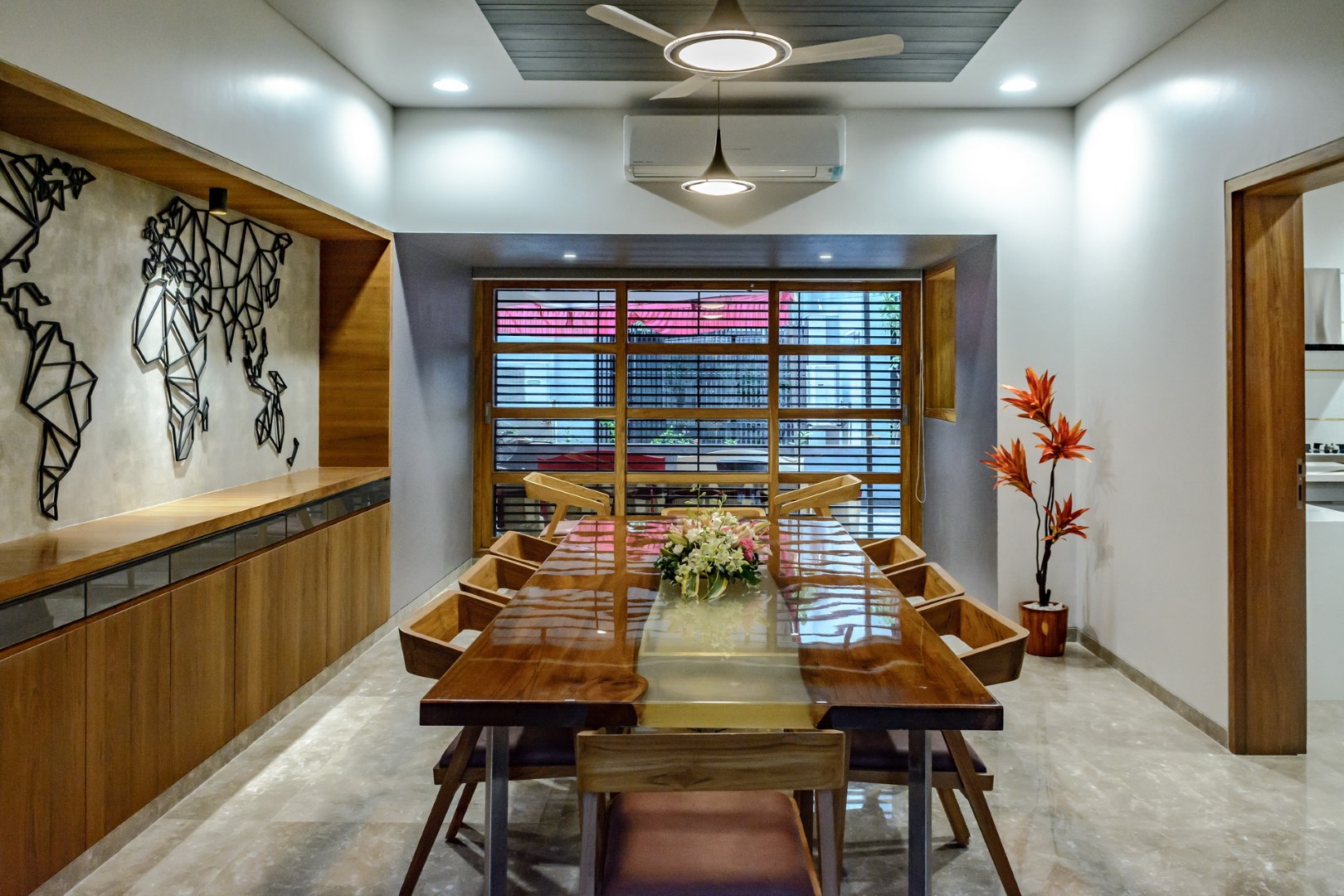 The idea of using metal wall-art is continued in many other spaces of the house, such as the parent's bedroom where a large metal clock hangs over a grey wall. Here too, glossy edges are matched with laminated in reds and browns, to further highlight polished wood tones.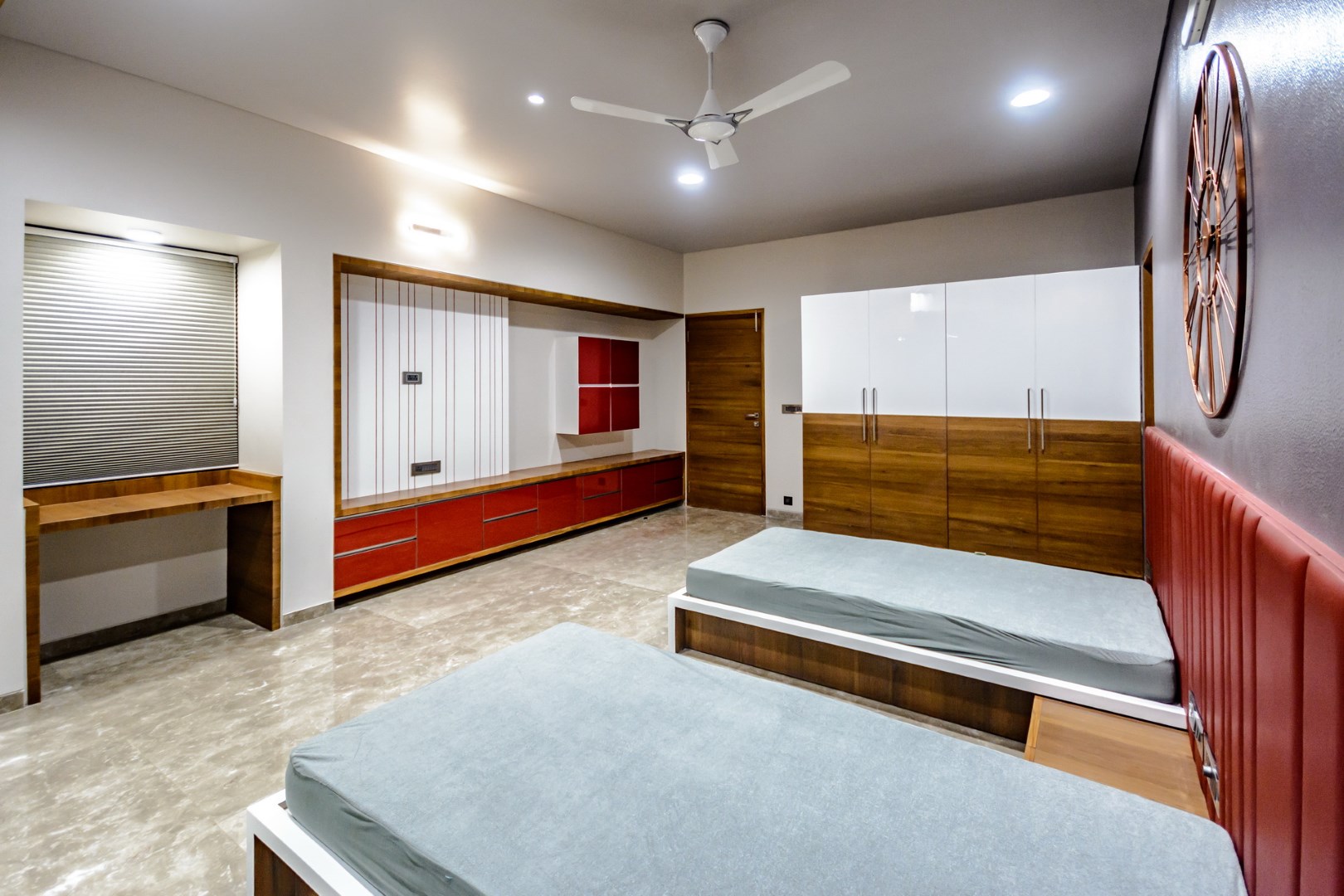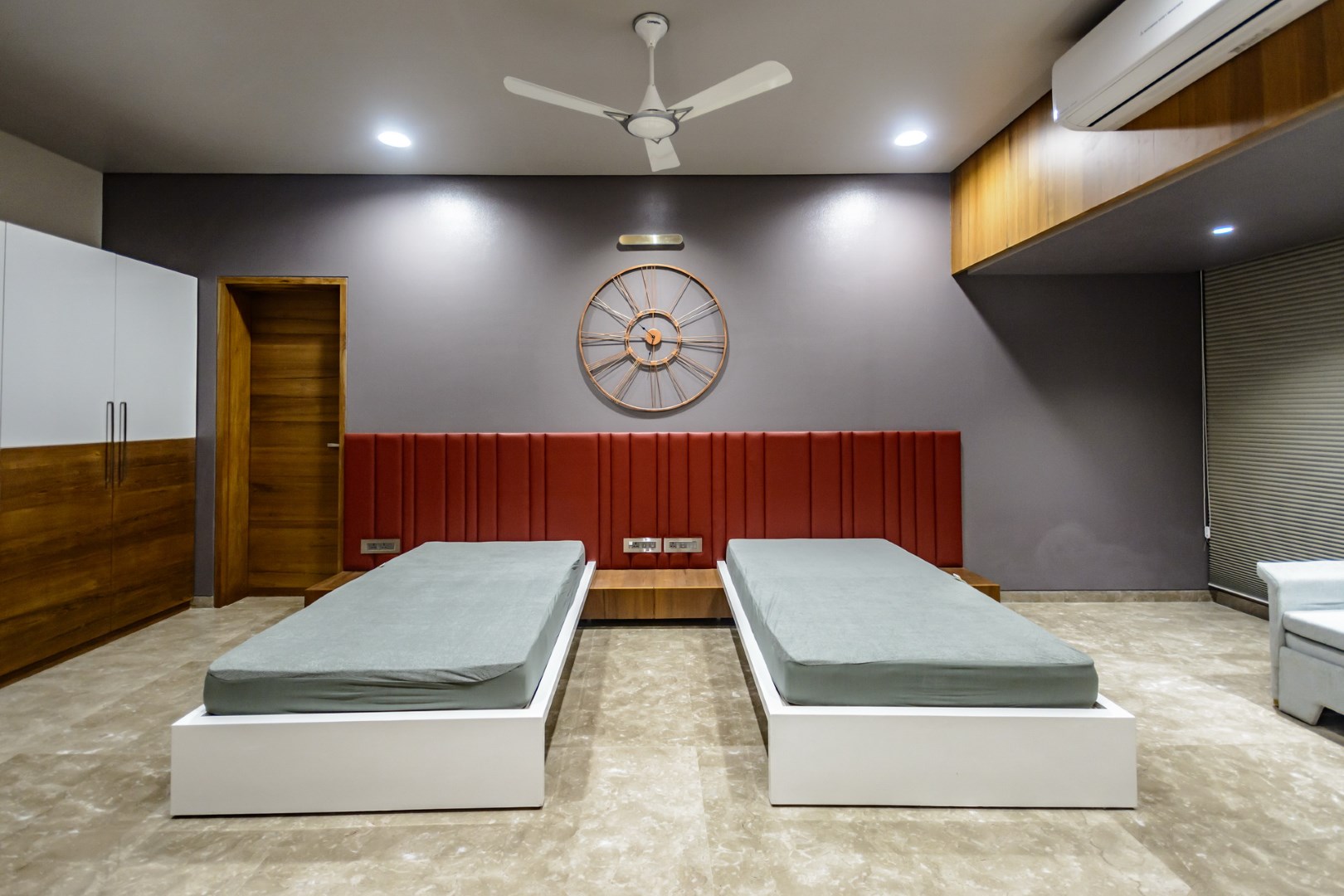 The striking feature that brings all these spaces together is the polished Italian marble flooring, that not just seamlessly combines the living areas but also acts as a sober backdrop for furniture and other eclectic elements.  Another communal space, the open kitchen in pure white is a simple and functional space.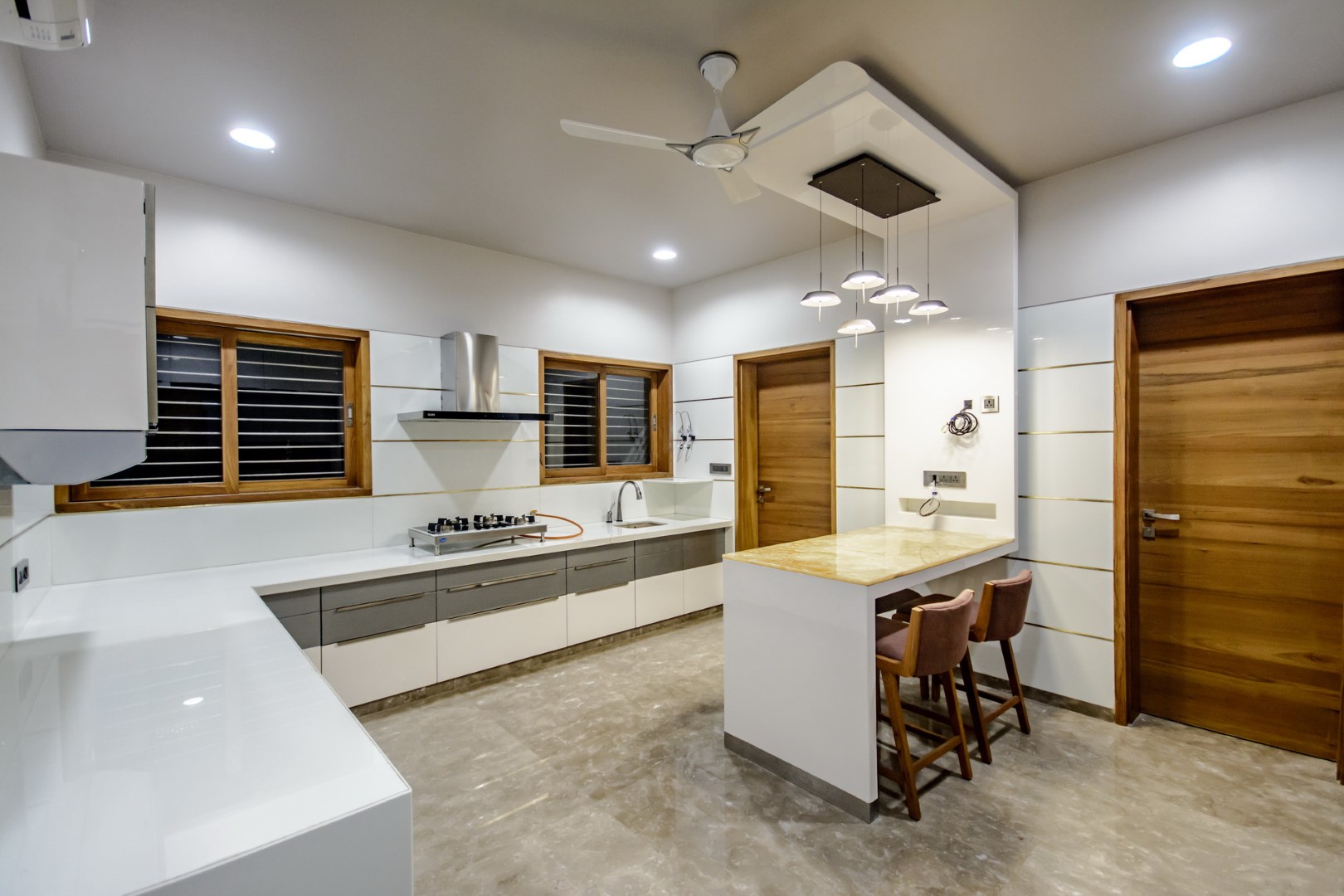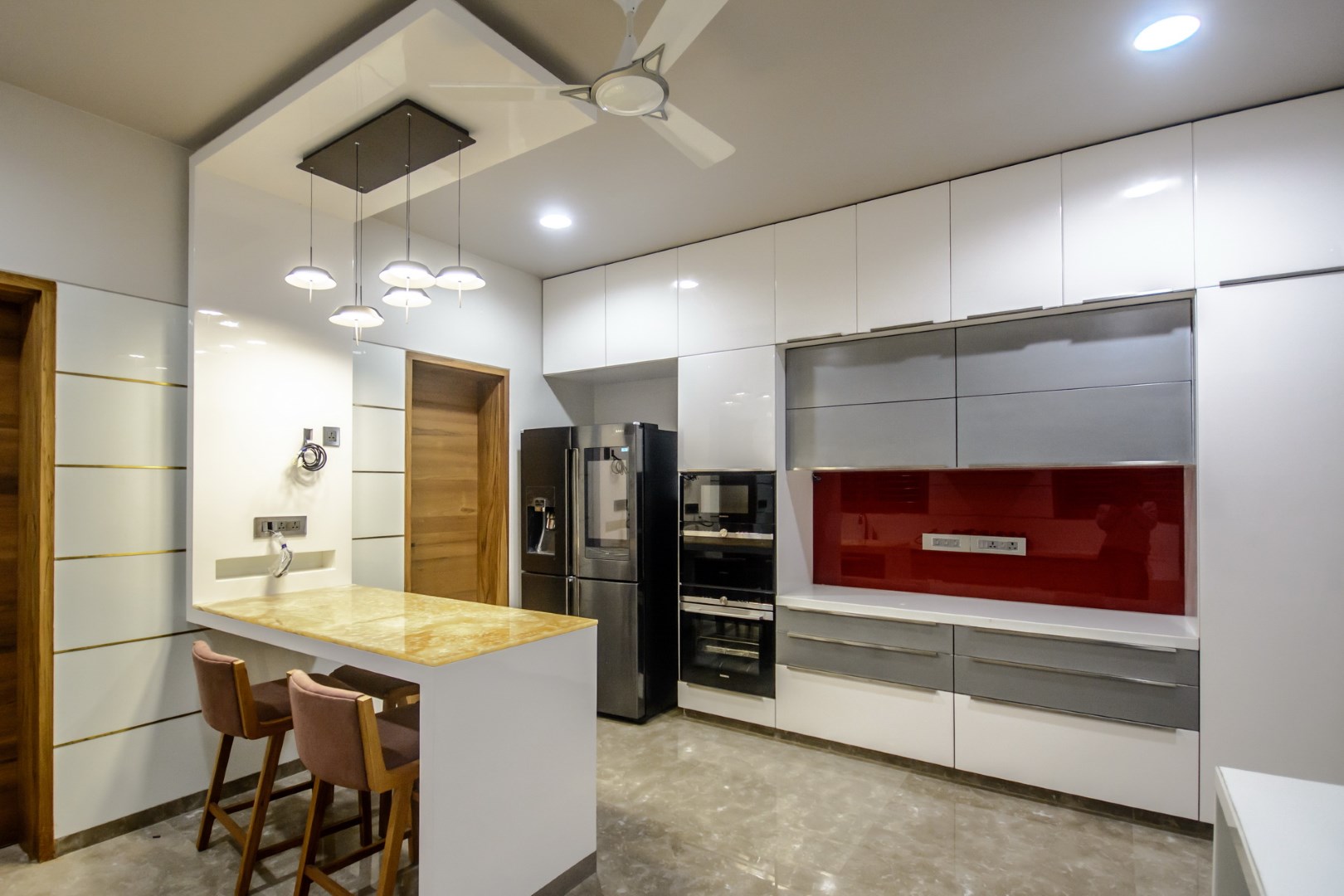 To cater to a variety of family members, a small breakfast table finished in stone forms an elegant addition to the kitchen. Similarly, a place for worship and contemplation, the temple is screened through a delicate wooden and brass jali.
The spaces on the top floor, including the family lounge area are a bit more relaxed and fun. They combine monochromatic panels with patterns ,back painted glass  and horizontal screens where required. The lobby too has a rotated grid-shelf for books, curios and showpieces, and light lime colored seating for a comfortable reading experience.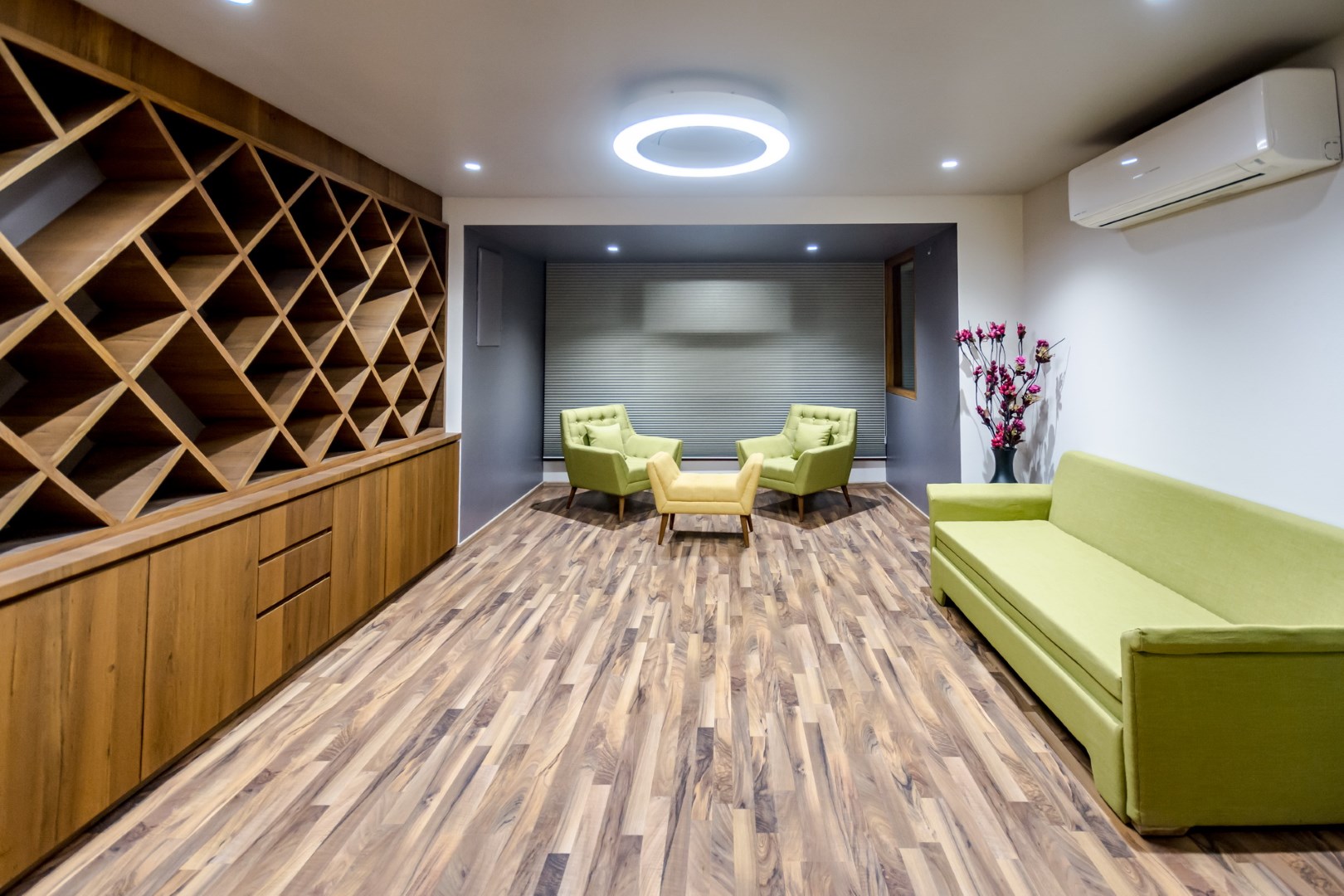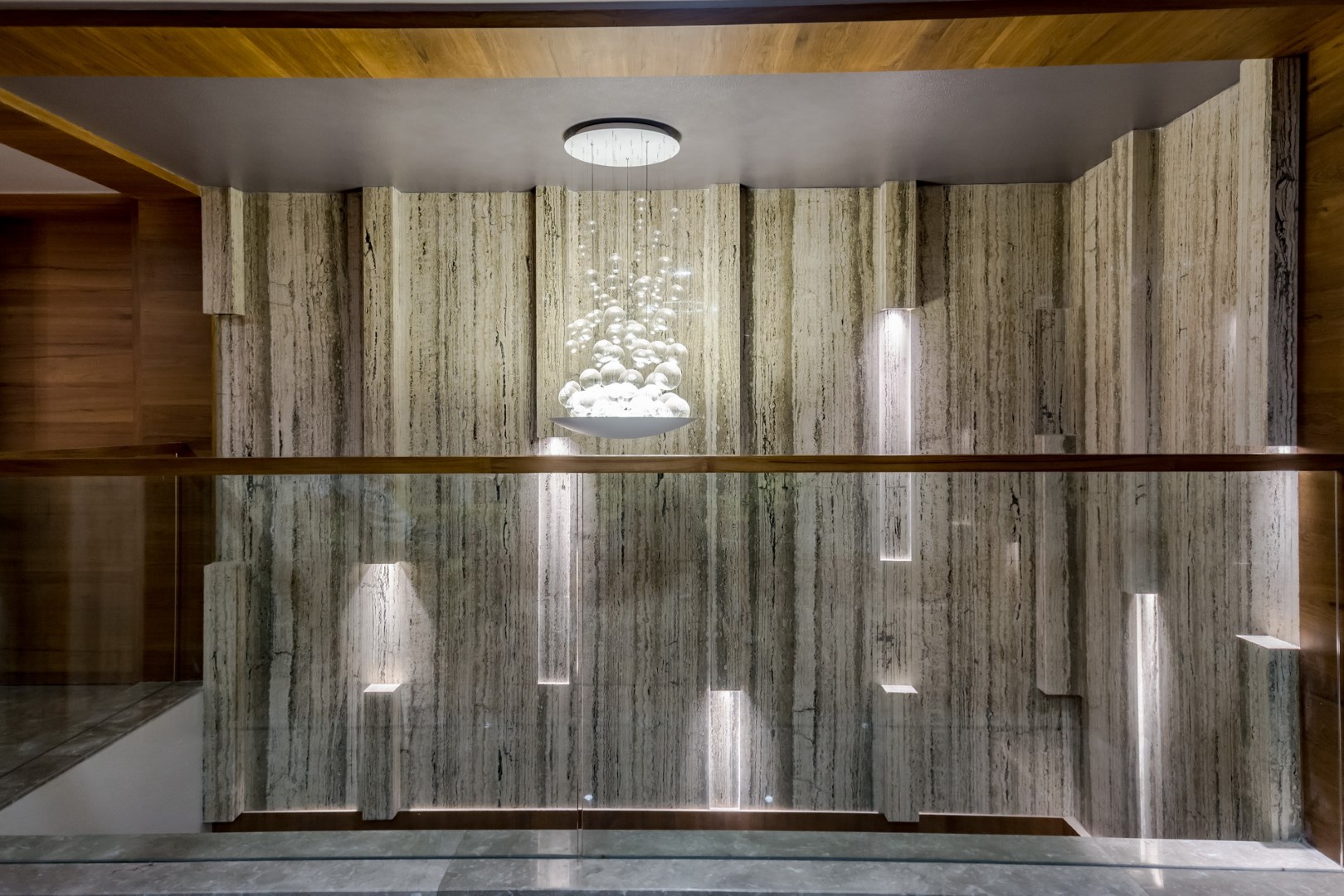 Perhaps the most extravagant element on the floor is the marble cladded wall element, accentuated amazingly by a hanging chandelier. This wave of design ideas reaches a zenith in the bedrooms, where various surfaces are cladded , embellished and detailed. Extensive use of back-painted glass, framed by lighting ,and various veneers. The son's bedroom is edgy, with angles and varying levels, while the daughters bedroom is more elegant and subtle, both with enough storage and study space.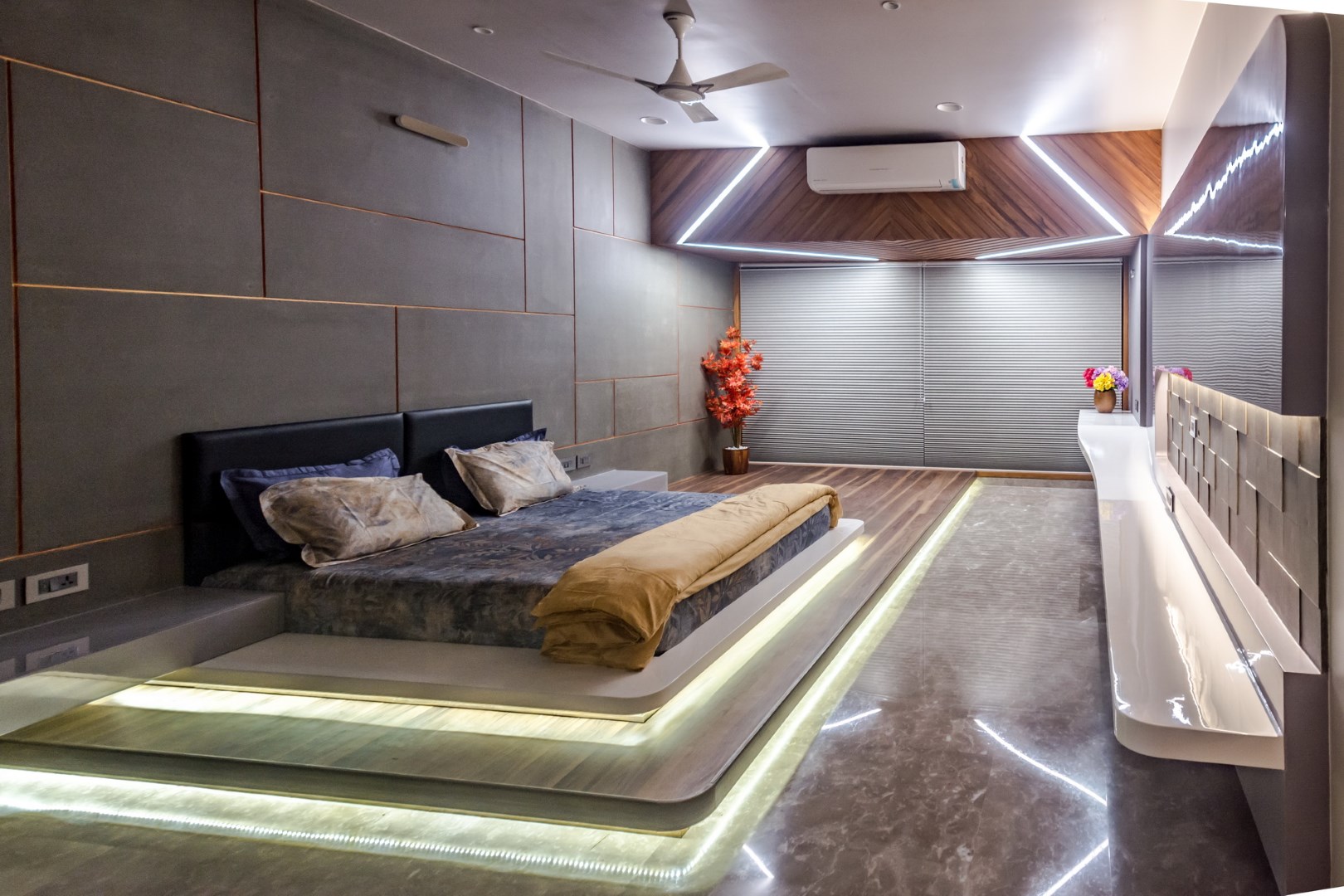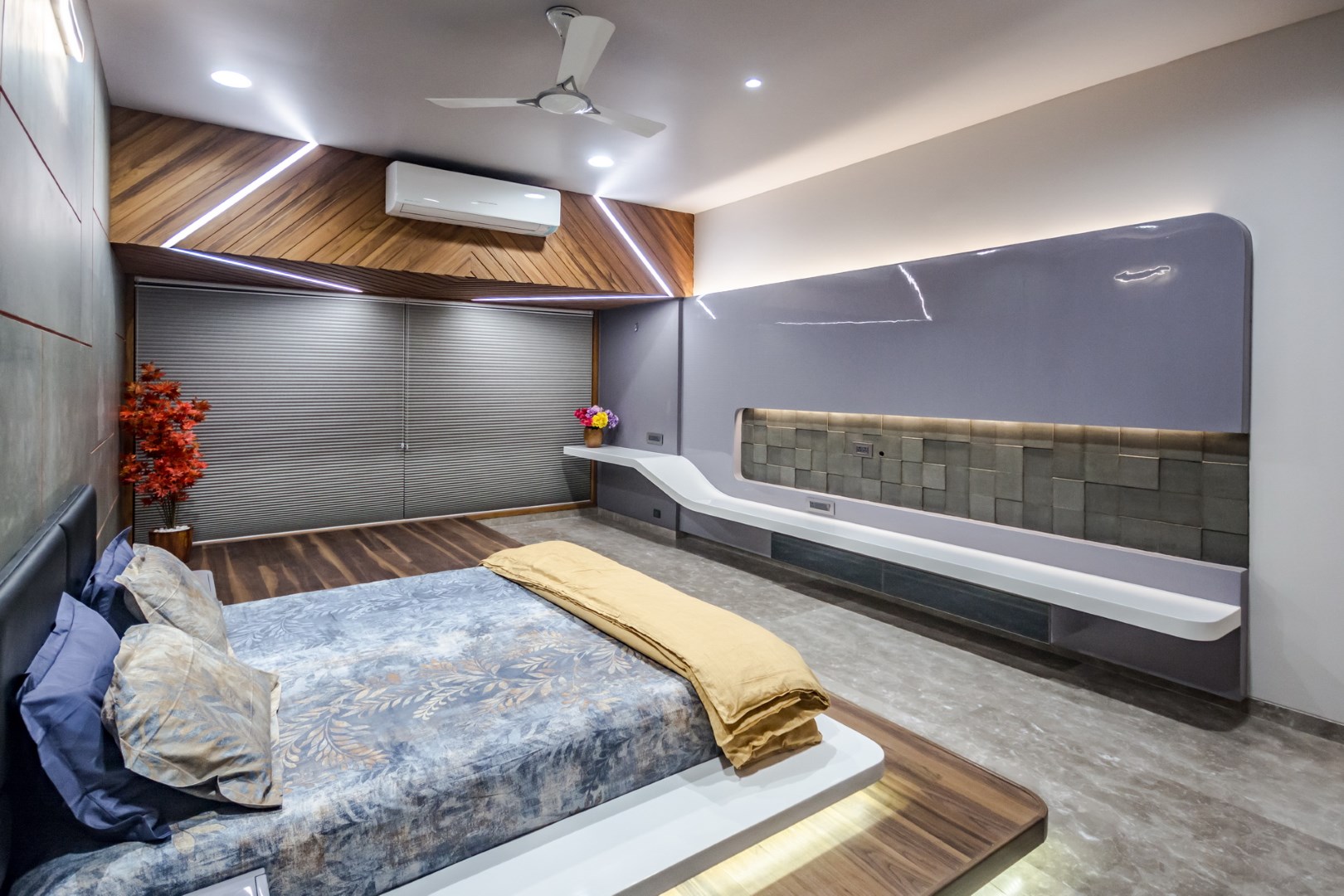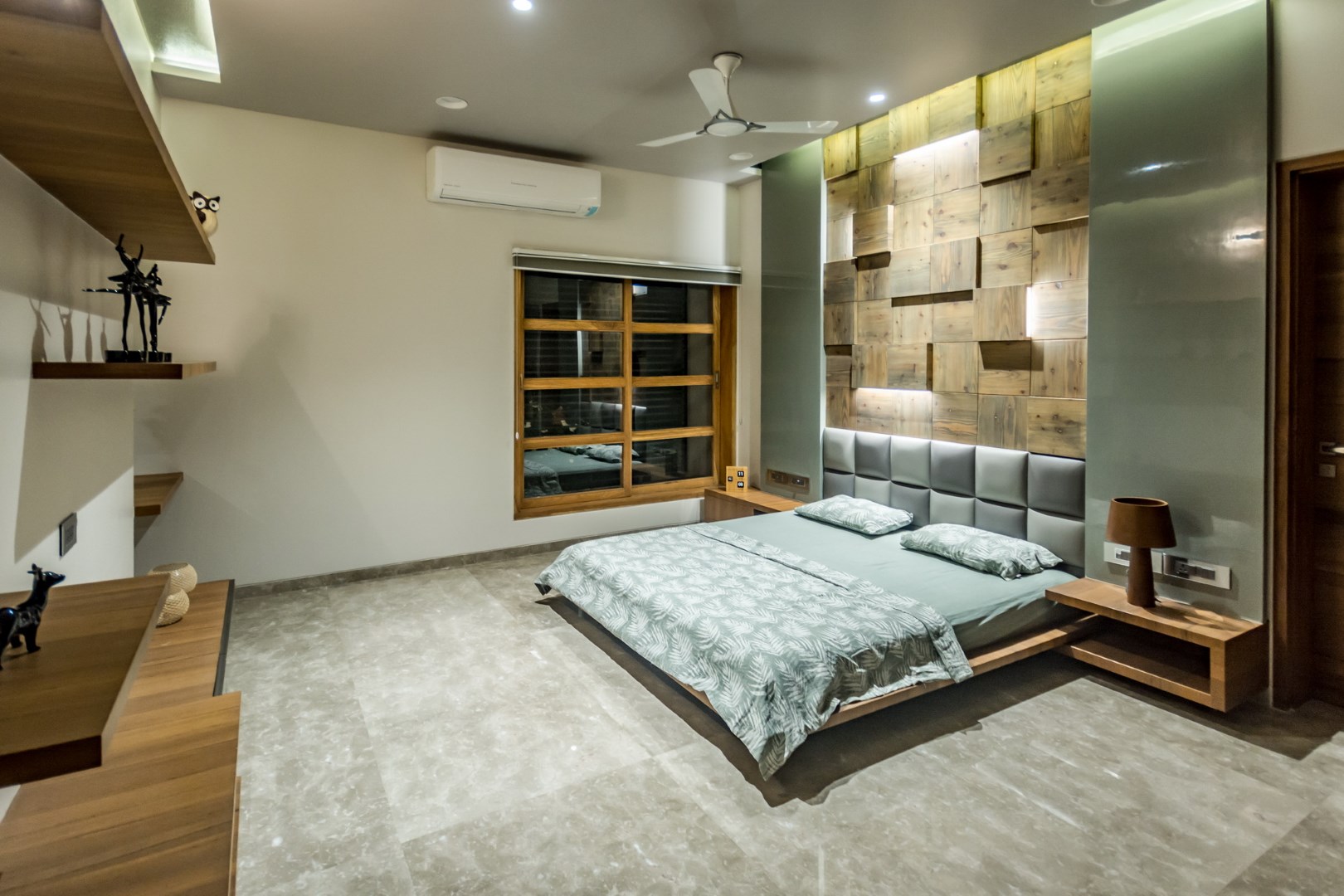 The master bedroom is spacious with a lofty bed, and wooden paneling around the ceiling. All these spaces come together with common use of flooring and finishing materials, and of course, a lot of attention to detail!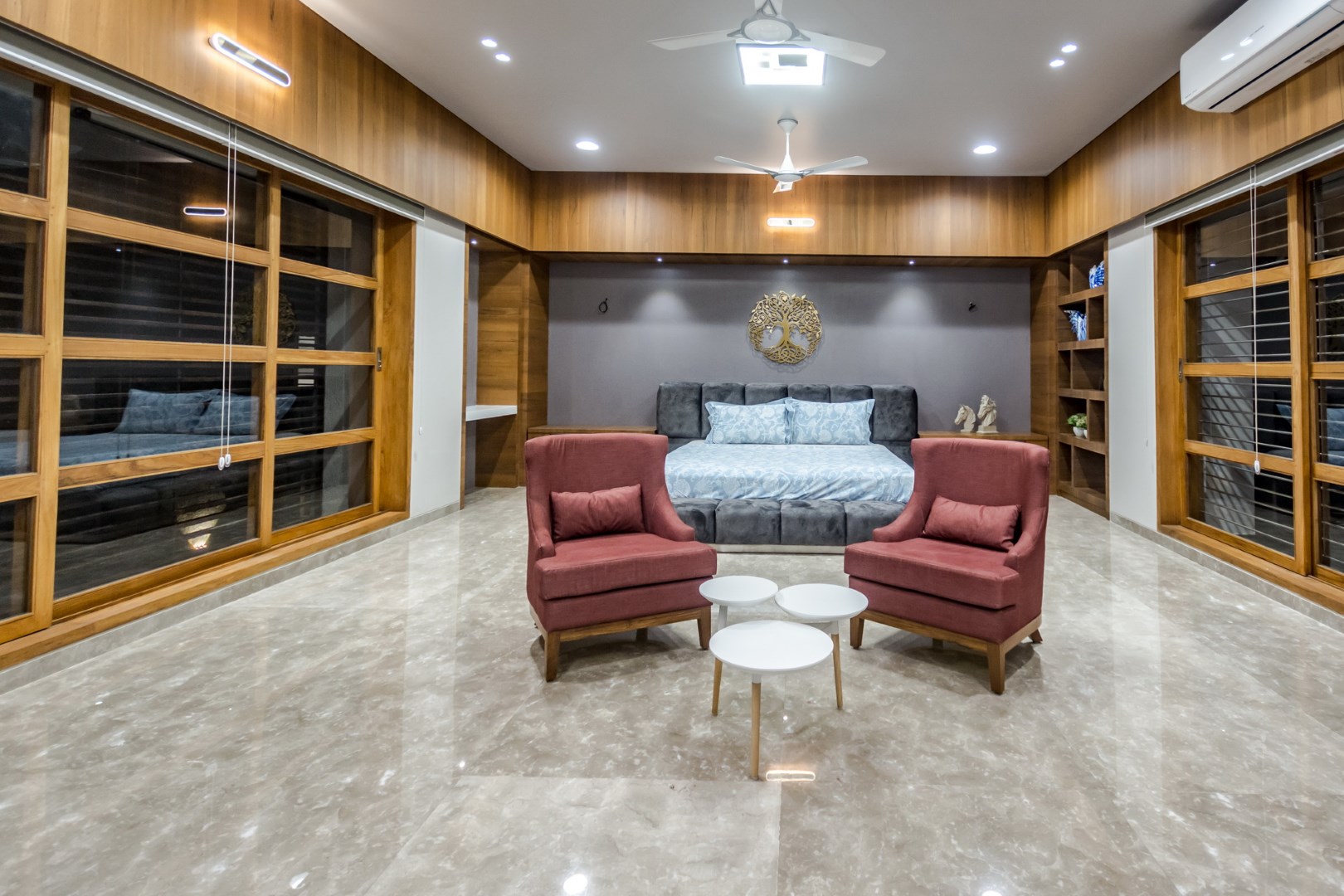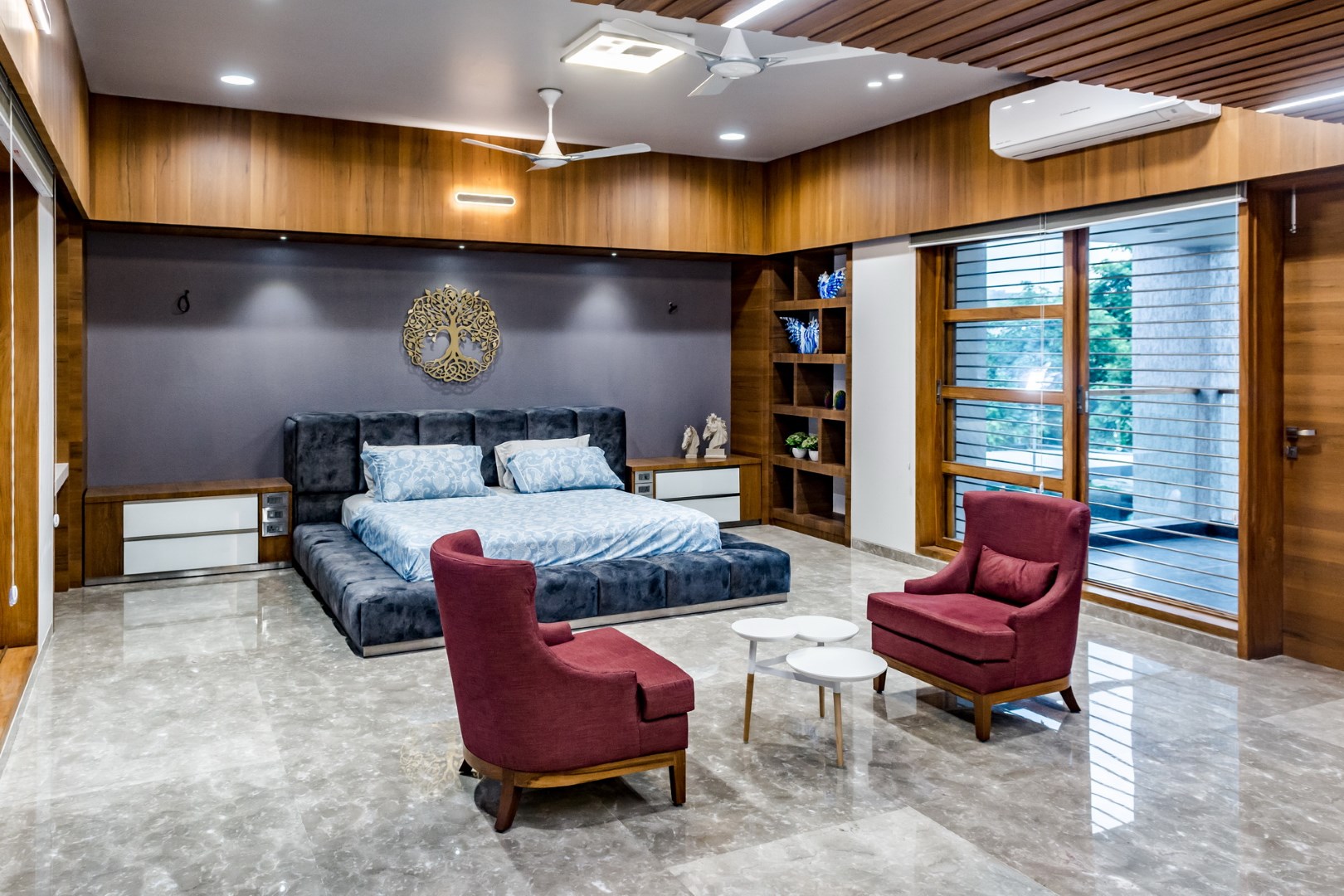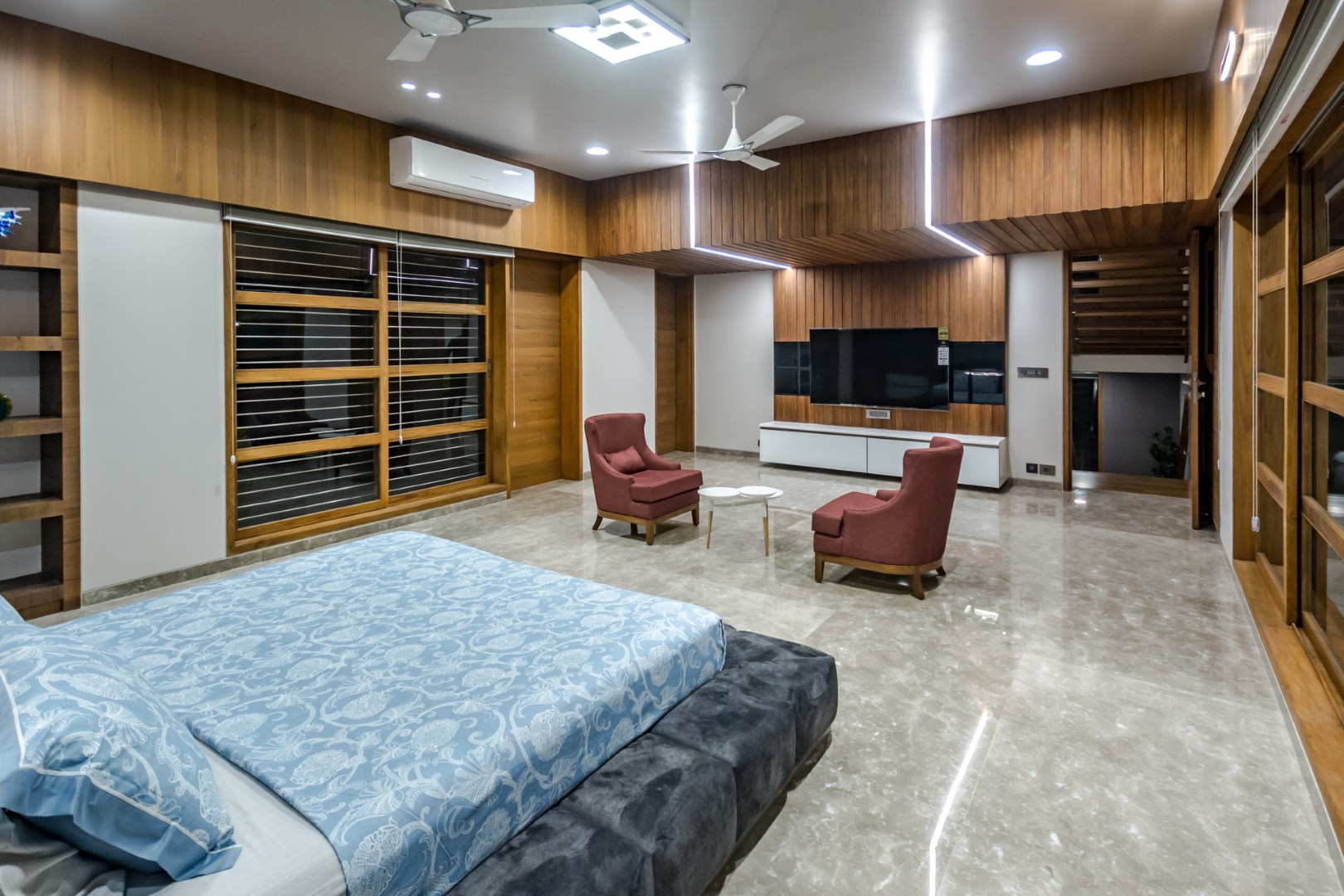 FACT FILE:
Architectural Firm :DND Architects
Principal architect: Hardik Ghelani
area built-up : 650sq.mt
Text Credits: Niharika Joshi