&nbsp
Designing Cake Palace that is an eclectic mélange of antiquity and modernity, a 35 year-old bakery was our very first project in the F&B industry. As a growing firm we are always keen to experiment and explore in terms of designing and playing with materials. Hence, one can take notice of details and interplay of materials in this space.
Eclectic Mélange of Antiquity and Modernity | Behold Design Studio
Visit: Behold Design Studio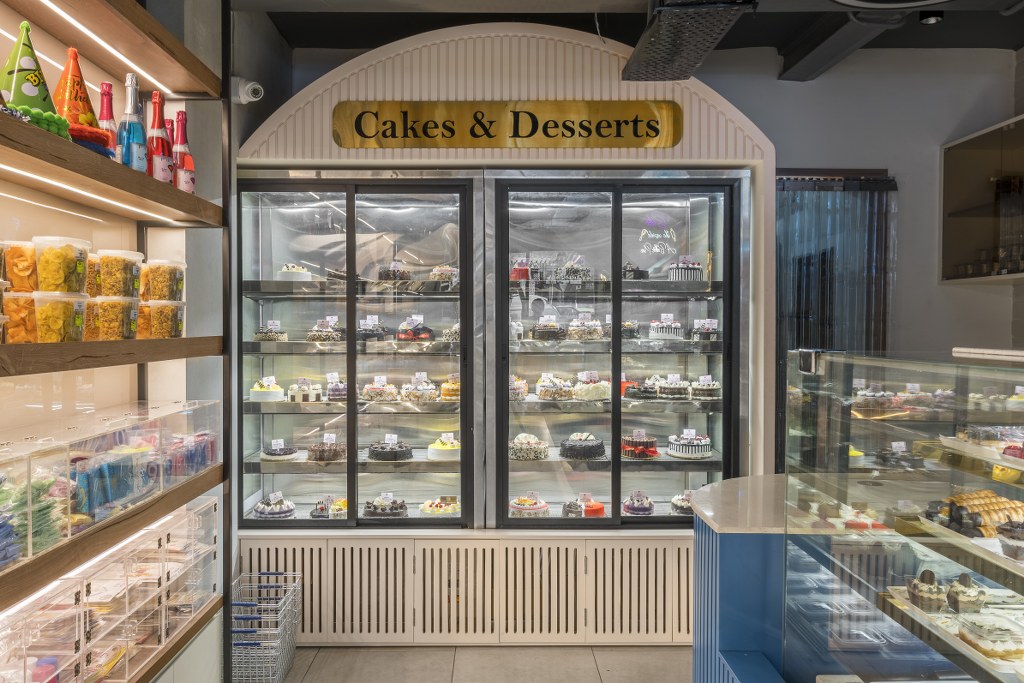 Amar Colony Market is a bustling market with all types of small shops/bakeries/cafés and with people flocking in for street food. Cake Palace, a bakery already been there for 6 years relocated to a bigger space and wanted to create a lasting impact on their customers through the interiors of the space in such a market.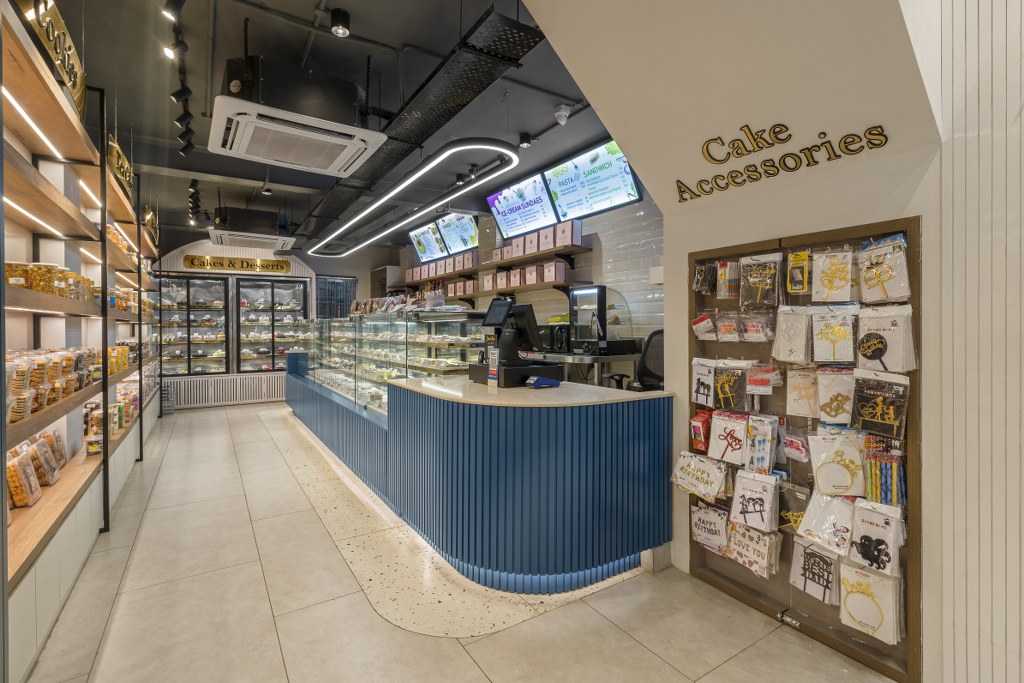 The intent vs impact concept turned out on point where the value of the product got greatly enhanced by the fine-spun of colours and materials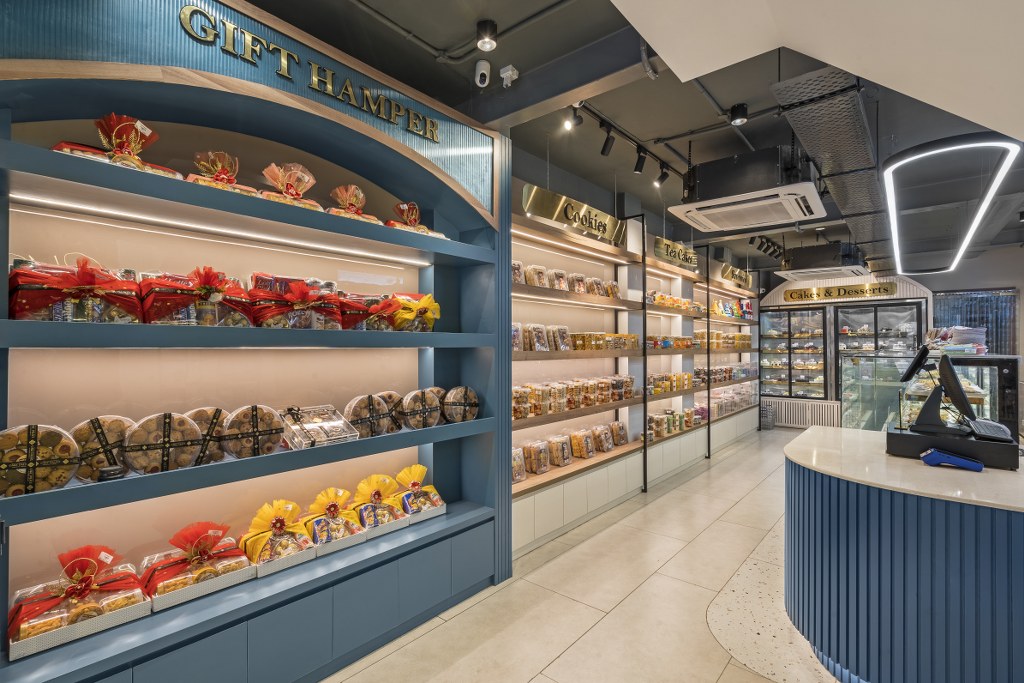 Through our research, we found out a loophole that many bakeries don't create a Front of House (FOH); which is a key element for any retail to attract customers. We took this loophole to our advantage, making it the focus of the space. We created a changeable structure for them, where one can showcase their new ideas for cakes with different themes and concepts.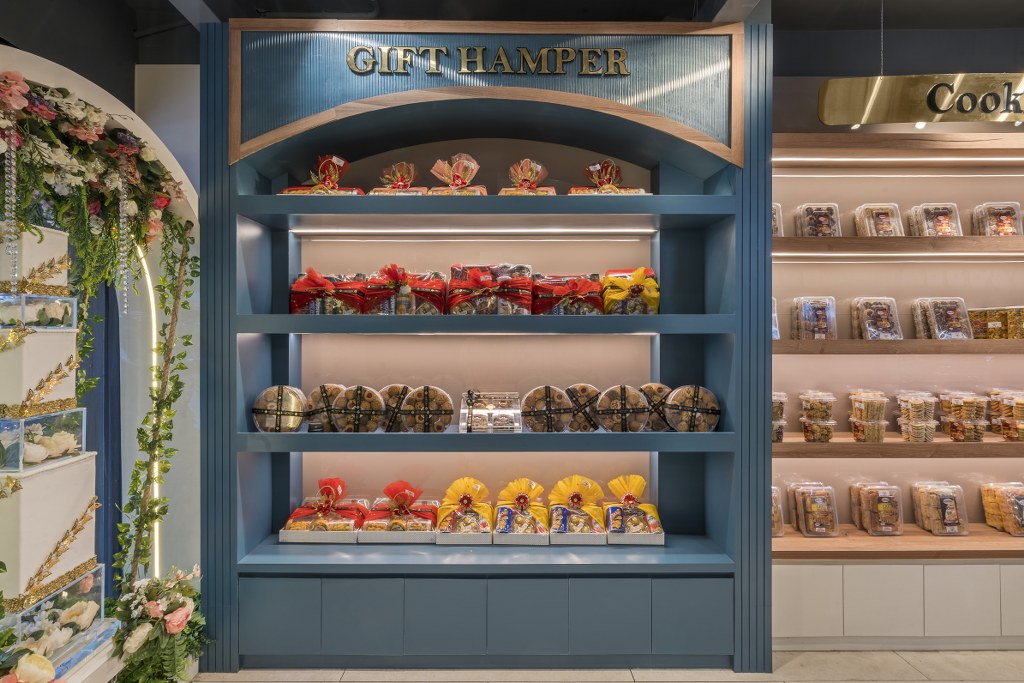 We highlighted their 'Gift Hamper Section' as well as the main cash/display counter by playing with form, materials and color. The synchronization of this; created the first impression on the customer's mindset as soon as they enter the space.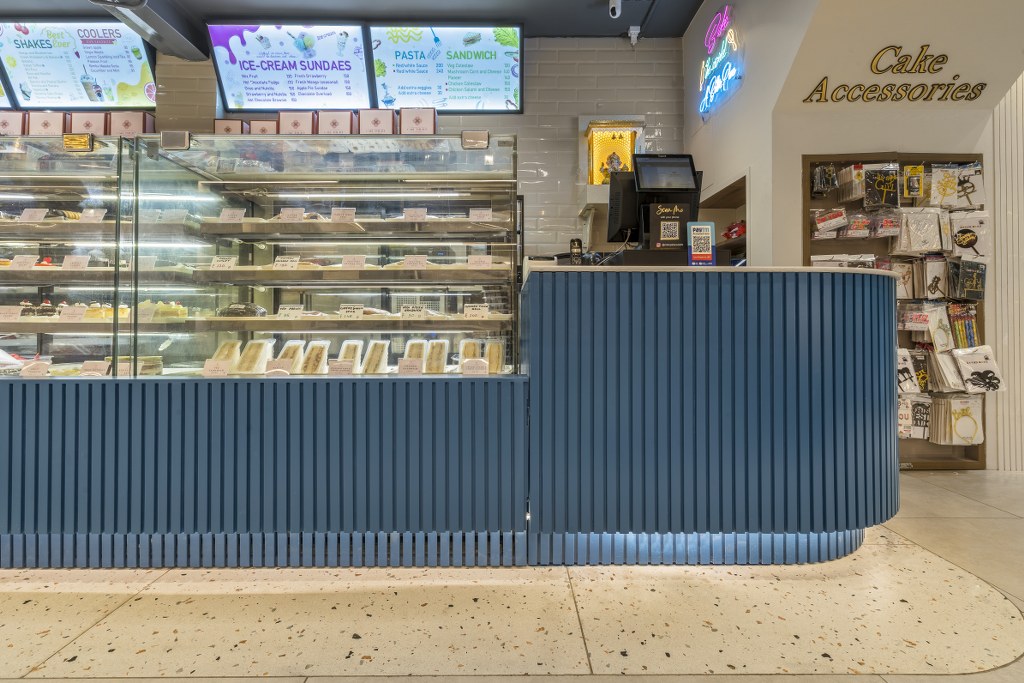 The challenges faced were very few but in order to retain the look of 3d, we had to design the display/cash counter tactfully. What started as a one piece unit, due to technical hindrances ended up in a 3 part moveable unit.
In all, the project delivery went smoothly, and we are proud to deliver what we committed.
Together with the client, we brought modernity and quirkiness through different design elements. The ceiling was kept raw and open to highlight the aesthetics of light fixtures. We used all scales of lumens ranging from 3K – 6500k and fixtures like under shelf profile lighting, track lights bulk heads and hanging profile light. The idea was to keep focus on the products through play of lighting.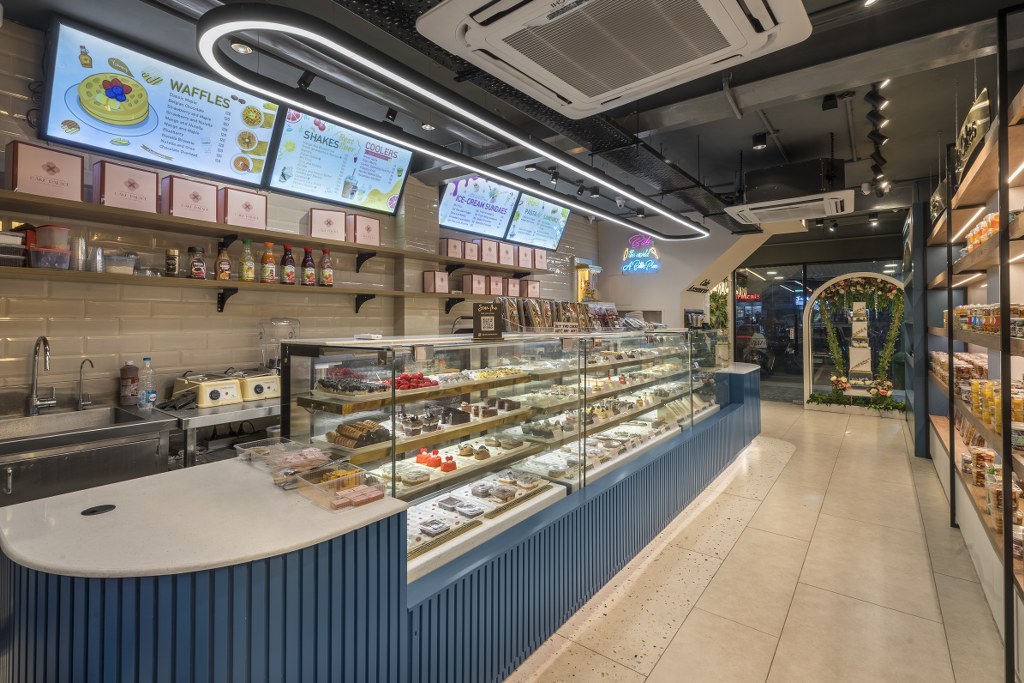 Each wall was treated differently depending upon the type of product. Gloss subway tiles were used in the service part of the bakery behind the display counter, keeping it minimalistic and clean. Wooden laminate was used for shelves to add a classical touch to a traditional turned modern bakery. The back of the shelves was highlighted by using subtle color acrylic, making the space look bigger and adding volume in terms of visibility.
Color Palette:
Fact File
Designed by: Behold Design Studio
Project Name: Cake Palace
Project Type: Retail Interior Design
Location: New Delhi
Year Built: 2022
Plot Area: 800 Sq.ft
Project Size: 600 Sq.ft
Duration of the project: 1.5 Months
Project Cost Appx: 14 Lac
Principal Architect: Livancy Makhijani Malani
Team Design Credits: Lalit Rawat
Photograph Courtesy: Tarang Goyal
Consultants for the Project
MEP & HVAC Consultants: Airplus
Contractors: Lalit Rawat
Products & Materials: Finishes: Ply and Décor | Wallcovering / Cladding: Ply and Décor | Construction Materials: Jagdamba Trader | Lighting: Divinity | Doors and Partitions: Glass door, Balaji Trader | Sanitary ware: Jawa Sanitary and Hardware | Facade Systems: Alstone | Flooring: Karishma Tiles | Kitchen: Quality Kitchen Equipment, Ananya Kitchen Equipment | Paint: Asian, Burger (pu) | Wallpaper: Ply and Décor | Hardware: Hettich, Cnc Hardware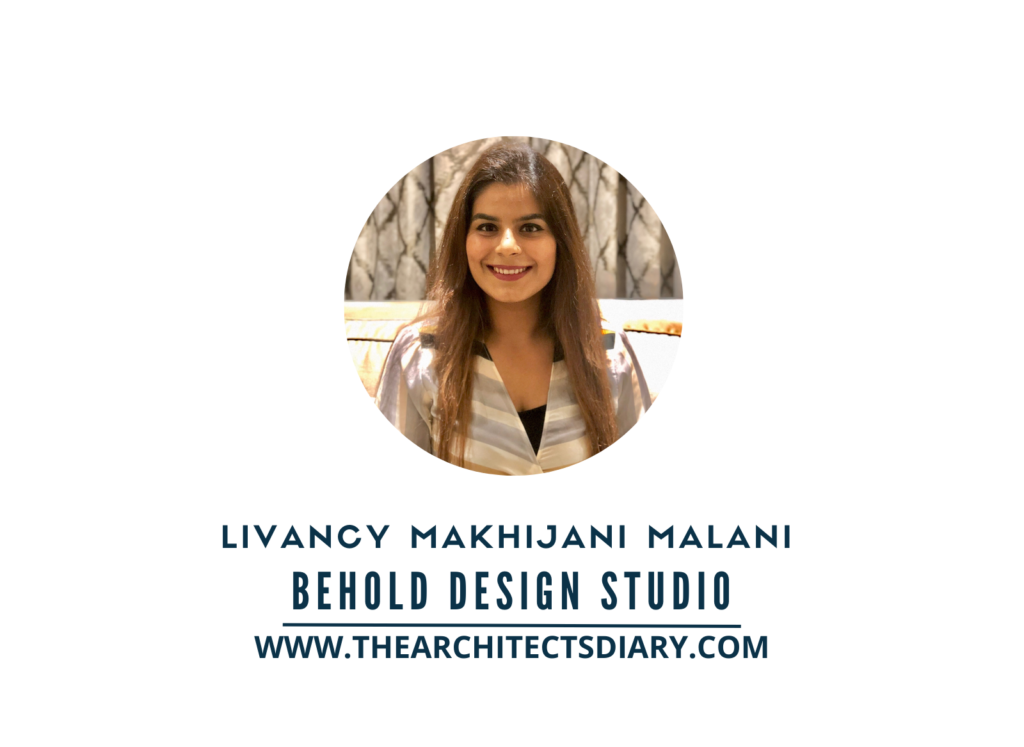 Firm's Instagram Link: Behold Design Studio
Firm's Facebook Link: Behold Design Studio
For Similar Project>>>Modern Home Exhibiting Warm and Earthy Palette