&nbsp
Apartment With Apt Use Of Materials And Color Scheme| AND Architects
Our approach towards the design was an intent to calibrate clients' brief with our mediation of planning and designing spaces having an individual identity and yet fall in the similar fabric of minimalism, modern styles, and contemporary living.
Visit: AND Architects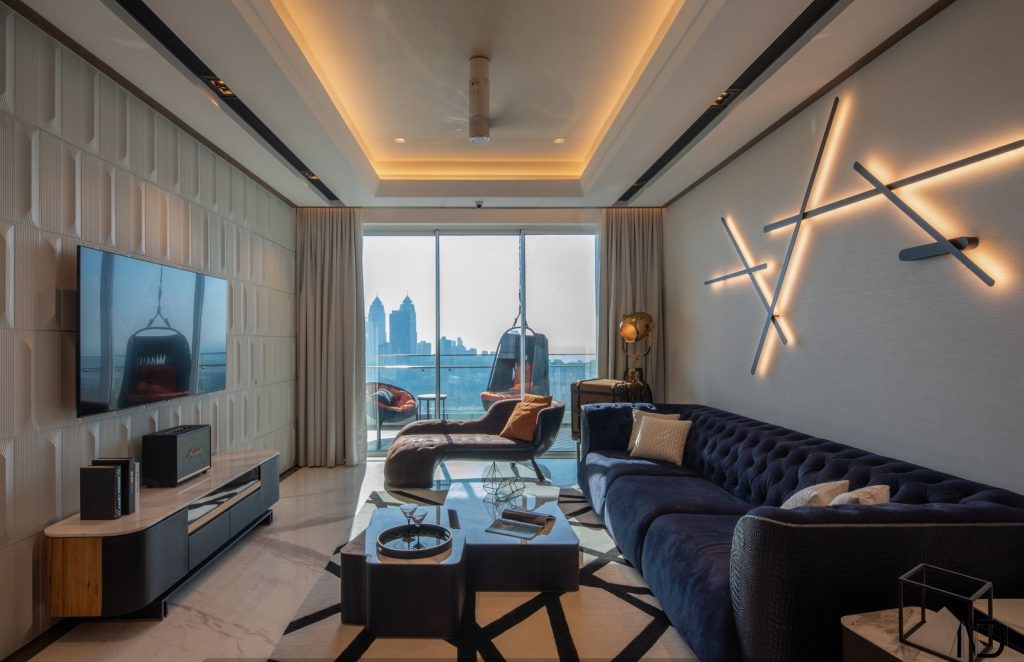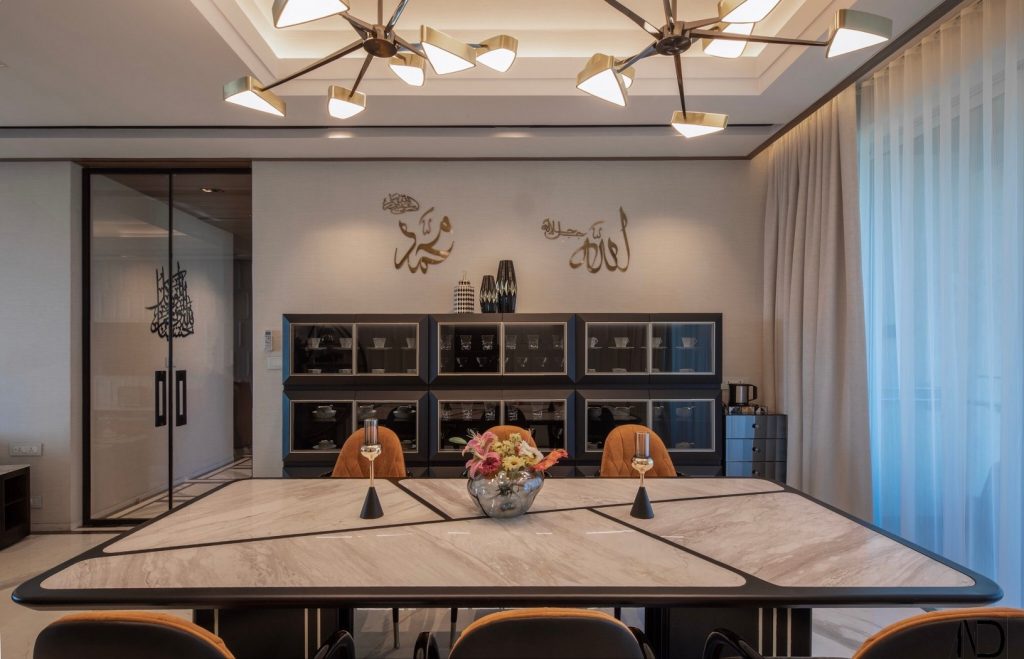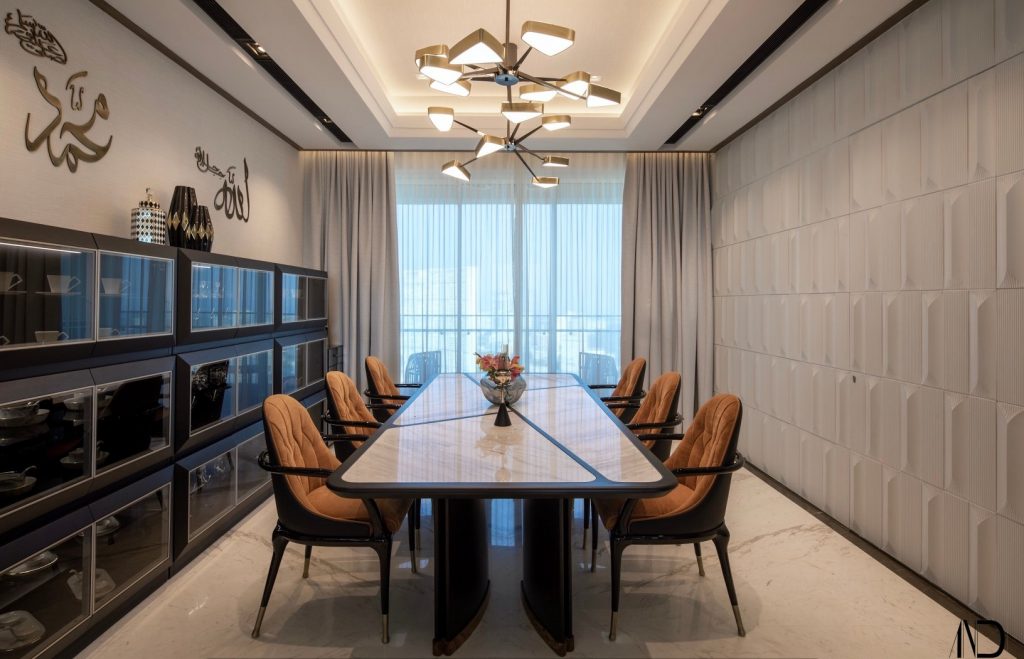 The common areas of hallway and living room are so planned and detailed to have invisible doors and hidden pockets as storage areas and trap doors all camouflaging together as wooden panels on walls and ceiling giving minimalistic look. The floor pattern and the surrounding wooden paneling play up to make the space more appealing and alluring. All the more, the monotony of the passage gets interestingly hurdled with a marble cladded niche and reflective mirrored surfaces.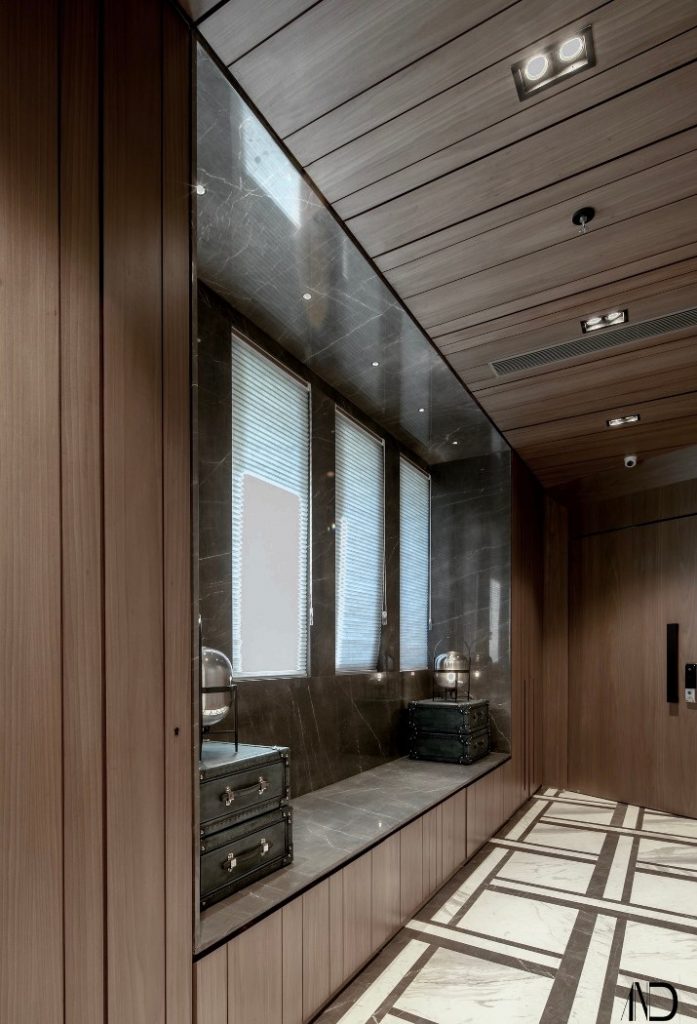 A duet of an enormous royal blue sofa and a quirky TV console gets accentuated by the surrounding opus of affluent materials to make the living space. A sense of true supremacy is hurled by the dining space with its textured and paneled walls augmented with metallic lettering and enchanting chandelier to steal the show.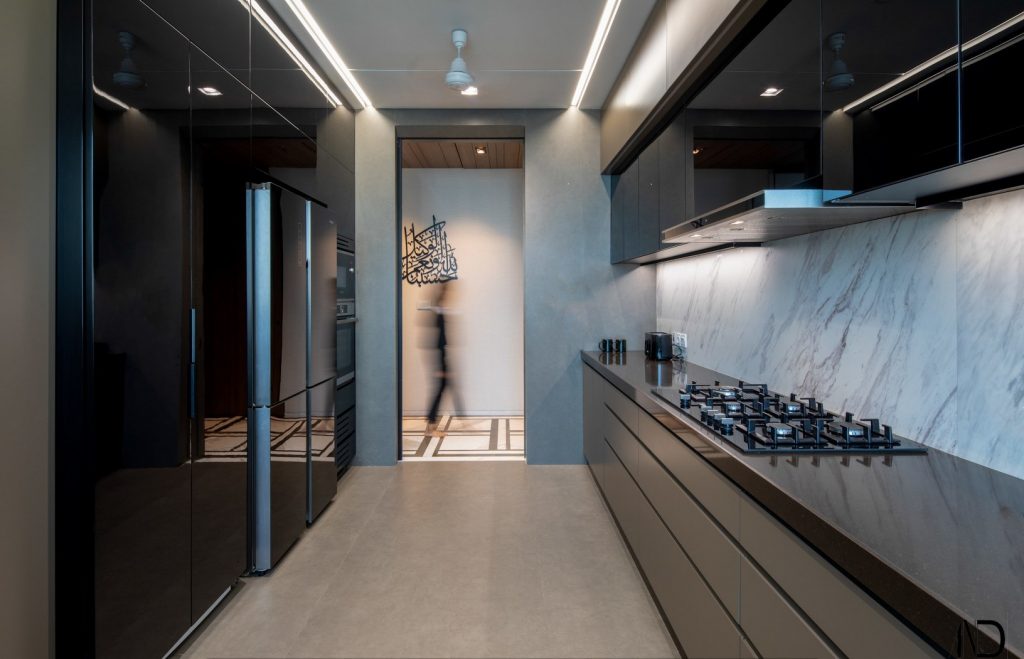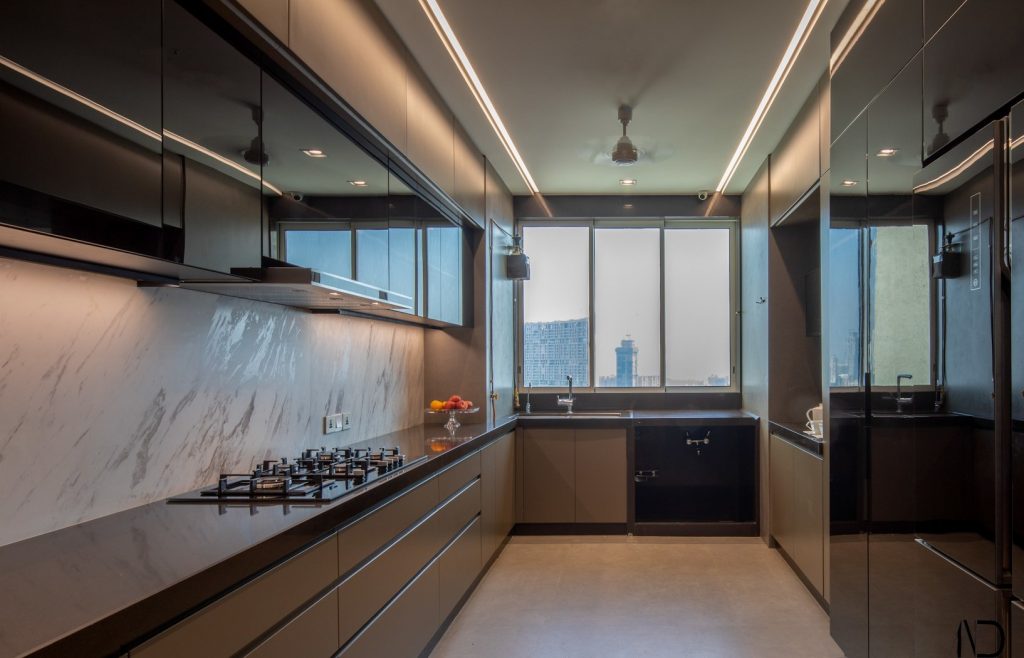 An apt use of materials and color scheme plays a vital role in enhancing the quality of spaces. The kitchen here is designed to exemplify modern characteristics with its sober flooring, reflective surfaces, and sleek finish thus attaining neatness in its design approach.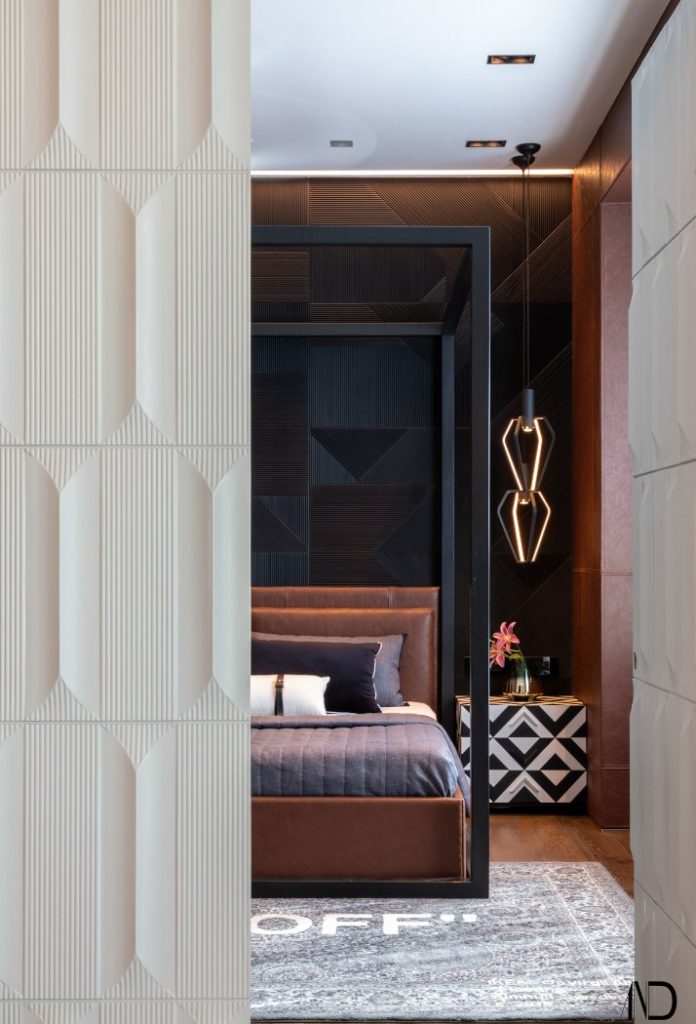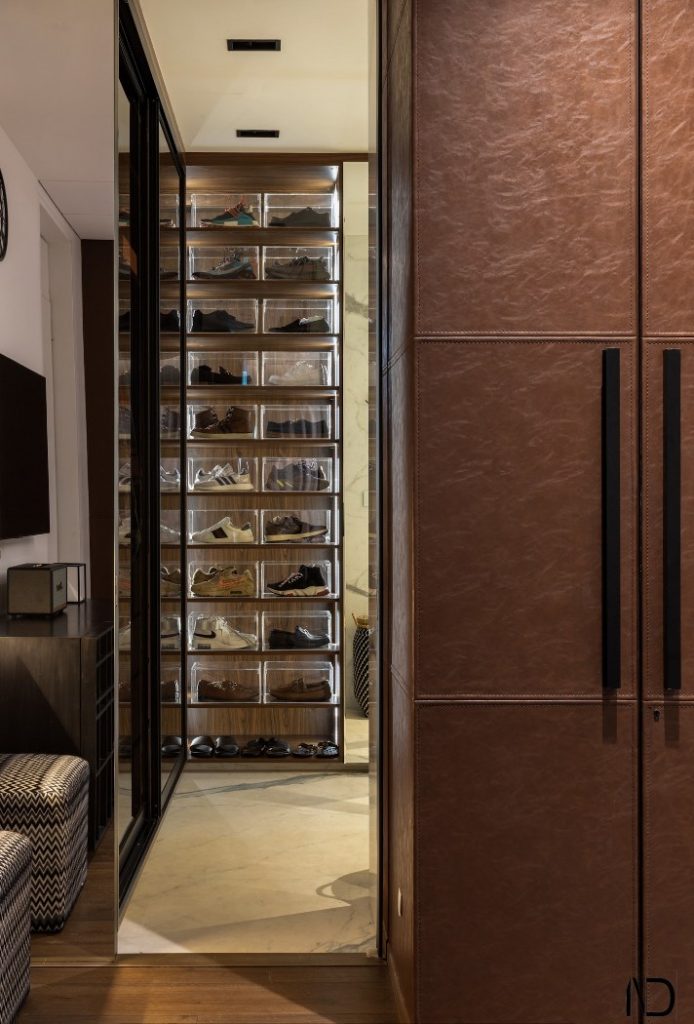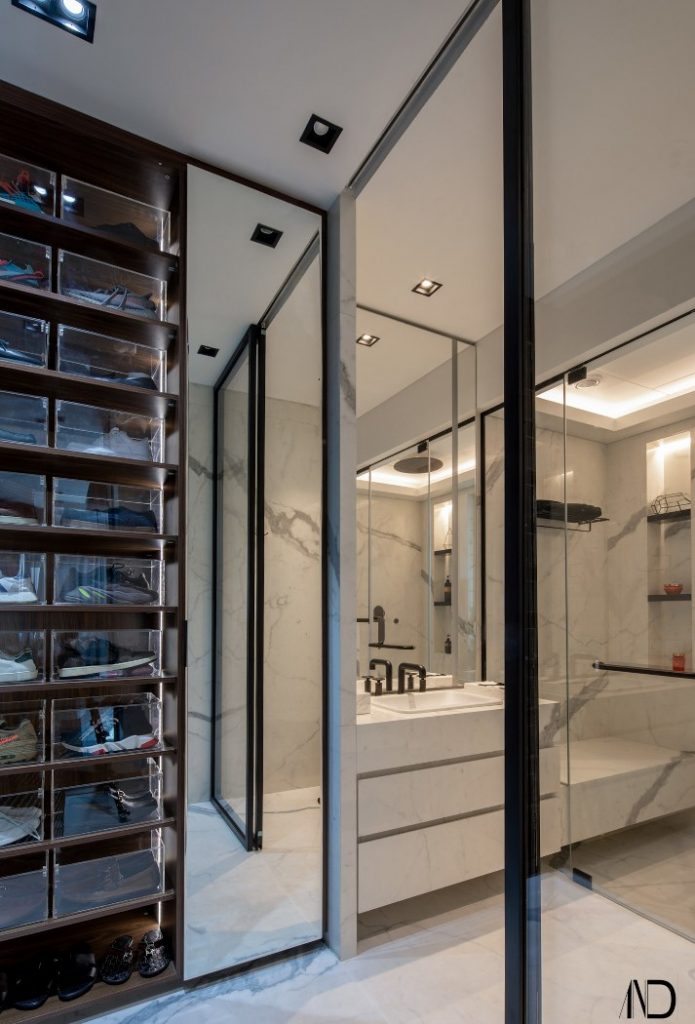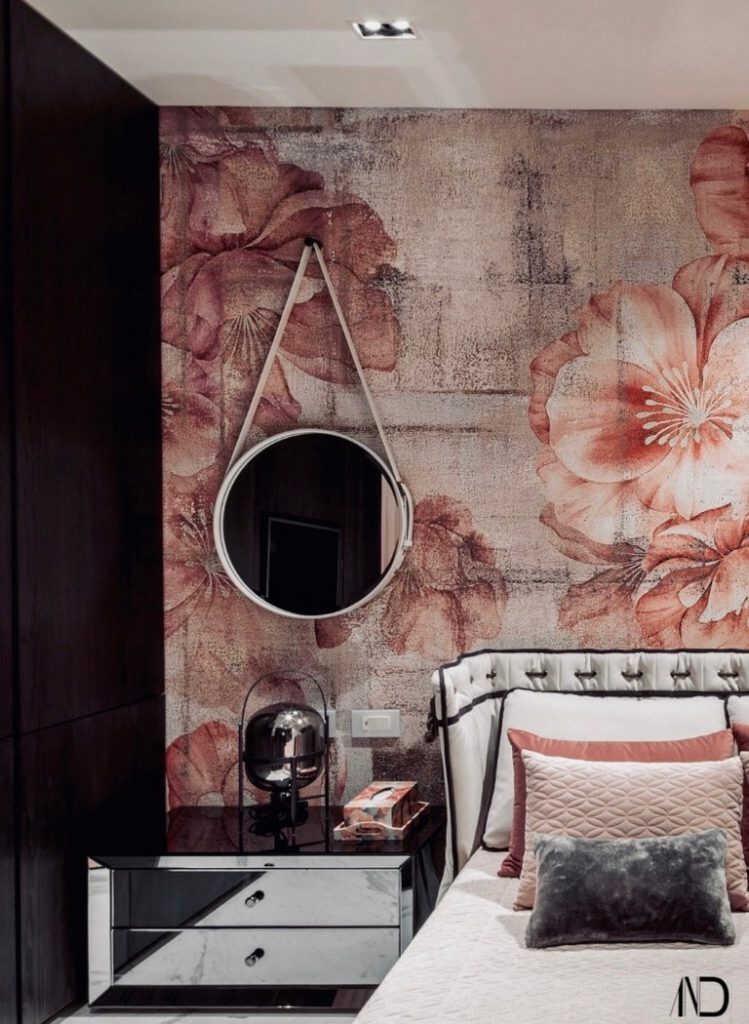 Each room is defined by encompassing architectural detail, material, and color scheme. The planning of two couple bedrooms is so carried out as to reinstate maximum wardrobe space and without losing its identity of having walk-in closet feel with sliding partitions giving privacy whenever needed.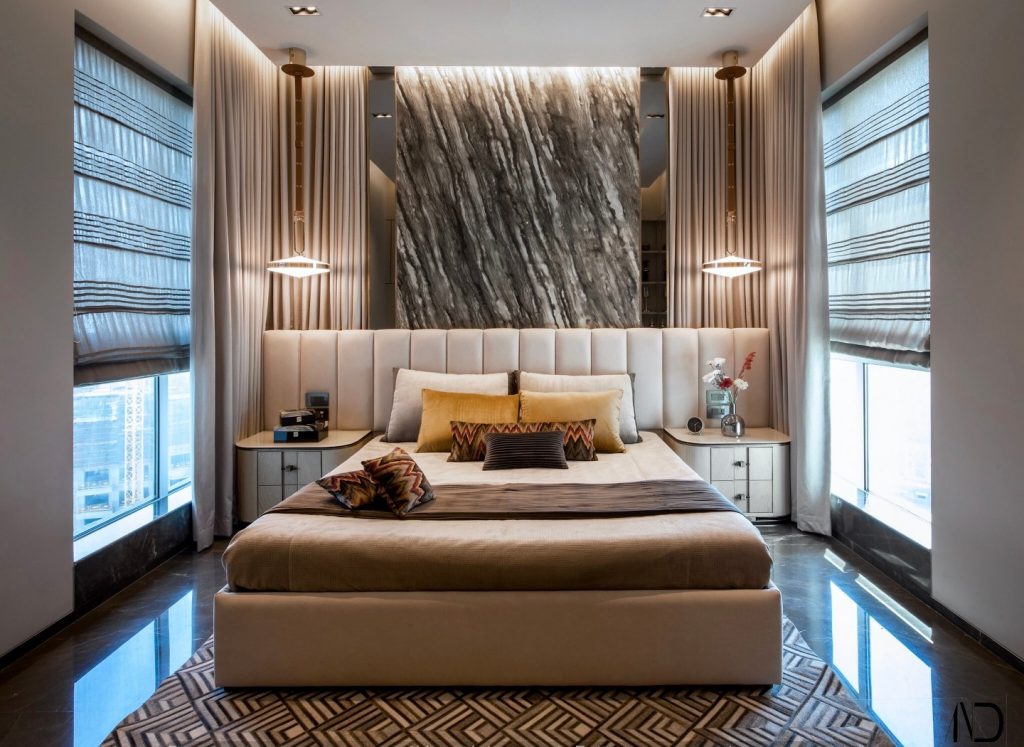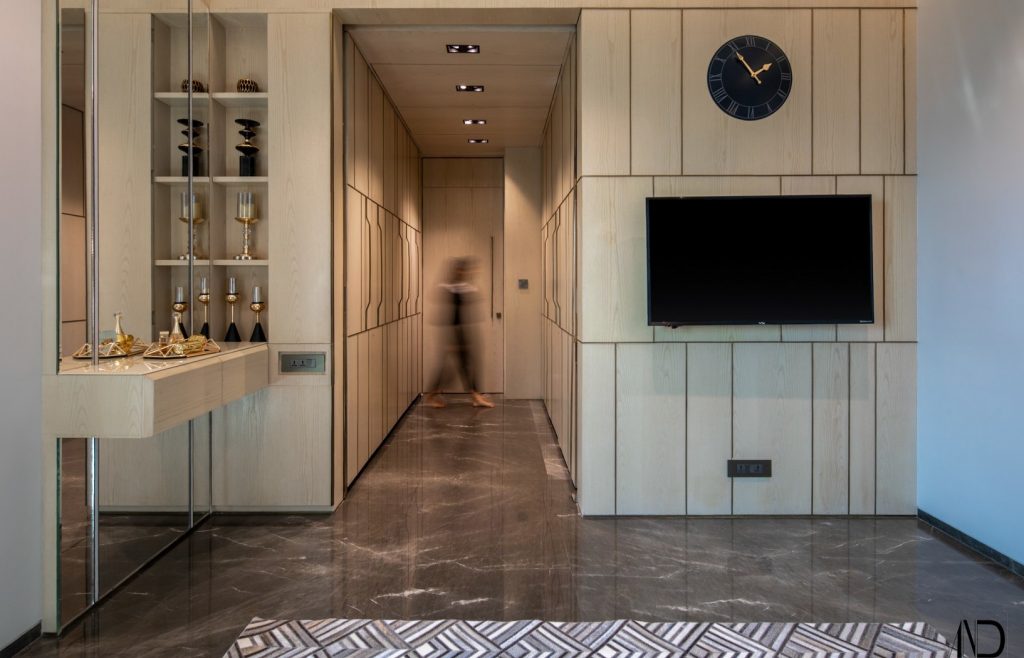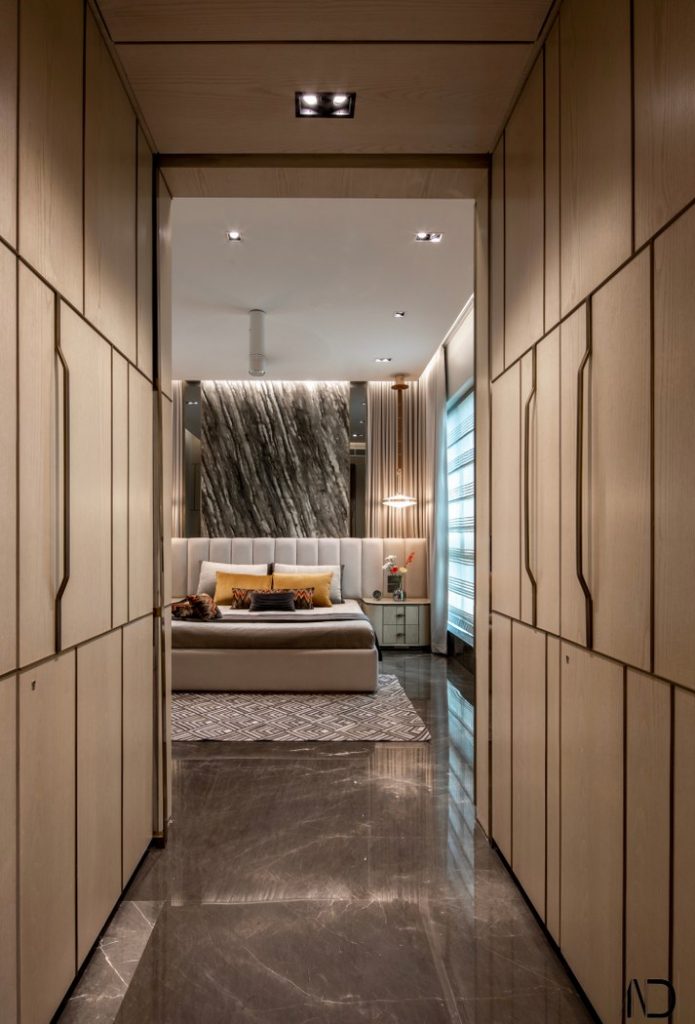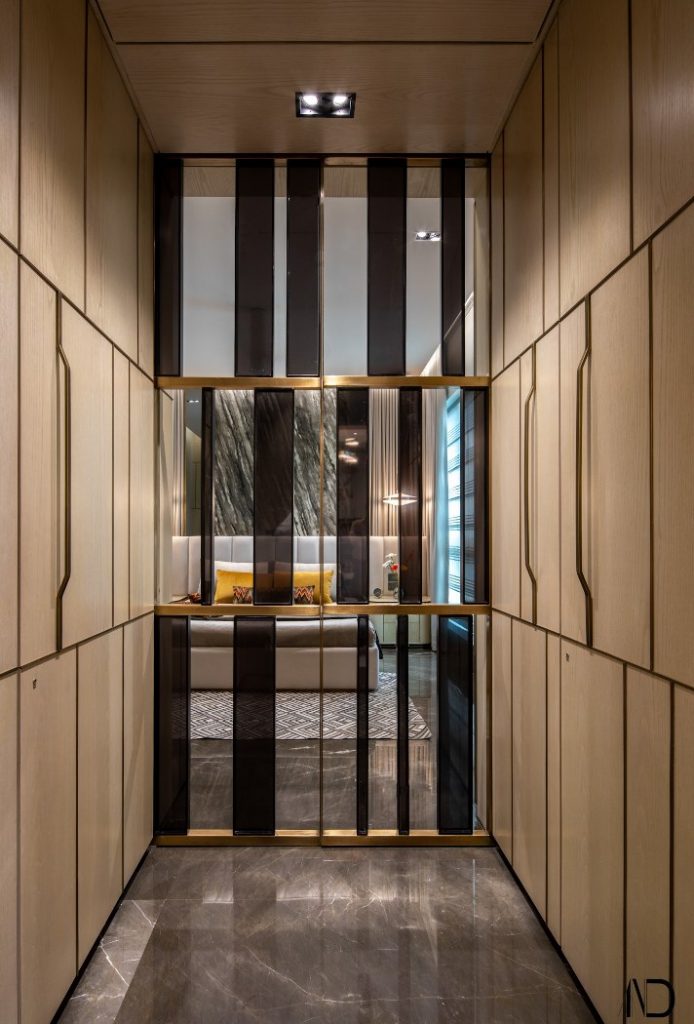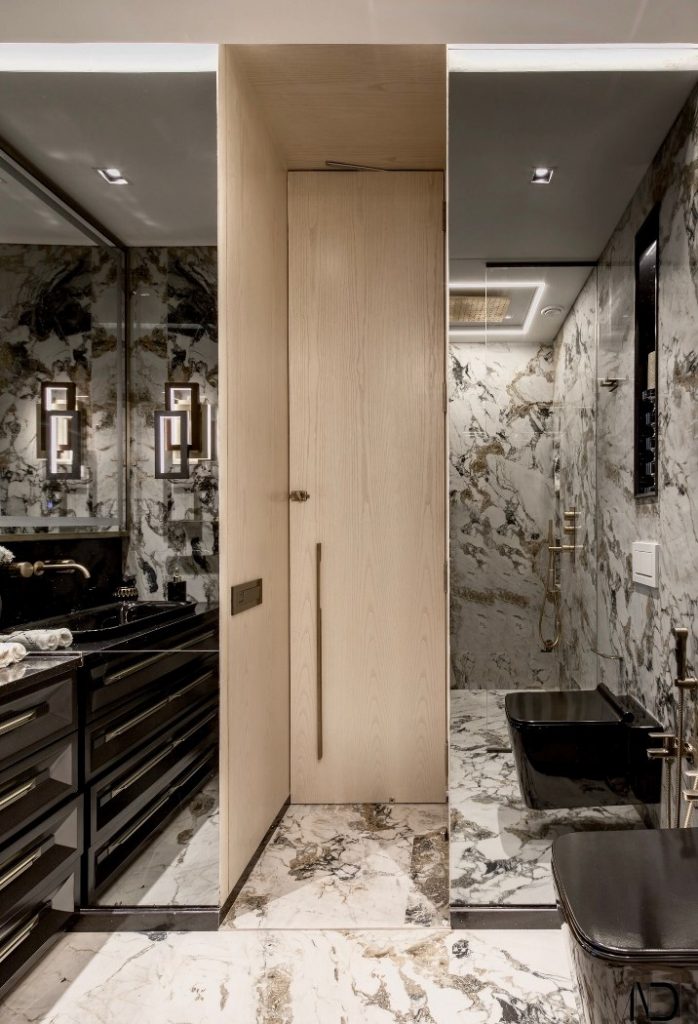 The cavernous couple bedroom uses a good deal of leather finishes relinquishing the feel of luxury and royalty. An assorted combination of deep colors and clear textures veils the user with the utmost glamour and allure. Graphical bedside units and geometric hanging lights delight the room with its eccentric characteristics.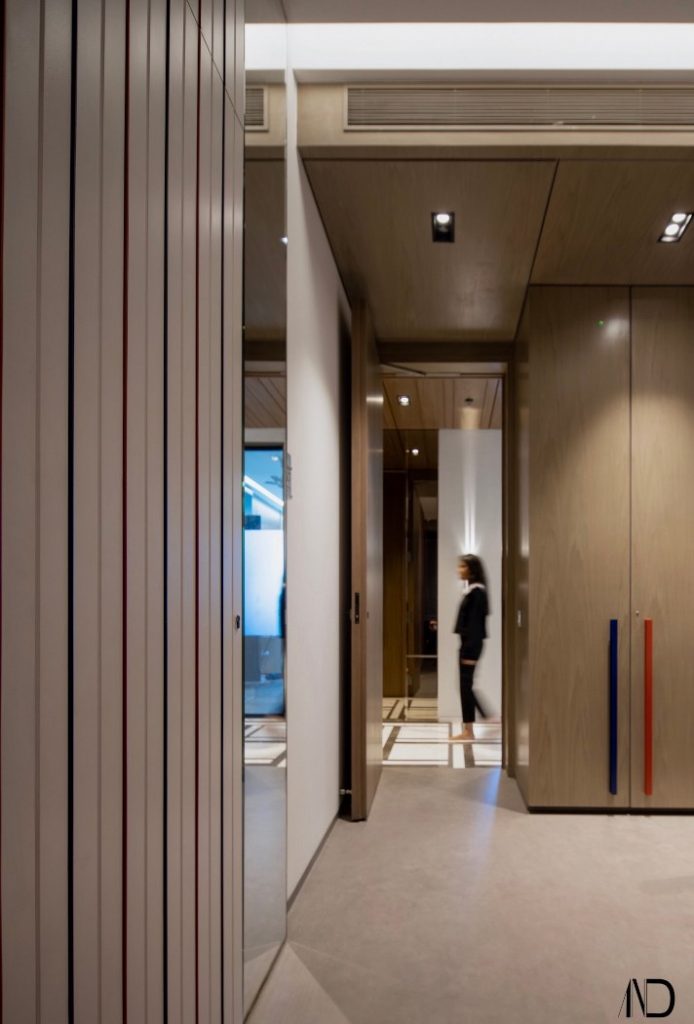 The kids' bedrooms have max open space pockets for their daily activities with a splash of color defining furniture objects. Some of the main highlights of the design scheme are textured marble bed wall, leather cladding with bespoke four-poster bed and contrasting nightstand, customized tile pattern in the kid bathroom, contemporary marble inlay pattern in the hallway, customized wall panel in the living room camouflaging the doors forming seamless design pattern.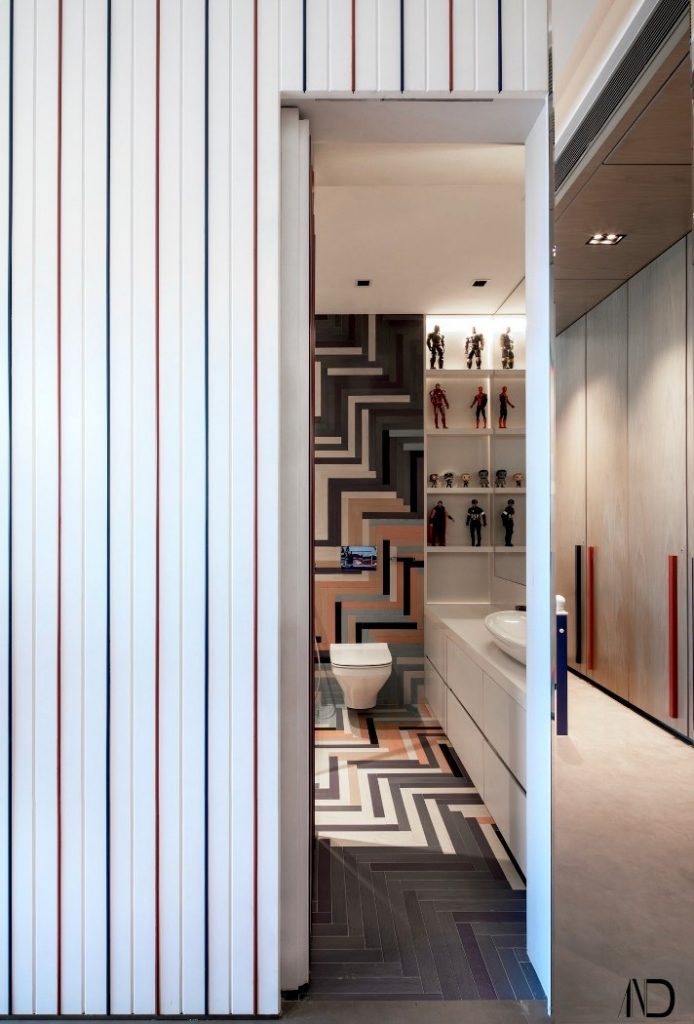 Target-oriented lighting layout and automated control all come together to give the apartment a timeless cozy feel throughout the day. The project outcome reaps the diligent fruit of conscious designing, detailing, and the use of felicitous materials.
FACT FILE:
Firm: AND Architects
Project name: Viveria D25
Area: 2000sqft
Project type: residential apartment interior
Year: 2019
Principal Architect: Naved Patel
Location: Mumbai
Photography: Umang Shah
Content Credits: Megha Hirani
Facebook: https://www.facebook.com/naved.patel1977
Instagram: https://www.instagram.com/andarchitects.in/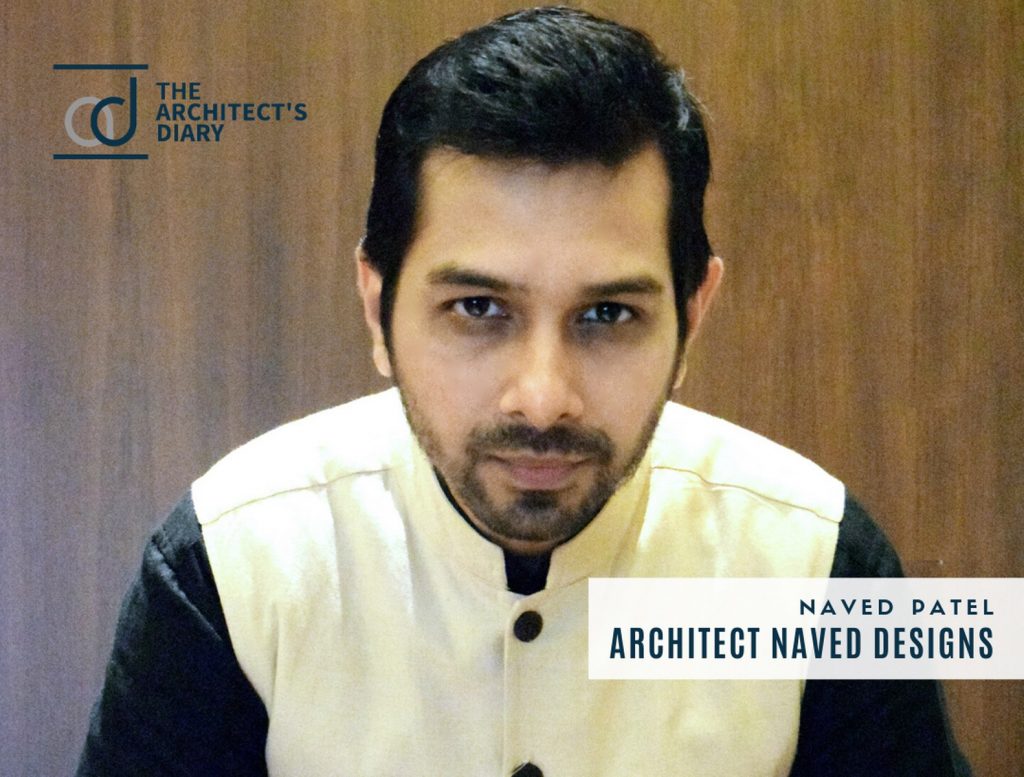 Naved has a diverse experience in the field of architecture, design, and execution since his inception into the practice and after completing his professional Bachelor's training. His approach towards work lies in trying to conceptualize unique designs with given programs, functions, and various contexts processed across design related issues and his much-developed knowledge of modern construction techniques and detailing.
Currently AND is doing residential development projects in Mumbai and commercial projects in Pune along with a variety of interior projects of high-end residences. Associated as a jury member with economic times design wall since 2012. AND is an award-winning establishment where he intends to give brand identity to all his past and future works.