Apartment Interior Renders Fine Living Experience in an Opulent Ahmedabad Neighborhood | Atelier Kushal Rao
An uber contemporary 2100 sq. ft. apartment nestles amidst a busy and opulent neighborhood in Ahmedabad. Architect Kushal Rao successfully renders a fine living experience for the residents while mirroring their personalities into their home.
Visit : Atelier Kushal Rao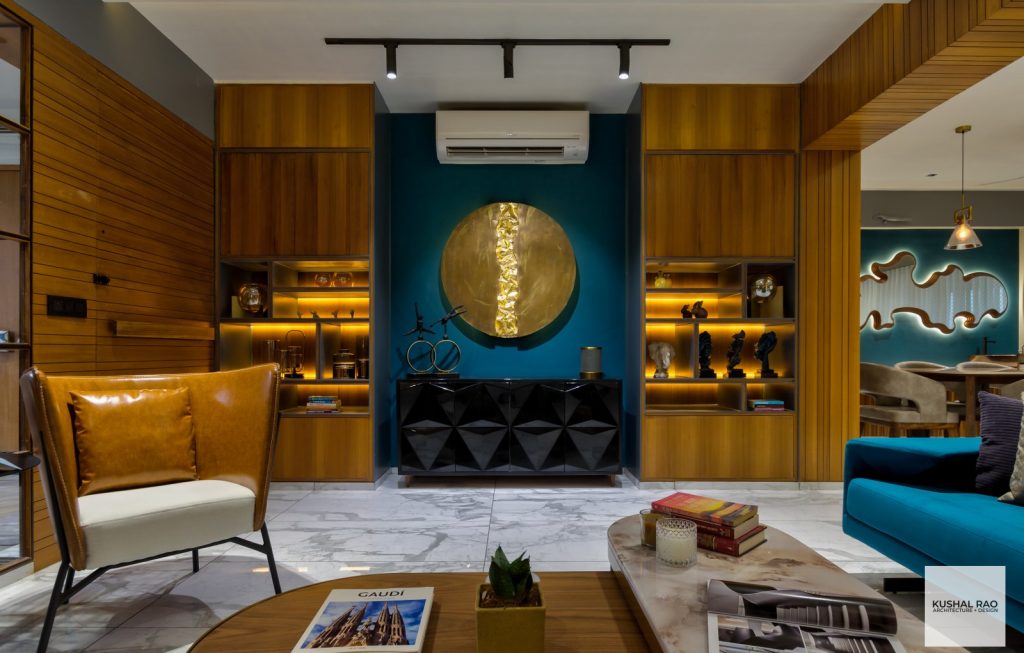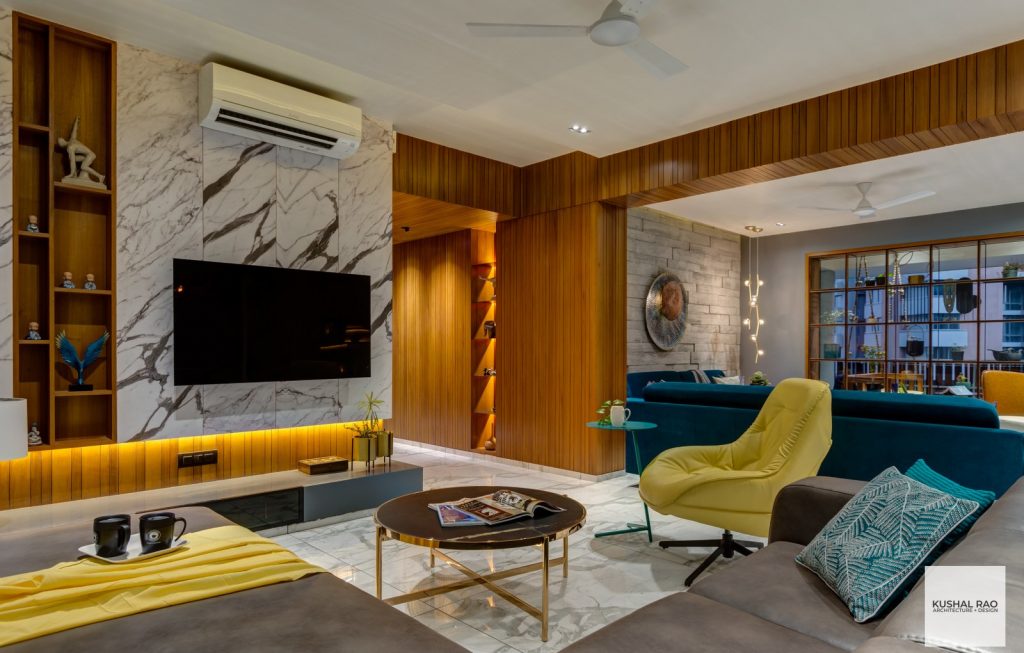 The spaces are designed with the nitty-gritty, in addition to plenty of details to keep an eye out for.

&nbsp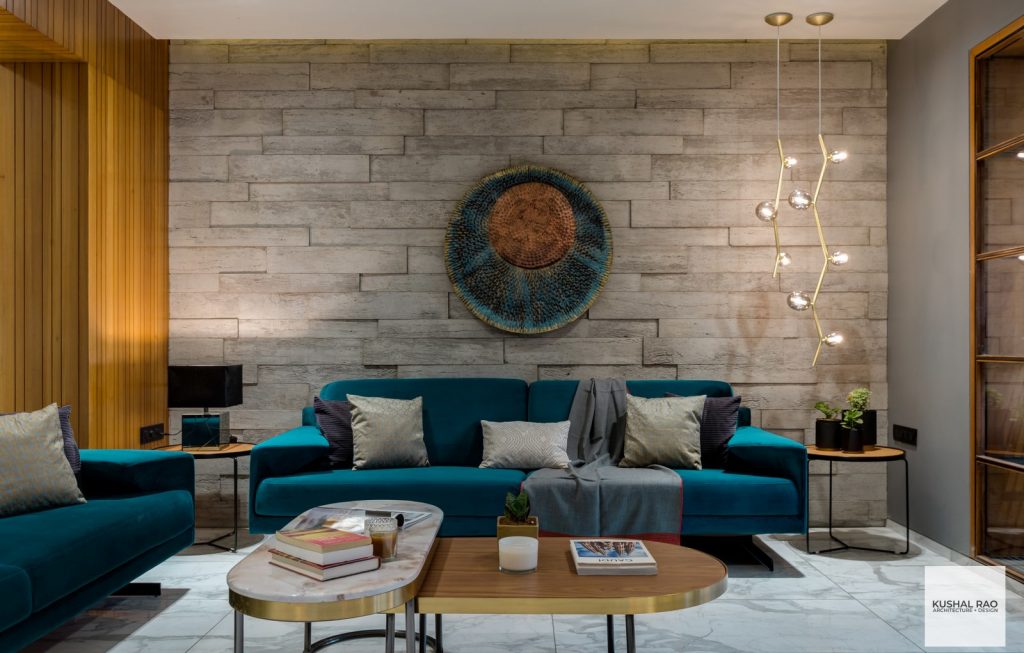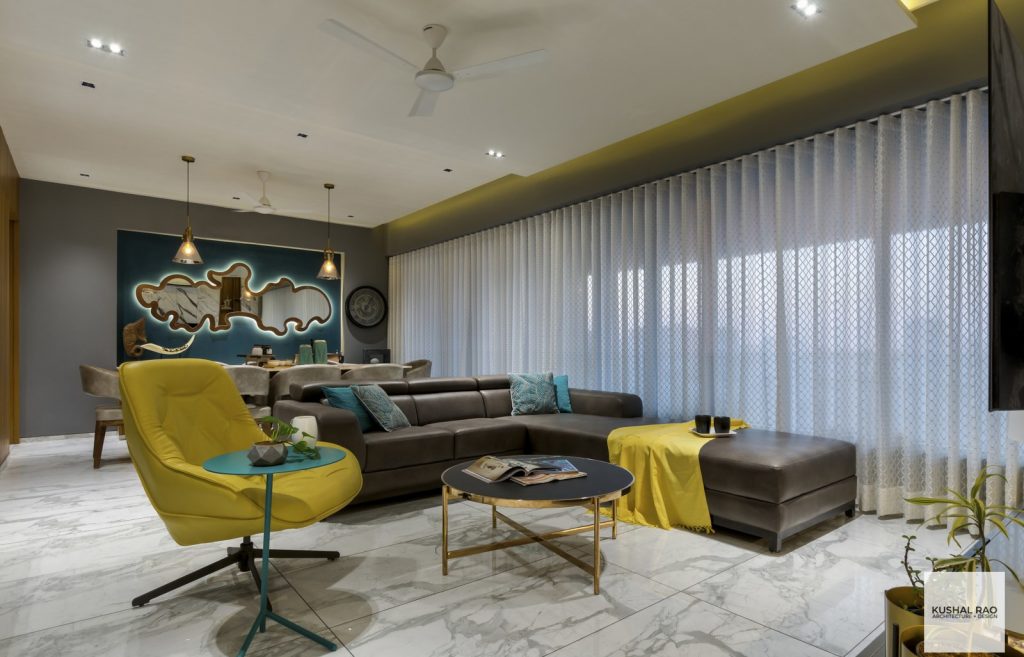 A framed metal fenestration in the living room creates an ever-changing pattern of simple yet beautiful shadows. The teal suede couches are paired with an eccentric tan high back chair giving the living room a modern and chic feel.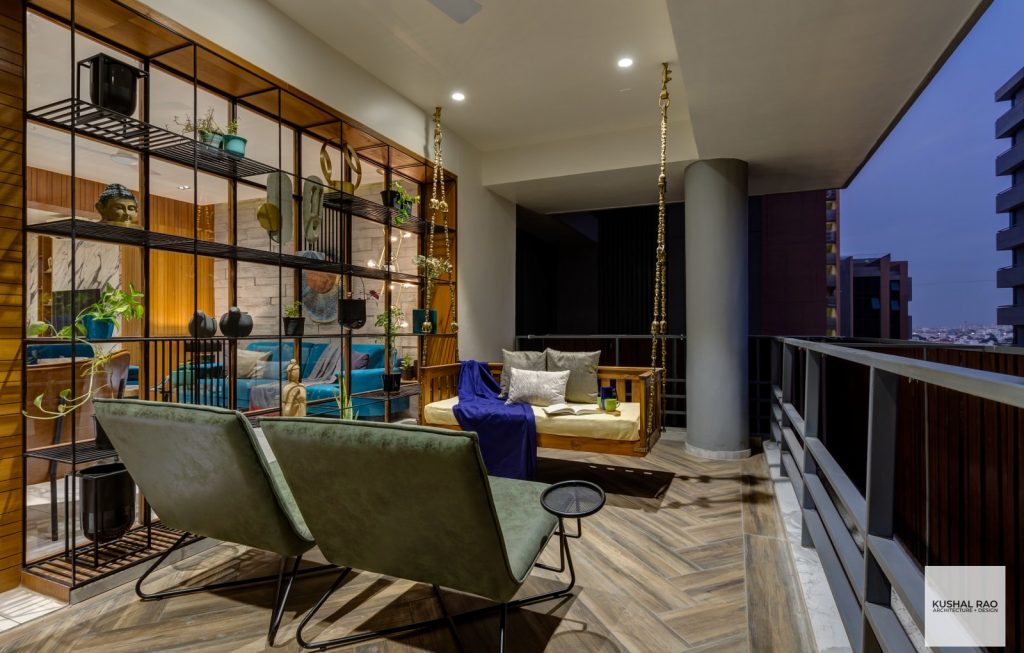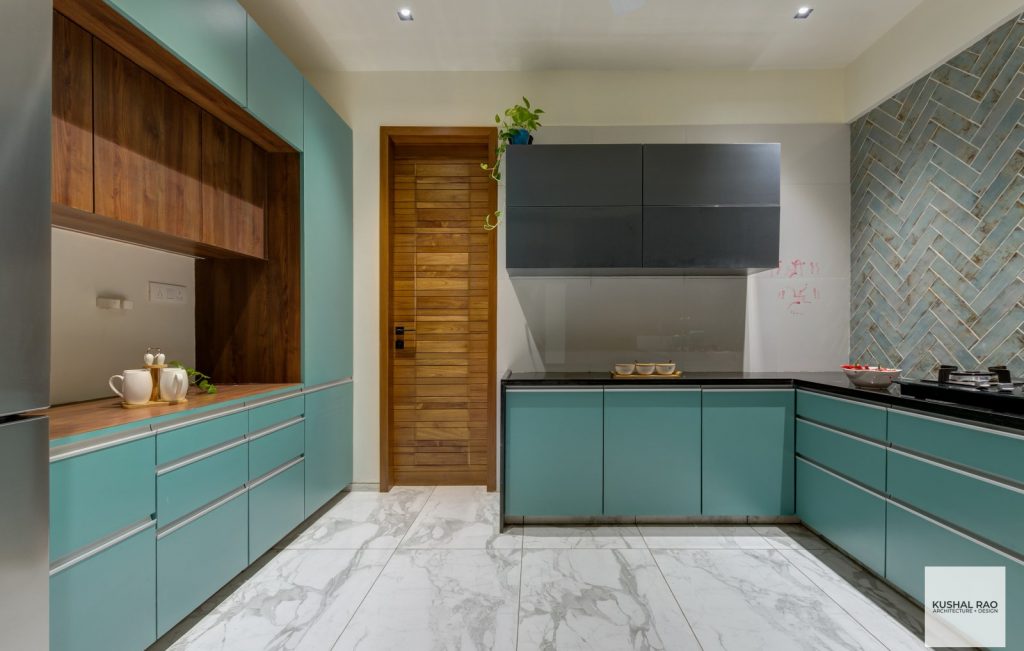 The living opens up to an informal family area and the dining. A quirky mirror piece on the wall livens up the otherwise subtle dining. The predominantly used grey, vibrant teal tones, and wood finishes are punctuated by pops of ochre through accessories and fabrics. The entire home is wrapped up in this muted yet rich palette.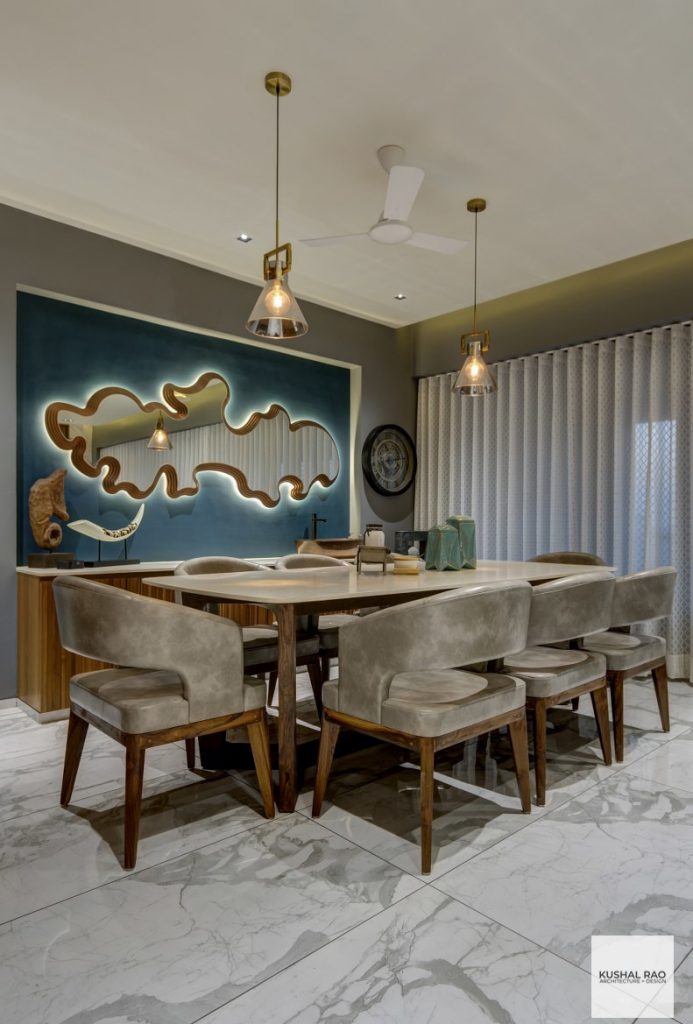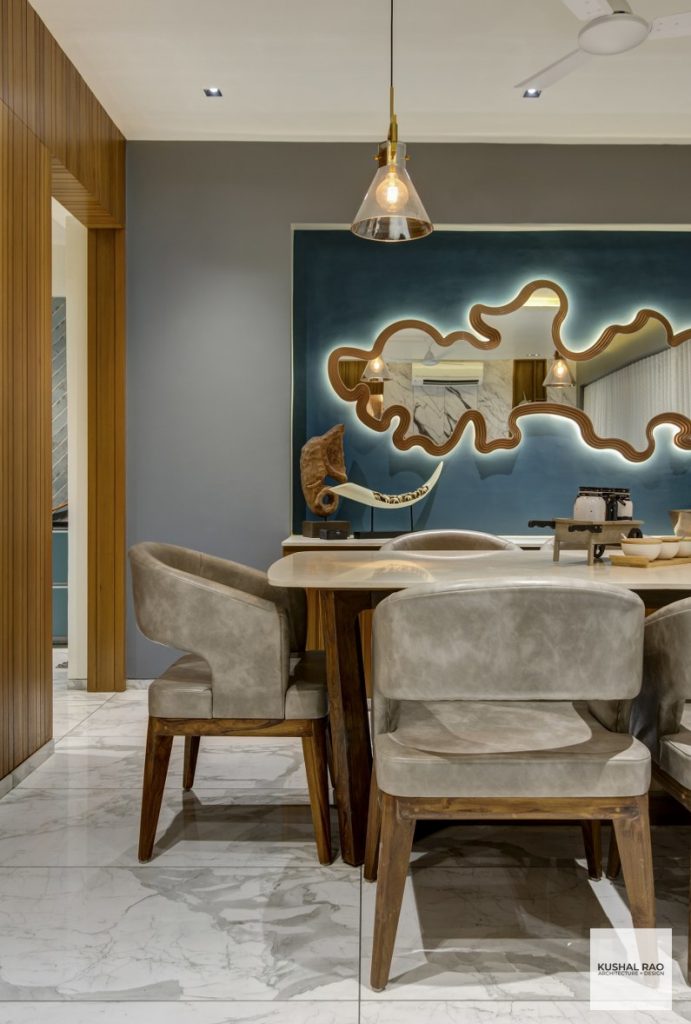 Moving beyond the living room the walk way leads to the bedrooms. The passage is lined with wood, which creates an interesting volume. The little wine toned lit up niches along the passage allow for hangings, shelving and display. At the central part of this circulation spine is the mandir, where the naked bricks are the sole ornamentation needed.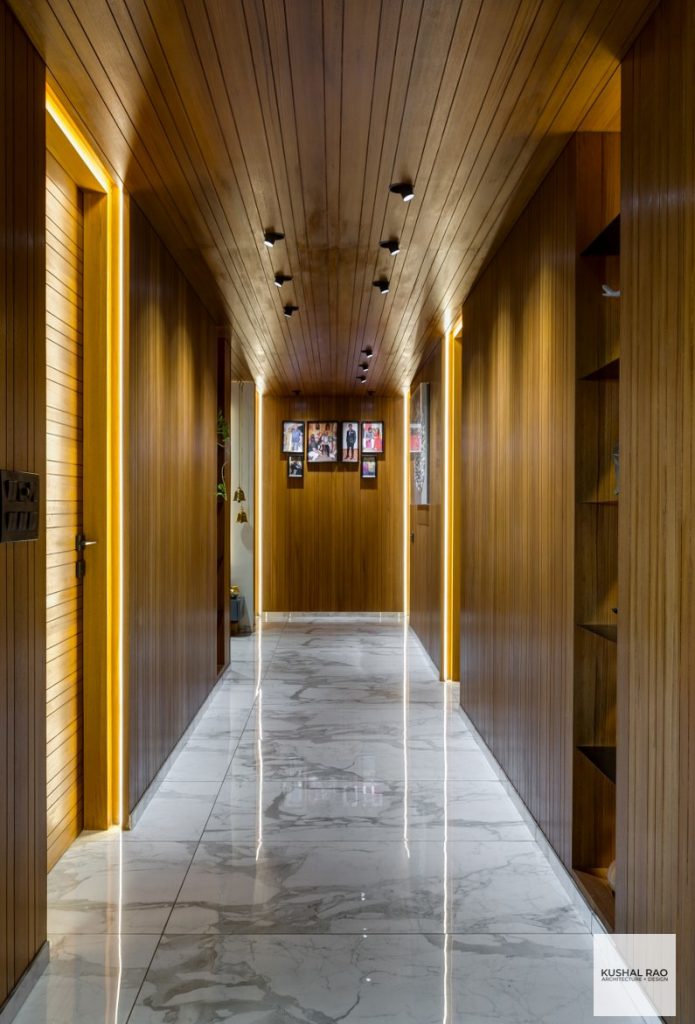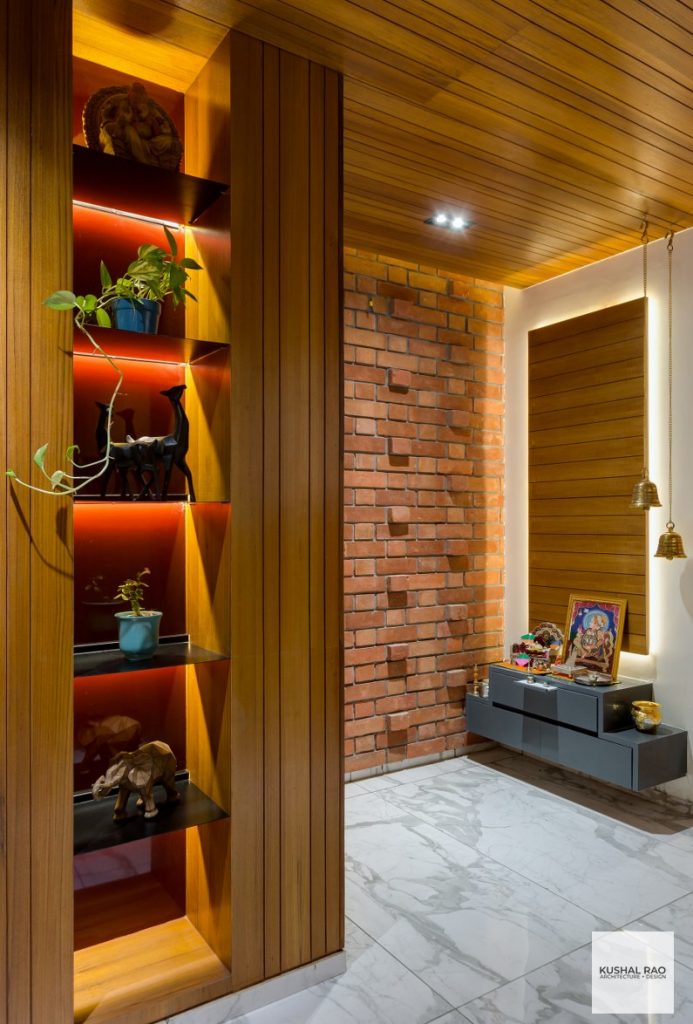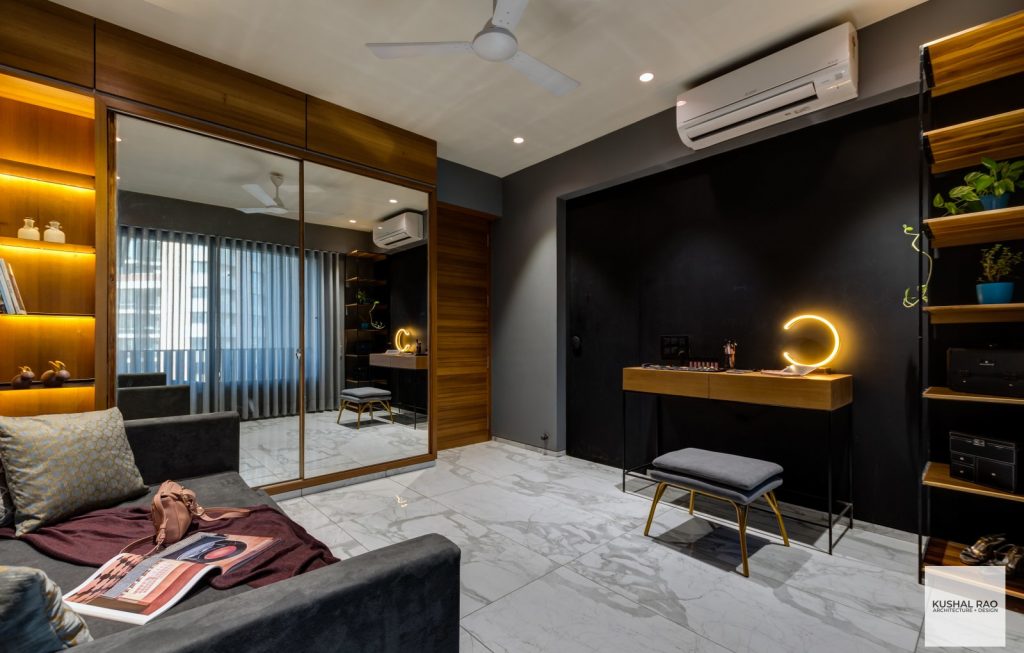 It is a strong personal belief of the architect that spaces should be an extension of the users' individuality. The studio cum guest room is one such example that works perfectly for the missus who is a make-up artist. The space allows for make-up sessions as well as conducting lectures for an intimate group of students. A striking contrast is achieved by the raw character of the bricks versus the sharpness of the huge mirrors and the bold black wall.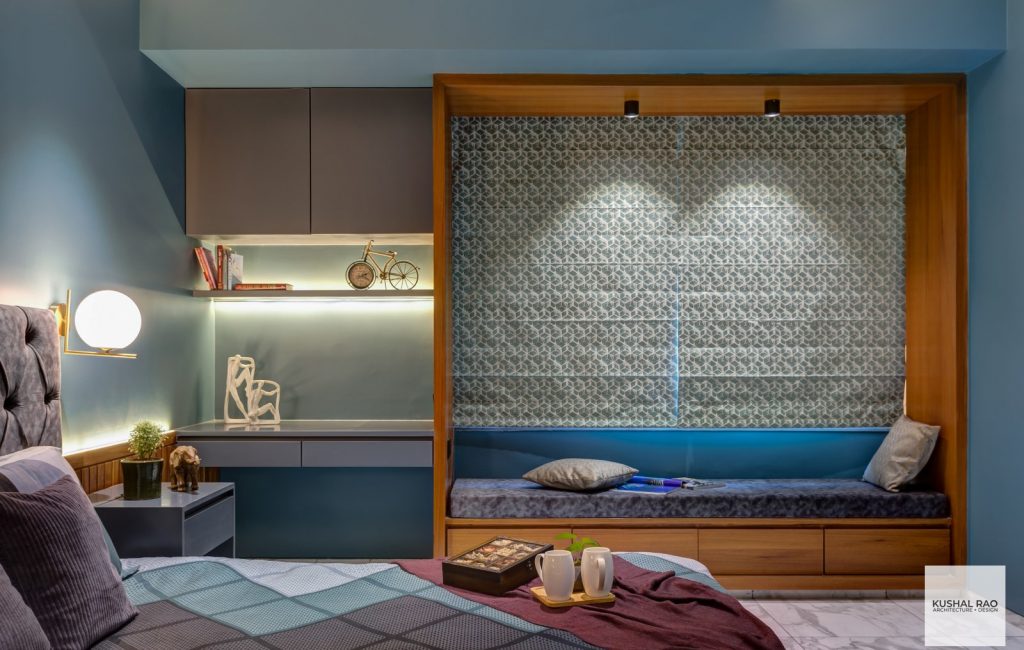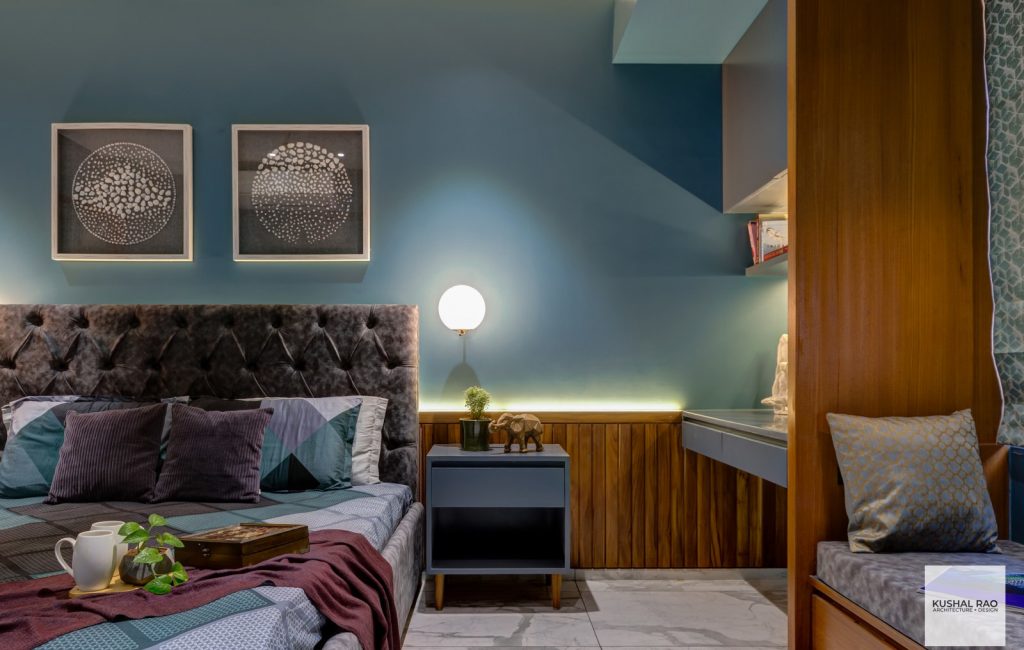 The guest bed is a chic space with deep teal tones, gold accessories and abstract art. A scooped in sitting nook is an ideal place for engrossing in a favorite book or a warm coffee. Rich material textures like suede, teak wood and brass are balanced by the soft lighting. A small built in study has also been incorporated.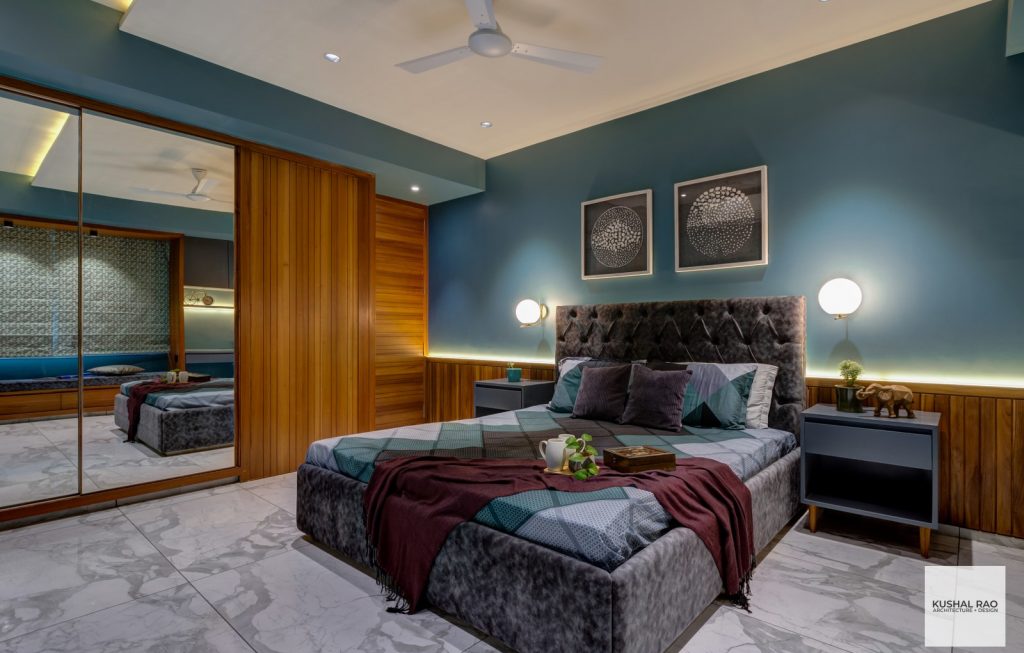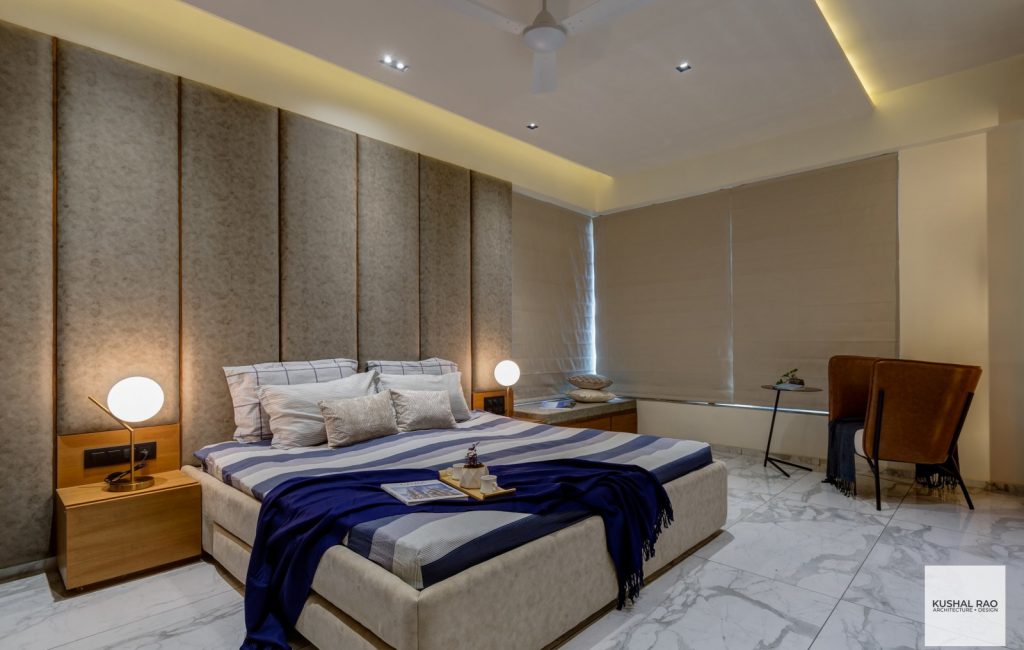 The parent's bedroom is the definition of calm where shades of blues and tans miraculously soothe your nerves. The use of classic teak wood renders warmth and coziness to space. The furniture is kept to a basic minimum to add to the spaciousness.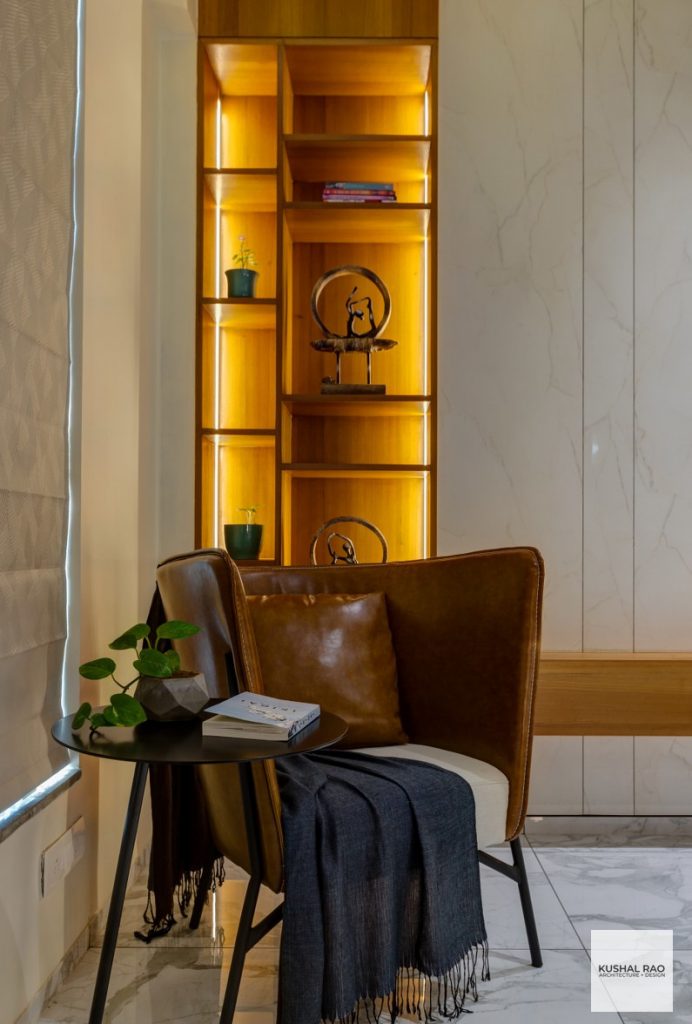 The medley of colors and patterns continues in the master bedroom as well. The informal seating spot right next to the window is perfect for enjoying the pitter-patter of rains or soaking in some morning sun.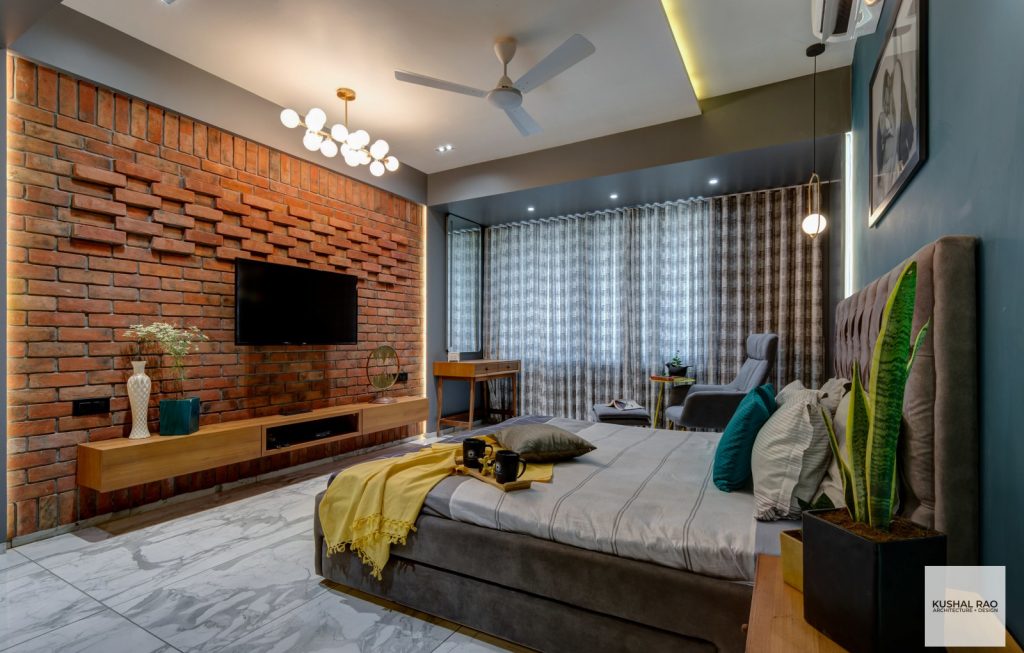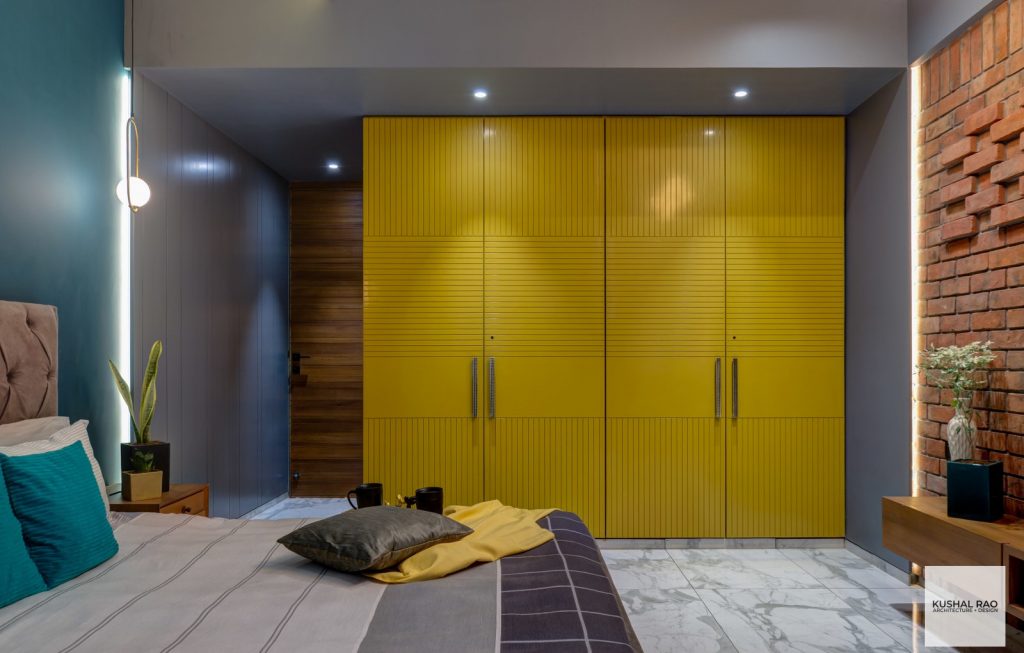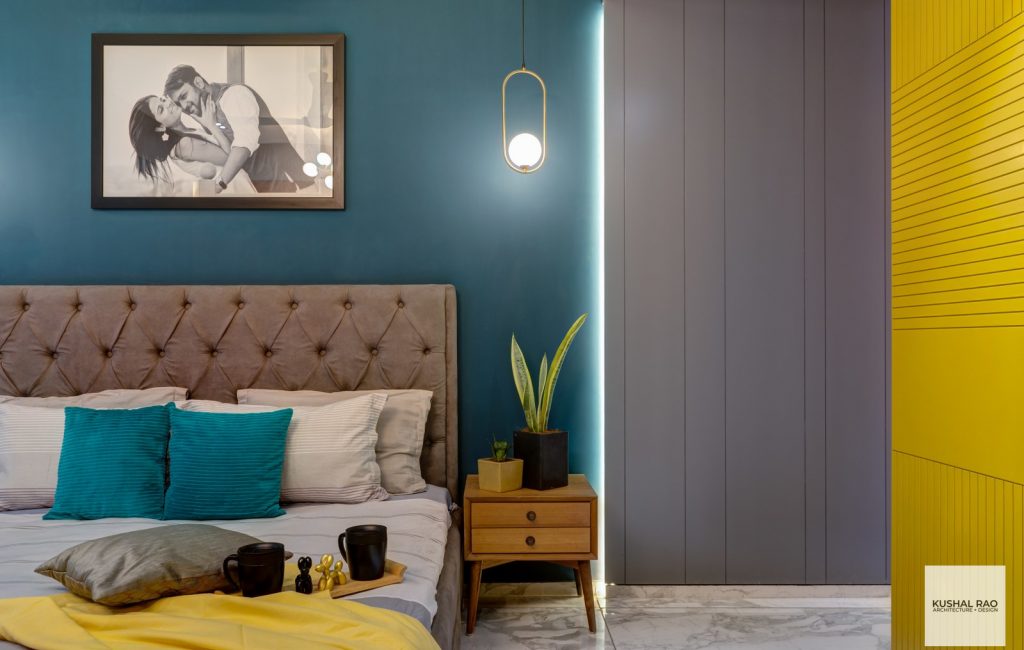 FACT FILE:
Designed by: Atelier Kushal Rao
Project Type: Residential Interior (Apartment)
Project Name: Maple Tree Garden Homes
Location: Ahmedabad
Year built: 2020
Size:sq feet: 2250
Principal Architect: Kushal Rao
Photograph courtesy: Pratik Chandresha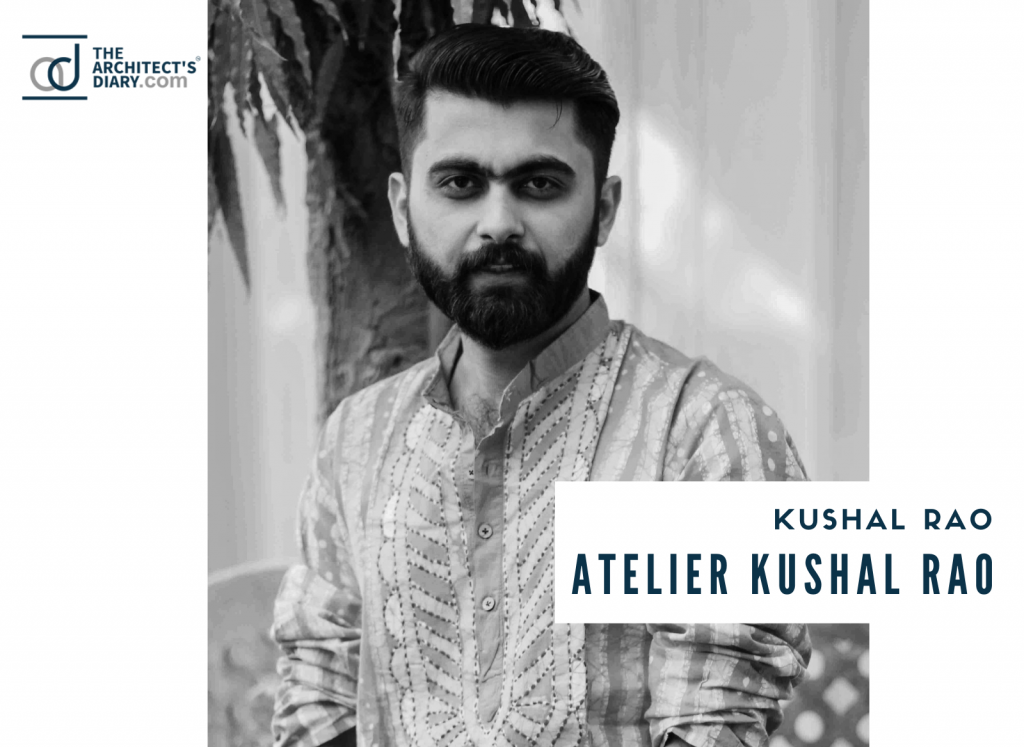 Instagram: https://www.instagram.com/atelier.kushalrao/