Compelling Office Space With Contemporary Material Palette | 3 Square Design
This construction company opted out of a naïve and monotonous approach for their workspace. This proposal was briefed to an Ahmedabad based design firm, 3 Square Design, which went beyond the client's expectations in curating a compelling interior space. The end result is contemporary, quirky, and staunch.
Visit: 3 Square Design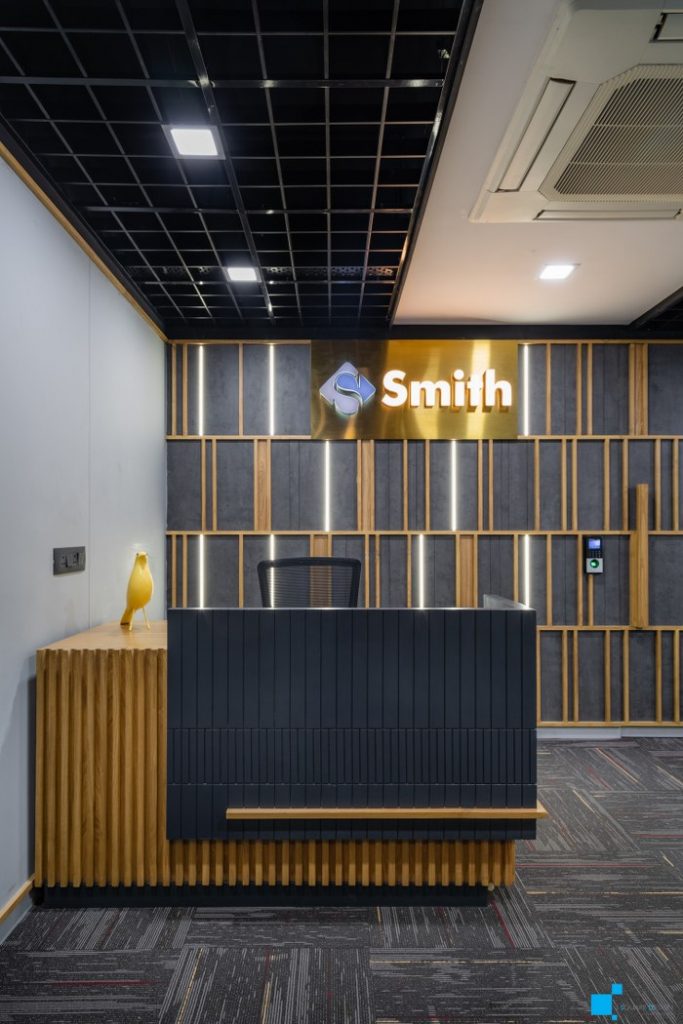 The office employs an easy flowing and a functional space layout with the co-working space at the core and the cabins and other spaces bounding the periphery. These are planned to increase the interactive quality amongst the spaces and their better functioning. Furthermore, they adopt black anodized framed glass partitions- being see-through, they aid the visual intertwining of the spaces while perceptually increasing their dimensional characteristics.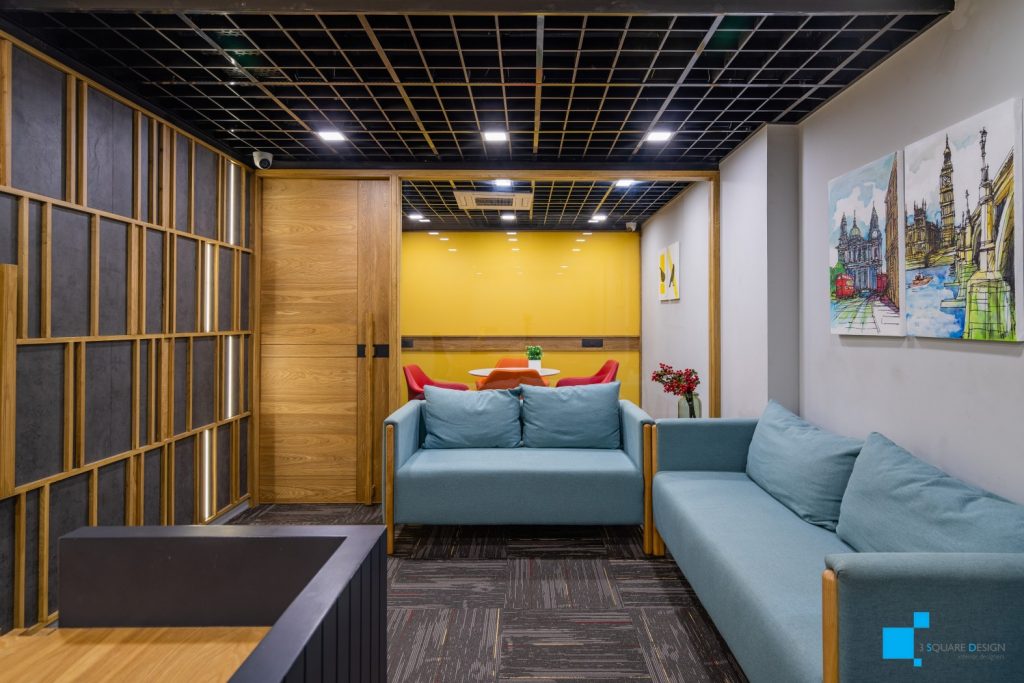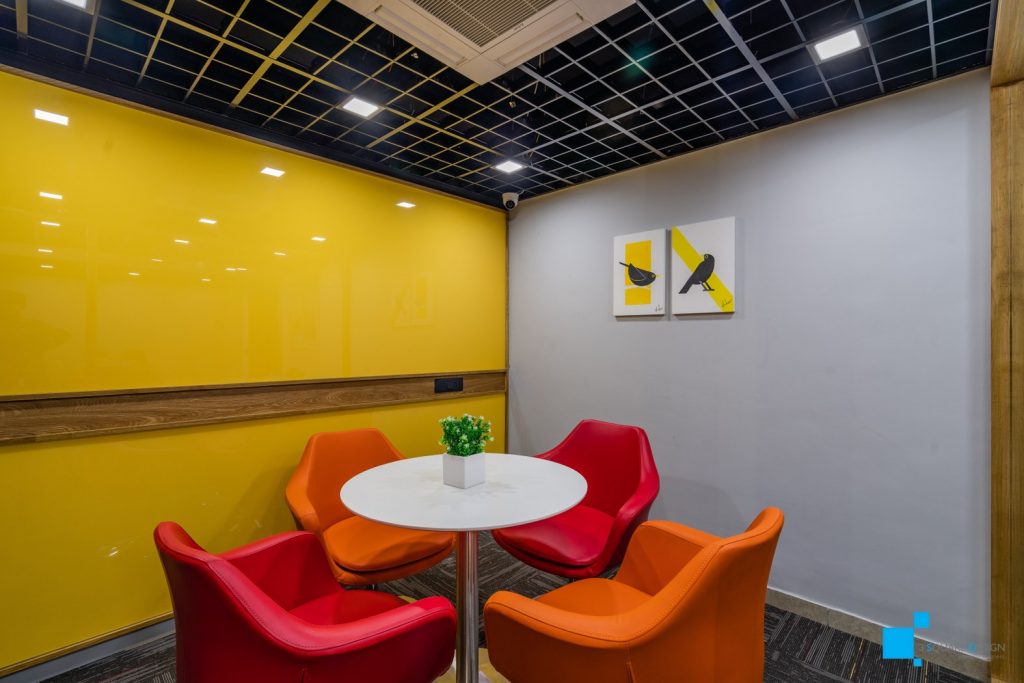 The reception area is elative and rich-looking with dual tones and plush sofa seatings. The walls get laden with textured paint and vertical wooden battens. The same concept extends to the main desk taking a creative form.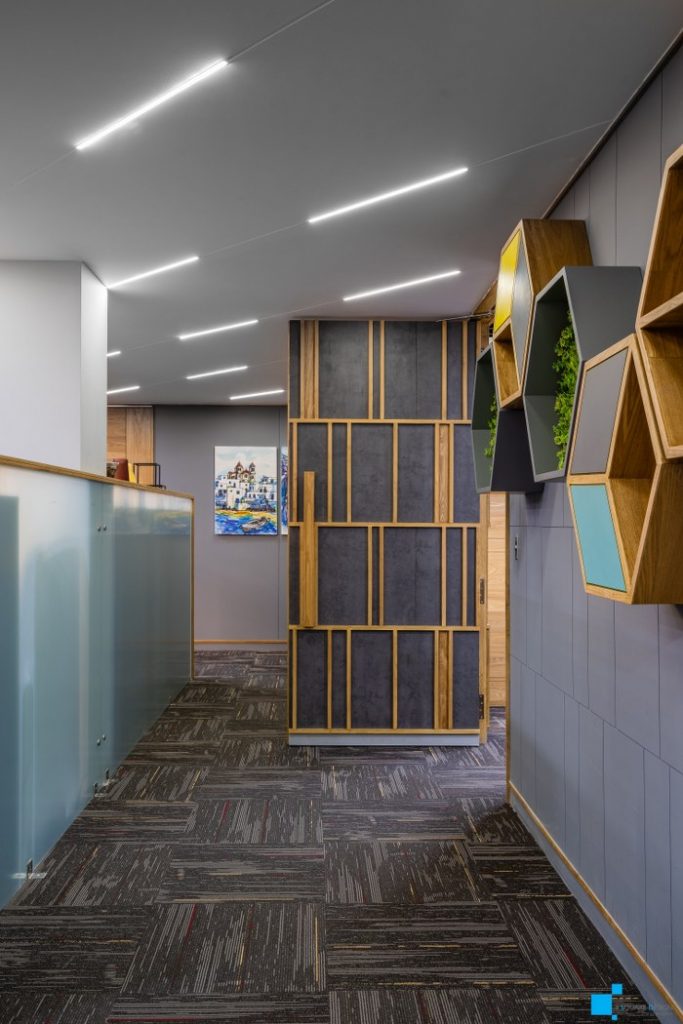 The core co-working space takes in the essential work desks and storage furnishings. The material and color palette here reflect the product and service the company rules by. All these furniture units are imported and customized to escort space planning while offering working comfort and convenience to the employees. A major use of M.S. and wood along with a hint of vibrancy and energizing colors embark a ravishing theme onto this space.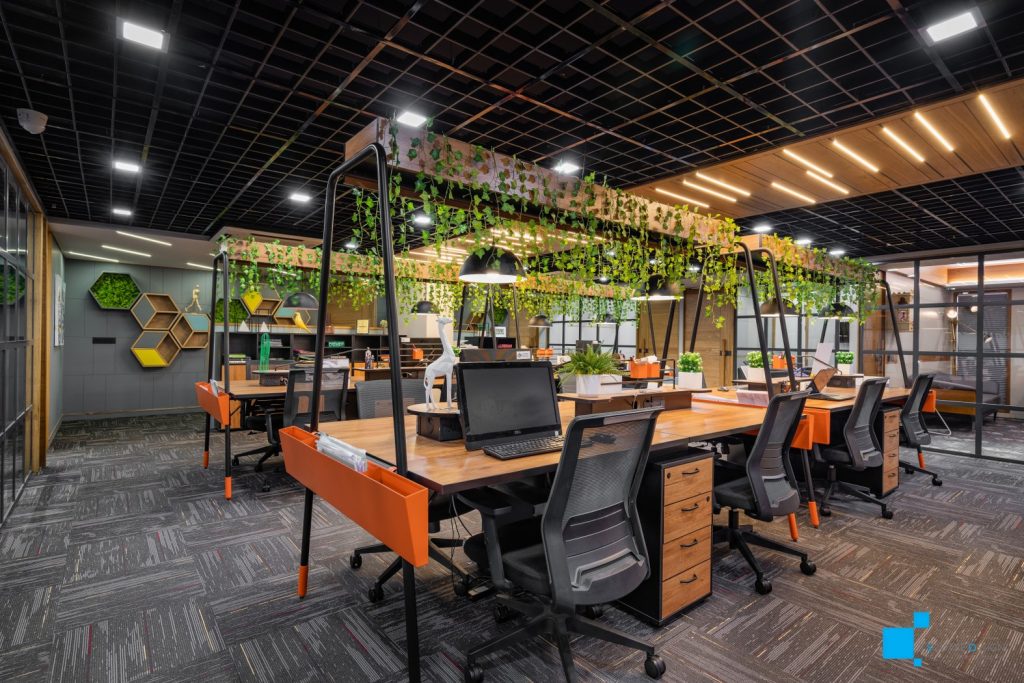 The M.S. grid ceiling remains the main spatial feature here. These grids were innovatively picturized to camouflage the low ceiling and beam height. It not only works aesthetically and in terms of design but also works to accommodate services and cable trays. 4K LED ceiling lights were selected over the white lights. It imparts a homely and spirited work vibe. A wooden ceiling light band runs along imparting a directional characteristic.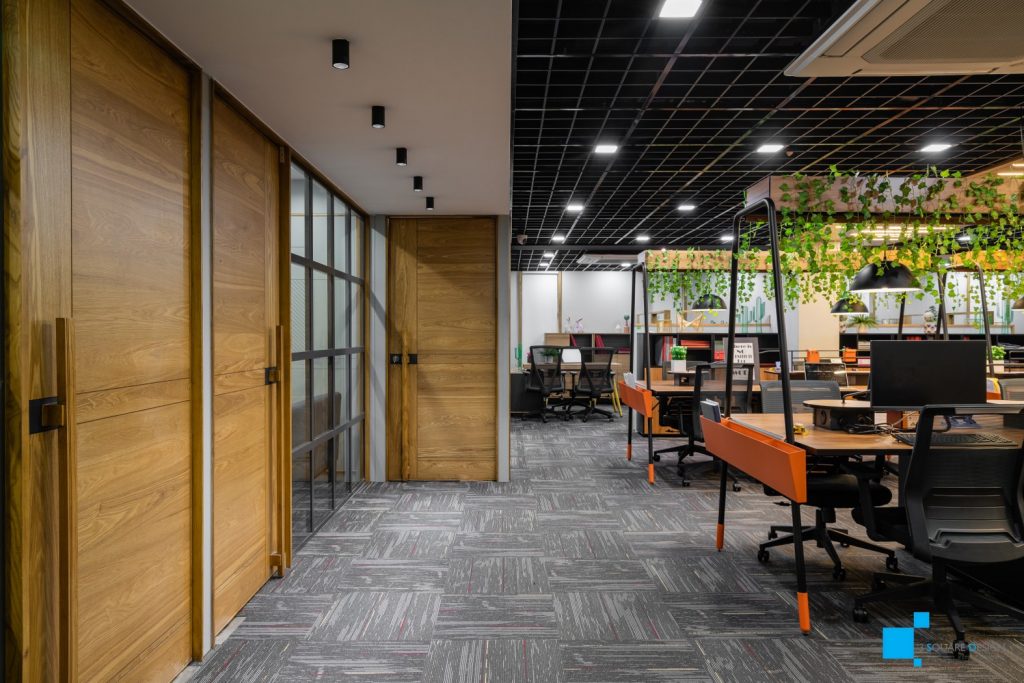 Greens here are like the cherry on the top! The runners hang over the work desks maintaining the liveliness of the office. A sumptuous flooring with an over-laid carpet creates a smoother finish while imparting an acoustic trait. Artistic and appealing corners are curated at the turns with neutral back paint and colorful octagon shelving and artifacts. Mini co-working spaces extent out of these main spaces. They adopt a 'no ceiling concept' with black paint exposing the service units and cable trays.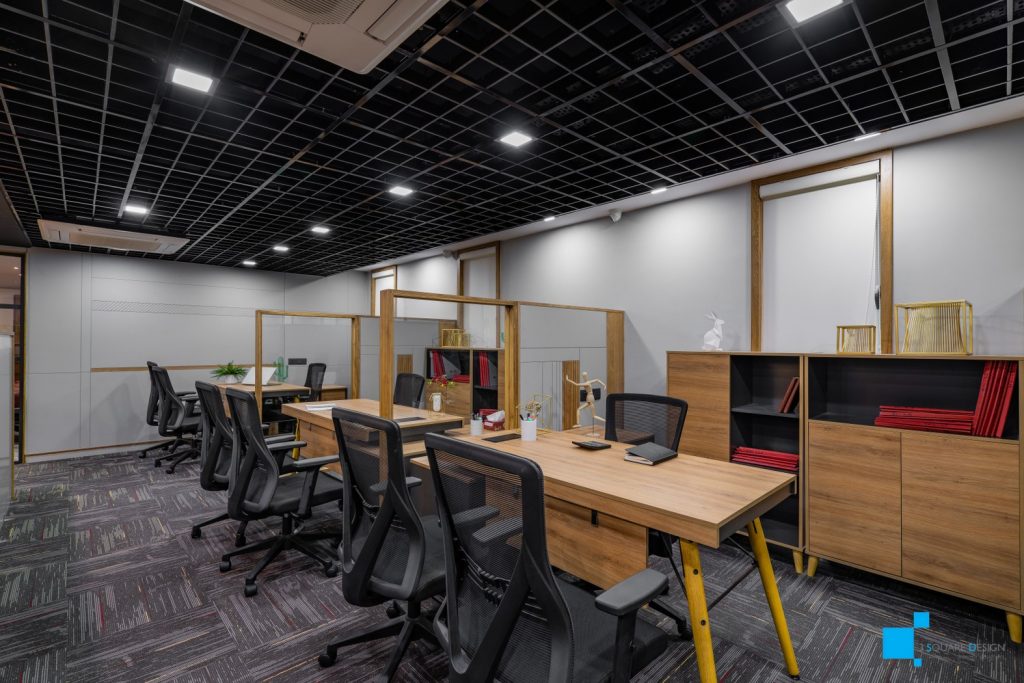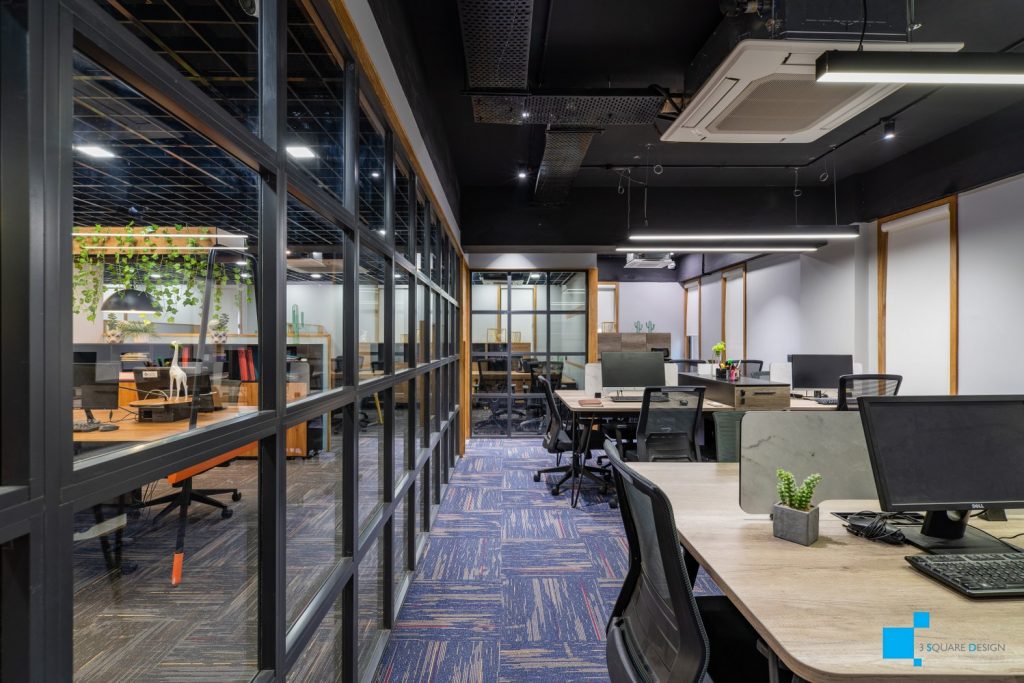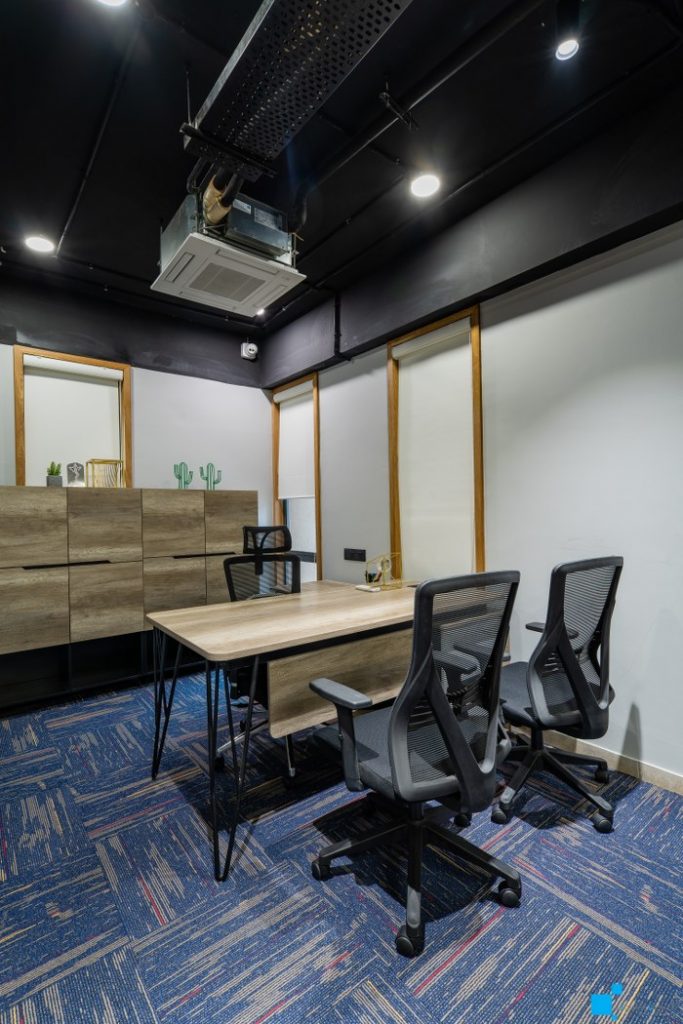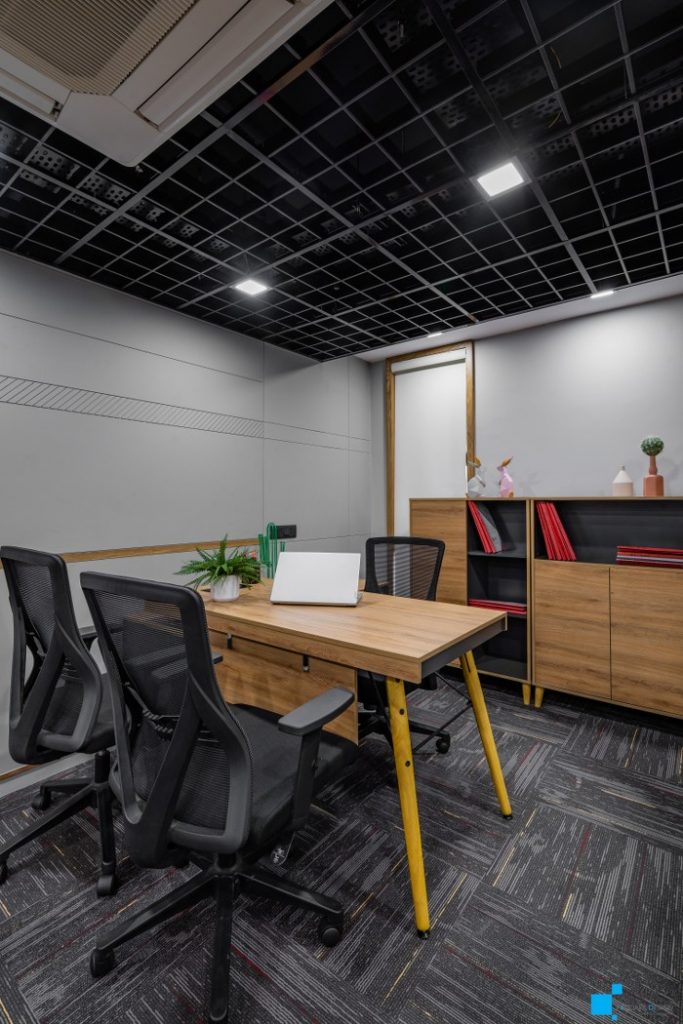 The chief cabin is elite and distinctive with a propelling red hue for the chairs. An abstract customized desk demarcates its nobility over the wooden ceiling with indirect lightings and wall racks. Whereas, the other private cabins are a smaller unit facilitated by a convenient work desk and plush vibrant sofa seatings to add a pop to space.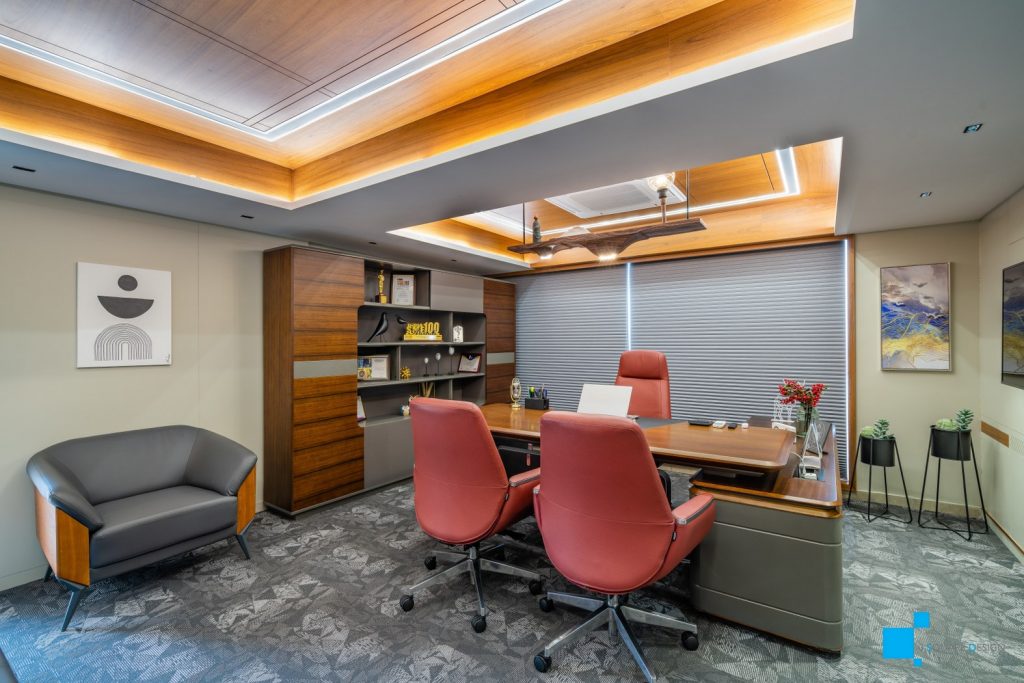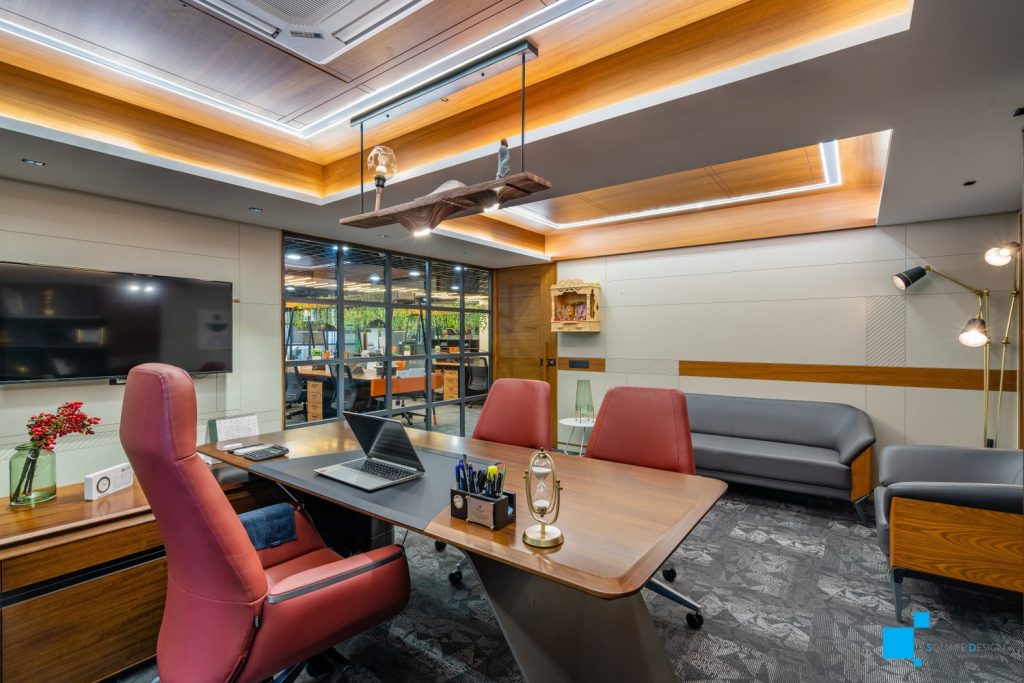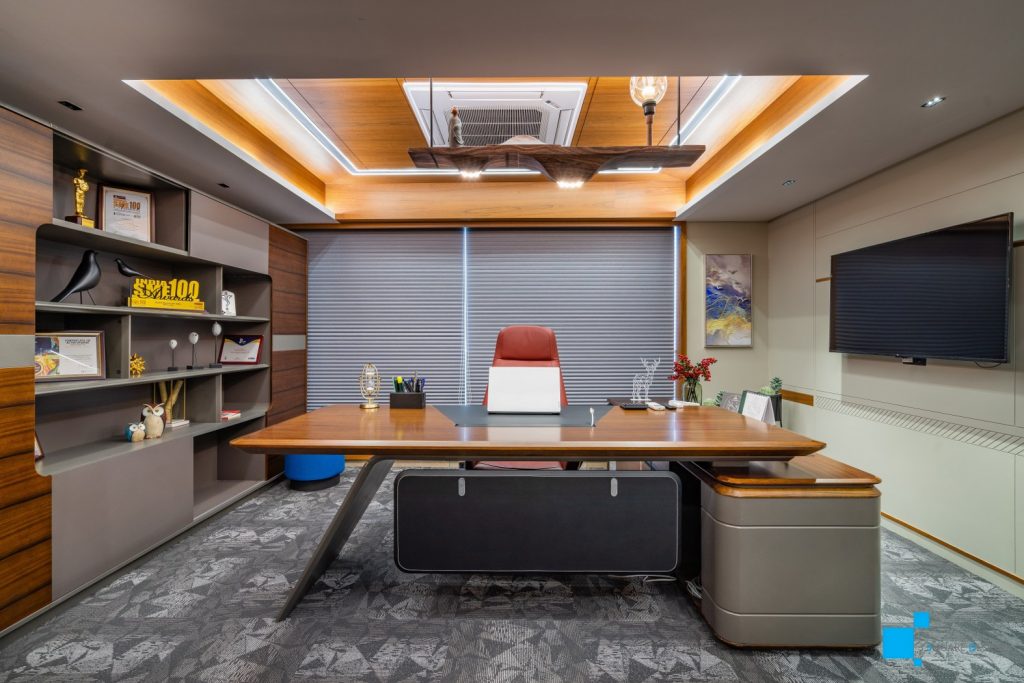 The lounge space is multi-utilitarian with an introvert seating arrangement with vivid hues and colors. This setup is enclosed by white grooved wall paneling with thick wooden beading and interesting wall art.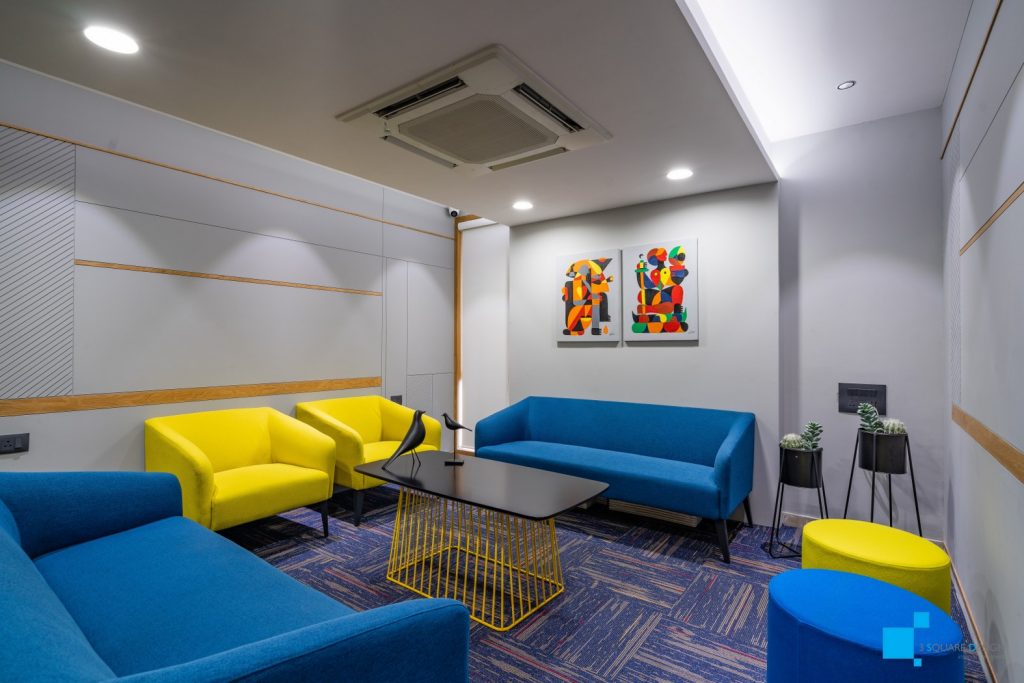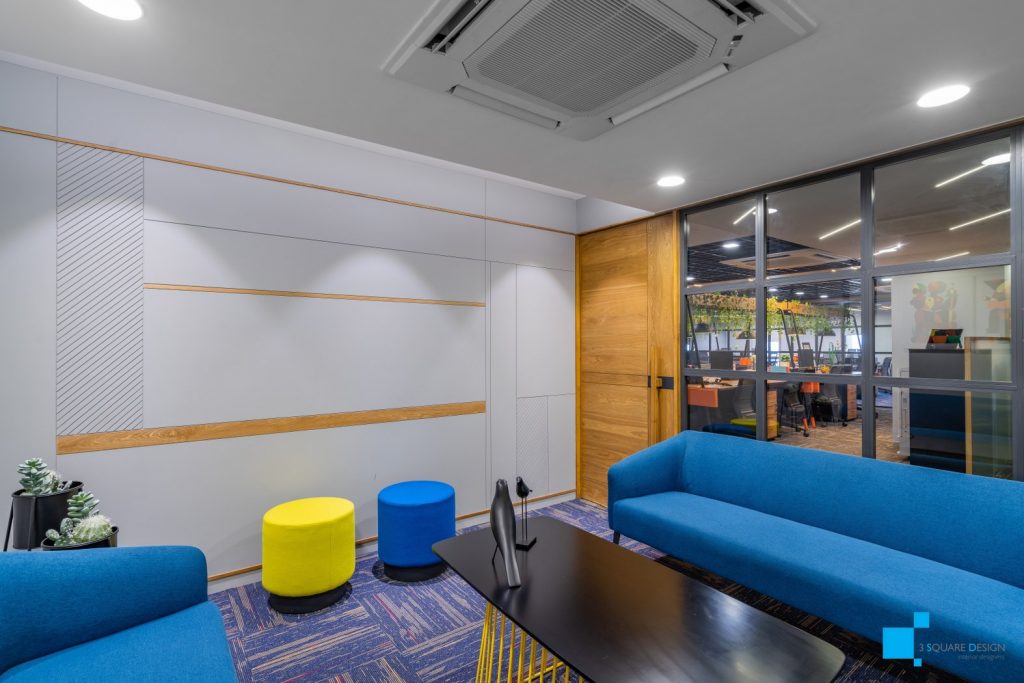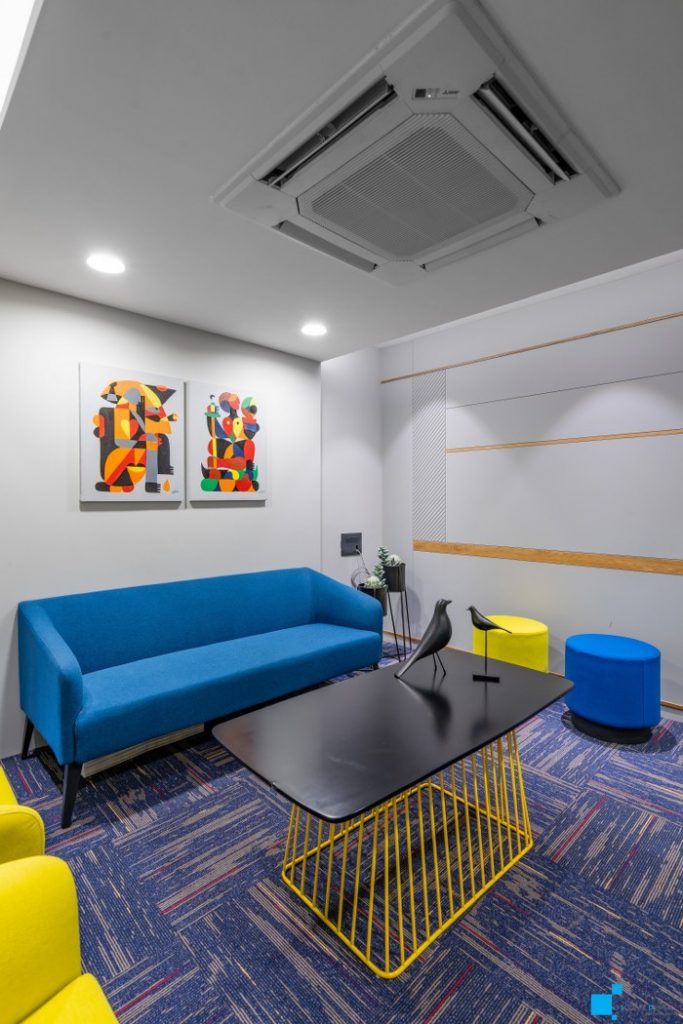 A rectilinear conference room again follows the 'no ceiling concept' with black paint and exposed services. White paneled walls get sandwiched between this open ceiling and carpet floor. Wood is used as a highlighter to accentuate the appeal further. A peripheral seating is planned along the longer wall to add convenience aiding the functional aspects of the space. Again, minimalistic wall art adorns and ornament these white walls.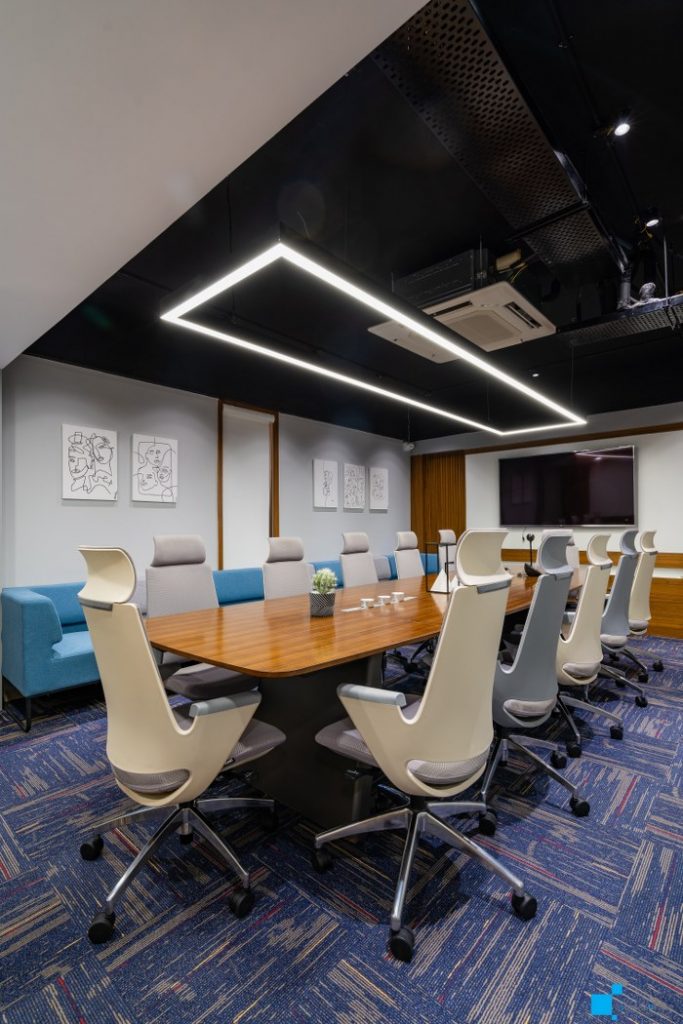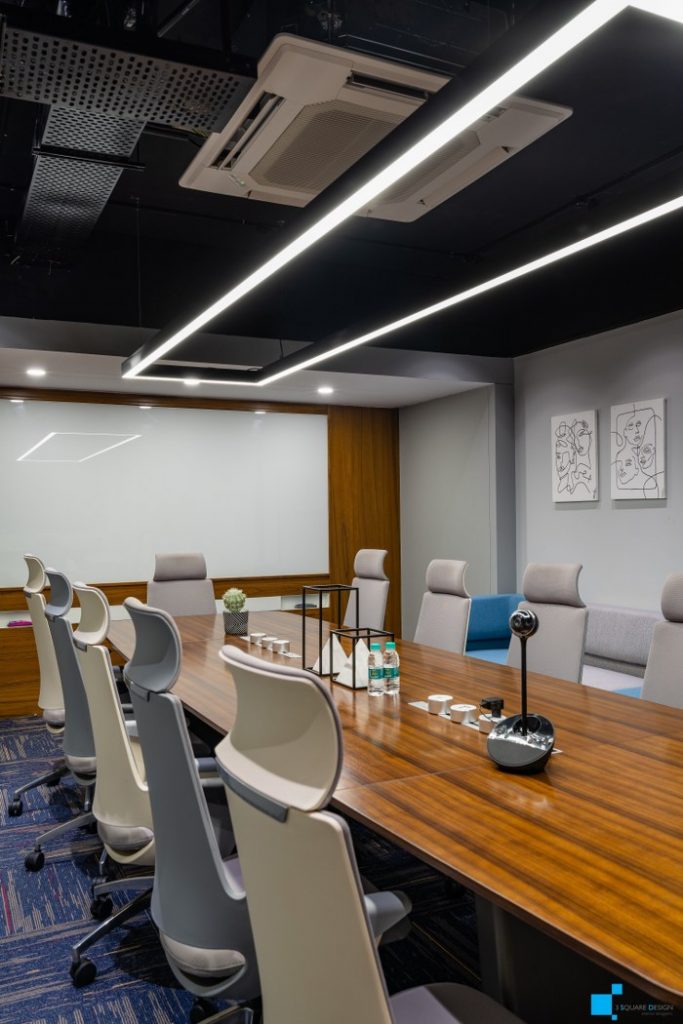 A beguiling work environment work manifold in enhancing the work efficiency of the employees. This office goes beyond the conventional design ideas in providing an efficiently productive space. Hence, it sets an example with apt use of color tones, furnishings, and space planning for a coordinative work environment.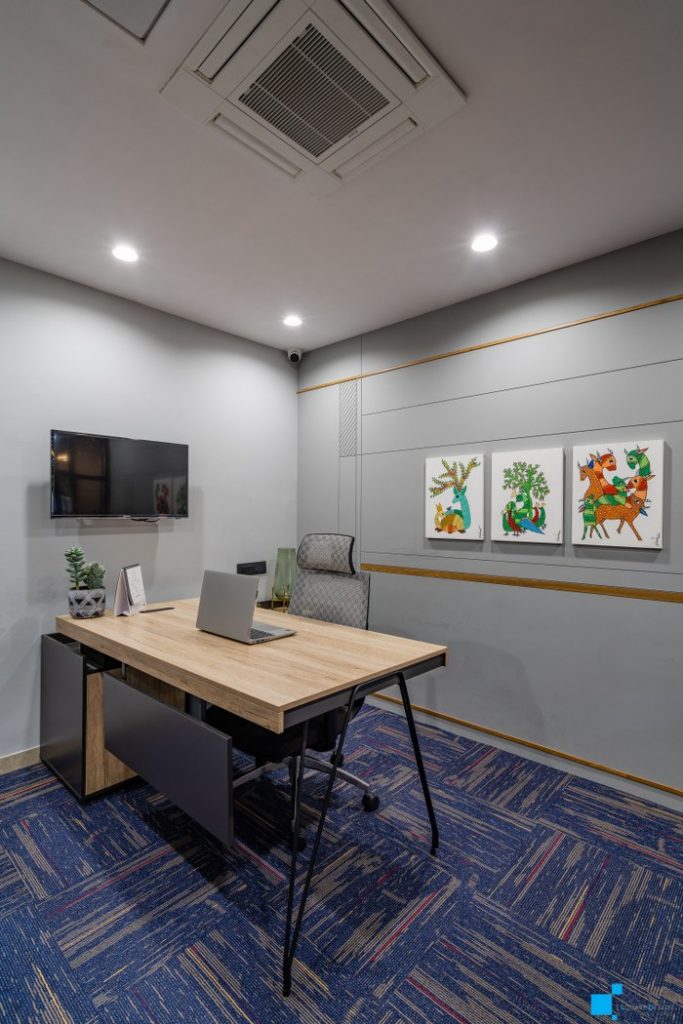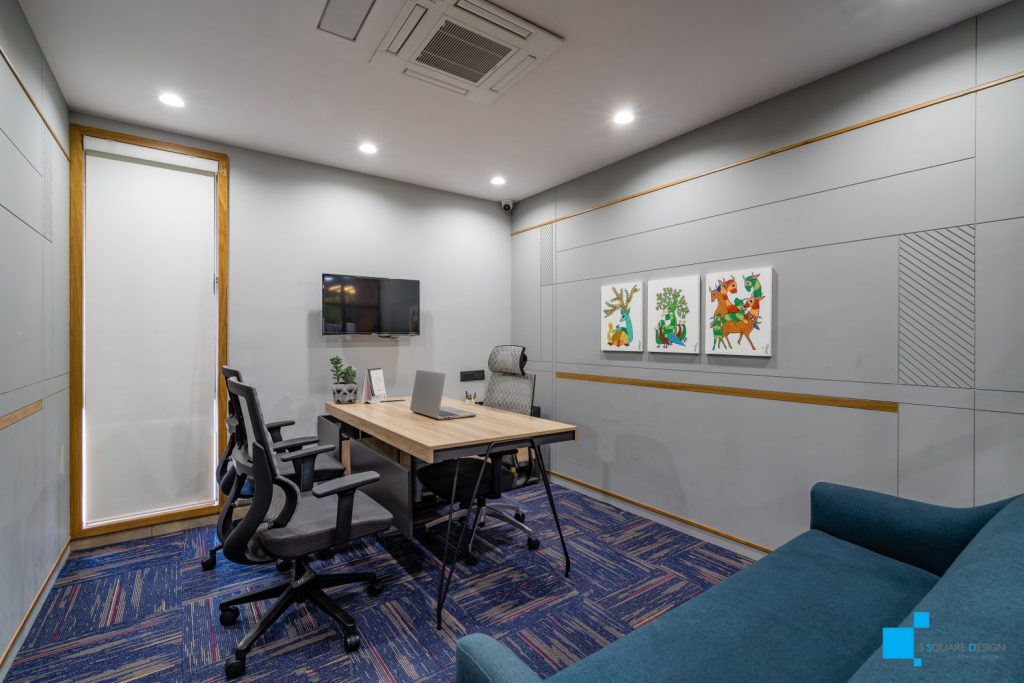 FACT FILE :
Firm: 3 Square Designs
Client Name:  Mr. Monik Panchal
Project Name: 1101 Workspace (smith structure office)
Project Type: Corporate Office Workspace
Location: Thaltej, Ahmedabad
Area: 4123 sq. ft.
Principal Designer: ID Vishal Patel, ID Bhavya Patel, ID Hardik Donga
Text Credit: Megha Hirani
Photography: Inclined Studio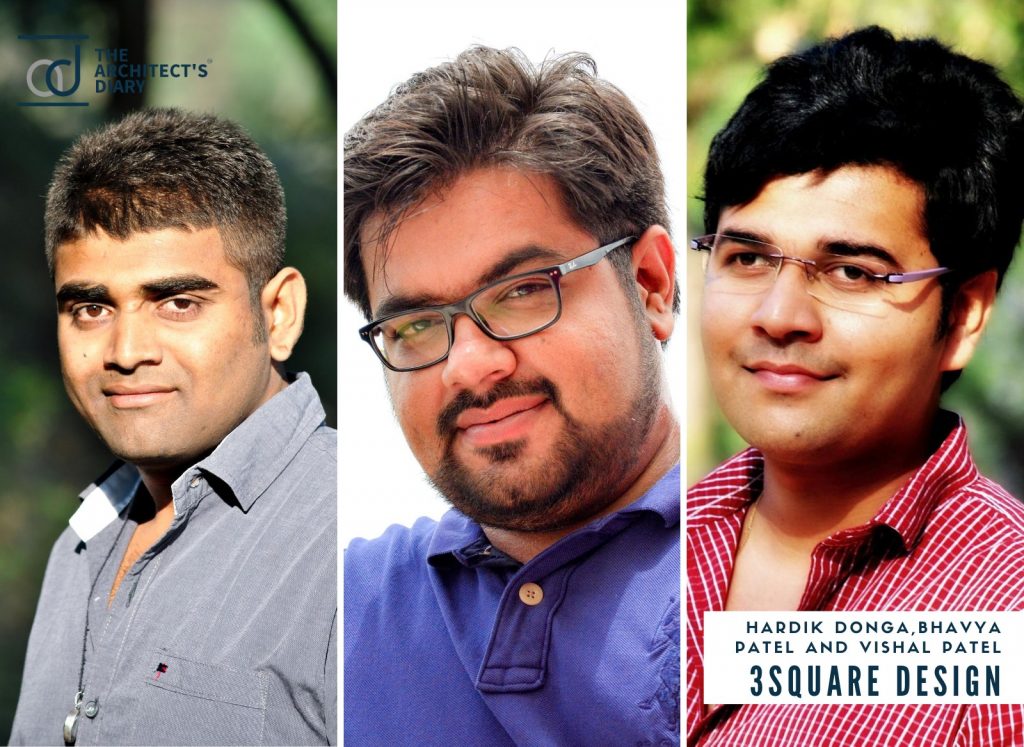 Facebook link: https://www.facebook.com/3squaredesign/
Instagram link: https://www.instagram.com/3_square/