Apartment Design Is A Choreographed Journey | Seza
The screens and fins help in adding linearity and break up the width of the facade with a play of different materials.
The design establishes relationships of similarity and contrast with the surrounding buildings to be contextual and yet distinct. Upon entering the premises one sees the large expanse of the front garden which provides a nice foil for the grey structure to emerge.
Visit: Seza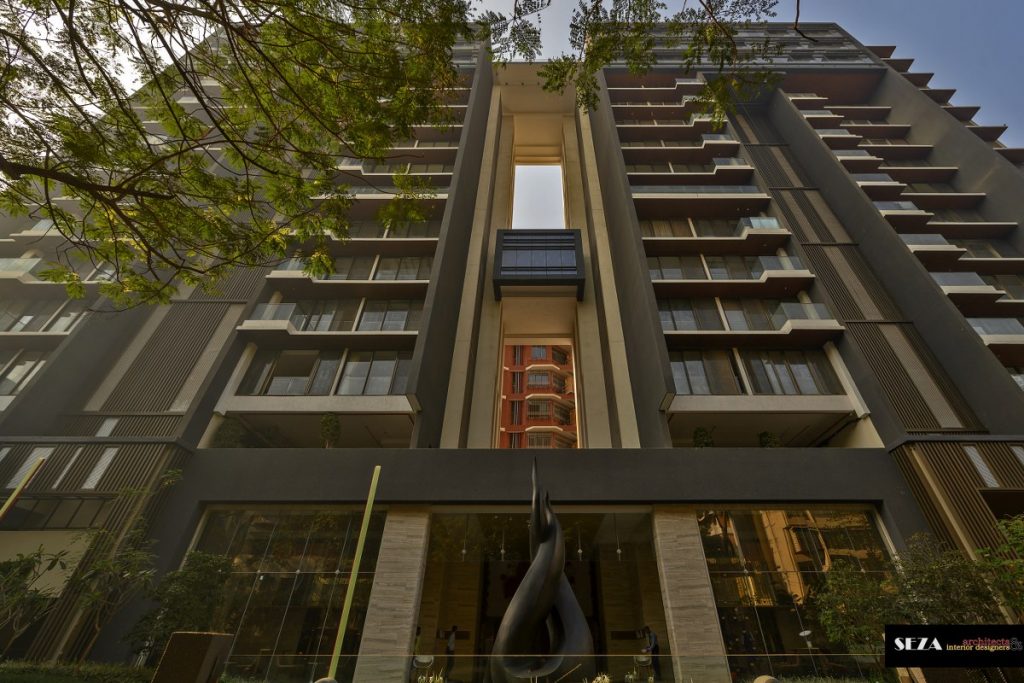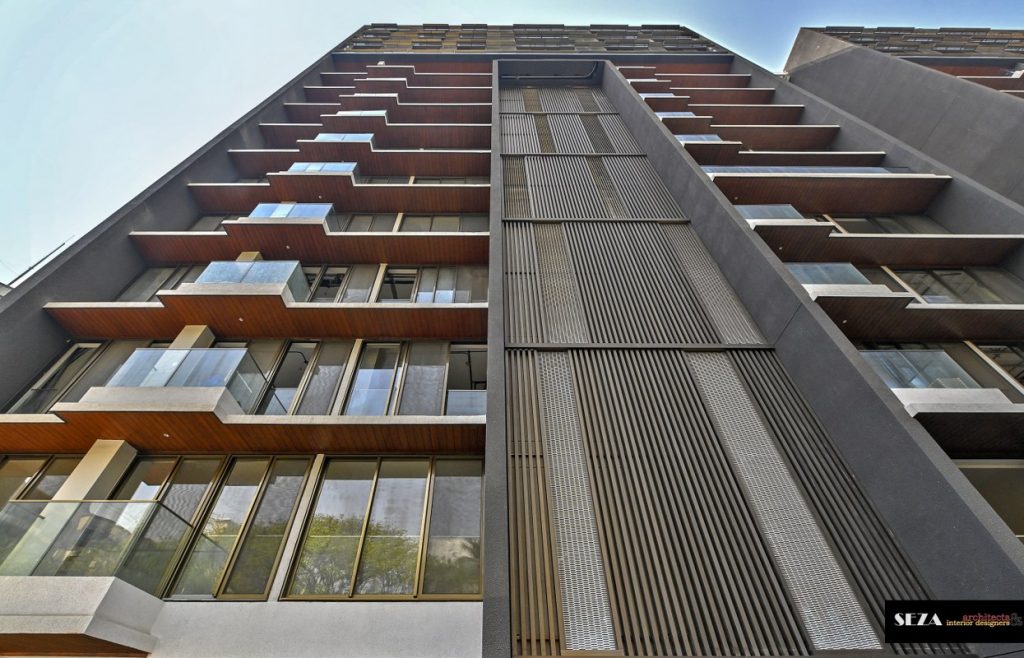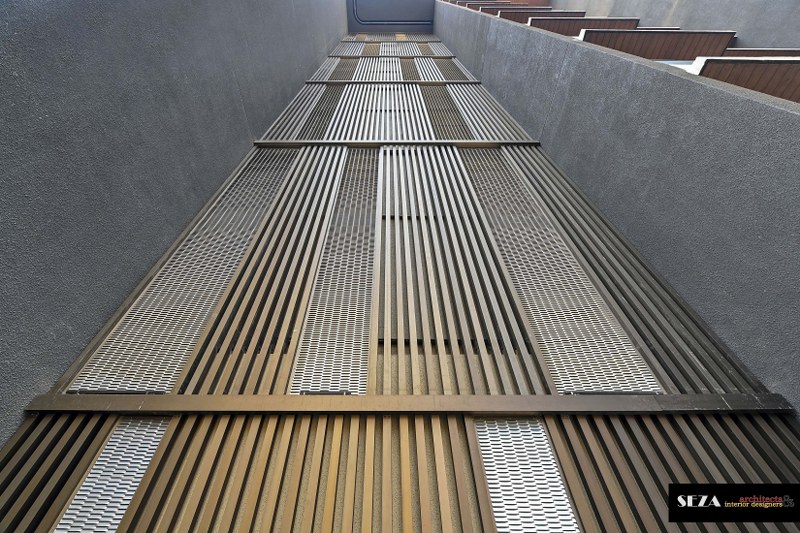 The path from Street to the apartment is a choreographed journey it becomes all about the entry experience, the contemporary landscape, the outdoor chess and the welcoming double-height lobbies which carry on a dialogue with the gardens externally while connecting through from one wing to the other across the driveway.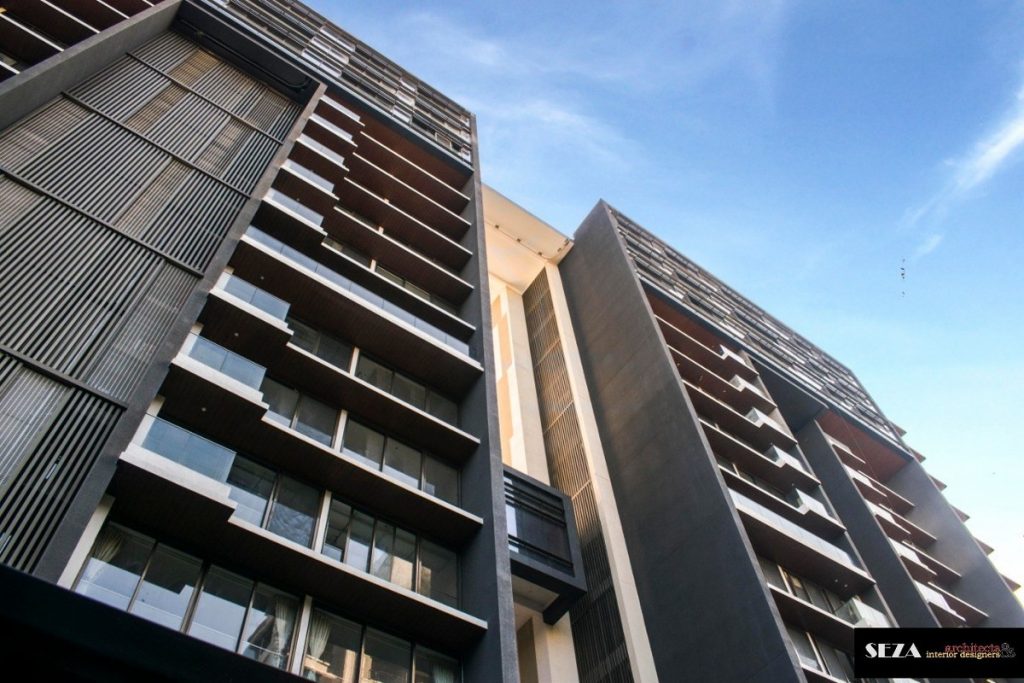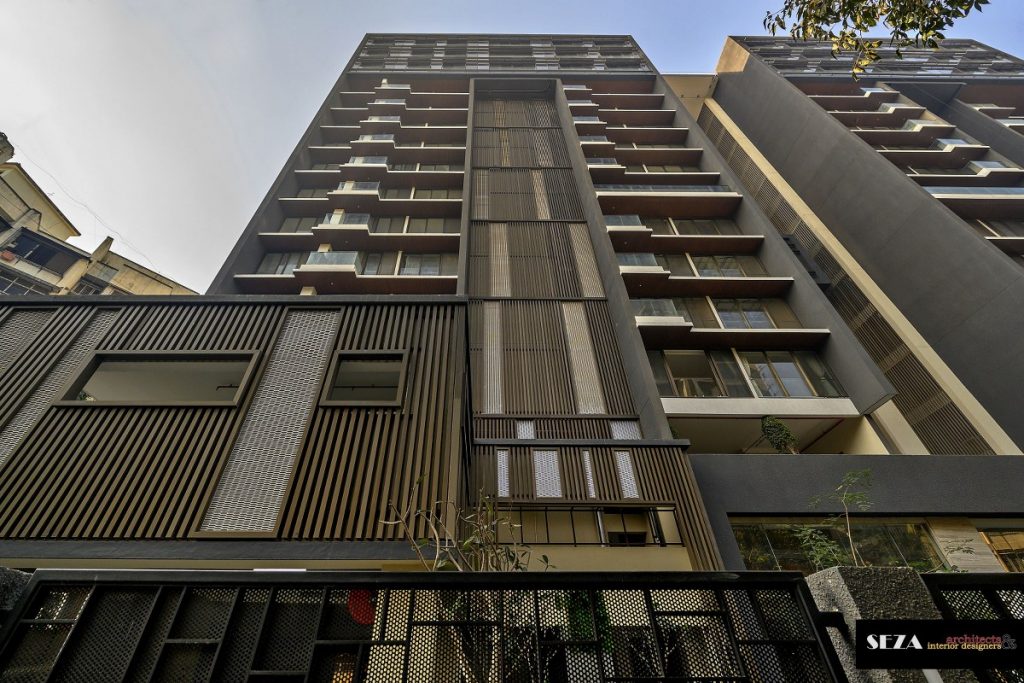 When one looks up. The horizontality of the wood finished soffits of the floors going up juxtapose with Vertical grey walls that frame each wing at the two ends. In the center, the manipulation of permeable screens formed by the expanded aluminum mesh and double-height al profiles arranged in a bar code design make for, a striking way of concealing various services, while creating a sculptural envelope. The same treatment across the two podiums makes the building speak a singular design language.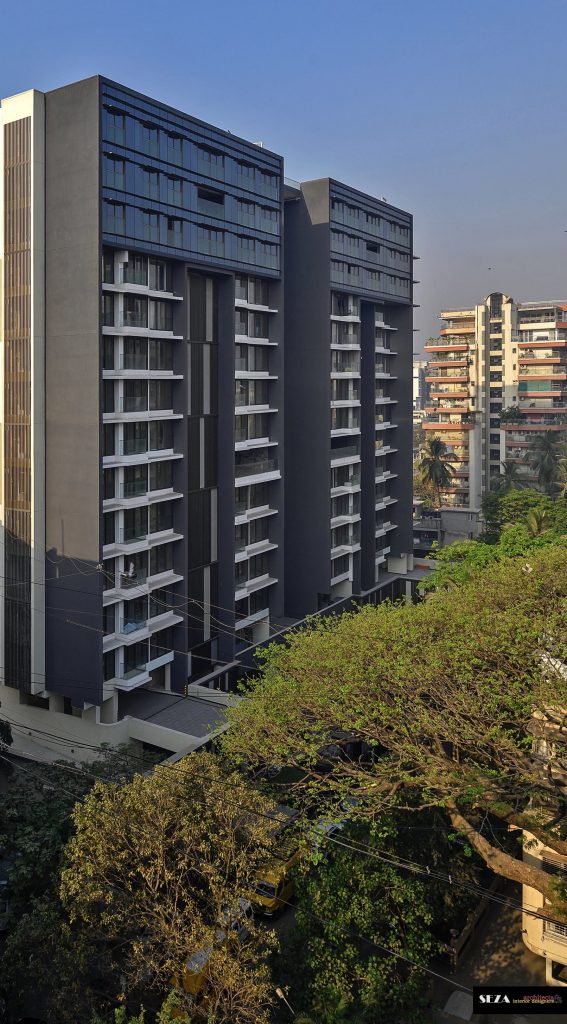 The screens and fins help in adding linearity and break up the width of the facade with a play of different materials. The wood finished chajja soffits create a layering effect, so the linear and horizontal elements together create a dynamism using the differing finishes of aluminum, glass and paint.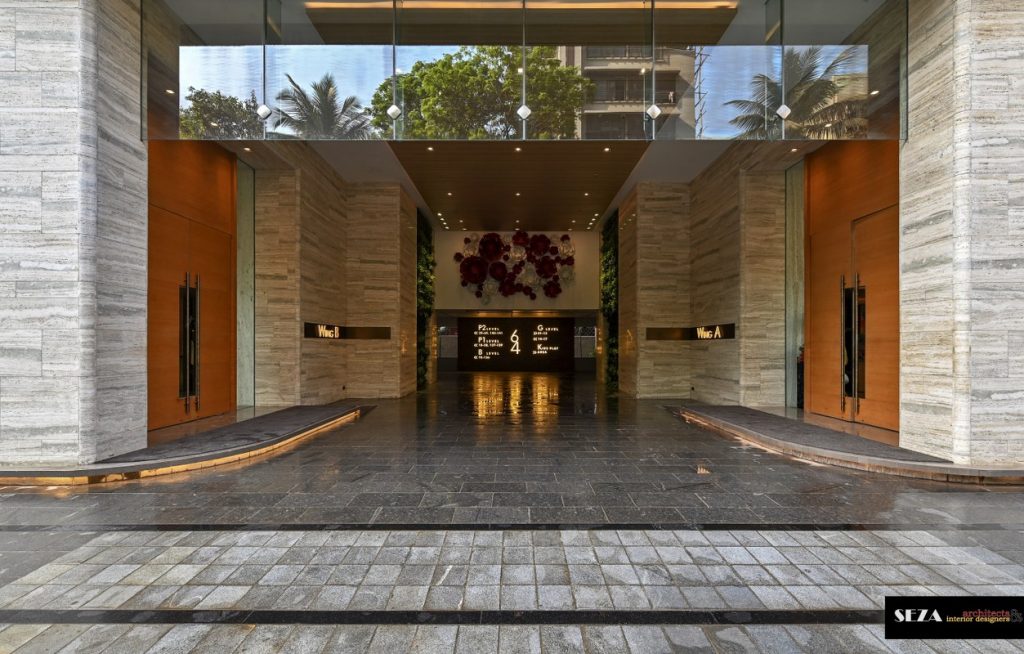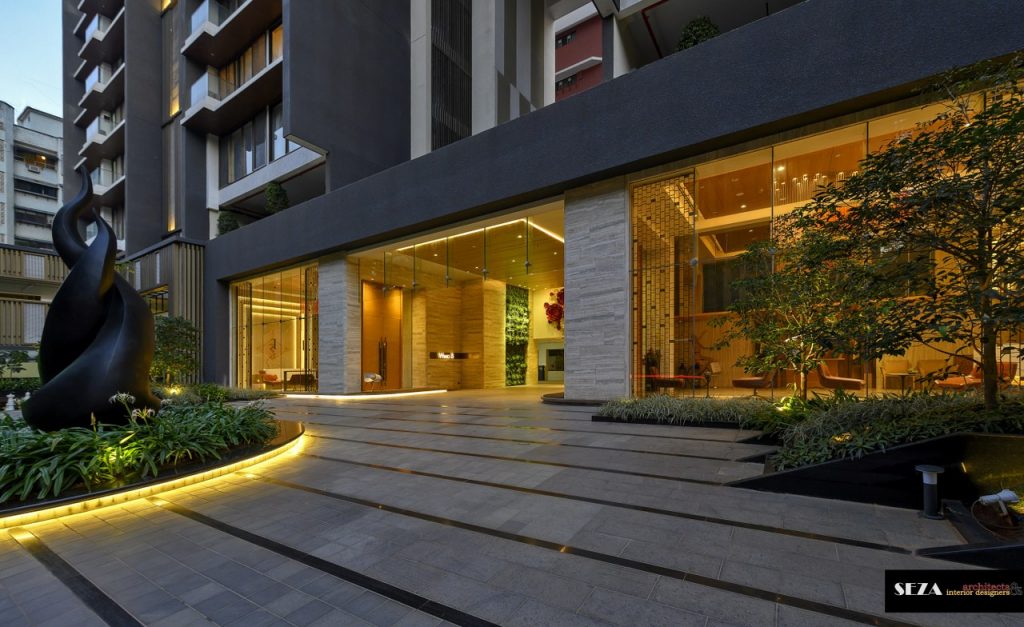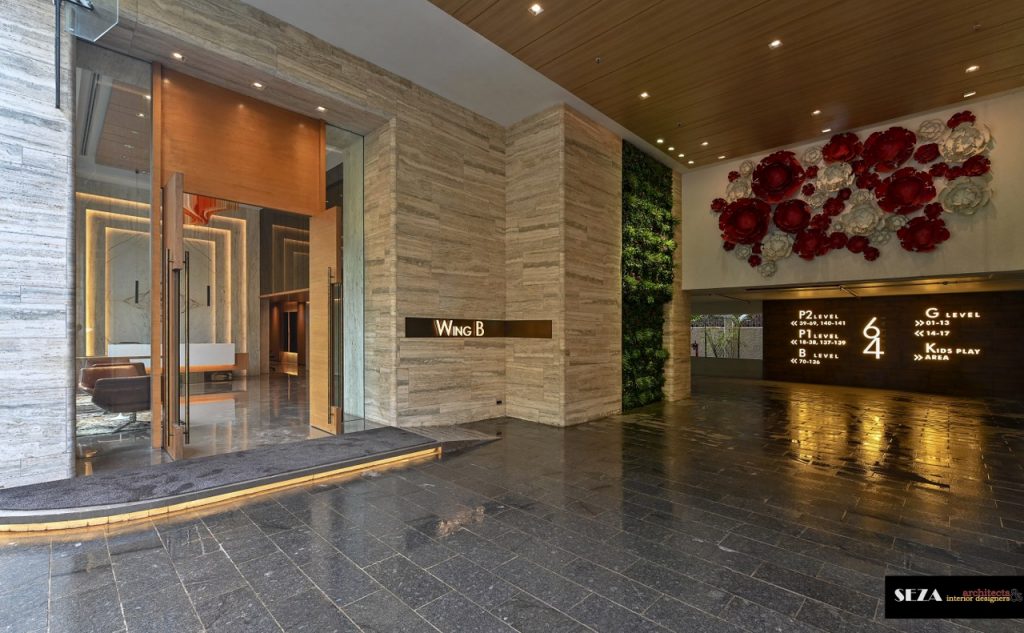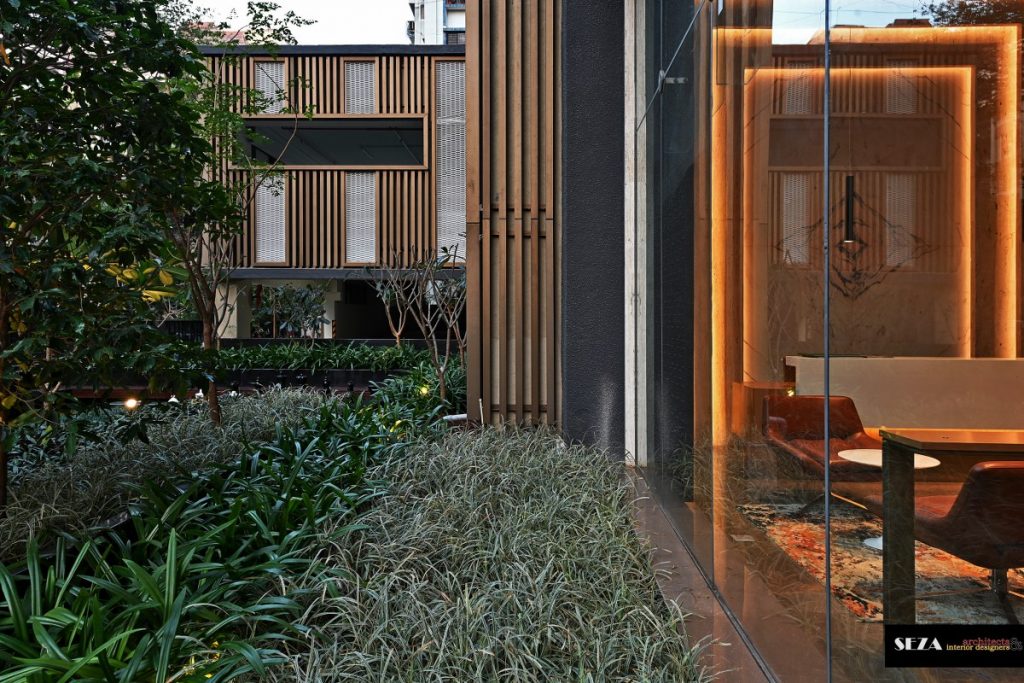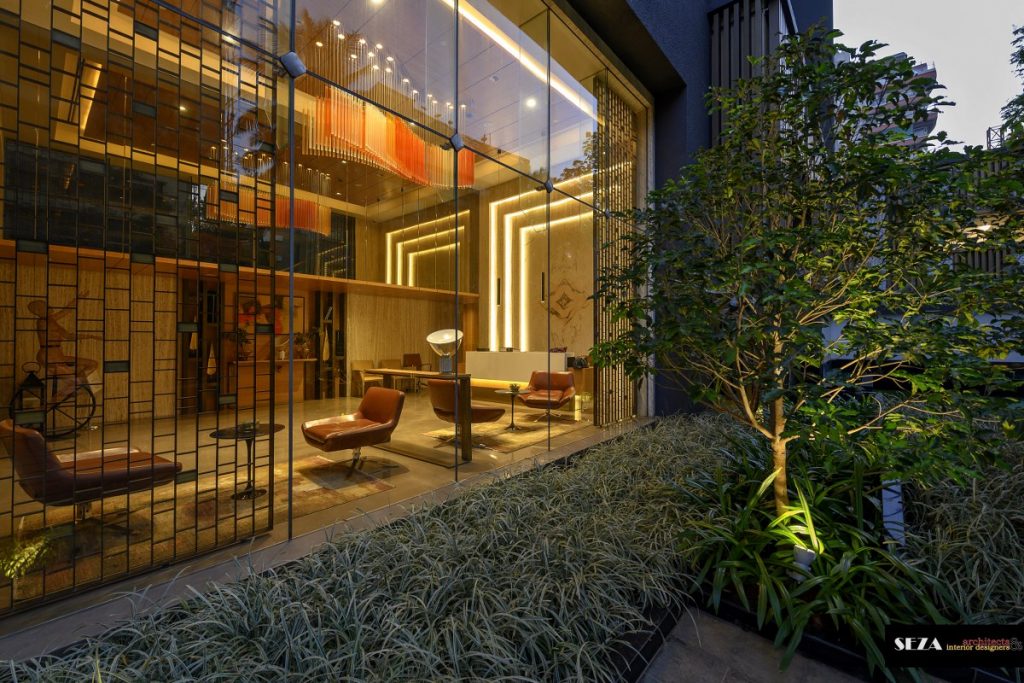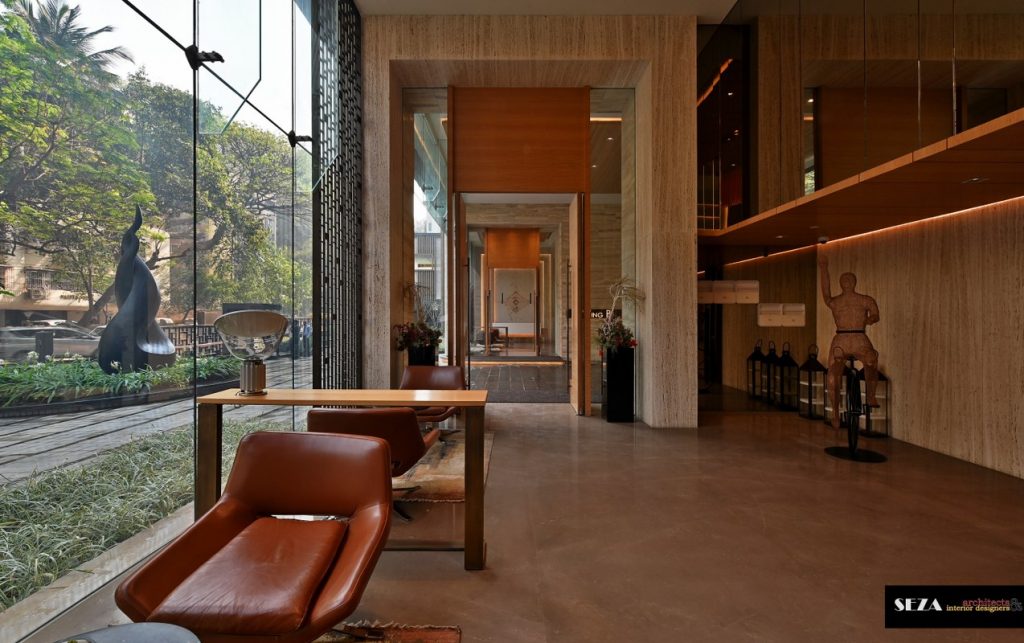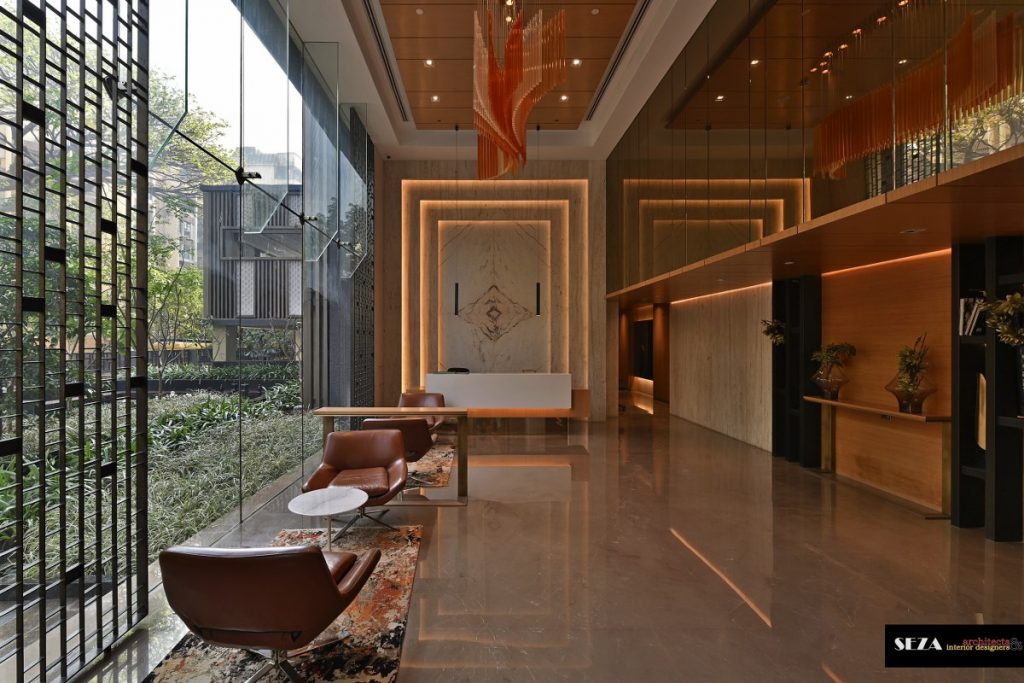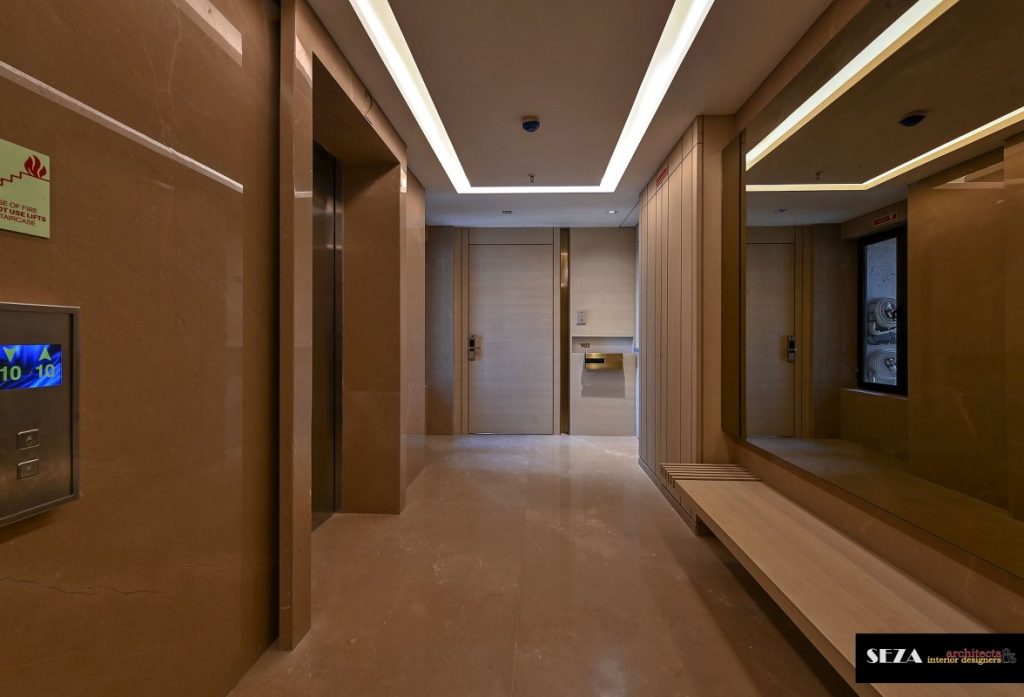 The plan is linear as is the plot with two apartments a floor and two wings , which allows three faces to be open to both sunlight and ventilation. In all apartments opening up the masonry facade which are recessed within deep overhangs allow for generous amount of sunlight and good ventilation required for our tropical climate. The preferred North orientation is given to the living , dining and some bedrooms this helps in keeping the apartment cool . The service areas like the kitchens , dry yards , staircase are located on the south side .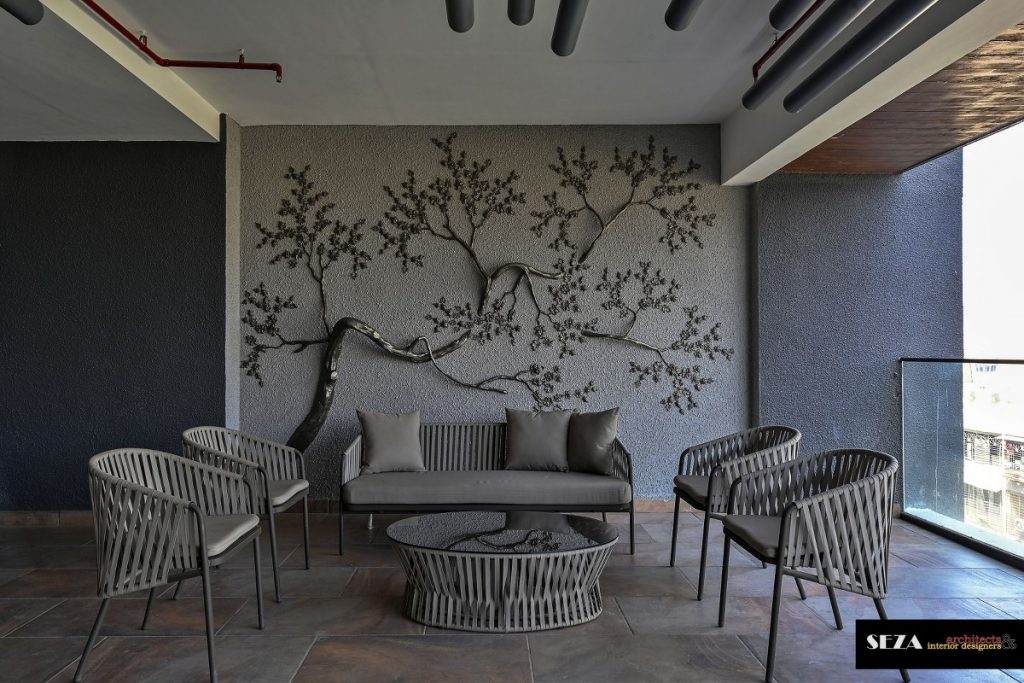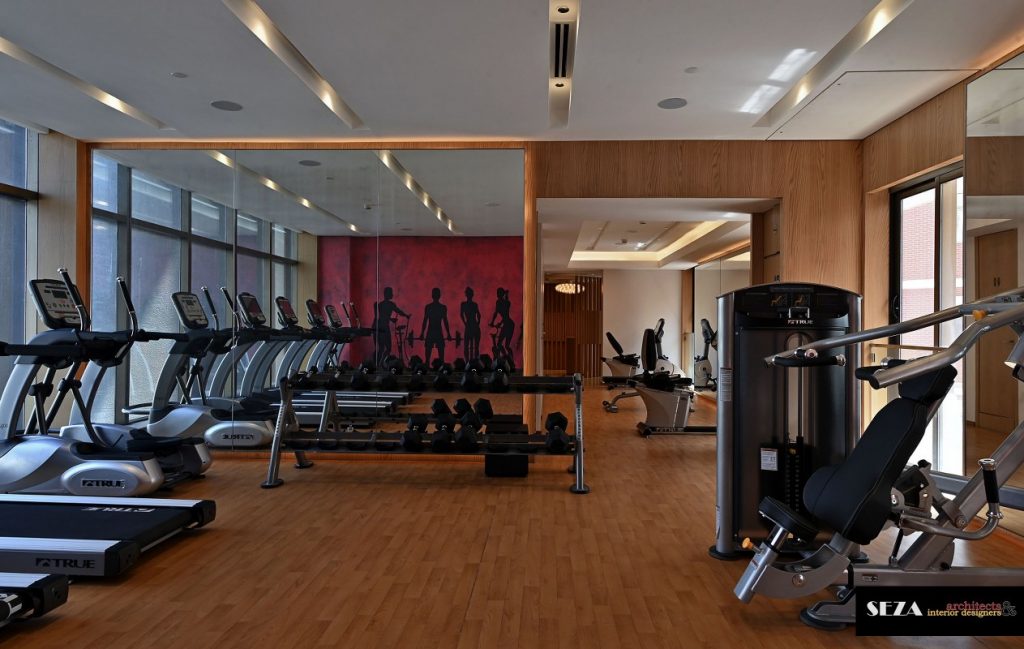 Amenities like the Gym , spa , and health club are designed within a cube which is in middle of the two towers , and located exactly halfway between the towers so that when in the gym you feel like you're floating in the middle .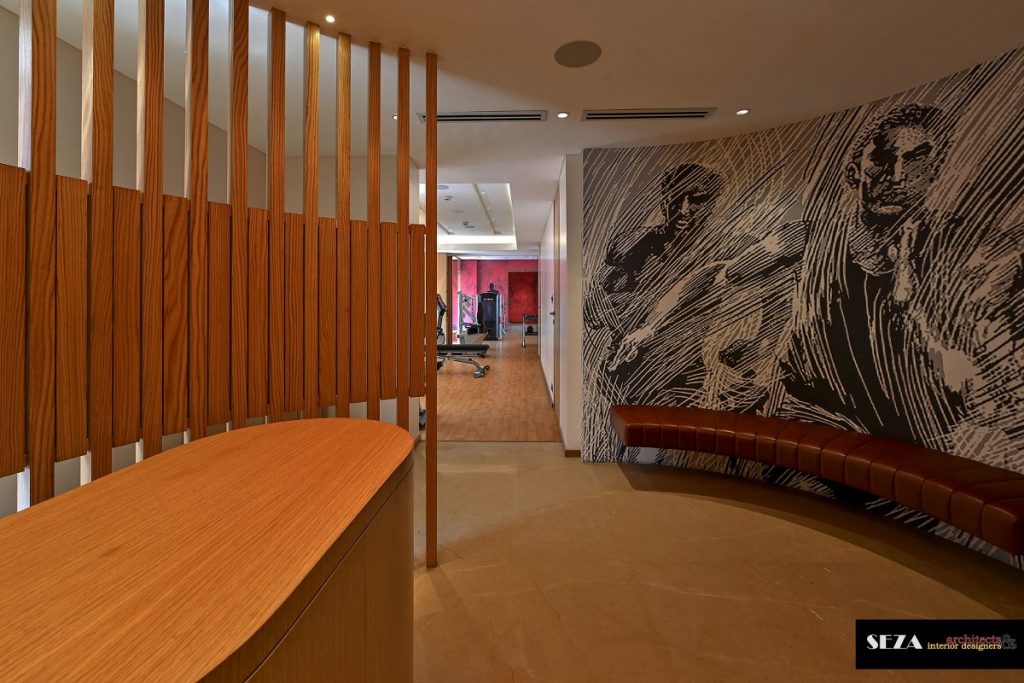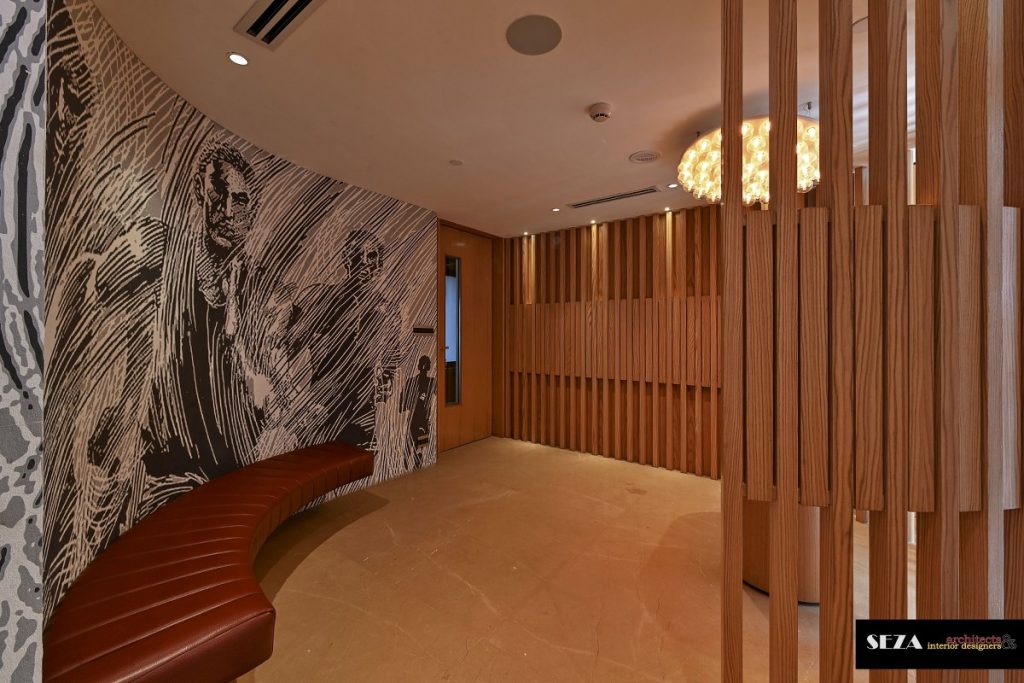 The bold graphics are meant to motivate you while working out. Besides joining in the middle with the gym, the towers are connected at the terrace level too so that one has a large footprint to create more amenities that the residents can enjoy.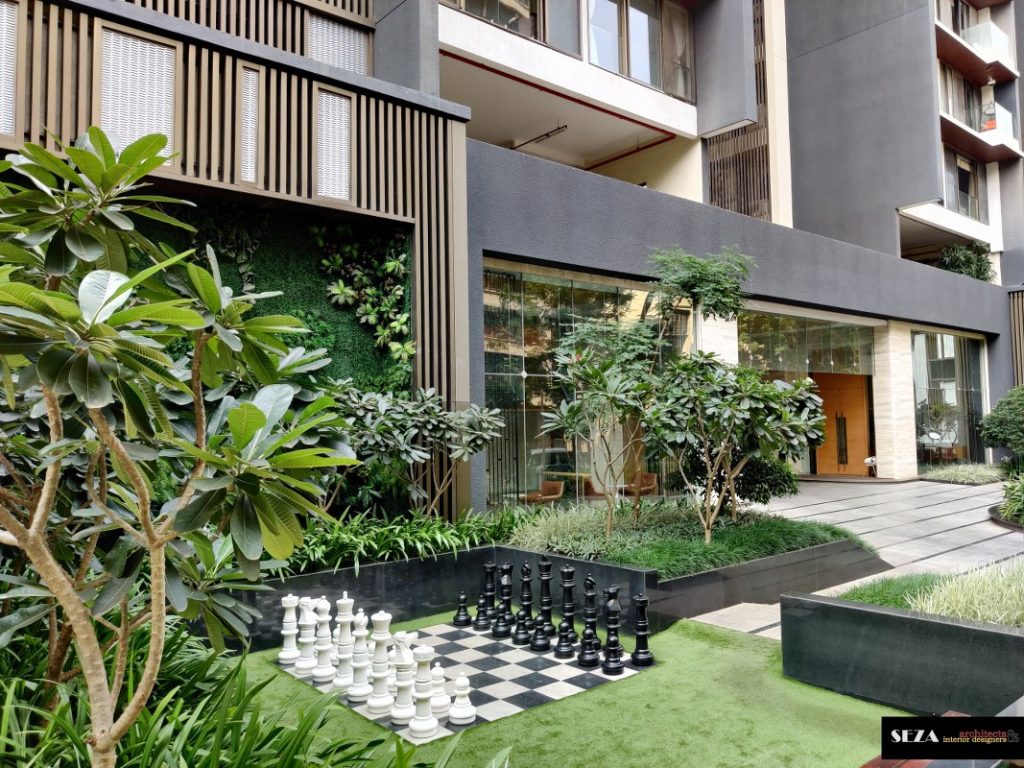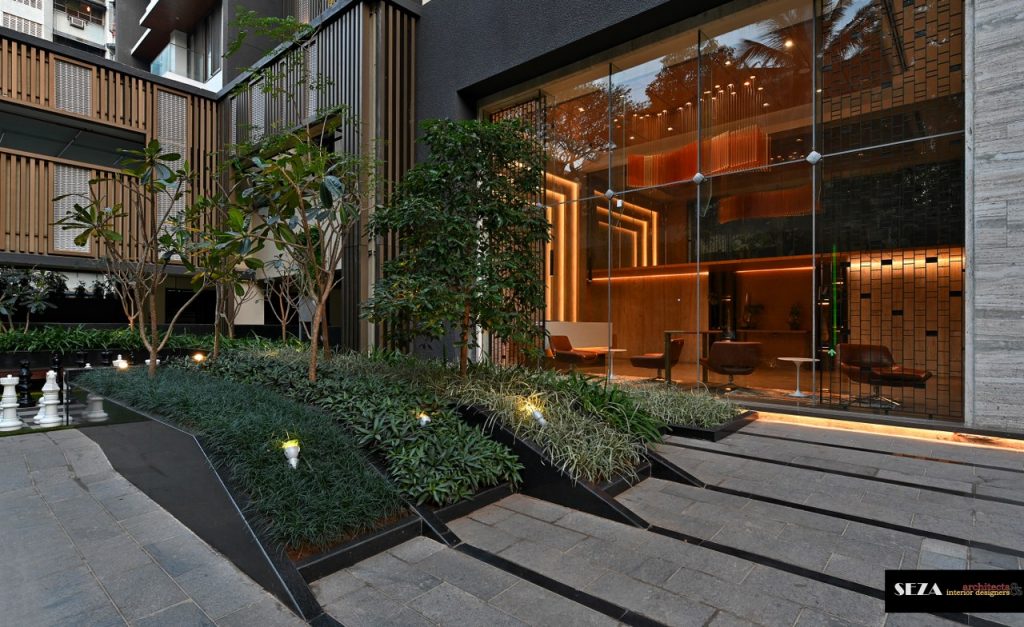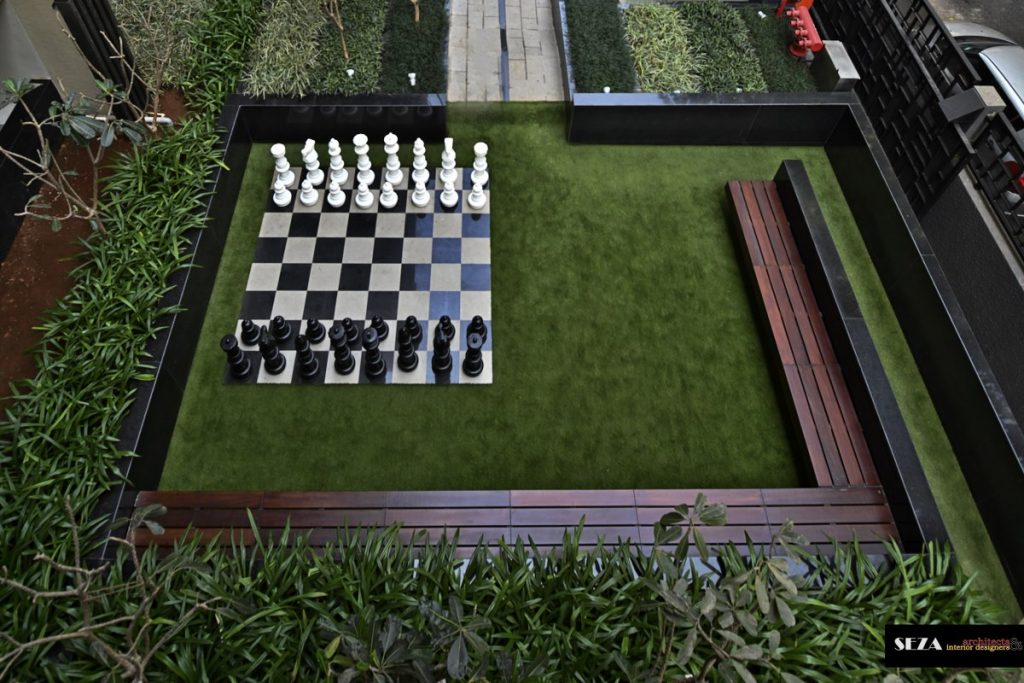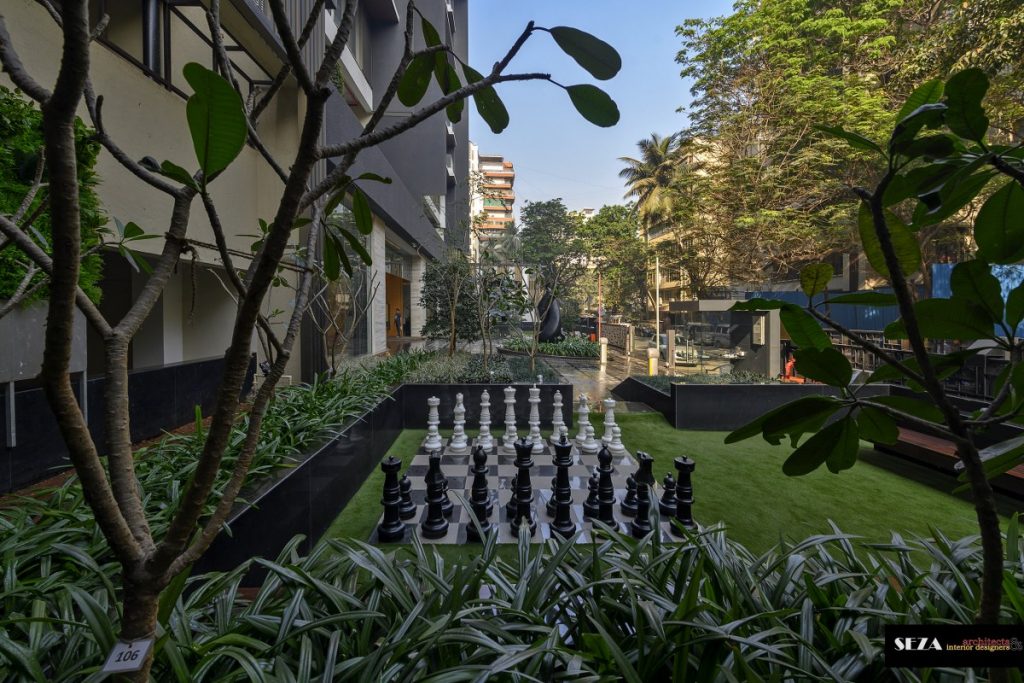 Here residents can enjoy larger gatherings, practice yoga, thus offering them varied, interesting, and refreshing recreational areas making living in Mumbai much more meaningful.
FACT FILE:
Firm: Seza
Project Name: 64 Greens
Project Type: Residential Apartment
Location: Santacruz-Mumbai
Houses: 48 families
Area: Approximately 150,000 sqft
Principal Architects: Seema Puri Mullan & Zarir Mullan .
Photography: Dinesh Mehta. 
Facebook: Seema-Puri-Mullan-SEZA
Instagram: https://www.instagram.com/seemapurimullan/