In India, the progressive lifestyle has led to an unparalleled rise in the landscape and gardening market. Designing a garden brings joy and a sense of fulfillment. However, creating the perfect inspirational garden can be overwhelming. Fortunately, there are landscape gardening ideas that can turn your yard into a beautiful, green, and comfortable space.

Give Your Lawn a Good Shape
Before you can start landscaping, give your lawn a perfect shape. Remember, you don't have to work with rectangles only. But if you extend to another garden element such as a flower bed or patio to create an L-shape. You may also incorporate a birdbath, sundial, or water fountain on one side of the turf to enhance style.
If you are looking for unique designs, try linking several circular turfs with paving. This idea works well in long narrow yards. Alternatively, change heights with raised or sunken lawns, or create curves around it. If the garden is small, opt for a single circular shape with beds towards the corner where you can combine small and tall shrubs.  
Plant Trees Wisely
According to the best Portland tree services, well-maintained trees create comfort, shade, and beauty. Whether used in groups or separately, trees play a significant role in creating focus, division, and unity in the garden. Depending on its size, there are creative ways to design beautiful landscapes with the use of trees. For example, you can create a focal point by planting a specimen tree like the Japanese maple. Since specimen trees are large, they define spaces and You may also create a quad on your patio or areas surrounding the pool with fruit or flowering trees. Before you plan all the other factors for your lawn, you should have professional ground maintenance services to keep up the good health of your patio. While you can plant trees yourself, it would be wise to hire professional tree services. Arborists know the right trees for your landscape and can help you trim or remove trees that affect your garden design.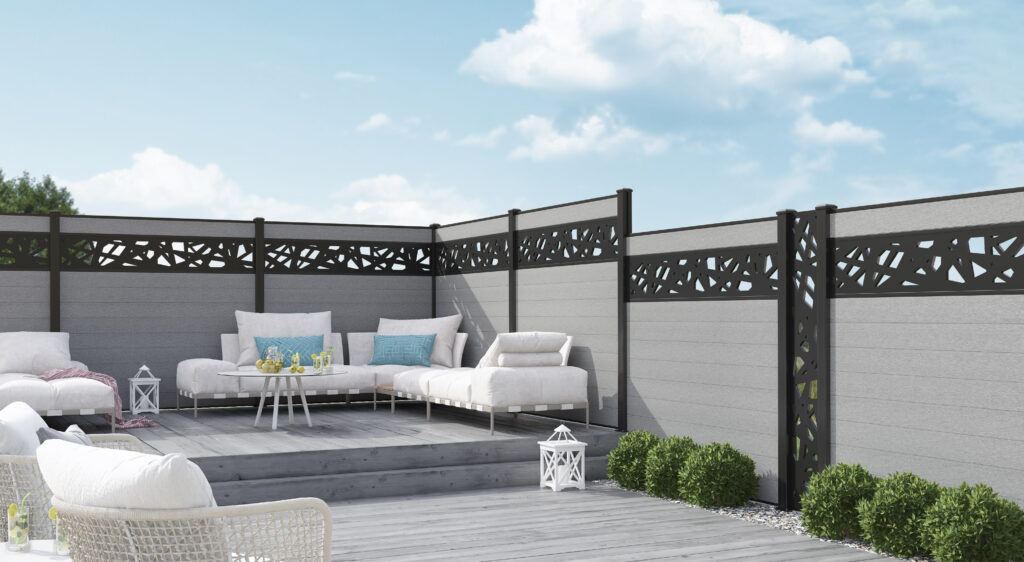 The new garden design revolution
For years garden fencing has been restricted to wooden panels that aged badly, deteriorated rapidly in harsh weather conditions and required yearly maintenance from the home owner to keep it looking presentable.
A new revolution in garden design is now available through the use of composite fencing. Strong, durable, waterproof and both UV and mould resistant, it is the perfect material for those requiring a maintenance free garden solution.
Following modern architectural trends, composite fencing comes in classic minimal colours such as black, grey and cream, rather than more traditional brown wood finishes.
Charles and Ivy are at the forefront of this garden design revolution and have created a bespoke website that allows users to customise their own fence design from thousands of different variations. They have 16 different screens, available in 7 different heights and 3 different colours, and their fencing kits include everything needed to fit a fence by a confident DIYer or handyman.
For those looking for interior design, the decorative panels are available in lighter and more convenient 6mm versions, making them perfect for hanging to walls and plain surfaces.

Create a Planting Scheme
Creating the right planting scheme is essential for impact. Strive to plant in groups of three or five if you want a wide variety of colors in your landscape. Nonetheless, be cautious of how flower and leaf color blend or clash with the surroundings and hardscaping materials. Try mixing hues from the same color family or add plants and flowers with contrasting texture to stir drama.
Also, consider planting evergreens, like mahonia or boxwood, to create a backdrop for your garden scheme and year-round interest. Then fill the gaps with plants and flowers of multiple heights for visual drama. Don't be afraid to design narrow plant beds or planted-up troughs to define dining or seating areas.
When designing your garden, choose plants that thrive well in your area. For instance, if your garden benefits from the sun all day, settle for geraniums, roses, and herbs. Additionally, update pots, borders, and beds with seasonal flowers for the warmer months.
gardening by tree professional Nashville
Photo by Stephen Leonardi on Unsplash