&nbsp
It is our turnkey-based project. Our client approached us with a budget of around 18-20 lakhs. Mr. Bhargavbhai lives with his mother and grandmother. He wanted to have comfortable and contemporary interior design interiors. They wanted to fulfil all the requirements with smart solutions in the given budget, which was challenging for us. There were 2 main goals for us.1st is budget and 2nd is the time frame. Due to a tight budget, the material selection was a critical part. We selected Oval laminates and semi-waterproof plywood for the furniture.
A Residence that Exhibits the Finesse of Contemporary Interior Design | CS Design Lab
Visit: CS Design Lab
It is a very special project for us. We are really thankful to our clients for the trust they have put in us and the freedom they gave to design their dream homes. Their satisfaction was our reward.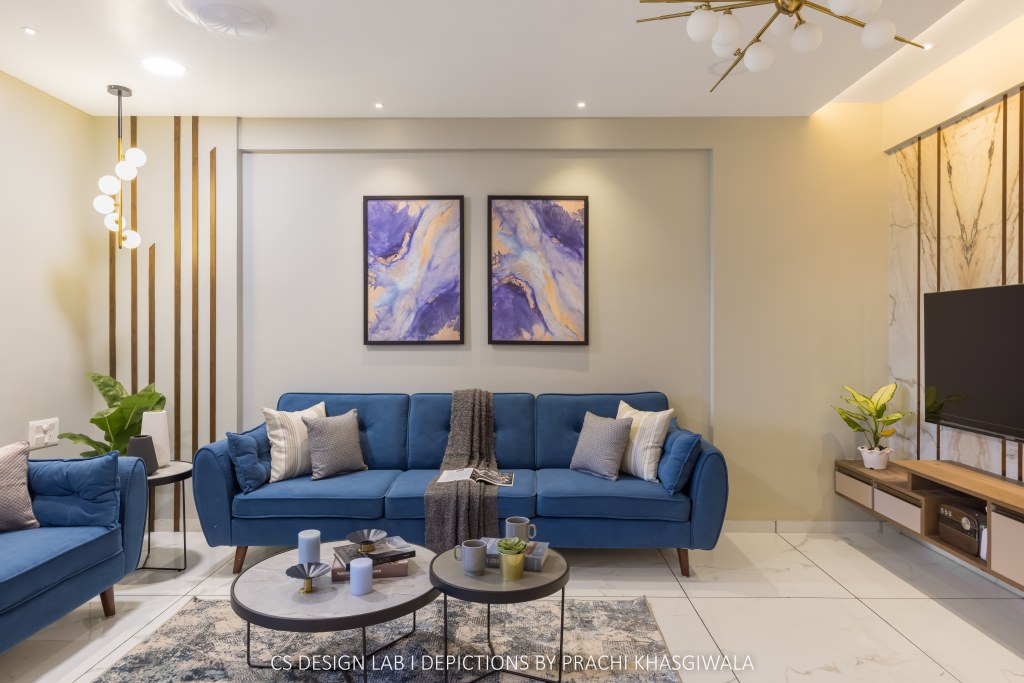 They wanted to have a 2 seated swing in the living room without any compromise in space and look. So we put it in such a way that they can either use it for dining or for living area. It has a rotatable back with blue upholstery. We used teakwood for the main door and safety door to have rich appeal. The tv unit is designed in a way that the main door looks like a part of it from inside of the house. For panelling, we used book-matched vitrified tiles with vertical grooves in wooden laminate.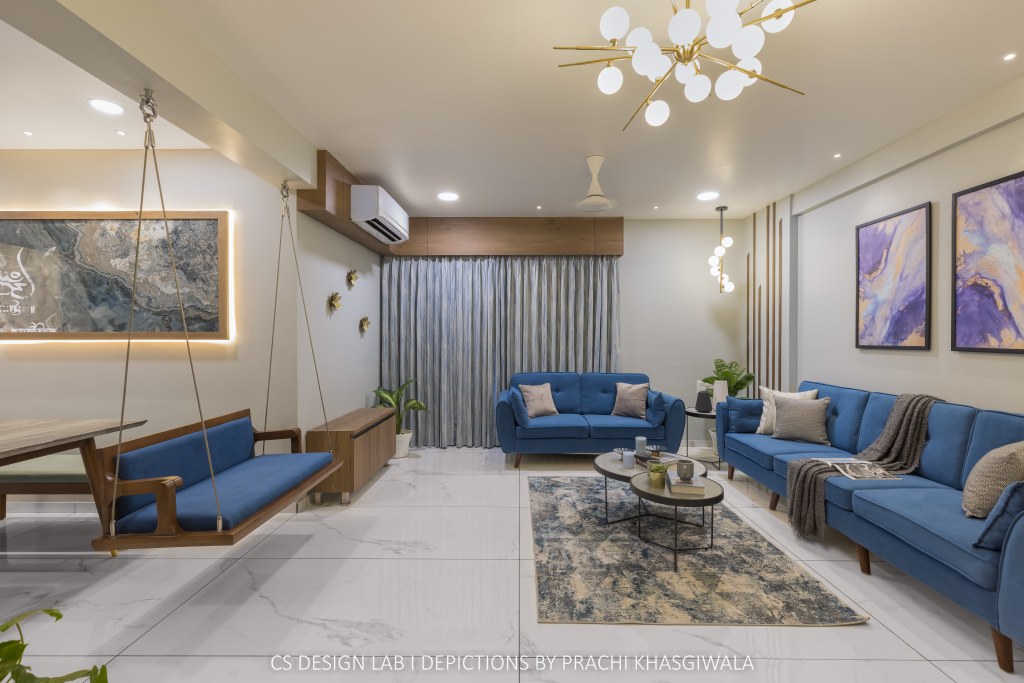 The living room, dining and kitchen are designed with different shades of blue in décor items and upholstery along with walnut brown laminates in different areas and light grey paint. We decided to have a blue colour sofa with a contemporary design which looks great in contrast with the grey colour wall.
We provided a beautiful chandelier at the centre and similar looking hanging light in the corner between sofas to have a pleasant ambience in the living room. We achieved to have a cosy corner in the living room as per the client's requirement. The dining table is done with a black Italian marble top and pastel green leather upholstery on 4 chairs and a bench.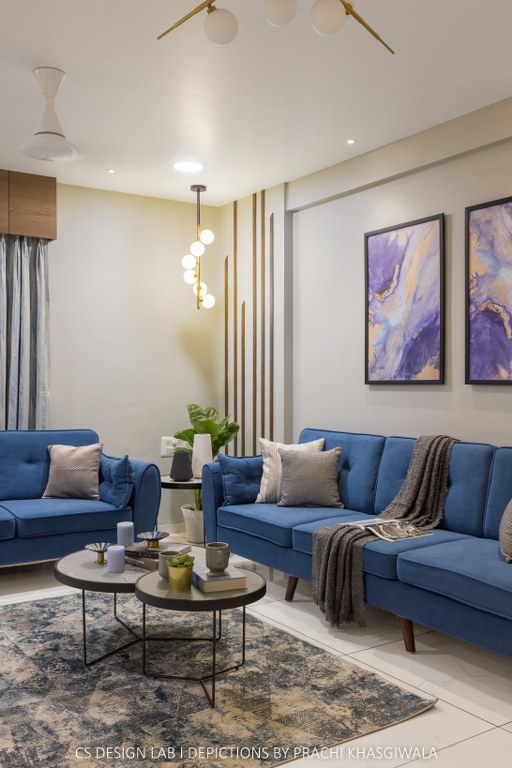 The kitchen is done with semi-modular tandem trollies with glossy finished laminates on shutters. We chose a bluish-green colour for that and white glossy finished laminate for overhead storage. The puja unit is designed with a white acrylic sheet with CNC cut mantra. With the help of meaningful indoor plants, we could achieve a fresh and soothing environment throughout the house.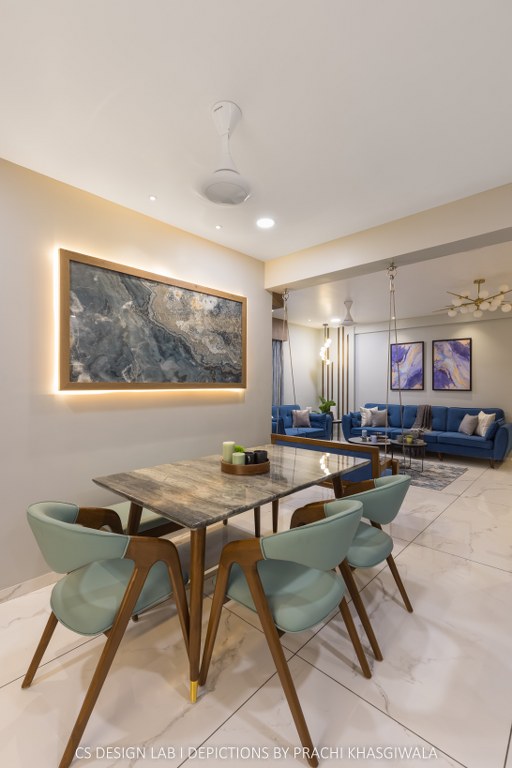 When we first visited the site, it was airy and very well-lit. We started with all the bedrooms. Bhargavbhai's bedroom is designed with pastel green and light wooden laminates as per his likings.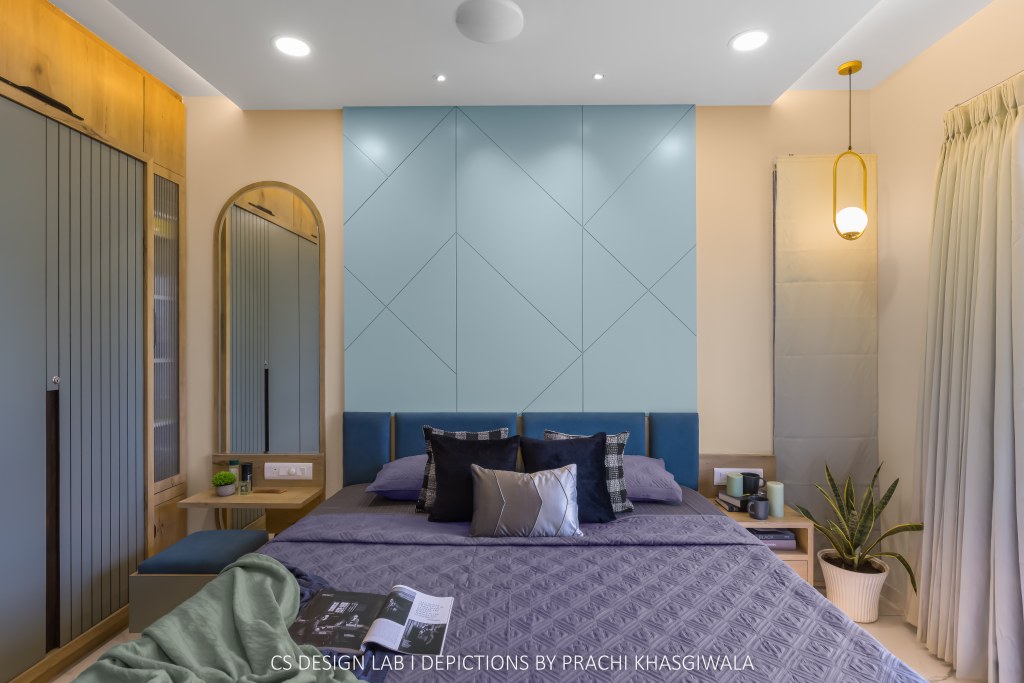 For headboard we provided MDF wall paneling with geometrical grooves patterns. Bed has teakwood legs and wooden cornice which has strip light under it. The working table is designed in such a way that it should not obstruct the movement.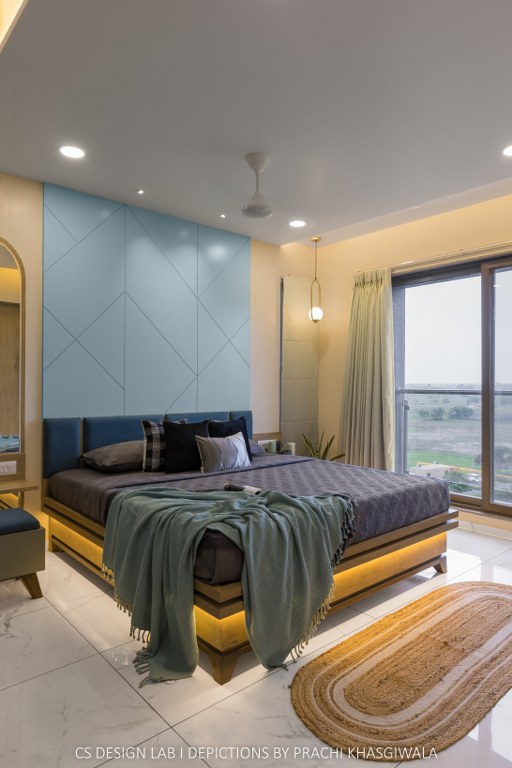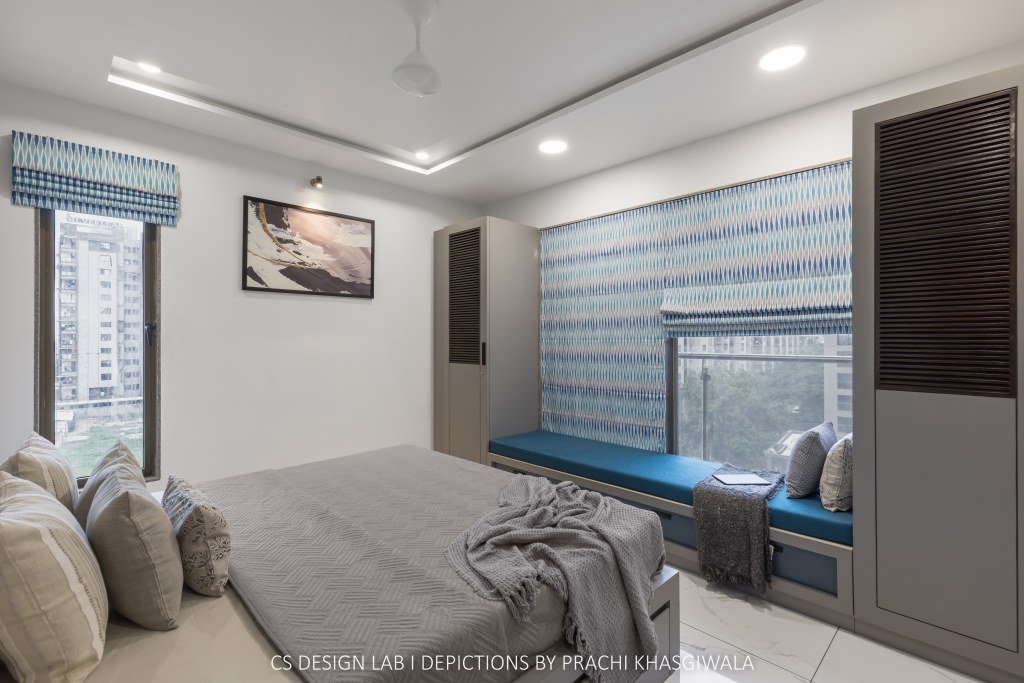 His mother's room, we chose plain grey laminates and teakwood louvers in cupboard shutters. We provided an Indian seating near a big window to enjoy the picturesque views. We kept the furniture minimal. They wanted to have a sofa cum bed in their grandmother's bedroom along with a single bed. We selected an orange colour for an accent wall of that room. For furniture we used light wooden and grey laminates.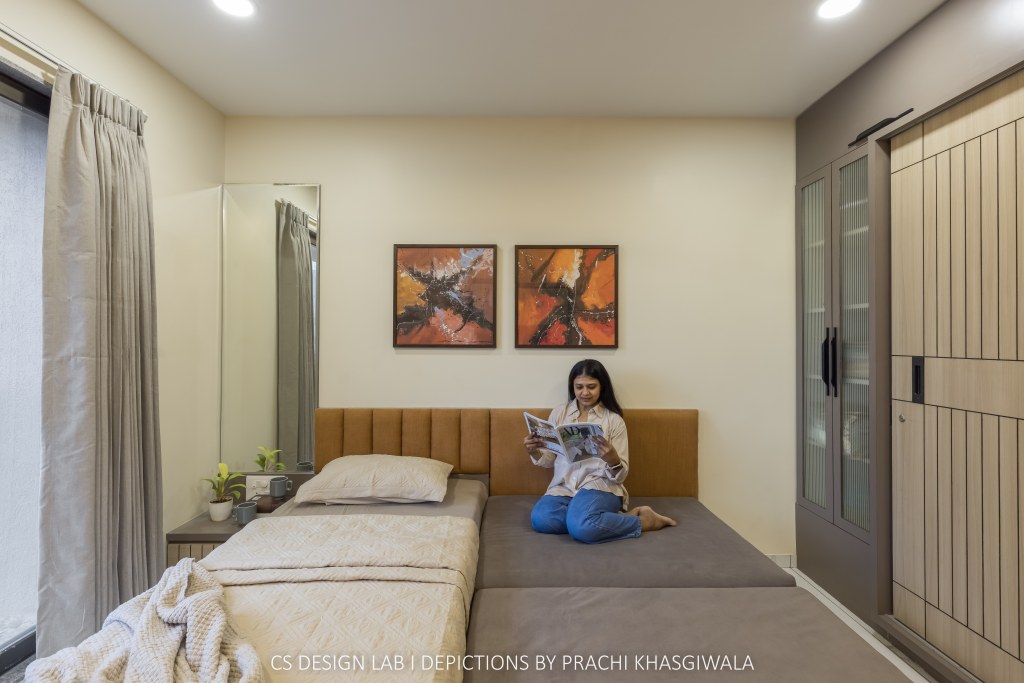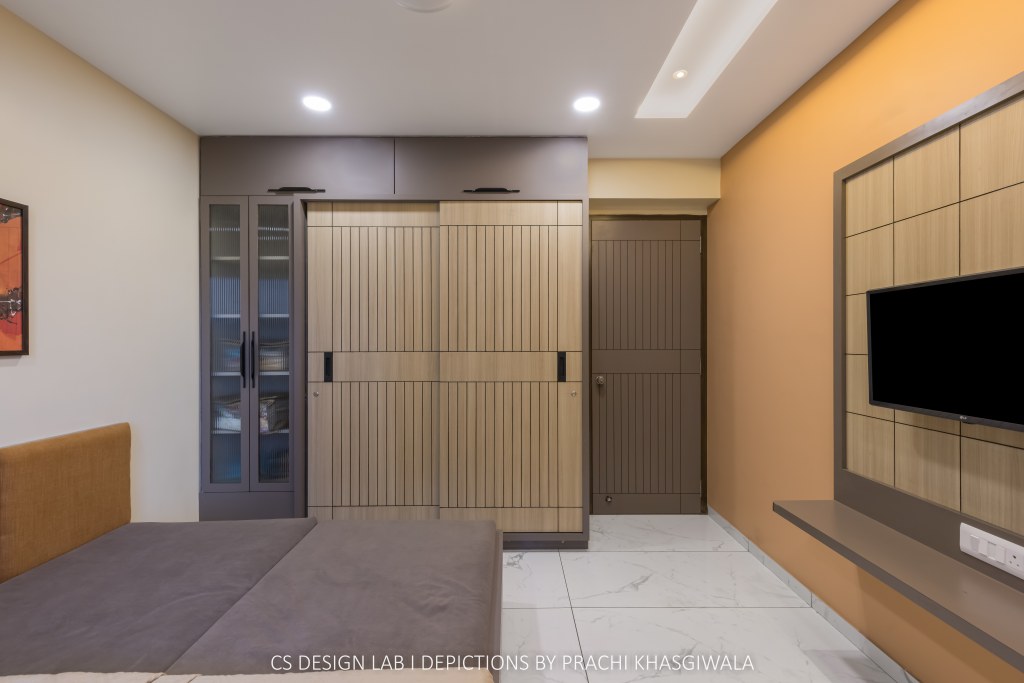 Fact file
Designed by: CS Design Lab
Project Type: Residence Interior Design
Location: Surat, Gujarat
Duration of project: 3 Months
Project Size: 1500 Sq.ft
Project Cost Appx: 20 Lac
Principal Architects: Chintan Naik & Swetang Naik
Photograph Courtesy: Depictions by Prachi Khasgiwala
Firm's Instagram Link: CS Design Lab
For Similar Project>>>Experience Luxurious Healing at this Ayurveda Clinic in Ahmedabad