Amsel Designs tried to incorporate the simplicity and warmth of the home owners in this residence along with their son's choice for a modern design and tasteful, elegant interior elements for this luxurious abode. Working for this client was like a dream for every designer, they were open to the ideas and designs with giving only one simple brief of keeping open spaces, the main focus was to keep the space clutter free with clean designs and yet not make it ordinary.
A Modern Design And Tasteful, Elegant Interior Elements For This Luxurious Abode | Amsel Designs
Visit : Amsel Designs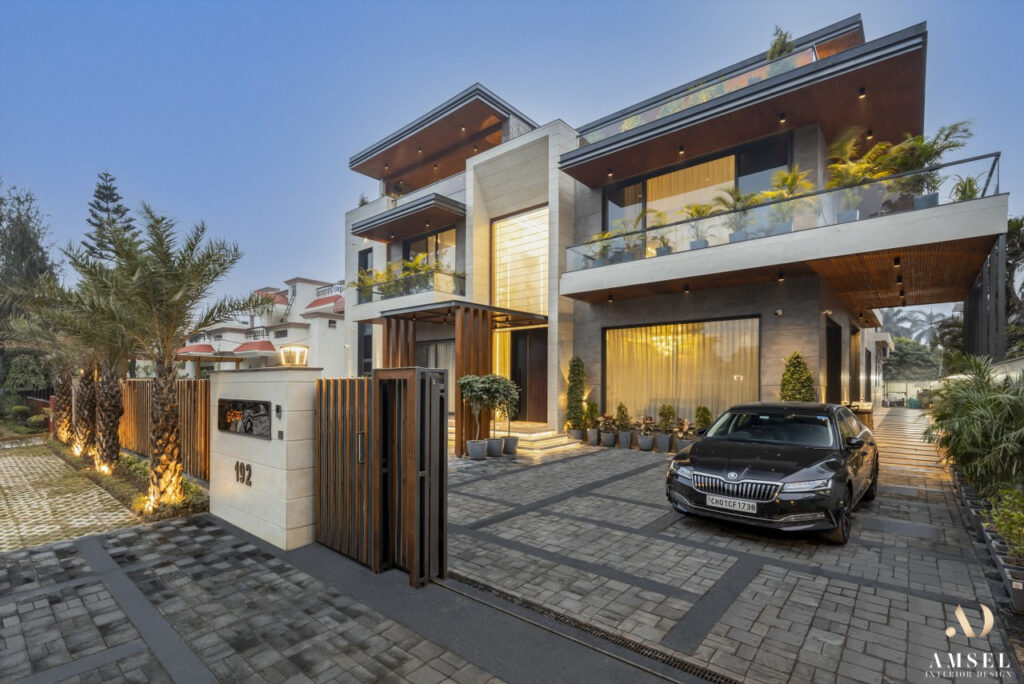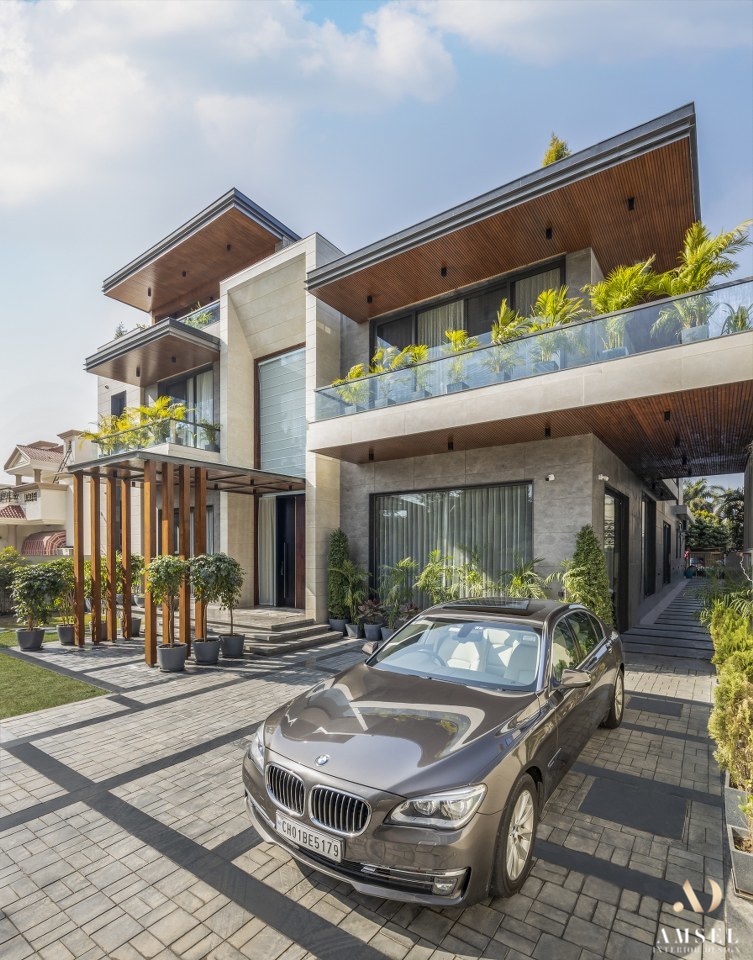 The overall tone of the house is natural browns, deep greys and accent colors making up for a complete extensive colour scheme.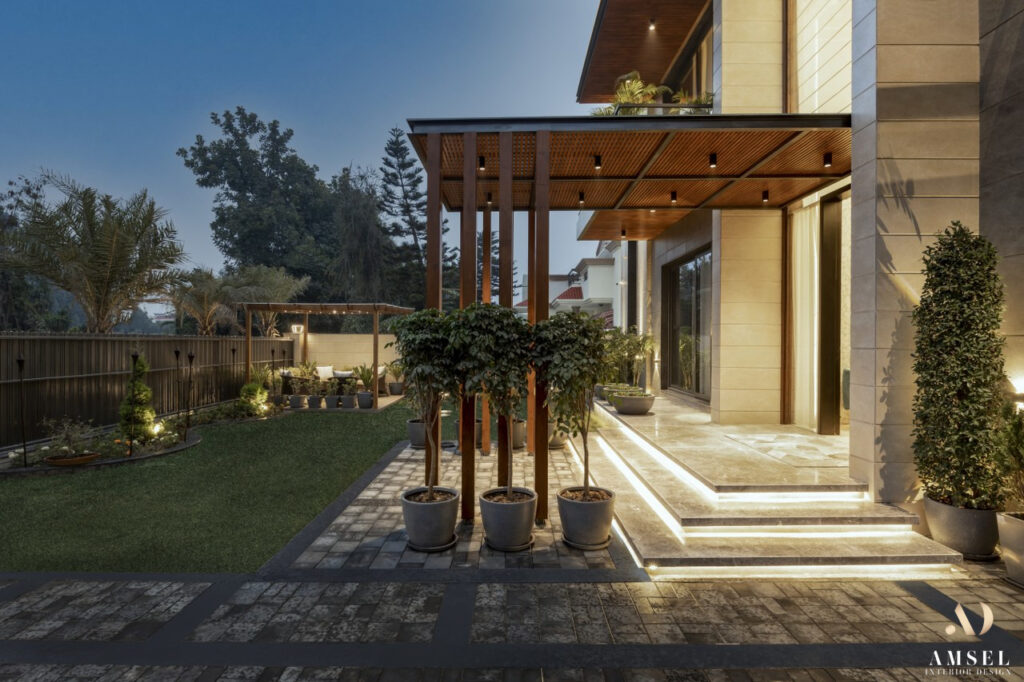 In addition to this, the house has a front lawn with a drive-way and nice corner pergola seating, and the back lawn is majorly planned for utility purposes and their pet dog.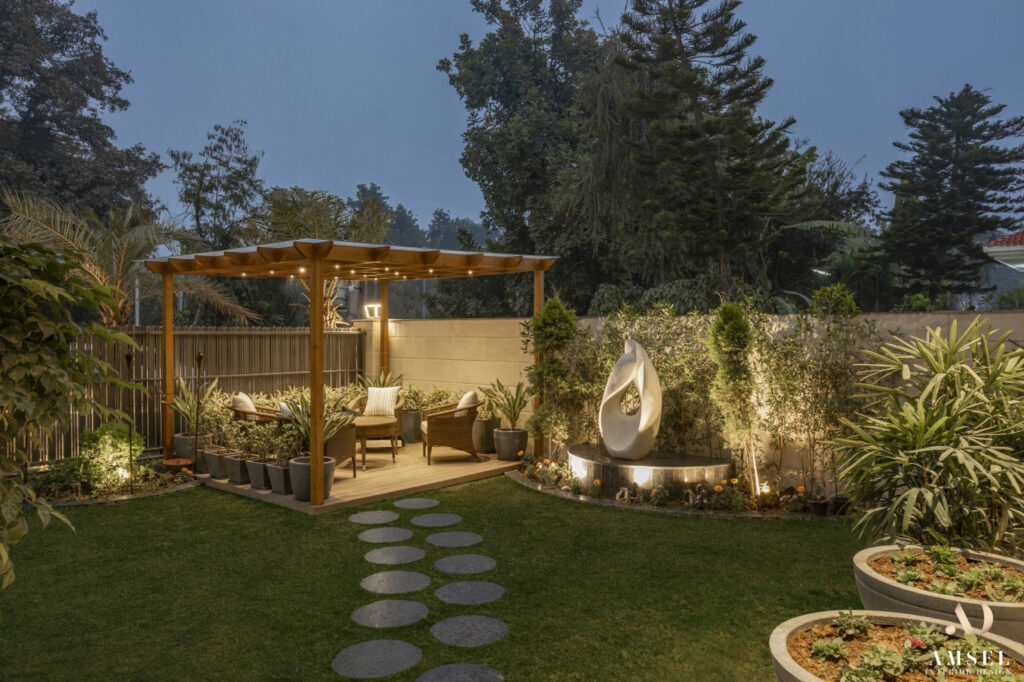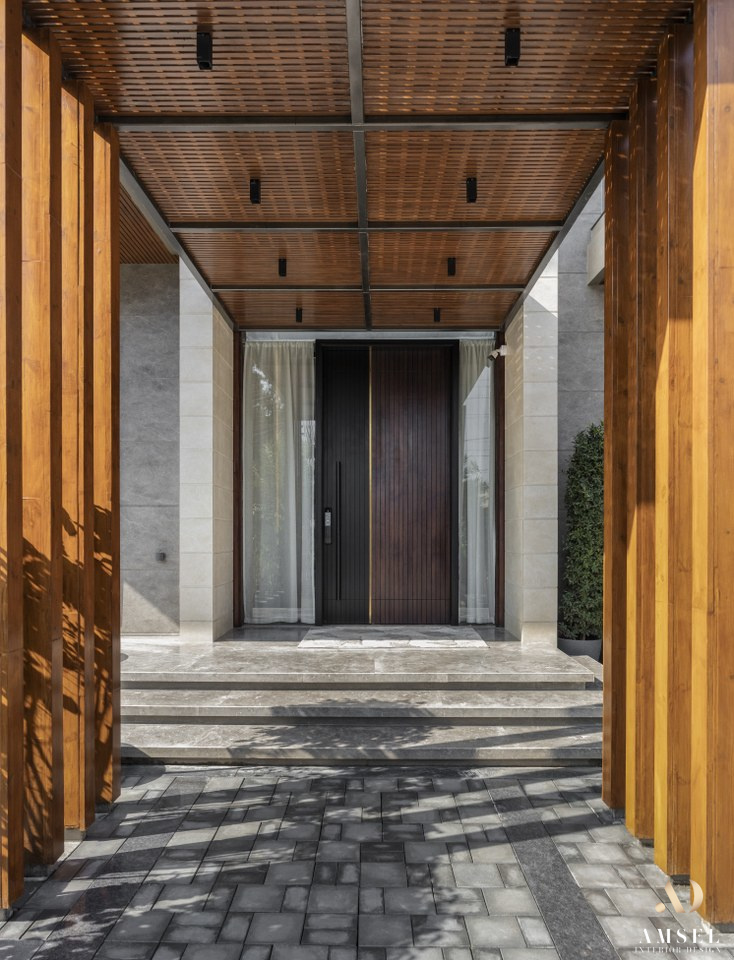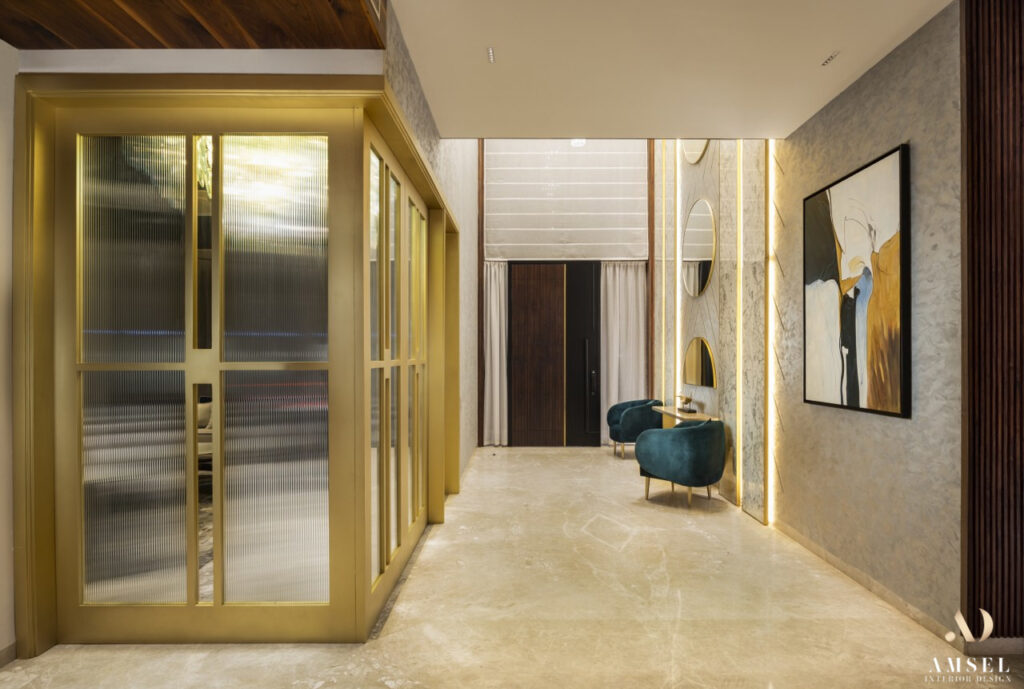 The formal drawing room at the entrance of the ground floor is enclosed from side by a corner fluted glass and wooden frame finished in matt gold tone. While the room is finished in grey tones of upholstery and textured walls with deep blue accents.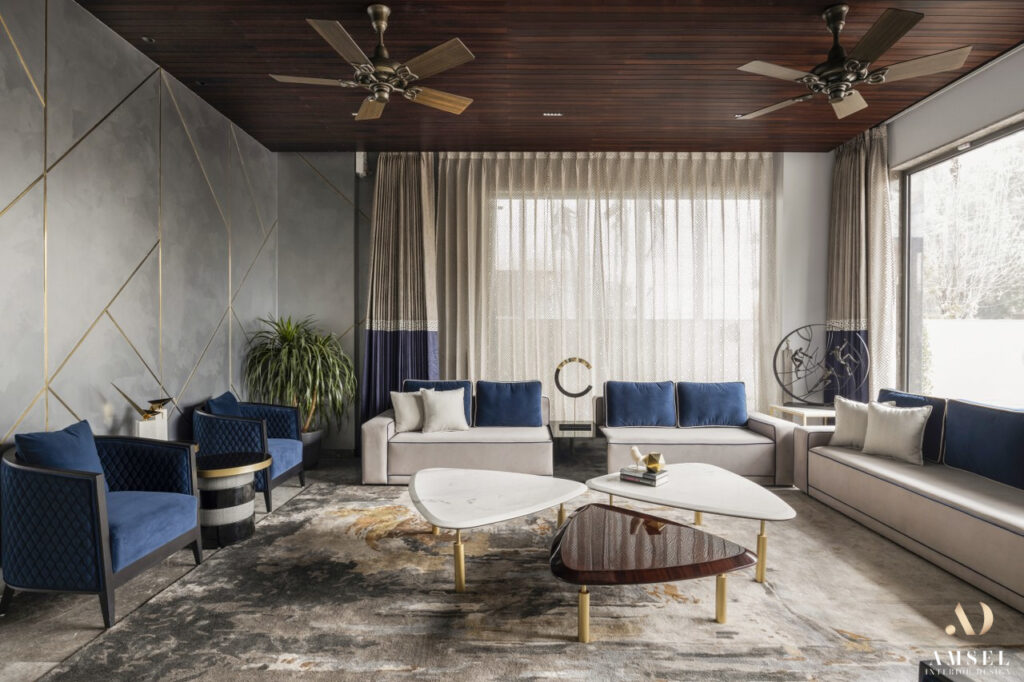 However, the corner chandelier in the hues of blue from White Teak Company takes away all the attention of this room. Along with that there is a beautiful abstract customized canvas painting which highlights the other corner of the room, finished with beautifully designed and tailored curtains from Floor & Furnishings.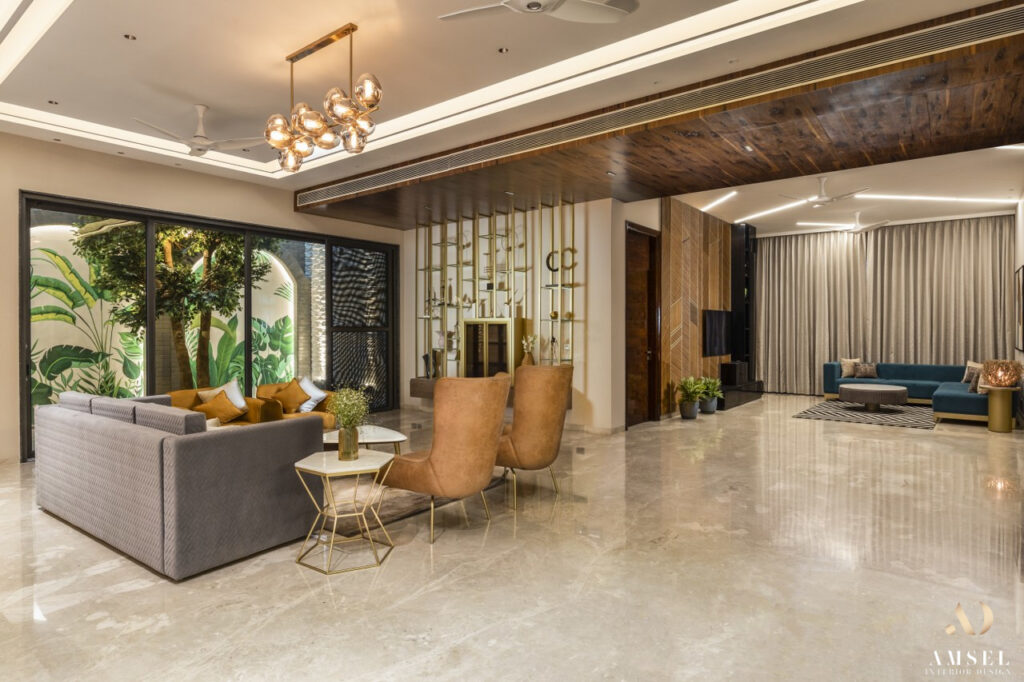 The house has 3 levels, the ground floor which has the formal drawing room, two family living areas, dining room, kitchen, mandir and parents master bedroom along with a guest bedroom at the back.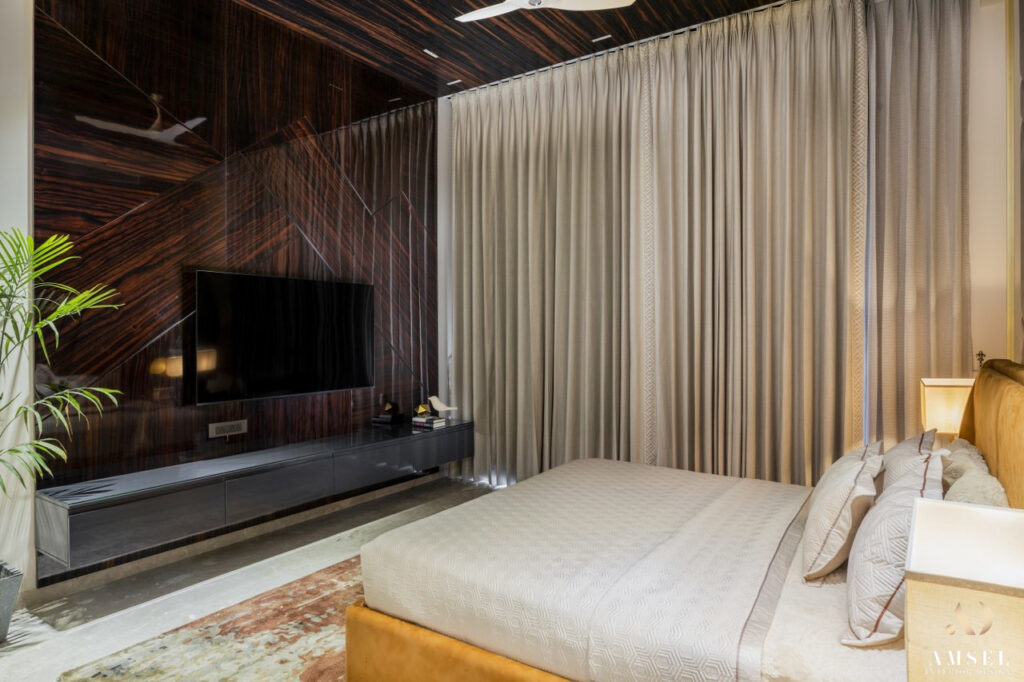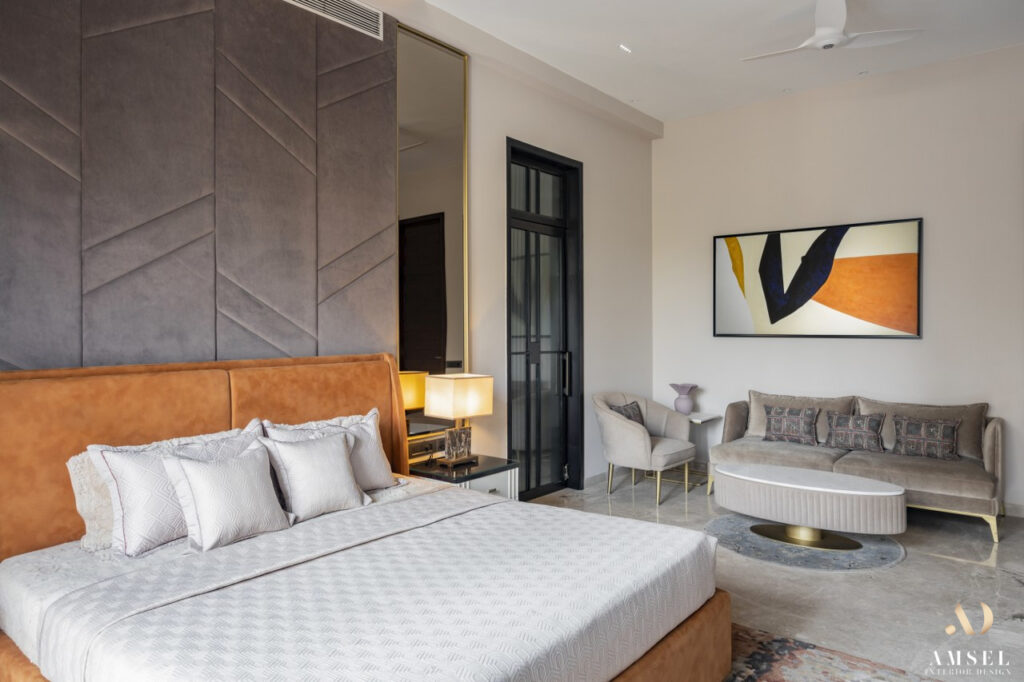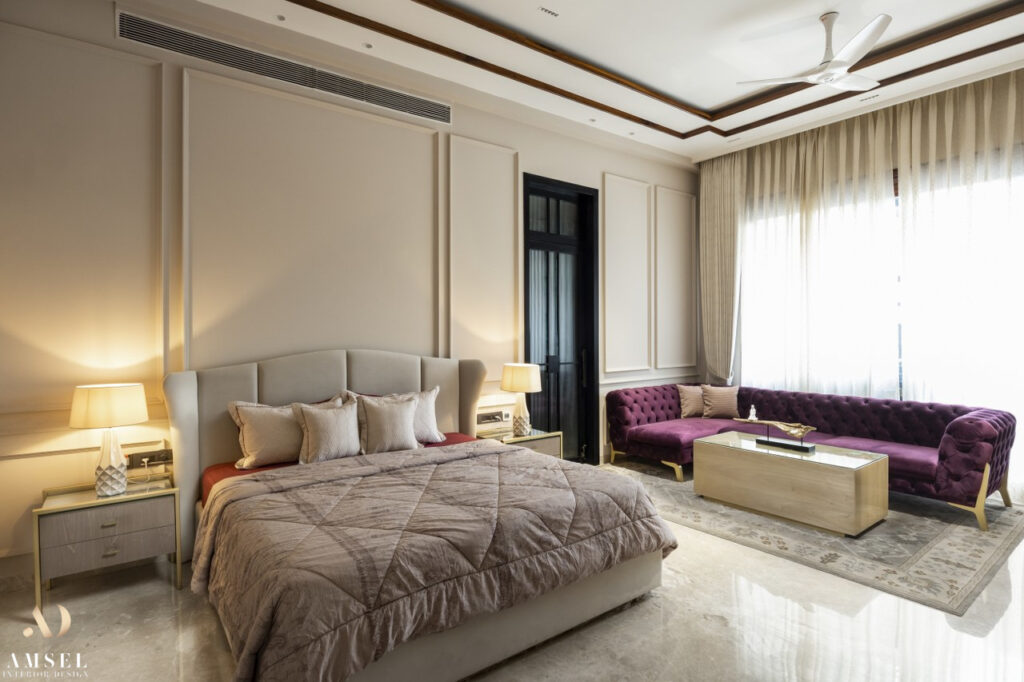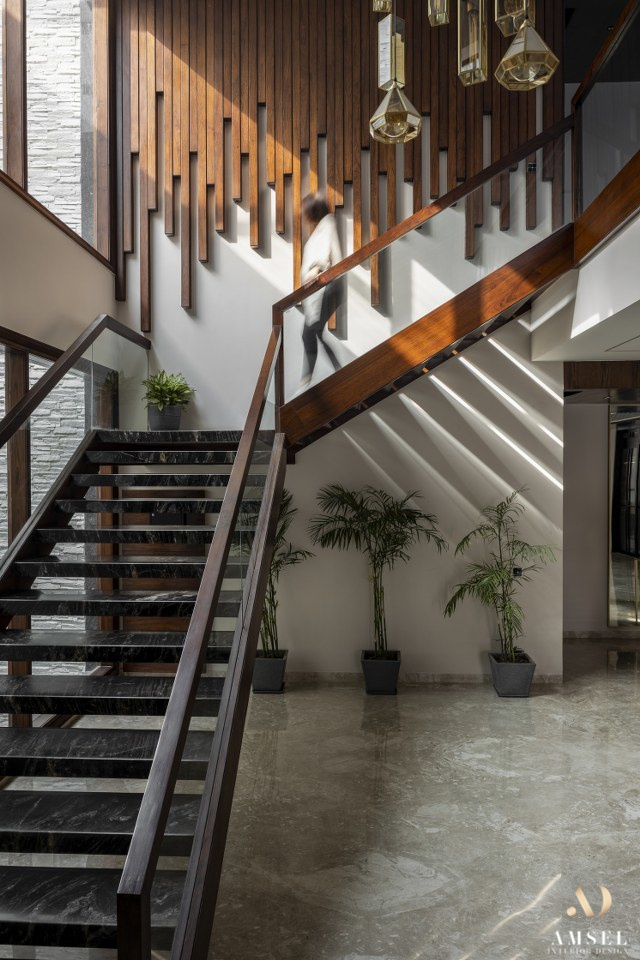 The first floor has the older son's master bedroom, kids room, home office, gym and a lot of open space in the lobby with temple natural light coming from the triple height open shaft designed to to have a lot of sunlight coming in the house at all time during the day.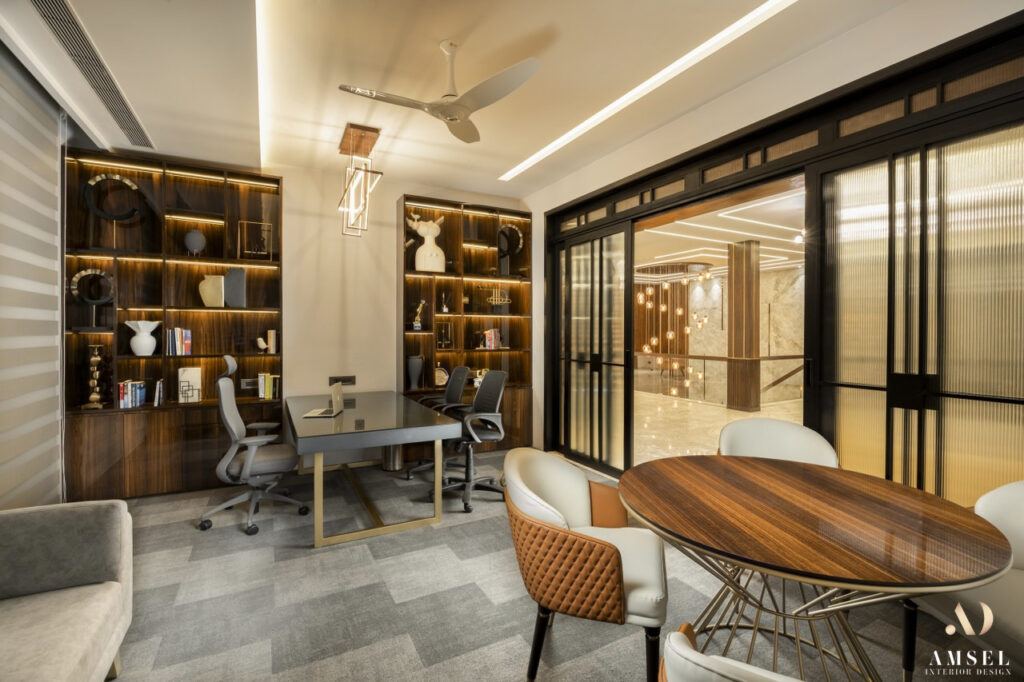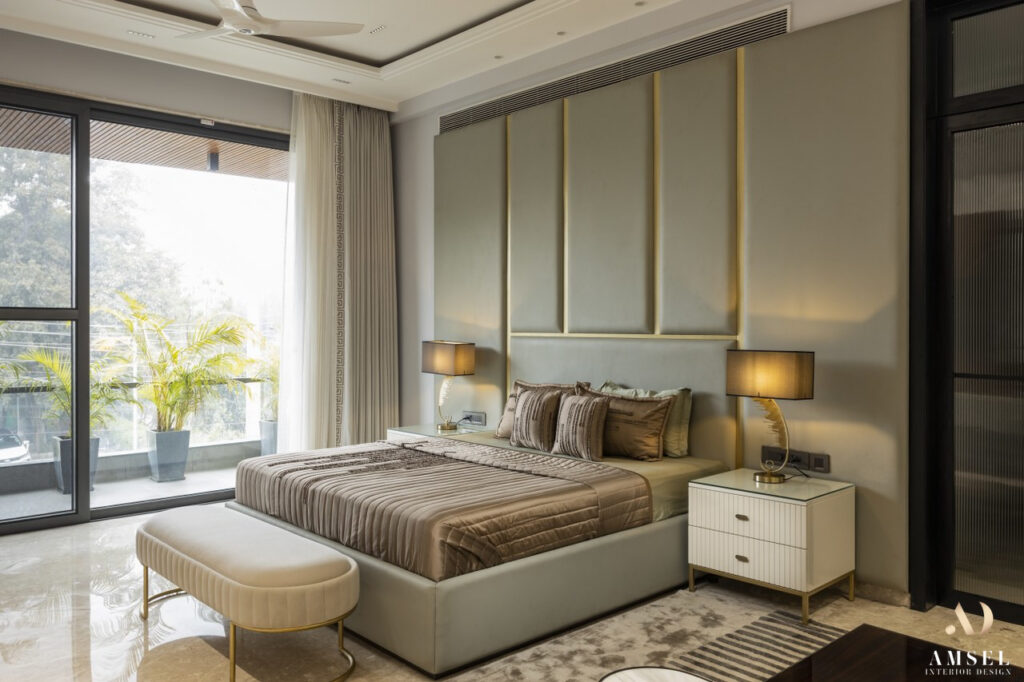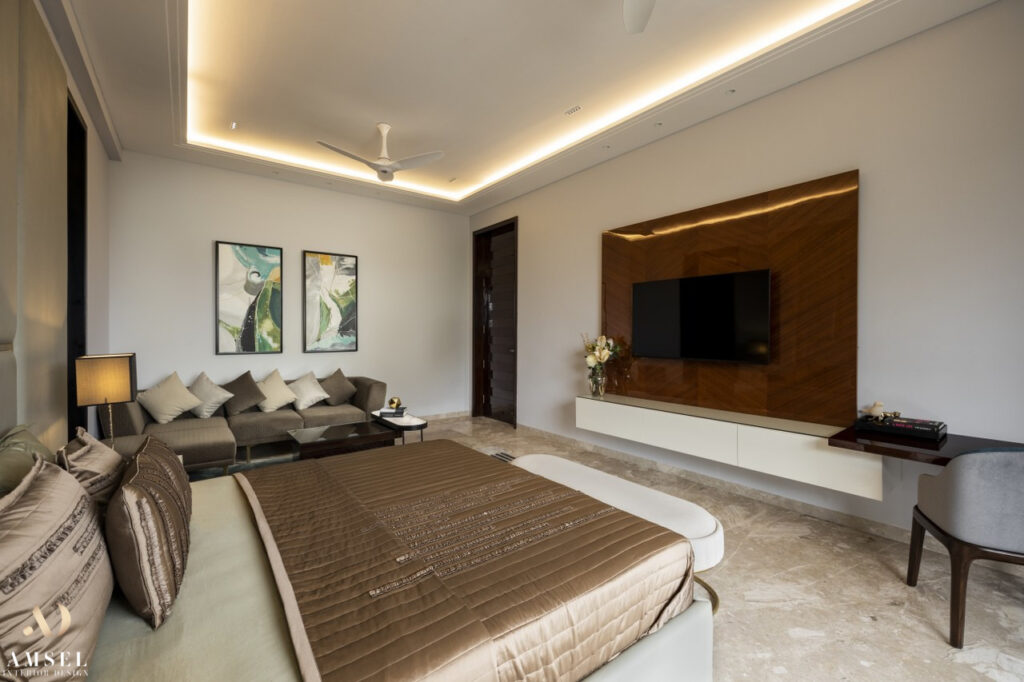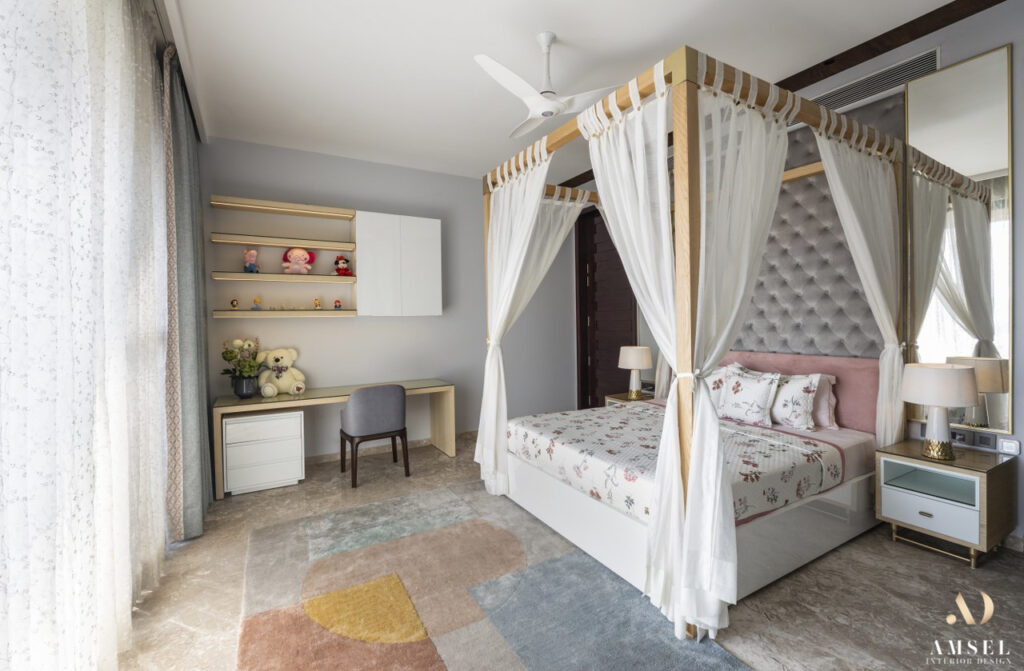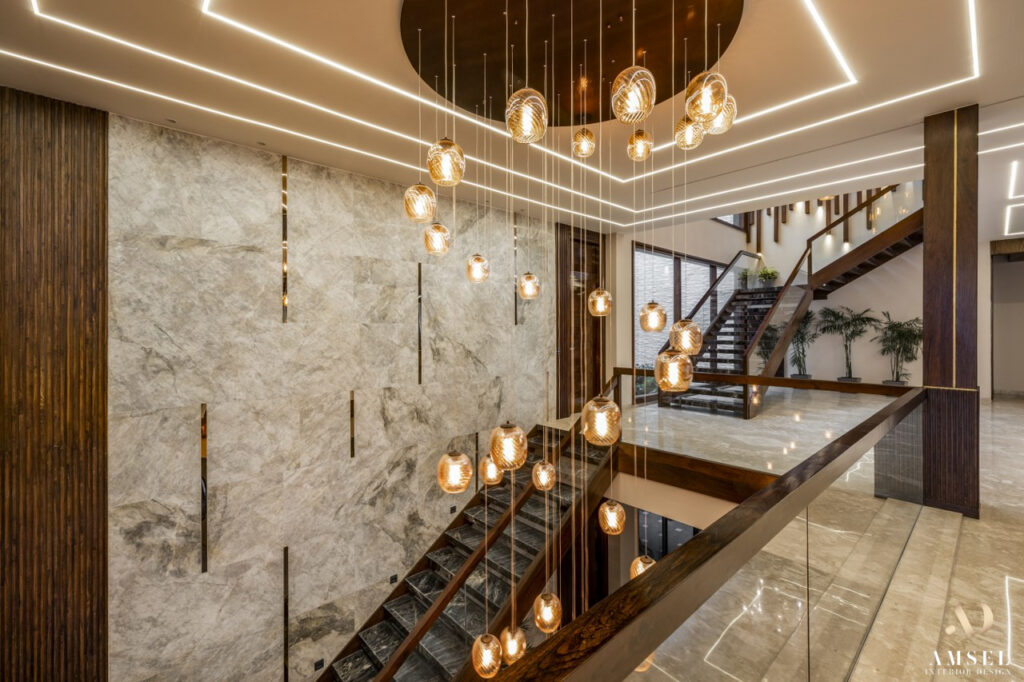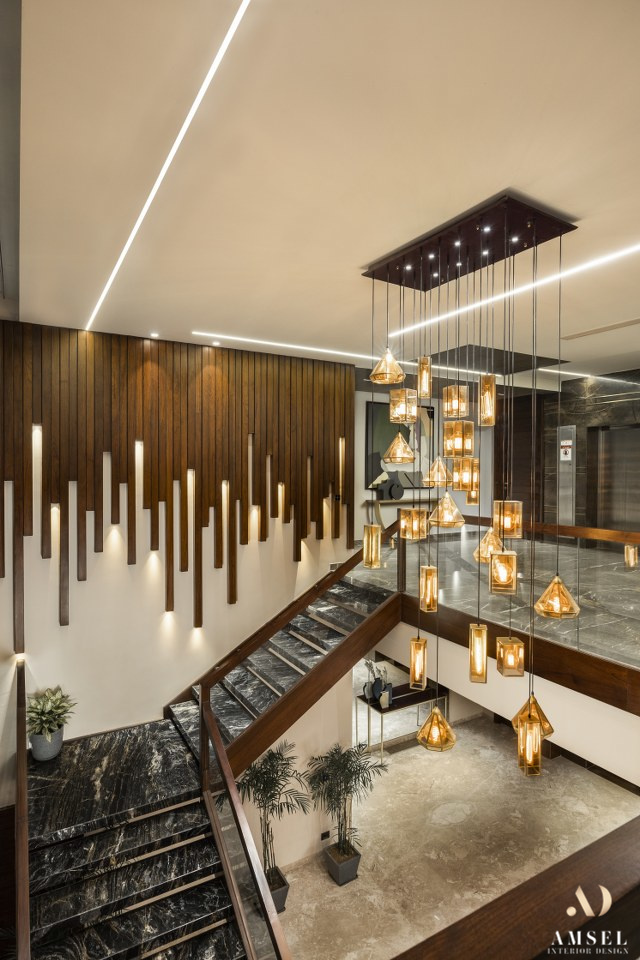 The second floor is the younger son's floor with his bedroom, a guest room, an open wide bar and entertainment area which opens to the terrace and an outdoor bar area. This space has interior elements and colours to add striking glamour.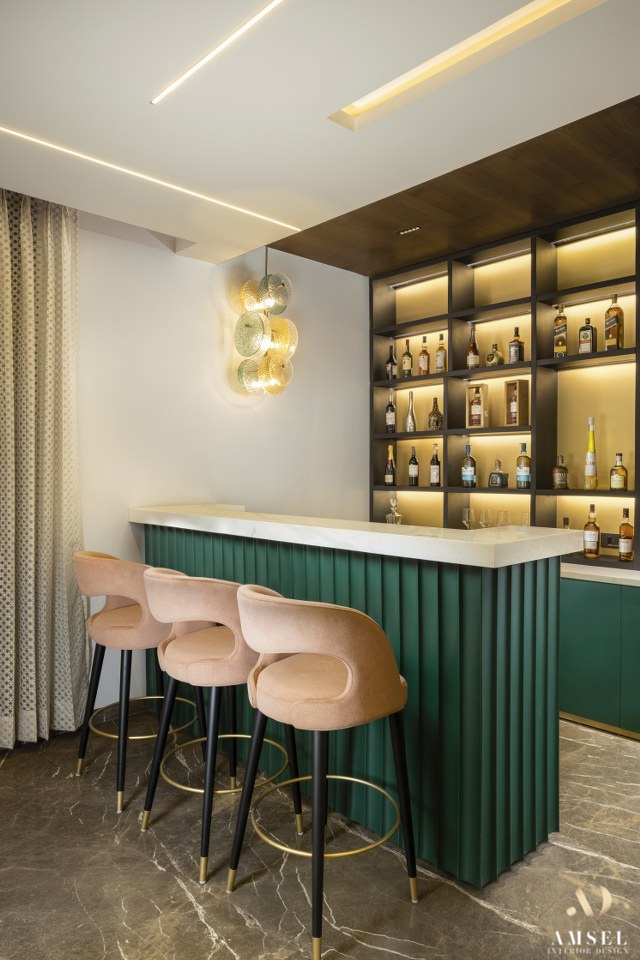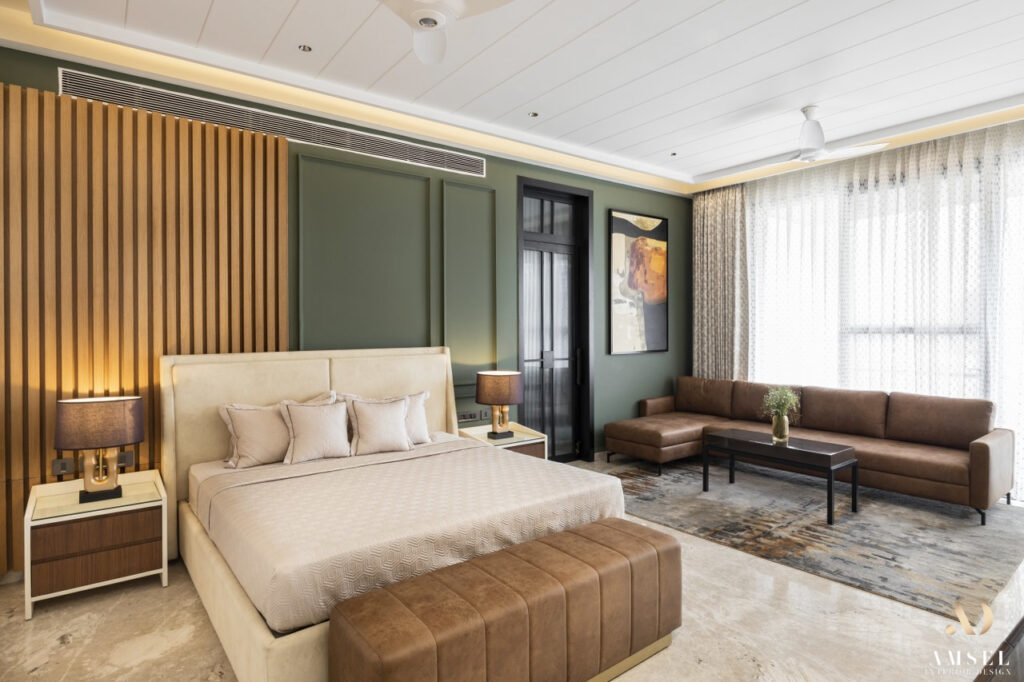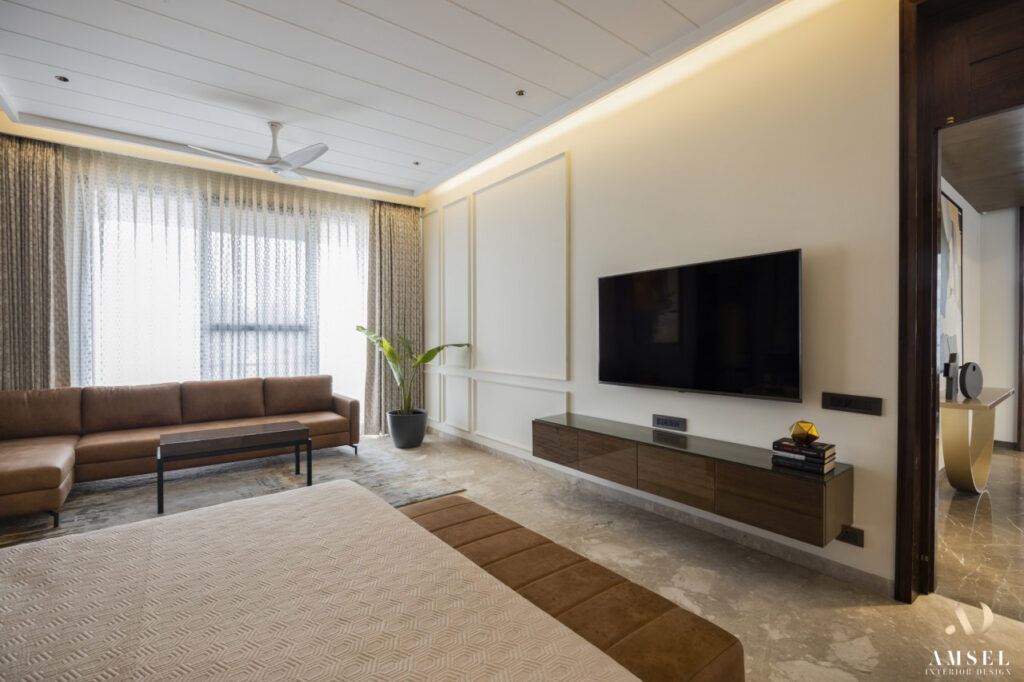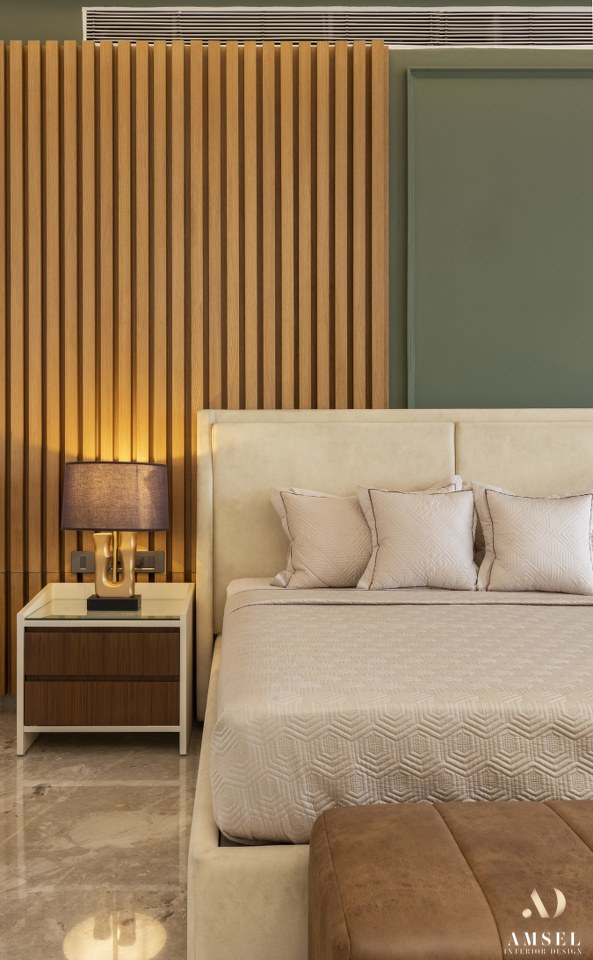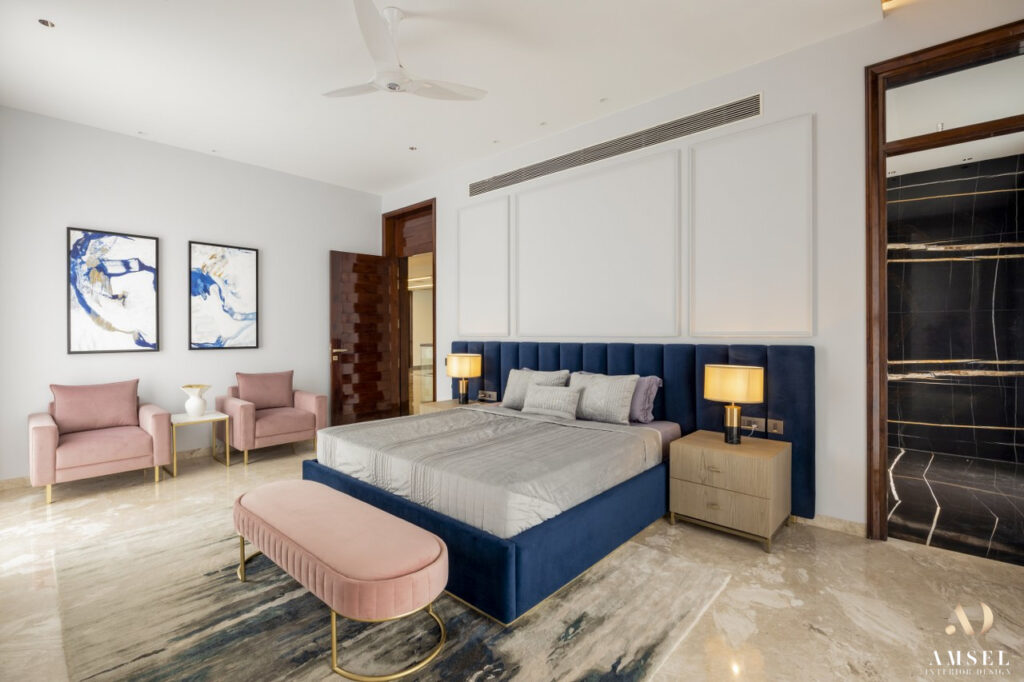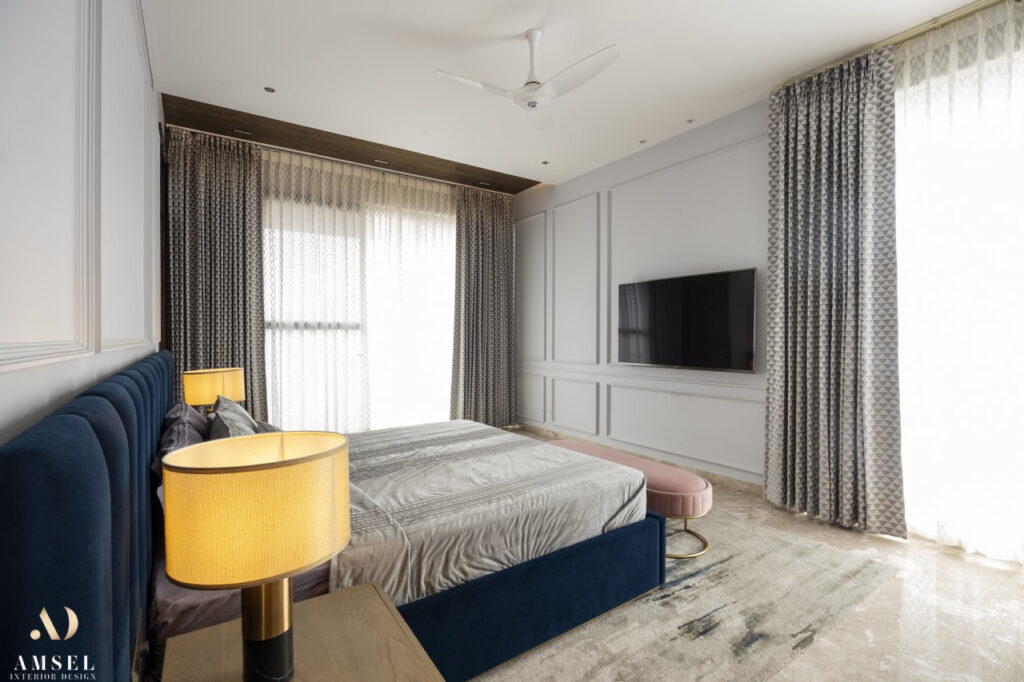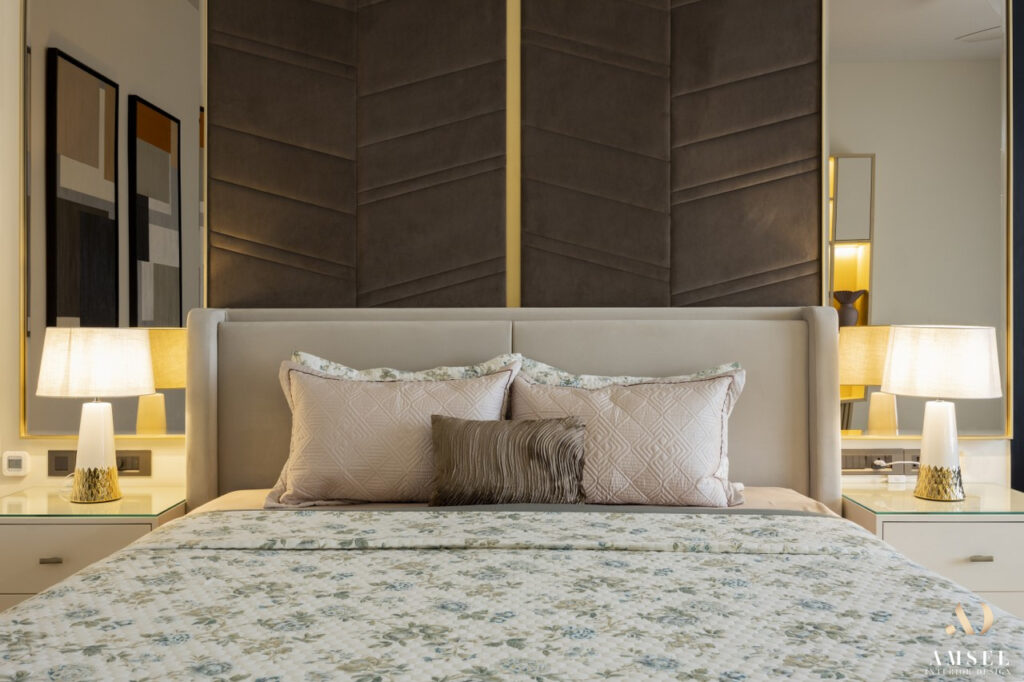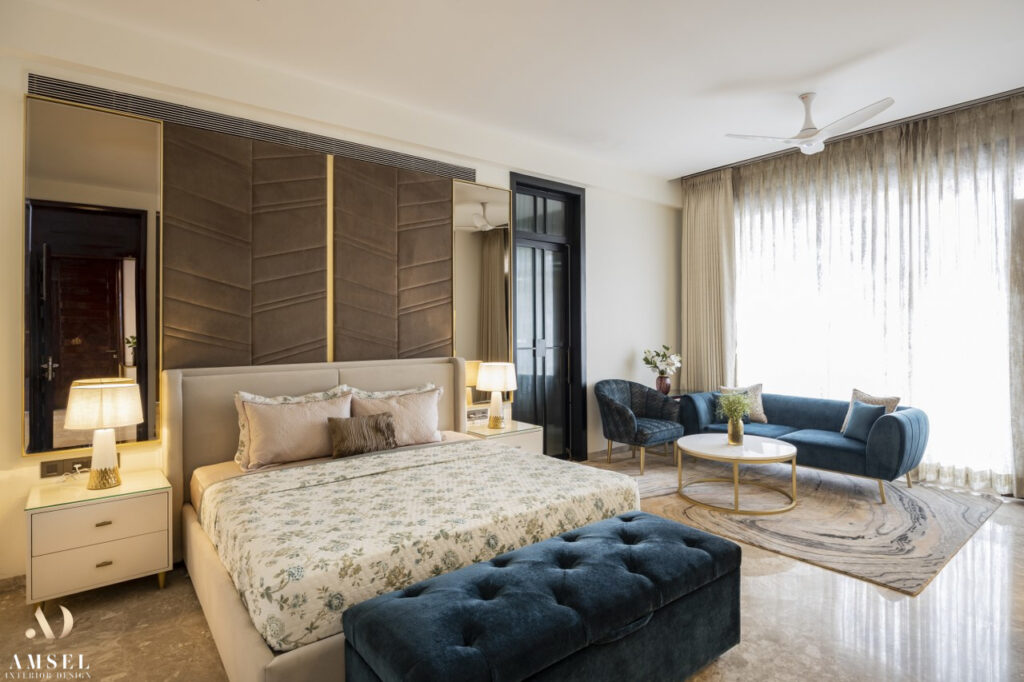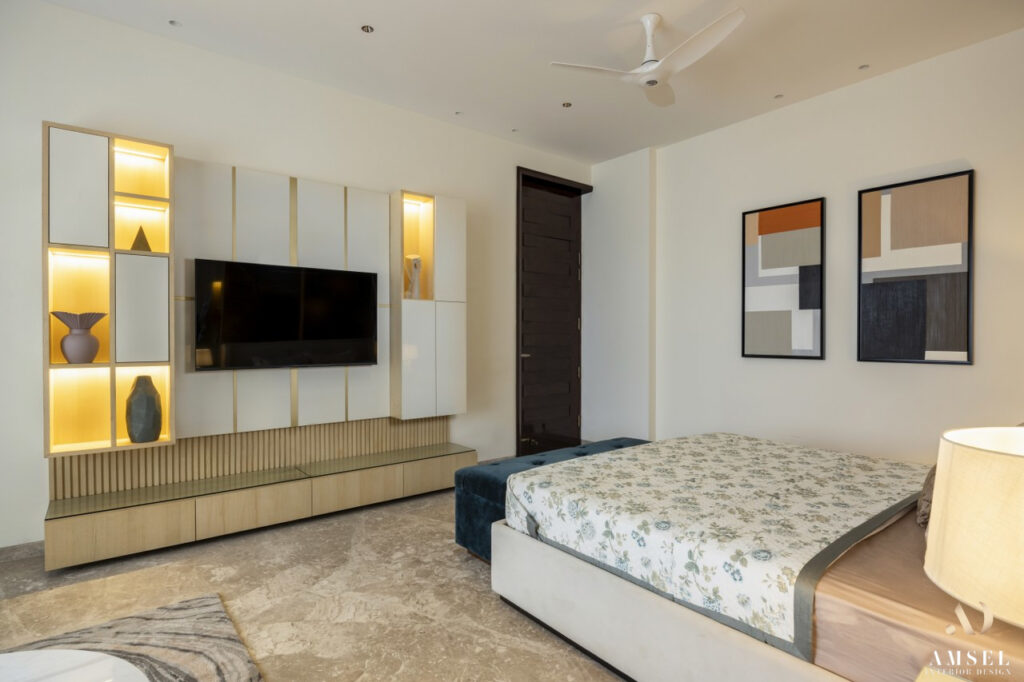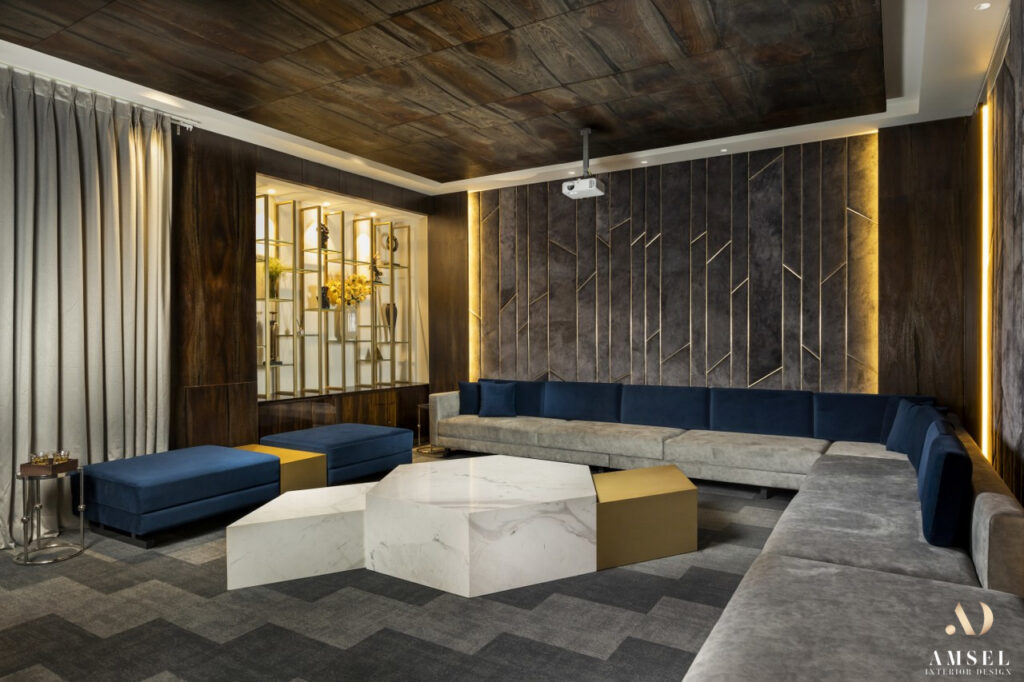 This floor also has fully carpeted and upholstered panelled walls for the Home Theatre which is thoroughly used and enjoyed by the whole family on weekends.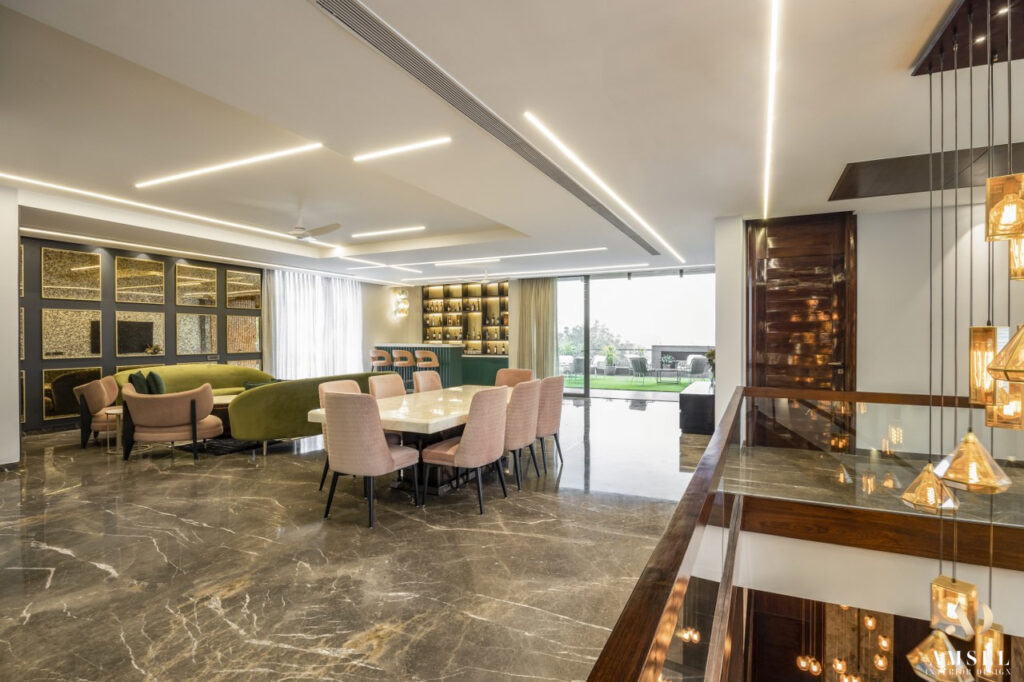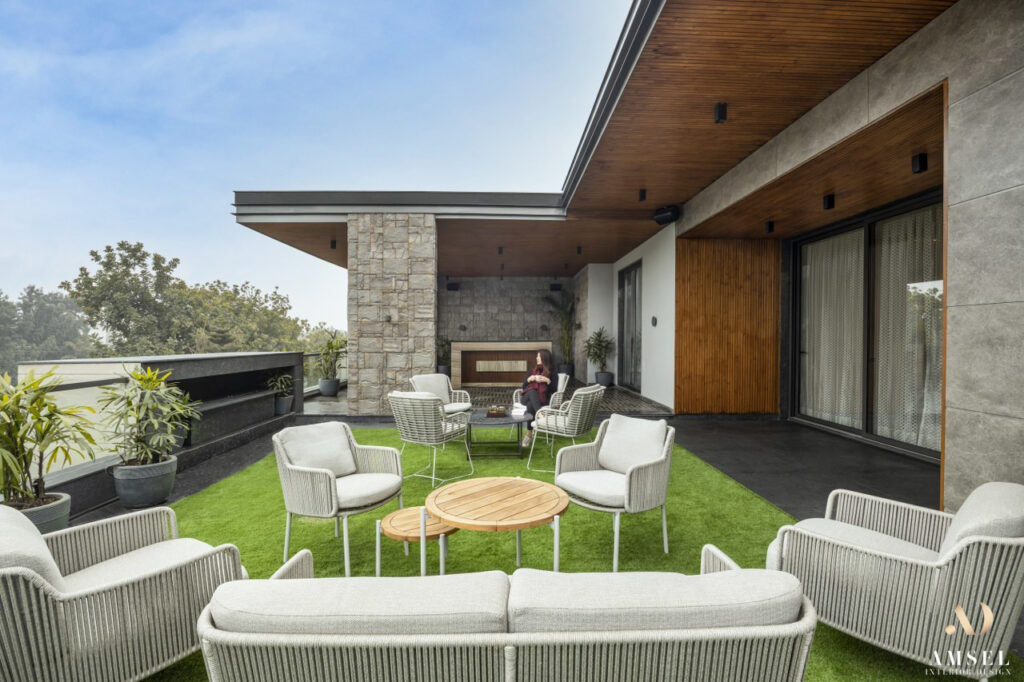 The terrace serves the perfect versatile open space to cosy up with a book or enjoy an evening with drinks and music.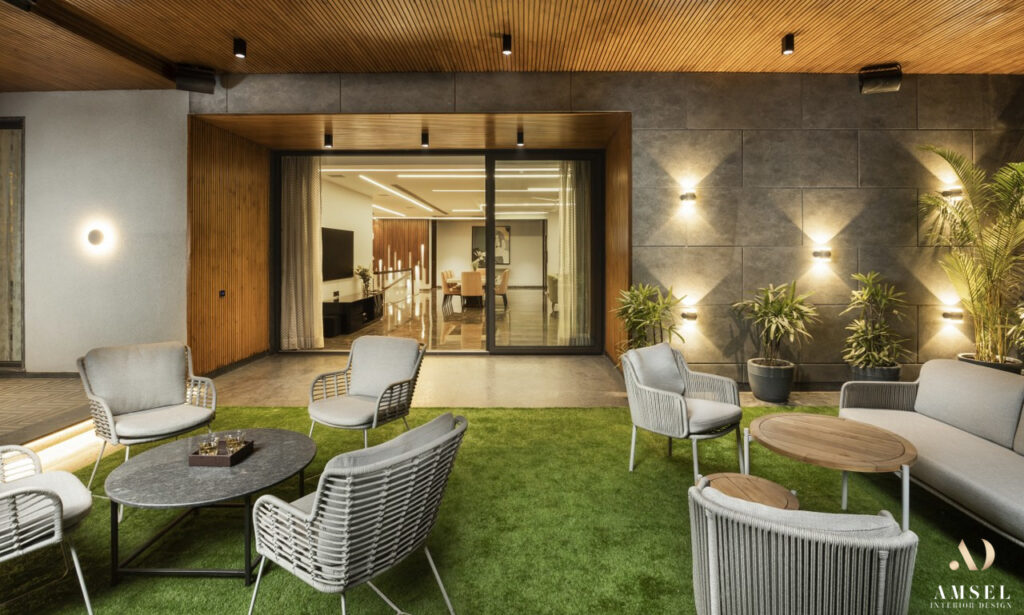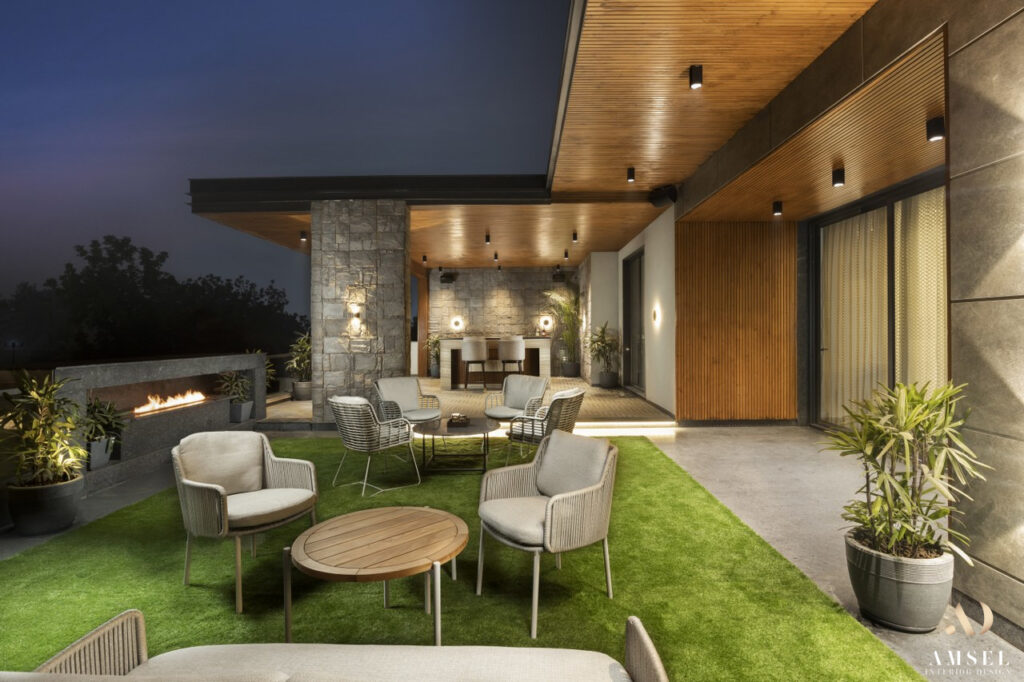 There are three double height areas in the house starting from the entrance and two staircases, with each space having a beautiful chandelier to add glamour and extra wow factor to the place.
Patterns and quilting have been introduced as accents in cushions and on a few of the seats around the home to create a layered experience.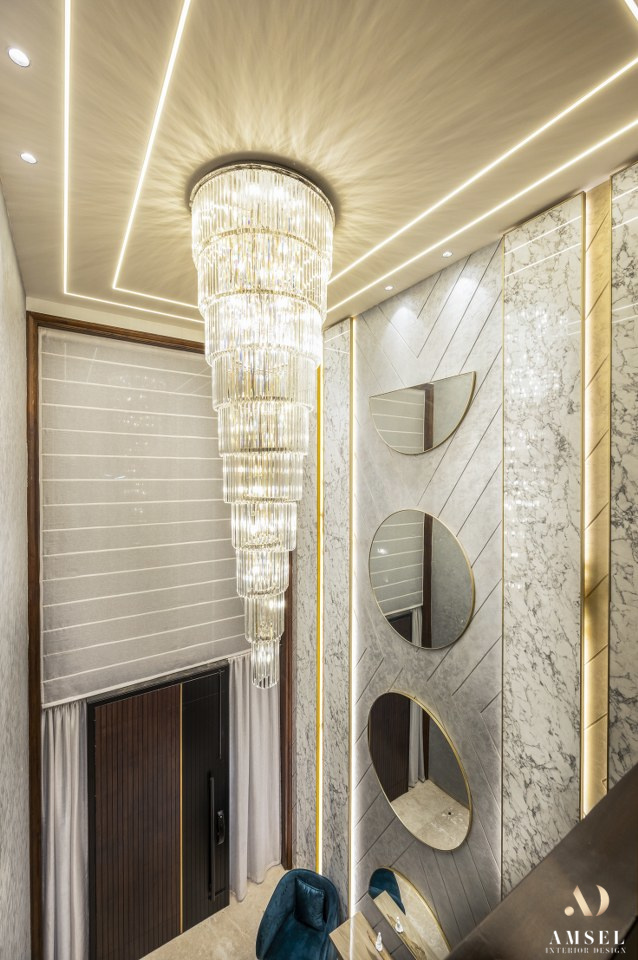 All the bathrooms of the house are finished in italian marble with grooves detailing in every bathroom.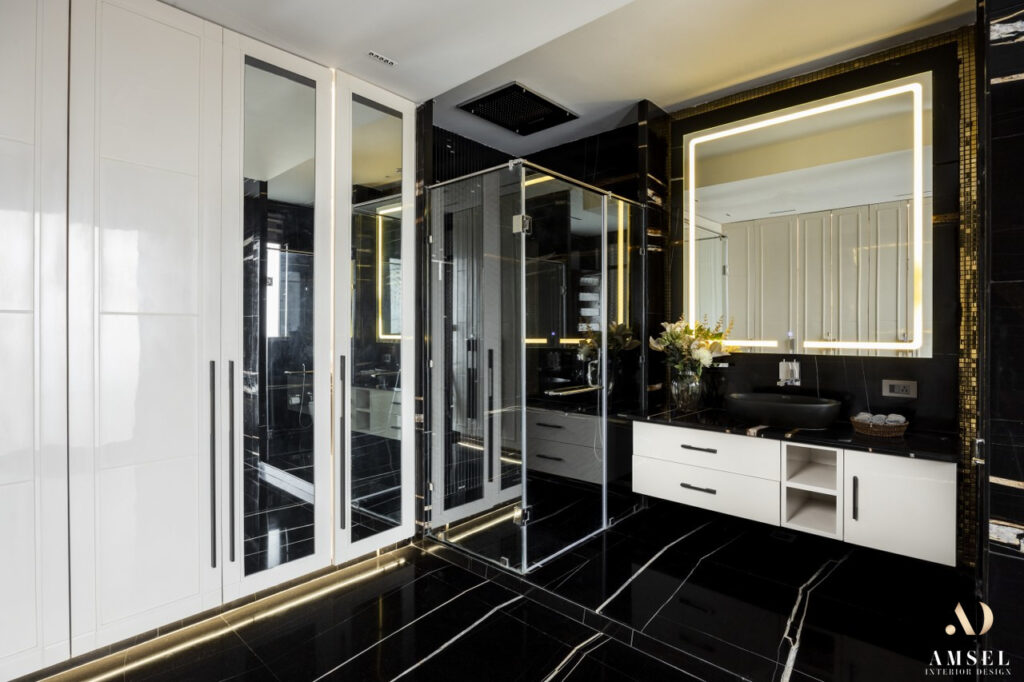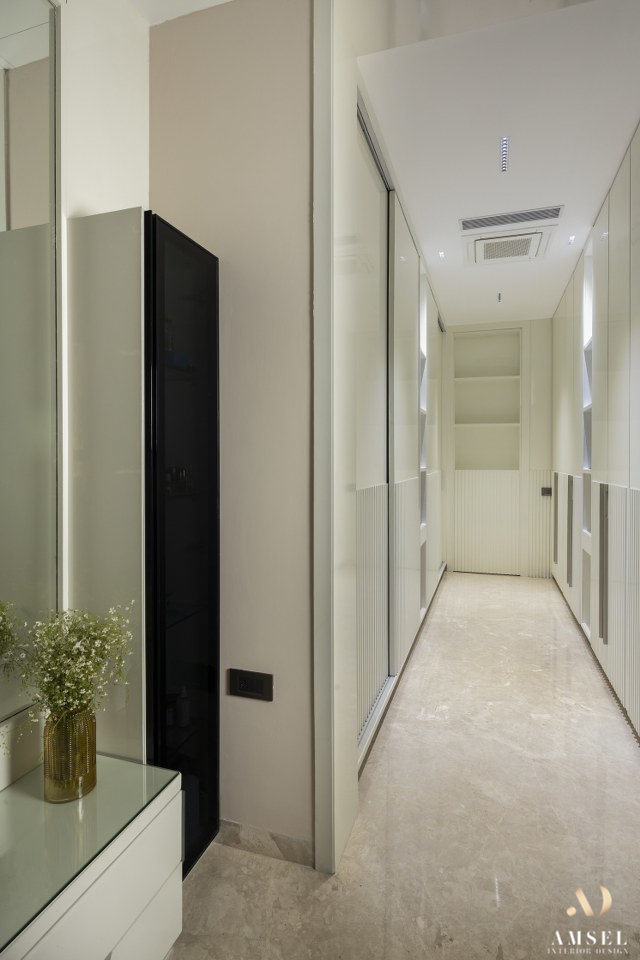 Fact File
Designed by : Amsel Designs
Project Type : Residential Architecture
Project Name : Goyal Residence
Location : Panchkula, Haryana
Year Built : 2022
Duration of the project : 2 years
Built-up Area : 12,000 sq.ft
Principal Architects : Sahil Suri & Priya Chaudhary
Photograph Courtesy : Manish Kumar
Products / Materials / Vendors : Ceiling Lighting – Qulite / Chandeliers –White Teak / Doors and Partitions – made at site – wooden, front exterior Aluminium Doors from Lingel / Sanitary ware – Jaquar, Artize / Windows – Made at site- wooden / Flooring – Italian marble & carpet flooring / Paint – Asian Paints / Wallpaper – Life n Colors / Hardware – Hettich / Rugs –Jaipur Rugs / Curtains and fabric – Floor & Furnishings / Outdoor Furniture –World Bazaar.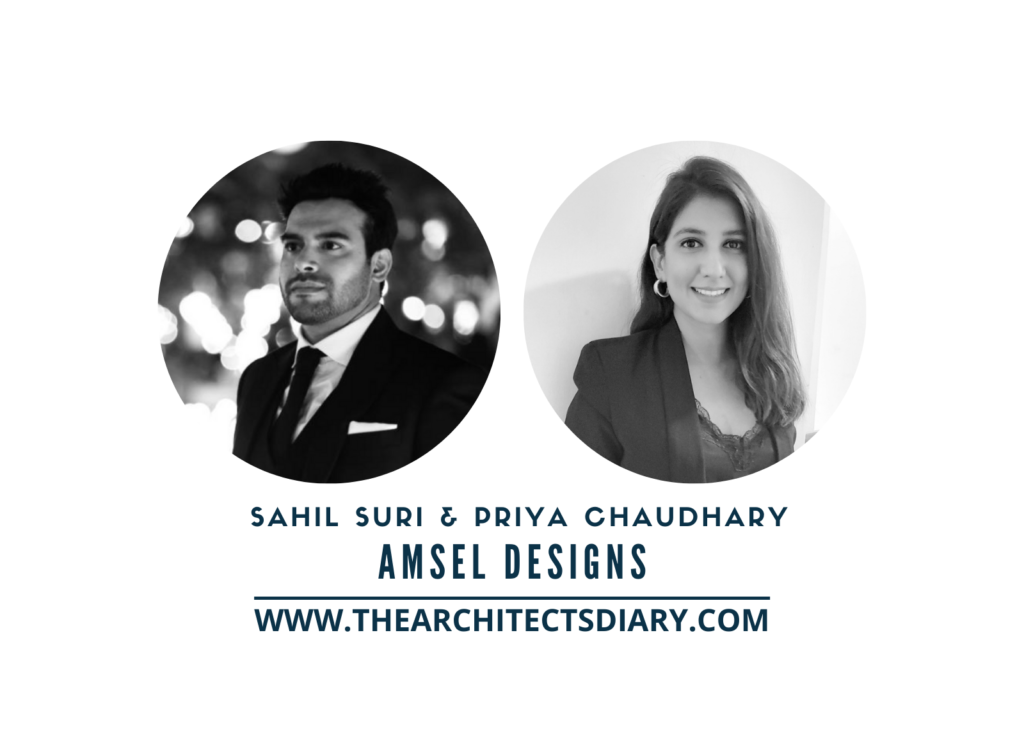 Firm's Website Link : Amsel Designs
Firm's Instagram Link : Amsel Designs
Firm's Facebook Link : Amsel Designs
For Similar Projects >>> MODERN RESIDENCE INTERIOR DESIGN