Residential renovations, while a joy to work on, can also be quite tricky; especially if the clients still inhabit the home, it is crucial to complete the project from contemporary design concept to execution in a quicker time frame so as to not inconvenience them for a long time. In this project, the very first decision taken was to segregate the main areas of the home giving each area its own identity but in a way that they all tie together as one.
A home that Exudes Summer Feels with Elements of Contemporary Design | Aloft Design Studio
Visit: Aloft Design Studio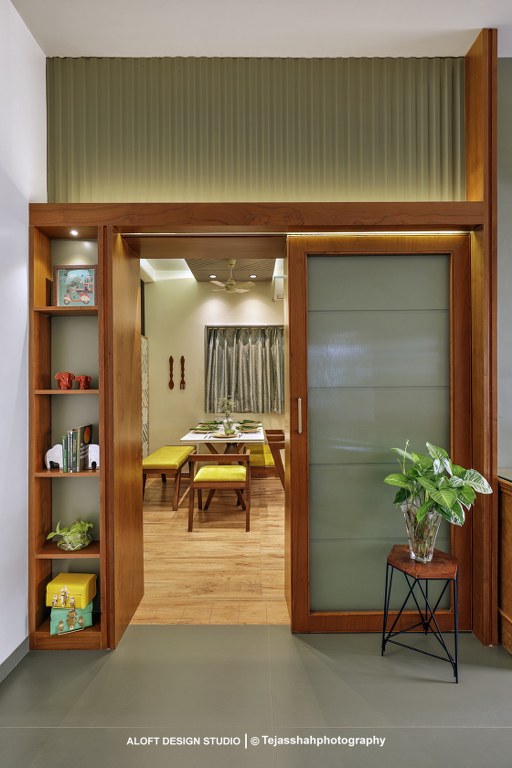 Segregation of spaces and area designation is possible even in the smallest of corners. Converting the dining area into a semi-private zone through the usage of half-height partition paneling was the game-changer in this home renovation project.

&nbsp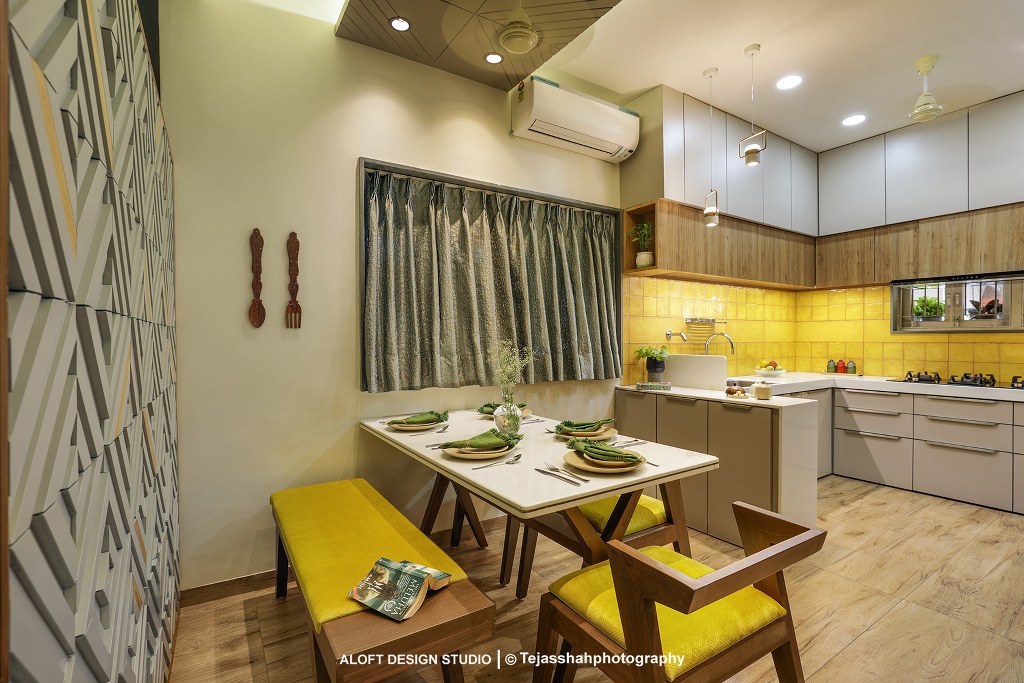 The dining area usually serves as a semi-private demarcation to the more private functional areas of the home. A lot of the time dining areas are treated like a passage or a corridor and don't have their own bearing. In this residential project, we have given the dining area its own personality in terms of a pure white stone table and color pop mustard yellow chairs.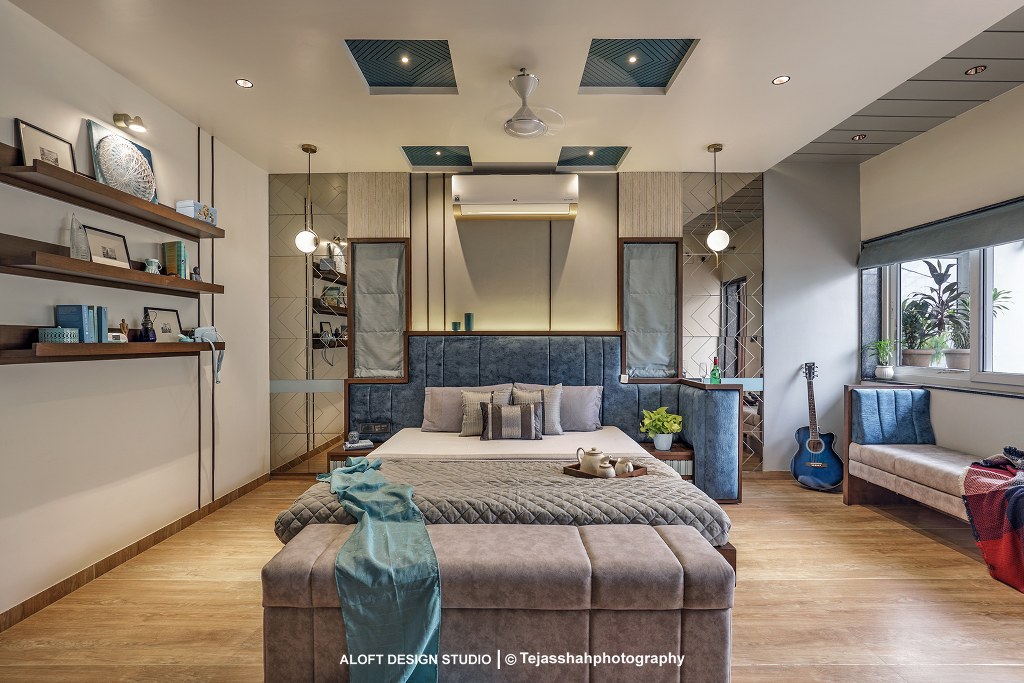 To soften the sharpness of a blue and white color scheme; plenty of pale gray tones can also be incorporated.
Blue might just be the perfect bedroom color because it is usually associated with water and calmness. In certain shades, blue is timeless enough to function as neutral without being boring, while in other tones, it's bold, vibrant, and playful.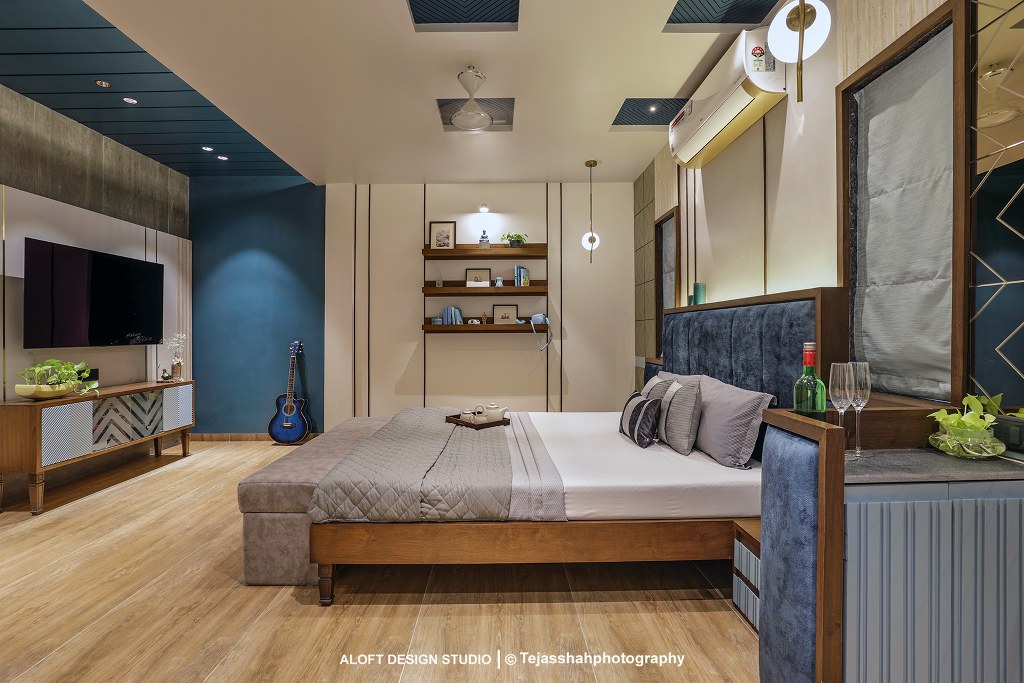 Bonus points for an iridescent fabric, like ikat or velvet, portray different tones under different lighting circumstances.
With the availability of space in luxurious modern homes, more and more people are opting for home theatre systems. Hosting / entertaining guests at home has become the new trend now.
In this home entertainment room, we have designed a tiered sitting for better viewing ability. Devised to move, these furniture sets are of extended length for maximum leg stretch comfort. Sound-absorbing acoustic panels on the wall in a spectrum of red color also add to the overall aesthetic elegance.
Soft light falling on the surface of this sliding wooden bathroom door brings a warm ambiance to this room.
Fact File
Designed by: Aloft Design Studio
Project Type: Residence Interior Design
Project Name: Shrivastav Home
Location: Vadodara, Gujarat
Year Built: 2020
Duration of project: 1 year
Project Size: 1000 Sq.ft
Principal Architects: Priyanka Shah & Nirja Shah
Photograph Courtesy: Tejas Shah
Products & Materials: Wallcovering / Cladding: Surface Concept Studio | Lighting: Prisam Lightings | Doors and Partitions: Janta Plywood | Furnishing: Aavran, Shangar, D-décor, New Rajvi Fabrics | Flooring: Ceramic Shoppe, SMB Incorporation | Kitchen Appliances: Elica, Kala Hardware | Artifacts: Wonky Works | Hardware: Kala Trading Company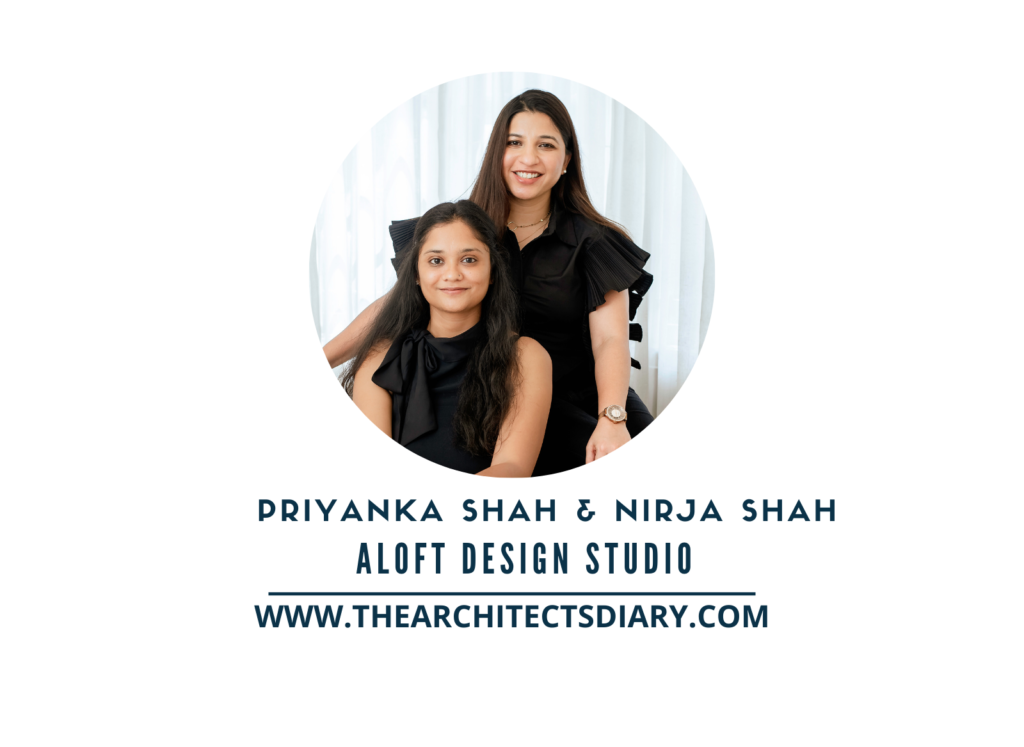 Firm's Instagram Link: Aloft Design Studio
For Similar Project>>>Embracing Modern Architecture with Selectively Classic Design Elements