A Contemporary, Innovative, And Valiant Apartment With Enhanced Styling | Acacia creatives
A designer's enthusiasm and rigor are something that the end-user experiences throughout his tenure in that space! Here is a quirky, stylish, contemporary, and valiantly renovated apartment for a couple, their elderly parents, and two kids. An Ahmedabad-based firm- Acacia Creatives was called upon for this renovation project in a famous residential property in Bodakdev, Ahmedabad. Being given a free hand, this designer and a stylist duo enriched this home with lively revitalizing vibes and playful design elements. The material palette used is rich- consisting of Italian marbles, Statuario marble, wood, brass, and elegantly glossy PU finishes. Adding more heart and soul into the design, all the free-standing design elements are handpicked and most of them are customized from scratch to add a personal touch to the design.
Visit: Acacia creatives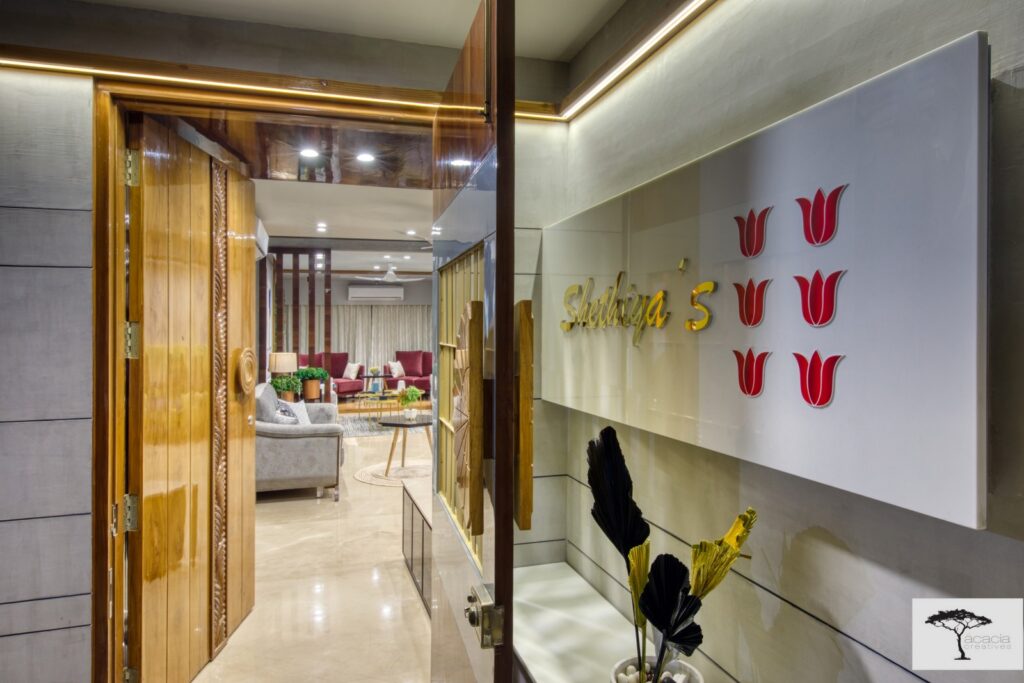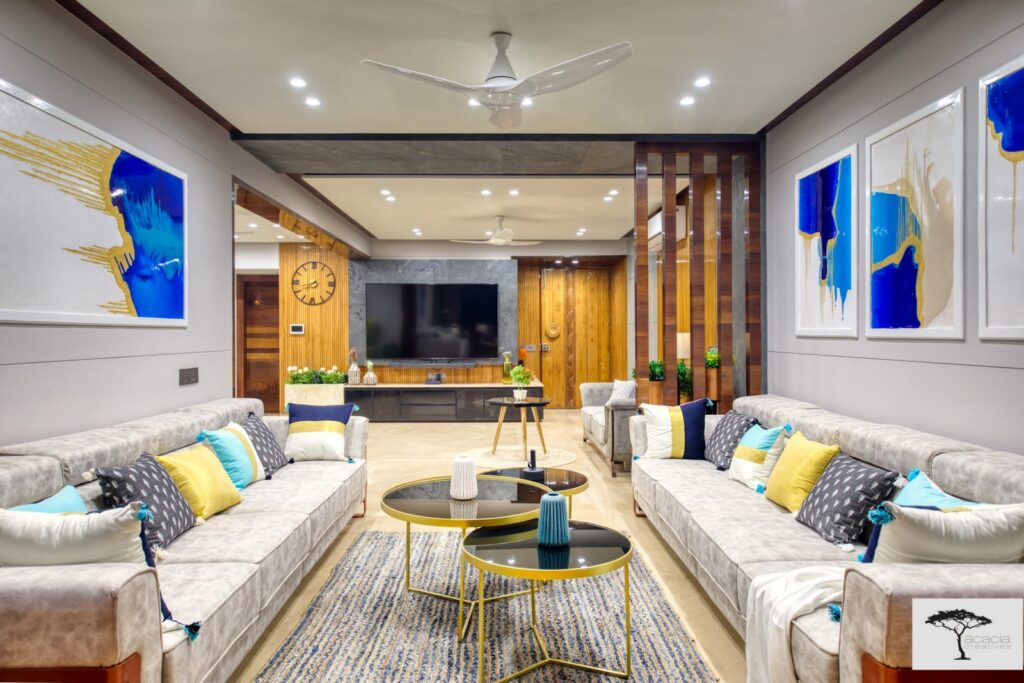 The entrance foyer space is minimal with an exposed concrete plaster, the glossy finish main door, and an elegant nameplate. Six red tulips on the nameplate reciprocate the six family members. An effluent vase is stationed at the entrance with hand-painted natural palm leaves aiming for a sustainable approach. Stepping into the interior transudes one into this vivacious and spacious living area. One would need a moment to grasp in this spirited and lively atmosphere with an interesting conceptualization of varied attributes for different segments. The transition area includes a vital TV unit with yellow-toned wall battening, restful seating, and a tea-poi aiding this transitional interplay.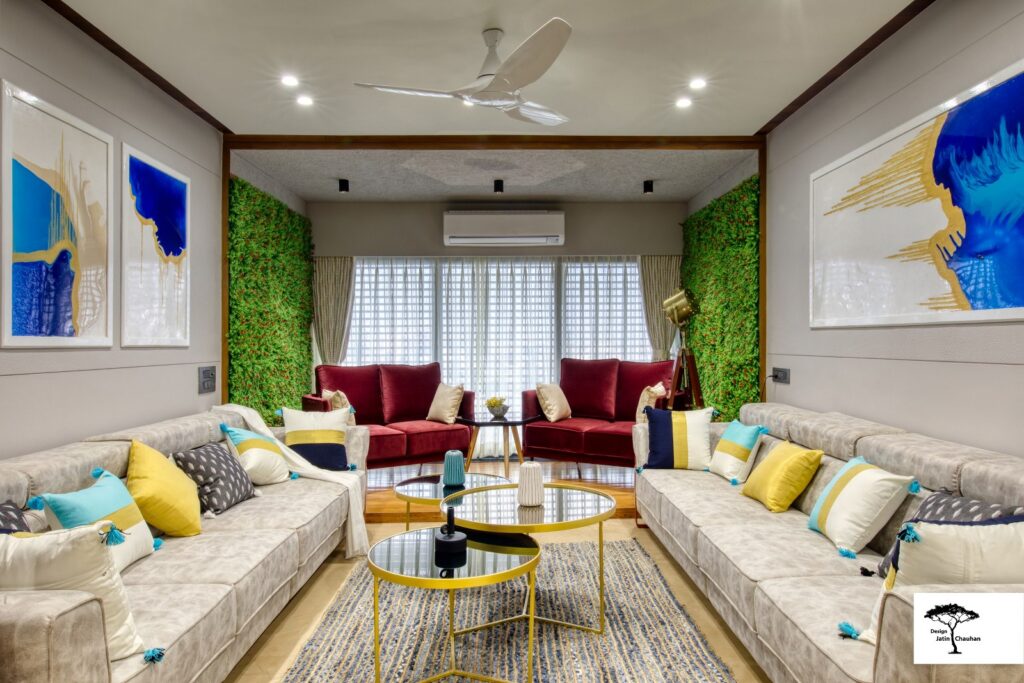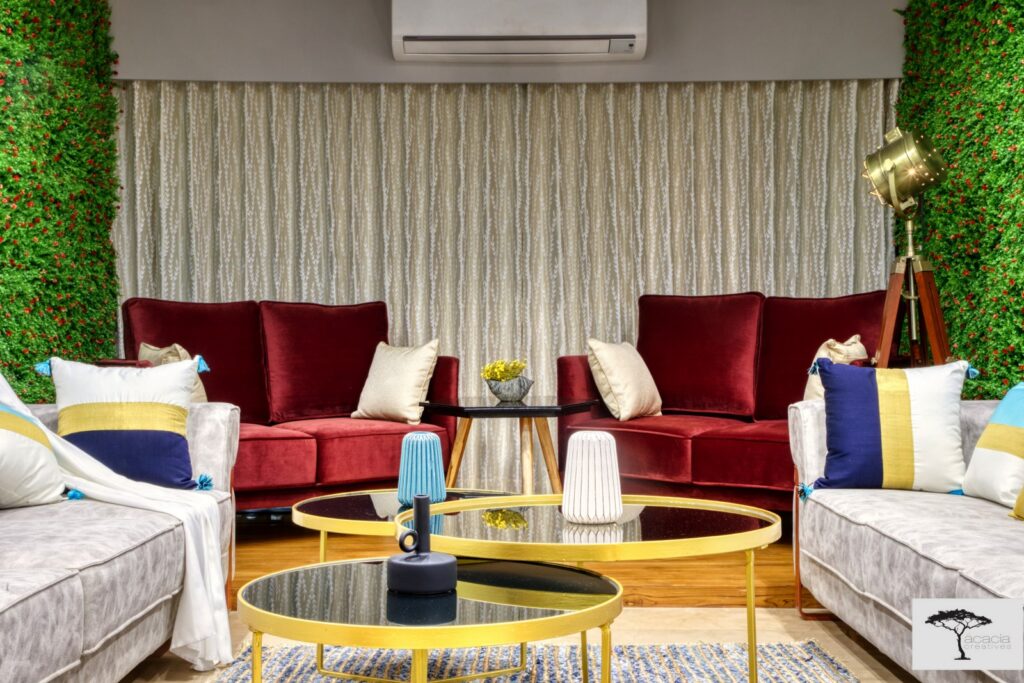 The core seating arrangement is adjoining this with a wooden partition. With two facing sofas, quirky resin artworks, and playful cushions, this space is meant for perky interactions across the brass framed tea-pois'. The main feature is the rear section admiratively adorned with a full-height green wall and fervor seating in a contrasting red hue. This raised ceremony point alongside a window unveils a perfect amalgamation of indoor and outdoor features. An exposed concrete ceiling works in confining the subtle attributes.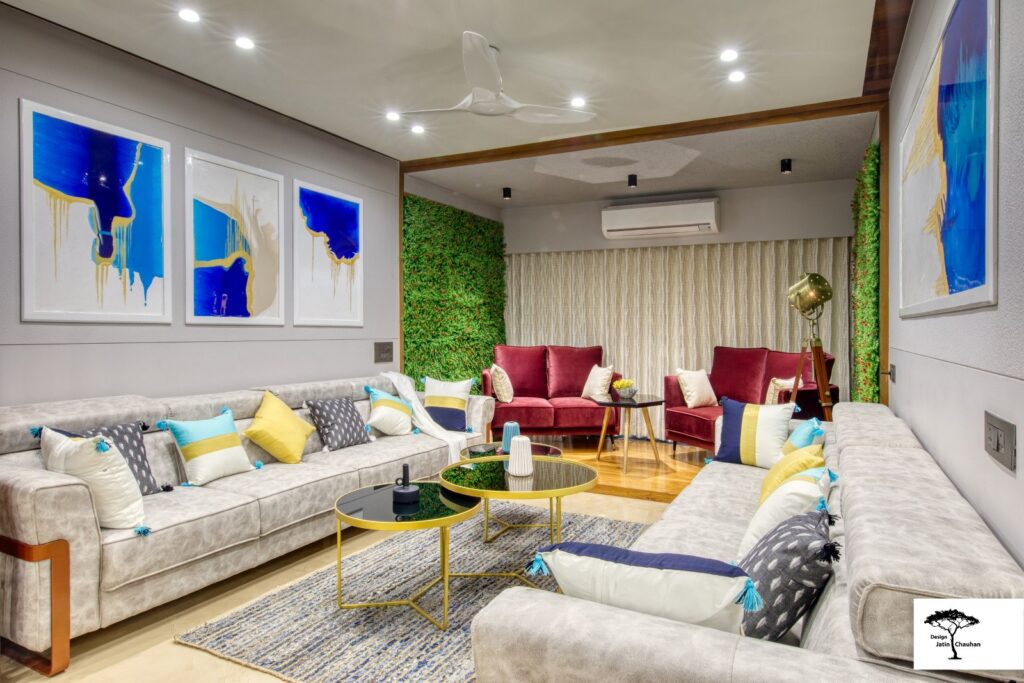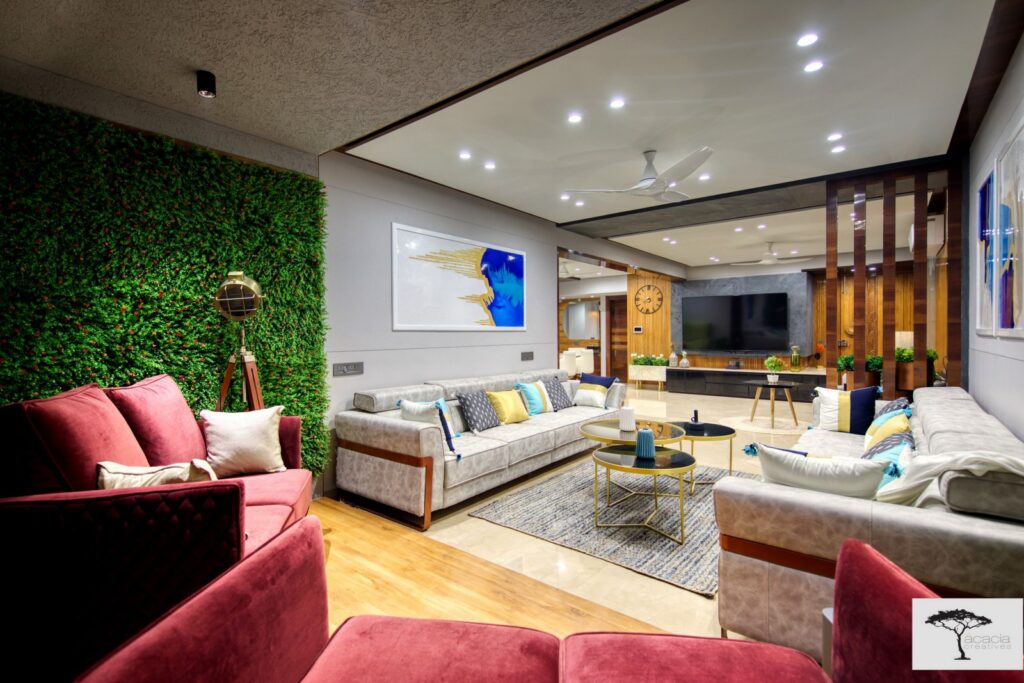 One cannot miss noticing the spatial enhancement with perfect interior styling. Culminative tea-poi, a minimal geometric clock, wall artworks, and floor standing planters' gesture in accurately highlighting the design elements around. The distinctive cushions for the living and the bed are handcrafted with chosen fabrics, colors, and hand paintings. Even the resin wall art pieces are specially customized pertaining to the theme and concept of designing.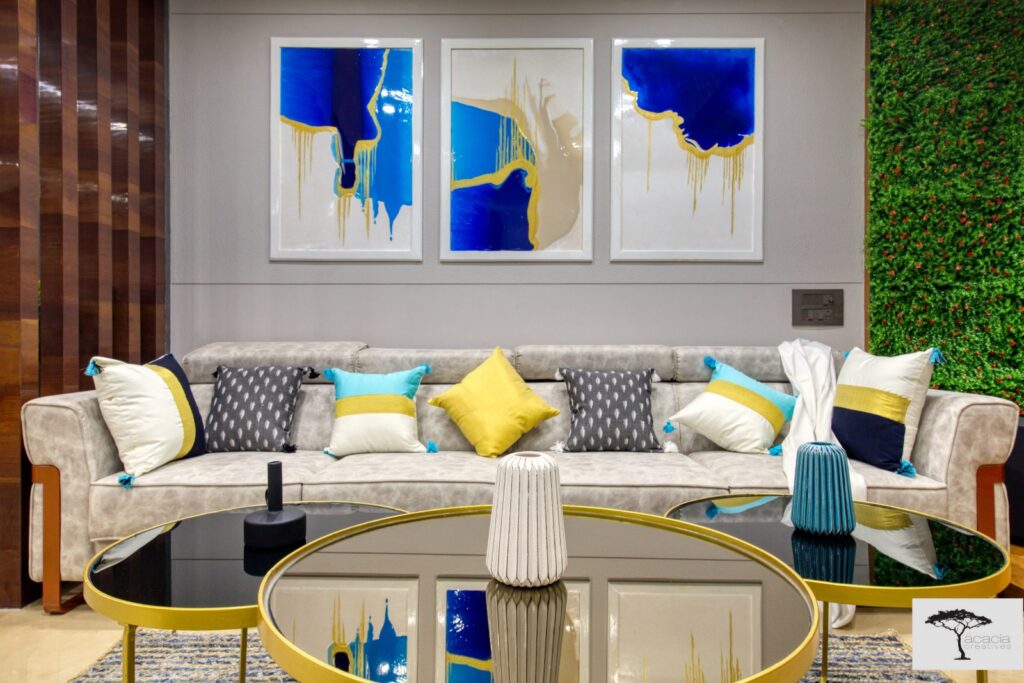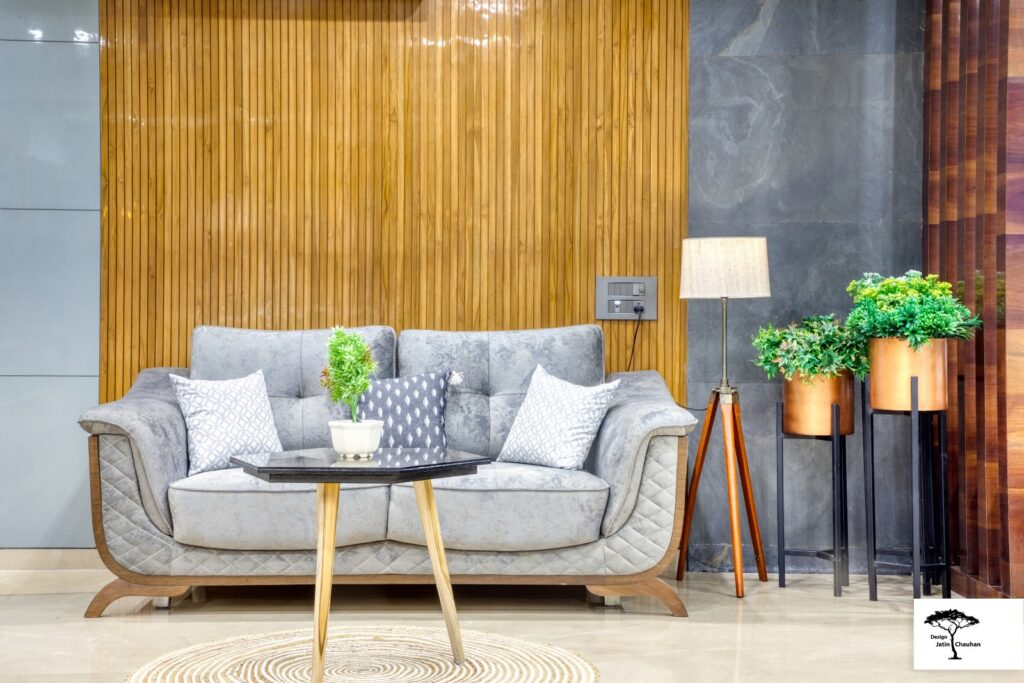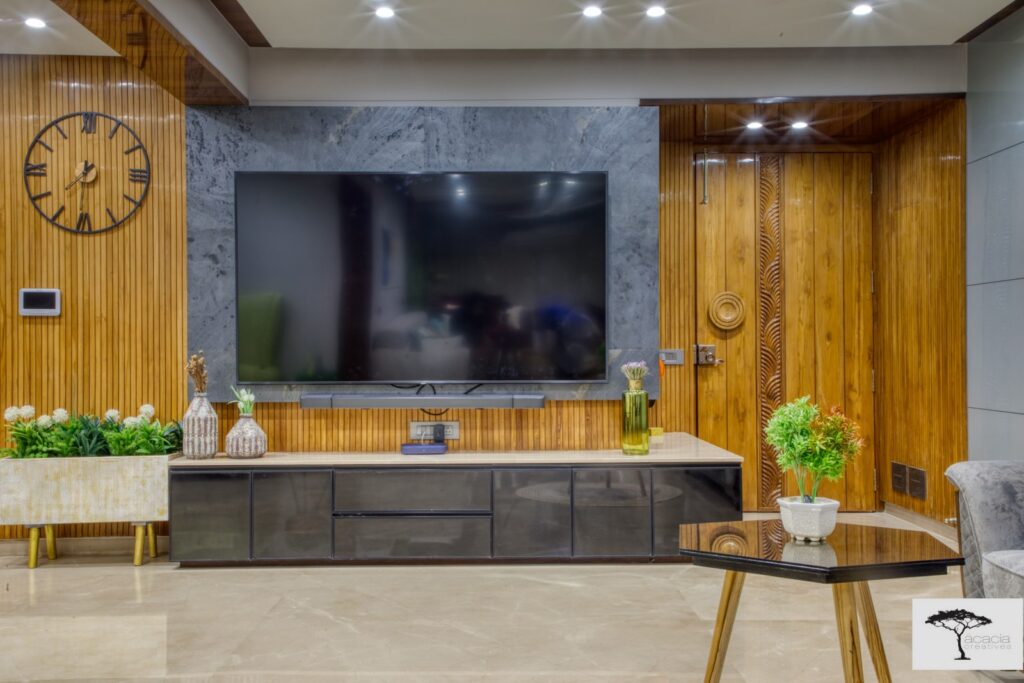 The dining is alongside a wood framed wall with a wall-hung seating and revolving brass-legged chairs. With a Statuario marble top, beautiful resin wall pieces, and warm hanging lights, this space oodles of its space efficiency and enhancement. Warm hanging lights and floor standing vases perceptually adhere with the furnishings to onset the right mood.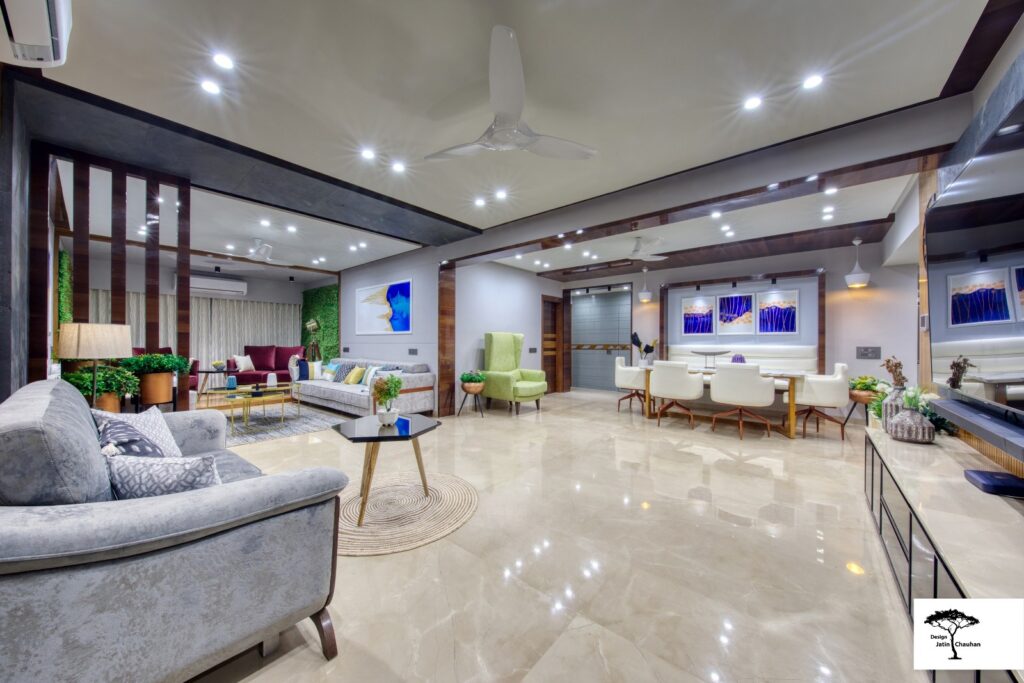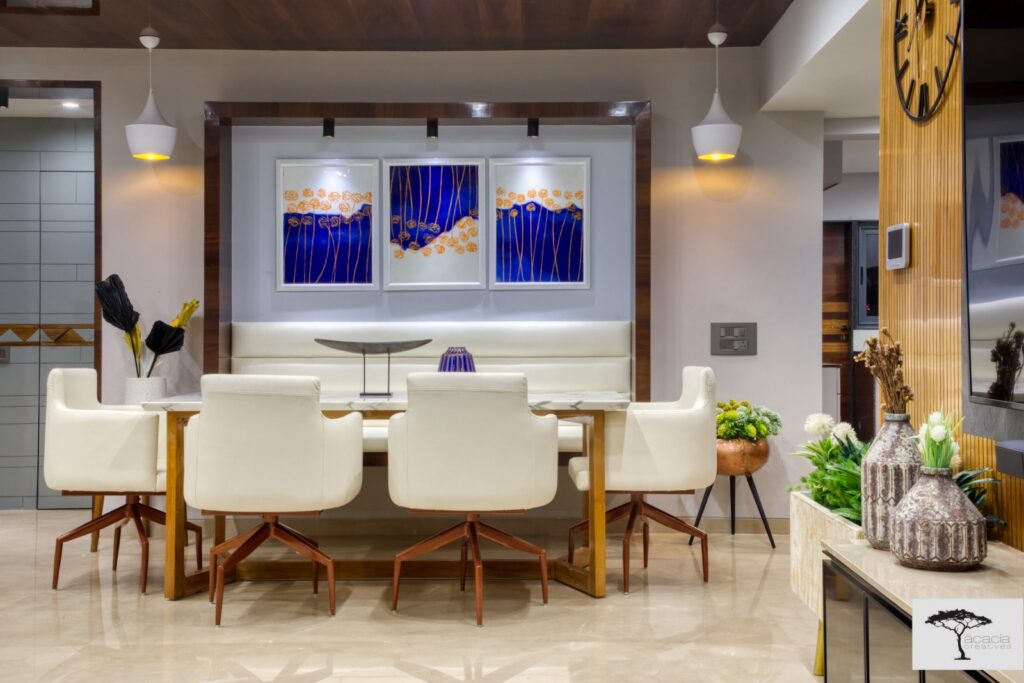 Brilliant pastel hues and valiant textures culminate the master bedroom. With a wooden floor, voguish bed curvatures, and a flattening design, it bewitches a robust characteristic. The wall art plays its part in adding a defining yellow hue over its self-textured wall. It expels great space occupancy and organization with reflective glossy surfaces to emboss luxury, style, and grandeur. The ceiling and walls are left sober to let the furnishings do the talking. A cozy dressing area is further accentuated using ceiling battens like those on the glass-wood wardrobe.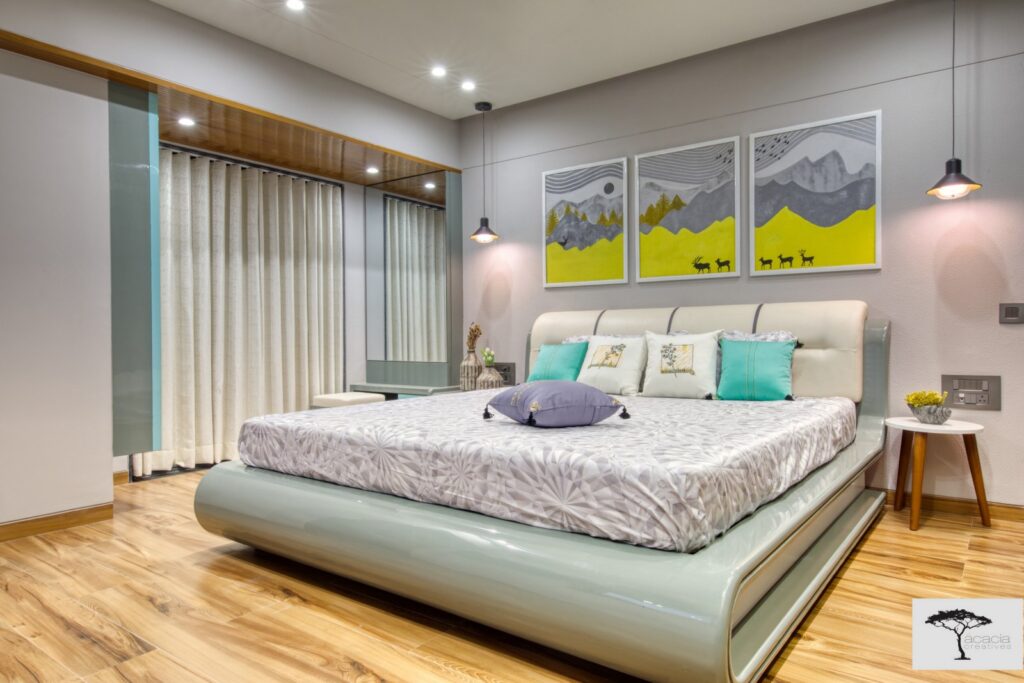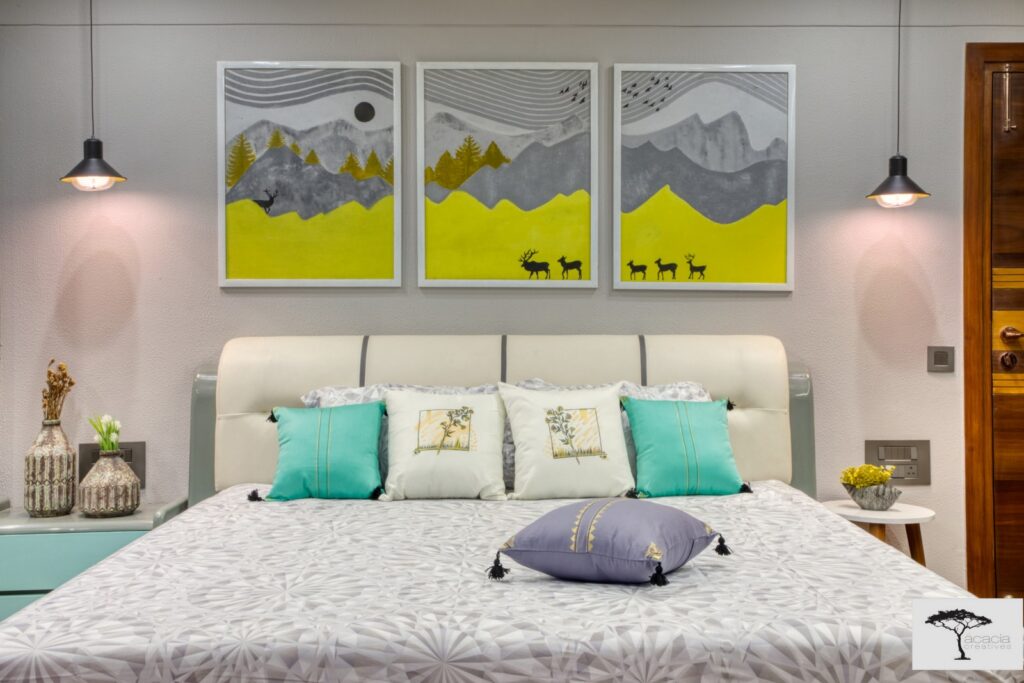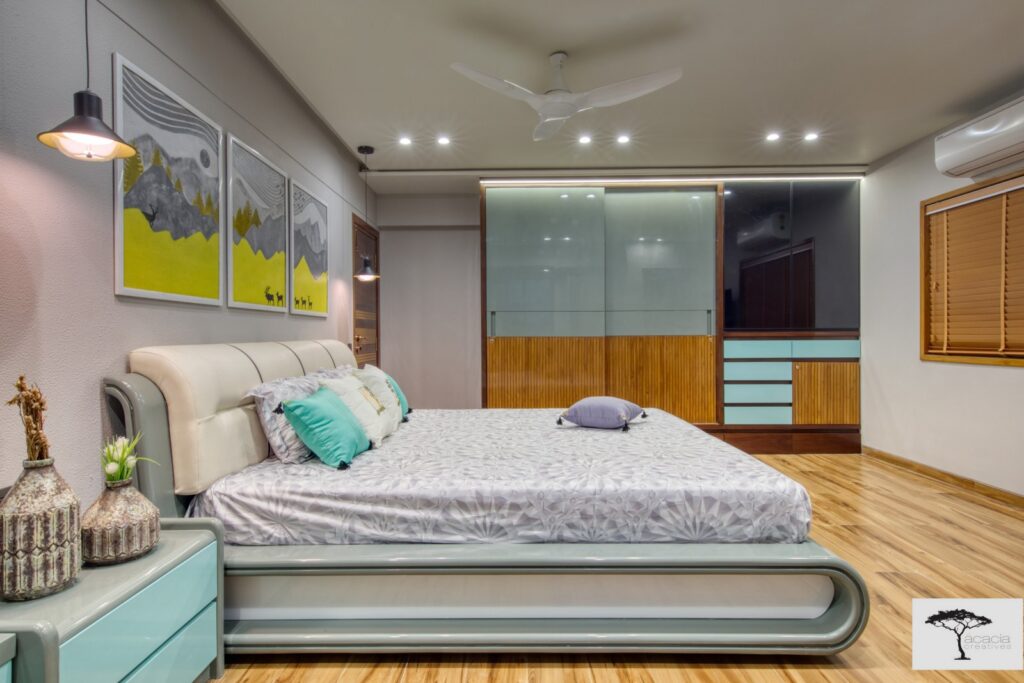 The daughter's bedroom is full of style, quirk, and all enchanting stuff. It is dashing, lovely, and benevolent with every nook extravagantly ramped up! The core theme is brought out by the fence style bed back and a cozy window niche. A Bollywood dressing is introduced against a white-washed brick wallpaper. All of this is detailed and articulated to expel the persona of the user. Also, the wardrobe glass is etched with a characterizing stain beside an eccentric rack.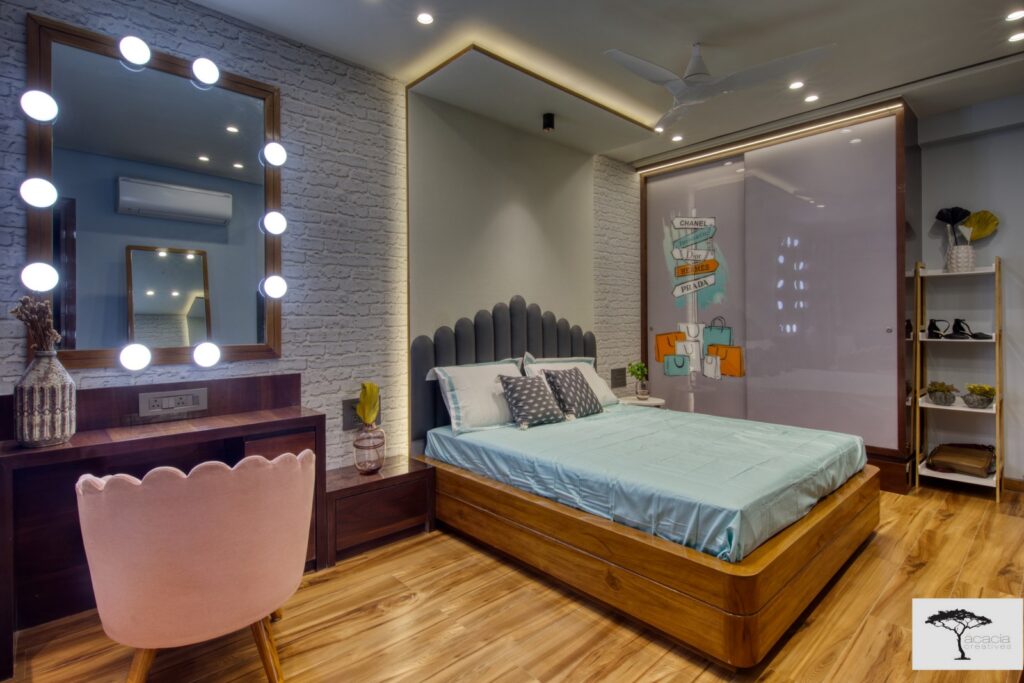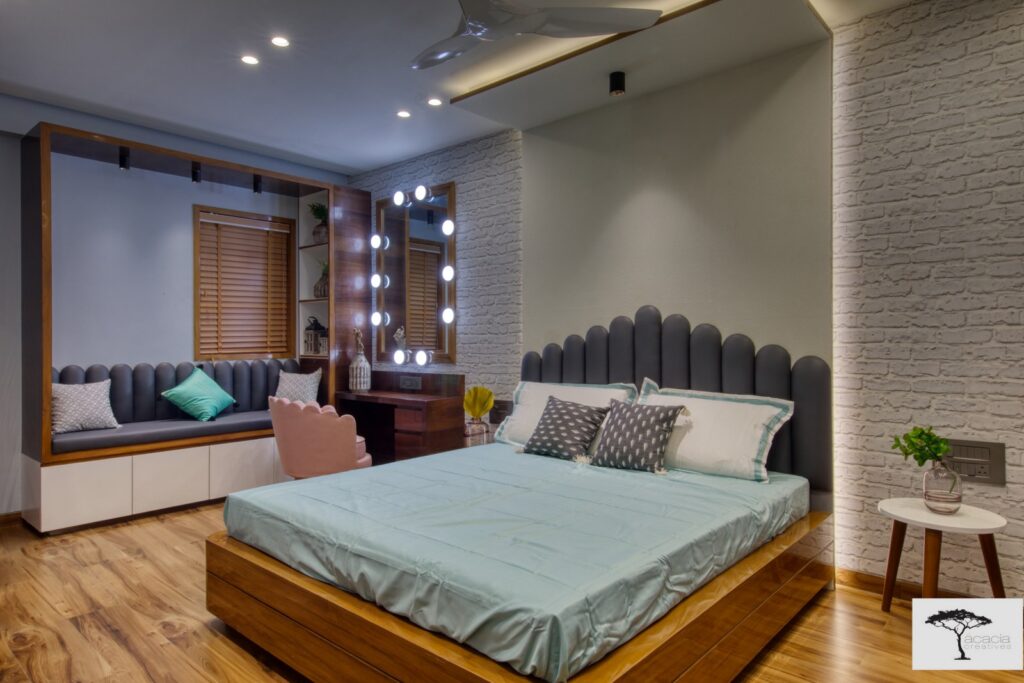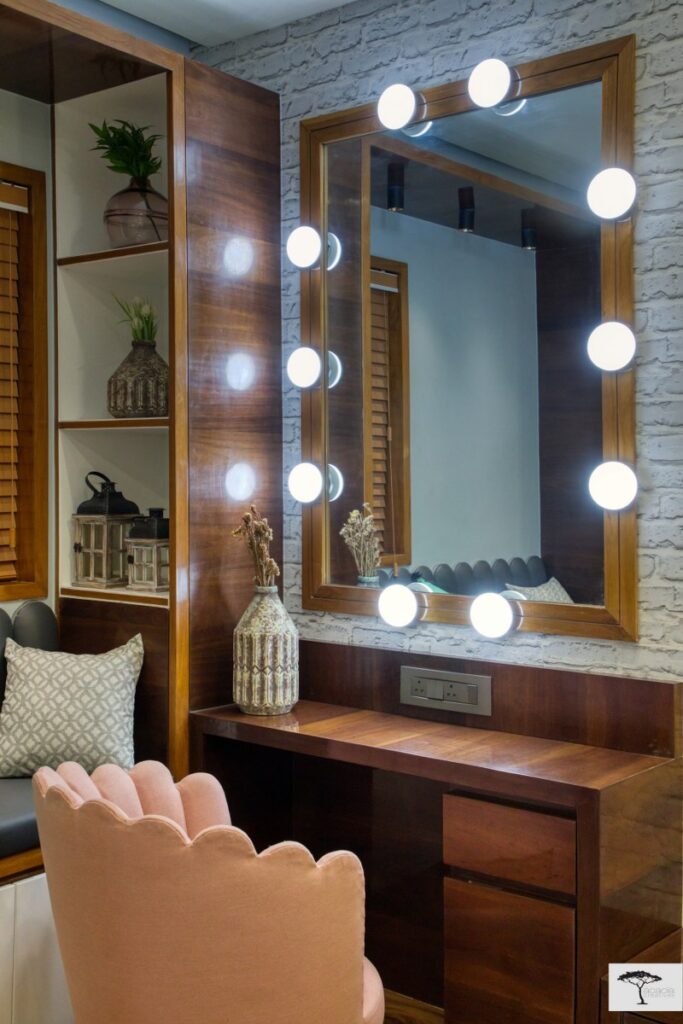 For the elderly parents' bedroom, there is a lot of antiquity and tailoring with an alluring color palette, luxurious finishes, and a modern appeal. There is no dull moment around a powering wall art, warm hanging light fixtures, and those snug niches that are in perfect synchrony with the textures and finishes around.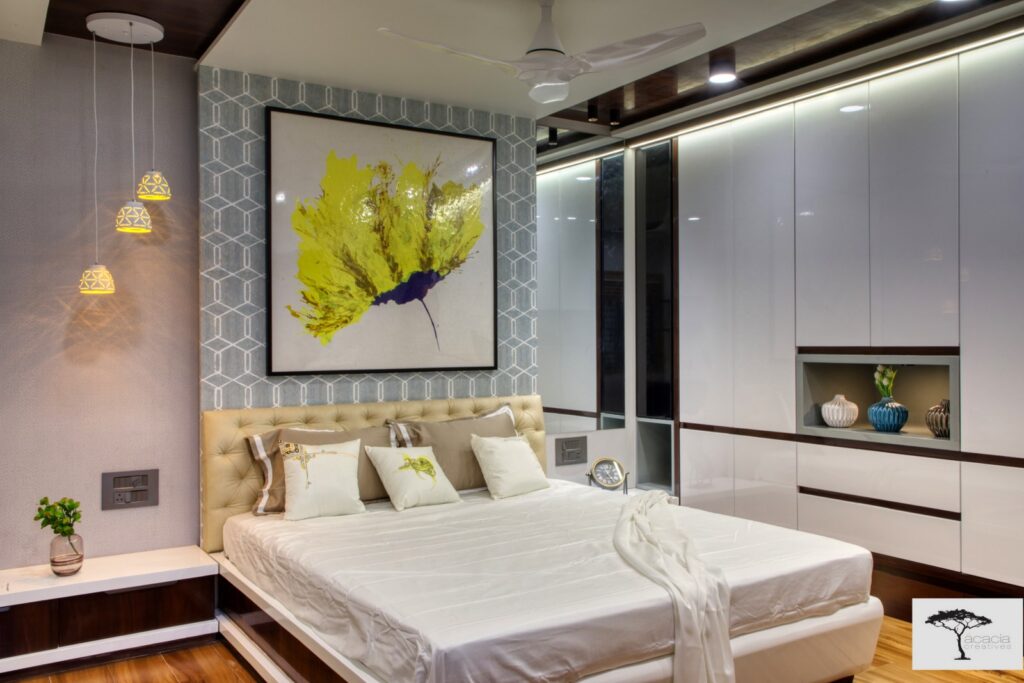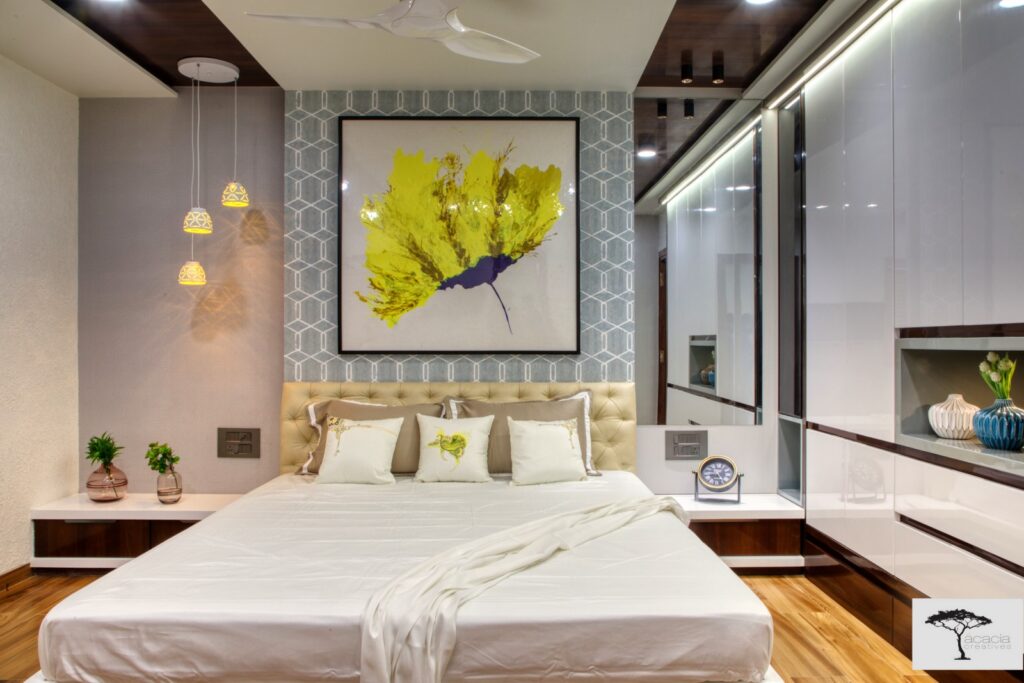 This home refrains itself from those woody veneer appearances to bring upon more vivid spatial qualities and efficient planning. It is also a perfect exemplar of how effective styling can play a key role in interior spaces. Also, how small sustainable styling gestures can enhance and bring out the right kind of vibes!
FACT FILE:
Firm: Acacia creatives
Client: Mr Kanaiyabhai Shethiya
Project details: Residential Project
Design by: Jatin Chauhan
Homestyle by: Jigna Chauhan
Year: 2020
Location: Ahmedabad, Gujarat
Area: 2000 sqft (carpet area)
Photography Credits : Archit Photographics
Text: Megha Hirani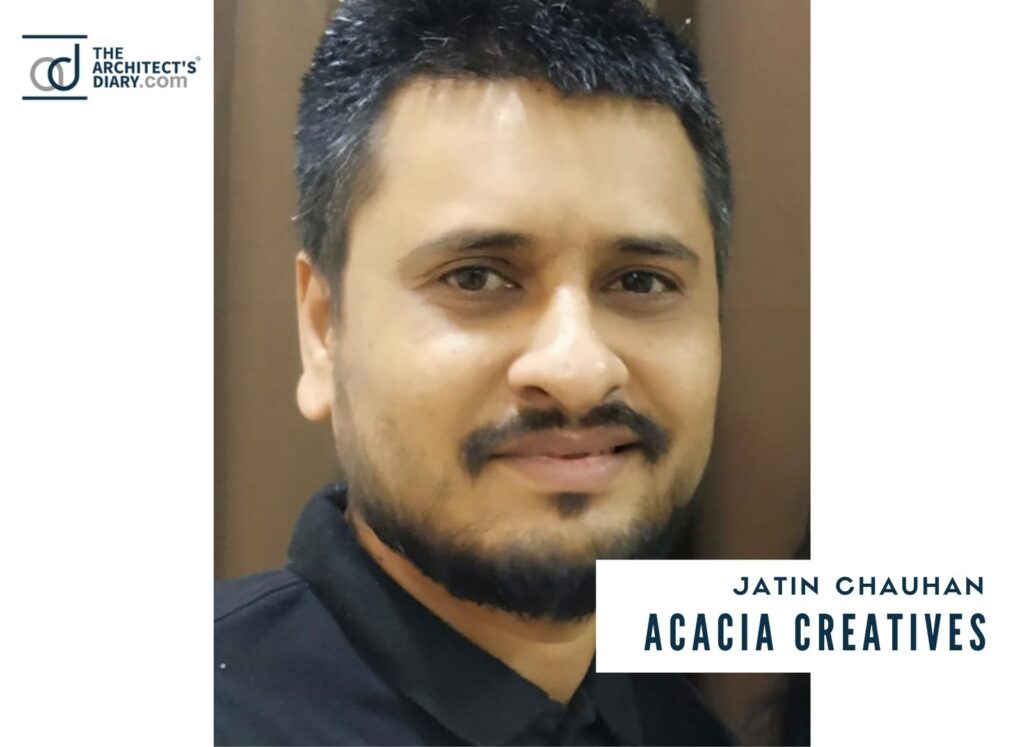 Facebook: https://www.facebook.com/acaciacreativess
Instagram: https://www.instagram.com/jatin_chauhan_id/