&nbsp
A Confectionery Store With Linear Language And Striking Material | The Plot Studio
All of 200 sq. ft, this sweets and confectionery store at Peddar Road in Bombay left the Plot Studio with a daunting task and an ambitious brief – to make the store look inviting and spacious while packing in ample storage and display for their product range. Owing to their affluent clientele and prime location, the client's vision was to have the interiors invoke a sense of luxury and heritage while staying relevant to the millennial generation.
Visit: The Plot Studio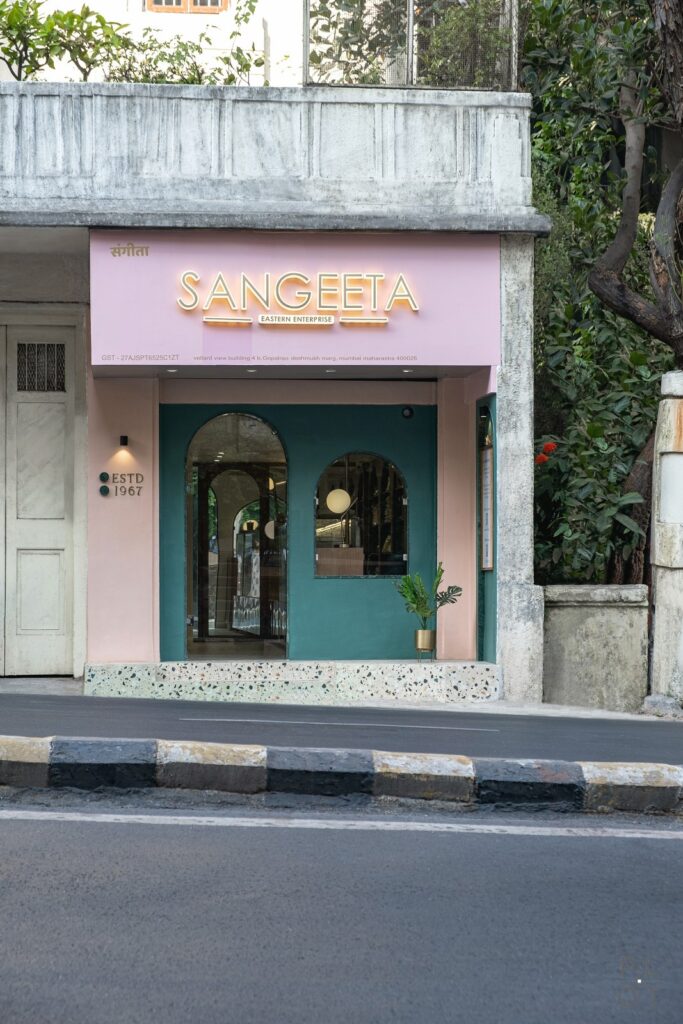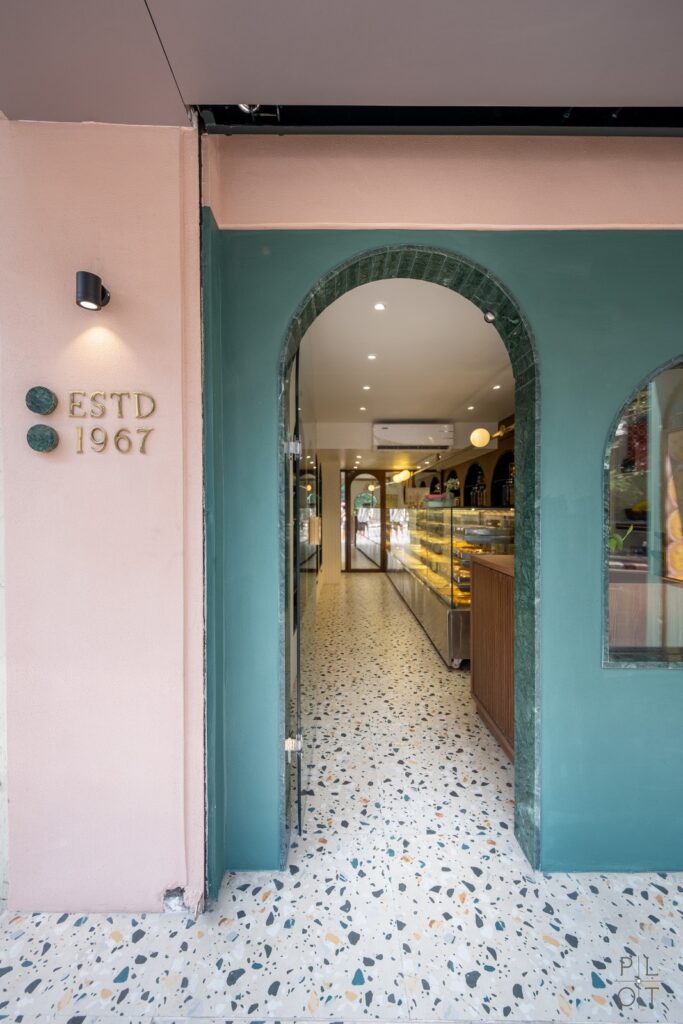 Channeling the client's vision as the blueprint for the design, the Plot Studio identified 'heritage, timeless, quality, luxe, tradition, authenticity as the core principles of the store that served as the starting point for choosing the focal elements & the material palette for space.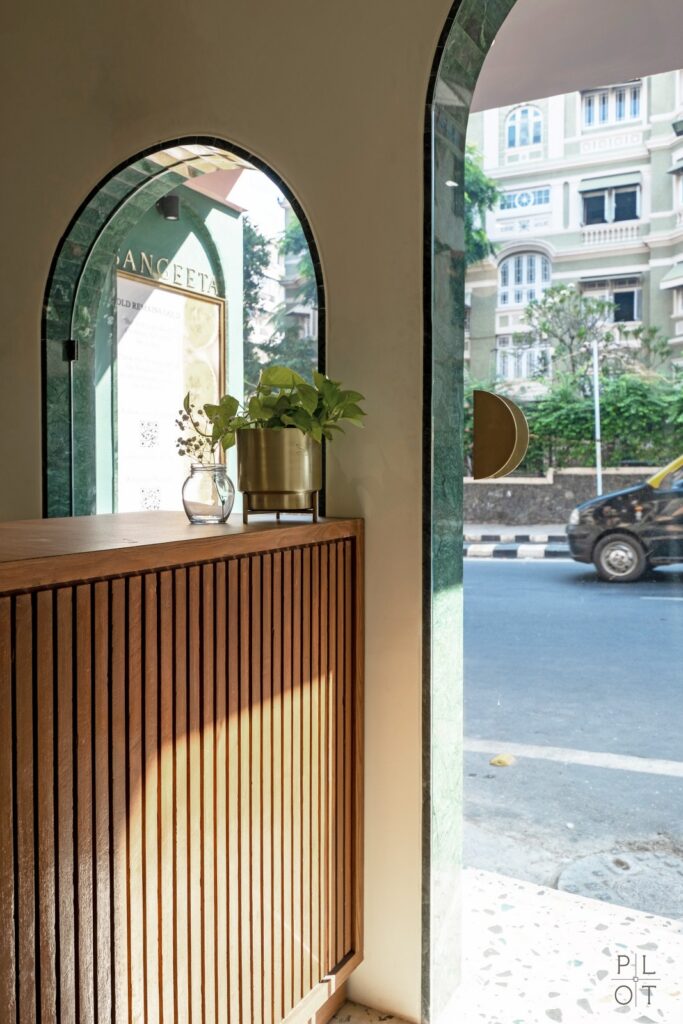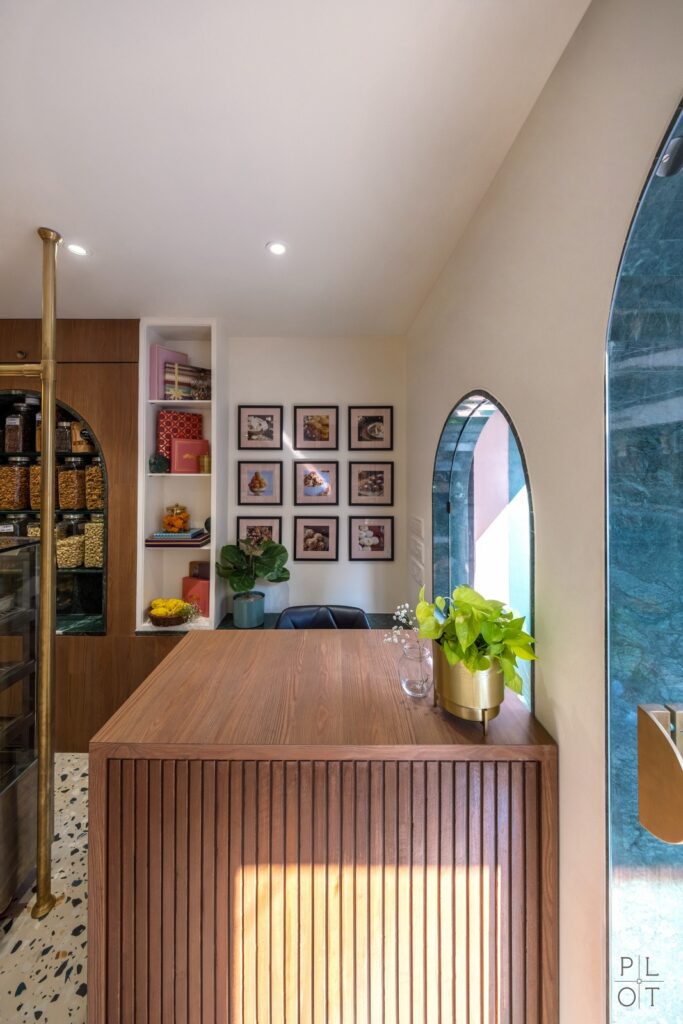 Design Concept
"Simple design with striking materials" is the underlying concept through space. Effortlessly marrying old and new, luxe and restrained, minimalism and utility – the team narrowed down to using age-old materials in a relevant fashion. Arches – a timeless & versatile element, are introduced as the focal feature that repeats throughout the space addressing design principles of harmony and repetition. The flooring is a terrazzo print tile – tiles, for its practicality & low maintenance while referencing the ancient art of laying the floors (terrazzo).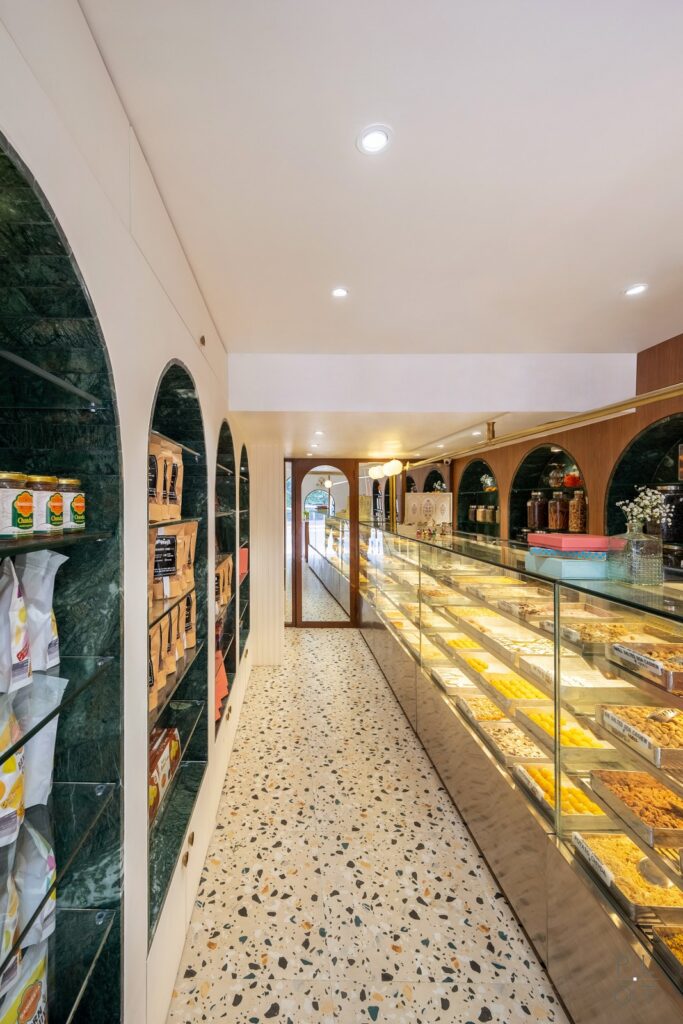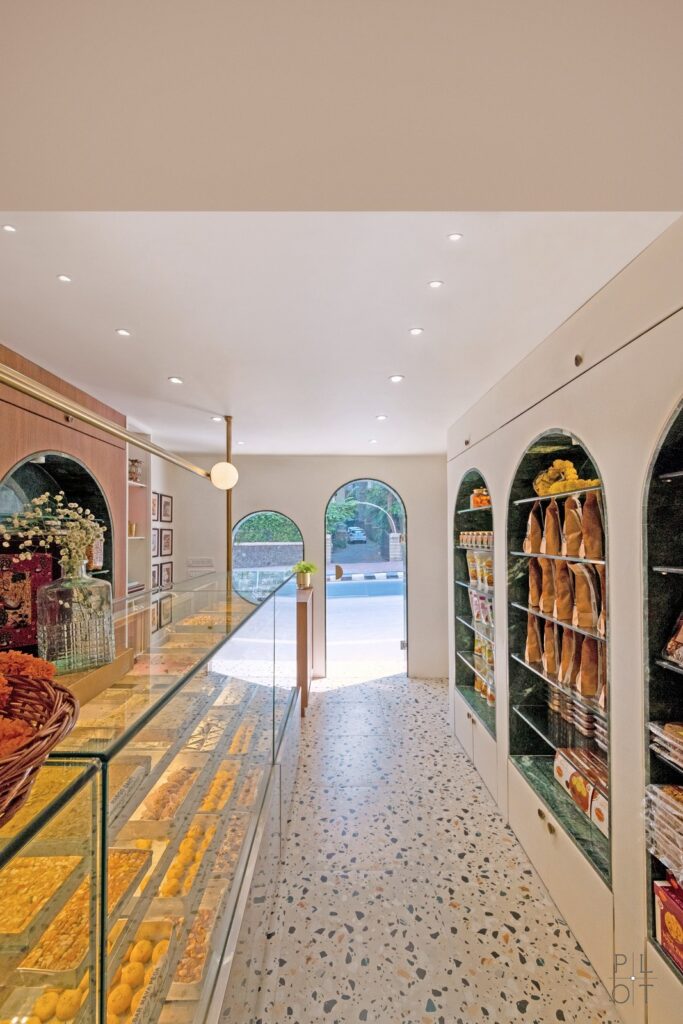 Apart from the arches, the rest of the design is kept understated, to allow the diverse materials to hold their own. The wall opposite the entrance is clad in a mirror to add some spaciousness to space. Another hero of the space is the fabricated brass light over the counter – unifying the entire space and creating a linear language for all the sweet counters visually. One space is dedicated to explain and underline the story of the brand since its conception.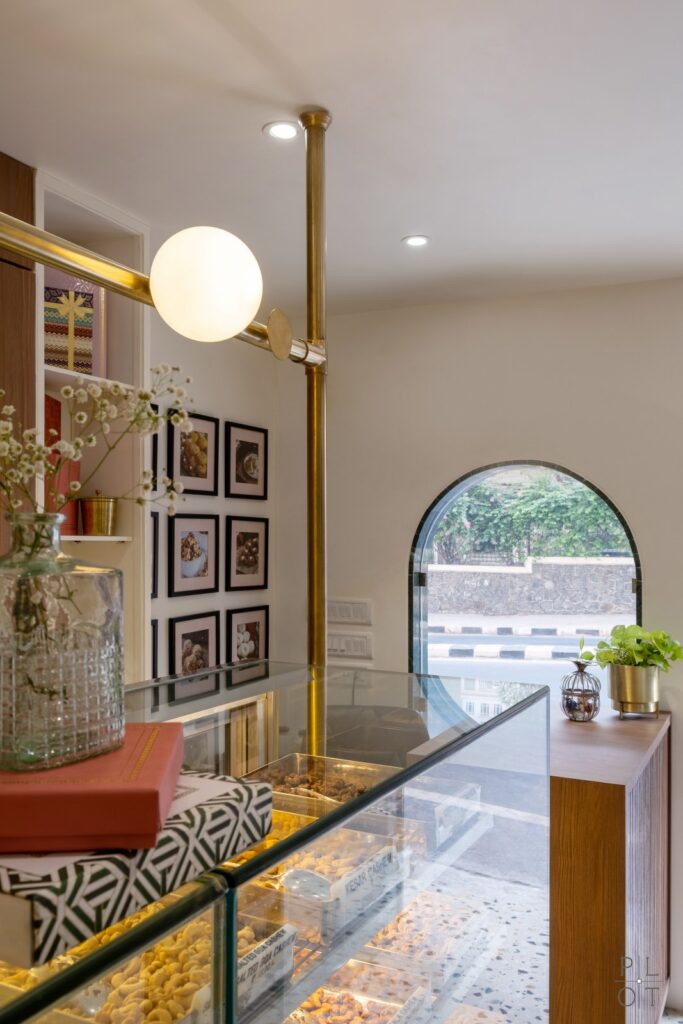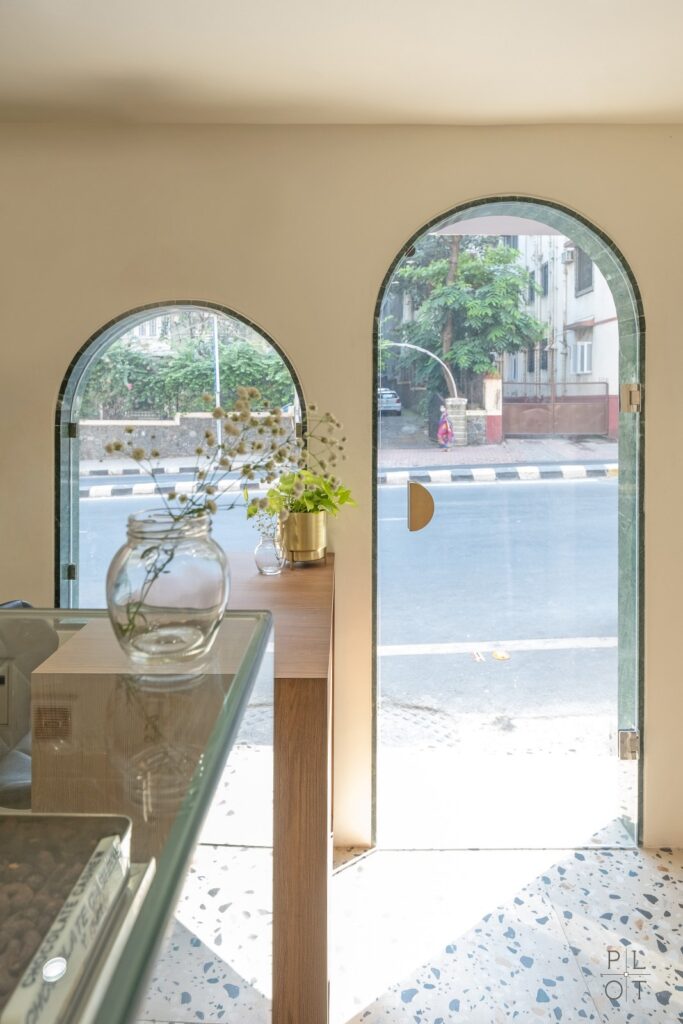 Facade
The store being entirely road-facing, the facade was the client's main requirement – is needed to be catchy and vibrant to attract the attention of people walking by, reminiscing a store-front on a promenade, as the client wanted to increase footfall via walk-ins. Pink & green, a fresh and unique color palette (color blocking) is used for the front, drawing a lot of attention to the store on an otherwise busy street.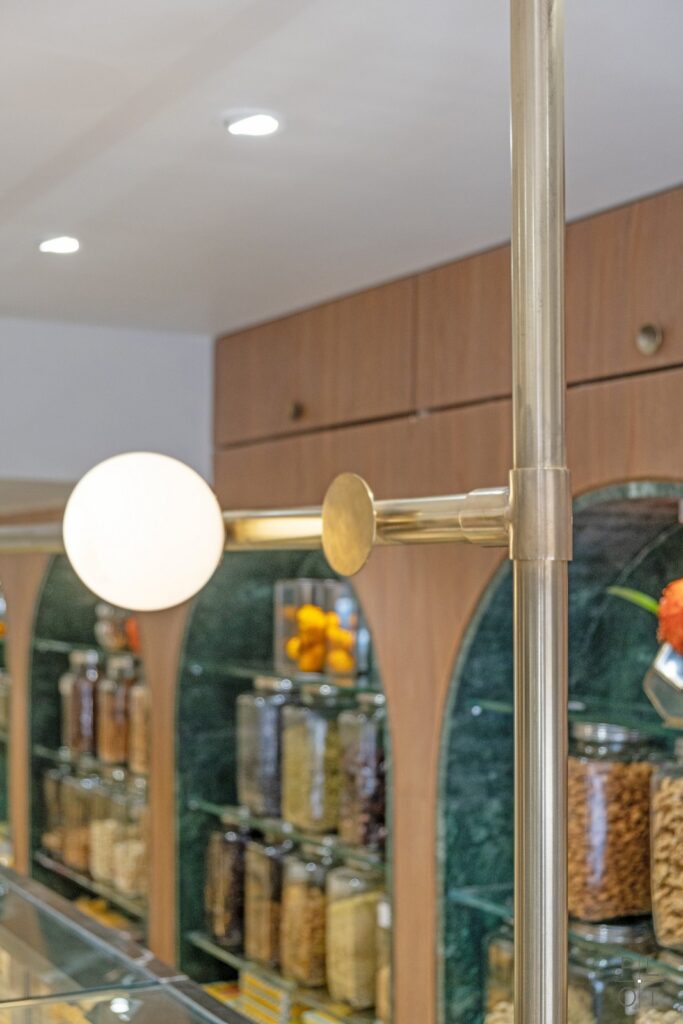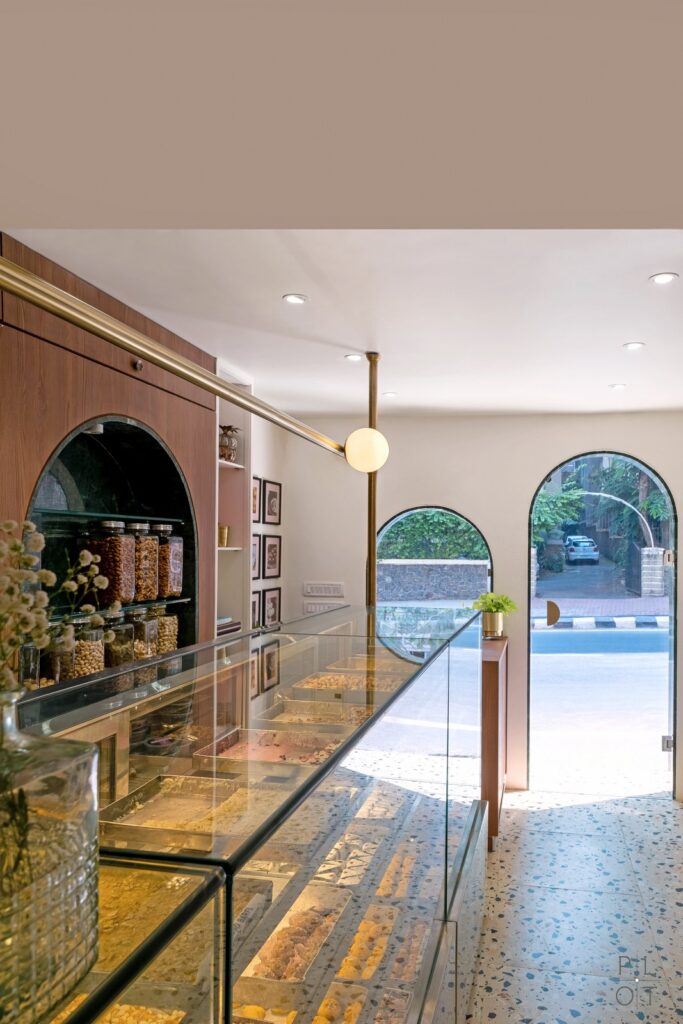 Material Palette – Jaipur Green Marble, Teak Wood, Brass & Terrazzo.
Facade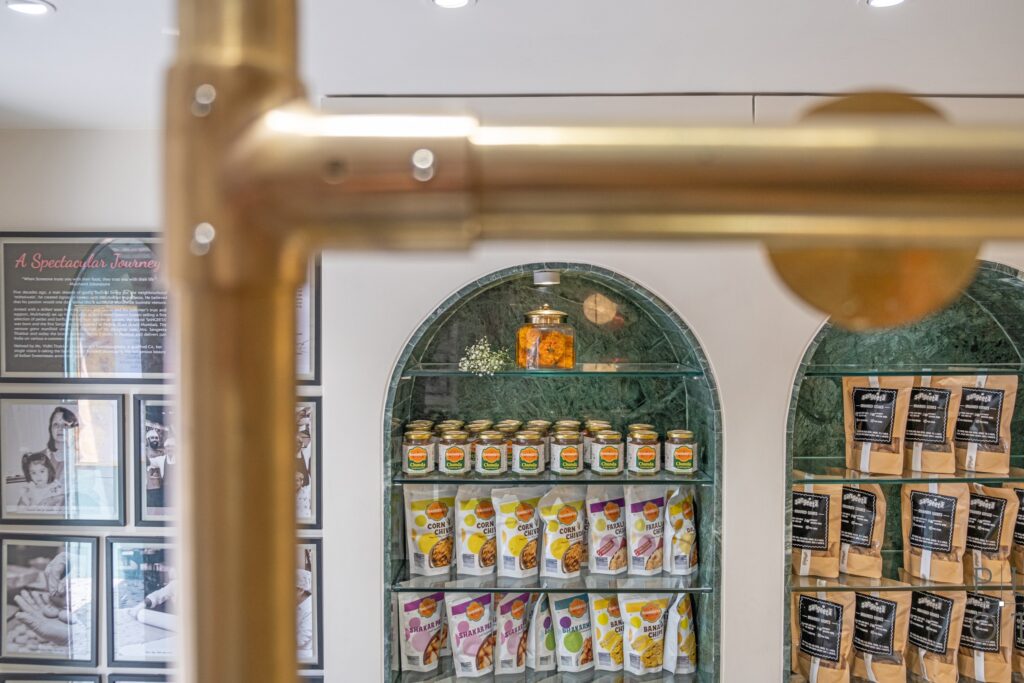 FACT FILE:
Designed by: The Plot Studio
Project Type: Retail Store
Project Name: Easter Sweets By Sangeeta
Location: Peddar Road, Mumbai
Year built: 2020
Size: sq feet: 200 sqft
Project Cost appx: 10 Lakhs
Principal Architect: Arpita Dhokia, Dhwani Kanakia & Tanvi Shah
Photograph courtesy: Kuber Shah
ABOUT FIRM:
The PLOT Studio is an interior design studio run by three principal designers- Arpita Dhokia, Dhwani Kanakia & Tanvi Shah. We offer a bespoke and innovative approach to design. At PLOT, we believe certain spaces set a mood, talk, and inspire us. We believe in the motto – "Form follows Function", and we try to create functional, comfortable, and aesthetic spaces with utmost attention to detail.
Facebook: https://www.facebook.com/theplotstudio
Instagram: https://www.instagram.com/theplotstudio/