When talked about Penthouse Apartment Design, the aura of luxury embodies one's thoughts. A home giving comfortable milieu yet is an example of sheer poise and elegance is what best defines penthouse. Living in a secluded residence with an enviable panorama, and with ample amenities gives all classy and sophisticated feels. In simple terms, a penthouse apartment could be defined as luxury residential living with an ample amount of outdoor space with a great view.
Penthouse Apartment Designs in India is trending majorly on varied typologies and styles of design. Pertaining to the Indian climate the penthouse apartment design is adorning the trending styles of a residence design. Giving the royal living environment amidst the hustle & bustle of the city is what major Indian designers are focusing on. A few of the Penthouse apartment designs in India which are trending today are:
1. Contemporary & Traditional Amalgamation – K.N. Associates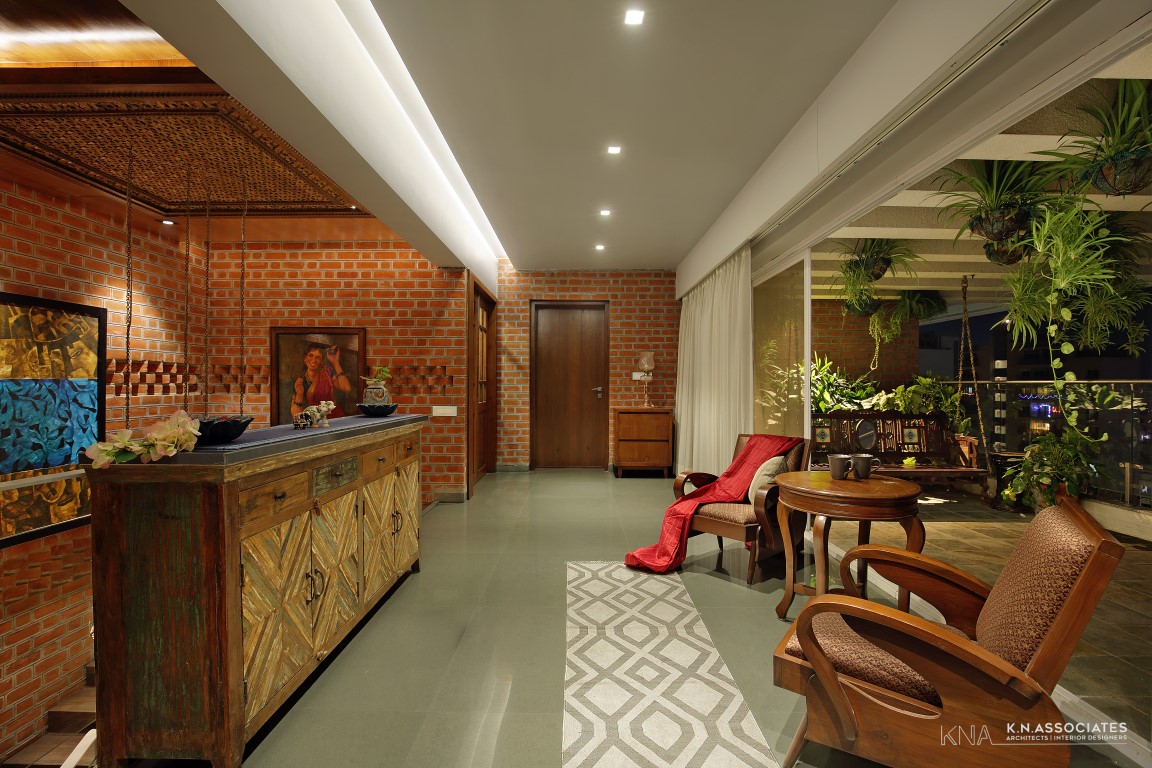 The design team acquired the project right in its construction phase so as to make the civil alterations at the very commencing stage according to the requirements. Located in the suburban area of the Vadodara city, maintaining the expression of free-flowing and openness was a key point in altering the array of spaces in this Penthouse Apartment Design.
Fact File:
Design Firm: K.N. Associates
Photographer: Tejas Shah
Area: 4500 sq. ft.
Location: Vadodara, India
2. Grandeur of Bungalow in Penthouse – Vishwa Design Studio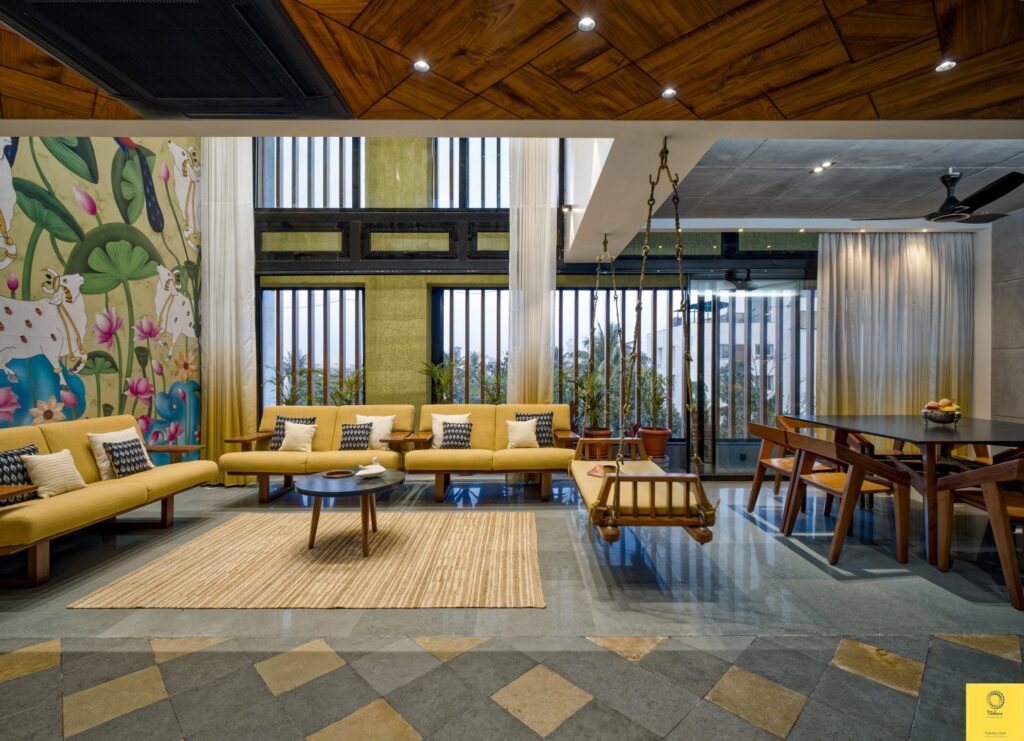 It's not every day that you come across a house that makes you wonder if you're really amidst the hustle and bustle of city life! Here, this dazzling duplex Penthouse Apartment Design starts off with an entrance embedded with rich, natural wood, finished off with beaten copper. This lends a certain earthiness to space and just like that, your visual appetite is hungry to take in more!
Fact File:
Design Firm: Vishwa Design Studio
Photographer: Hemant Patil
Area: 3436.5 sq. ft.
Location: Pune, India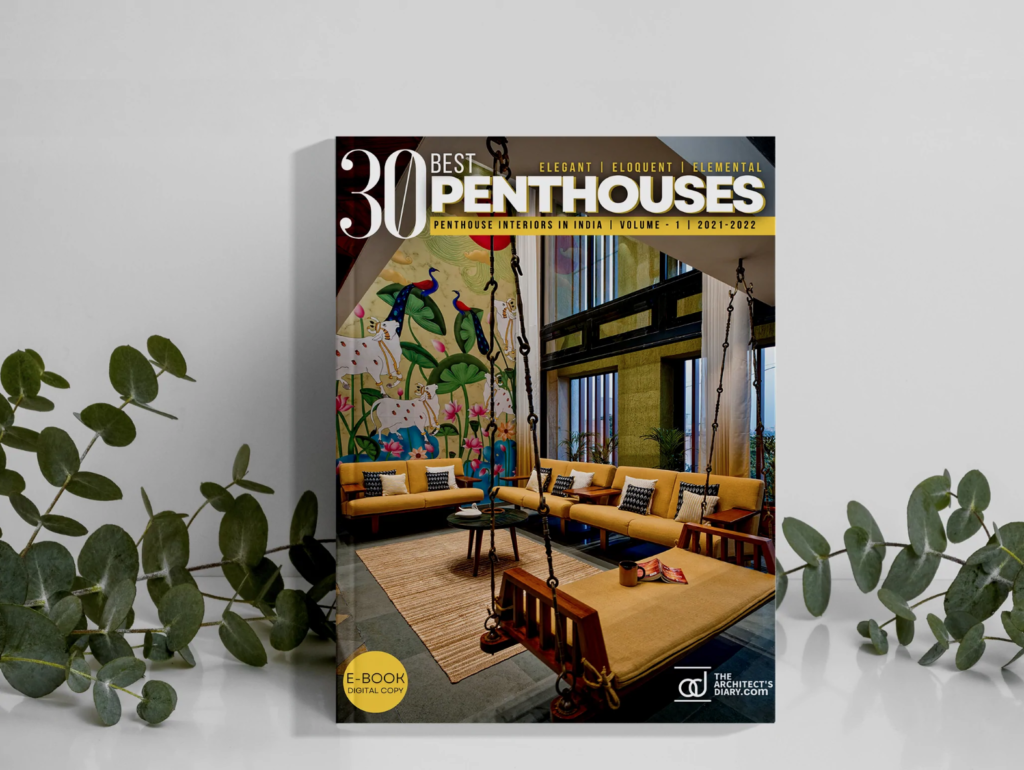 3. The Yellow Door House – Between Walls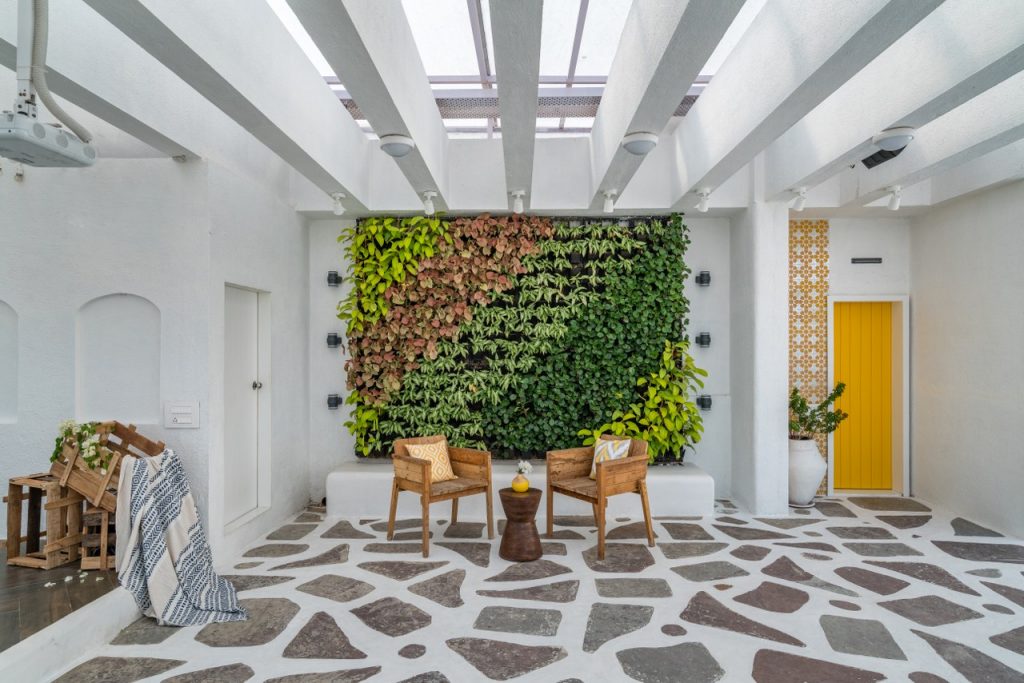 The client was fascinated by his travel to Greece and wanted his holiday home to reflect his love for it. We explored the concepts and realized that it's all about using local materials and being sustainable as far as possible in design. We visualized the space as a white space with yellows and blues and various patterns and textures. We had to give the client the experience of a holiday home that he admired keeping in mind that the vernacular design sense should still remain but with materials that were available in and around Pune.
Fact File:
Design Firm: Between Walls
Photographer: Inclined Studio
Area: 2000 sq. ft.
Location: Pune, India
4. Affluence Penthouse – ACE Associates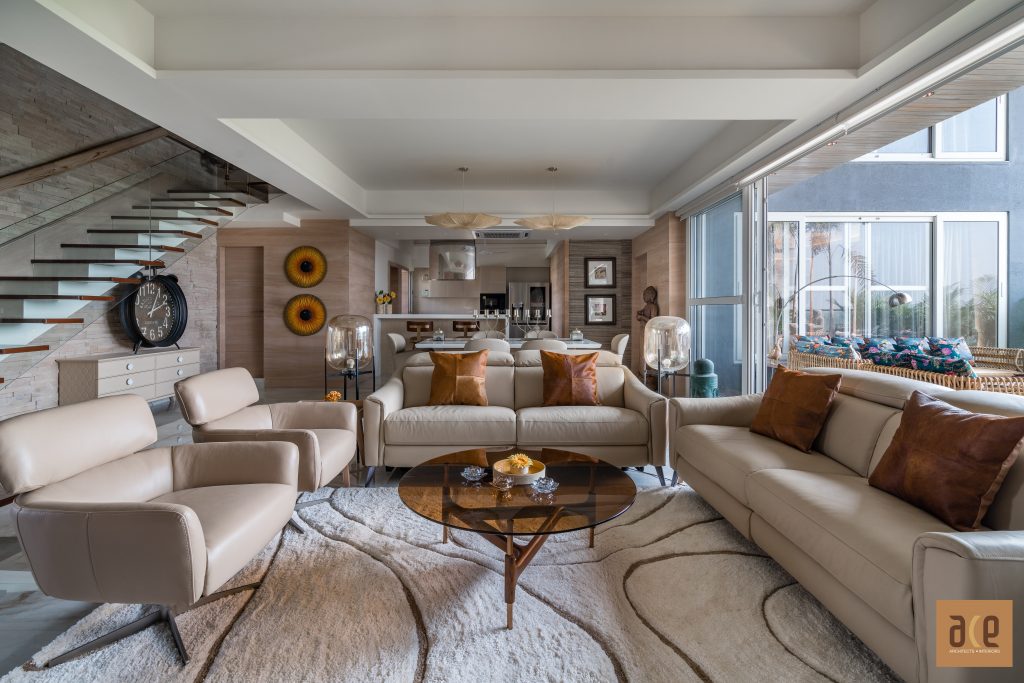 If there's one word that most (if not all) homeowners seek across the world, it's "ideal". And even though the word is loaded with subjectivity, and prone to personal tastes, agendas, and philosophies, it definitely isn't limited. In India, the indefinite search for an ideal often veers towards the idea of space. This Penthouse Apartment Design is the best example of an ideal home for the dwellers.
Fact File:
Design Firm: ACE Associates
Photographer: Inclined Studio
Area: 3200 sq. ft.
Location: Vadodara, India
5. The Penthouse – The Auburn Studio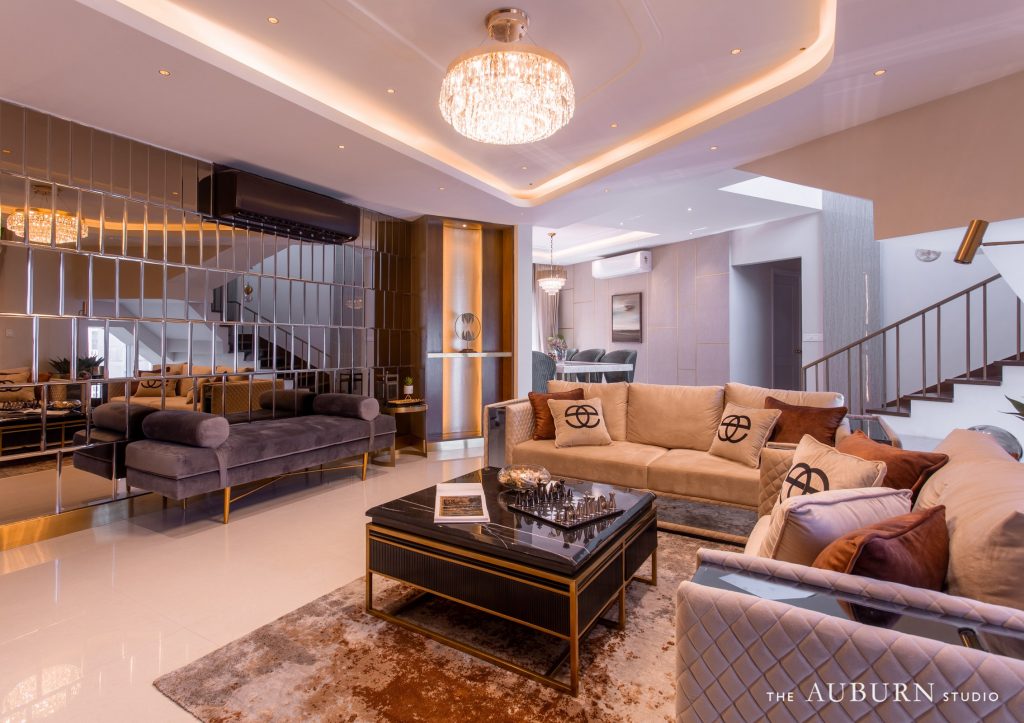 It had to be classy and luxurious. The client wanted gold accents throughout the house and wanted the family's individual personalities to reflect in their personal spaces. The client boasts a huge collection of designer shoes and bags, she wanted ample space to store them. And finally, she desired a spacious kitchen to compliment her love for cooking. This Penthouse Apartment Design in overall look provides a very royal and classy luxurious feel.
Fact File:
Design Firm: The Auburn Studio
Photographer: Sreenag Pictures
Area: 4500 sq. ft.
Location: Chennai, India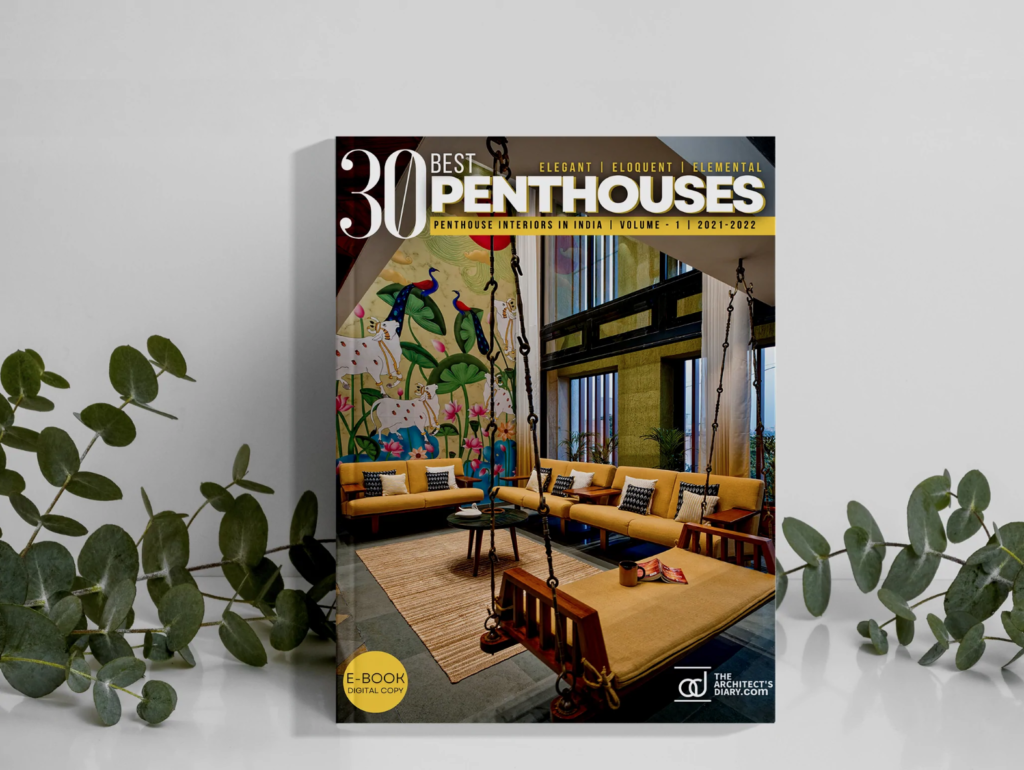 6. Penthouse By The River – The Concept Lab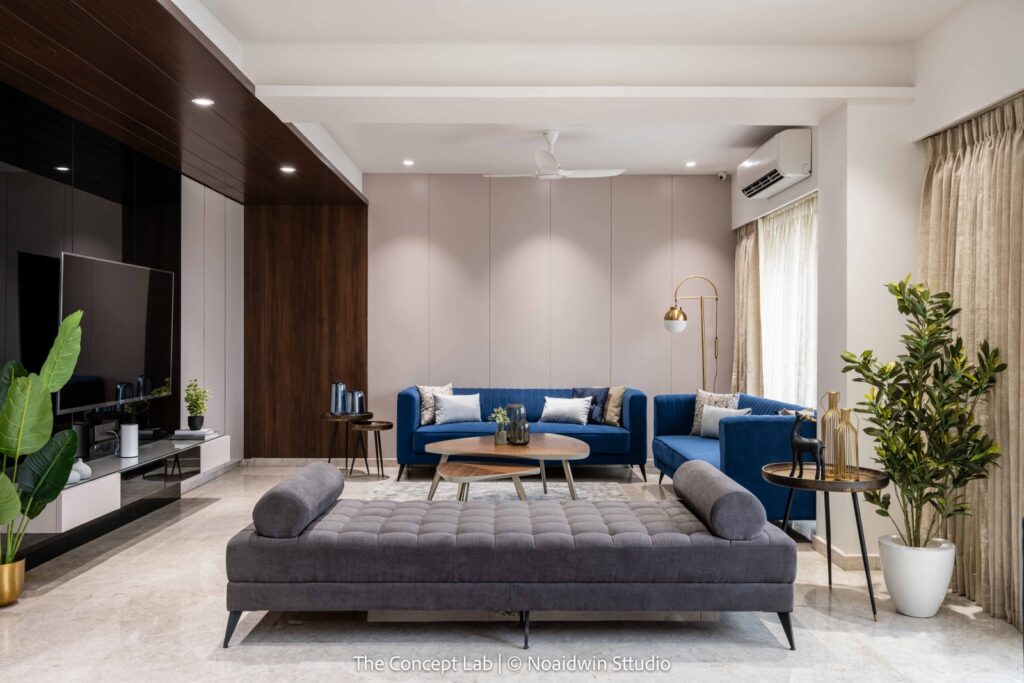 Penthouse By The River is a 5,000 square-foot penthouse on the 11th floor of a sky-rise. The Penthouse Apartment Design having an enviably edited panorama of the river-side, puffy white clouds, clear blue sky, and the green tops of verdant trees. In a house hanging in the clouds with french windows on every side space, in its absolute abundance became a defining factor. And it began with pairing down the six-bedroom to four-bedroom for this family of three.
Fact File:
Design Firm: The Concept Lab
Photographer: Noaidwin Sttudio
Area: 5000 sq. ft.
Location: Surat, India
7. Vaikunth – Deep Breath Architecture Firm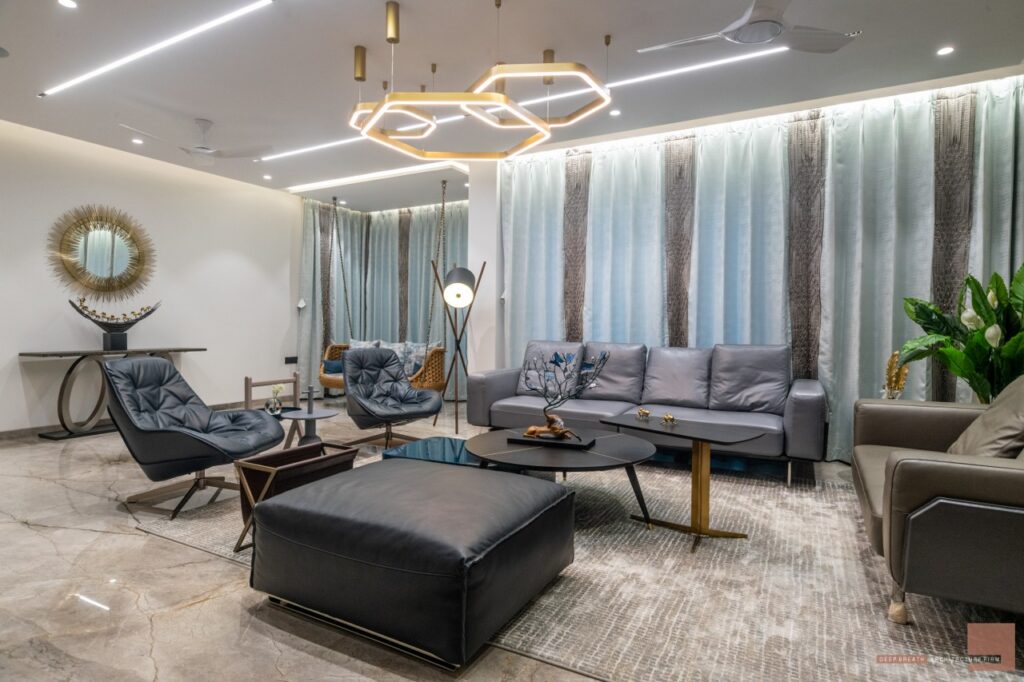 Penthouse Apartment Design amidst nature with pure and picturesque surroundings, brings collectively sophistication and elegance, allowing the experience of all this beauty from the privacy of the 9th floor. Sprawled over a large area, the project's roots have been intended to grow, keeping in mind the client's penchant. It is predominantly designed for a family of 9 who wanted a royal and luxurious living, whilst creating a comfortable milieu for the occupant family. As the name suggests, the client believes, this penthouse is their abode of heaven and hence the ambition was to enable each space, shared and private, to resemble the client's vision of a tranquil and quintessential home.
Fact File:
Design Firm: Deep Breath Architecture Firm
Photographer: Dhaval Gajjar (360 Eye)
Area: 10,000 sq. ft.
Location: Vyara, India
8. The Tranquil house – Traanspace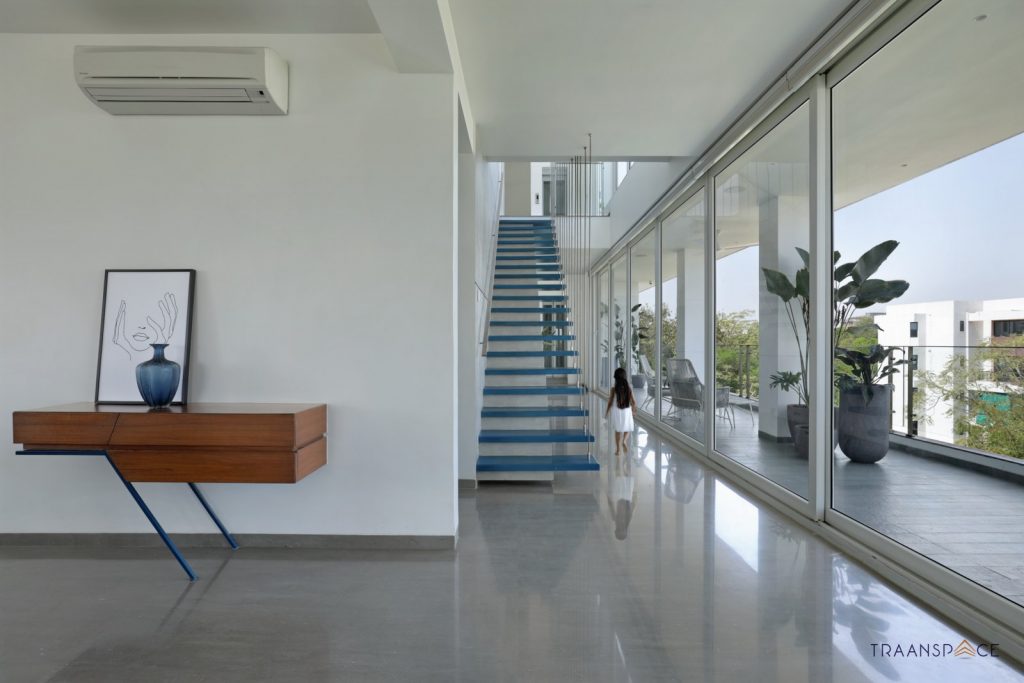 This Penthouse Apartment Design is nestled on the top floor of a single dwelling per floor apartment complex designed by the Traanspace. Set in a tropical high-end locality of Vadodara. Open to the view of lush natural surroundings, this penthouse was originally a four-bedroom apartment. They wanted the house to be true to their personalities, simple with a tinge of quirkiness.
Fact File:
Design Firm: Traanspace
Photographer: Tejas Shah Photography
Location: Vadodara, India
9. Sculpture & Patterns – Manoj Patel Design Studio
This apartment interior is a dialogue between tradition and contemporary thoughts between craftsmanship and design, which are well designed and detailed out functional spaces according to the client's brief. The corner wall mural defines the green character of plantation enhanced with both lightings to add a soft glow to the scene and to hold small plants in a vertical sculpture.
Fact File:
Design Firm: Manoj Patel Design Studio
Photographer: Sudhir Parmar
Area: 1800 sq. ft.
Location: Vadodara, India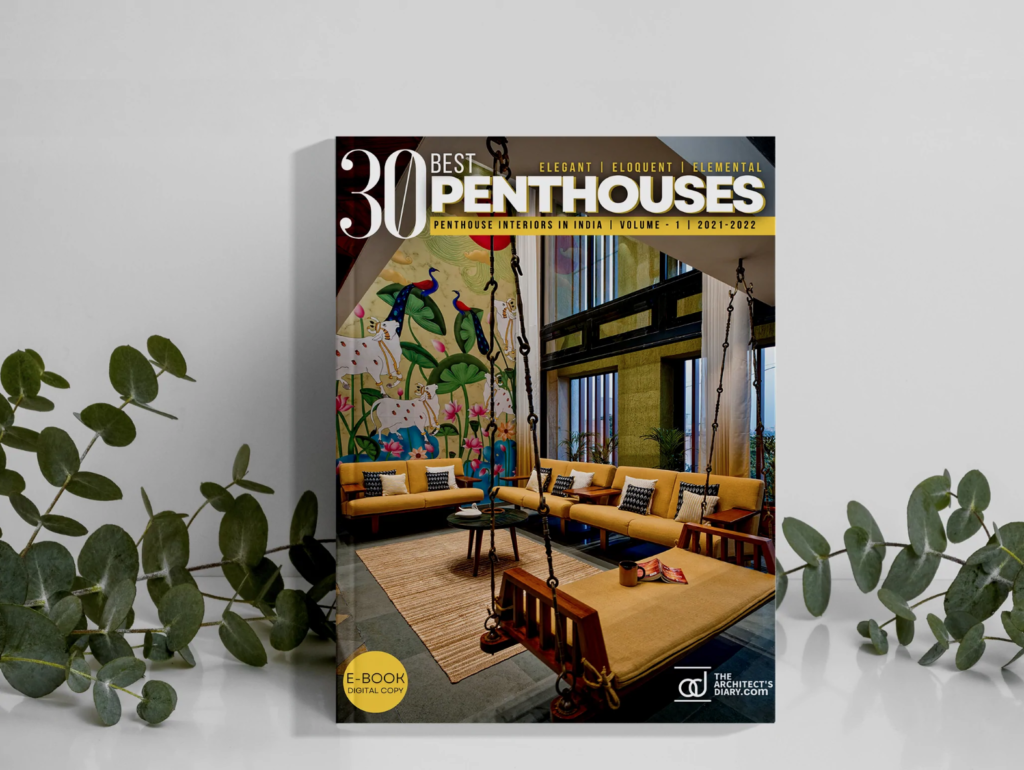 10. Overlapping Volumes – Urban Zen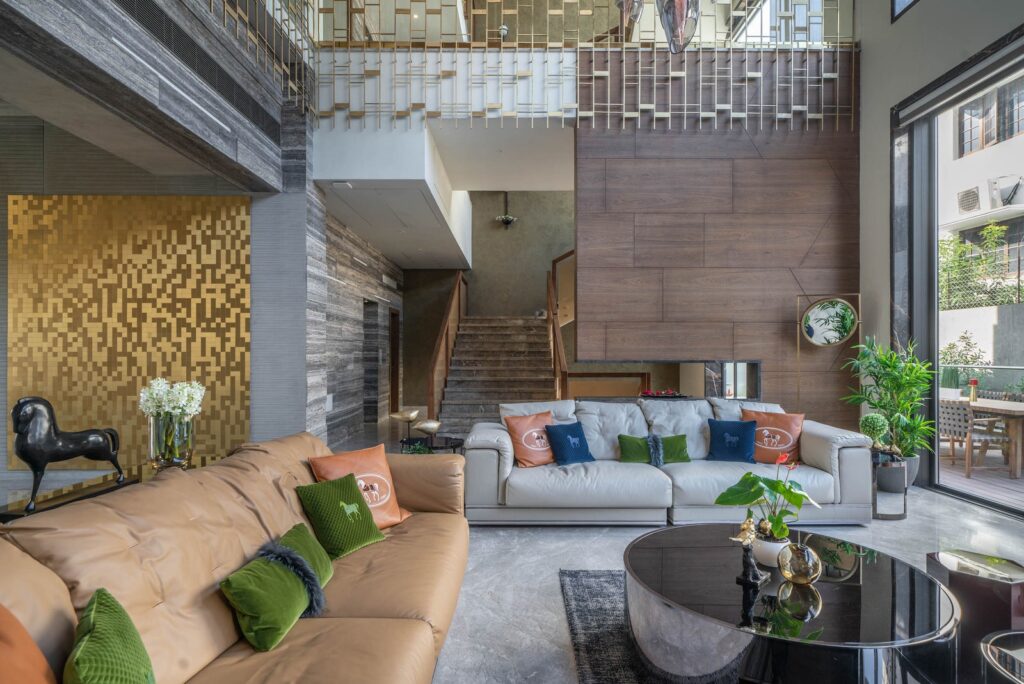 Overlapping Volumes is a Penthouse Apartment Design giving contemporary jigsaw with variously sized pieces glued into a dramatic, cohesive whole. This is that one home that embodies everything luxury. From focal face lights to raw surfaces, the spaces create a perfect backdrop and set the gleaming tone. Even the bedrooms are the sheer example of elegance and poise. Intricate luxurious details make this home the perfect blend of comfort, opulence, and style.
Fact File:
Design Firm: Urban Zen
Photographer: Ricken Desai Photography
Location: Hyderabad, India
Penthouse Apartment Design in India is becoming a major priority in achieving secluded living. People tend to live in luxurious residences with a sense of security. As the penthouse is the top floor of a luxury residential building is merely dedicated to residents who are willing to have ample outdoor space and a great view.
*The order of Projects has nothing to do with any sort of ranking. We have NOT ranked any projects in a sequence of 1,2,3, etc.