&nbsp
Duplex Penthouse Lends A Certain Earthiness To Space | Vishwa Design Studio
"The grandeur of a place becomes quite daunting if it is not responded quaintly. This space is attended with conscious creativity giving it a contemporary touch mingled with Gujarati household elements. The color pallete used here gives the place a vibrant, welcoming, and warm atmosphere. What catches the eyes the most is how the blank canvas of walls is visualized by the designer. Oftentimes while dealing with a space with such scale, it becomes overwhelming to design these architectural elements in a way that it doesn't stay overlooked but can become a part of the spectacular design as this." ~ Radha Hirpara (Editor)
Visit: Vishwa Design Studio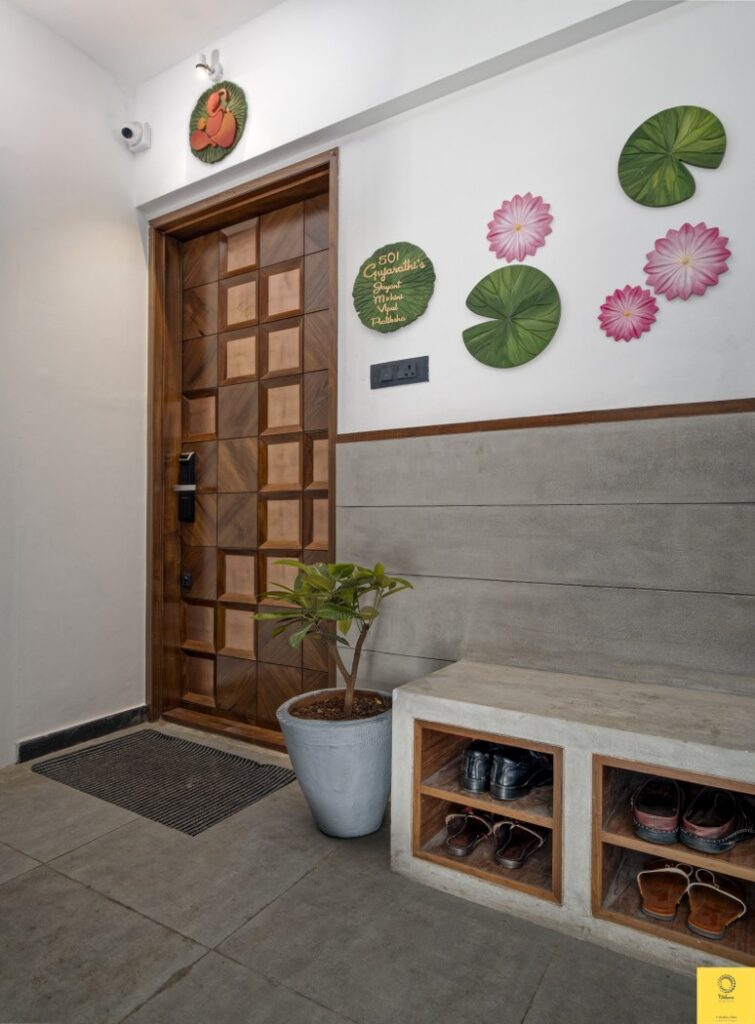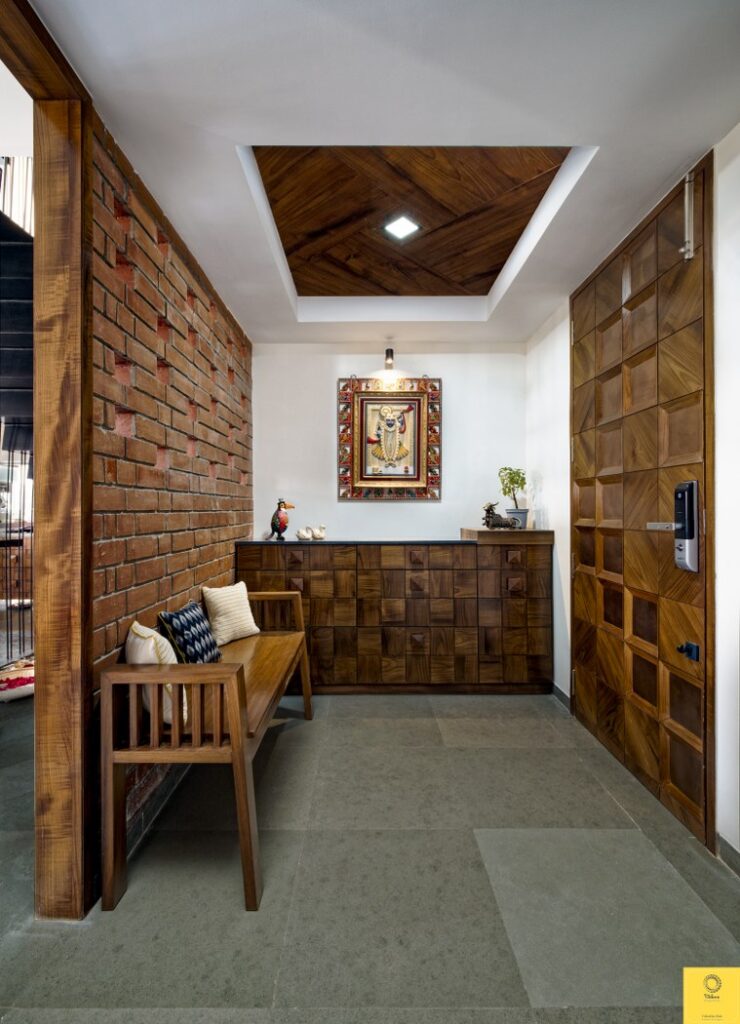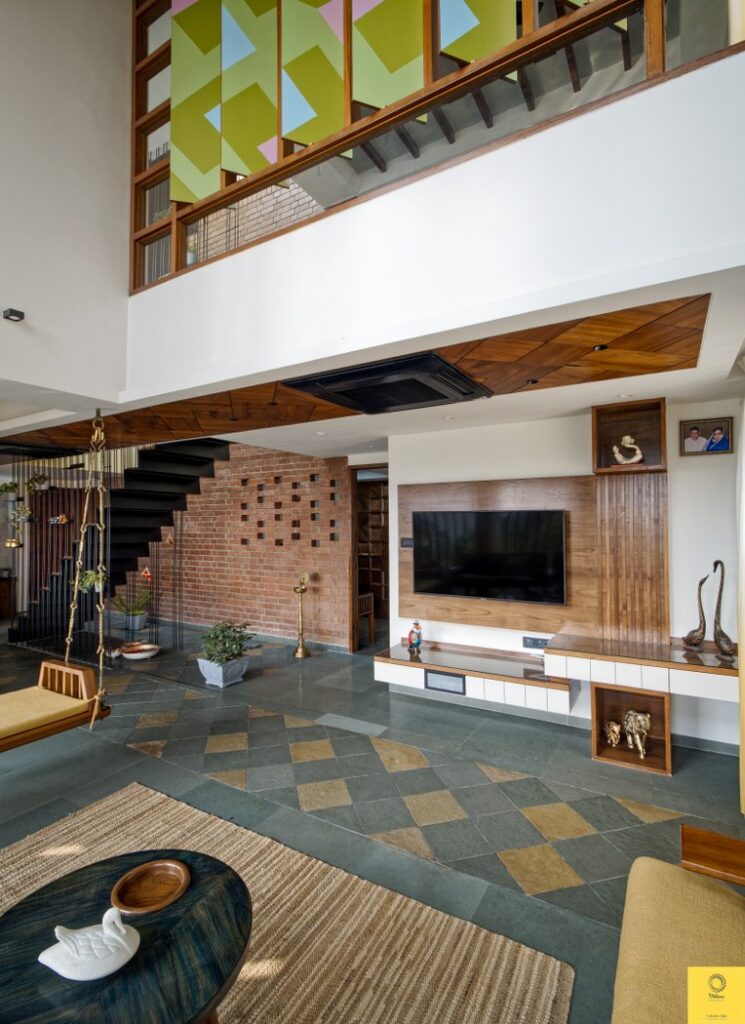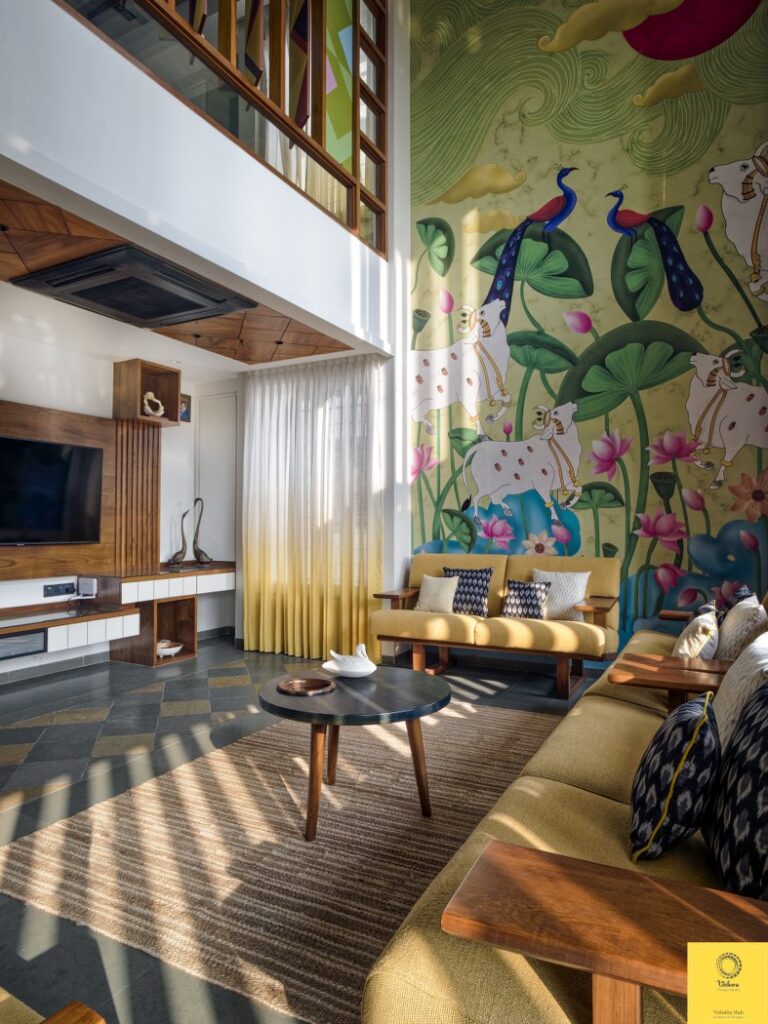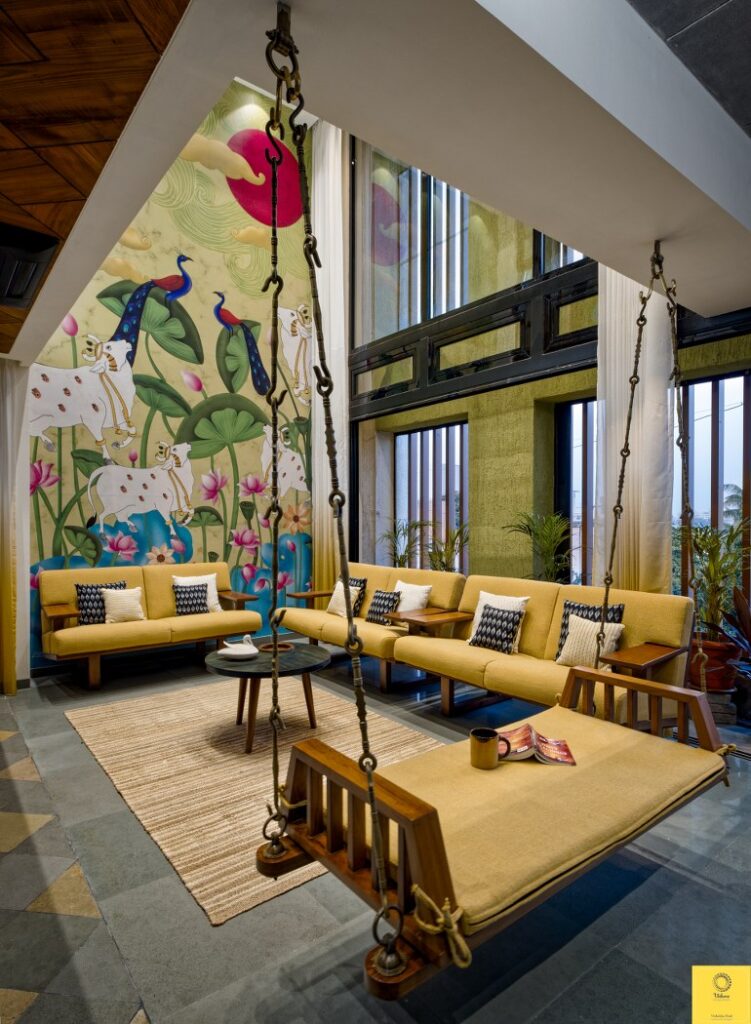 It's not every day that you come across a house that makes you wonder if you're really amidst the hustle and bustle of city life! This dazzling duplex penthouse starts off with an entrance embedded with rich, natural wood, finished off with beaten copper. This lends a certain earthiness to space and just like that, your visual appetite is hungry to take in more!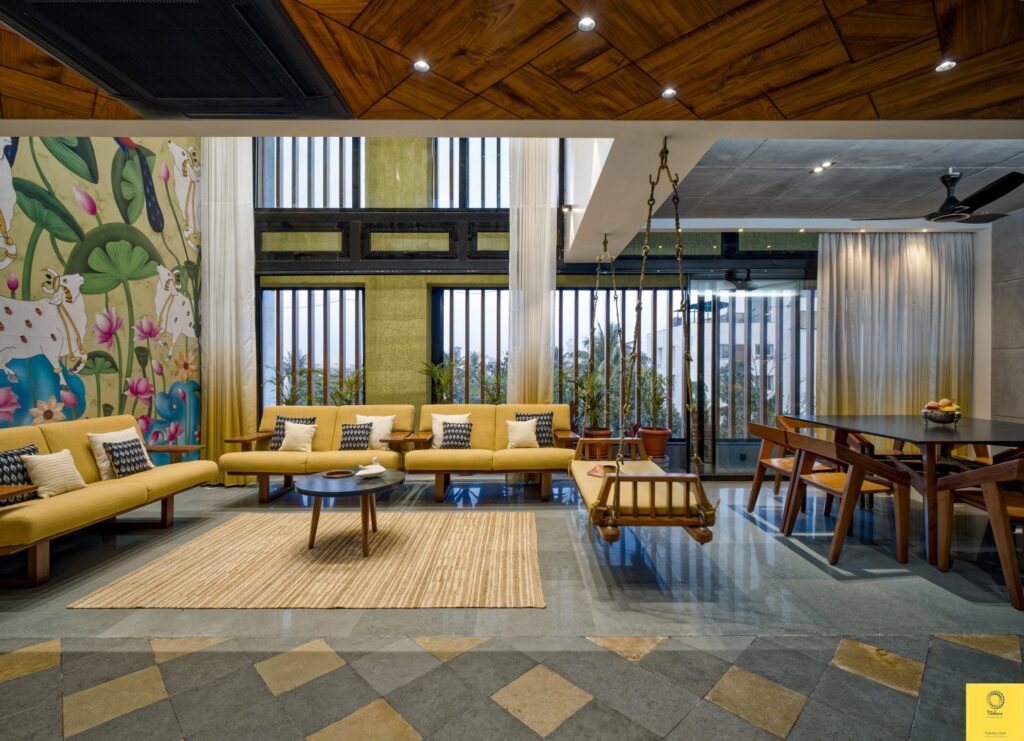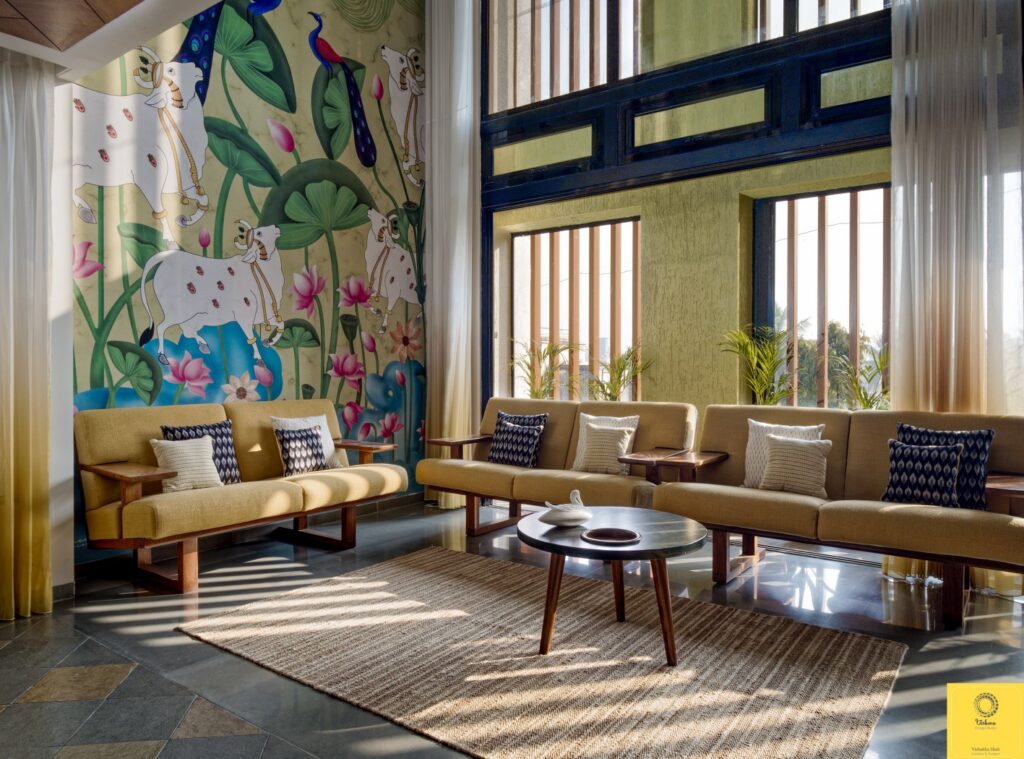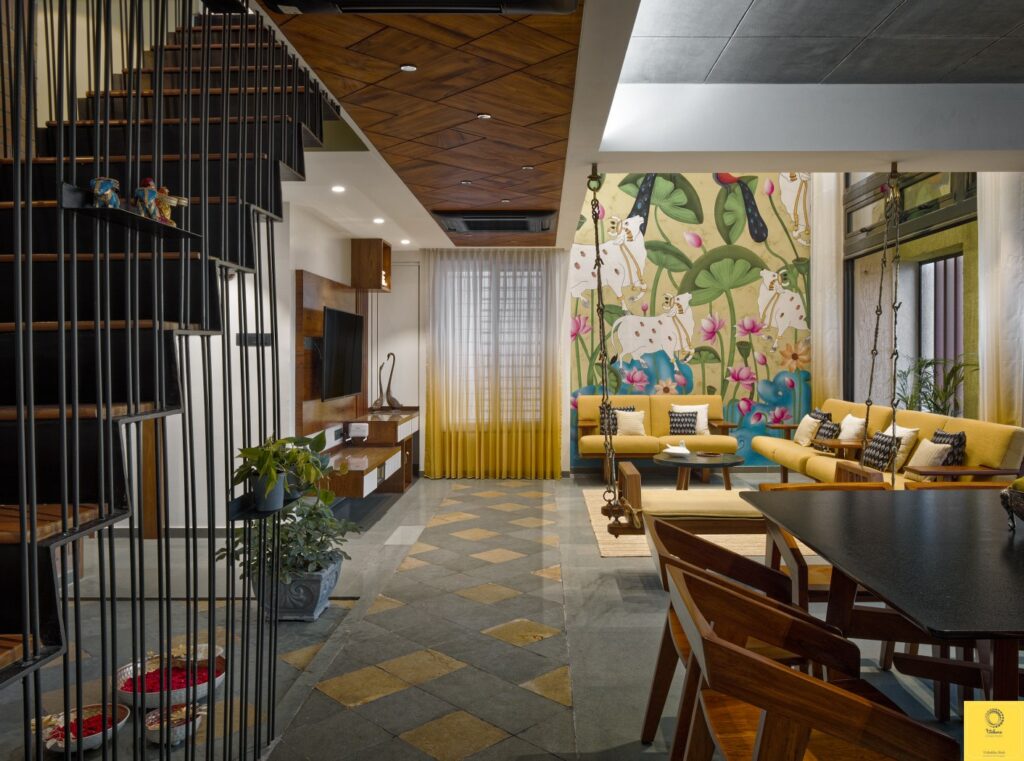 Once inside, the soaring ceiling and expansive windows unite to create a light-filled living room, leaving you with the room's grand sense of space. The first thing that catches your eye is the Pichwai art that spans an entire wall of the living room, followed by a striking wooden swing, by including these local elements, we have combined contemporary with the essence of Gujarati culture.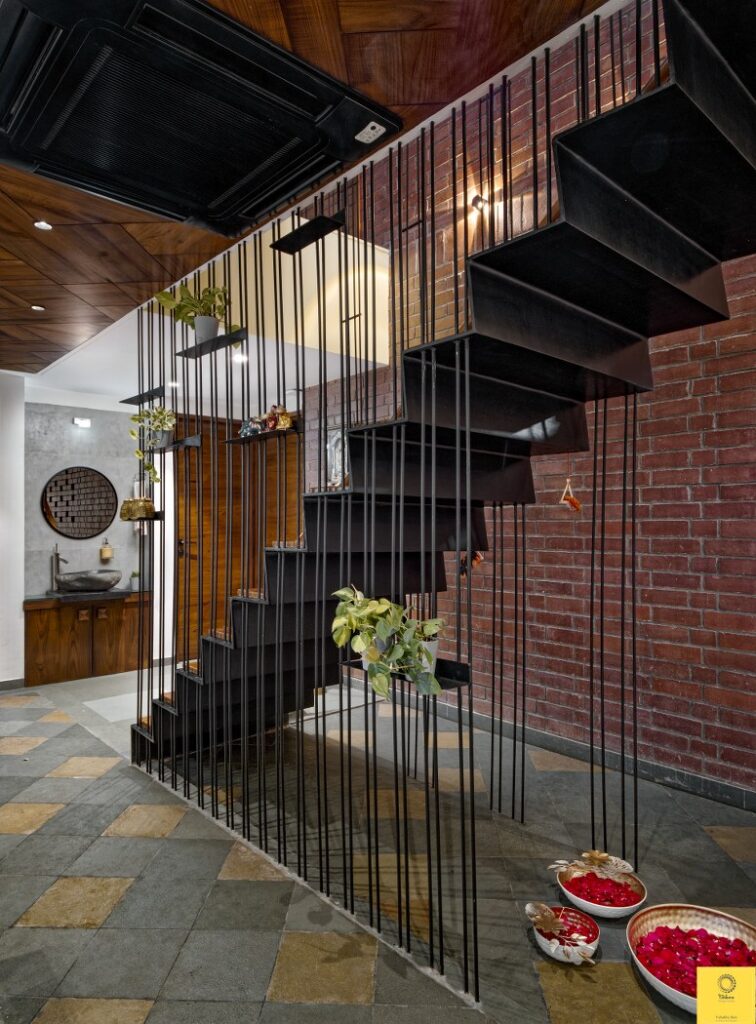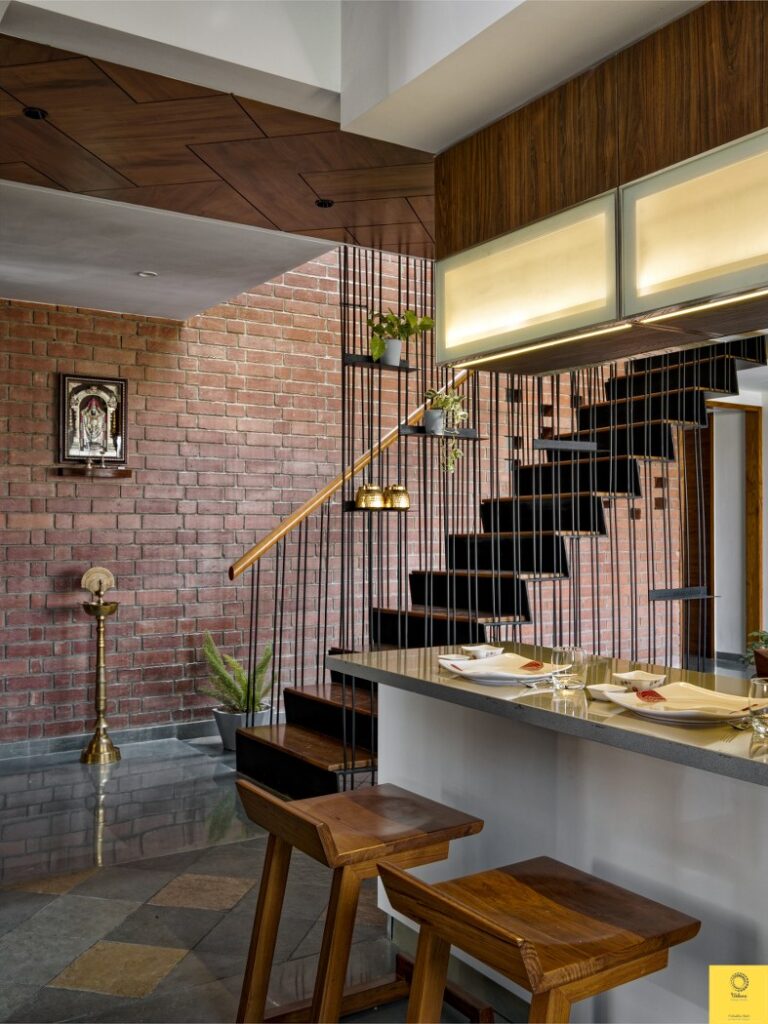 The prime attraction of the house is the triple-height central area that starts with an exposed brick wall and concludes with a skylight on top. Situated in this central area is the tastefully designed staircase with segments of polished wood and raw iron segments that merge seamlessly with the rest of the decor.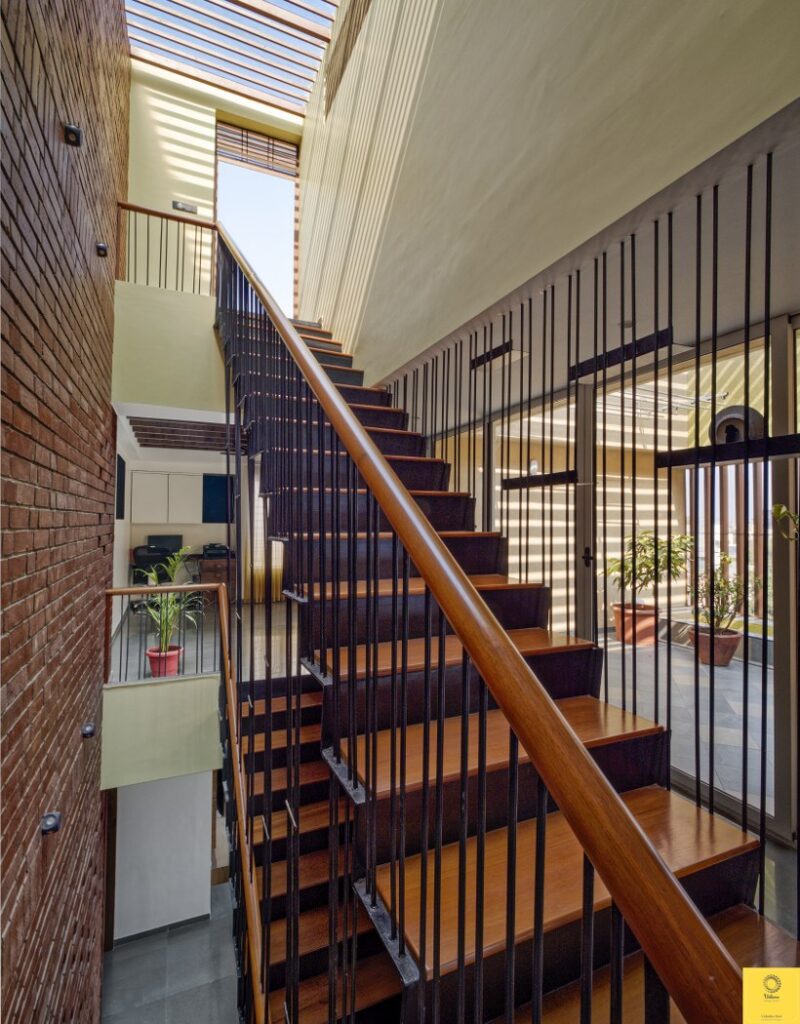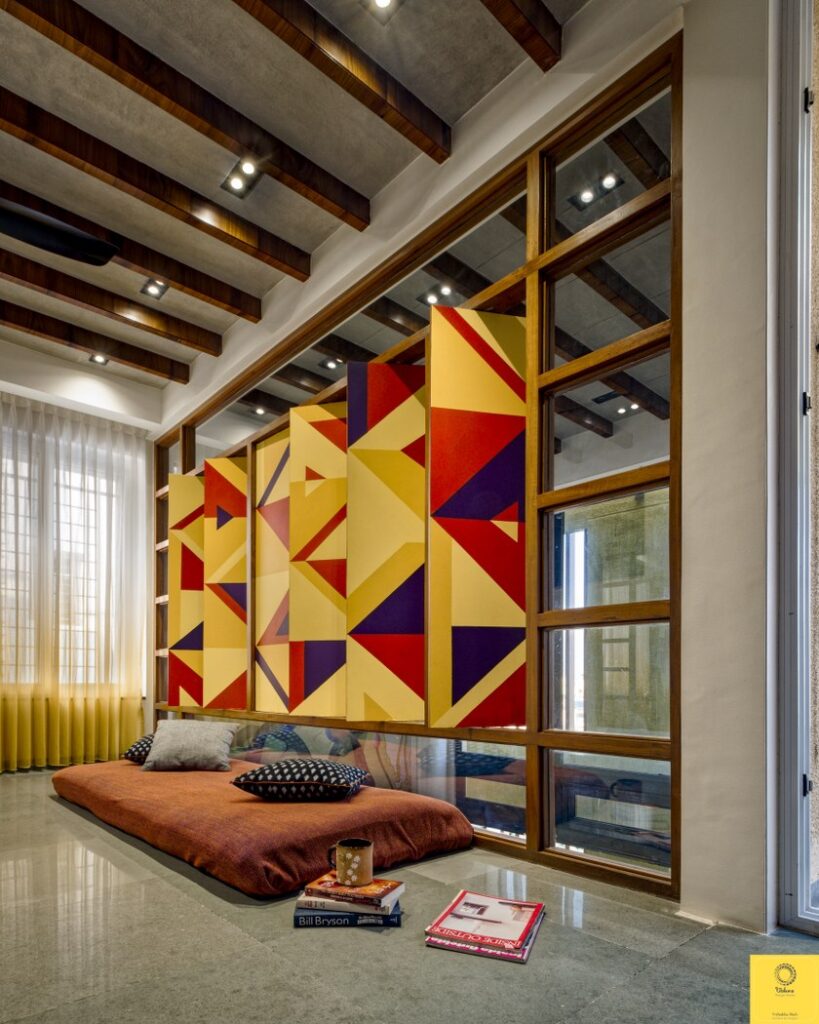 The entire east side of the house opens up internally by means of vertical fins, creating an aesthetic dance of shadow and light, whilst also ensuring that the house receives ample cross ventilation. Brilliant use of pivoted windows is spotted in the living room with different colour palettes on both sides to compliment the space they fall in.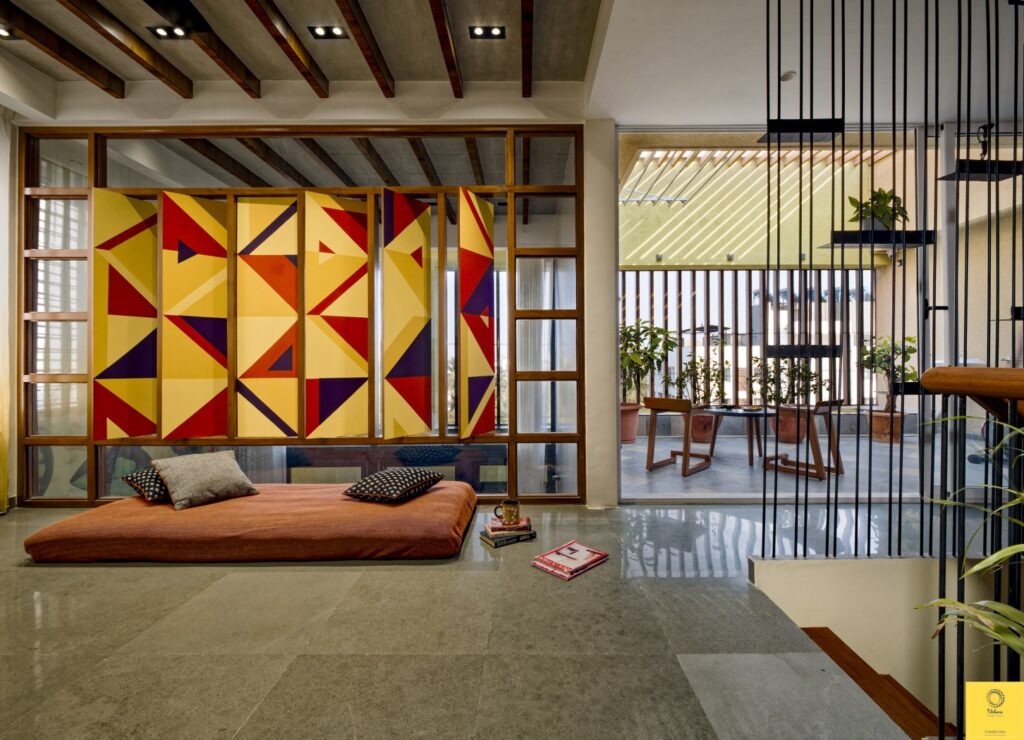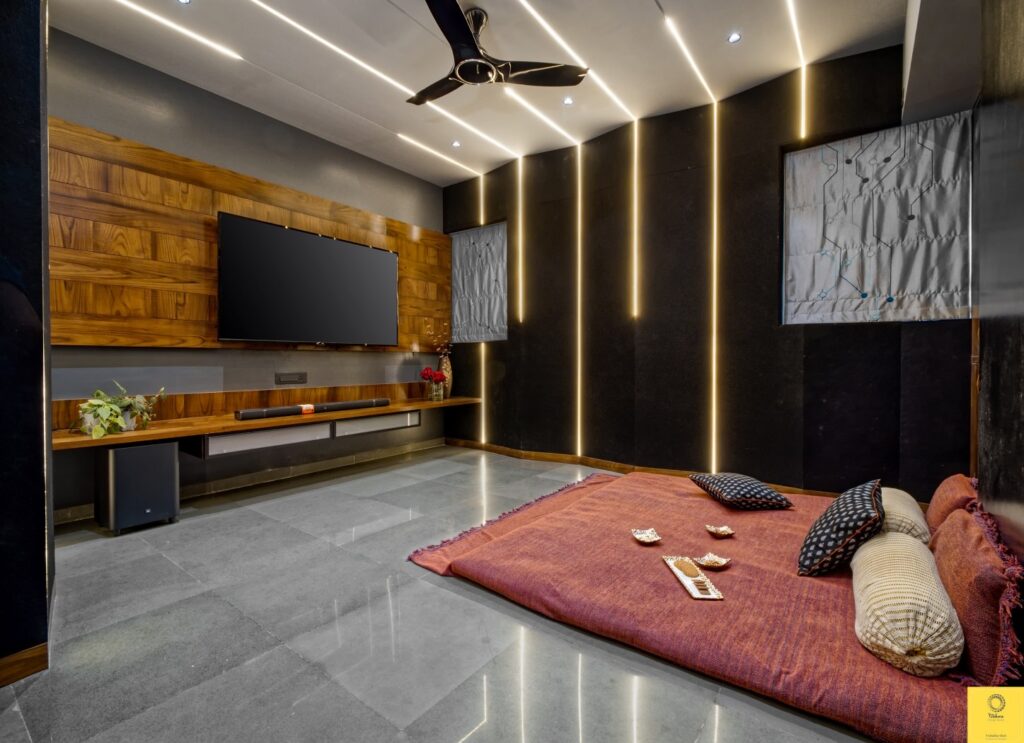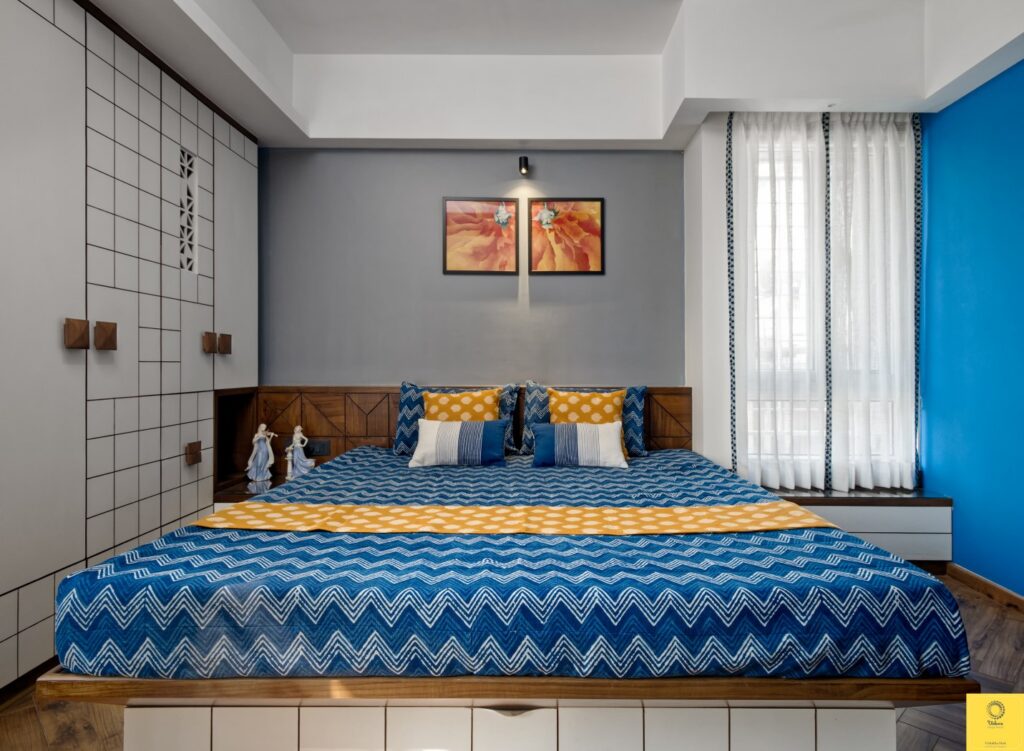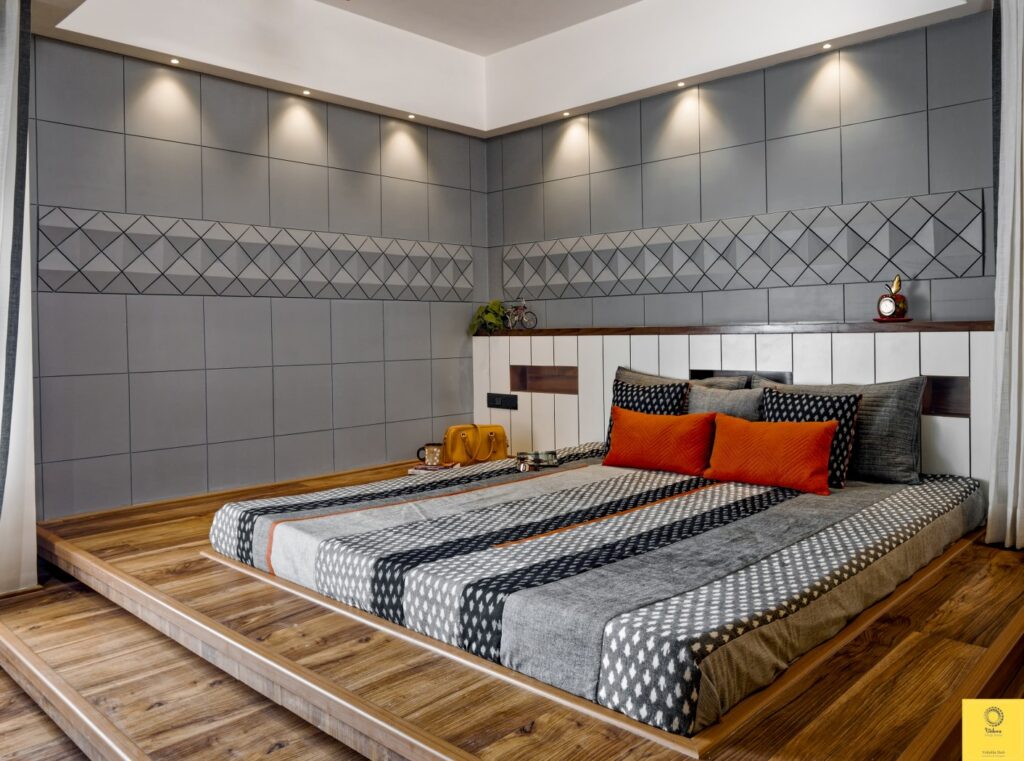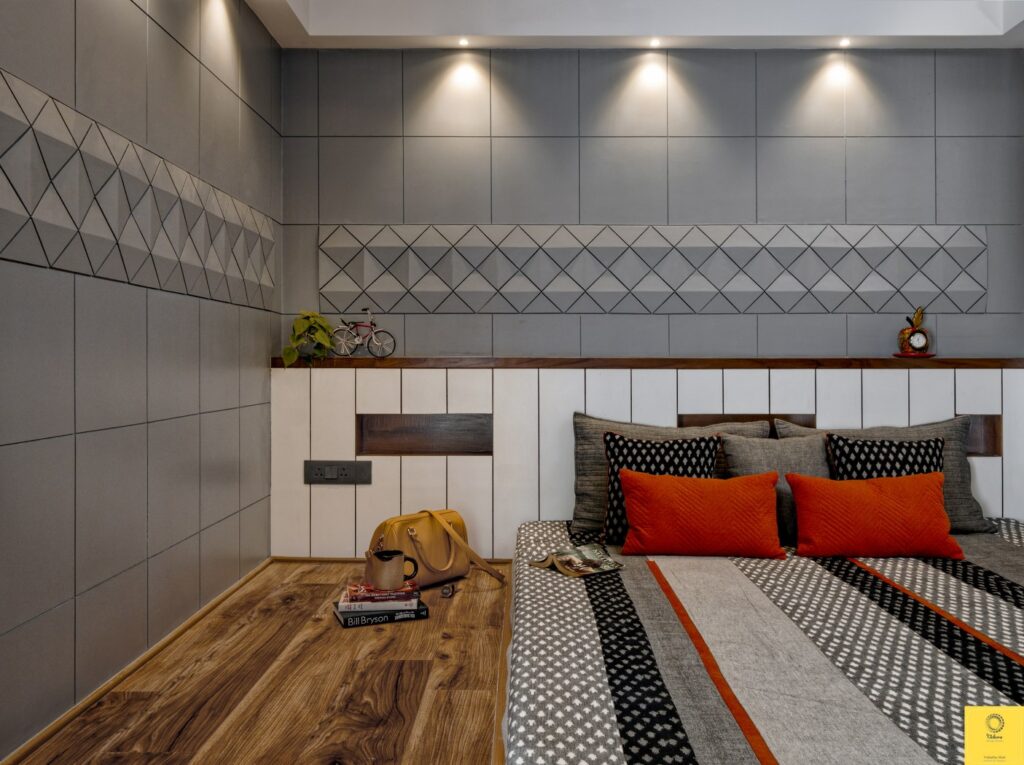 All the designs reflect distinctive use of natural textures and palettes ranging from beaten copper, traditional fabrics, polished and unpolished Kota, exposed concrete & brick combination, adding a sense of wholesomeness to the entire area. The house gives a sense of liveliness and comfort, with a hint of moody tones here and there.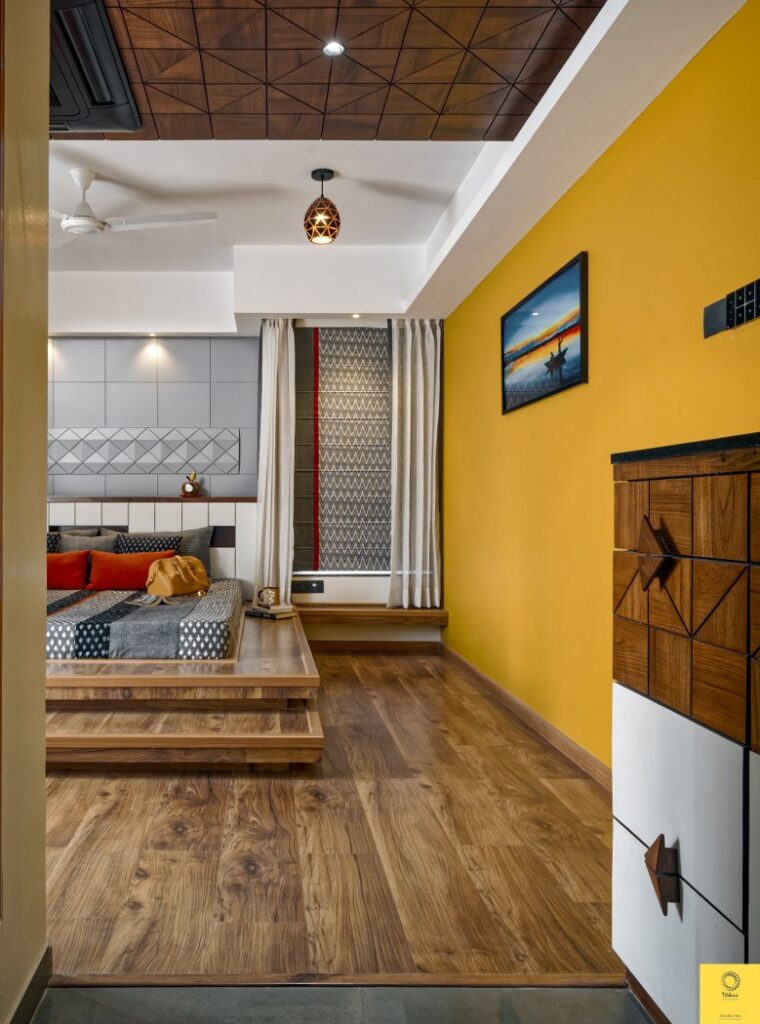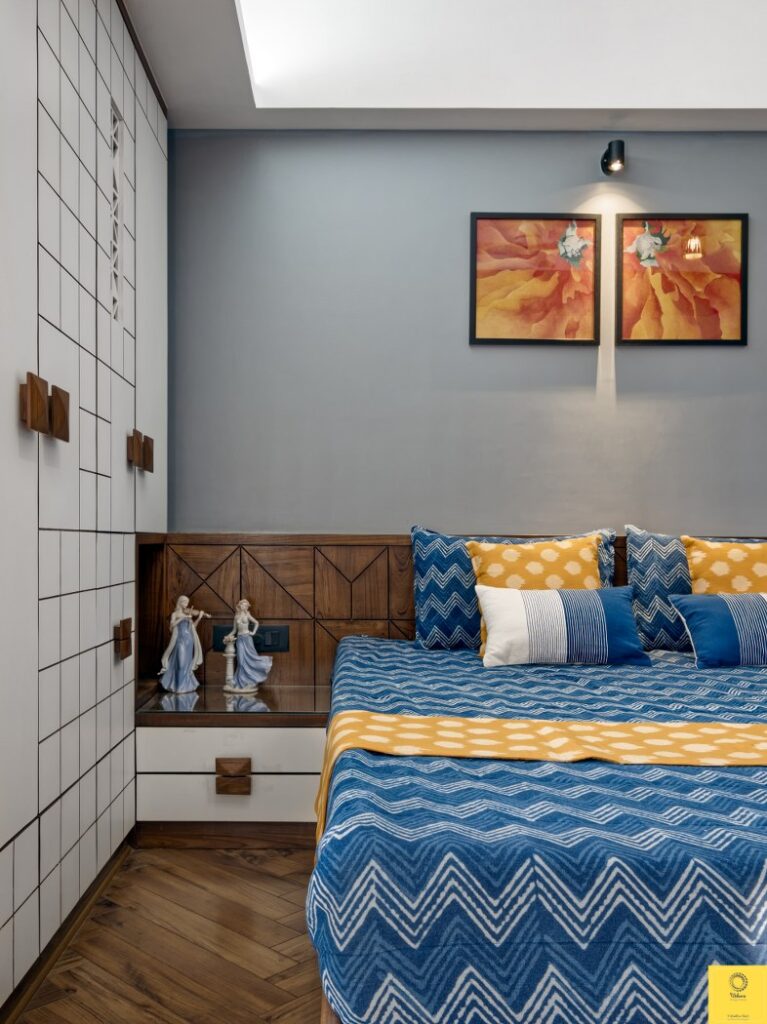 FACT FILE:
Designed by: Vishwa Design Studio
Project Type: Residential Interior
Project Name: Grandeur of Bungalow in Penthouse
Location: Pune, Maharashtra
Year built: 2020
Size: sq feet: 3436.5
Project Cost appx:  2500/sq.ft
Principal Architect: Vishakha Gujarathi Shah
Photograph courtesy: Hemant Patil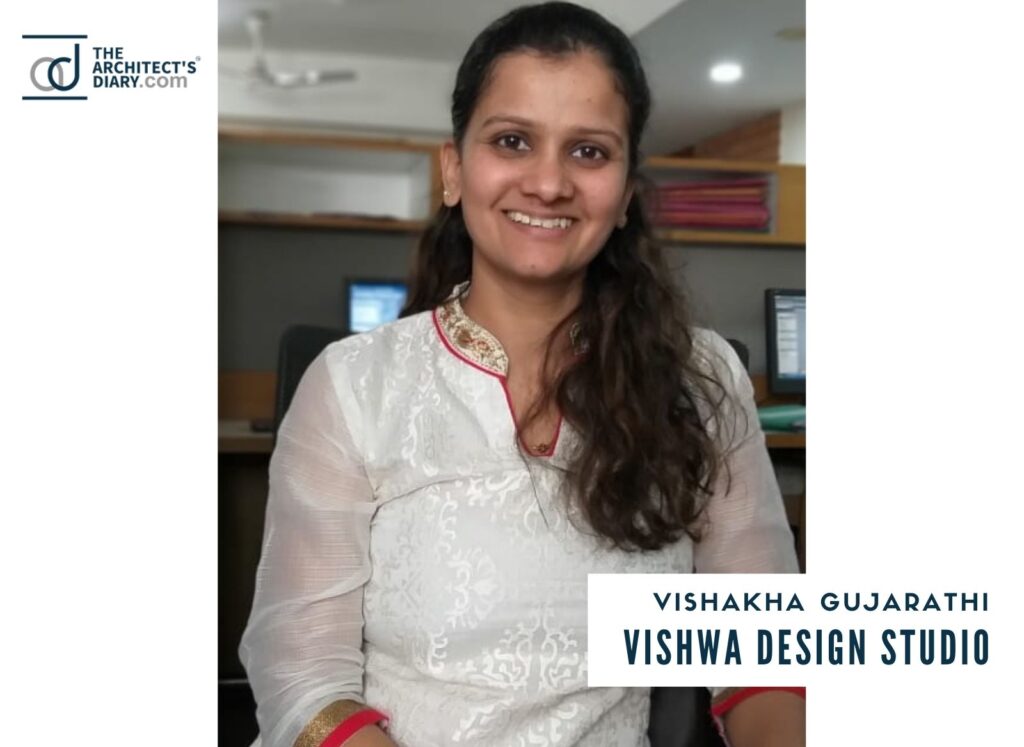 ABOUT FIRM:
Vishwa Design Studio is a dream-child of Vishakha that was founded in 2016 and over the years has established itself as a successful architecture and interior firm with the proficiency to execute complete end-to-end projects. At Vishwa, we specialize in creating inspiring spaces with efficient structures. We believe in minimalism and in promoting local culture; our designs thus reflect usage of naturally sourced raw materials, artefacts, and colour palettes that inspire a sense of calm and happiness.
Website: https://www.vishwadesignstudio.com/
Facebook: https://www.facebook.com/Vishwa-Design-Studio
Instagram: https://www.instagram.com/vishakha_vishwadesignstudio/