This project is closed to our hearts. The industrial design look was our imagination which came to reality by using raw materials i.e. construction steel, concrete texture, bricks, Kota stone for flooring. The combination of these materials is earthy, warm, and soothing.
Workspace that Celebrates Industrial Design in its True Sense | Studio Imagine
Visit: Studio Imagine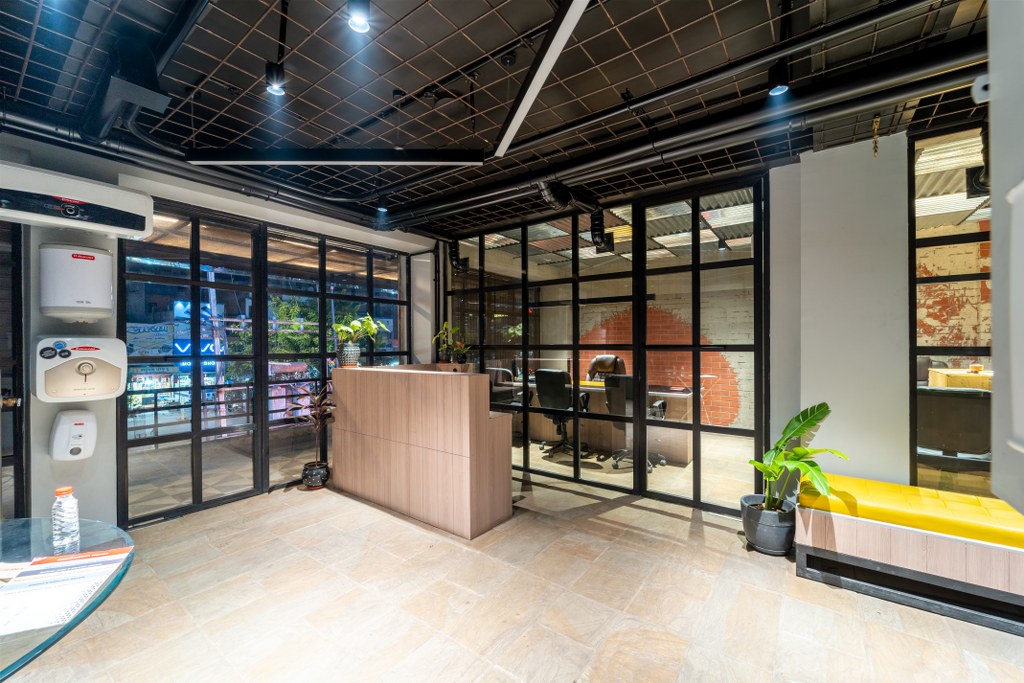 A display area with ms grid and dark ceiling, leather finished kota flooring and subtle hue on walls creating depth in space. Lighting plays dramatic role, geometric form in lighting placement works well. Popping yellow waiting space and live planter adds tropical ambient.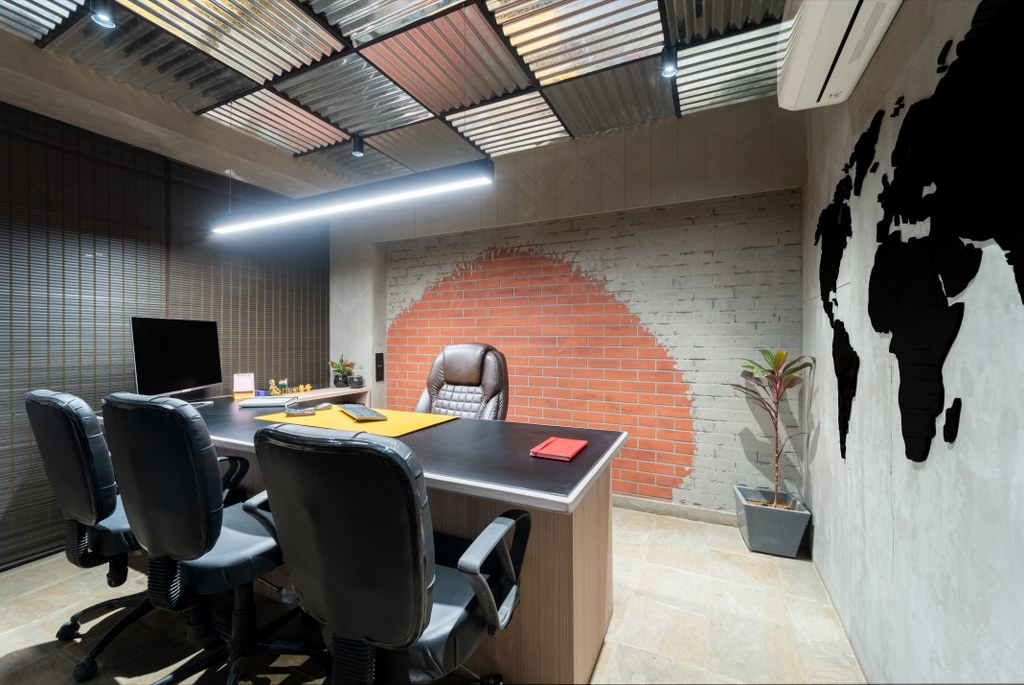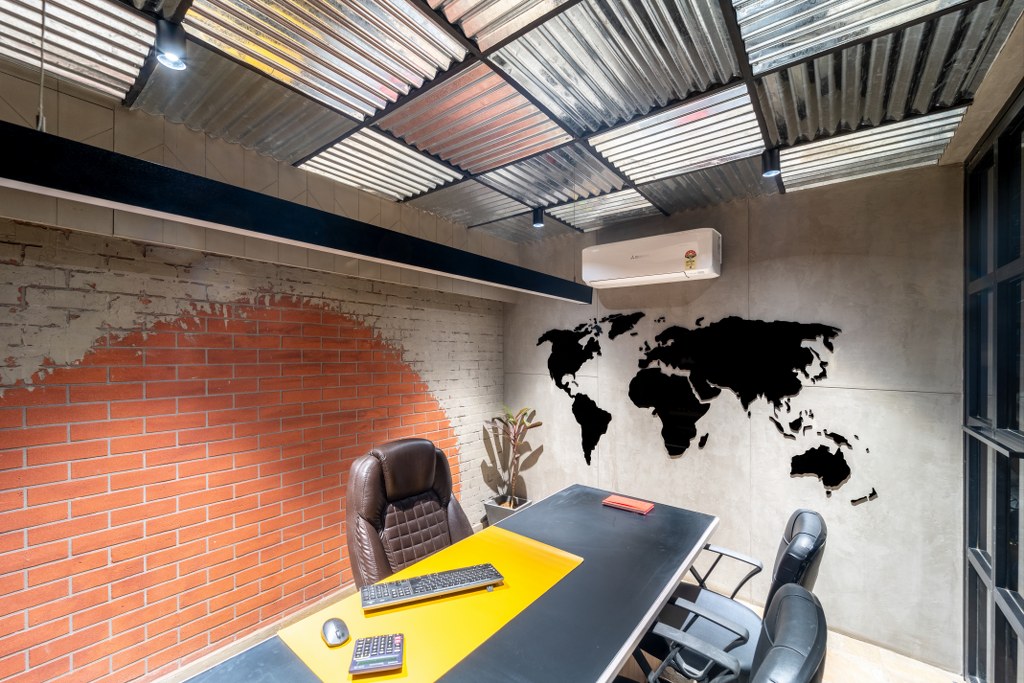 The accent wall consists of exposed linear bricks and abstract concrete surface. Huge glass openings are carved out allowing the indoors to allow more light in the space. These openings are covered with glass partition having a grid pattern complementing the linearity of the space. Jade black glass top working desk is coupled with a black linear task light. Nature view through wide window illuminate the space. Glazing black world map wall art add subtlness to the space. The colour scheme was a bit dramatic due to the play of bold black concrete greys and brick
red.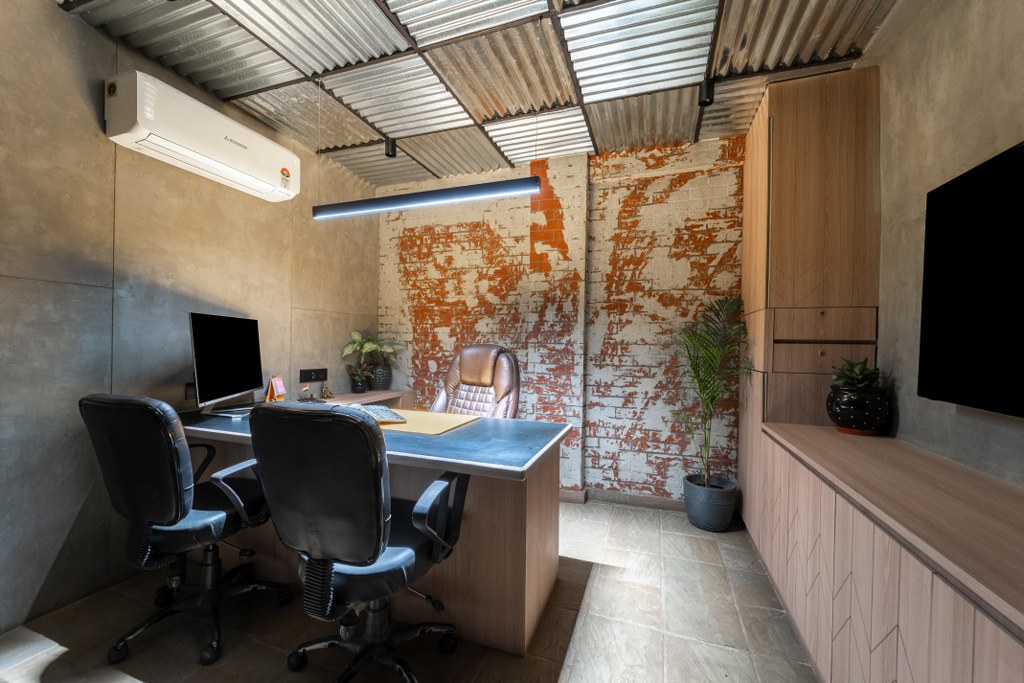 Depth, cosy and abstract shape, form and texture made it fresh-faced space. Desk treated with matt back painted black glass along with horizontal task light. Planters and artefacts adds tropical and liveliness surrounding.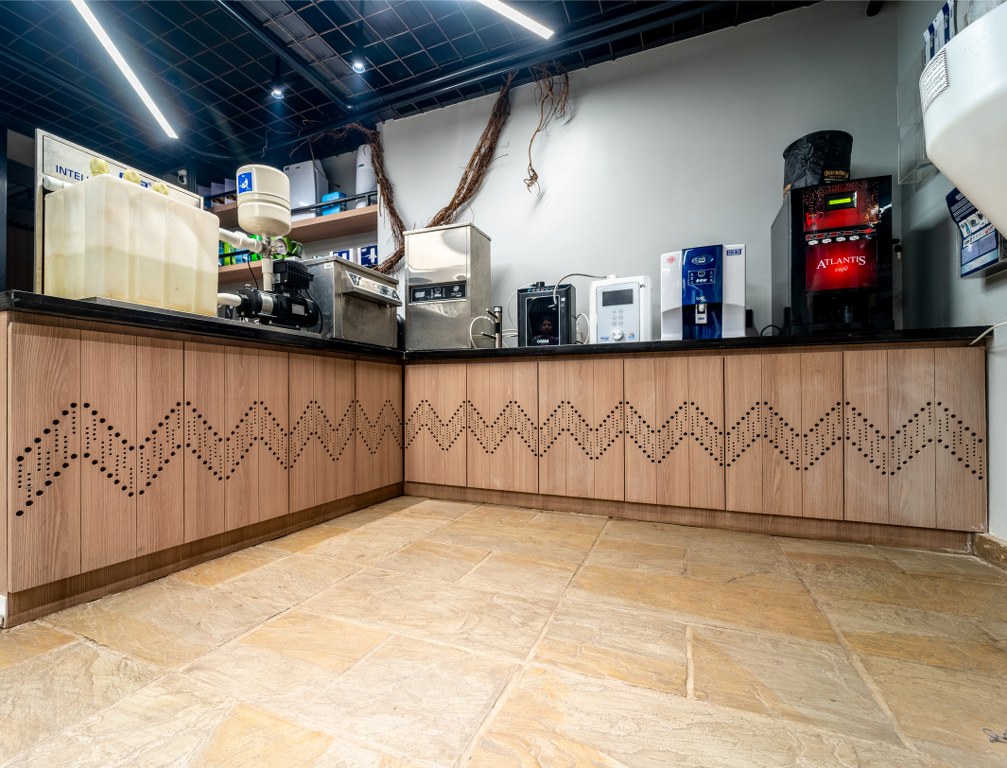 Our idea for designing is to emphasize on details. Our designs focus on experimenting with joinery details and different eco-friendly materials. And most important is creating elements from the waste. One must keep the essence of the existing structure alive. The designs should reflect personality of people who live in there and function of the space. Simplicity is the keynote to all true elegance.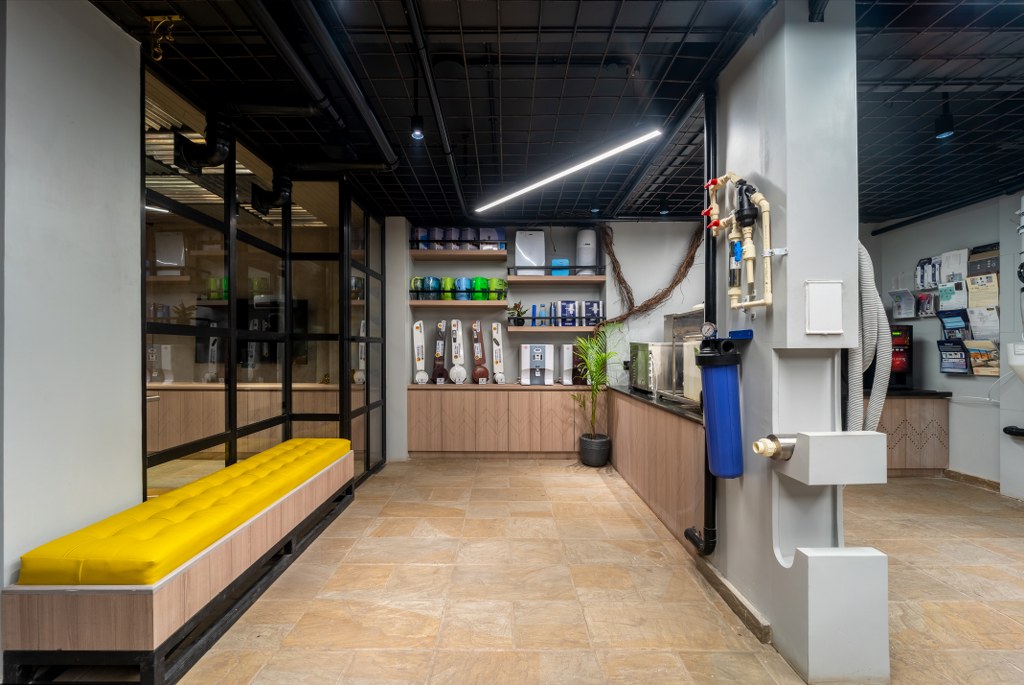 Imagination brought to reality by using raw materials i.e. construction steel, wood, concrete texture, bricks, kota stone for flooring and open ducting. Combination of this materials is earthy, warm , soothing. Aluminium, wood, glass, concrete and lime plaster form the staples of the material palette. Space is organized into three zone. Display area and two cabins. The spaces are enclosed with aluminium grid glass partitions which make spaces unfold and transparent.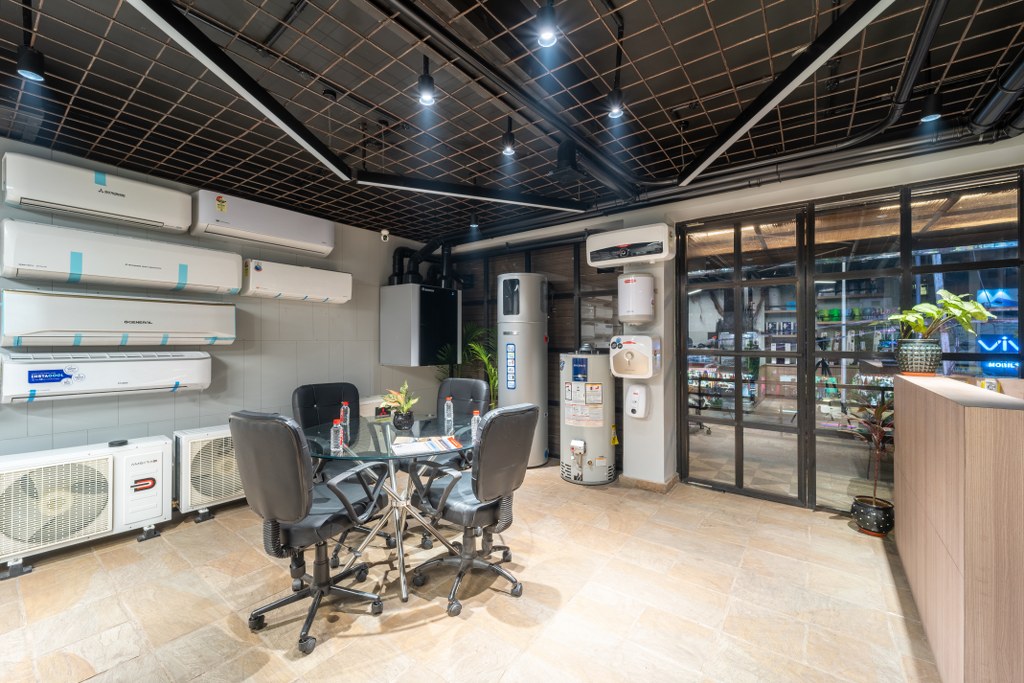 Fact File
Designed by: Studio Imagine
Project Type: Office Interior Design
Project Name: Alpine Infra
Project Size: 680 Sq.ft
Location: Vadodara, Gujarat
Project Cost Appx: 25 Lac
Year Built: 2021
Duration of project: 4 Months
Team Design Credits: Nehal Sangani
Principal Designer: Ajal Shah
Year Built: 2021
Photograph Courtesy: Trivedi Dron
Products & Materials: Finishes: Laminates, back painted glass, MDF from Swastik Ply & Veneer | Lighting: Reflection lights, Kesha lights | Flooring: Leather finished Kota | Paint: Dulux, Concrete texture, Brick texture | Hardware: Hettich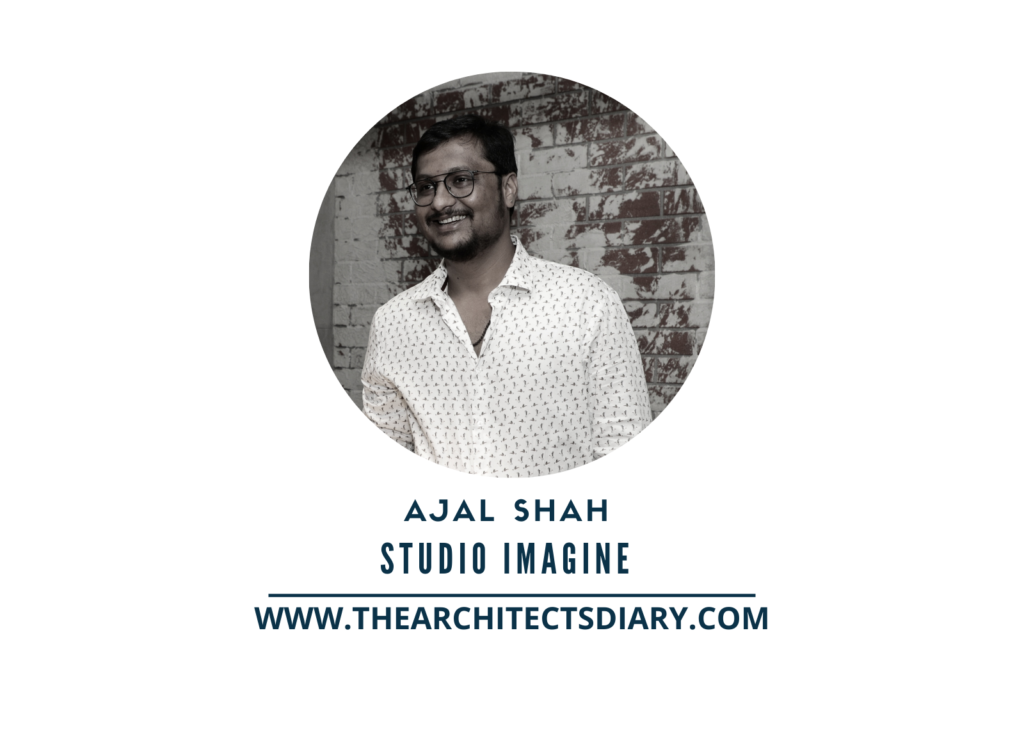 Firm's Website Link: Studio Imagine
Firm's Instagram Link: Studio Imagine
Firm's Facebook Link: Studio Imagine
For Similar Project>>>Apartment Interiors Enriched With Bespoke Accentuating Elements