The overall project consisted of 83 apartments of various configurations – 2BHK, 2.5BHK, and 3BHK sizes varying from 750 Sq.ft all the way up to 1400 Sq.ft of carpet area. This was one flat among 83 other bigger-sized ones, the idea of thoughtful and careful planning which would see a regular footfall of buyers was a challenge we took up to create an unrestrained, clutter-free layout. The overall scheme of this residence design is conceptualized around the idea of making the space pleasant and airy while being able to provide all the necessary requirements which are ergonomic and efficient.
Wood, Greige, and Beige Subtly Dominate this Residence in Bangalore | Stance Spaces
Visit: Stance Spaces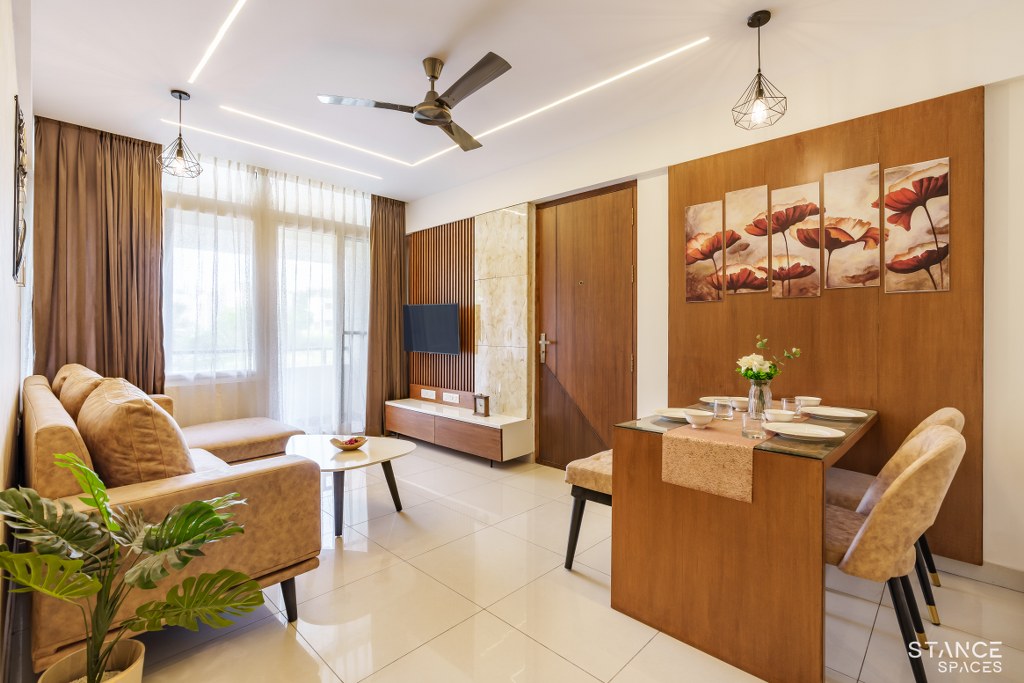 While one enters the apartment, one sets foot in a living room that has an L-shaped couch welcoming you to the space. Upon close notice, the same hue of yellow can be found on the back wall like that of the sofa. The brief came with the need to design a comfortable sample flat which was part of a larger complex of 83 flats. Among the many sizes available to choose from, a rather smaller carpet-sized unit was picked to create a seamless space which is devoid of clutter. It is for this purpose, that an open plan was adopted between the living, dining and kitchen with no static partitions.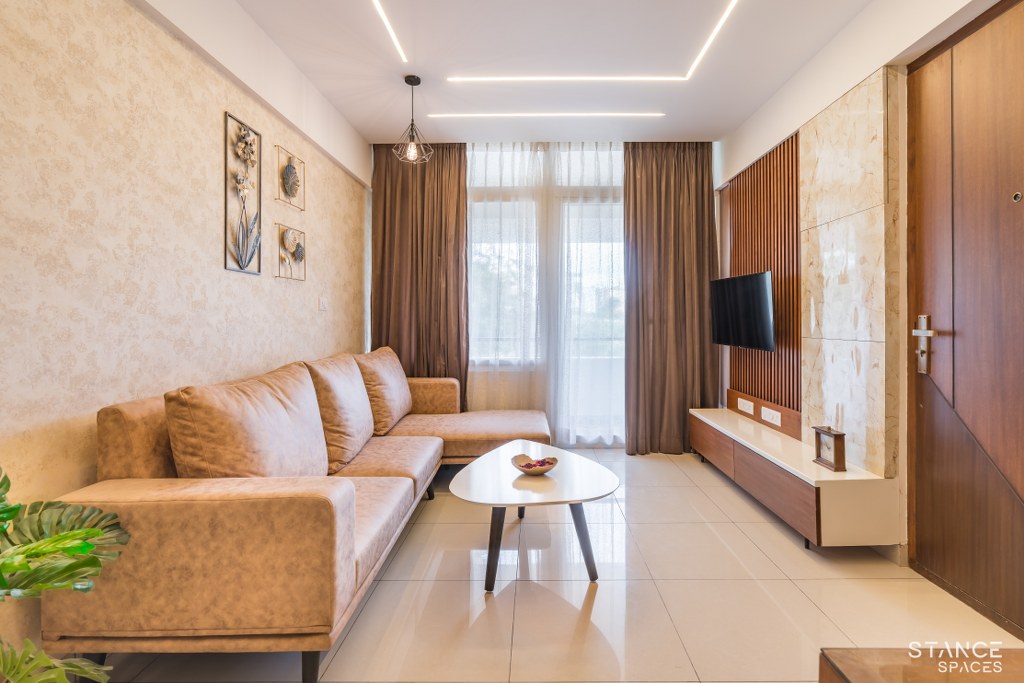 A subtle theme followed in the main spaces, with teak elements in various patterns seen adding to the warmth of the ambiance. A lighter shade of flooring and walls were used to provide a more comprehensive look. While naturally and beautifully lit during the day, lighting played an important role in the evening – The use of sleek linear profile lights combined with mellow pendant lights helped exude elegance to this space.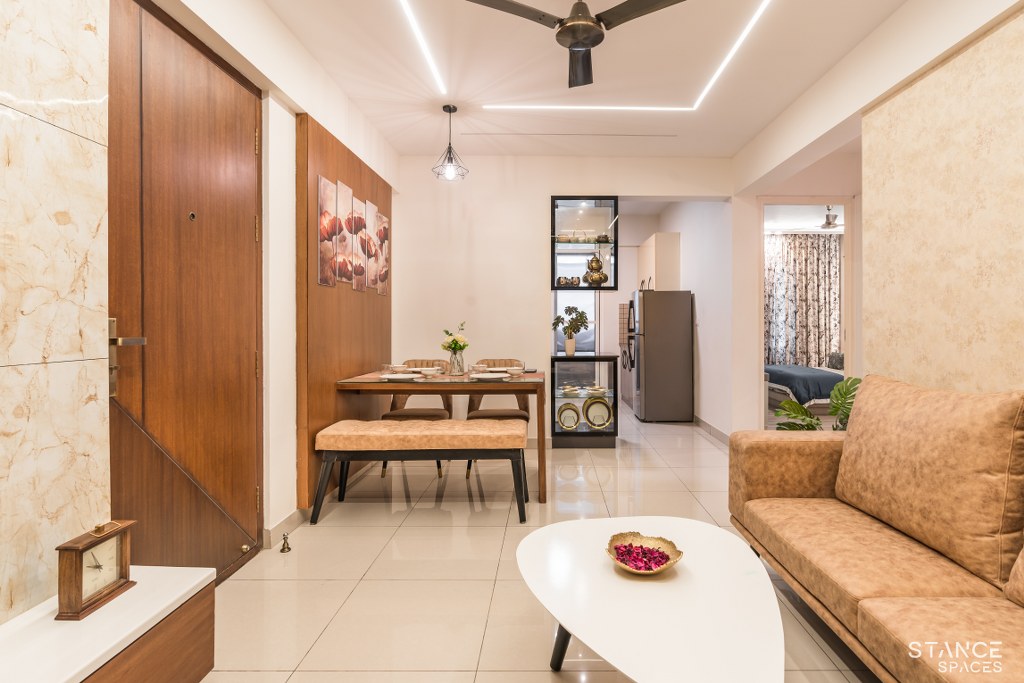 Wooden members accentuated the living space, this can be seen on the TV unit panelling, as well as the custom-made dining table. The décor chosen for the living and dining room primarily consisted of gold metallic accents seen in the wall frames, planter stands, light fixtures, as well as display areas.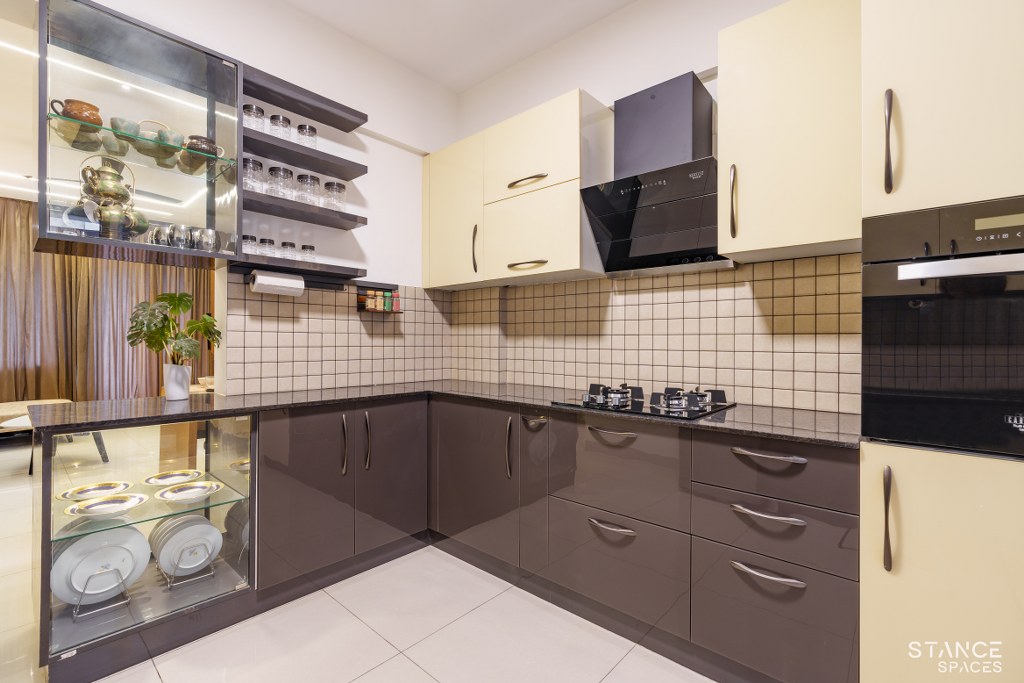 Offset with hints of blue, the master bedroom was imagined in a monochromatic colour scheme that had tones of whites and greys. The idea was to combine various materials which would harmoniously blend with each other to provide an appealing balance.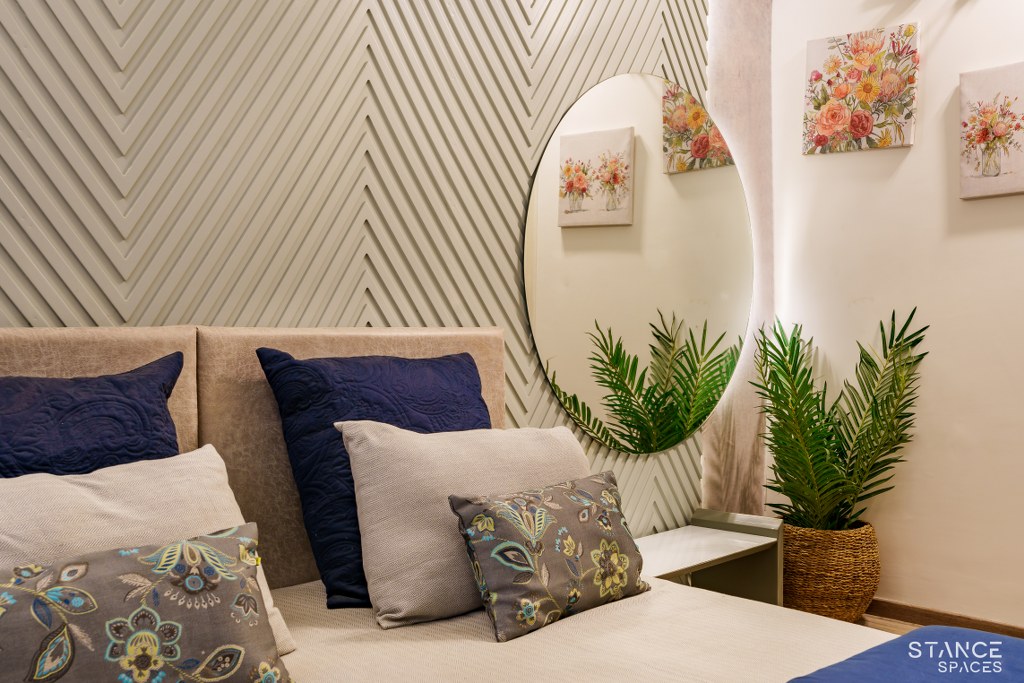 The wardrobe doors were designed with floor-to-ceiling lacquered glass in white and grey tints. This in a way added volume to the space but also remained light in its existence with the reflective nature of glass.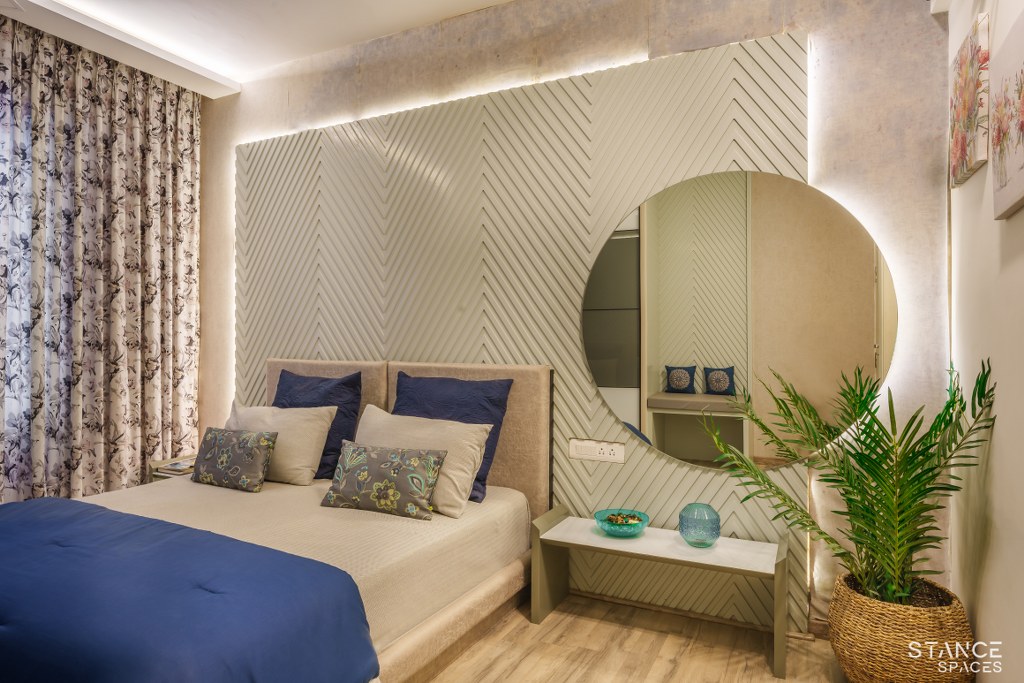 Geometrically patterned MDF panels were finished with grey Duco paint, with the headboards and curtains taking up rather smooth suede finish upholstery.
Moving on to the kids bedroom, a sense of continuity was maintained with the same underlying theme, yet bringing in pops of colour which made the space more playful. The furniture was ergonomically designed to suit the needs accordingly.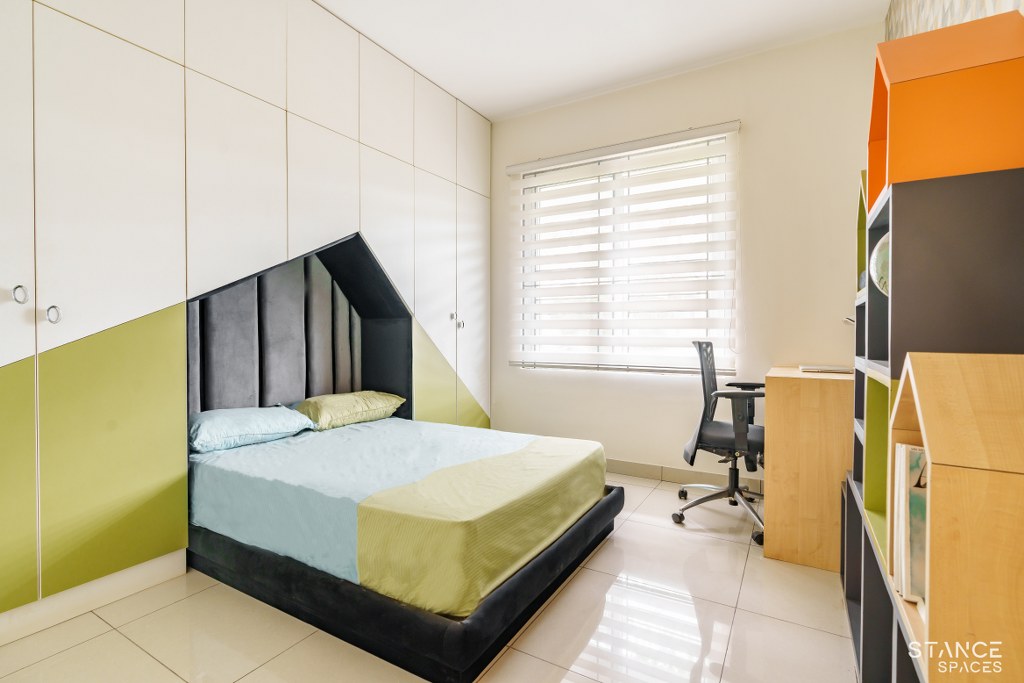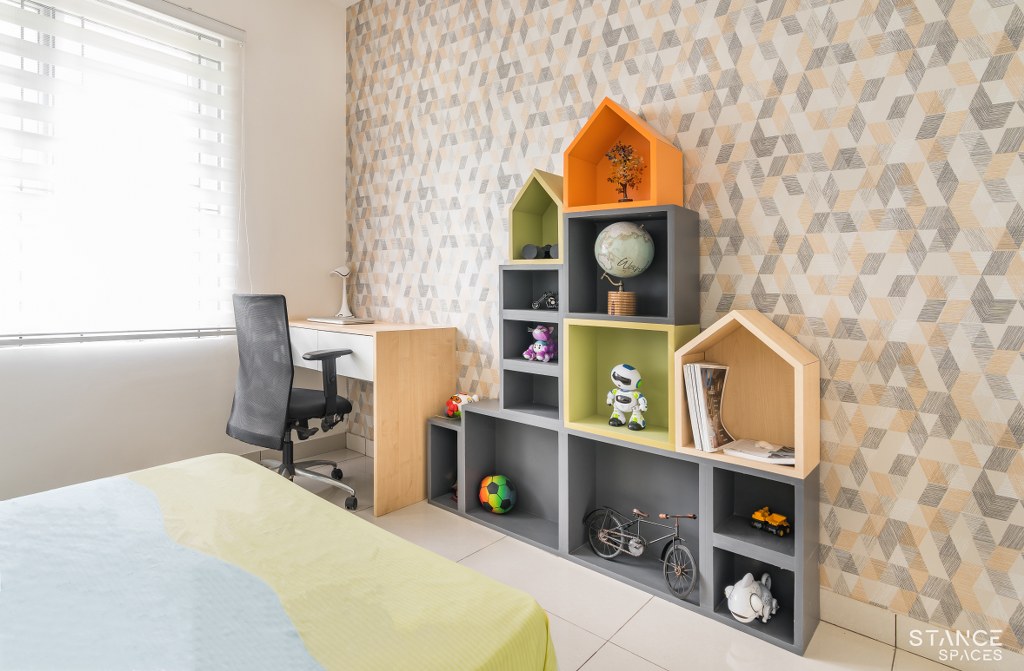 Fact File
Designed by: Stance Spaces
Project Type: Residence Interior Design
Project Name: Bliss – by Fineline Infra.
Location: Bangalore, Karnataka
Year Built: 2020
Duration of project: 2 Months
Project Size: 800 Sq.ft
Project Cost Appx: 20 Lac
Principal Architect: Saood Shariff
Team Design Credits: Suhail Ahmed
Photograph Courtesy: Shine Parsana
Consultants for the Project
Civil / Contractors: Fineline Infra Pvt. Ltd.
Products & Materials: | Paint: Asian Paints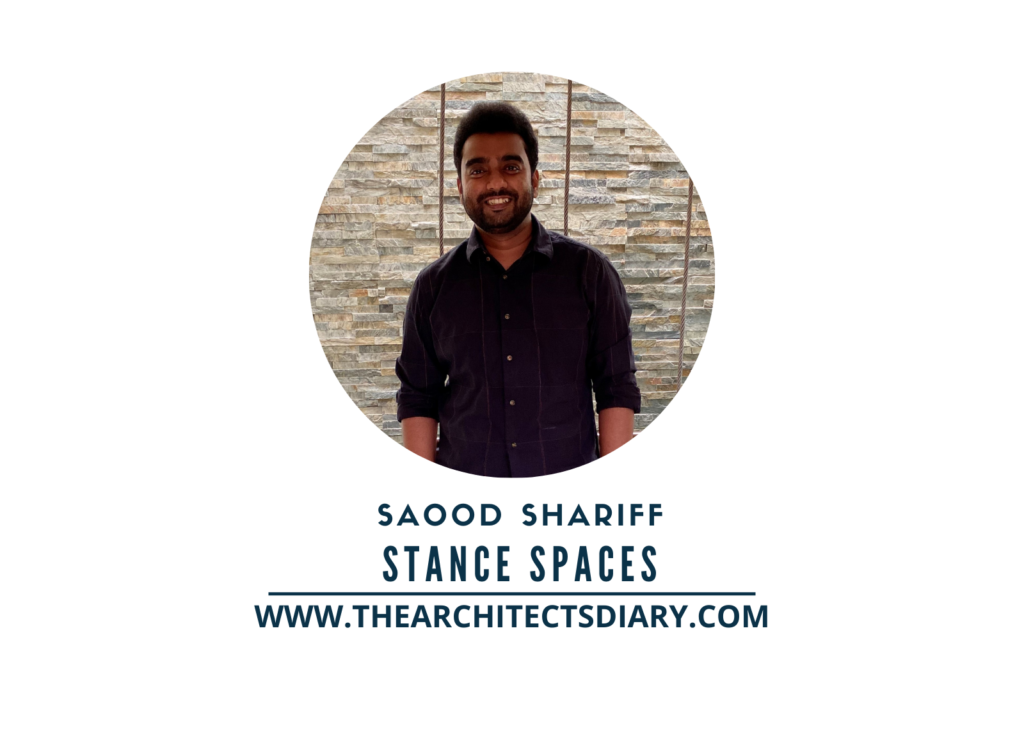 Firm's Instagram Link: Stance Spaces
Firm's Facebook Link: Stance Spaces
For Similar Project>>>Unique Palette of Green and Greys for an Offbeat Luxury Retail Store