The primary concern was the limited area to work with and the requirements being plenty. The brief was to design a retail store that could be multi-use. The 500 Sq.ft space consisted of a central fabric display and experimentation corner which welcomed visitors by being along the axis of the entrance, further the client's workspace was complimented with a highlight wall behind along with the company branding.
Unique Palette of Green and Greys for an Offbeat Luxury Retail Store | Stance Spaces
Visit: Stance Spaces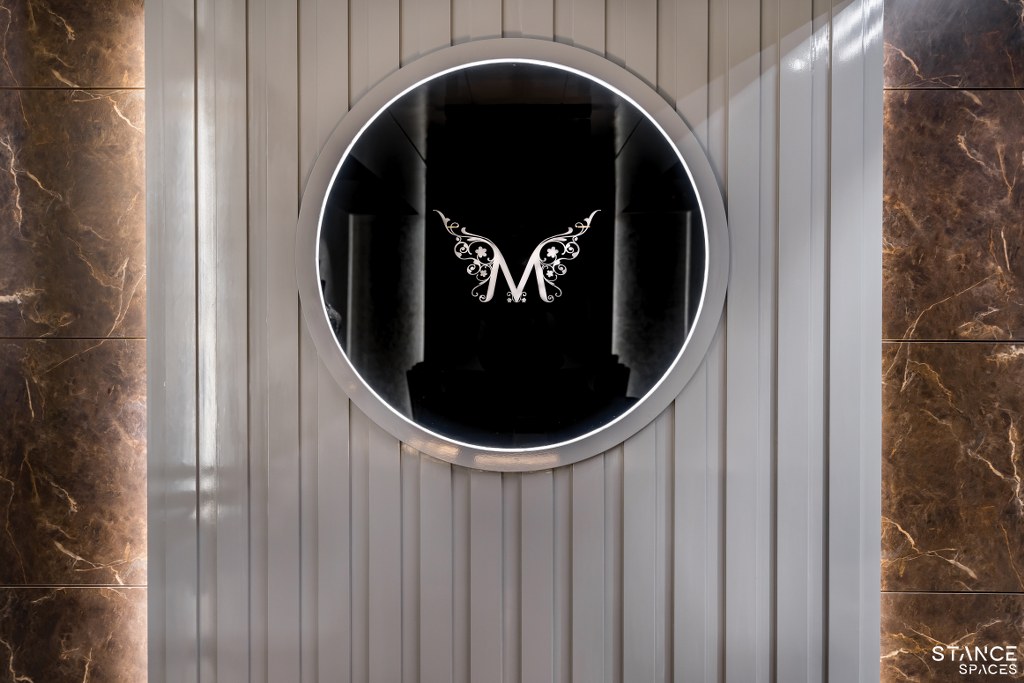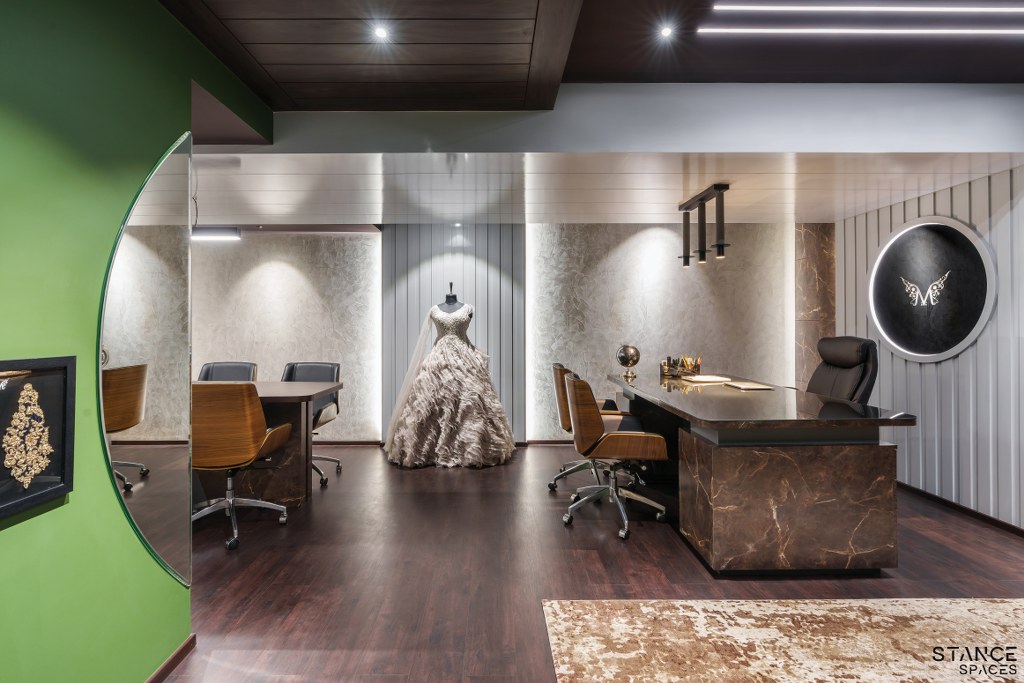 The opposite side consisted of a consultant/vendor discussion conference table which was aligned perpendicular to the workspace. Along with this, space was also carved out for a lounge waiting and a mini pantry area.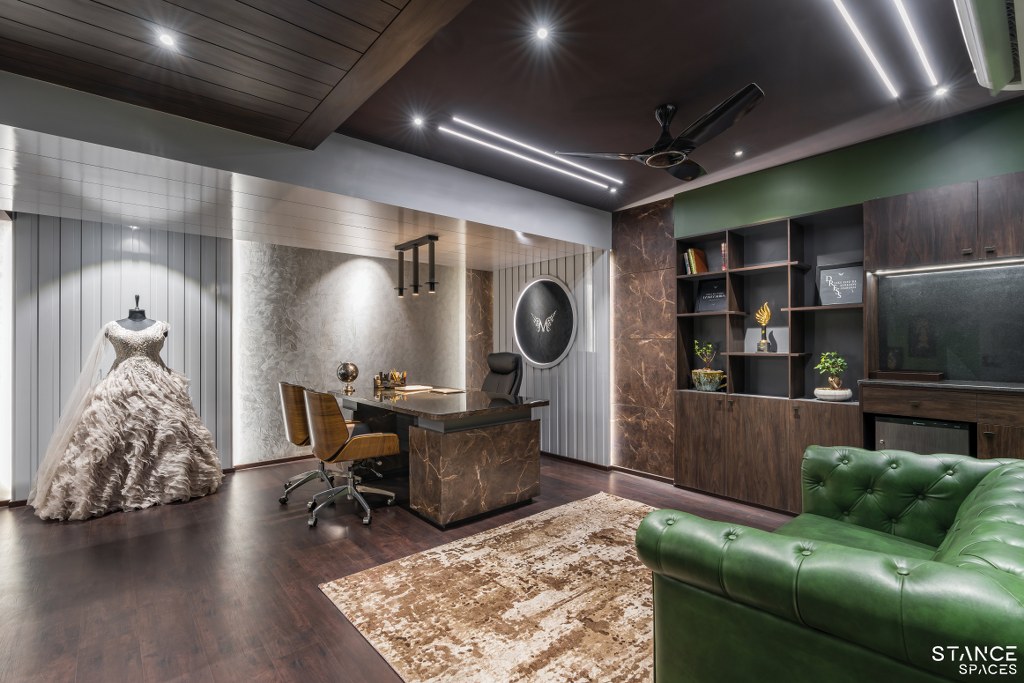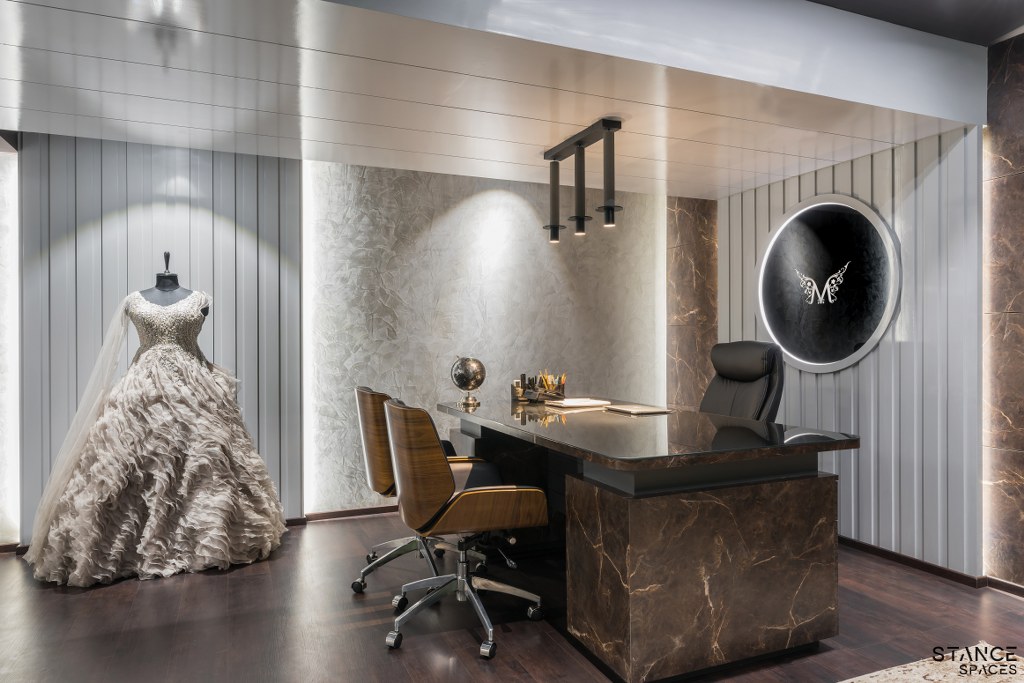 Fresh elements were introduced like the use of emerald green wall paint, which accentuated this luxury space and will now be used in the existing store. Existing grey texture paints were used on surfaces as backdrops to highlight elements newly created for the space.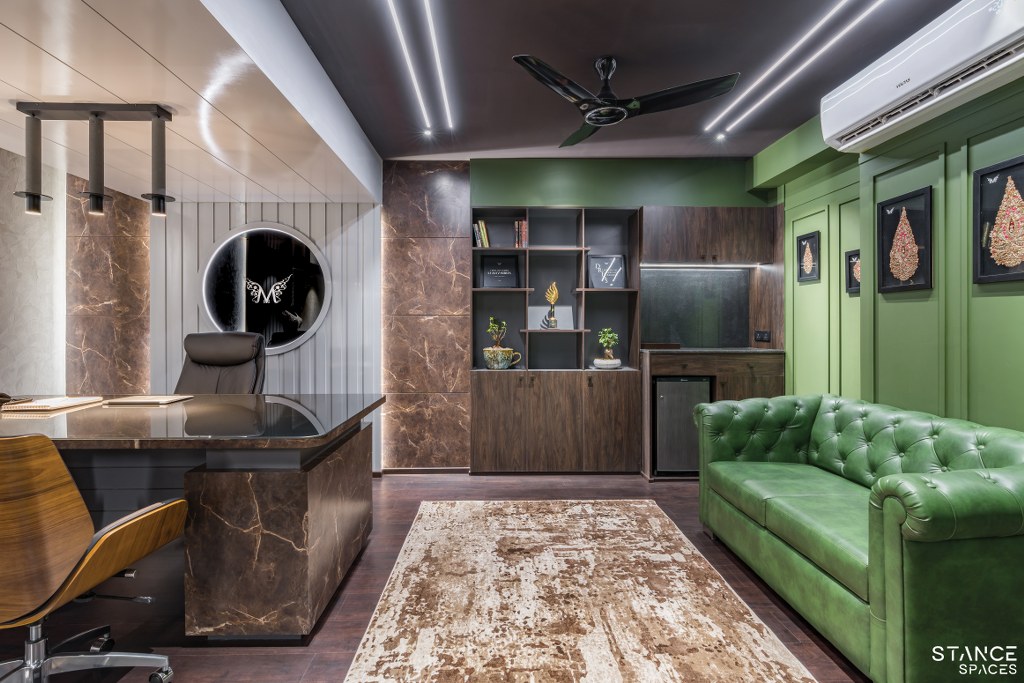 In order to give our client a perfect understanding of how the space will be planned and utilized, we made use of an Oculus VR system, wherein we were able to help the client visualize the entire space virtually in 3D. This even helped us in closing the design process smoothly and moving on to detailing and completing the project sooner than we anticipated.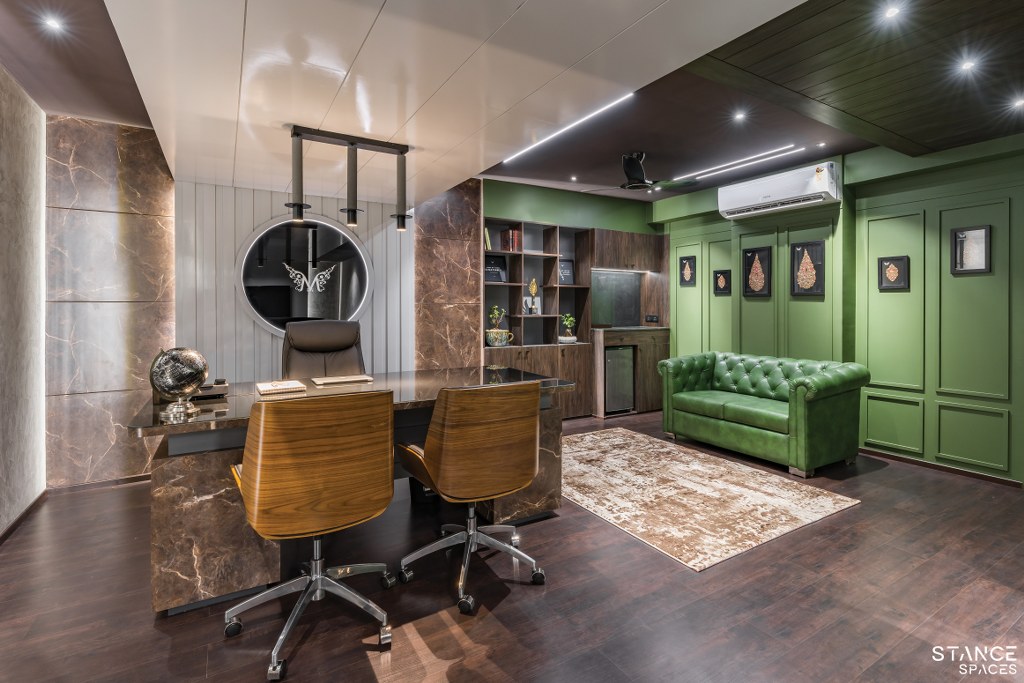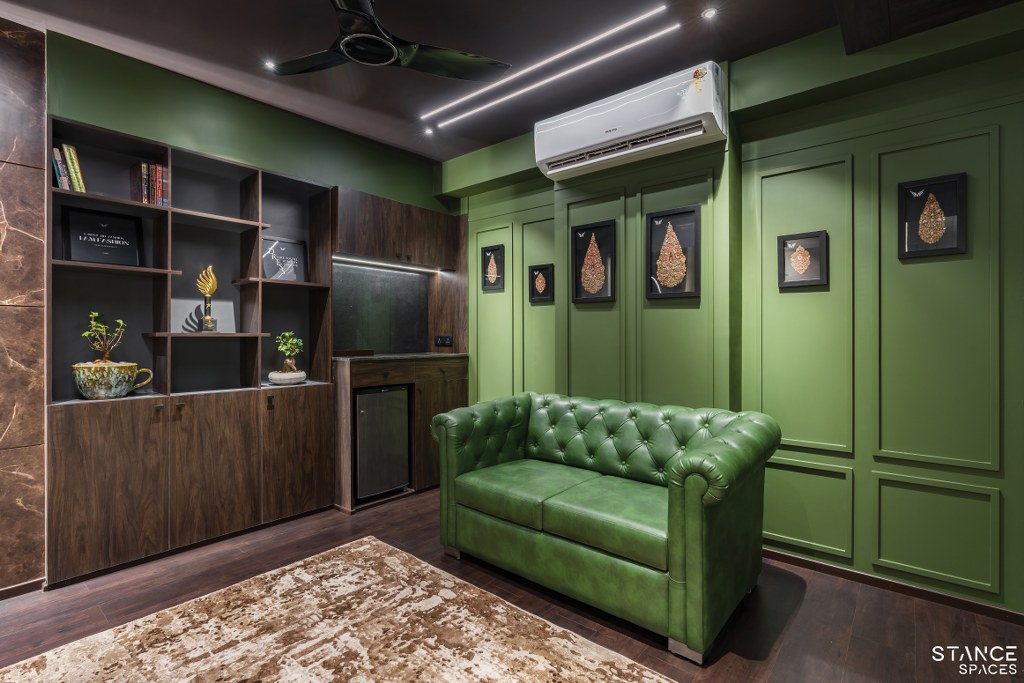 Being a small space, the entire area was given equal attention. However, the fabric experimentation area placed as a focal point at the vision of entry was positioned such that it is visible and reachable from all points of the space. With time, this space added its own dynamism as it took various fabrics at each of our post-completion visits, giving it a unique look every time.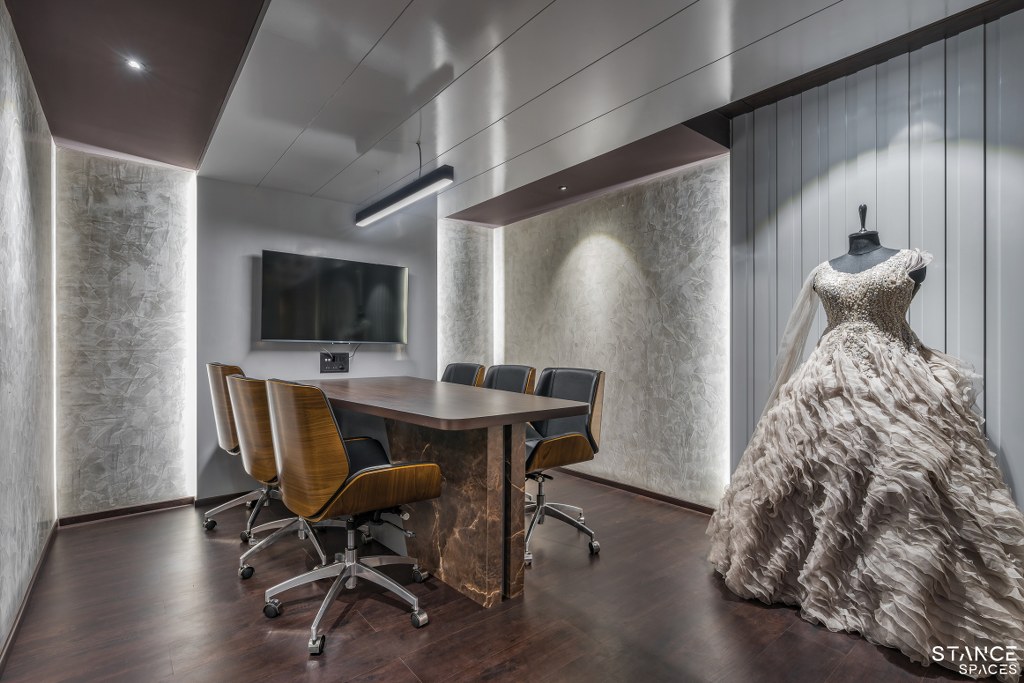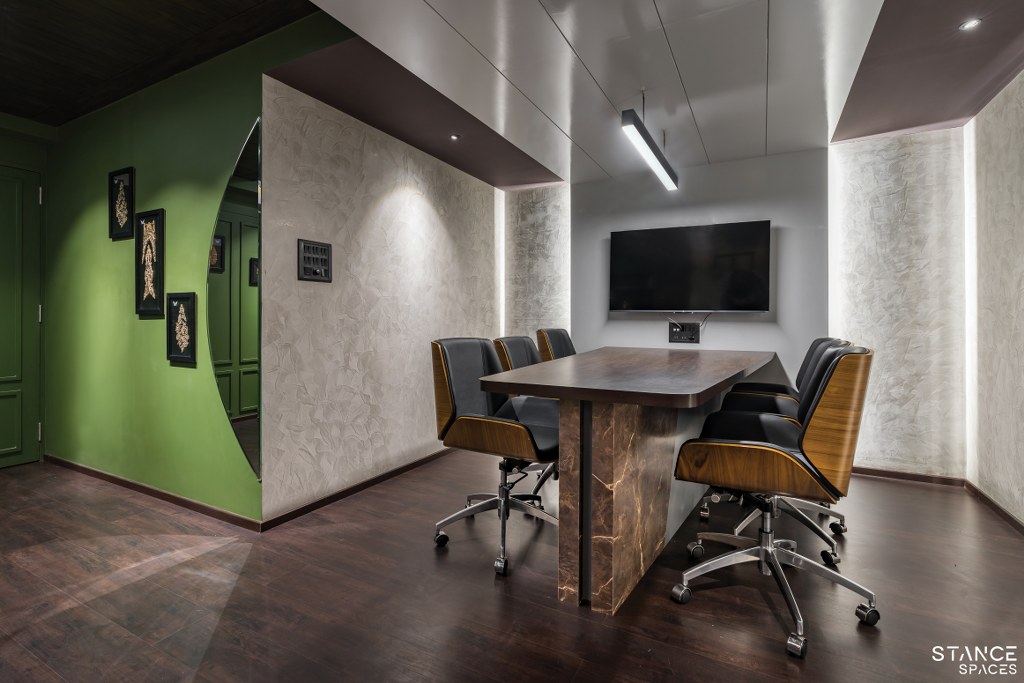 Primarily the site was located as part of an existing bridal wear retail store. The work studio was an extension of this space and hence certain existing elements were retained or built upon. These included the grey-themed wall finishes, ambiently lit lights, use of dark-toned glass and mirrors, etc.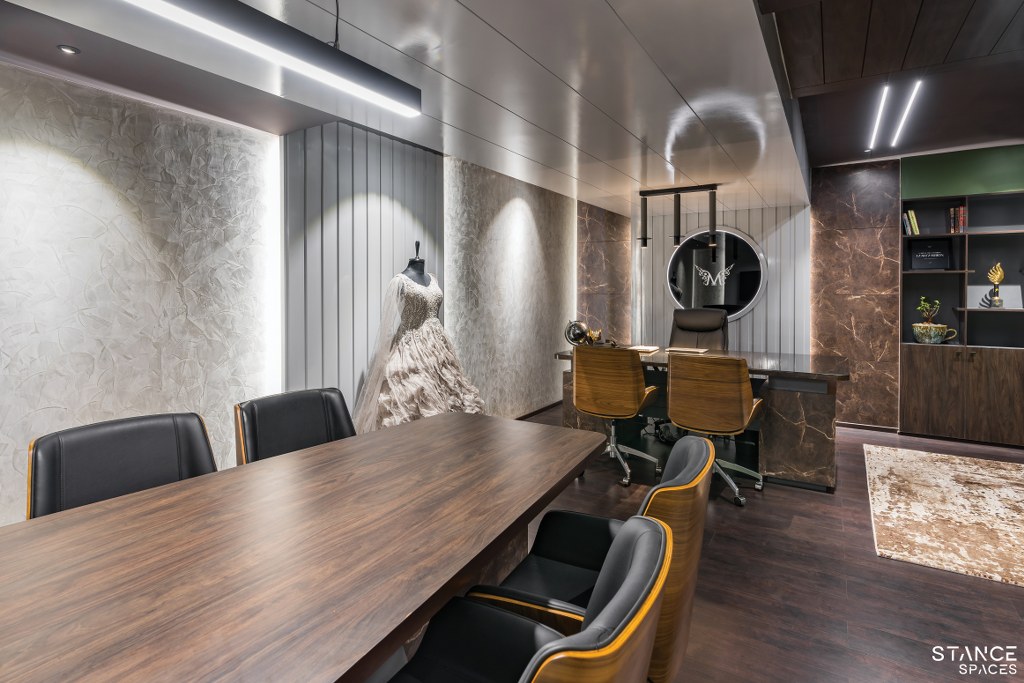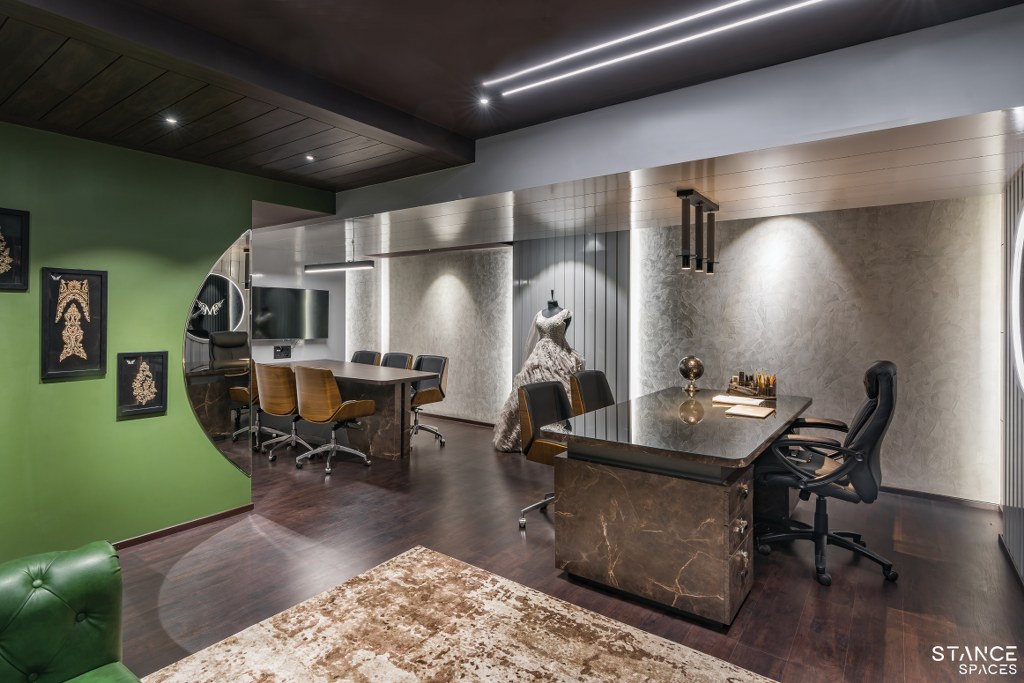 Fact File
Designed by: Stance Spaces
Project Type: Office Interior Design
Project Name: Meraj – Work Studio
Location: Bangalore, Karnataka
Year Built: 2022
Duration of project: 3 Months
Project Size: 500 Sq.ft
Project Cost Appx: 15 Lac
Principal Architect: Saood Shariff
Team Design Credits: Hidayath Pasha, Safa Hasan & Zahid Ahmed
Photograph Courtesy: Shine Prasanna
Products & Materials: Finishes: MDF with Duco Paint | Wallcovering / Cladding: Texture Paint + MDF & Duco Paint finish | Construction Materials: Plywood, MS and Aluminium Framework | Flooring: Wooden Flooring | Paint: Asian Paints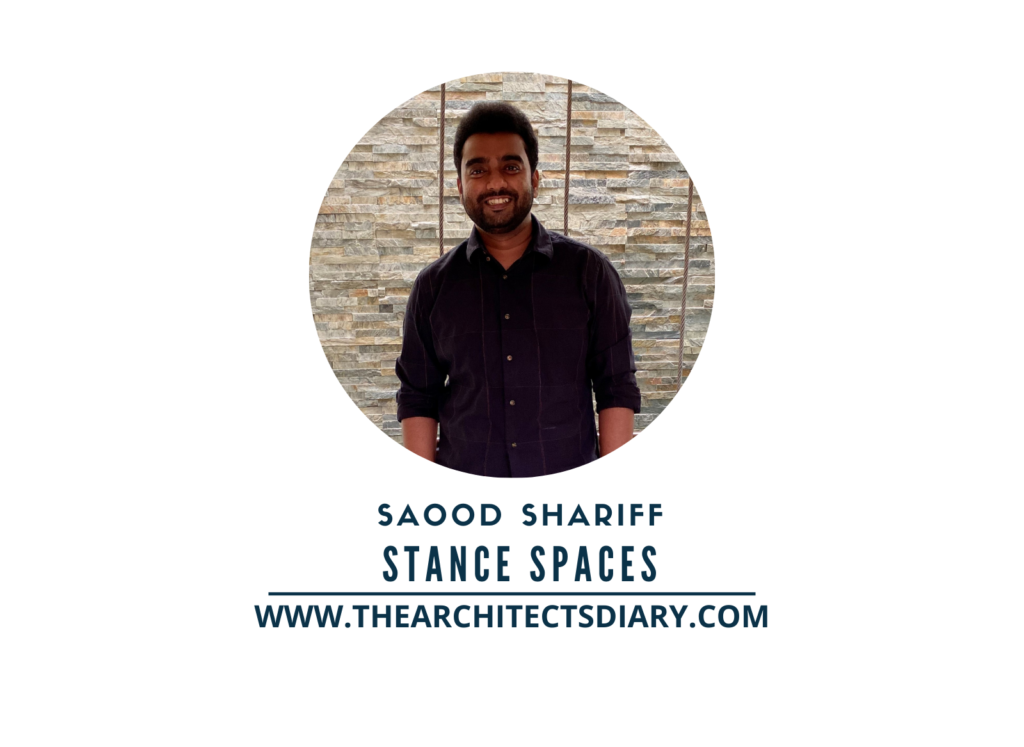 Firm's Instagram Link: Stance Spaces
Firm's Facebook Link: Stance Spaces
For Similar Project>>Weaving Traditional Indian Context with Contemporary Art