&nbsp
Vibrant House Demonstrates The Symphony Of Owners | The Ink Studio Co
Interior Designer duo Bijal & Rupesh Shah has designed an apartment for a family of four near the posh locality of Vile Parle, Mumbai. Three bedrooms spacious apartment measuring 1800 Sq ft. This vibrant house demonstrates the symphony of the house owners. The house is designed with an acute amalgamation of the client's need and the fusion concepts of The Ink Studio.
Visit: The Ink Studio Co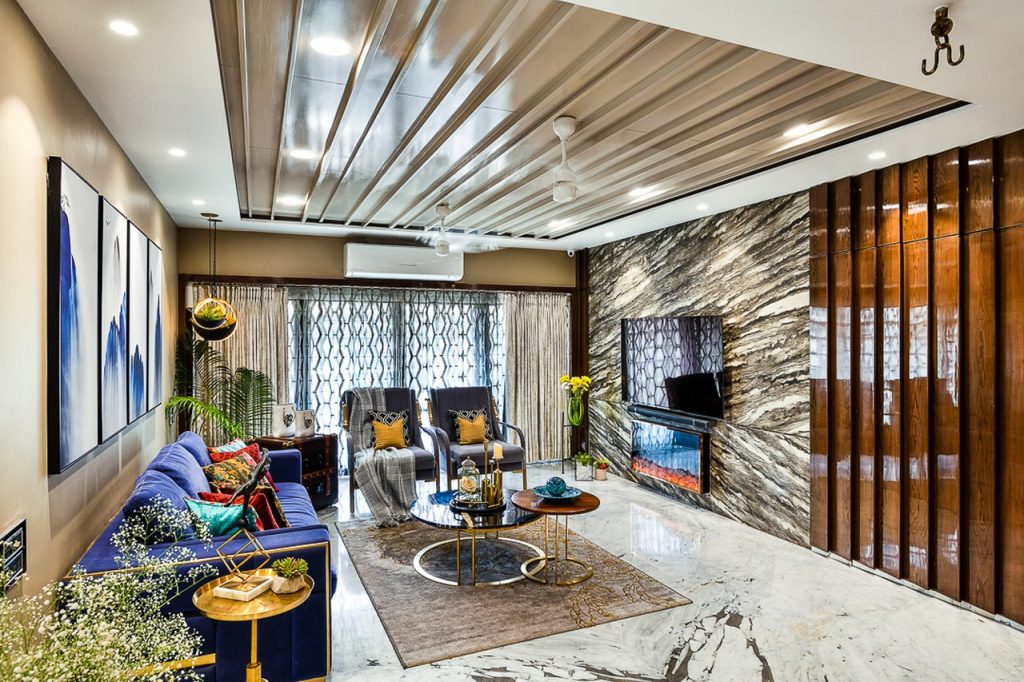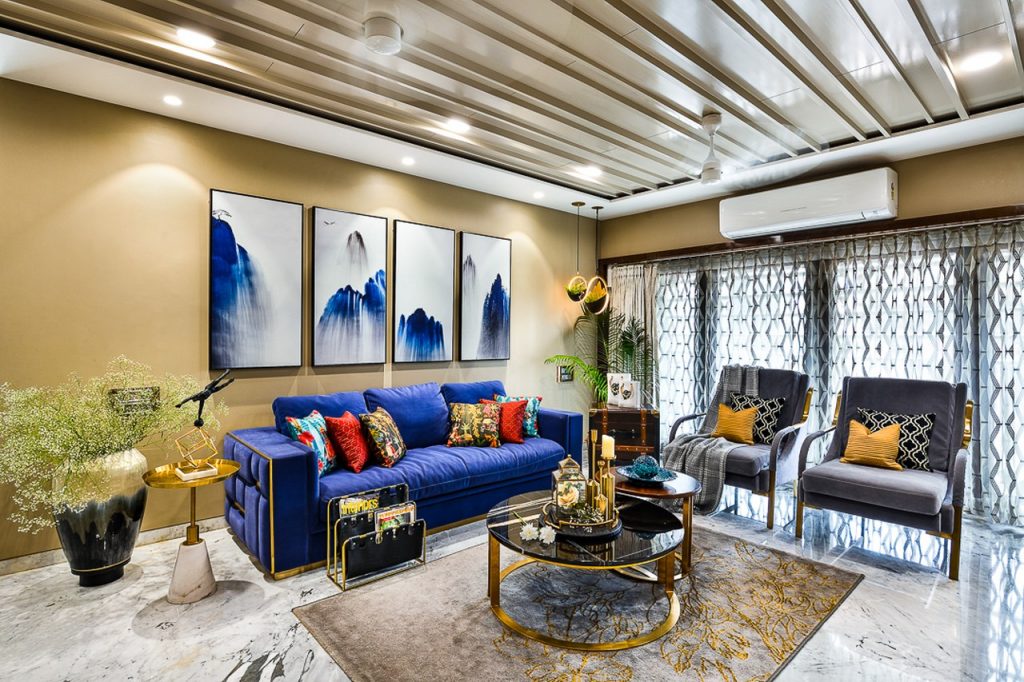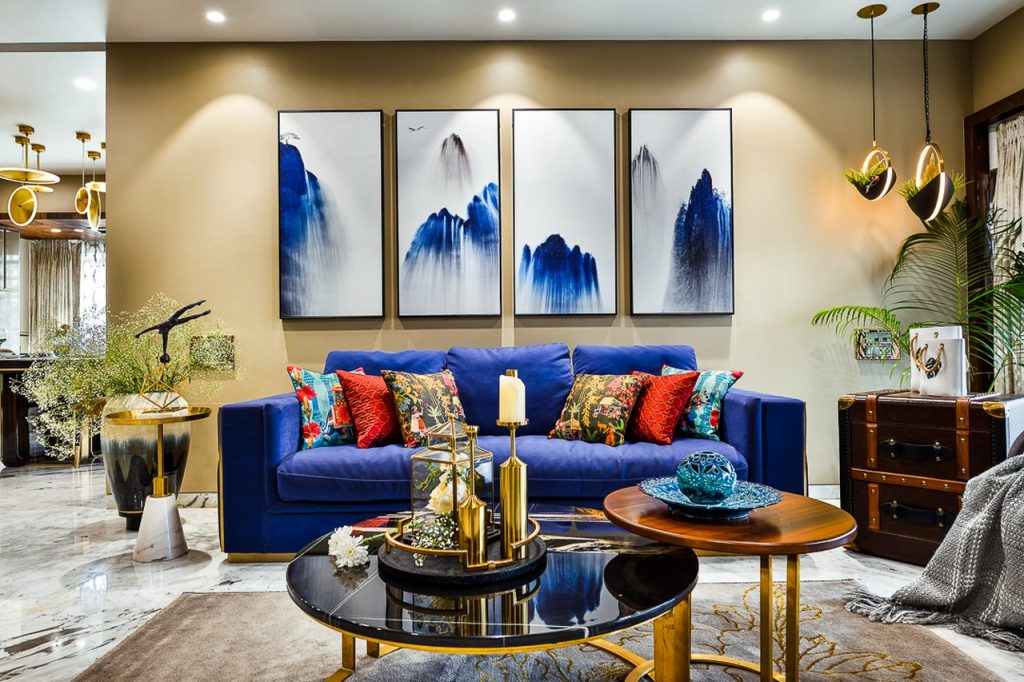 Enter this luxury abode and one is drawn into a spacious and inviting living area where the vast expanse of Statuario Italian marble flooring along with a beautiful well-spaced collection of furniture is evident. Vibrant hand paintings, interiorscaping with planters, striking black marble and wood center table, Custom made couches and chairs in electric blue & grey fabric, from the house of Rubi CASA Bespoke Furniture gives a highlight of poise. Along with that, carefully selected pieces of artifacts adorn the living area. Space radiates a sense of high living almost instantly.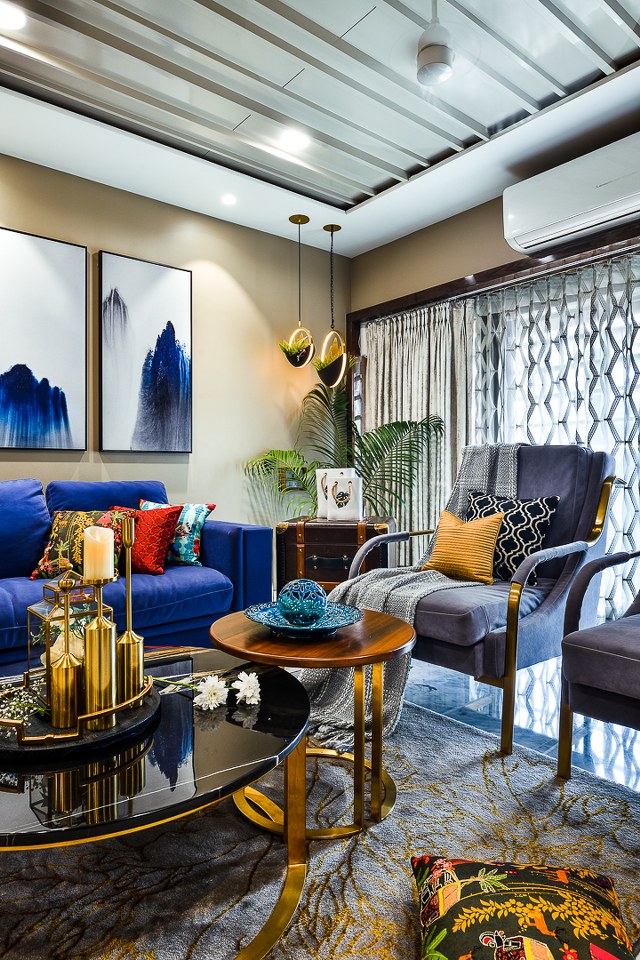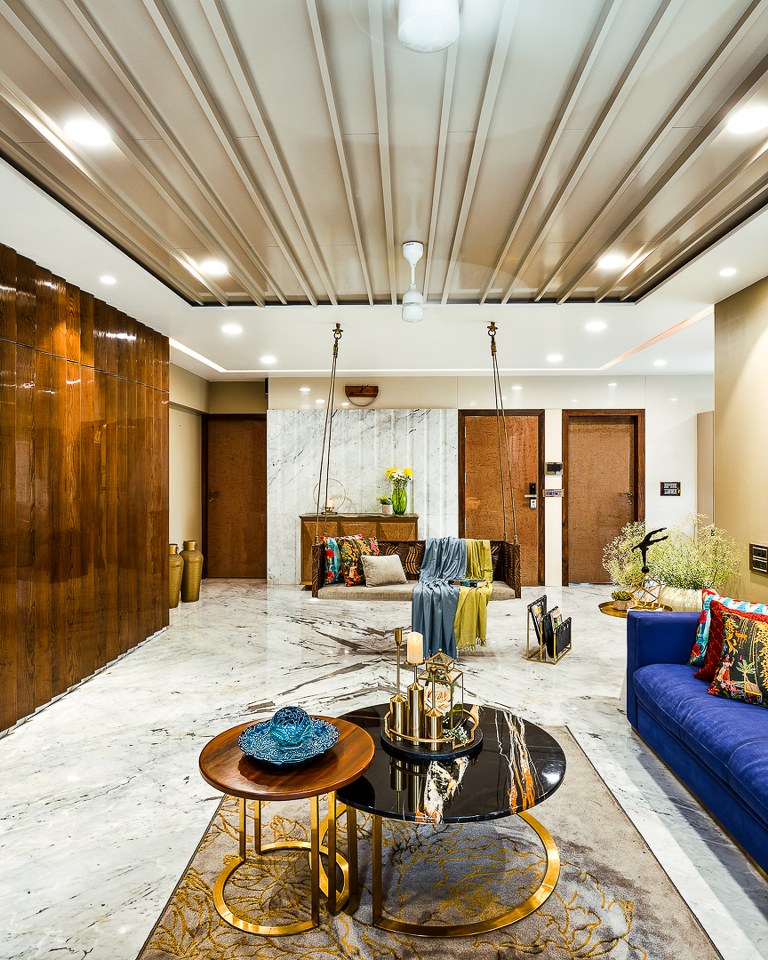 An Ornate of design well created and well executed. Having an exotic marble wall cladding in leather finish with extension of vertical wood design in dyed veneer with lamination from the Armani Collection, narrating a story of sheer luxury and elegance. The seamless striped ceiling painted as the same colour on the wall, makes the room feel bigger and modern, bringing in more focus to the furniture and décor.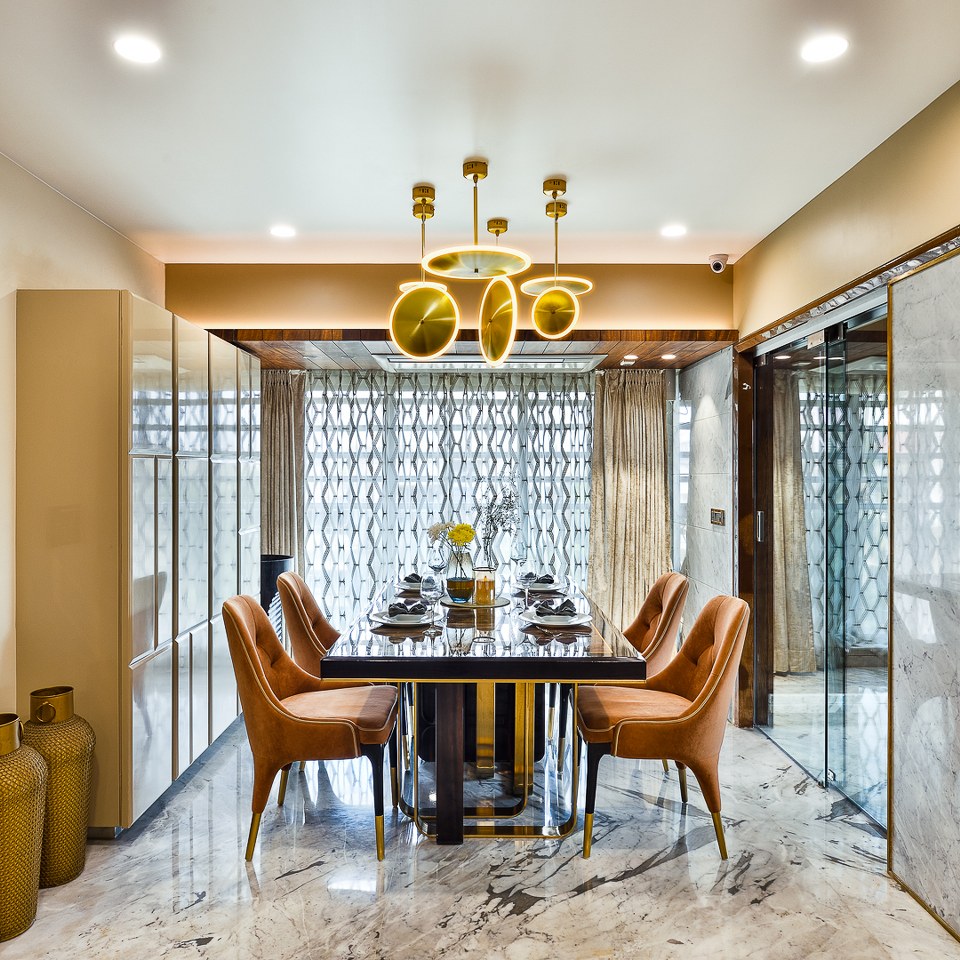 Expansive dinning area outfitted with tan leather chairs and an extravagant table custom made by Rubi Casa features Italian marble tabletop and elegant brass finish base, complimenting to its great selection of hanging brass embodied lights, setting up a perfect mood for a fine dining experience within home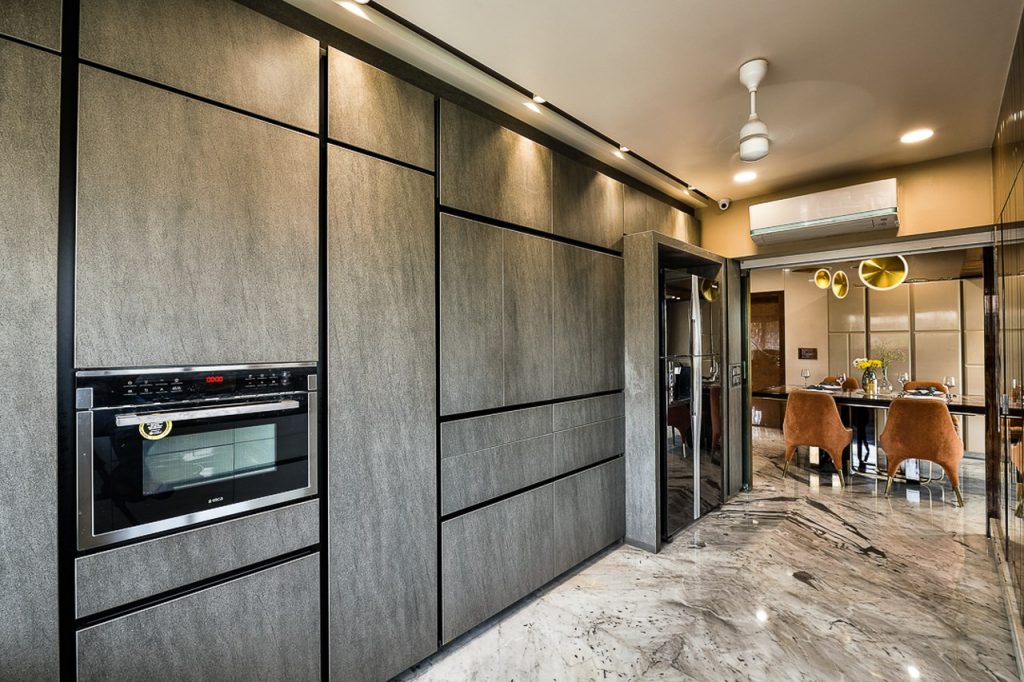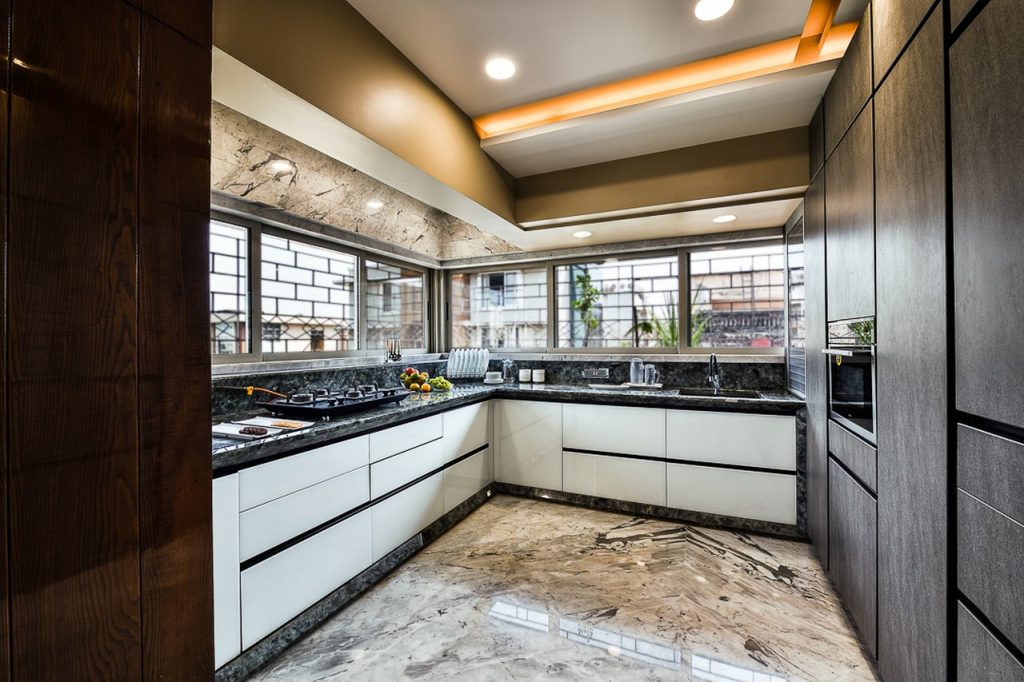 Kitchen is the heart of every home, a neat, spacious and airy kitchen designed with long L shaped counter built into the wall and contrary to it, a real stone with wash effect embodied into a storage area, warehousing all the magical ingredients and accessories of the kitchen and a microwave & refrigerator. Giving an aesthetic look.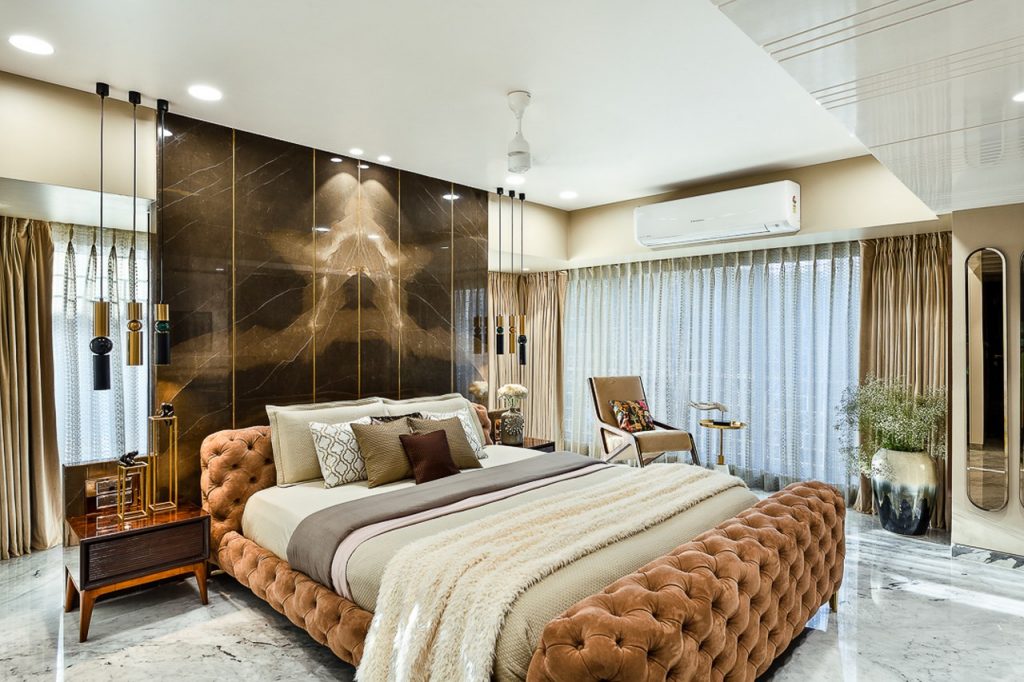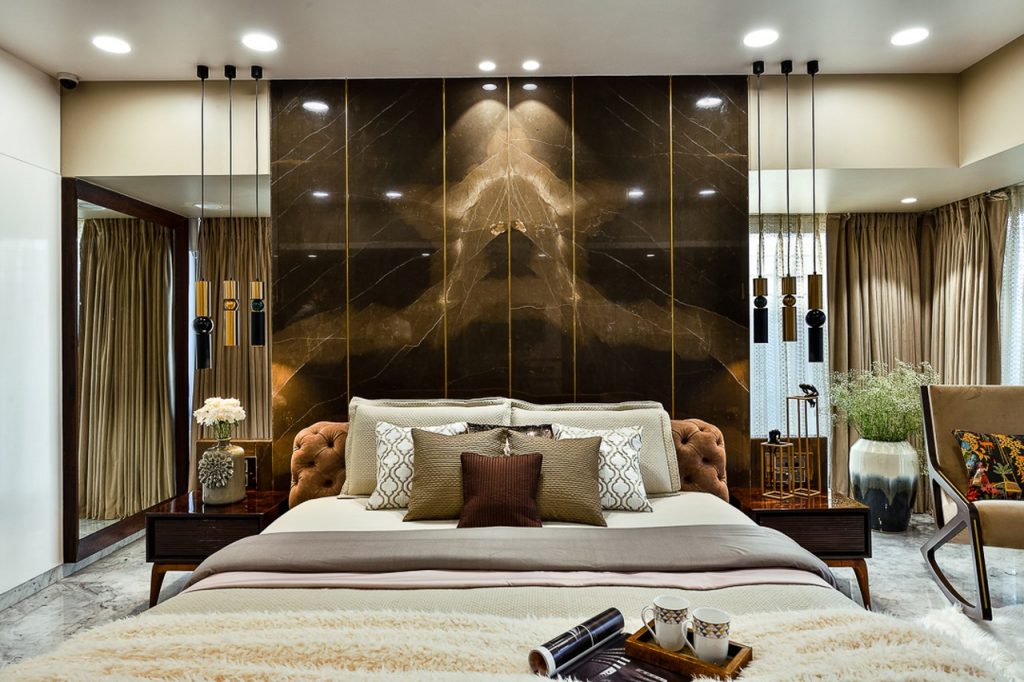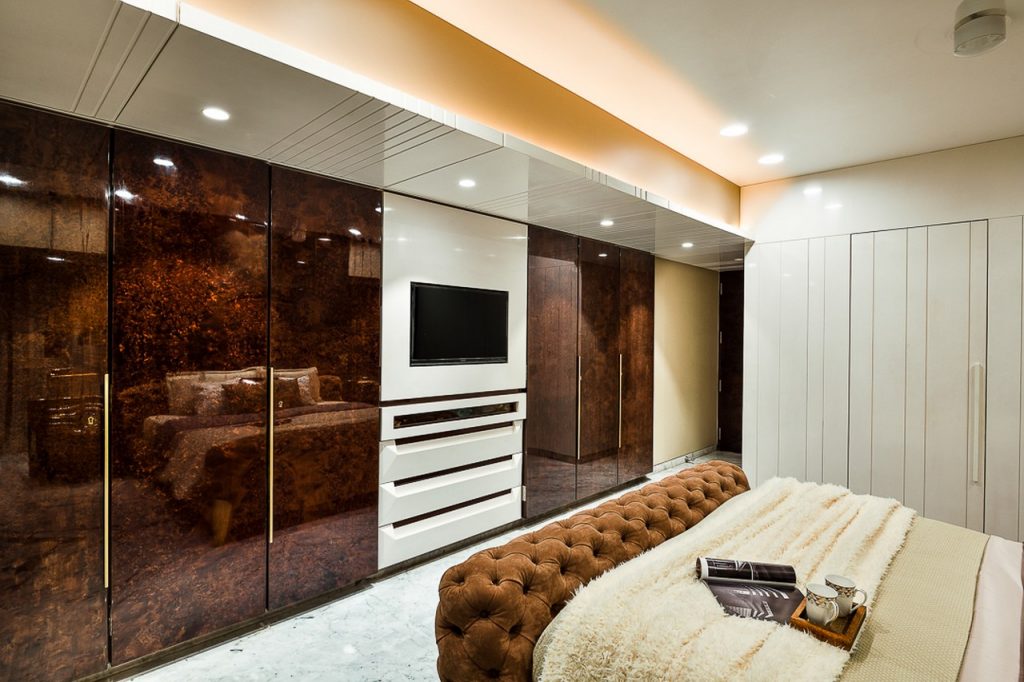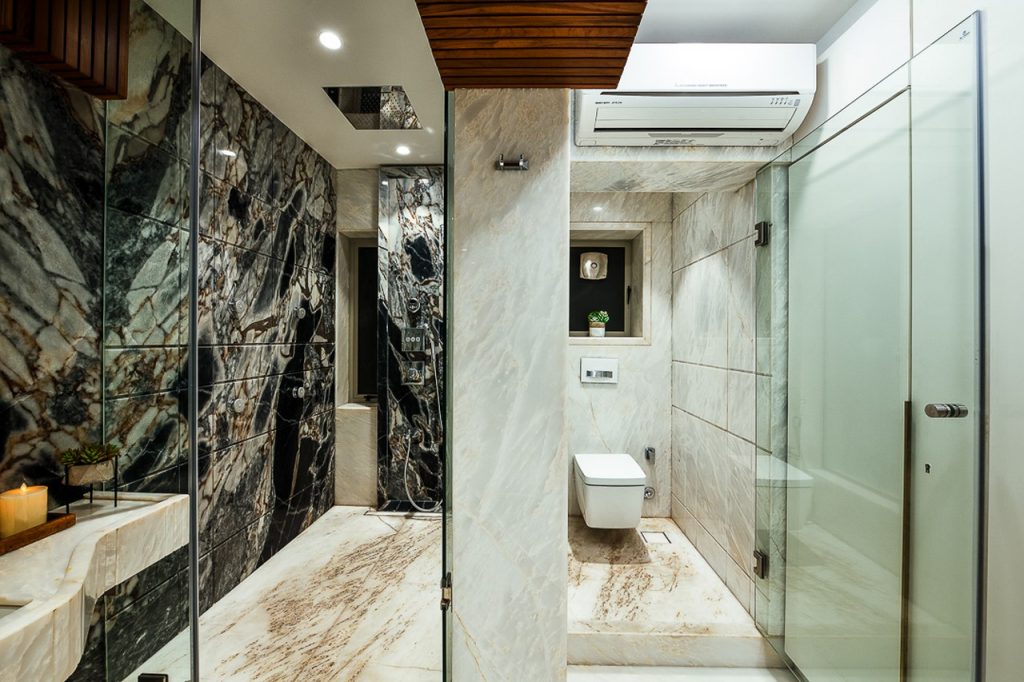 The opulence of the house endures its gateway to the master bedroom suite. Designed keeping in mind the persona and choice of the residence owner, keeping the movables minimalistic. Concept of royal tufted cushioned king-sized bed dressed in lux of linens and topping it to the roof the rare Bronze Armani marble giving a modern appeal. Along the sides hanging black and bronze hanging lights acts as droplets of natural metal.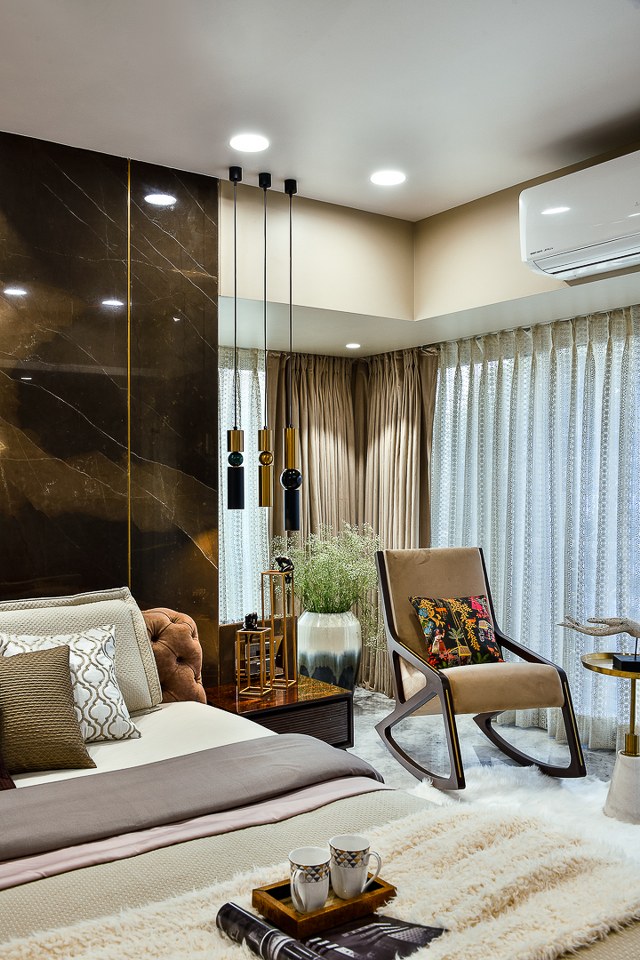 A 90-degree open sided room is draped with sheer curtains giving you the perfect daylight ambience and the needed privacy. Overlapped with a velvet curtain with a pinch of beige assembles the entire room into to cozy place to stay,In sync to room décor, a full-size wardrobe created of wood and grain flamed veneer endeverous an exotic look to the bedroom. Mounted TV on the wardrobe wall saves the space and below easy operated drawers gives us easy access to your daily need items. The overall theme of the bedroom gives an absolute aroma of richness.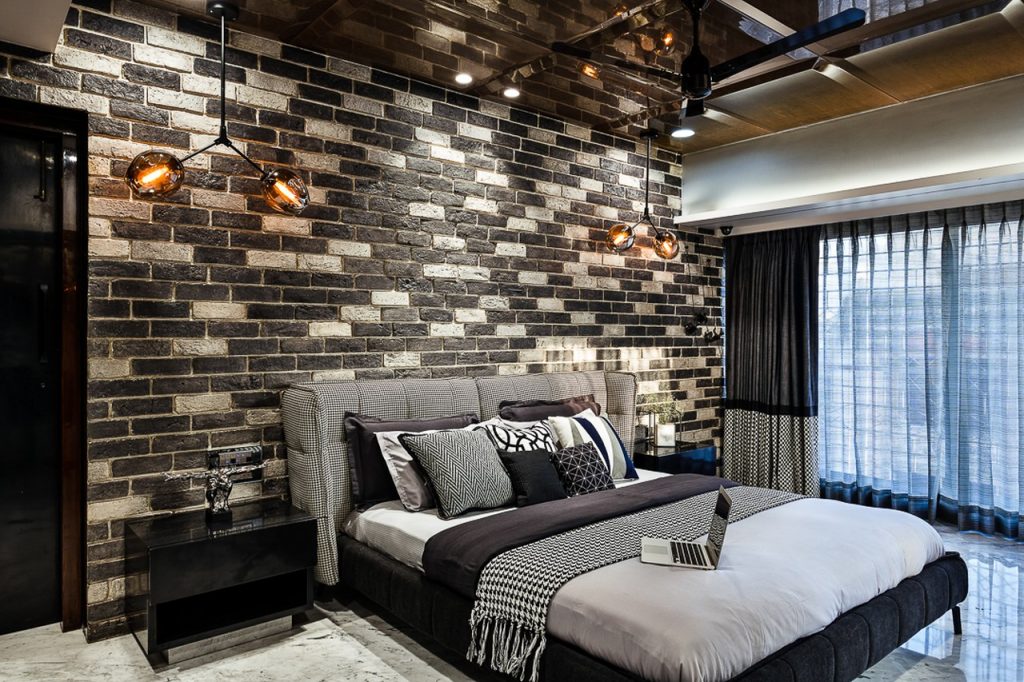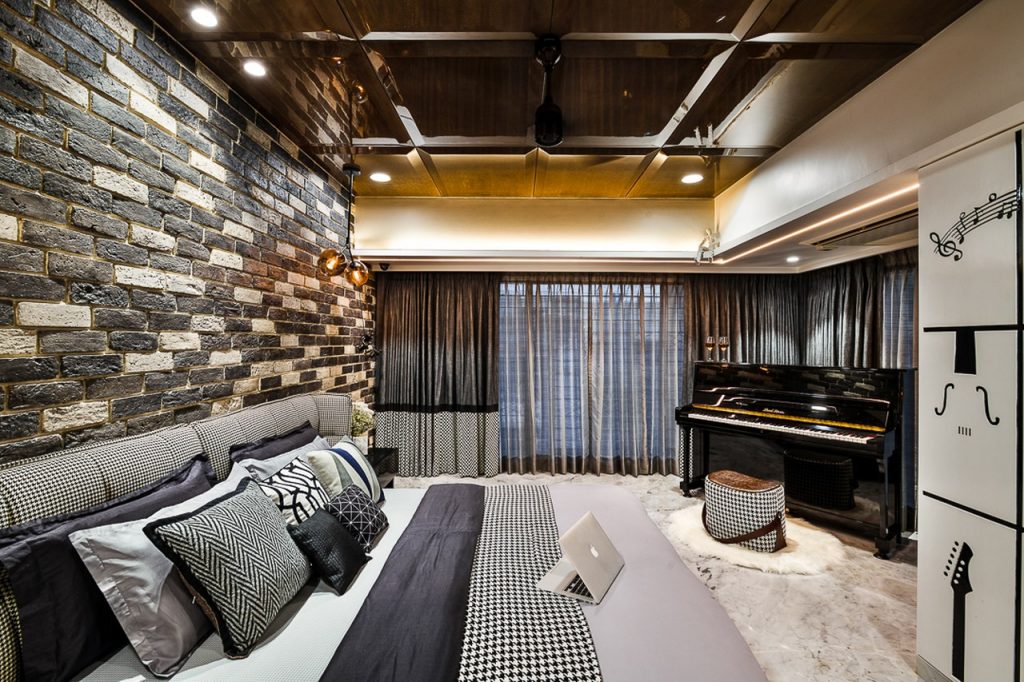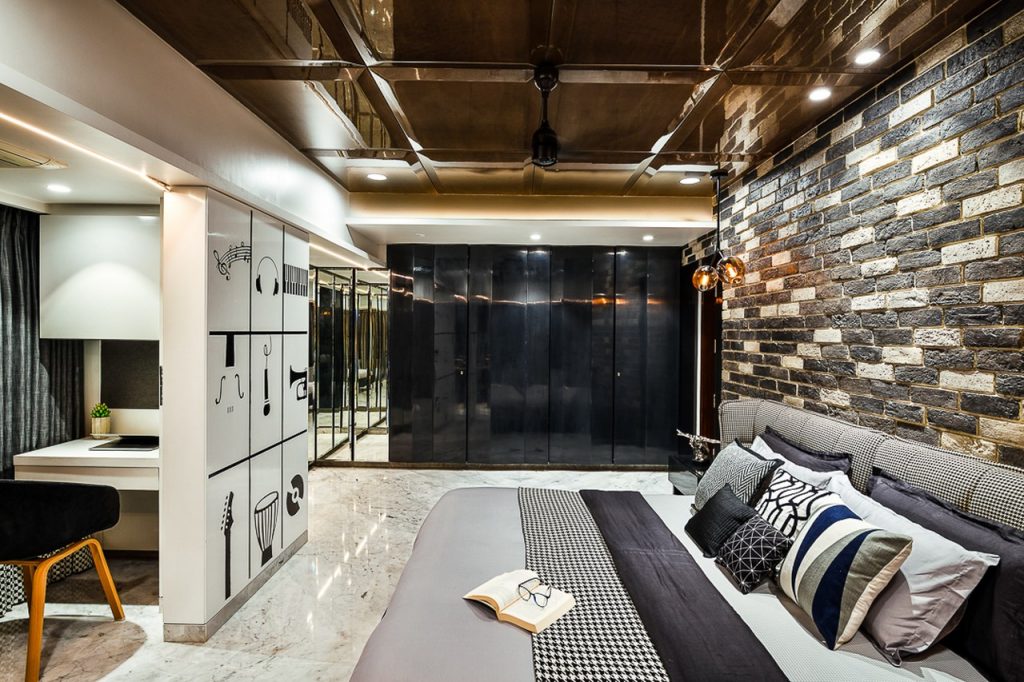 A Stylish bedroom with a modern interior themed on varied music instrument engraved on a wardrobe wall. This room narrates its own story. The back wall cladding with white and grey stones gives a raw effect to the entire set up. As the entire room is based on a shade of grey, back & white, to cut the monotony we have topped the ceiling with a dark brown laminated wood. A live piano and guitar stationed into the room give a reflection of a pure symphony. The décor reflects the artistic persona of the occupant.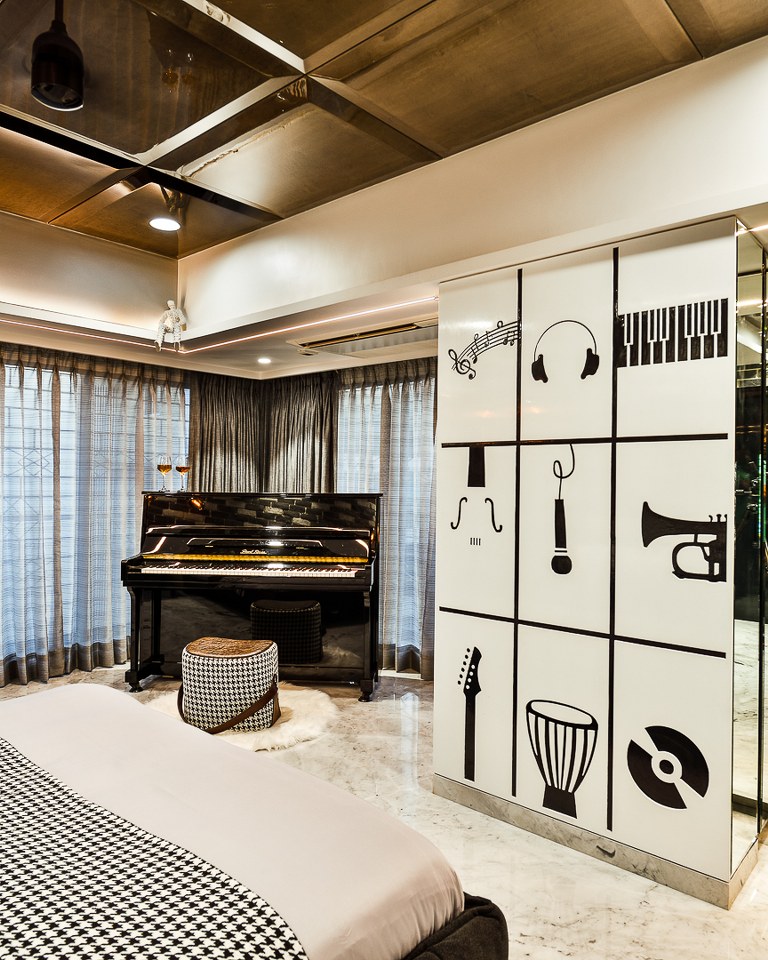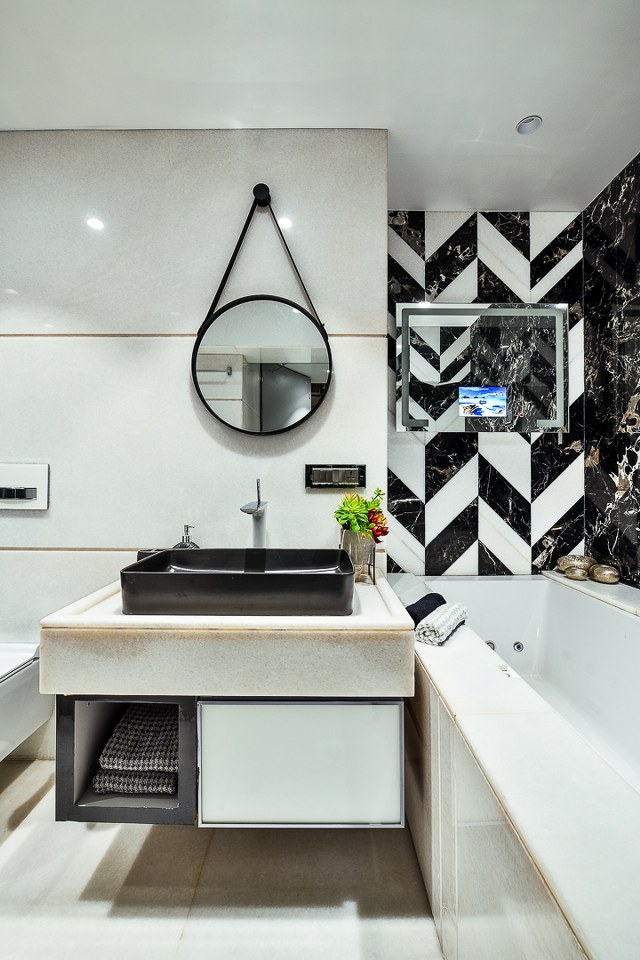 "Complementing to the theme of the bedroom, we have kept the bathroom décor on the same melody, Italian marble flooring covering up the Bathtub, Texturing up vertical marble design into black n white giving a robust look of the wall making it an iconic one. A hanging mirror over a leather rope give a bathroom an extremely modern outfit. An inbuilt entertainment system and tv monitor in the glass, placed over bathtub for a leisure time after a hectic day while soaking oneself in the tub. This bathroom has it all."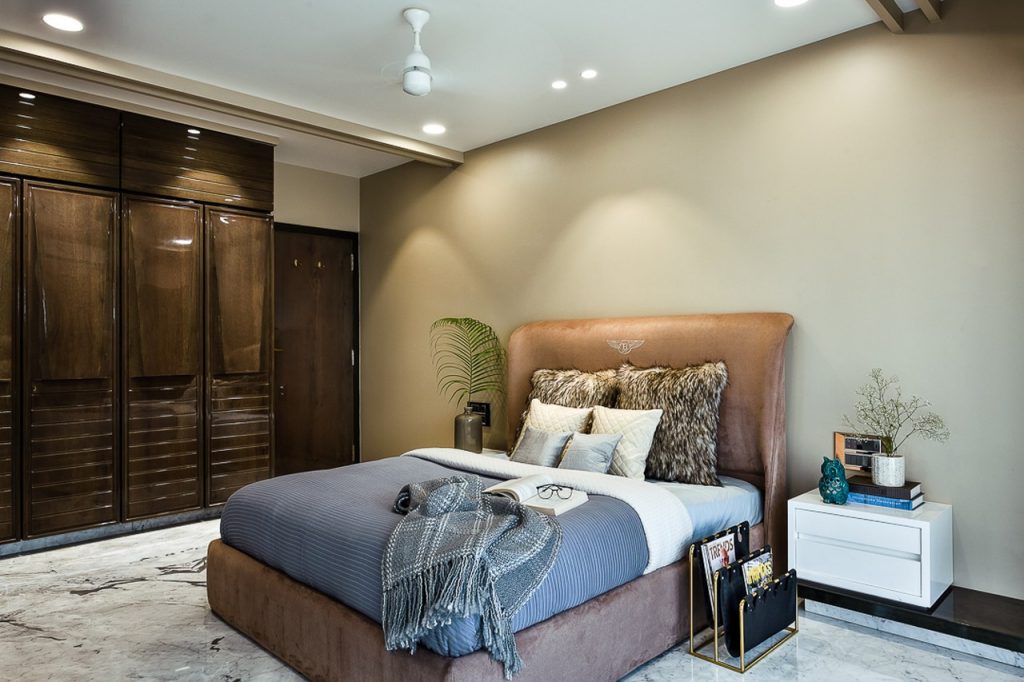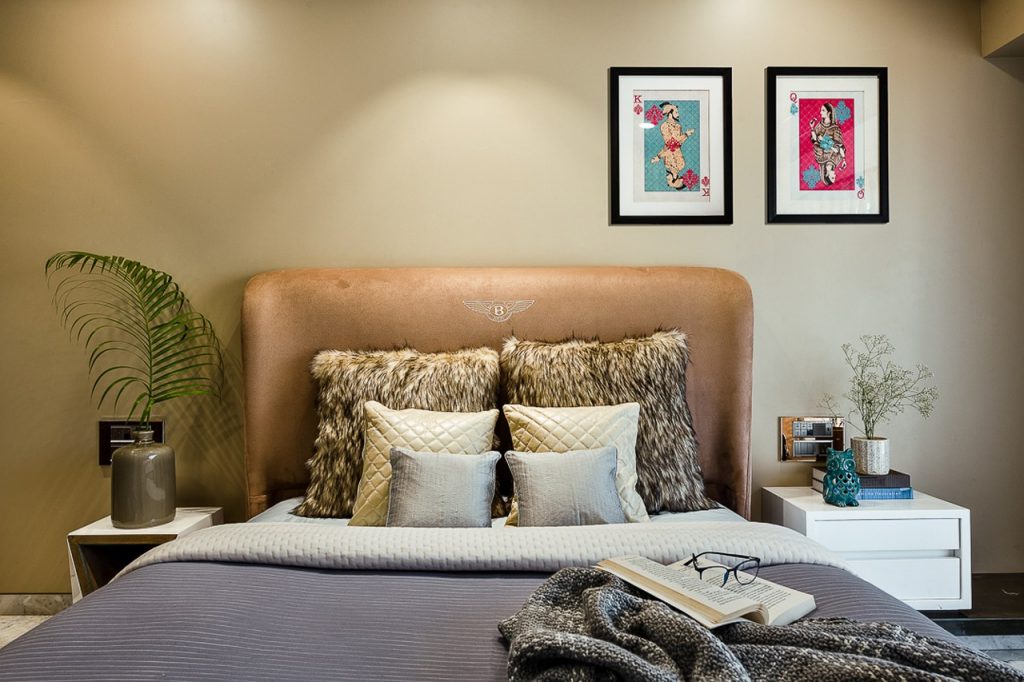 The ultimate room for the guest, one cannot miss a stay into this opulent home. An elegant room, which treats the guest with an ultra lavish bed from Bentley Home. One of the finest luxury brands of furniture. Topping it up with squishy cushions and luxury linens for a perfect relaxing time. Highlighted with mini planters and pop of colour frames to enhance the beauty of the room with more liveliness adding up to the luxury of the room.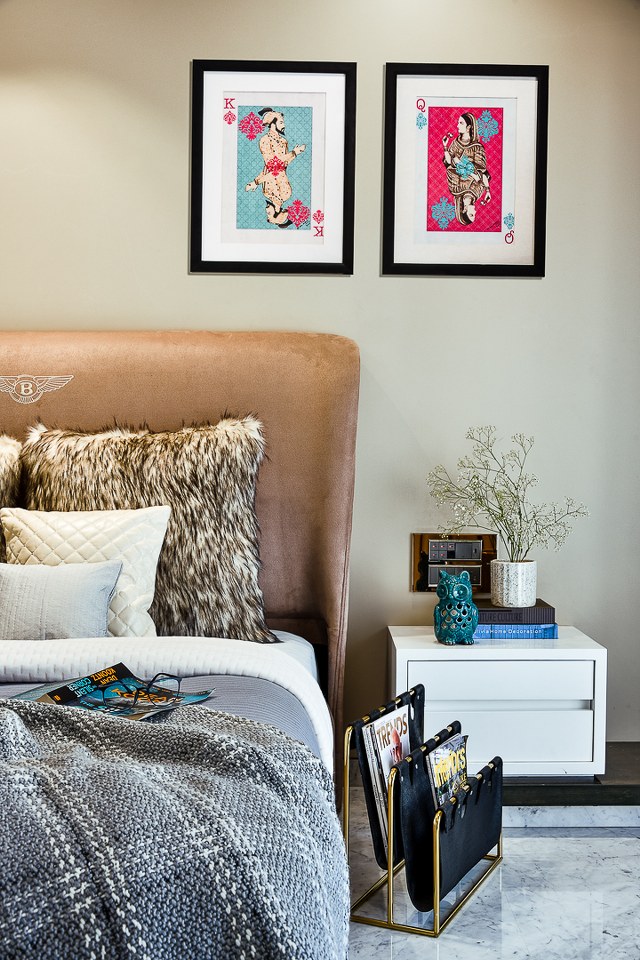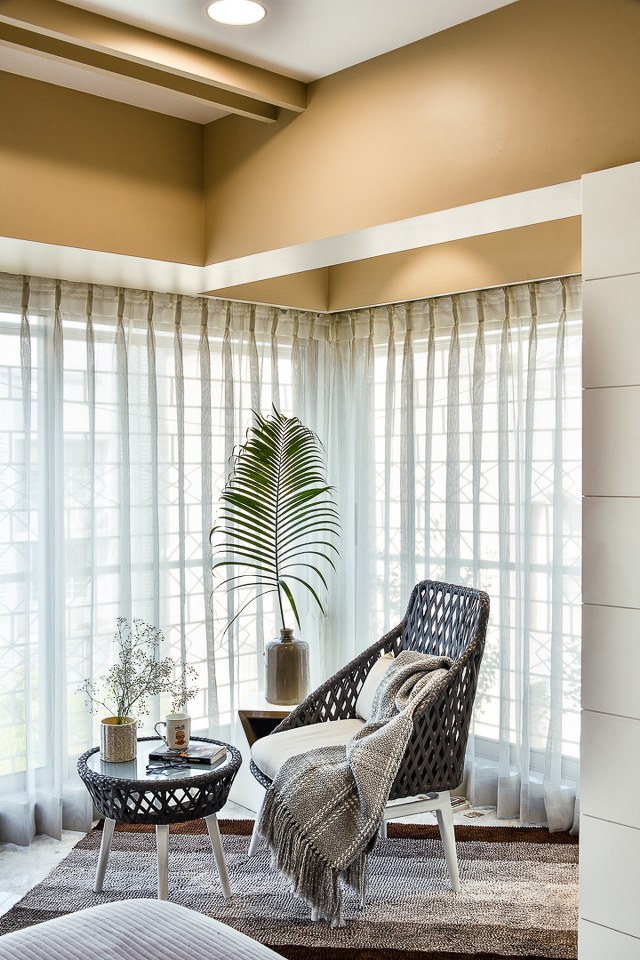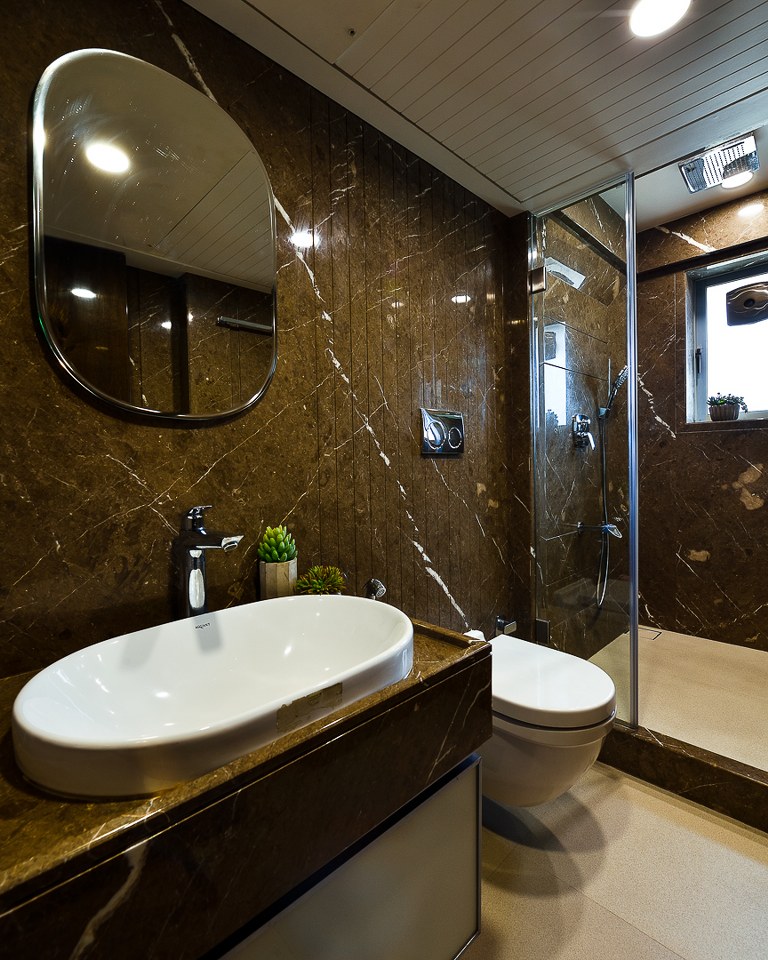 "A cozy corner for a Good Time. Every bedroom will probably have its fair share of corners. And this house has its own share. A coffee chair & table for the relaxing and free time in the house after work or during weekends. A relaxing corner in the house to read, write and to have a good time while sipping one's favorite drink. The planters, adding a refreshing ambient in the room, Here we have added a vibrant palm leaf which acts as a piece of artwork in this area. Rug below creates a sense of a separate area and adds to the cozy look and feel."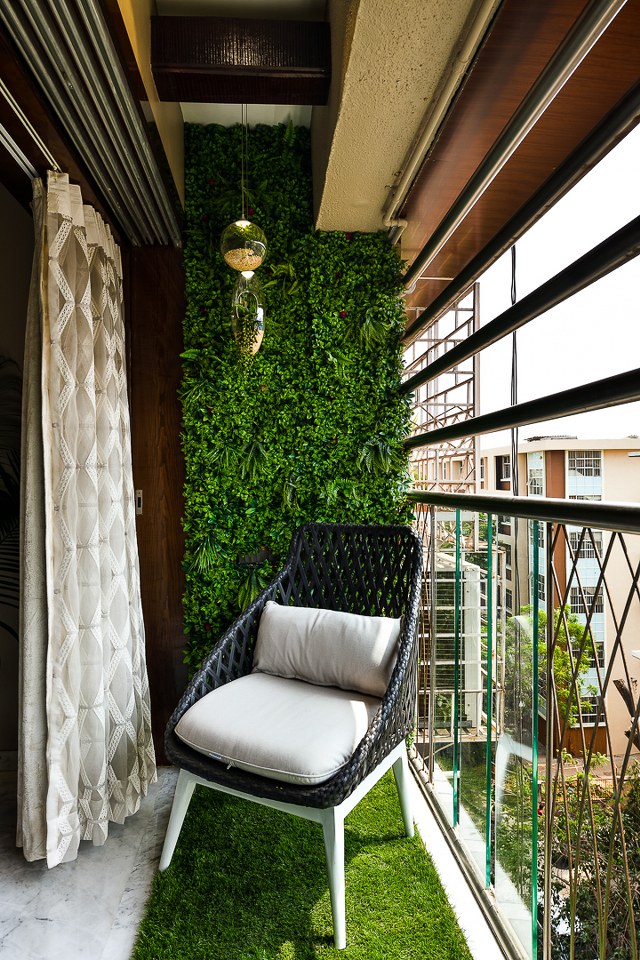 A balcony converted into a vertical garden. Gives a feeling of plush green ambience. A chair to relax and enjoy the cool breeze from the Arabian ocean. This balcony open up to the bedroom giving it a more vibrant look. Having a space of garden in the sky scrapper city is not possible, creating such garden space is a pure retreat, a place for rest and rejuvenation. Greenery adds up positive energy and refreshment around your bedroom.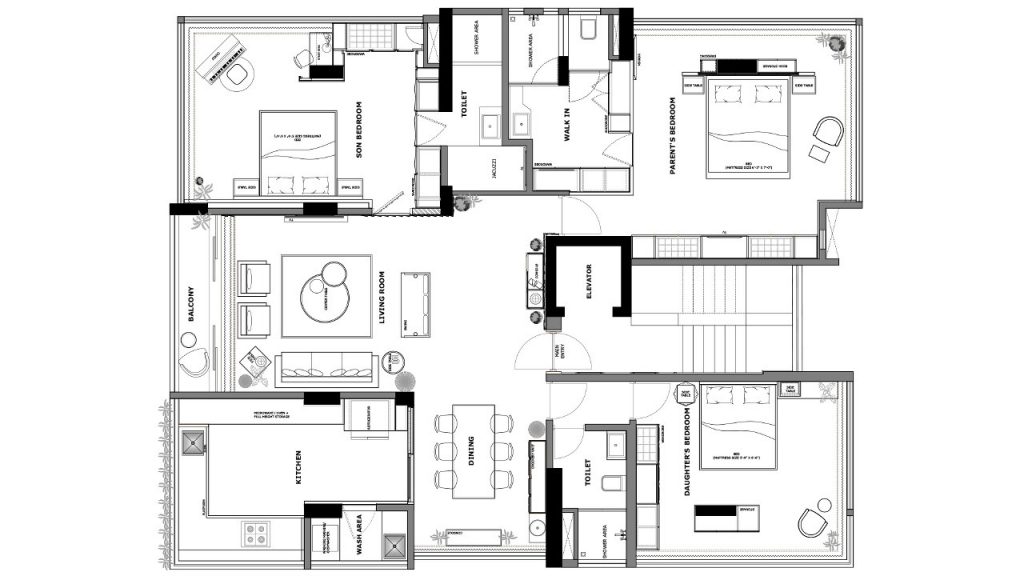 FACT FILE:
Firm: The Ink Studio Co
Project Name: Casa Harmony
Project Type: Apartment Interior
Location: Vile Parla, Mumbai
Carpet Area: 1850 Sqft
Project Completion: November 2019
Principal Designers: Bijal & Rupesh Shah
Photographer: Ravi Kanade
Facebook: https://www.facebook.com/TheInkStudioCompany/
Instagram: https://www.instagram.com/the_inkstudio_co/
ABOUT THE FIRM:
We build and create positive spaces with our best idea, the best solution, and obtain the best result. With over 12 years plus experience in a combination of tradition and innovation, arty and creative work. We design space to inspire living. We embody global and indigenous design sense and reflect the contemporary, classic, modern, and fusion design from the world of Interiors. We at The Ink Studio religiously follow quality and workmanship. Our design and detailing carves a long-lasting impression and milestone, propagating the DNA of our client's values and emotions. This creative union originates from our founder duo Rupesh and Bijal Shah. Having designed and executed over 250 projects, the principals still think of themselves as evolving and ever learning.