&nbsp
A private 5 BHK home at Noida with an area of 7500 Sqft. The scope involved the refurbishment of 4800 Sqft spread across two levels – The ground floor with the living, dining, kitchen, and 2 bedrooms; plus, the first floor with 3 bedrooms, 1 Study, and 1 Mandir.
This home is Underpinned by Cohesive Weaving of Discrete Characters | Logic Architecture + Research
Visit: Logic Architecture + Research
The entrance opens to a majestic Lord Ganesha installation, that is positioned in what serves as the triple-heightened spiritual center of the home. Carved in spotless white marble, sourced from Udaipur, and placed against the backdrop of a vertical forest – the idol sits on a pristine hexagonal marble block in a localized water body. This is further accentuated by a custom-designed statement bird chandelier illuminating the scene at night, and a skylight nourishing the core during daytime.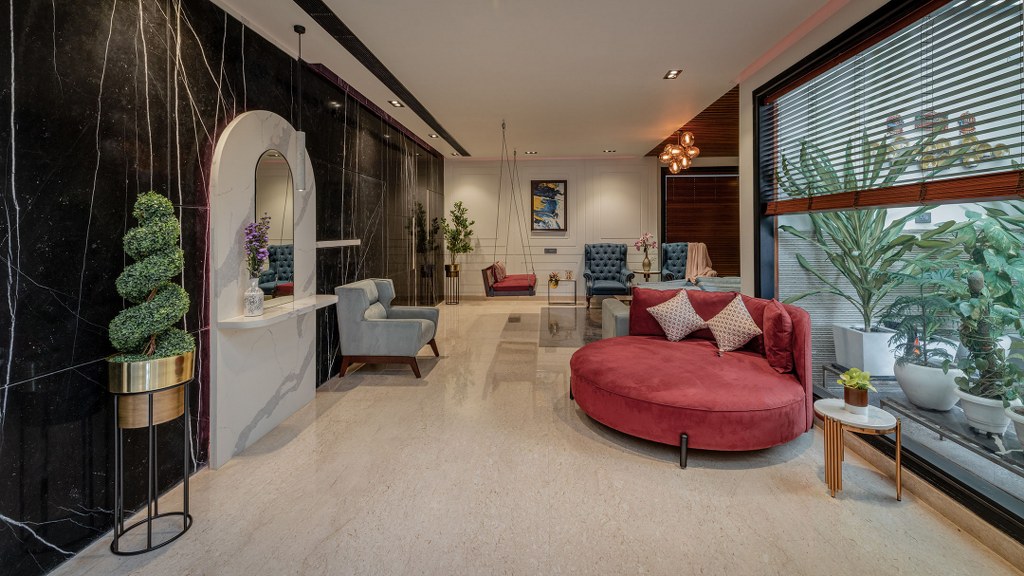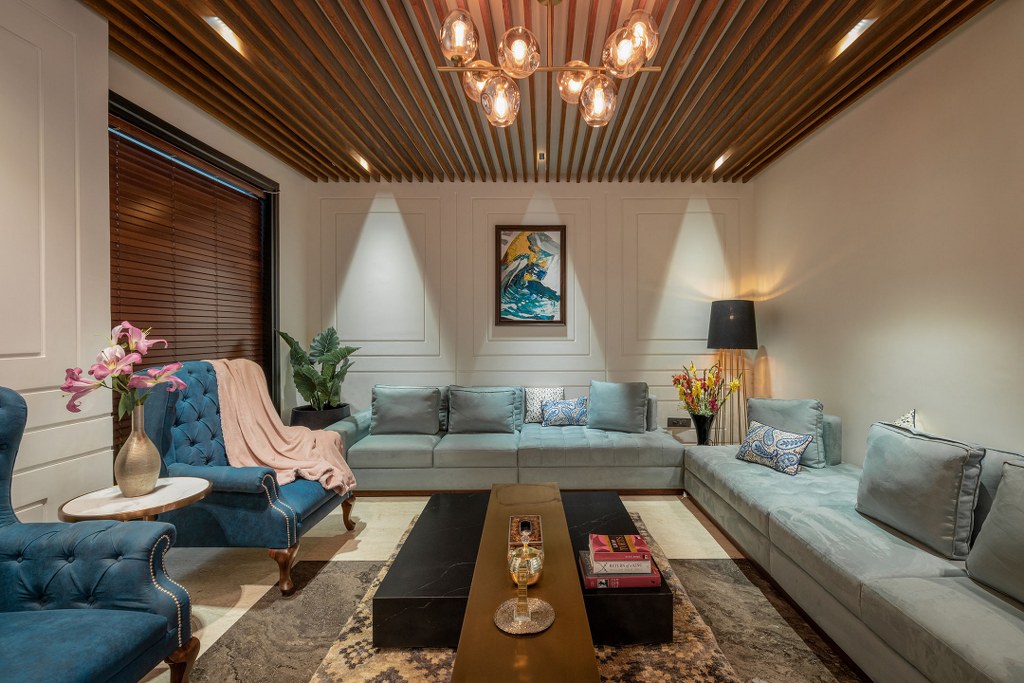 Like a fresh summer breeze, the guest lounge and living area waft in a jubilant spirit. Being a representative of the home's core identity, this space flaunts a truly eclectic language with a hint of art deco flair. The soft furnishings are drenched in imperial blues and cardinal reds setting a playful tone against the bold backdrop dominated by natural stone and metal. There's an elegant Victorian influence on the wall detailing on one side, while the other side showcases an unconventional approach to ornamentation with slick stone-in-stone inlays. A wicker Jhoola sets a euphony in motion at this dramatic yet effortless intersection of walls- bold and simple – black and white. Complete with a contemporary center table, chrome accents, and natural flora; the space is a romantic melange of materials, colors, and geometry; symbolizing richness and sophistication.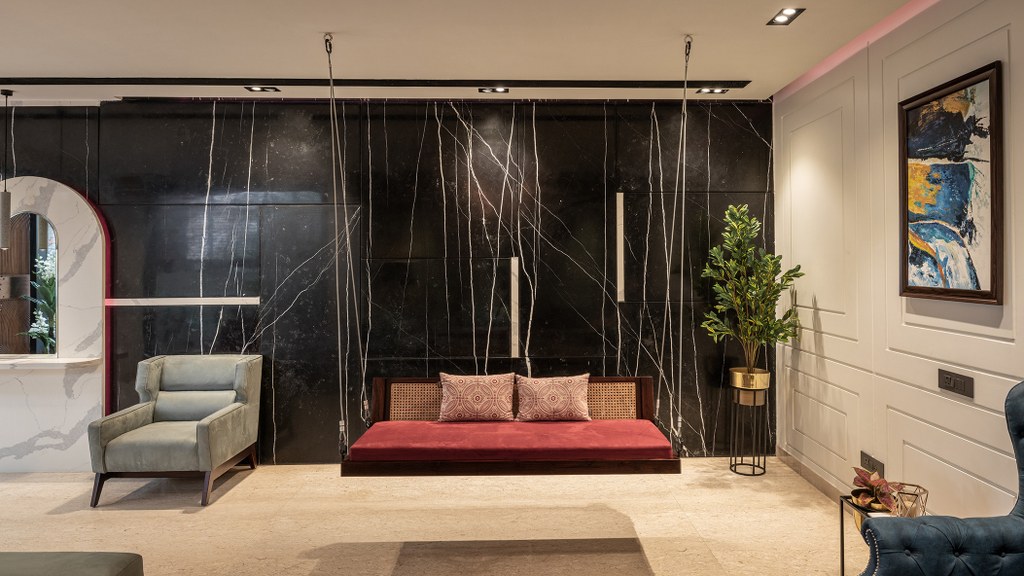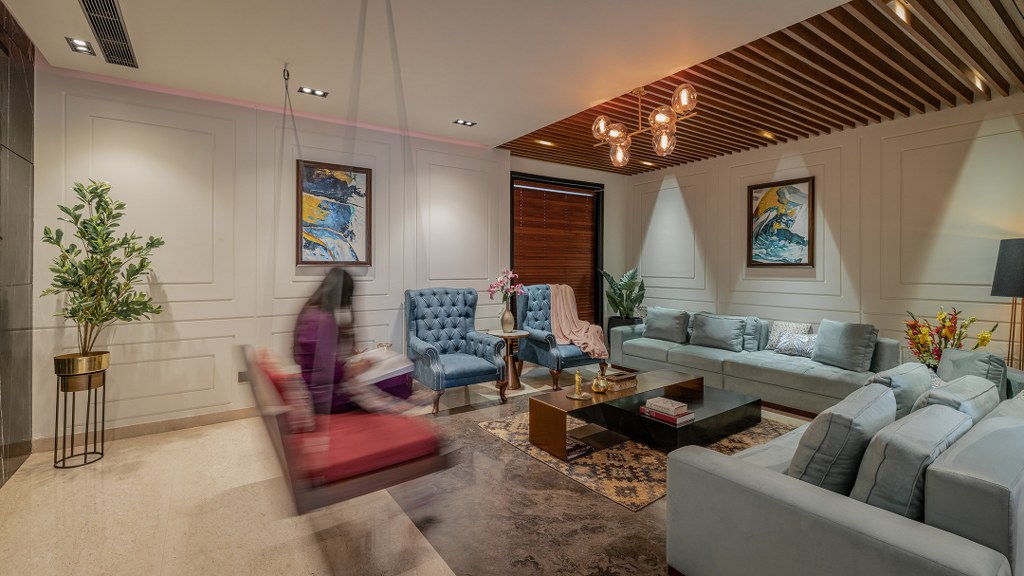 The brief demanded a clean design solution enriched with all touch points of modern family living. A space that's a whistling myriad of medleys – equal parts luxe, fun, and warm. The world can sometimes be a crucible, and at the end of the day, one comes home to refocus their senses inward. As such, the client asked the Architects "Can you fill this void expanse with energy and soul to make it feel like home for all of us?" That's where the concept of Harmony in Autonomy came about.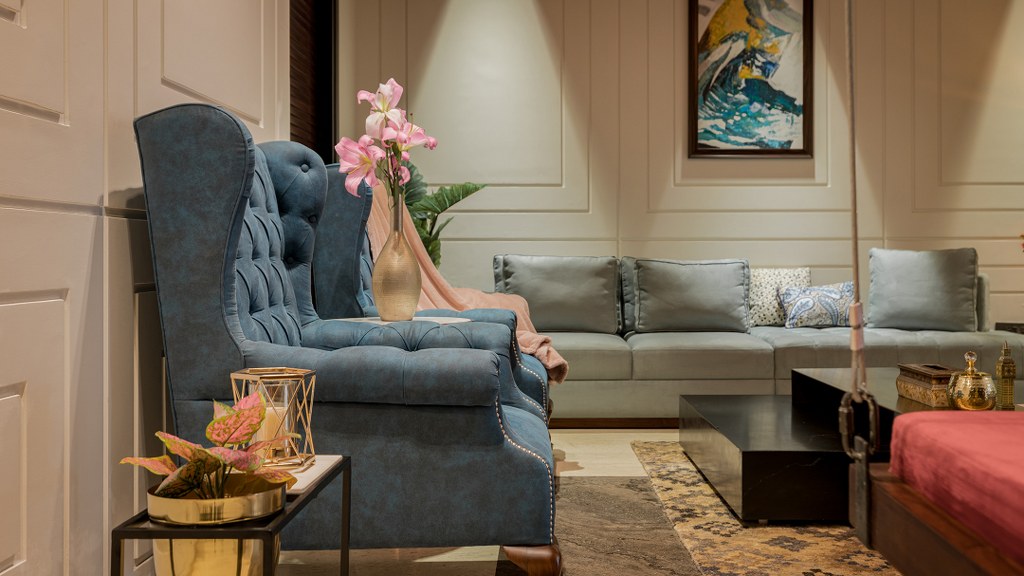 The project creates a narration of many unique sensibilities, traversing a broad length of the spectrum of design styles, that join together like a mosaic to create something new and exciting. From a placid palette in one space to rustic hues of woody browns in another, to a refreshing splash of imperial blues and cardinal reds in yet another, this home is underpinned by a cohesive weaving of discrete characters.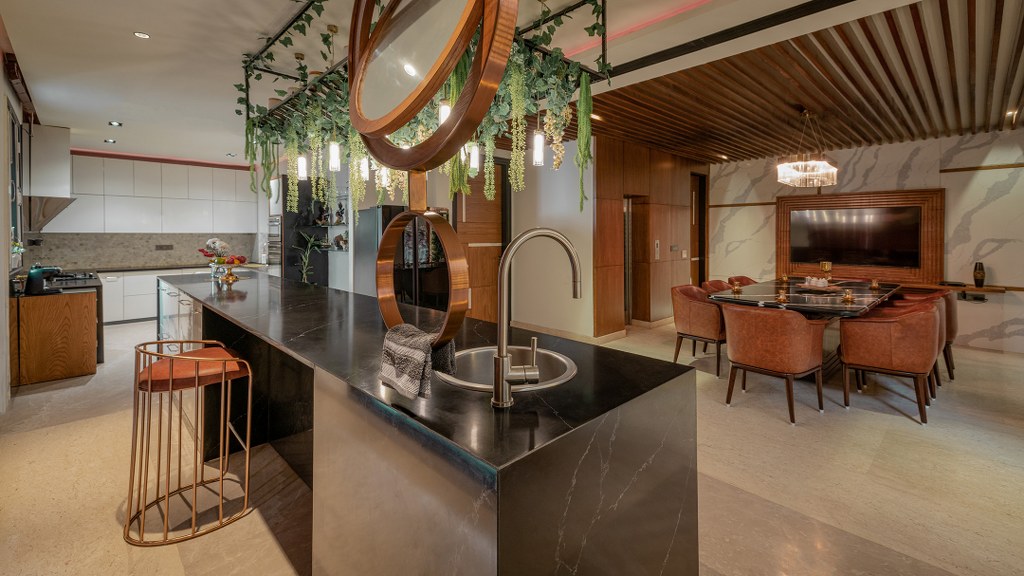 For the kitchen, the brief was to create enough storage space as well as increase the overall size to host guests and entertain, but the client was not entirely in favor of an open kitchen plan. This led to the strategic conceptualization of the layout, treating the kitchen and dining area as one expanse with astute demarcations. The kitchen ultimately is fairly concealed but extends outwards beyond its predominant working area to include an open, functional, expansive, convenient, and utility-rich island counter. Positioned right opposite the dining area, this doubles up as a serving counter and bar, privy to the chatter of informal gatherings as well as the solitude of early morning reflections.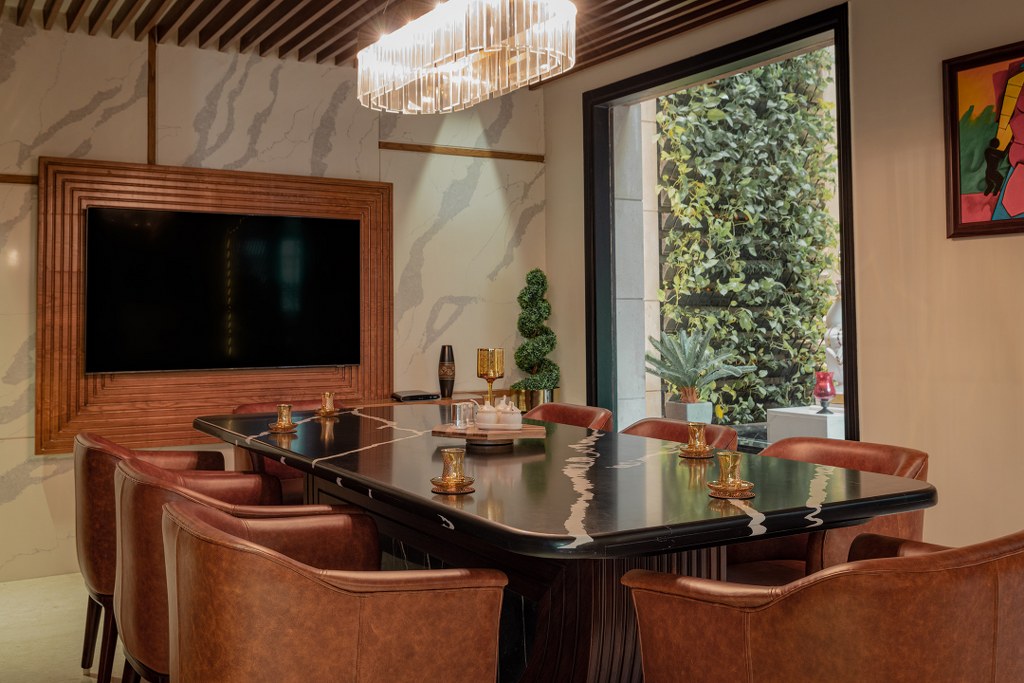 A privacy metal and wood lattice, interspersed with greens has been placed near the entrance, to shield the kitchen and dining area from uninvited obtrusion while directing intuitive movement towards the guest lounge and living area.
Plush and snug, the master bedroom is a space that's highly unique and individualistic. Featuring a striking circular arc in Black Marquina Marble, inverted and seemingly suspended in air, the room carries a floating elegance at the core of its being. This massive stone's journey was full of logistical challenges as it was procured directly from the Udaipur mines, cut into colossal arcs, and installed as is, inside the second floor on-site. Drawing inspiration from the shapes of the sun and the moon as guiding forces of nature, the marble arcs in Black Marquina and White Statuario cater to mood and function alike. An aggregation of elements – bold yet subtle, visibly luxe yet muted, set the tone for the master bedroom which also comprises a dressing area, an en-suite bathroom, and two different sitting areas.
At its core, this family home is an avant-garde production – one where pronounced materiality and sophisticated detailing techniques take center stage to achieve a luxe aesthetic; one that carries a rich endearing quirk with heaps of simplicity, one that has a fairly comprehensive yet balanced impact.
Designed for the eldest member of the family, the room features a massive fabric-cushioned bed back nestled within a modestly detailed fluted wood wall. An industrial-looking clean Khareda Stone Wall offers an elegant; sharp yet complementing contrast to the soft upholstered furnishings. These opposite faces are connected with a full wall window that allows for abundant natural light in the room. Drawing from the design ethos of the home, geometric influences, and copper accents further refine the identity of the room.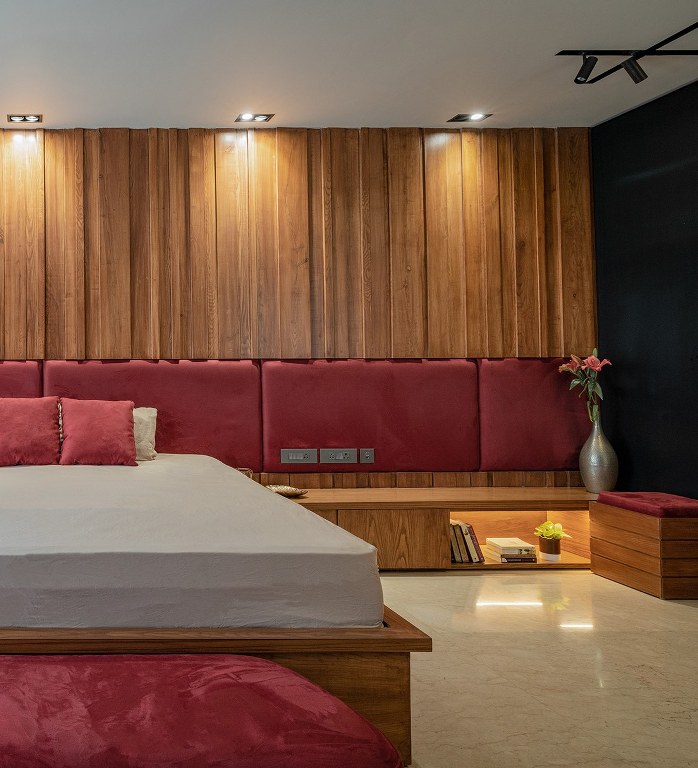 The outcome is an eclectic design solution that advocates Harmony in Autonomy – 'cause what is a family home after all, if not an ecosystem for many diverse personalities to thrive together.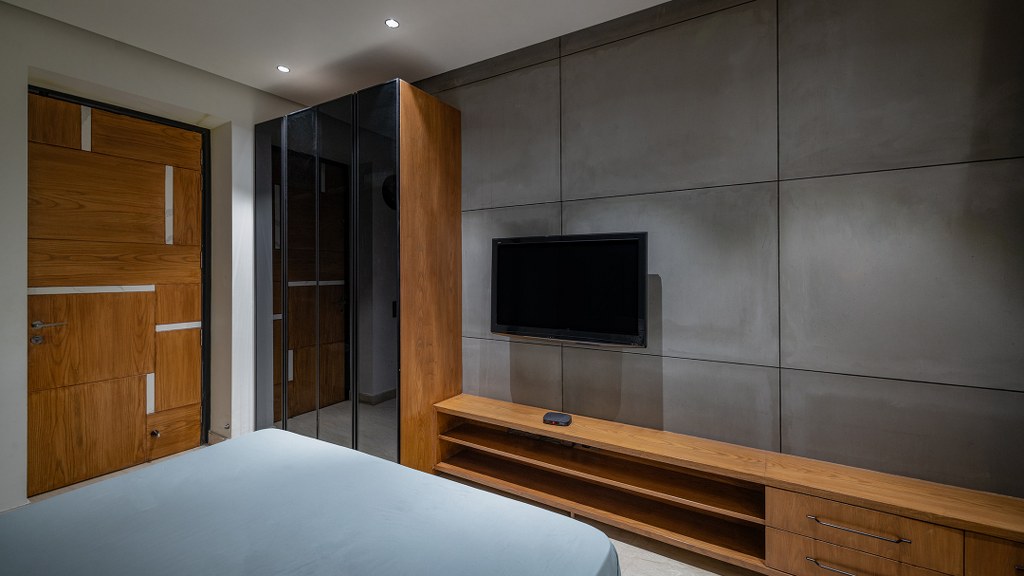 "Getting an opportunity to break free from thematic restrictions once in a while, re-emphasis how the future of design can benefit from being less ego-centric. It makes way for an evolved thought process- one that's more accommodating, benevolent, and altruistic."
An old-world charm finds modern expression inside the Library cum Study Area at The Eclectic Home. Overlooking the spiritual core of the home, this area is dressed in a rich wooden ensemble showcasing pure craftsmanship and practical ergonomics, at the forefront. The Study chairs, inspired by Frank Lloyd Wright's iconic Barrel Chair Design, fit perfectly in the space narrative to achieve a timeless and classic look, reminiscent of the whimsical Streamline Moderne style of the 1930s.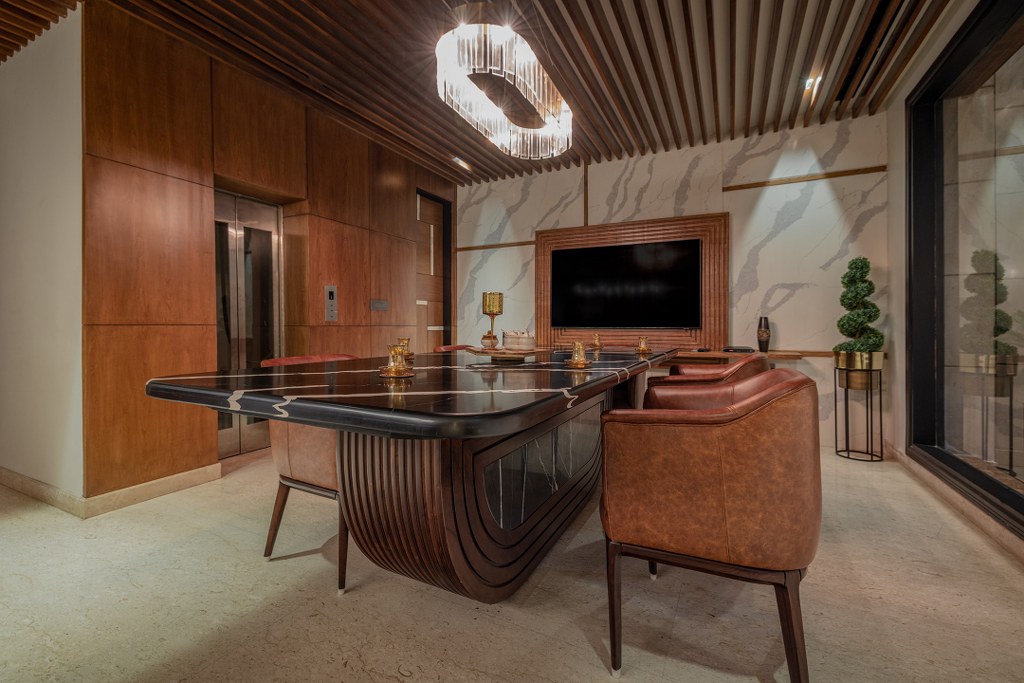 Fact File
Designed by: Logic Architecture + Research
Project Type: Residence Architecture & Design
Project Name: The Eclectic House
Location: Noida, Uttar Pradesh
Project Size: 4800 Sq.ft
Year Built: 2021
Principal Architect: Anuj Kapoor
Client Name: Sanjeev Sharma
Photograph Courtesy: Vibhor Yadav
Firm' Website Link: Logic Architecture + Research
Firm's Instagram Link: Logic Architecture + Research
For Similar Project>>> Restaurant Designed With Subtle Reflection of both Tropical and Sophistication