This Baroda home is a haven of modern and traditional values. A pure reflection to the modern Indian times, this apartment embraces modernism with a hint of traditional motifs. The focus of designers Parth & Vishal Chitte of De'Caves by Chitte Architects, was to hold on to the traditions of the client and bring in the aesthetic of modernism to this 5,000 square feet, bright and airy apartment.
This Apartment Embraces Modernism With A Hint Of Traditional Motifs | De' Caves By Chitte Architects
VISIT : De' Caves By Chitte Architects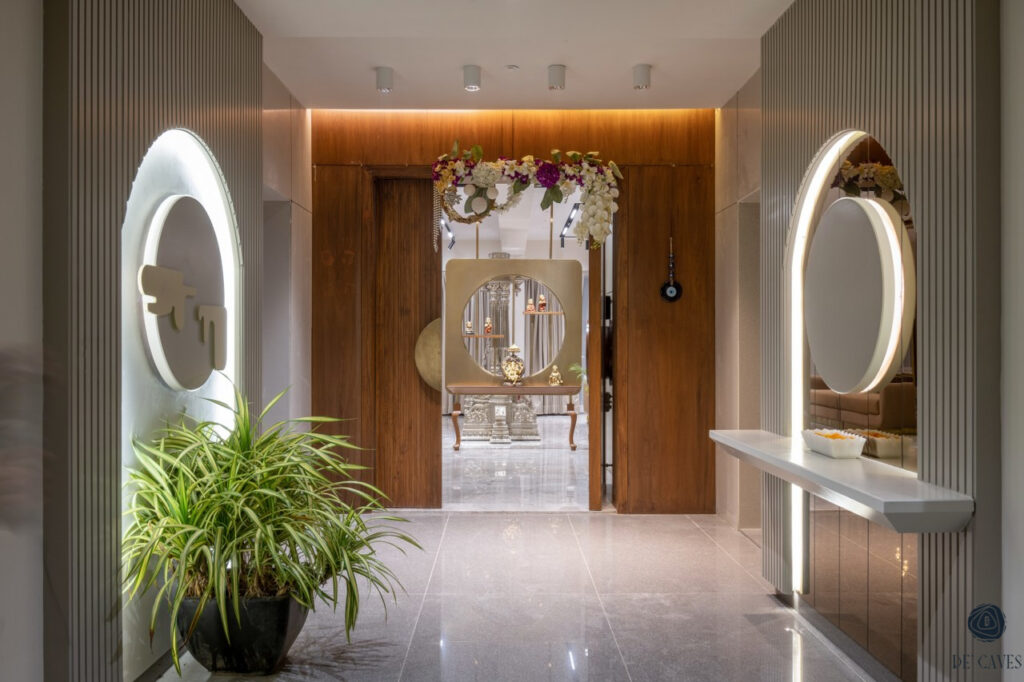 The entrance of this apartment itself sings the harmonious union of modernism and a few notes
of traditionalism. With an arched articulated pathway, it leads you to the grand teak wood door.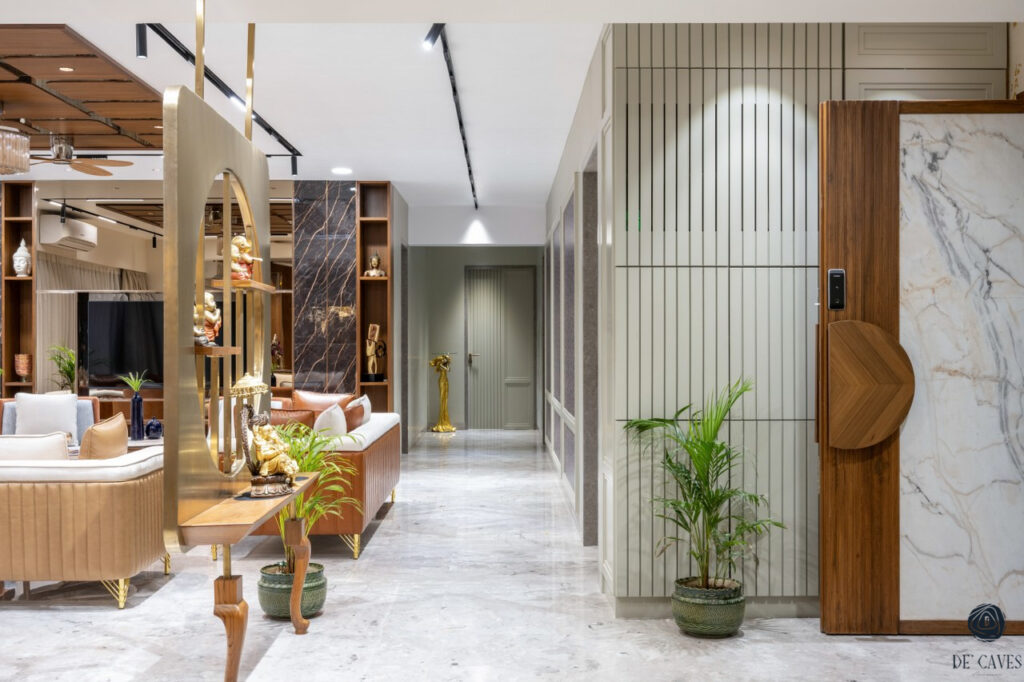 A conscious thought of not making a clear demarcation between the living area and dining area was made by the architects so as to keep the linearity and the vision flowing.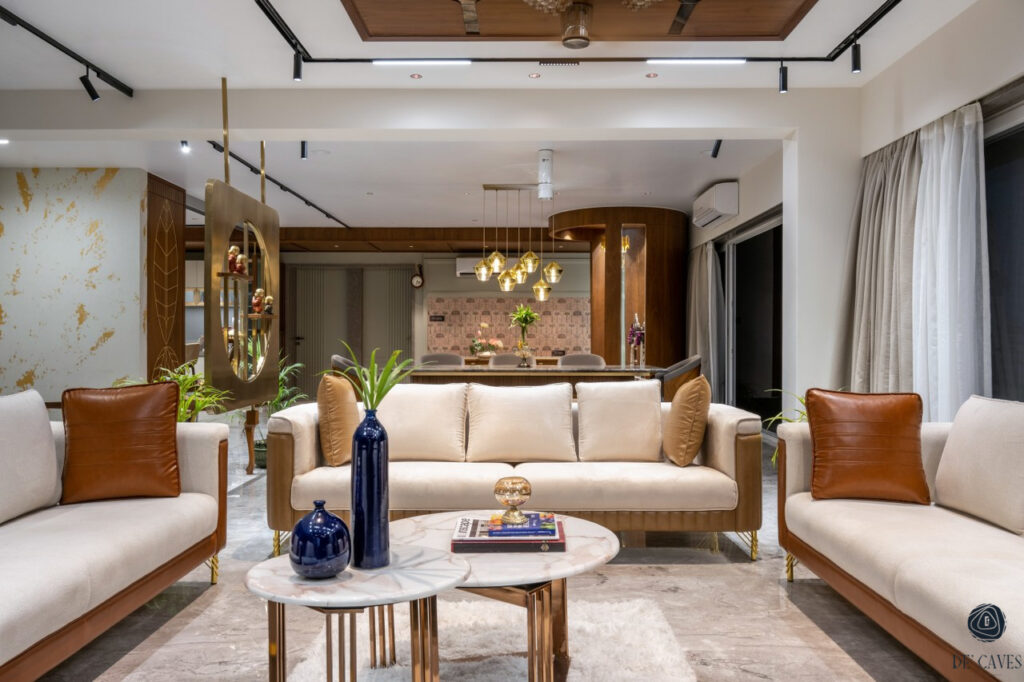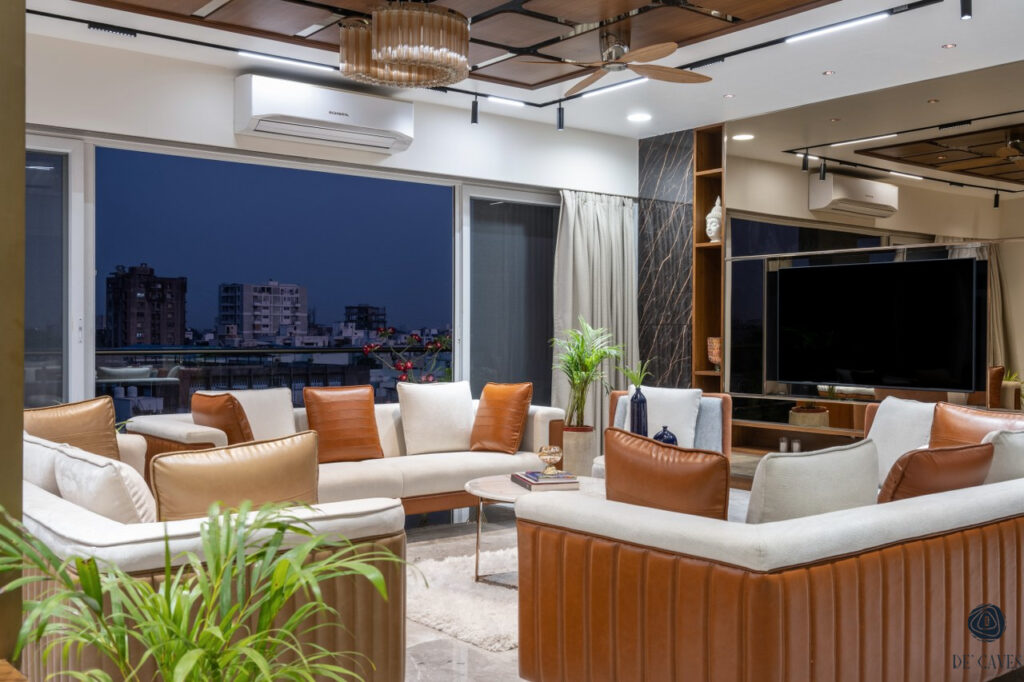 The seating arrangement is done facing the tv unit, which is meticulously done in a rich combination of marble and teak. The mirror inlaid in this tv unit makes this extensive room an illusion of a double volume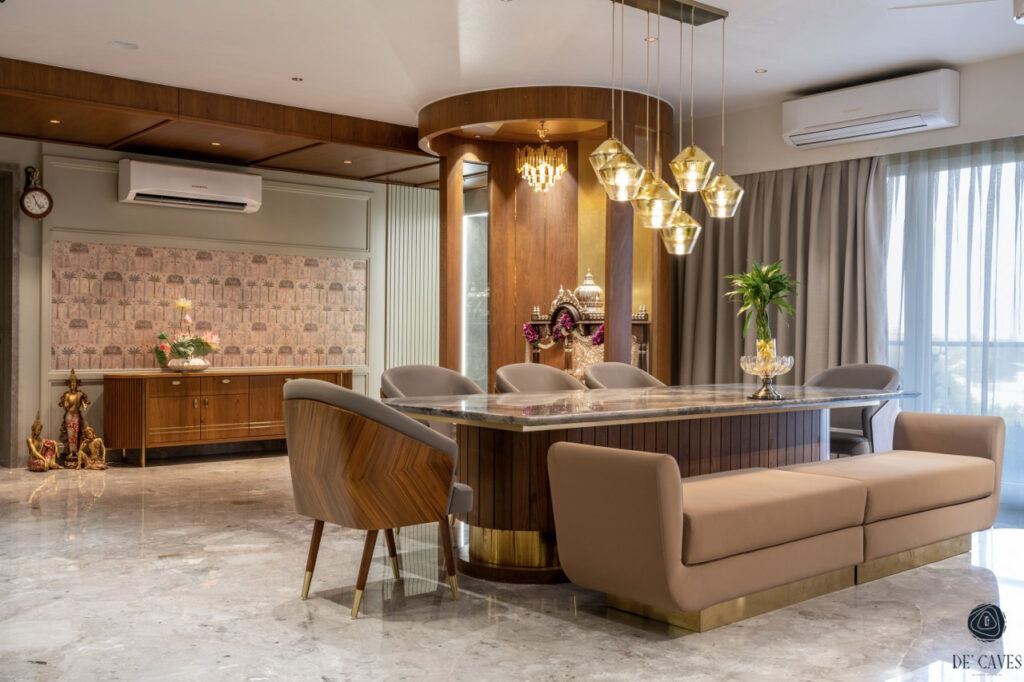 The dining area is adorned with custom designed dining table and chairs by the designers in a contemporary style. The teak wooden support with a gold inlay detail holds the rich Italian marble top while the chairs are also done in a walnut teak and gold detail with a subtle upholstery in grey tones.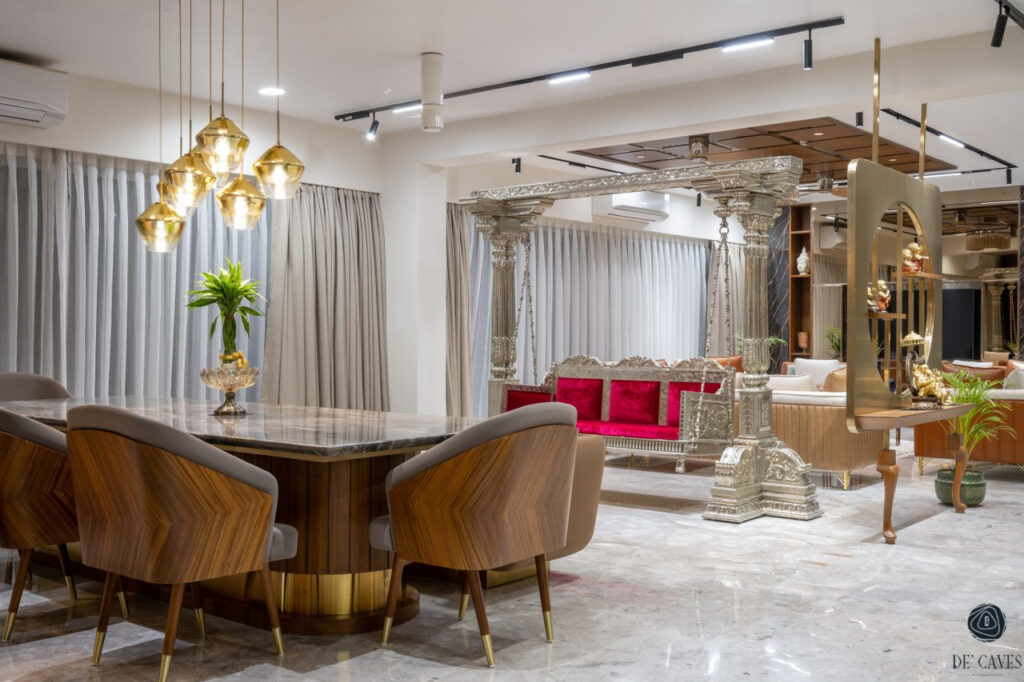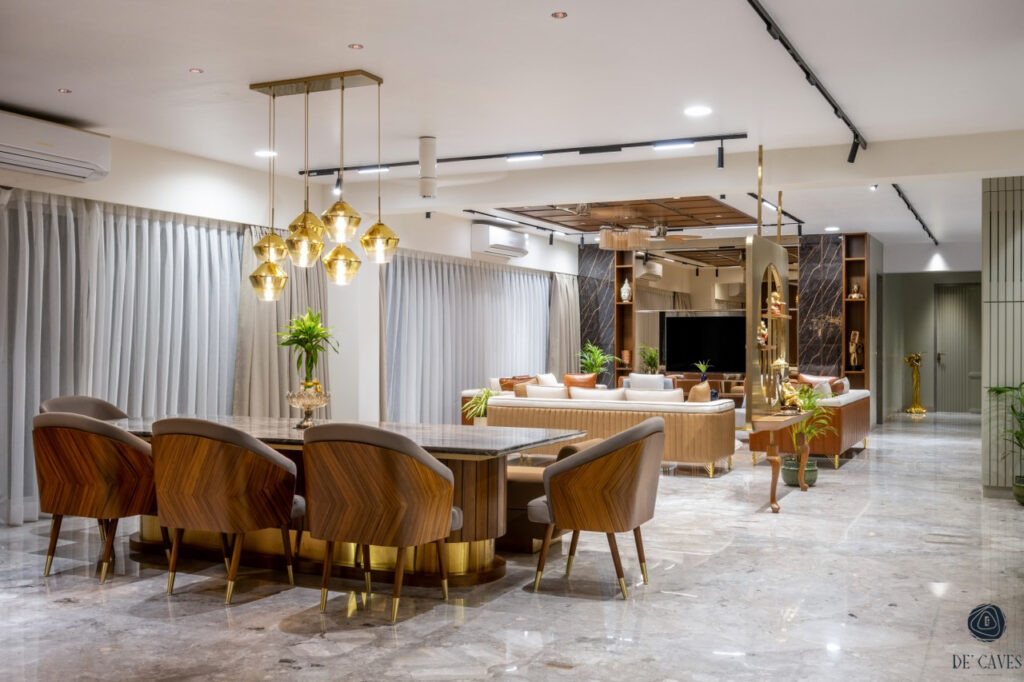 Although our general perception of a temple is that it'd be a traditional one with Indian motifs, this is a unique and minimal cylindrical structure that goes up to the ceiling. An element of highlight to their heritage temple which has been passed on through generations , is given by the teak wood with a gold inlay.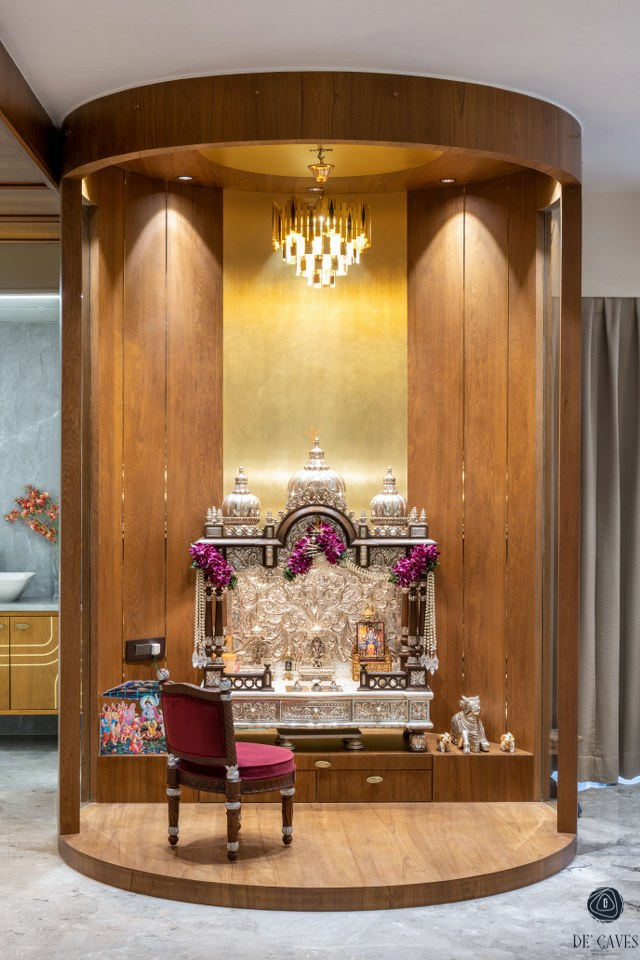 The area adjacent to it is ornamented with Sabyasachi wallpaper and the wall molding looks as if it frames the intricate wallpaper, which also becomes a pleasing background to the antique Ganesha murti that is placed on a sleek console table with a minimal brass inlay.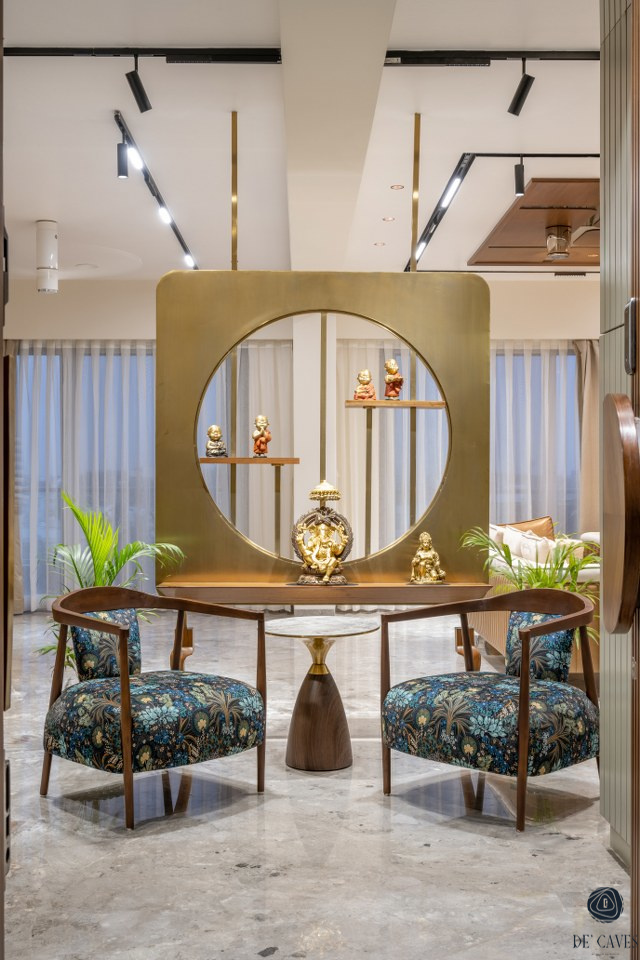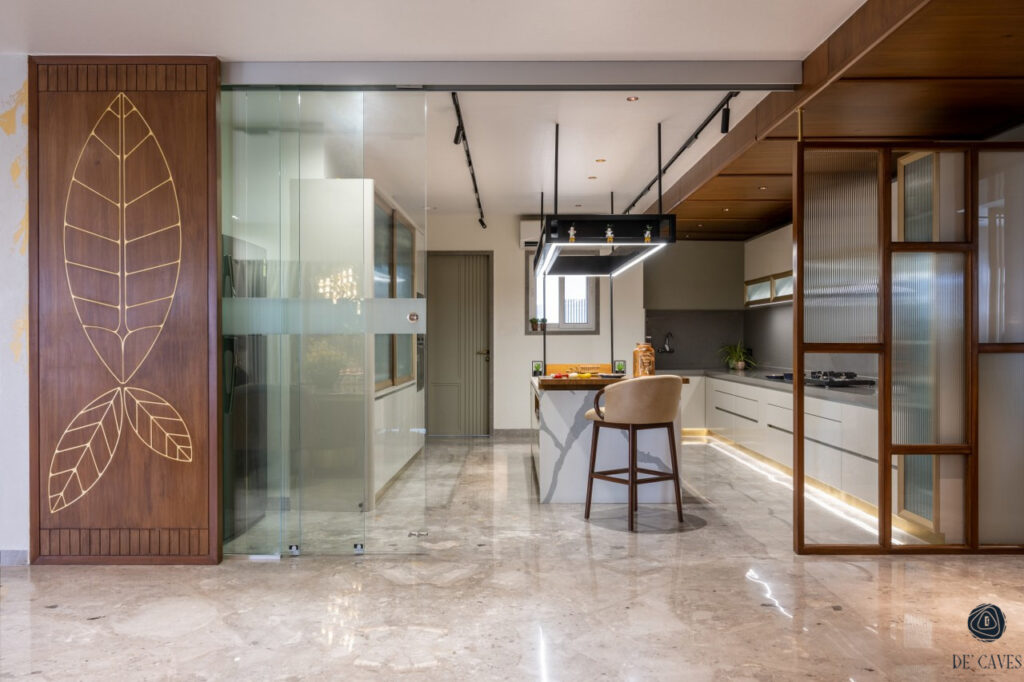 The gallery-style kitchen chooses a grey and white finish instead of warm browns. It is created with a modern aesthetic to maximize storage capacity. The highlight of this space is the island work space with a breakfast counter with a hanging storage and light fixture specially made to give it a sleek look.
The design approach of the designers was to do a play of wall texture , colours and illusions. While the feature wall is done in a subtle green wall paint texture, it grants the bed a compositional backdrop. The bed is one of the many unique elements of this apartment, it looks as if it ascended from the ceiling with four supports holding it down on a deck.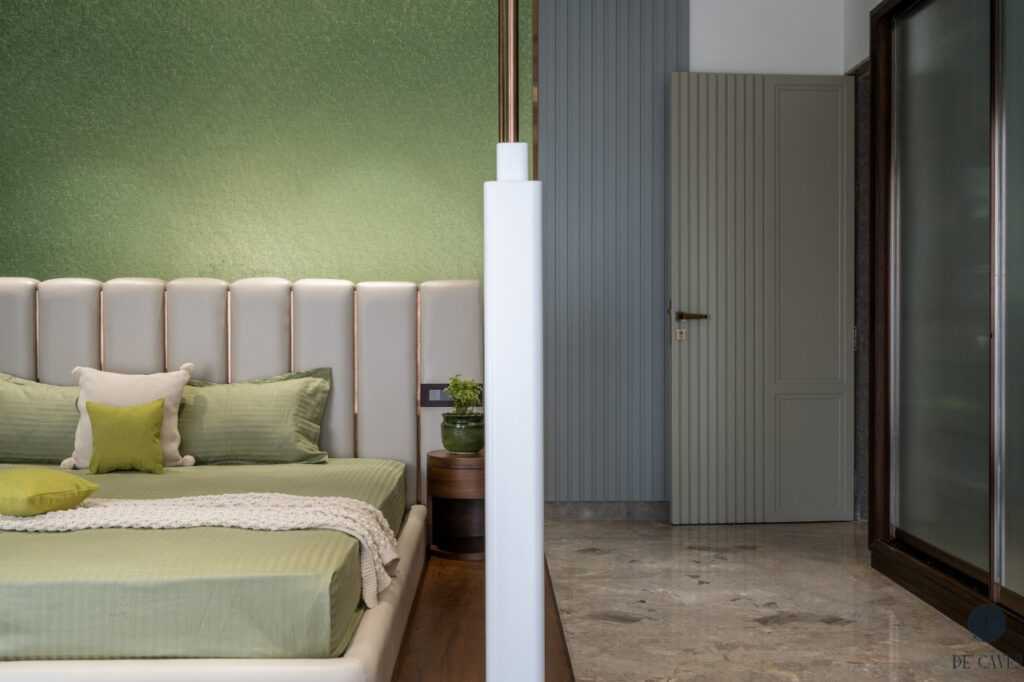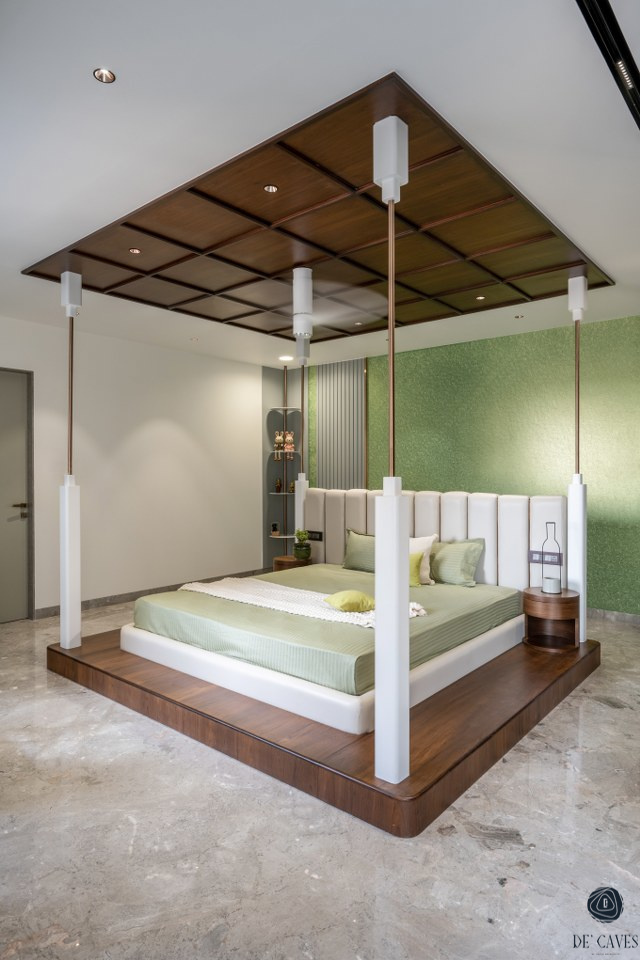 This room is also their daughter's pet parrot's abode for whom a special open cylindrical structure has been designed. A perfect combination of grey, white, green and brass attracts more natural light despite it being on the side of the building which is shaded by the buildings adjacent to it.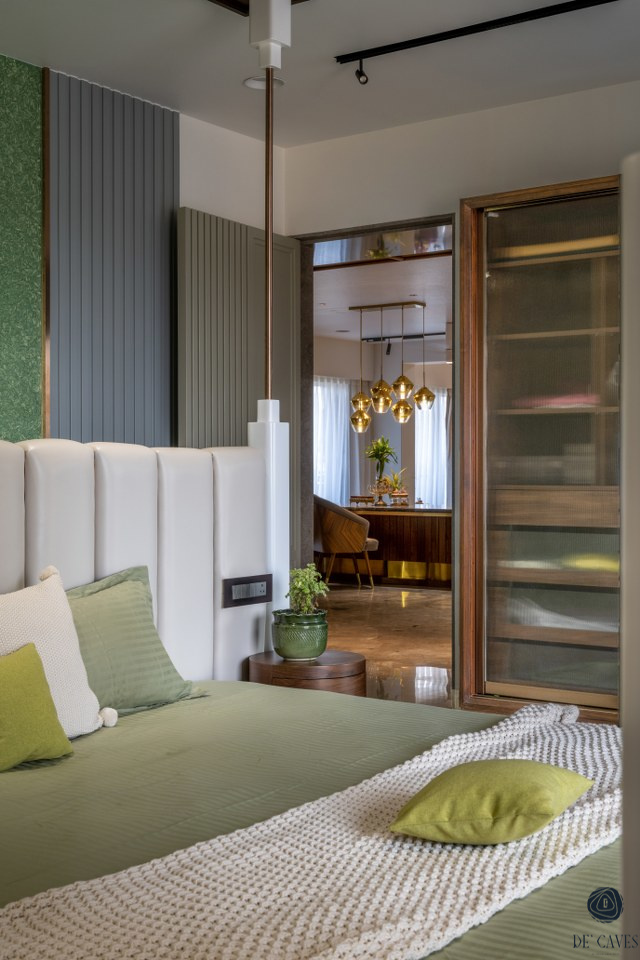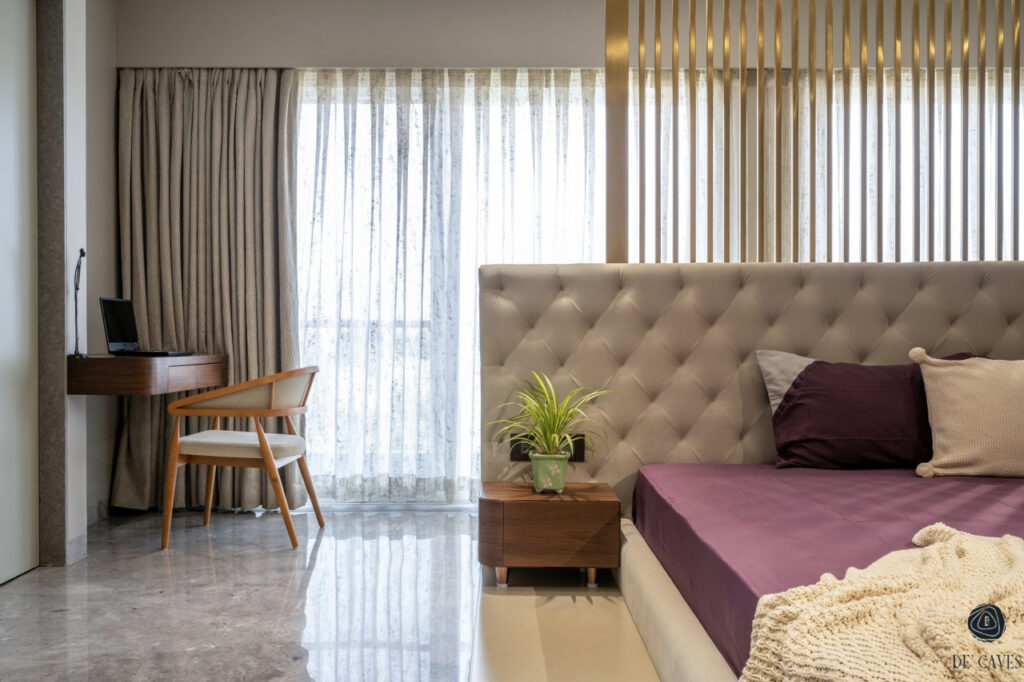 Their elder son's room speaks luxury , done in beige tones, the bed becomes the centre of the room. A matte brushed gold bed back becomes a support to the loveseat-sofa behind it that has a beautiful view of the city scape.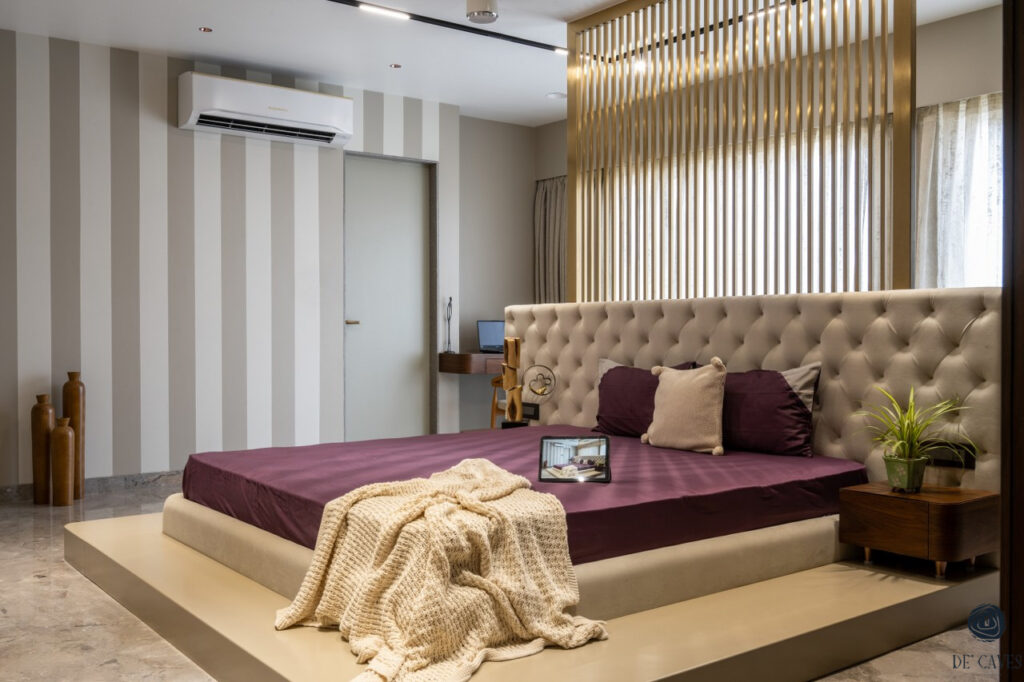 The effort was towards creating different pockets of functional areas in this room. A sleeping area separated from the walk in wardrobe and dressing area.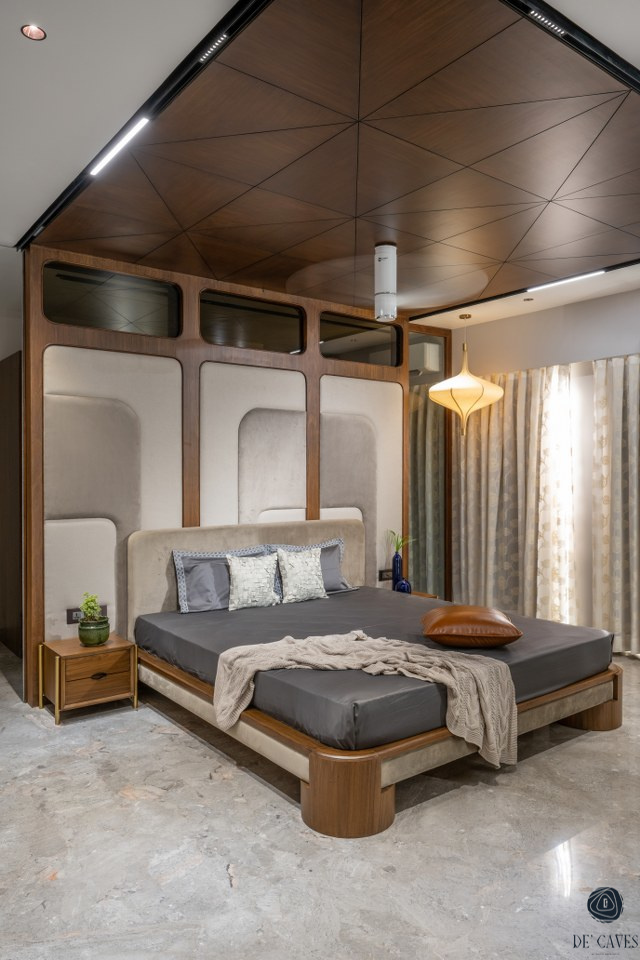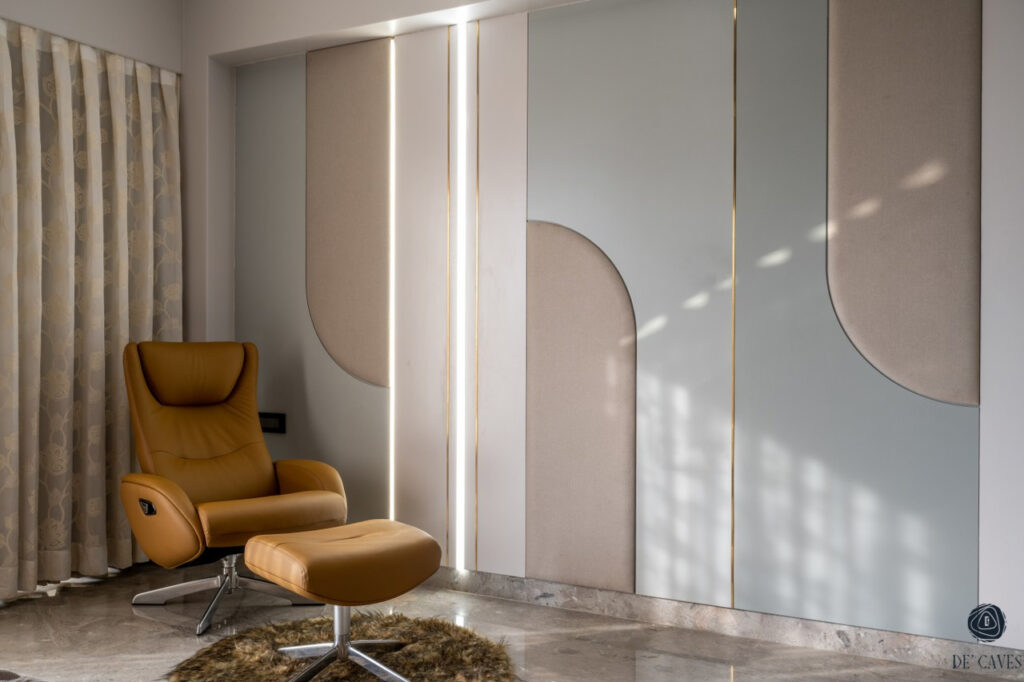 A pleasant reading corner was designed with one side overlooking the city and the other with an abstract composition of rectangular and semi-circular forms. The dressing area is separated with a sliding door giving it the privacy it requires.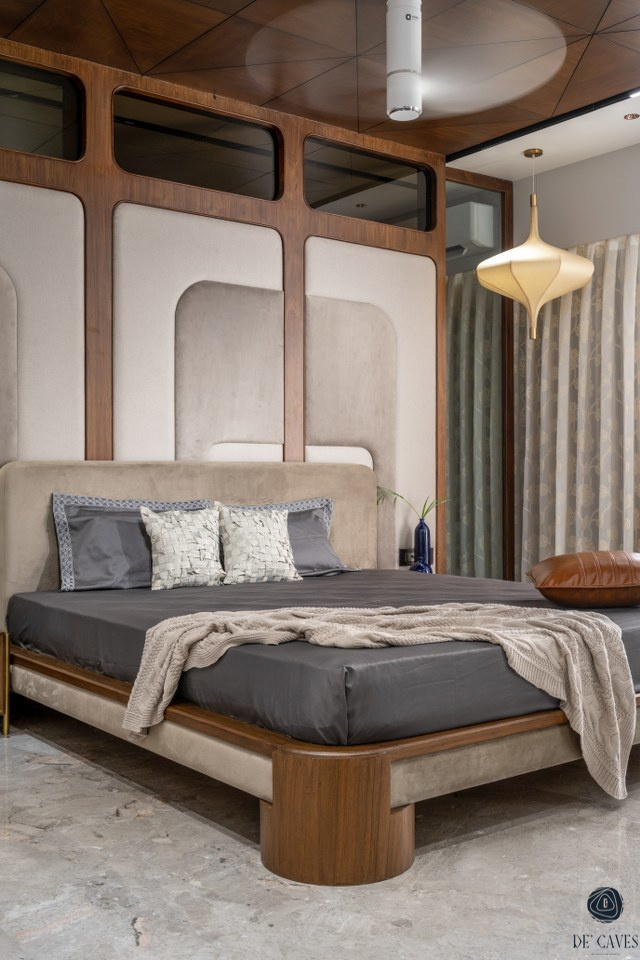 Natural light and breeze flows in abundance in this room. To withhold this brightness and airy nature of this room, a pastel coral blue runs throughout the room. The bed design is unique where the support itself modifies into a sitting space.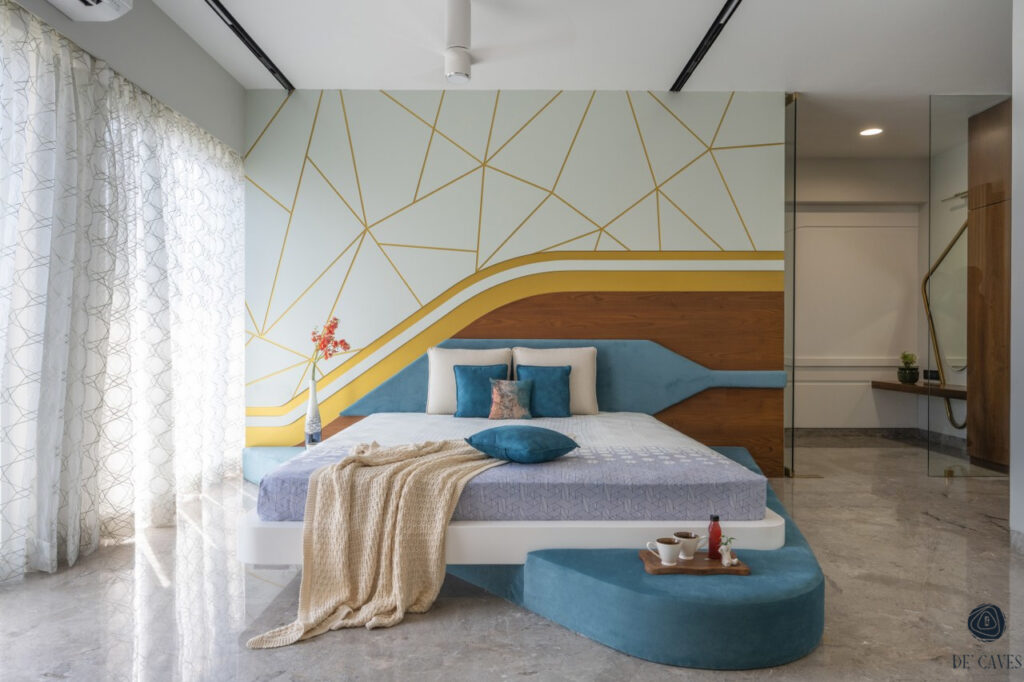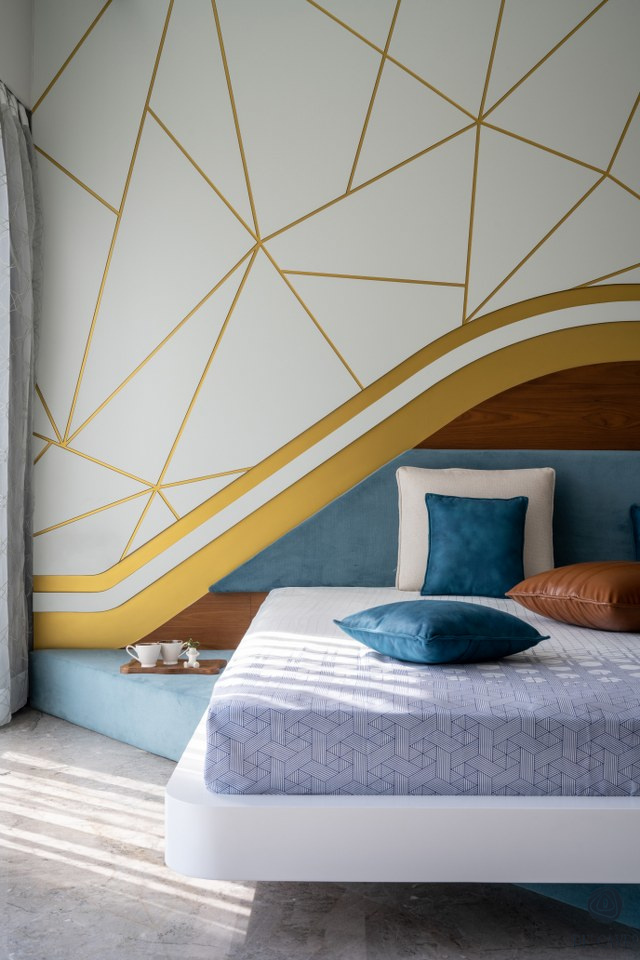 The bed back , study table and the wall panels have been designed in a way that depicts movement and dynamism. One can feel as though this same thought process runs through the dressing area as well.
The washrooms in this apartment follow the same design language as their respective rooms. Incorporated with wardrobes and a dressing table these washrooms are plush and speak of luxury through sleek gold details, top notch washroom fixtures and use of premium tiles.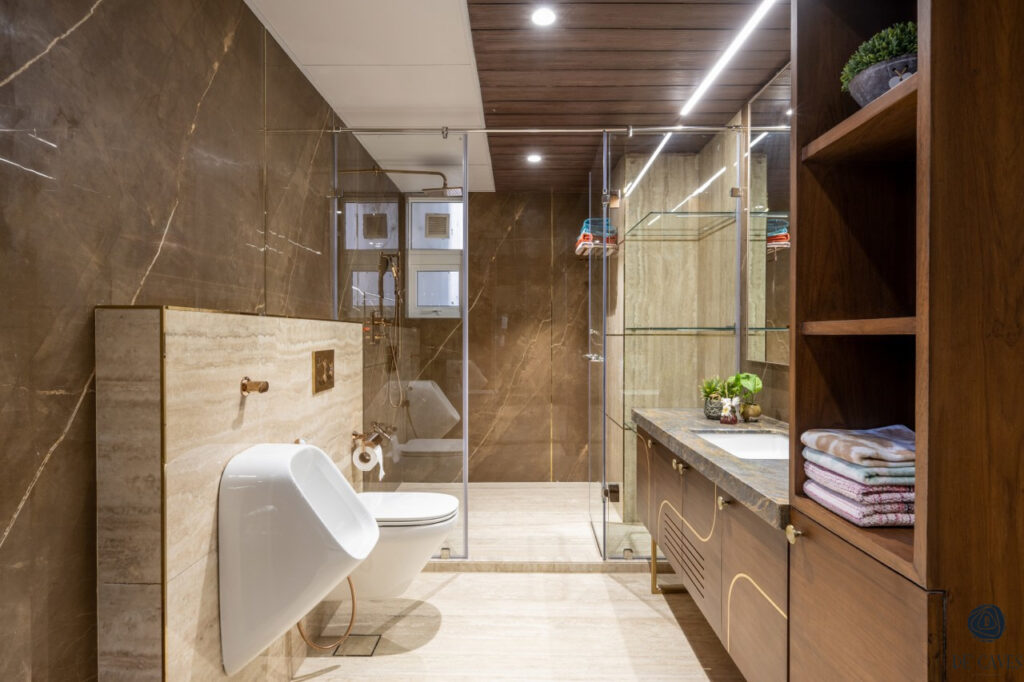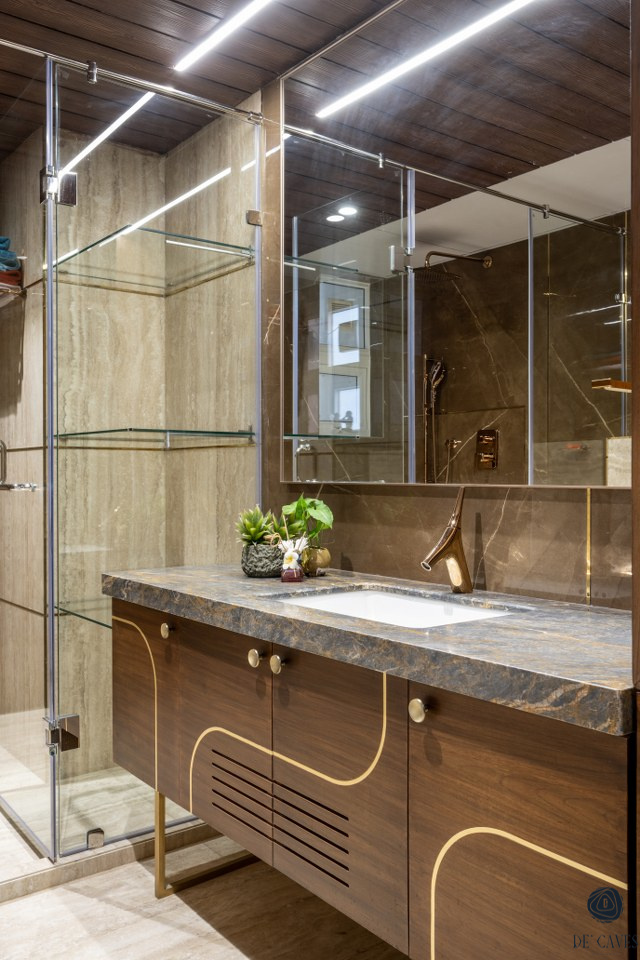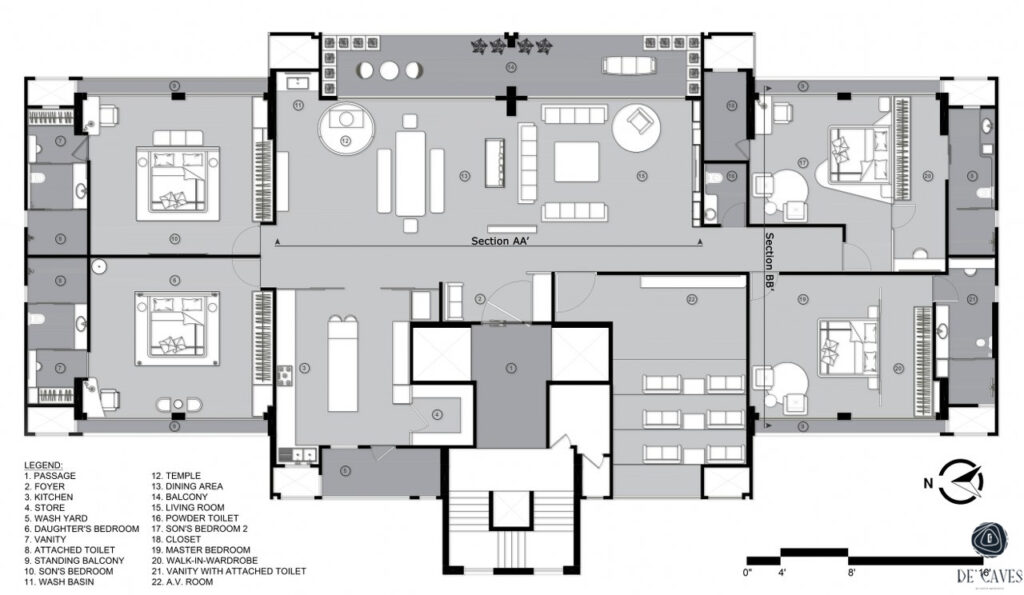 Fact File
Designed By : De' Caves By Chitte Architects
Project Type : Residential
Location : Baroda
Principal Architects : Ar. Devendra Chitte, Ar. Parth Chitte & I.D. Vishal Chitte
Photograph Courtesy : Murtaza Gandhi
Team Design Credits : Ar. Riya Kavathia, Ar. Mansi Gadkari, Ar. Rati Kanetkar, Ar. Rudra Patel, Ar. Rohit Mehta, Ar. Abdeali Amreliwala, Ar. Priyank Makwana, ID. Yukta Patel, Manushi Sheth, Darshan Patil.
Write up : Ar. Rati Kanetkar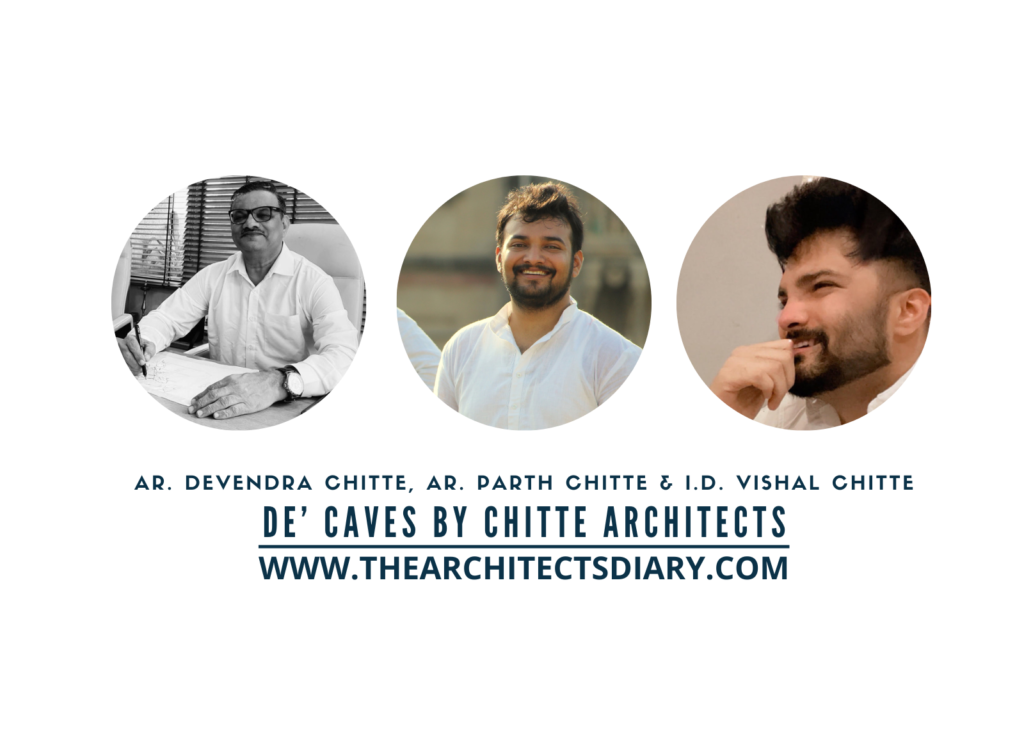 Firm's Website Link : De' Caves By Chitte Architects
Firm's Instagram Link : De' Caves By Chitte Architects
Firm's Facebook Link : De' Caves By Chitte Architects
For Similar Projects >> THE FINEST MASONRY SETS AN EARTHY TONE TO THIS WEEKEND HOME