&nbsp
The Home For An Industrialist In Hyderabad | Dev & Kaushik Architects
A home for a known Industrialist's family in Hyderabad. Brief was to design a very functional home with pleasing aesthetics. Located at a prime area in the city, this space is on the 14th floor of an apartment complex, with beautiful views of the city around. Interestingly, this home is an amalgamation of two, 4-bedroom flats into a single home on the same level. The clients were passionate to make a space that also reflected their personalities, and carry forward memories from their old home.
VISIT : Dev & Kaushik Architects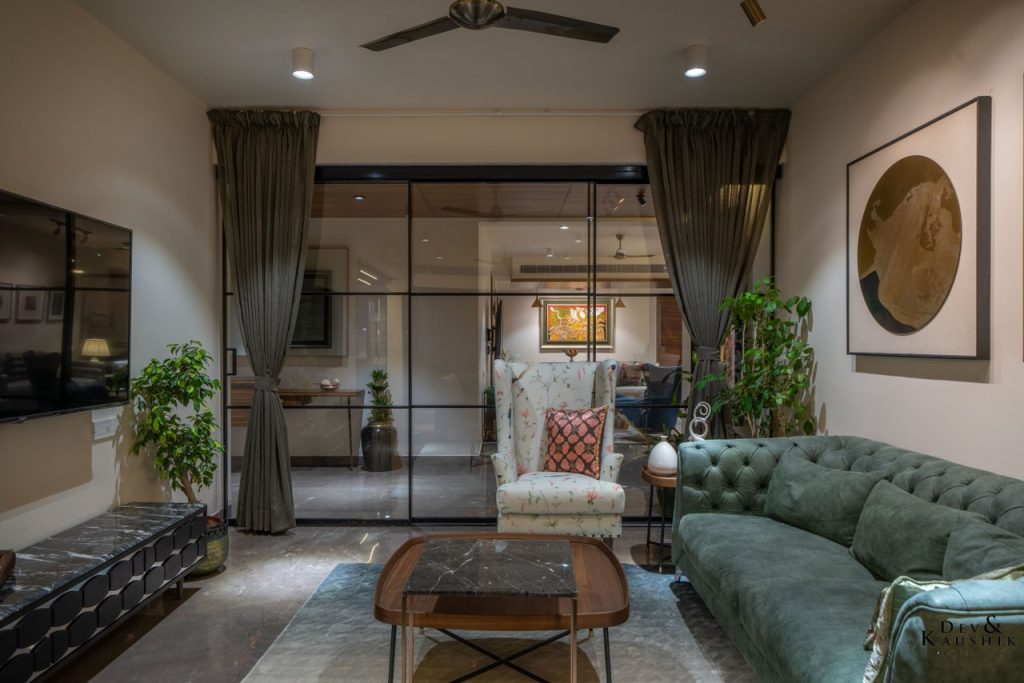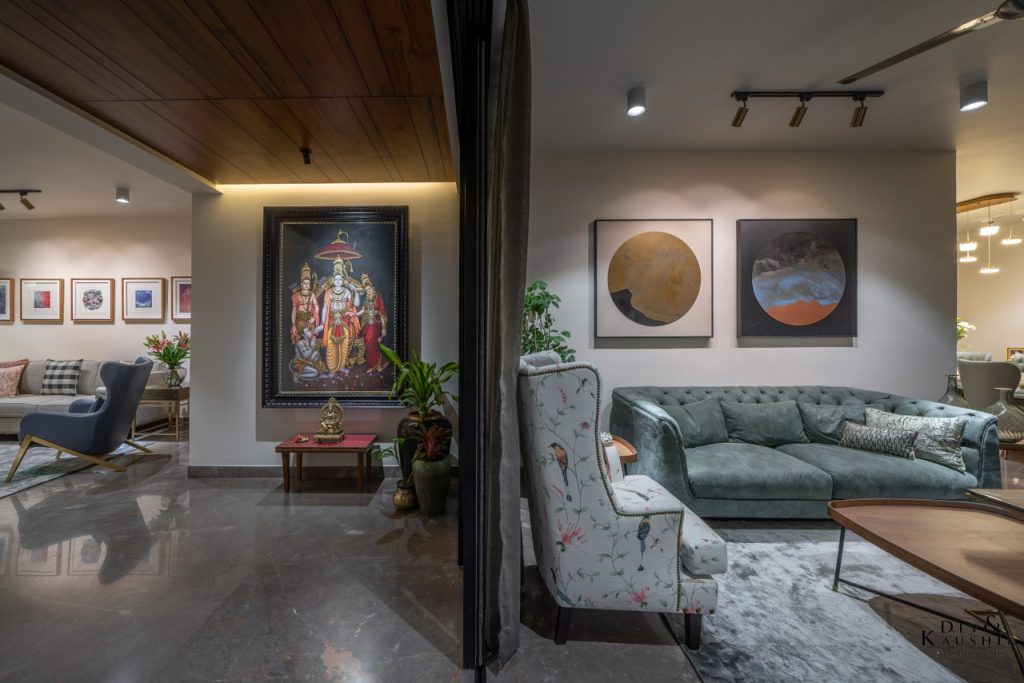 WHAT WAS GIVEN TO DESIGN ?
Two different 4-bedroom flats facing each other, to be clubbed together to make a single home. We were approached by the clients much in advance, even before we had the basic shell to work with.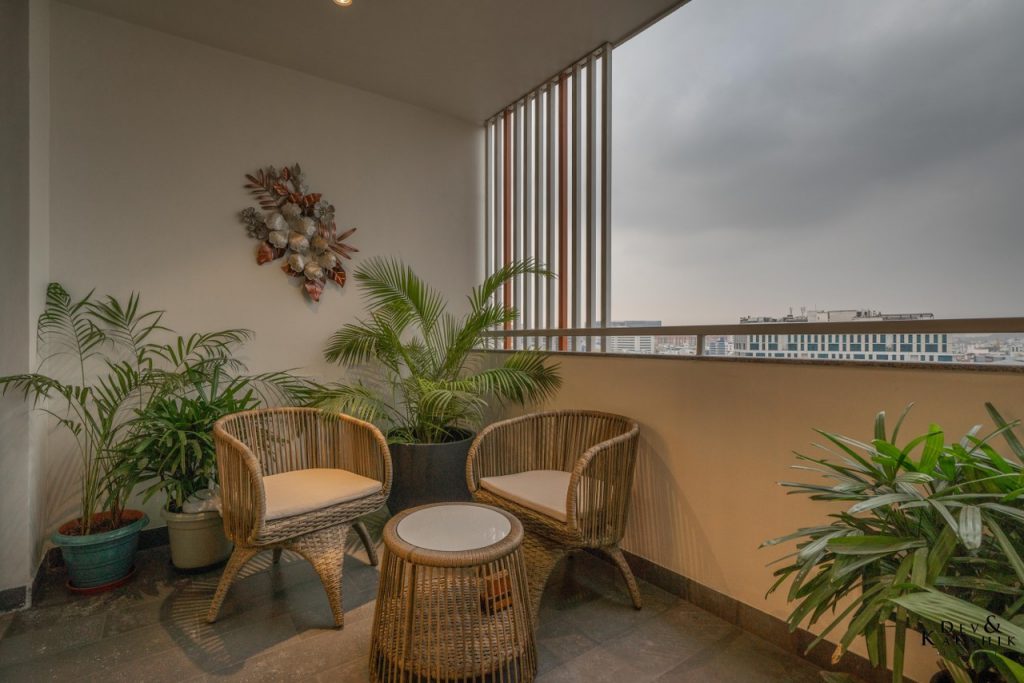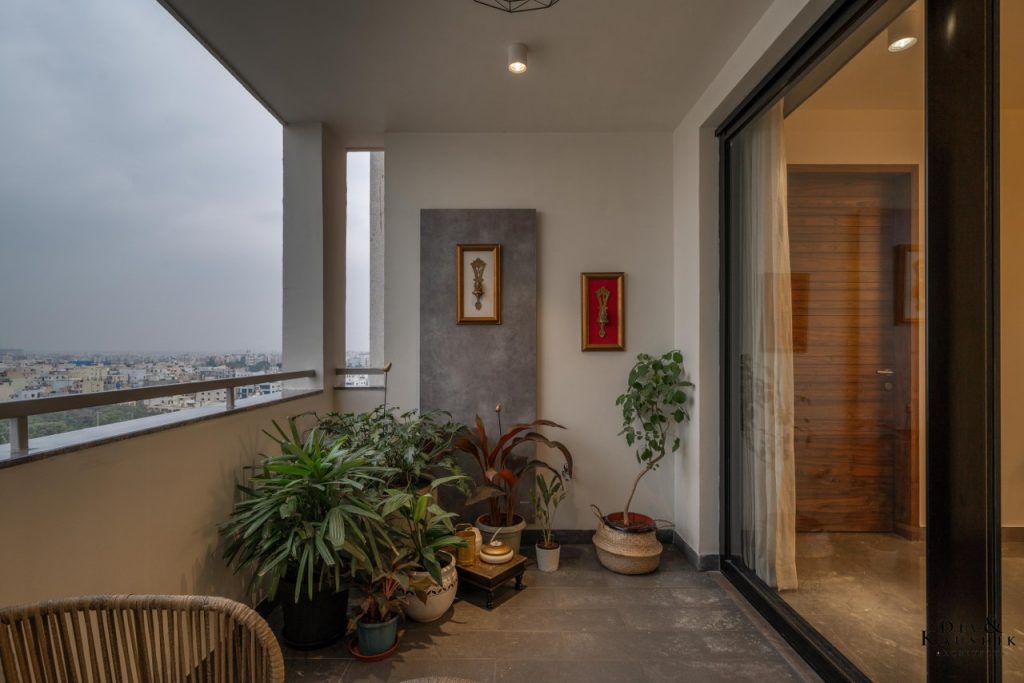 We realised that only the 7th floor of the 14 floor apartment complex was built yet, as we entered the project. So, what we think we were really offered was a brilliant opportunity for a big transformation.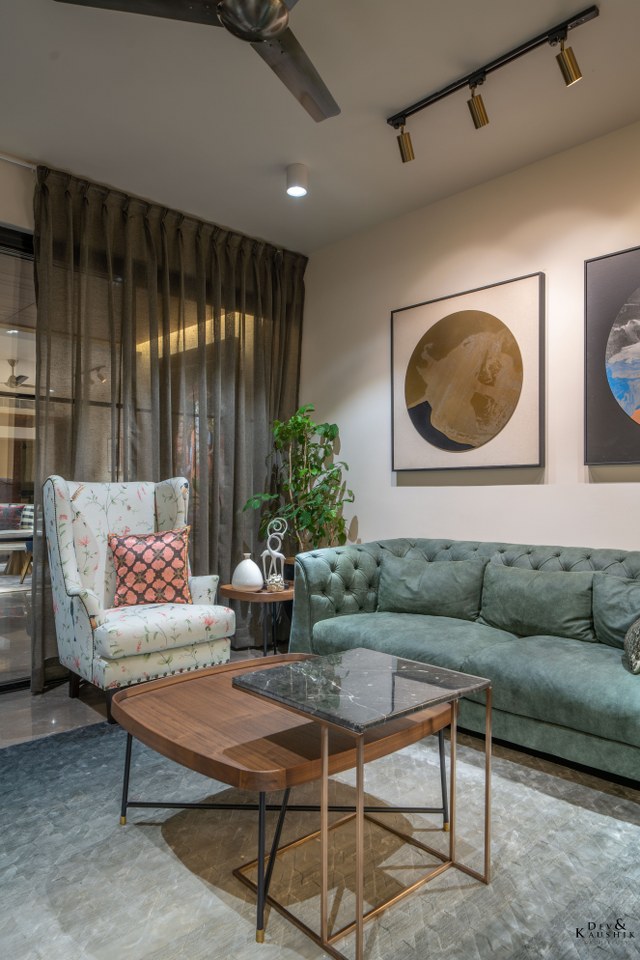 The challenge was more like, to join back two separated twins back into one. Each flat had its own, public and private spaces. Re-imagining all these spaces to be tied-up into one with a string that elegantly blended into each other functionally and aesthetically was very exciting.
We realised this was beyond just an interior design. This had to do with major Architectural changes and improvements.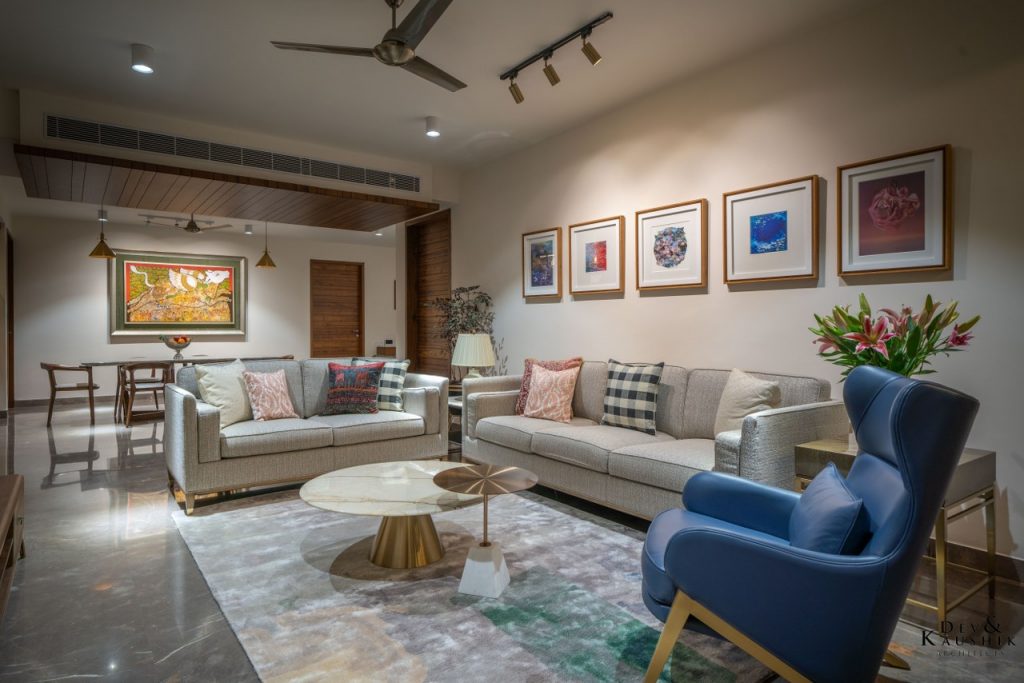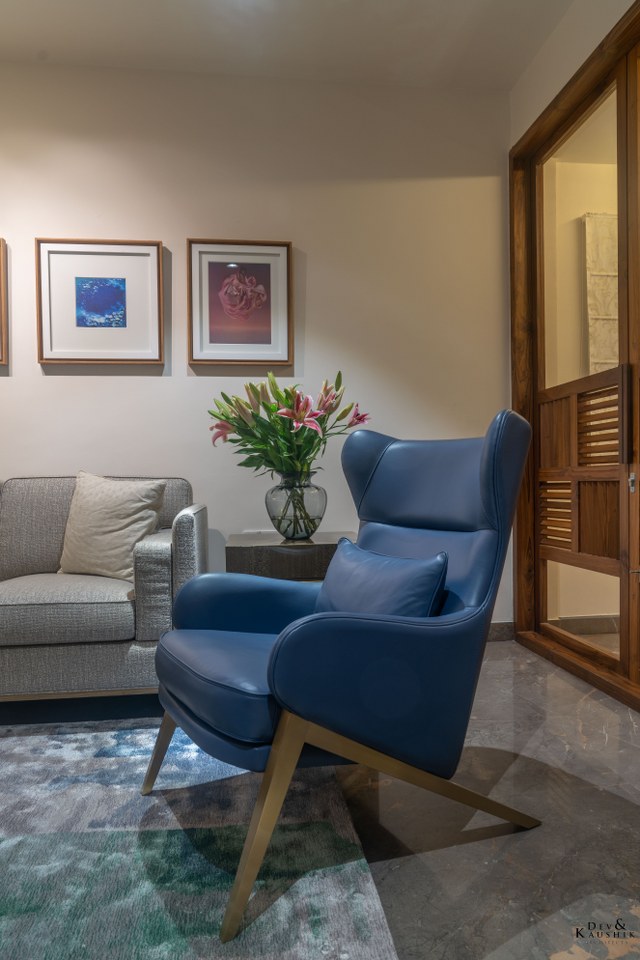 TRANSFORMATIONS
STRUCTURAL CHALLENGES:
There were challenges with respect to making changes in plan
keeping the beam and column layout as planned by the builders.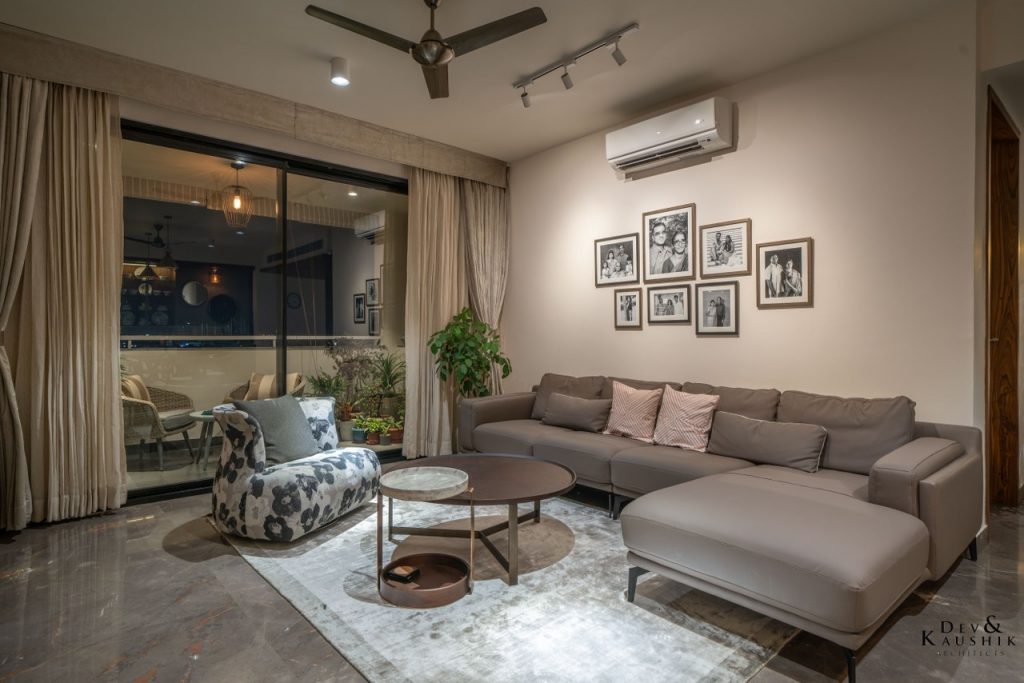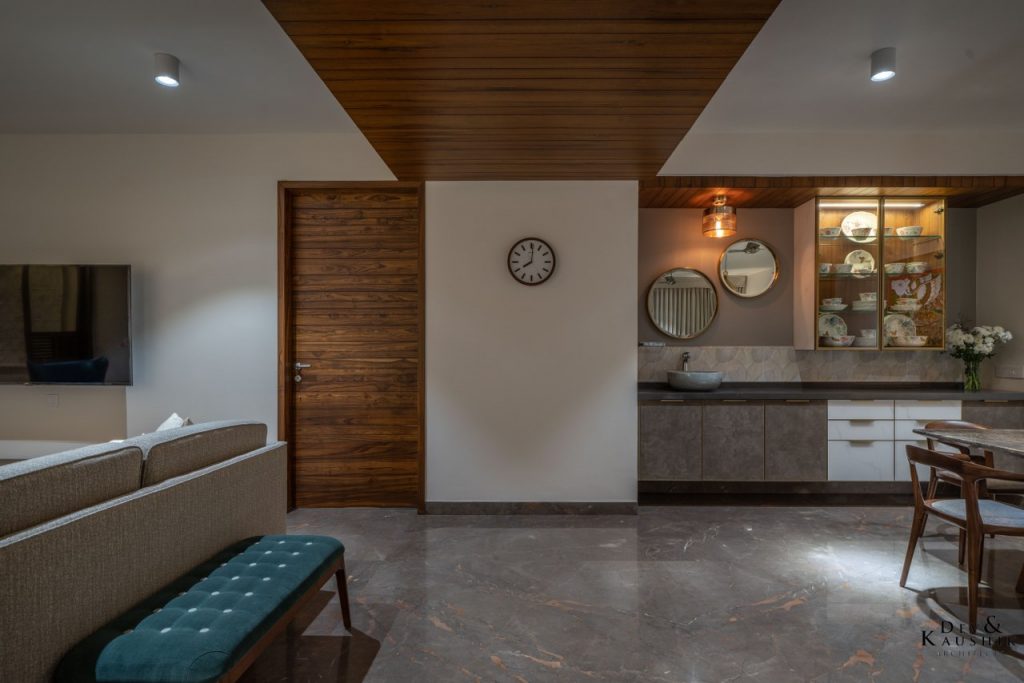 MASONRY LAYOUT:
Masonry layout of most of the rooms in both the flats were changed to suit the client's requirement, much different from the layouts offered by the builder.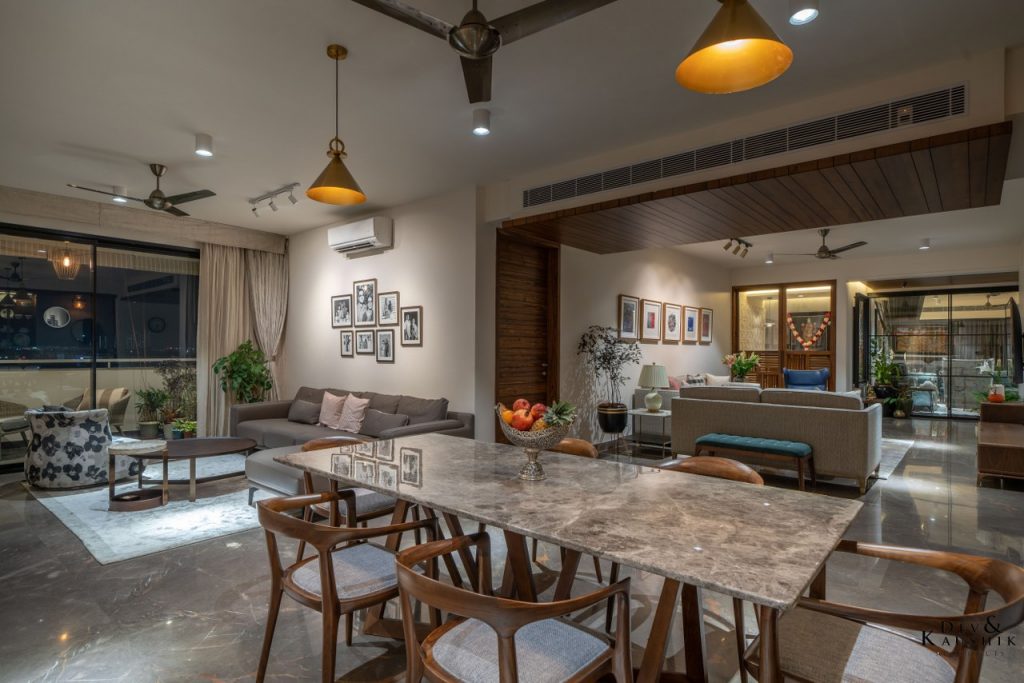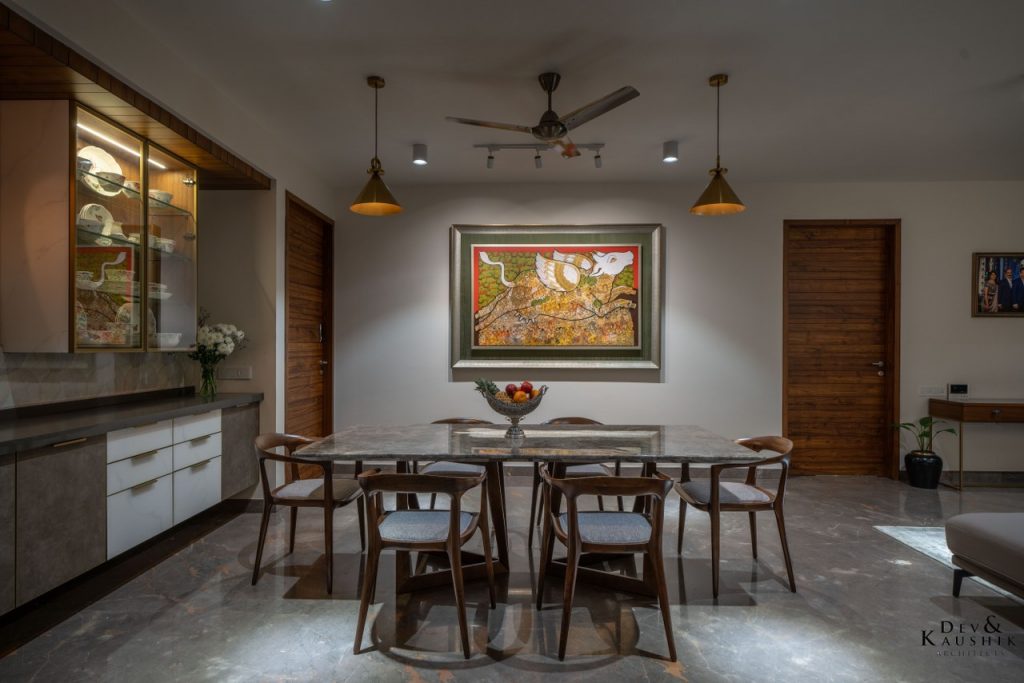 RETAINING THE HEIGHTS:
The clients were deeply concerned about the height of spaces. Having false ceilings was not preferred much. Thus none of the drawing, living, dining, kitchen, bedroom areas have false ceilings. Although selectively false ceiling was done purely to camouflage the HVAC lines only.
Having no false ceiling, as well as changes in the masonry layouts, lead to a complete re-planning of electrical layout so as to have the
electrical points directly in the casted slab bottom in order to directly use the surface mounted light fixtures and save on the height. What we achieved was a clear and lavish height that was not very usual to apartments generally. Also saving a lot of expense on false ceilings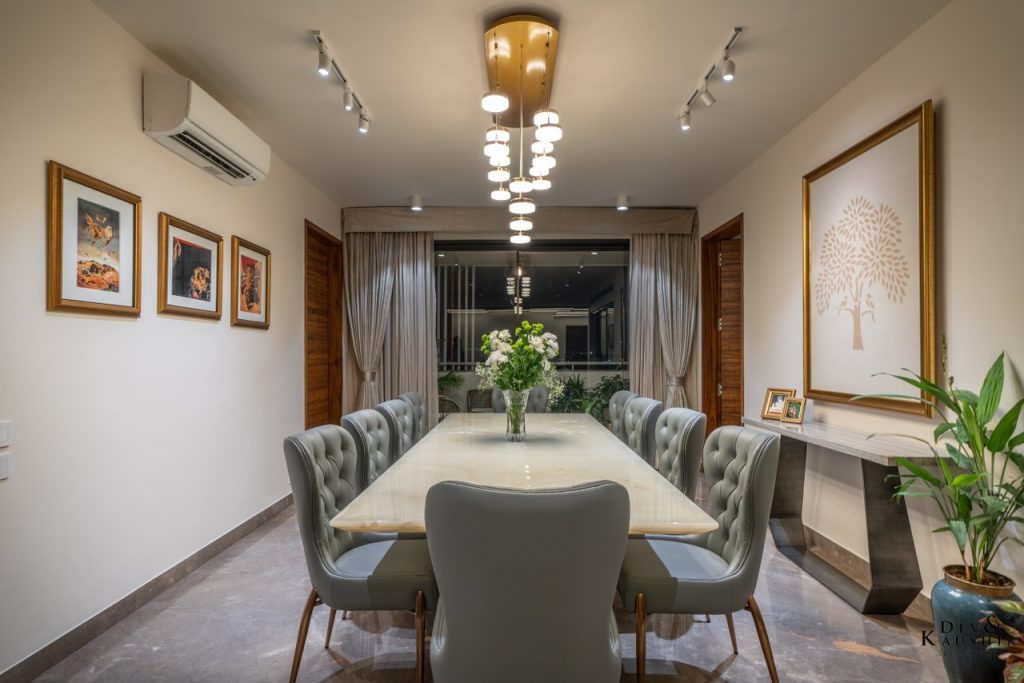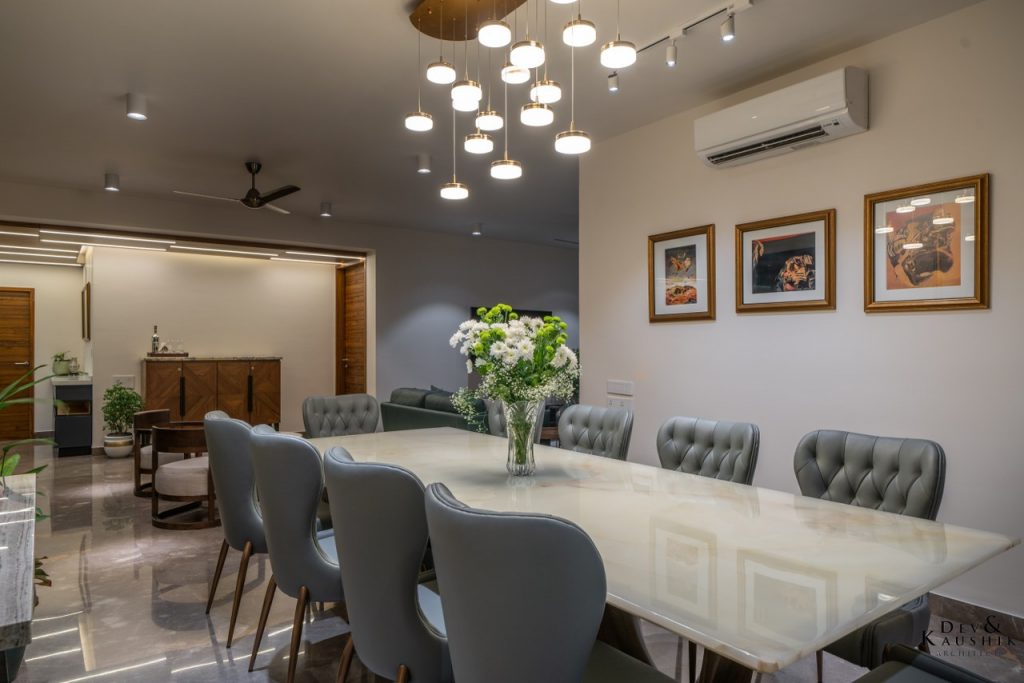 CHANGES IN SERVICES:
Subsequently, this lead to many changes in the planning of other
services such as plumbing, heating & ventilation etc. After innumerable
iterations, a complete set of renewed plans were submitted to the builders much in advance for their approvals and execution by them in time.
CHANGE IN FENESTRATION:
All the French doors were re-sized in heights and widths so as to harness the best of light and ventilation and obtain better city views from almost all the living and bedroom areas. All the UPVC fenestration offered by the builder were changed to a better aluminum fenestration that was much sleeker and elegant.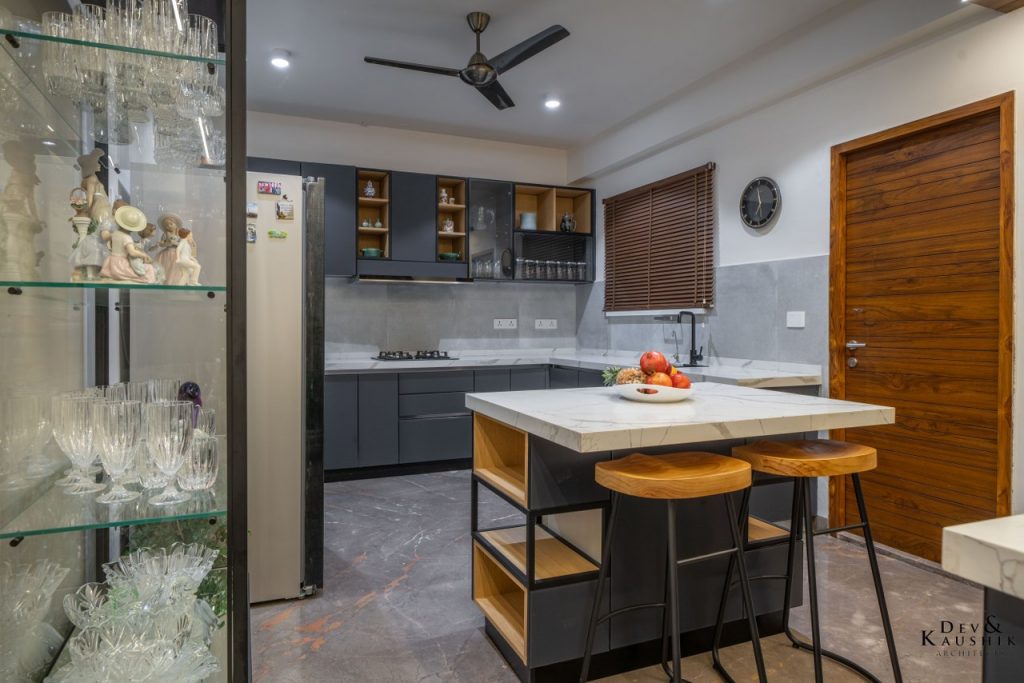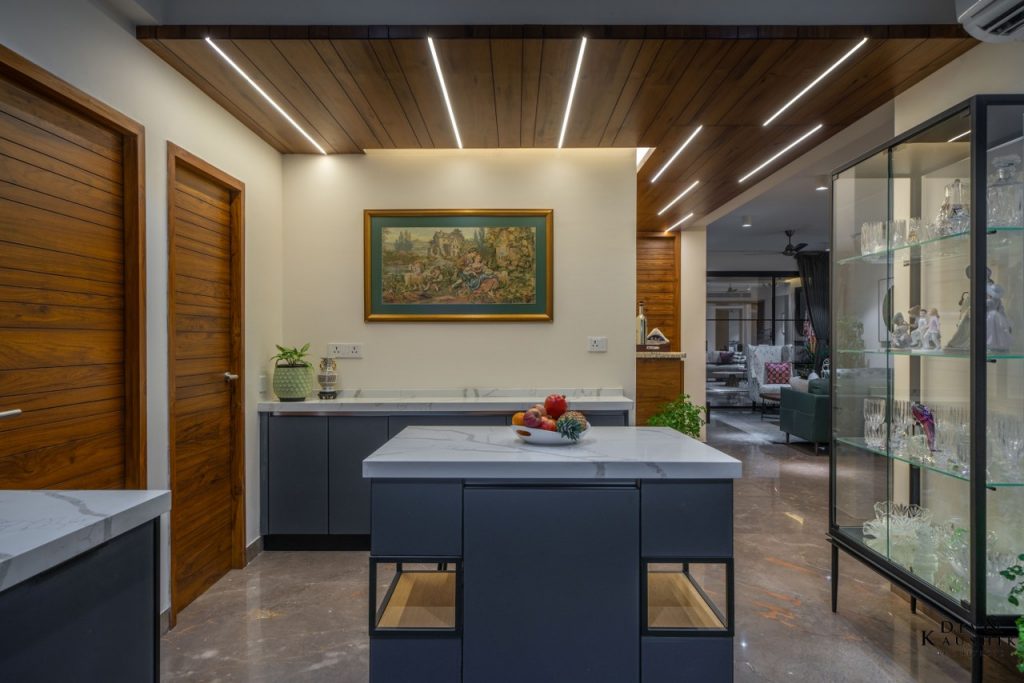 WHAT WAS ACHIEVED:
Having re-worked on the civil structure, finally we achieved a shell that suited the functionality of the clients and gave us clear and neat spaces with aesthetic opportunities. Thus, two homes were amalgamated into one with, two drawing areas, a family living area, an everyday family dining and a formal dining accommodating larger crowd, an everyday kitchen and a party/ open kitchen with utility, store room and a room for the house help, The home has 6 bedrooms with attached closets, toilets, private balconies. An extra bedroom was converted into a media room with a small bar provision adjacent. Another bedroom was converted into an exclusive master closet for him and her.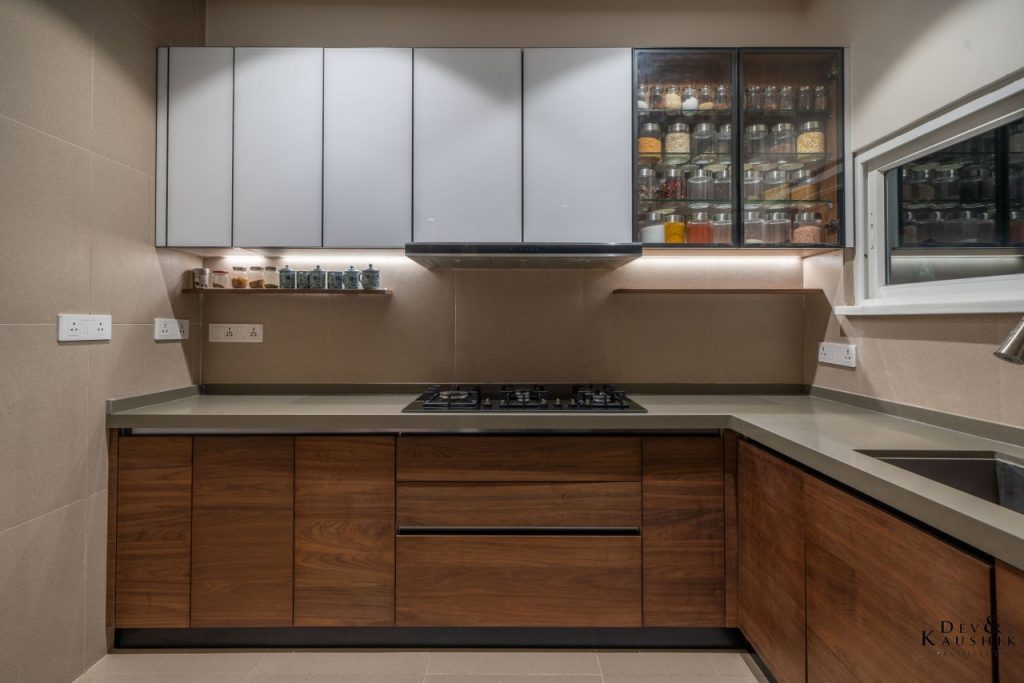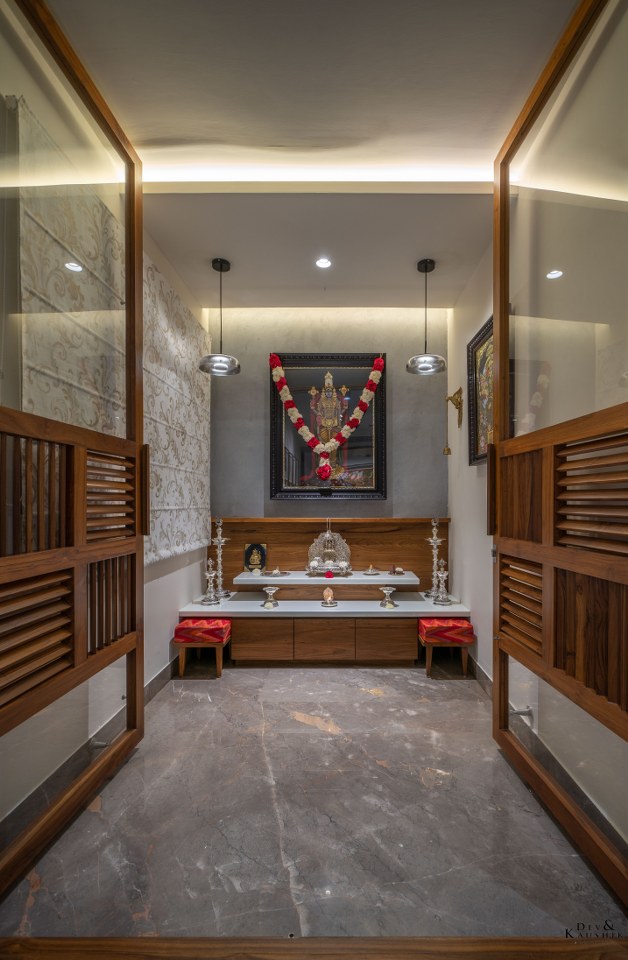 This home for an industrialist in Hyderabad is a passionately crafted home. The brief was to conceptualise and bring into reality an amalgamation of two lavish 4 bedroom flats into one, elegantly blending into each other, spatially, functionally and aesthetically. Design called in for a lot for changes that ended in achieving a wonderfully functional space. The material palette used across has an Indian charm, rightly connected with a contemporary design language.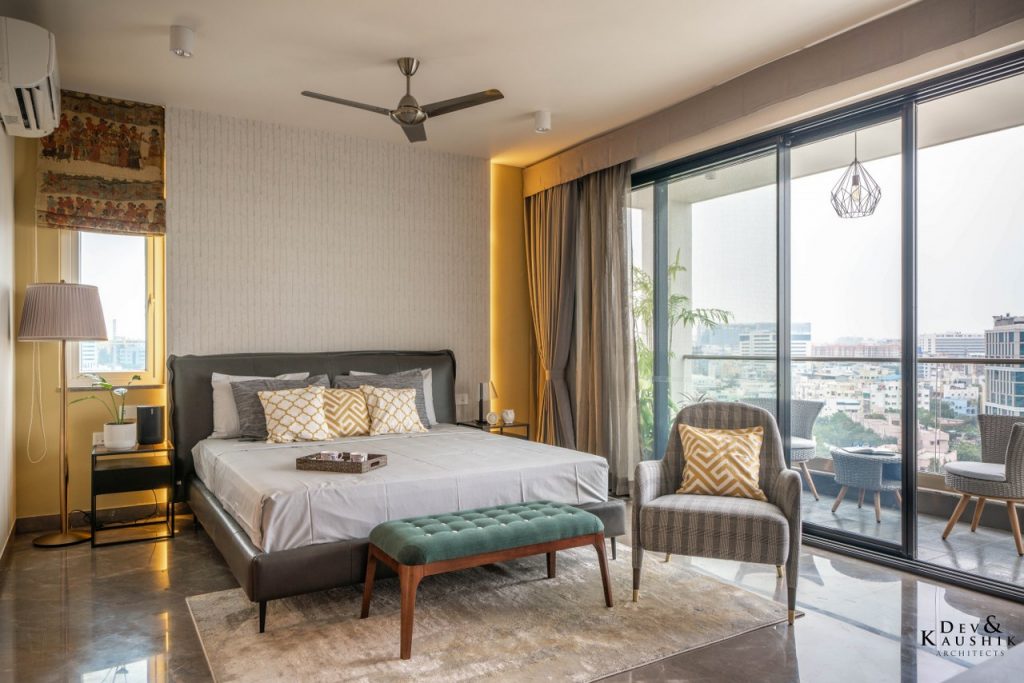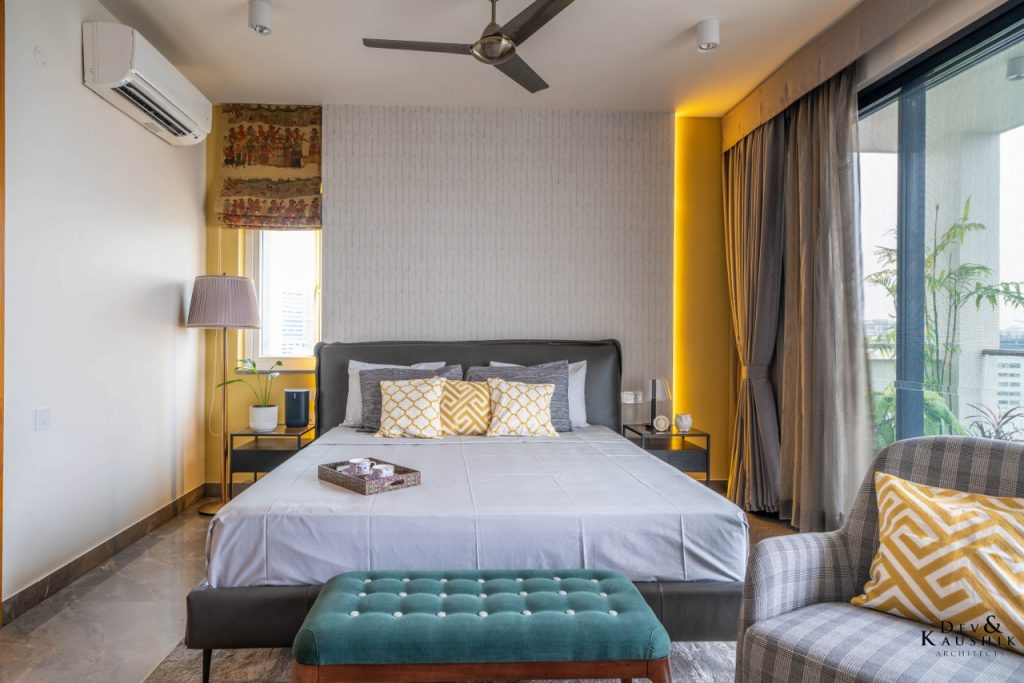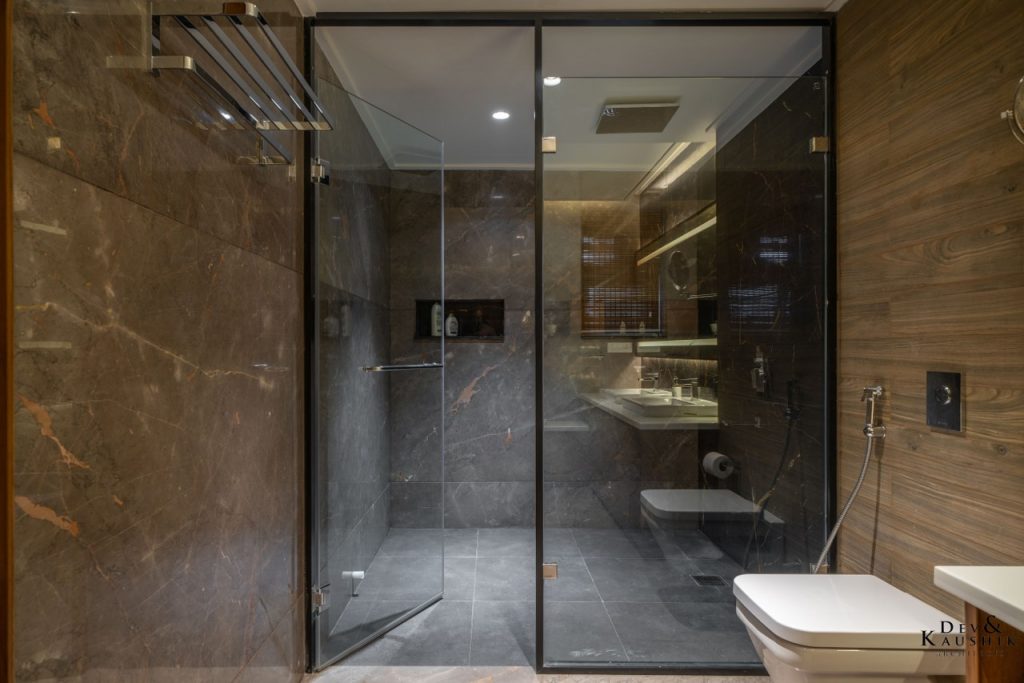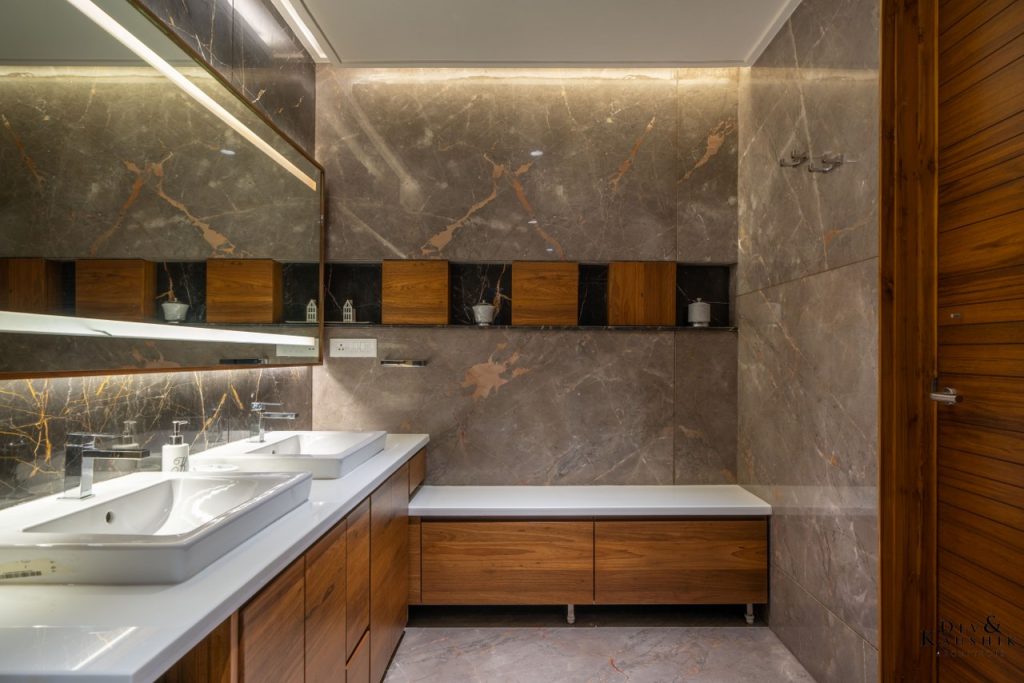 Effort has been made to involve skilful carpenters to craft some fine wood work. Colours have been kept toned down and subtle to keep the mood warm. Furniture picked has a variety in terms of design and style. The home also uses a variety of fabrics like Ikat and Raw silks, sourced from local and award winning weavers. Walls adorned with exquisite painting by various artists make it a home that's unique and speaks volumes about the personality of the homemaker.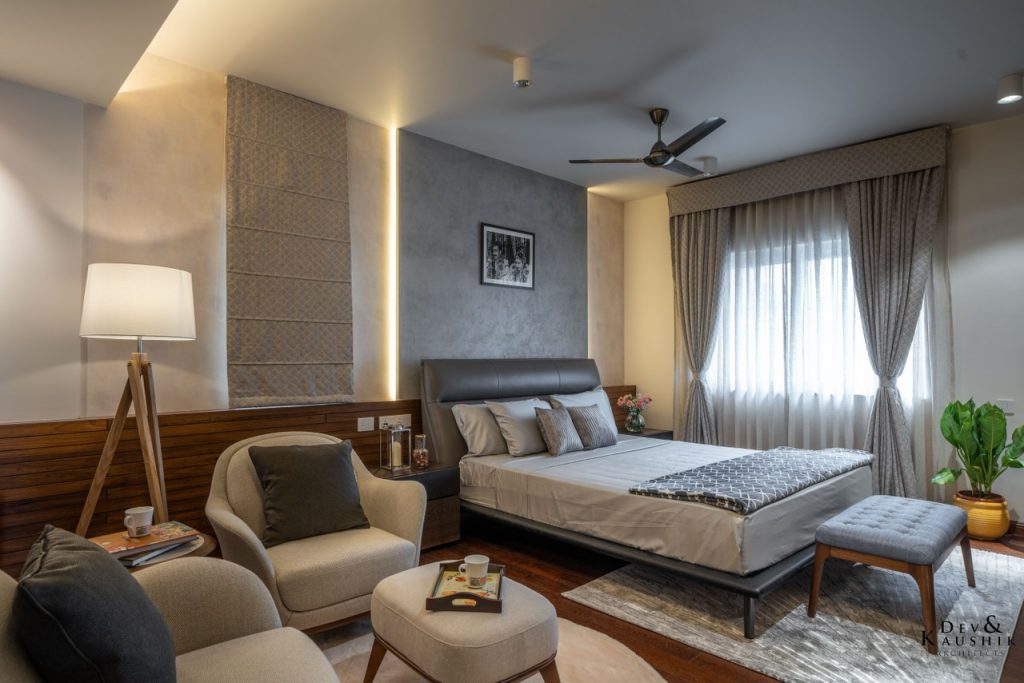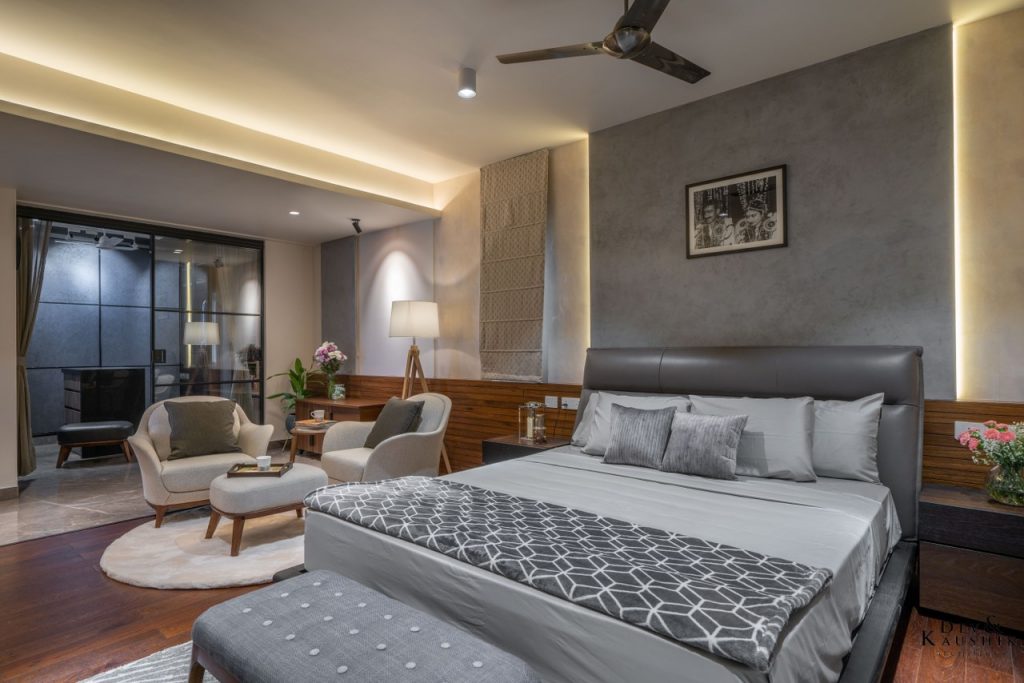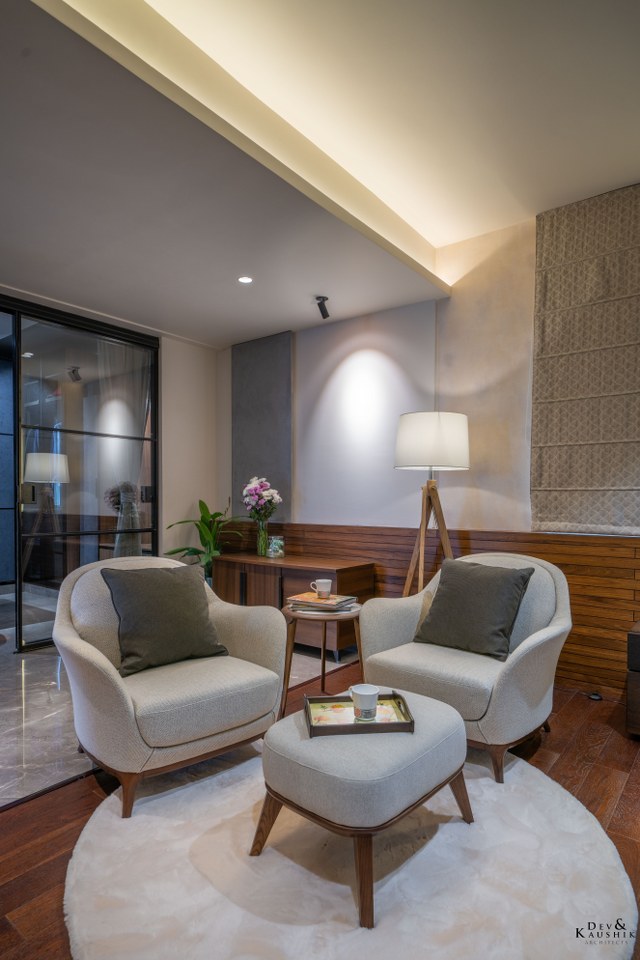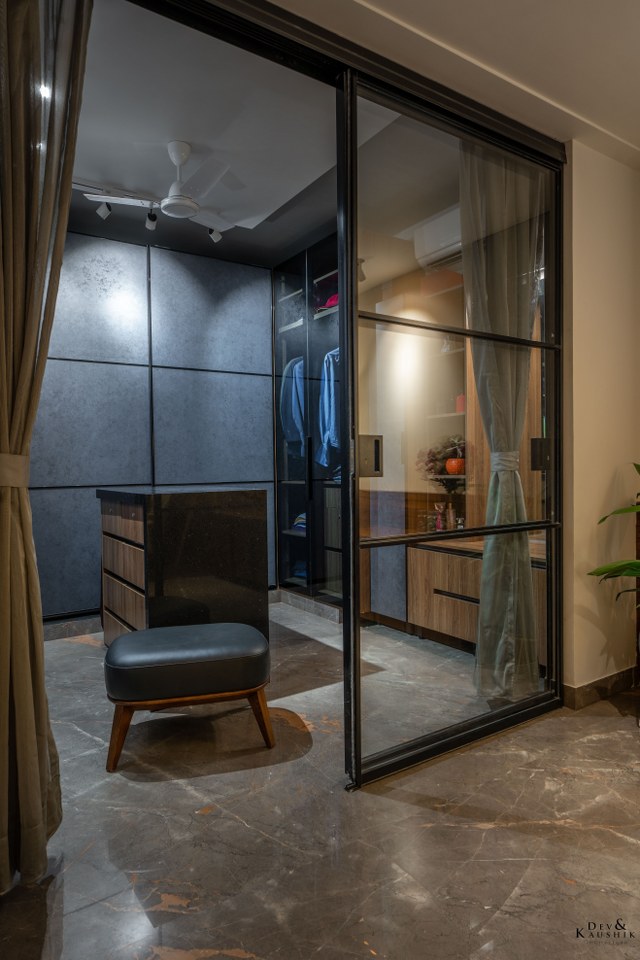 The material palette
COLOURS: subtle & light colors to make it feel more airy, neutral colors adding warmth. flooring: polished italian marble in grey with golden & orange streaks to add artistic character
WALLS: mostly plain painted surfaces with texture applications, wall papers selectively.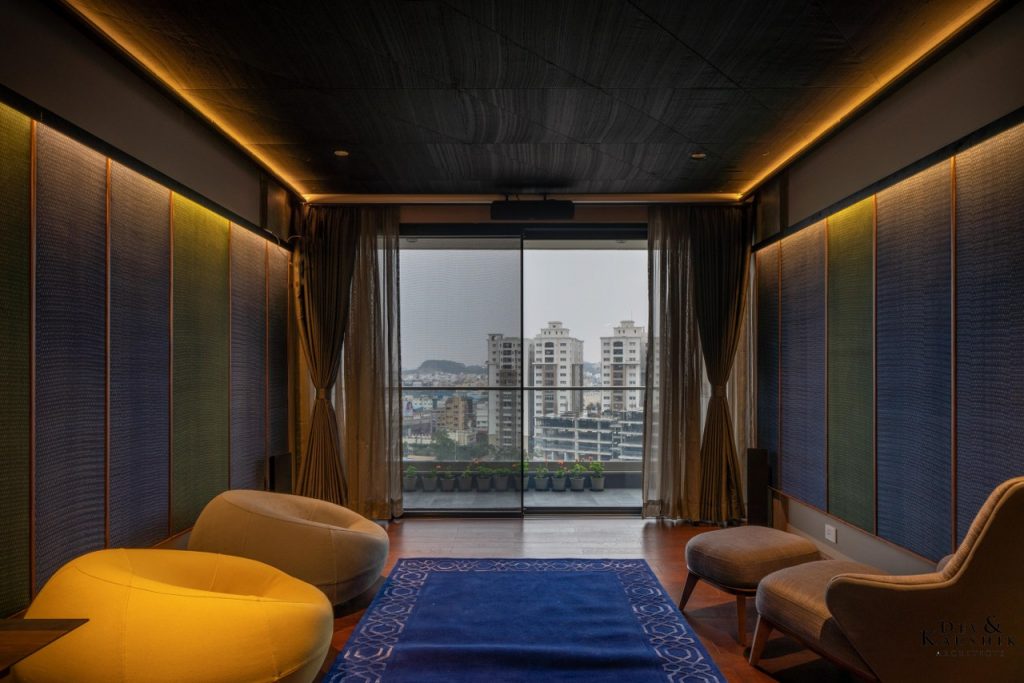 CARPENTRY: teak wood doors, false ceiling works in ply & veneer, selective cabinetry & customised furniture.
WOOD POLISHES: only natural colors used with selective staining furniture: sleek in modern lines with a blend of Indian, both in fabric & leather, wood or metal legs.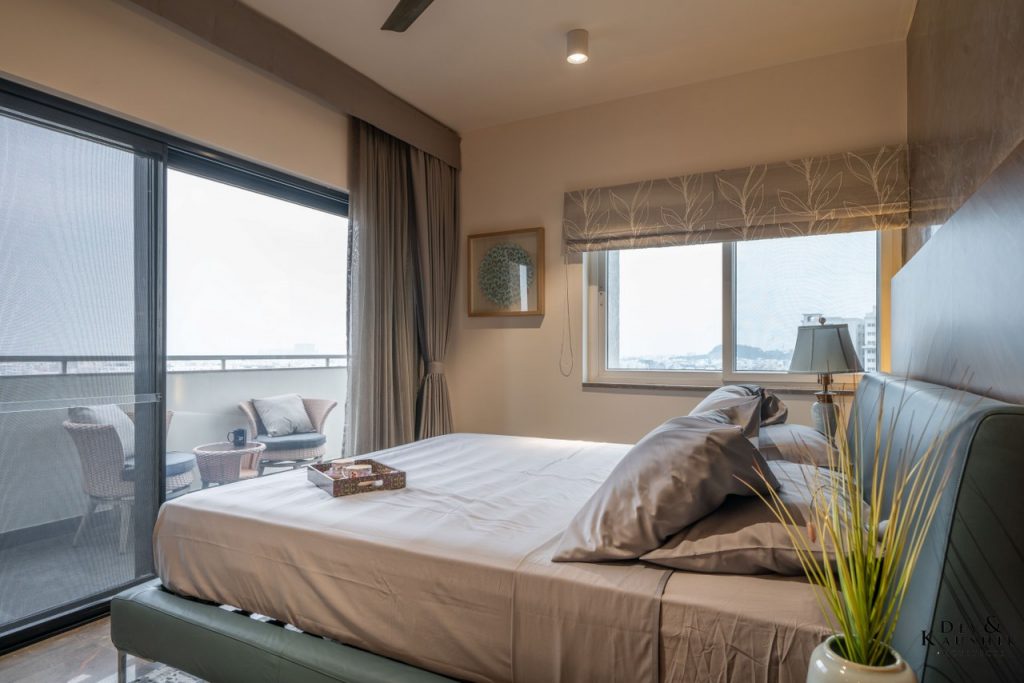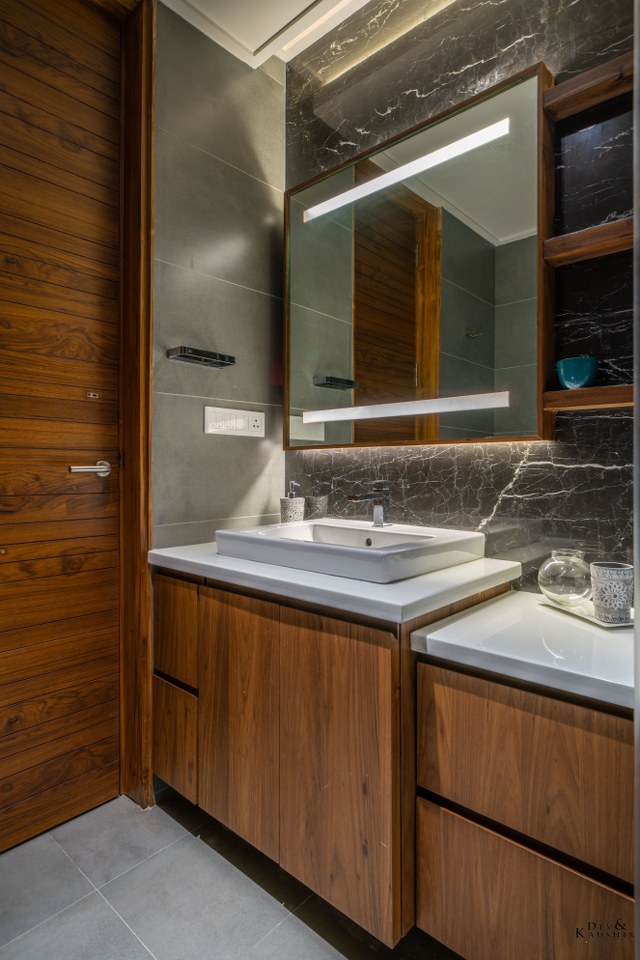 FENESTRATION: Sleek black powder coated alu. partitions with glass, toilet shower partitions in black alu. frames& glass.
METAL: Mostly brass & copper to bring in the Indian touch
LIGHTS: Both surface mounted & recessed used, directional fixtures and led cove lightings selectively. carpets: viscose in rich but subtle tones curtains: subtle neutral shades used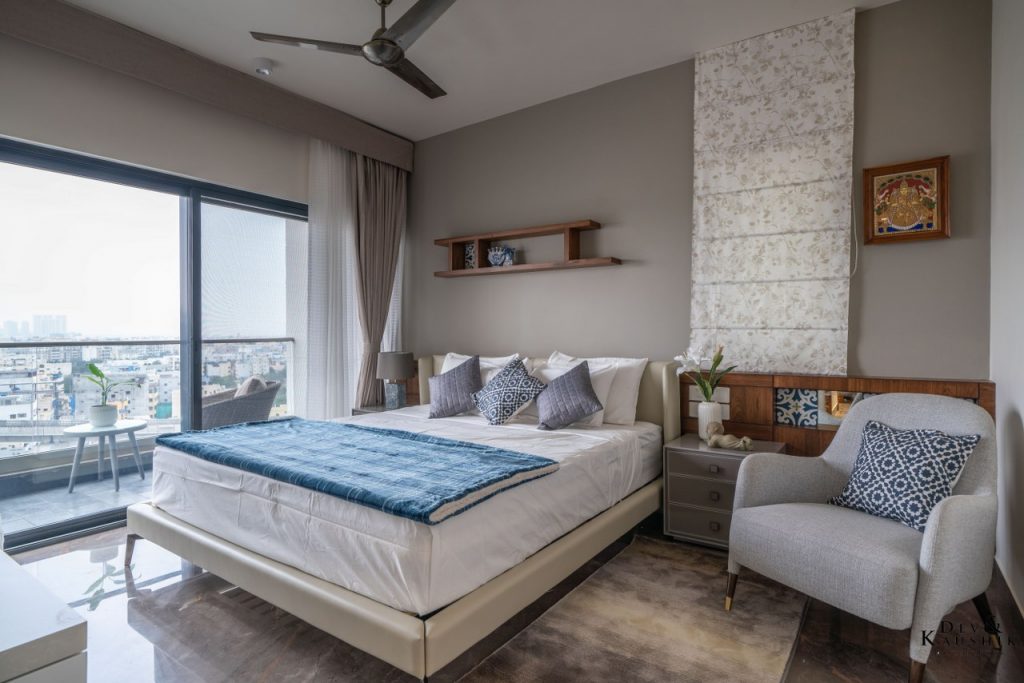 ART WORKS: ARTISTS :Lt.SURYA PRAKASH (signed copied reframed to suit the style) RAMESH GORJALA- (Flying Kamadhenu in dining area), MATTAPARTHI VEERA ANJANEYULU – (Entry lobby, Puja – Tanjore Painting comissioned for the home)
VENKATAGIRI SILK UPHOLSTERY – (Sourced from award winning weaver)
FABRICS FOR PANELLING : IKAT FABRICS IN HOME THEATRE PANELLING & SELECTIVE FURNITURE PIECES SOURCED FROM AWARD WINNING LOCAL IKAT & SILK WEAVERS.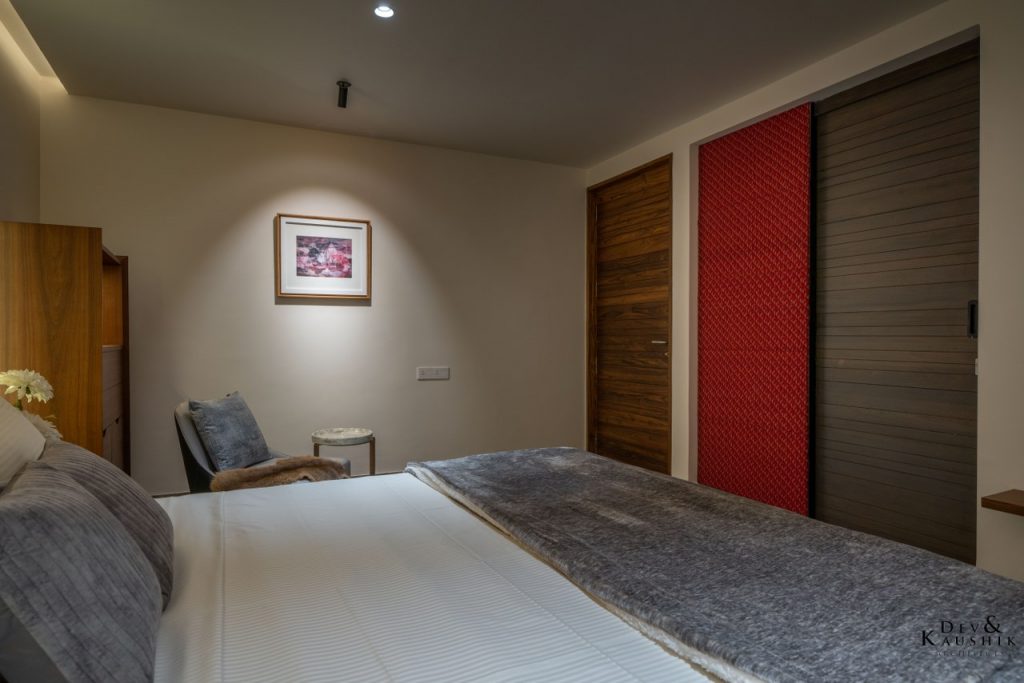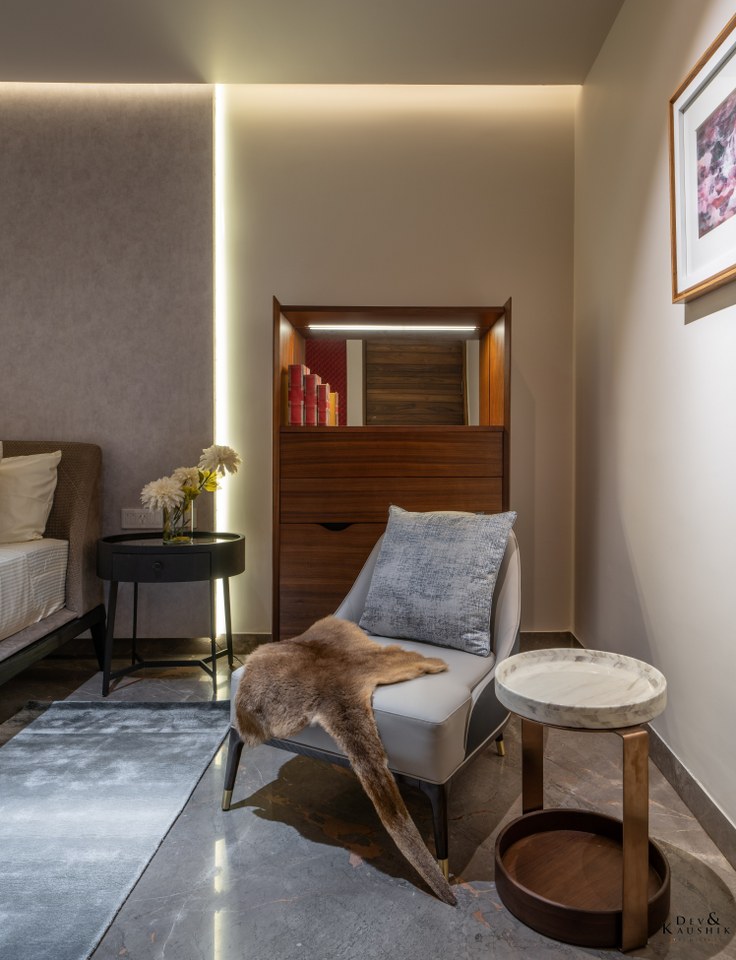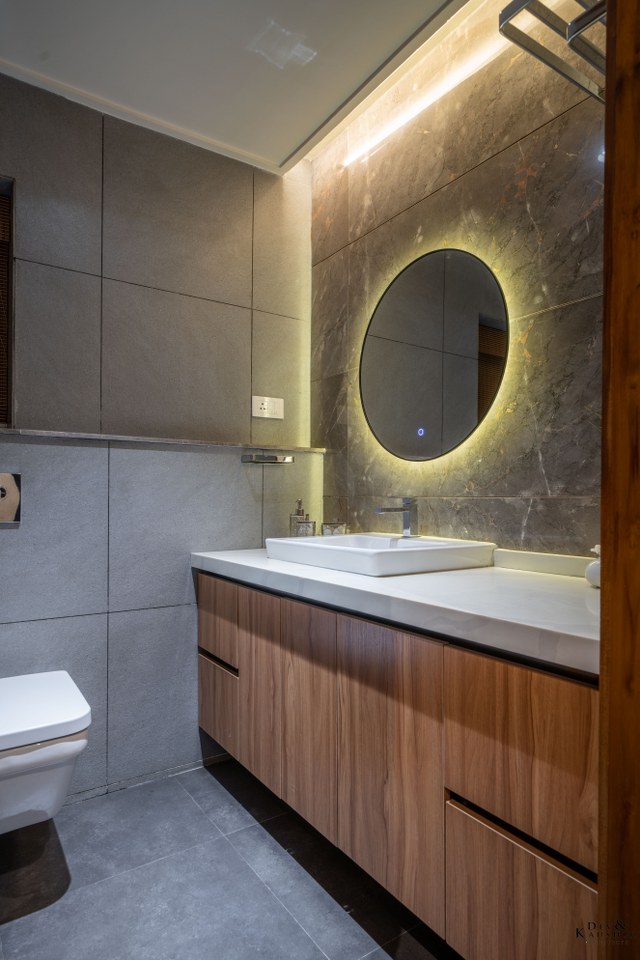 FACT FILE:
Designer's firm: Dev & Kaushik Architects
Project Architect: Nikhil Dev VN, Kaushik Abinav
Size: 5800sft
Location: Madhapur, Hyderabad
Design Team: Architects-Nikhil Dev, Kaushik Abinav, Monica Darbar, Abhishek
Civil, Electrical & Plumbing works : Builders, Flooring: Sri Chand &Jaypal, Carpentry & Polish: Suresh &Nand Kishore
Photography:Ricken Desai , Hyderabad
Text: Nikhil Dev VN