The Colors Of Kerala: An apartment With A Traditional Touch | Asavari Kanhere
This 3BHK, 1350 sq. apartment with a touch of traditional art is located in Girgaon Chowpatty, Mumbai. Inspired by Traditional Kerala mural art form, each space is rendered using 5 colors i:e Yellow, Red, Green, Black, and White.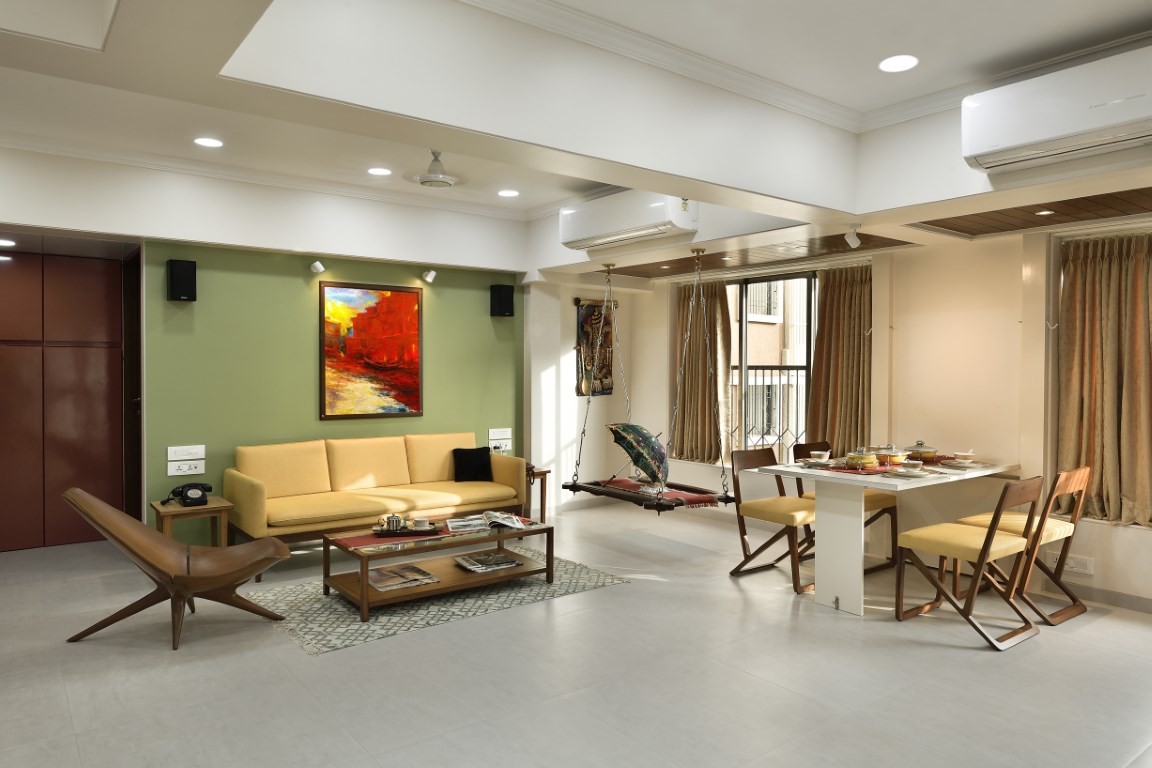 Each room is based on the Panchavarna Colour scheme which depicts energetic vibe & expressions, Dominant patterns, and enchanting colors. This strict adherence to the limited earthy palette gives it a distinctive look and appeal. Architect Asavari Kanhere decided to give utmost simplicity to the interiors by not adding any extra elements or colors apart from the pre-decided theme of Kerala mural art. Understanding the traditional Abstract art and depicting it in spaces make the inhabitants of the house forget its surrounding.
Living and dining are integrated by an open plan system. Brown Leaf chair and cream sofa in the living room is curated by Red blue yellow store, Lower Parel and is finely chosen by architect Asavari Kanhere. The jhula adds charm to space by creating a delightful and relaxing environment in the living room. Jhula is 100 years old and is refurbished rightly to give oneself a happy moment instantly. Jhula is placed right in the line of a window to enjoy the cool breeze and when not facing living one can enjoy the view from the window. The only Green wall behind sofa enhances the look of furniture pieces. Lighter shades in the space with little brighter furniture helps to create a serene environment in the only gathering space of the house. Folding dining table helps to create living space larger when dining is not in use. The white floor helps to reflect more light and give airy look.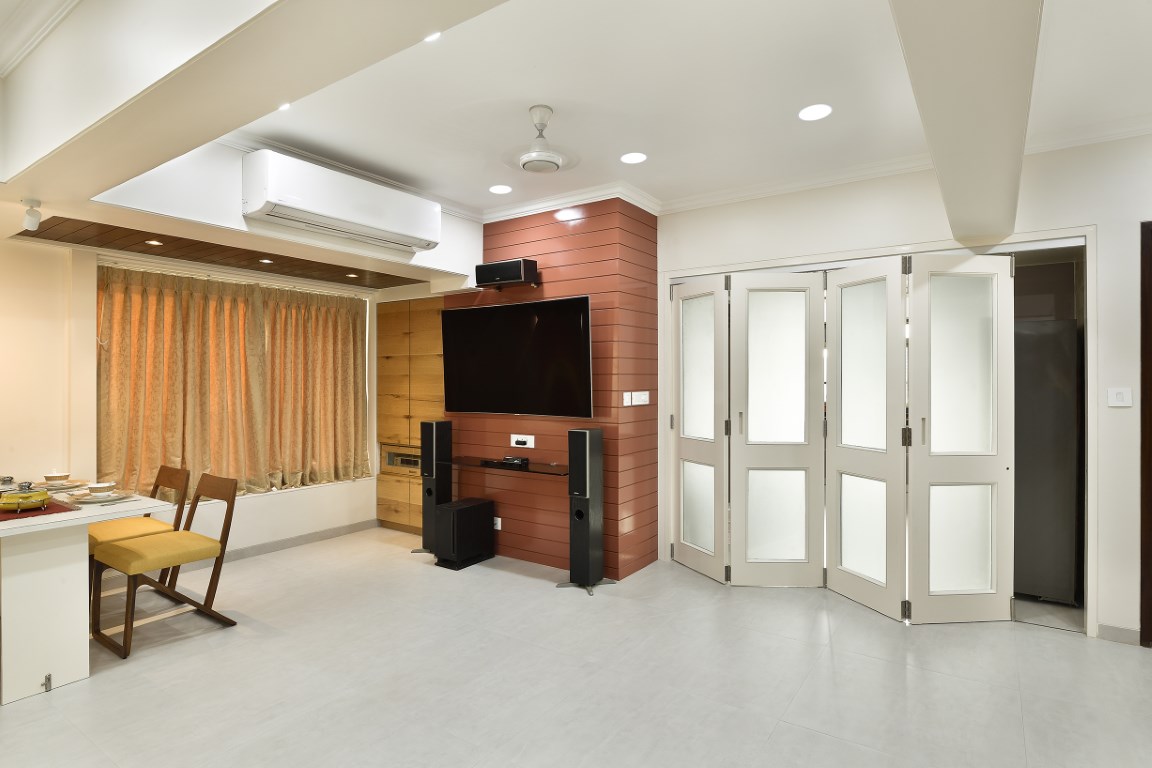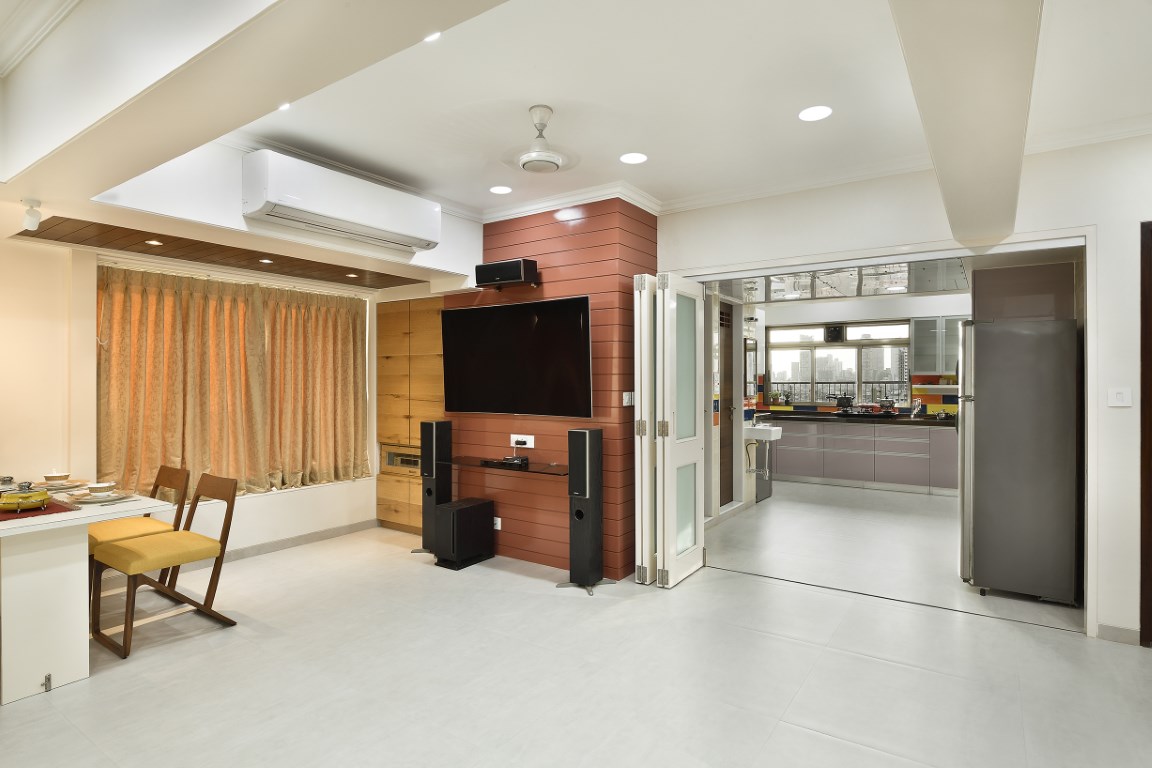 A kitchen door with sliding folding helps to further increase the usable space and give a clean and clutter-free look. Kitchen is curated by keeping darker workspace and platform for easy to clean purpose giving whimsical look at the top and lighter shelf to give eclectic look to the kitchen.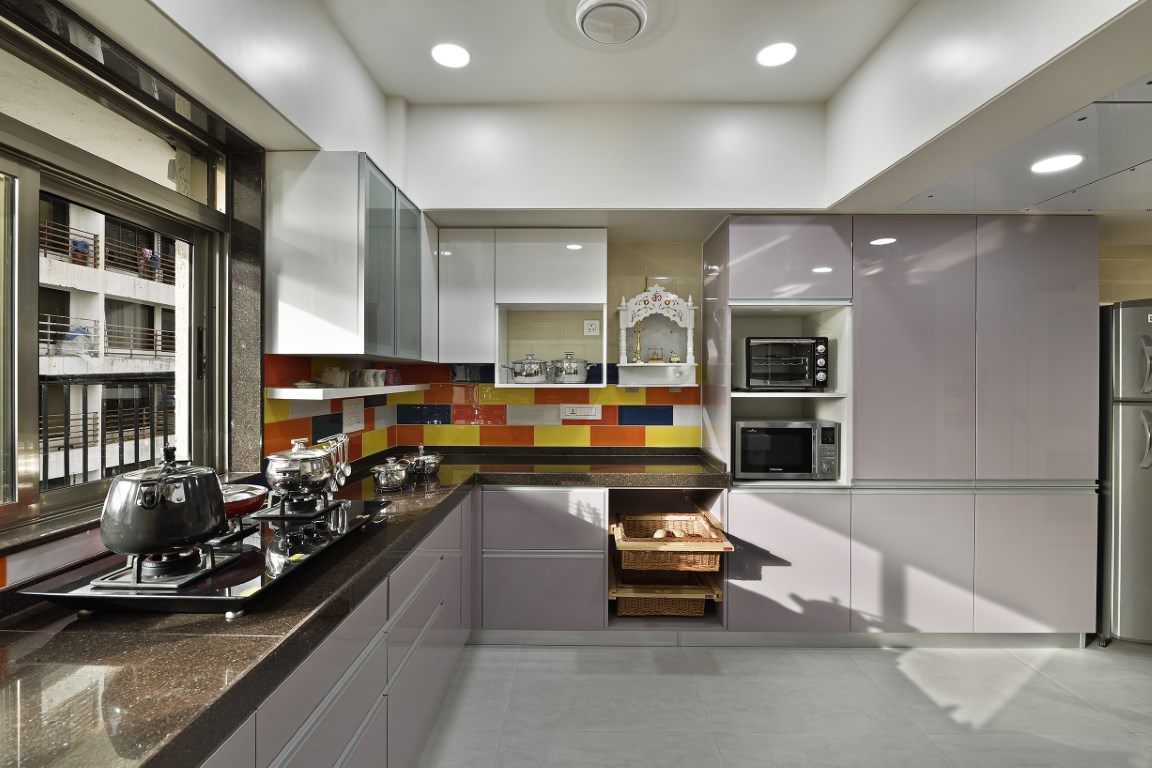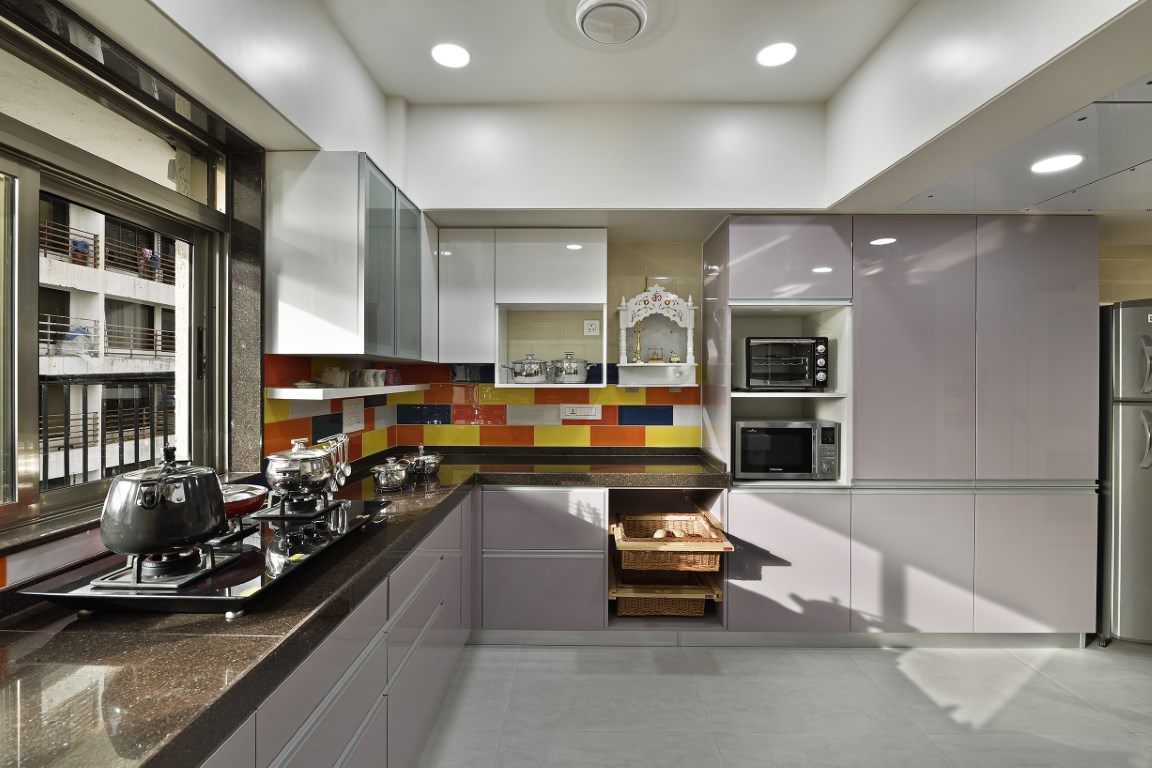 White marble temple with inlay patterns is placed on the side platform top, in between the overhead storage.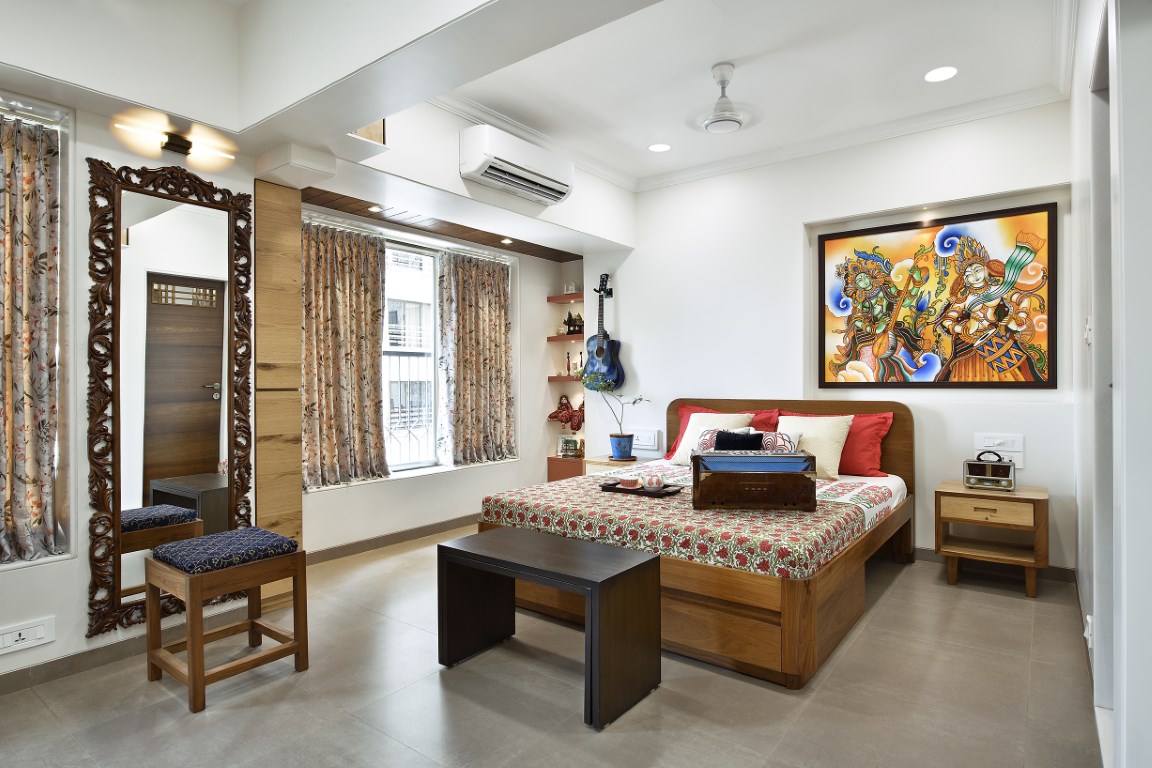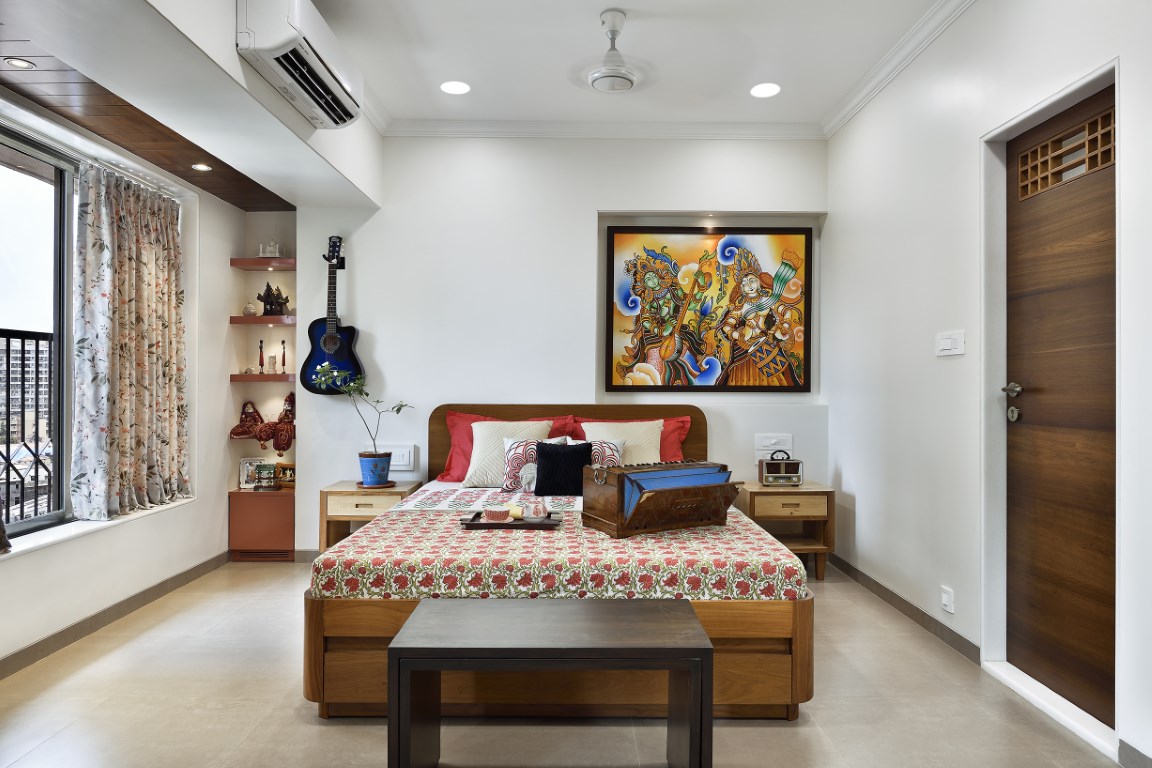 In bedroom 1 there is a traditional organic pattern used in all the objects with light brown flooring giving precise keralian style interior. White ceiling neutralizes the bold patterns used in overall furniture of the room. The Kerala mural painting is specially customized Sunit Ajgekar's by keeping in mind the architect's requirement for the painting. This painting balances the vertical open shelf on the corner adjacent to the wall.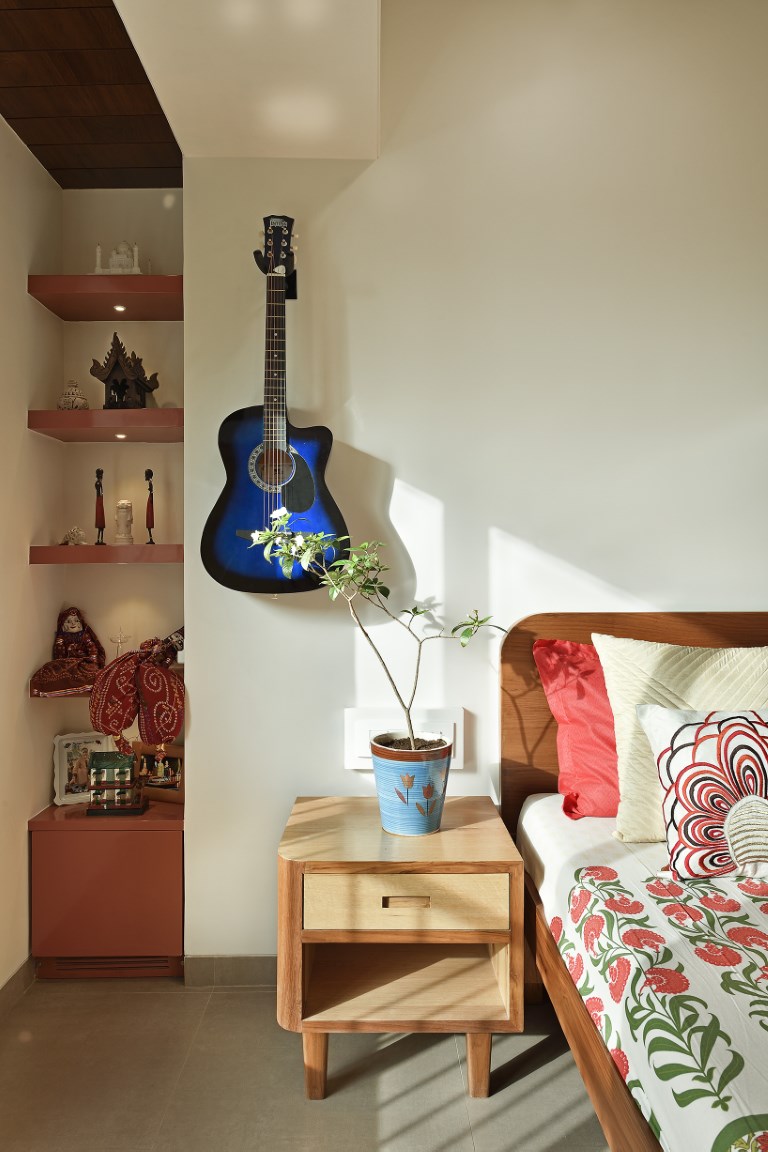 Small movable side table makes the room appear larger. This room equipped with musical instruments is reflected in painting which shows the dedication of designer in curating the spacious interiors. White overhead storage merges with ceiling to give visually a wider view. The self-design integrated wardrobe handles help to create seamless furniture layered in a single plane. Dark wooden framed dressing mirror and bathroom door segregates the space as per usability.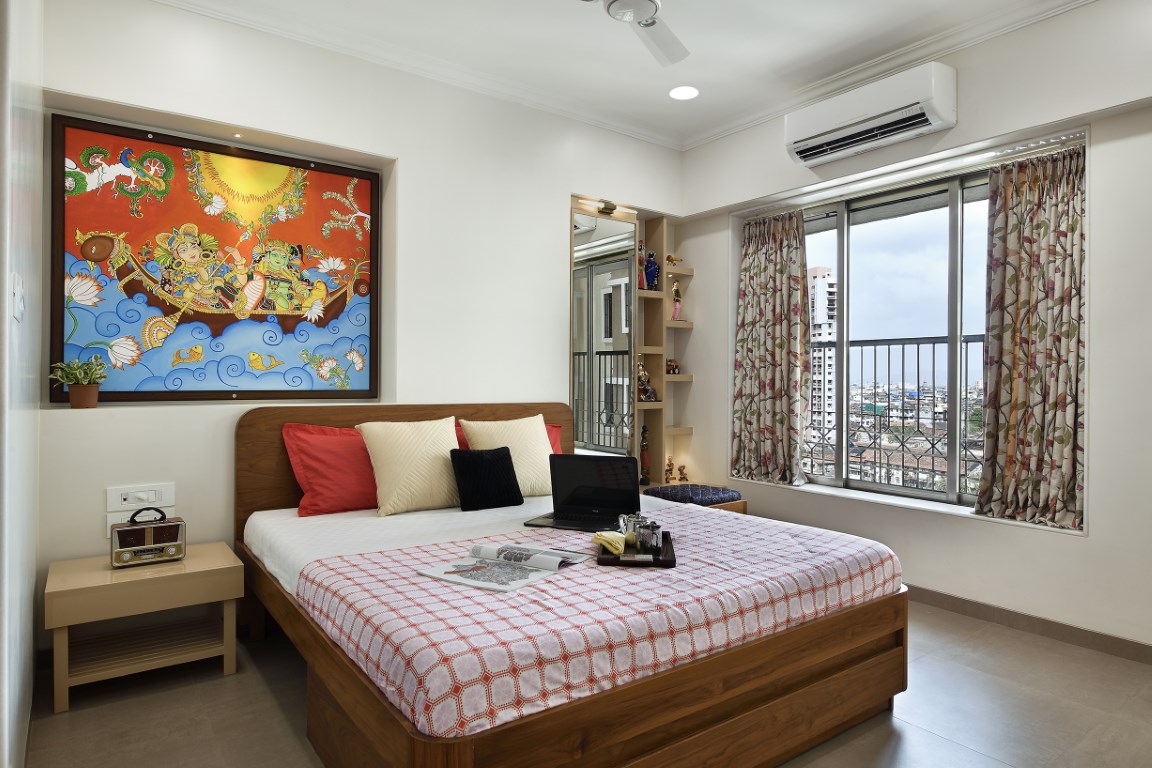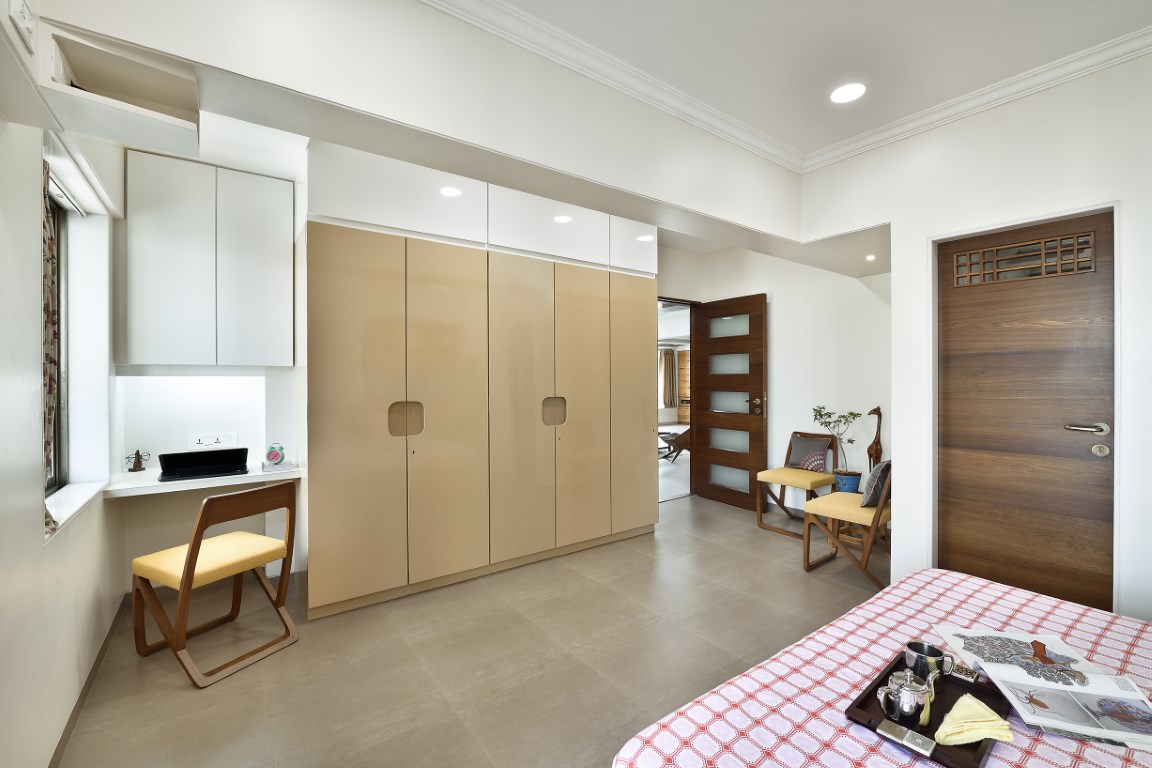 In bedroom 2 all the pieces of furniture are curated with utmost simplicity. The palette for this bedroom is Creamy latte it demarcates the importance of coffee and its color in their culture. Just like coffee is a rich part of Kerala's culture giving economic and cultural independence, this room soothes and energizes one's mind.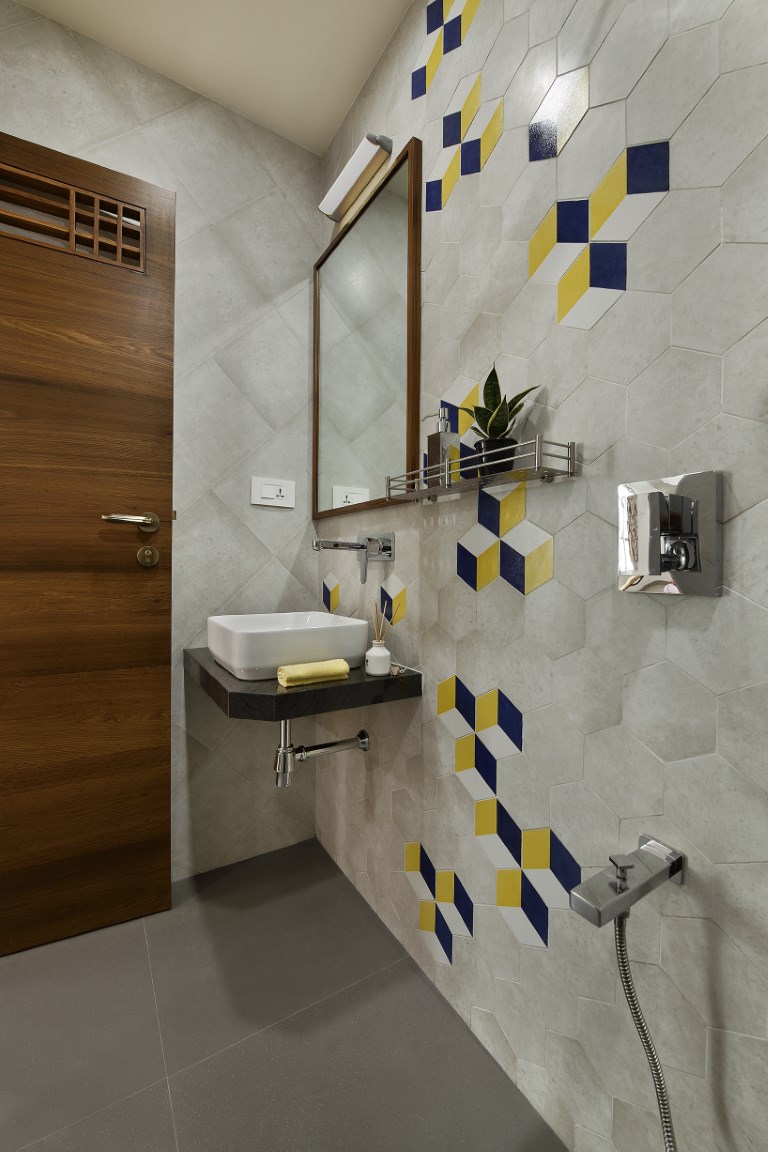 Bottom of palmet is aligned with the top of the dressing. Extravagant painting, "Rendezvous on a lake" by Sunita Varma adds glory and drama at the same time. Wardrobes are tailored to give the bedroom a minimalistic look with self handles of a wardrobe.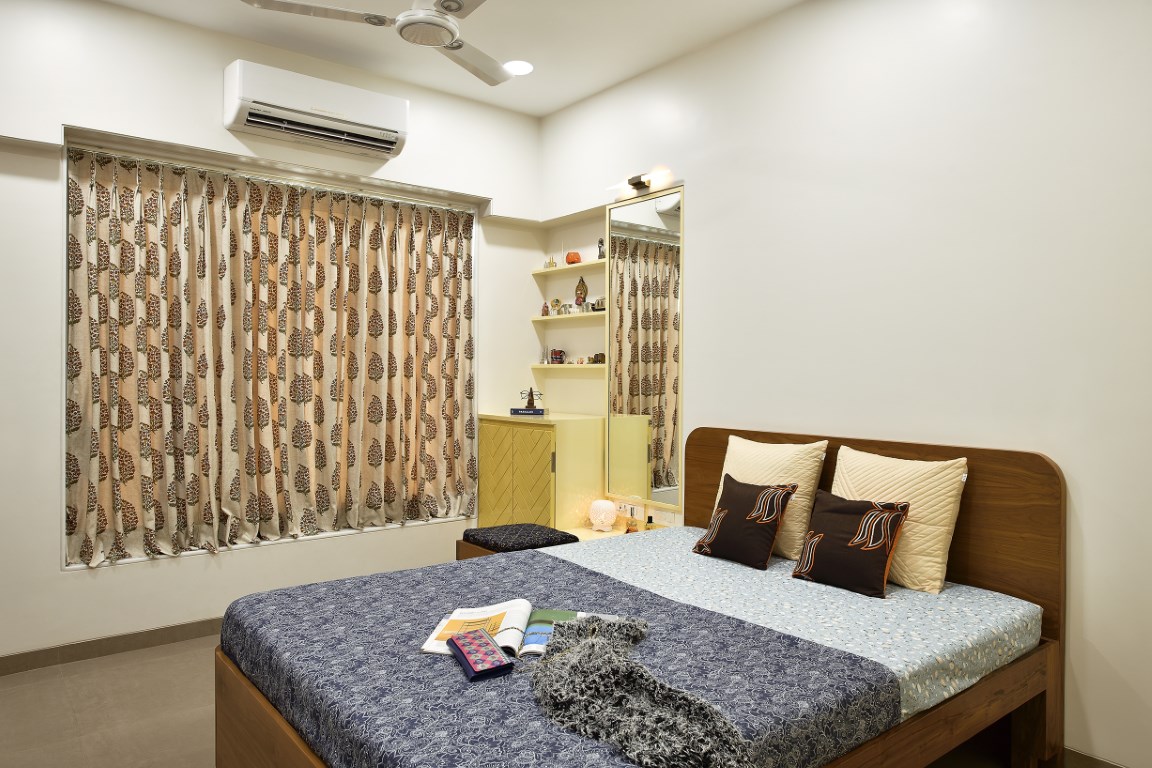 In bedroom 3 milky yellow furniture is complemented by white walls and ceilings and lighter floor. Furniture unit with a chevron pattern and dressing unit on one side and wardrobe is seen on the other side of the bed.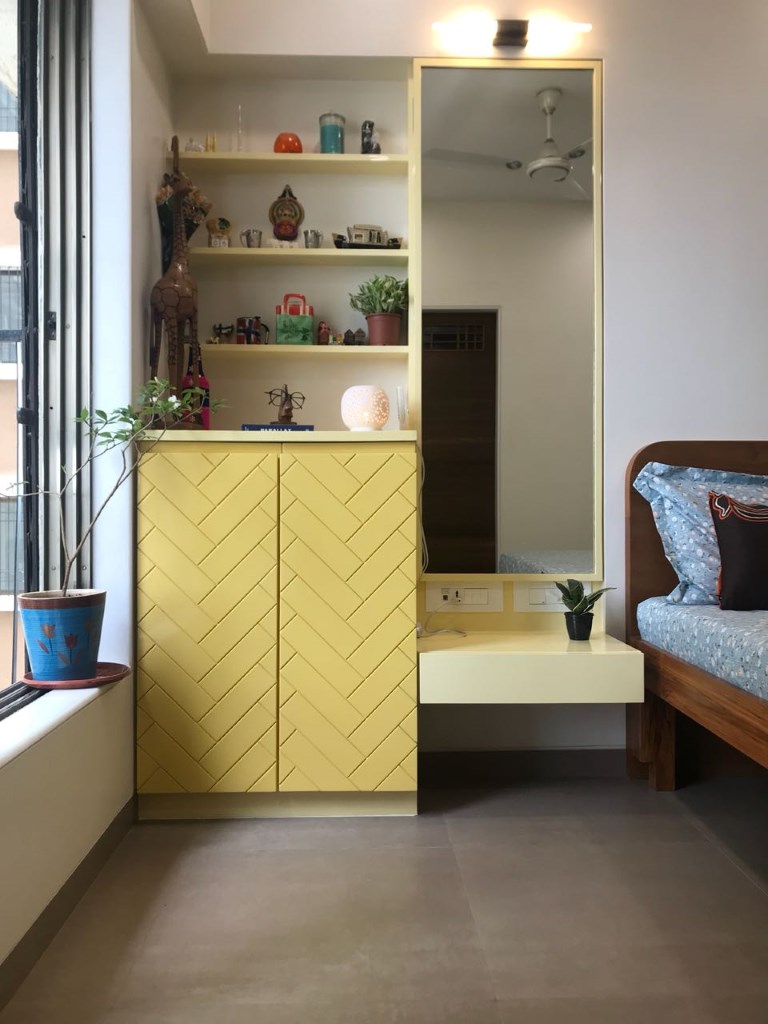 Shades of grey are seen in bathrooms which gives chic look with a calming effect and monochromatic look. Apart from this every furniture Piece (Side tables, Wardrobes & Bed) are designed and executed on site with integrated handles (Handle-less).
FACT FILE:
Location: Charni Road, Girgaon Chowpatty Mumbai
Size : 3BHK 1350 sq ft.