This 3 BHK home (2100 sq.ft.) located in Ahmedabad, is a striking conglomeration of aesthetics, utility, subtlety, design and value engineering. The design of each space pivots around the purpose of its end use and has been carefully curated after exploring material and design alternatives.
Striking Conglomeration of Aesthetics, Utility, Subtlety, Design and Value Engineering in This Residence in Ahmedabad | Archaic Design Studio
Visit: Archaic Design Studio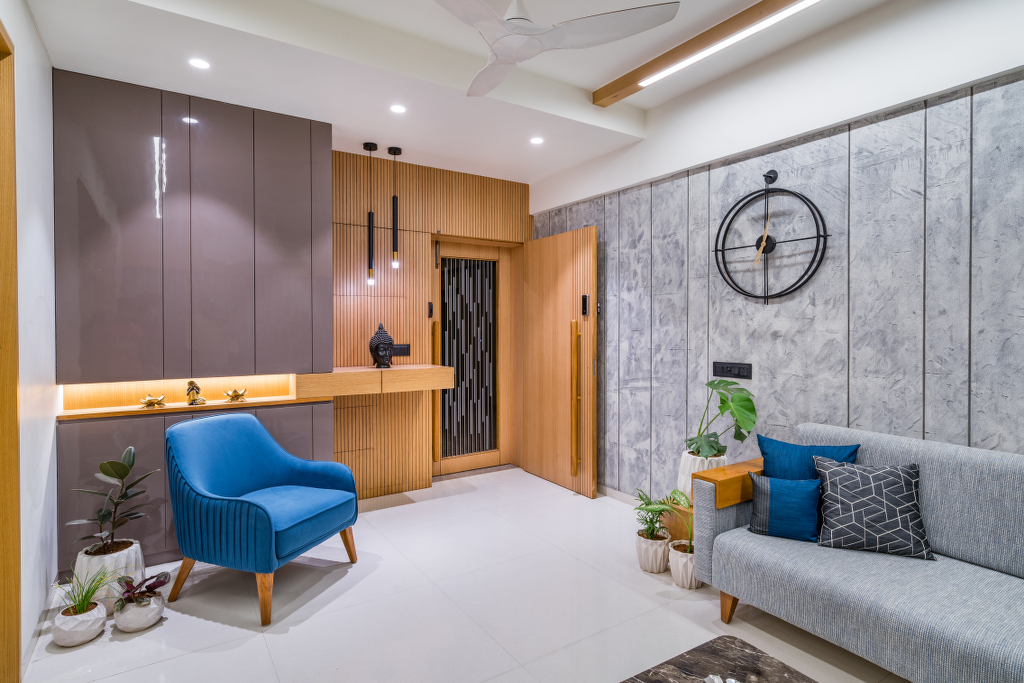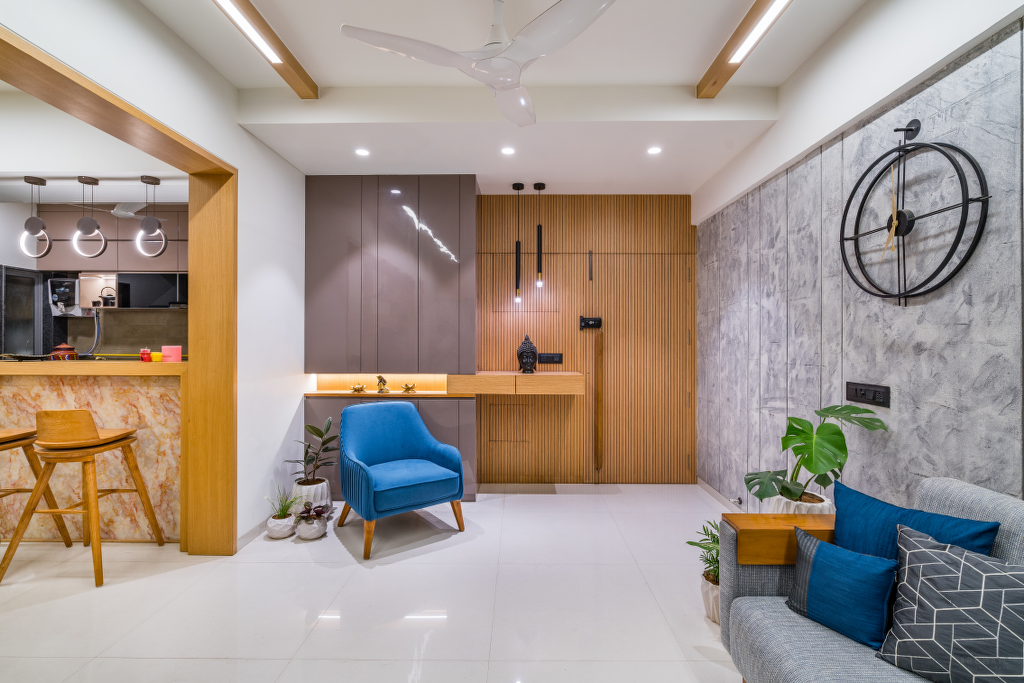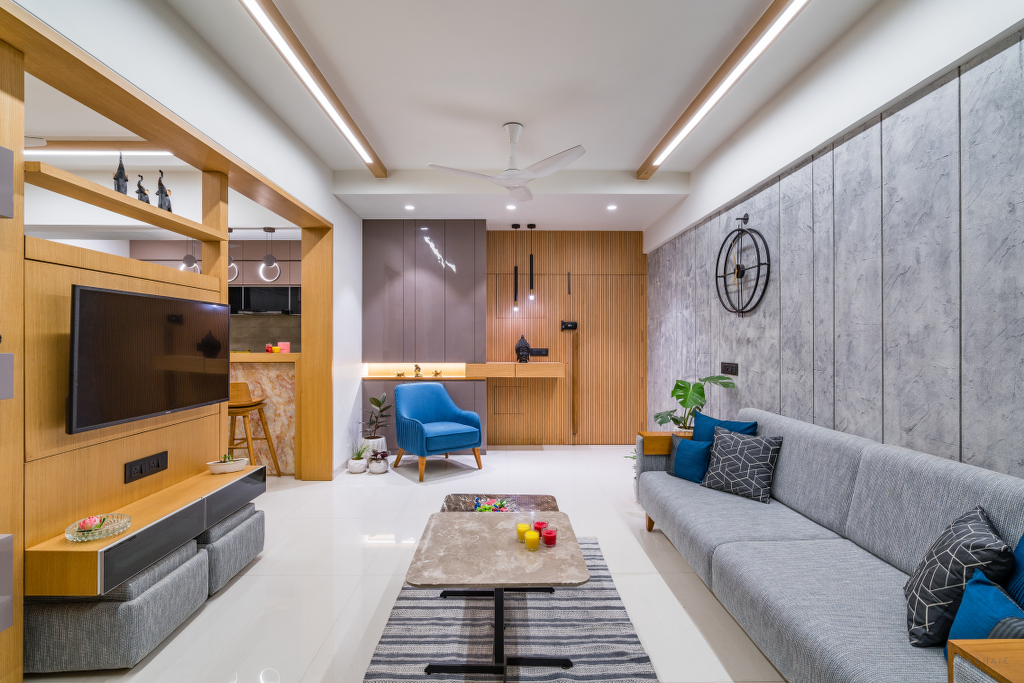 A home is not made by the walls, but by the people living in it. This home tactically encompasses the needs of all the 3 generations residing in it. Each space is designed after working on the character and personality of the users and then blending it into one design theme and aesthetics. The design brief was worked upon after thoroughly keeping in mind the minutest details of the schedule each member maintains and their likes and dislikes. After all a home is a cocoon in which every living being wants to feel happy, safe and at peace, all while fusing with aesthetics. It's a place where you start your day with all the zeal and end it with peace and satisfaction. The users wanted this feeling to be at central core of their priorities and it is coming out well in the design.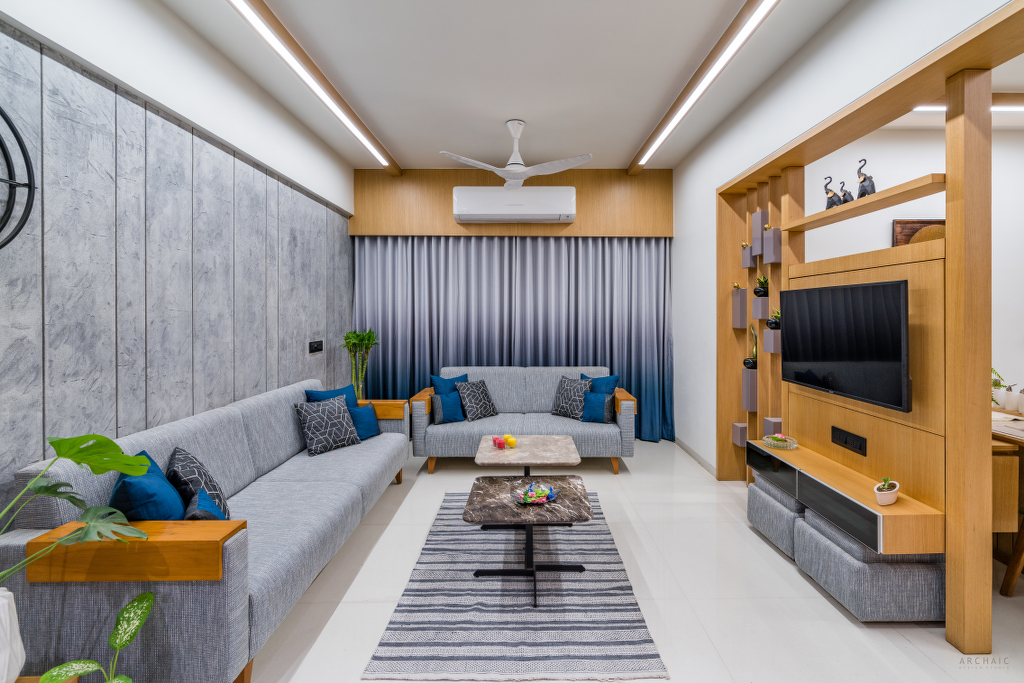 Design Language
Entire house has been conceptualized with vertical and linear structures in the backdrop with bold accents blending creatively to give a lasting impression of design and aesthetics. Neat neutral colors are used for walls & furniture whereas the shades opted for upholstery works as color pops. Wood work adorns veneer in oak finish and shades of grey, beige and greige for laminate/ PU finish. In this project we have successfully implemented some of the distinctive features. It displays one of the most unique ceiling design in all the rooms, which is done using wooden rafters and profile lights (all intermediate lights are used mimicking natural sunlight). There is no use of POP false ceiling and this adds to the usable height of the room, giving an overall feeling of larger height and grandeur.  Also the usage of PU paints is minimized and is replaced by more durable acrylic sheets and laminates. Each furniture element viz. the cabinet in living room, below dining area, the service platform, etc. is designed to work as storage area.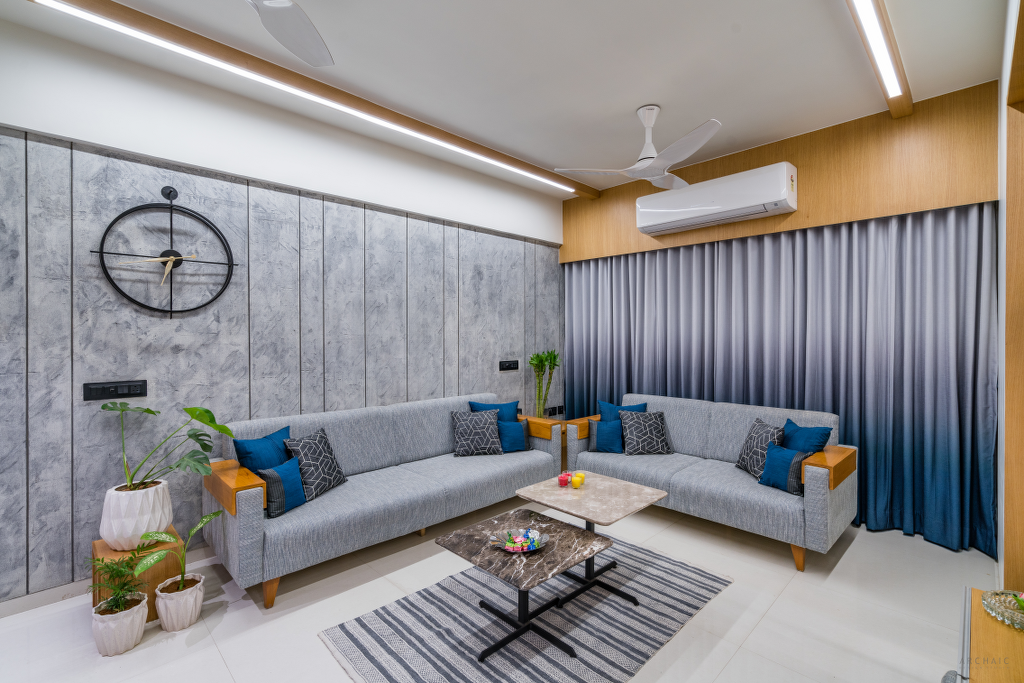 Living and Dining Space
The original space was an open plan for Living, dining and kitchen. Looking to the need of separate spaces, visual barriers have been created to segregate the 3 spaces – with a partition between living & dining area and a service platform cum breakfast table between dining & kitchen.
Living room is designed with an optimum sitting space having 2 large sofas, 2 chairs and 2 ottomans. The main wall is textured to give a rustic cement finish for simplicity and aesthetics. These cement finish wall and blending grey toned sofas are accentuated with Persian blue chairs, sofa cushions and blue ombre curtains. TV unit is the focal point of living room and the dining area, both having a common TV – rotating on a swivel unit. This makes the dining area a favorite spot for food and TV lovers. The breakfast table is like a multipurpose zone – one side functions as breakfast table and the other side is a service cum preparatory table (with base having a space for storing lot of utilities). Italian marble is used for the center table as well as the dining table and the breakfast table is done with alabaster sheet bringing out the marble effect and striking a perfect synchrony for all the 3 areas. Living room also has an attached balcony with an amazing view and breeze. This space gives an outdoor feel with backdrop done in brick textured walls, balcony swings, artificial lawn and lush green plants as biophilic aesthetics.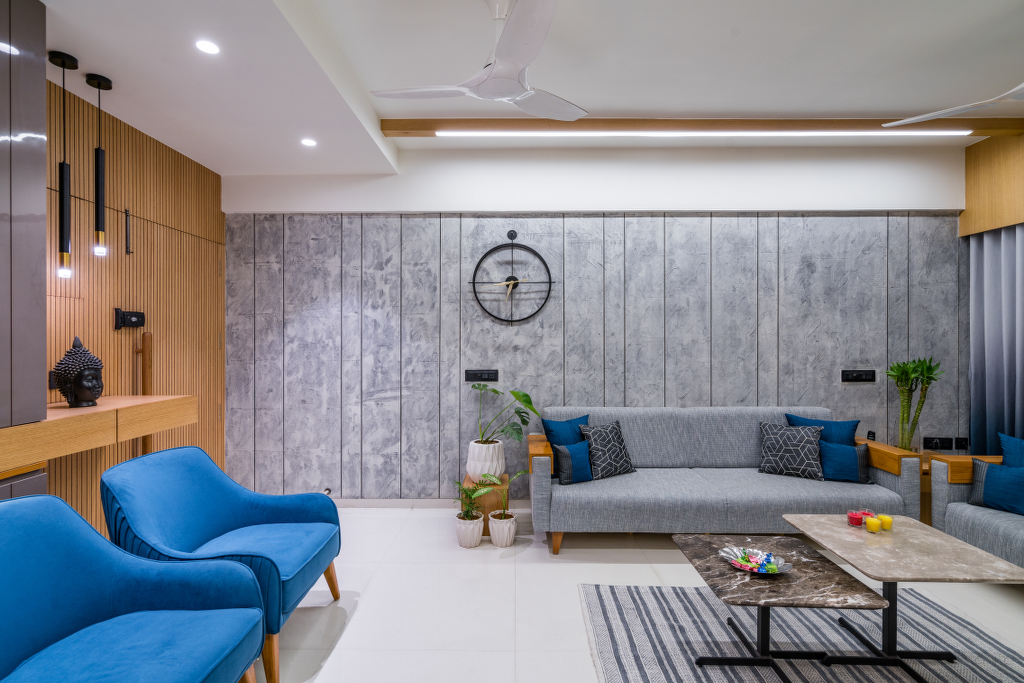 Master Bedroom
The master bedroom is designed for a couple having loved for reading and music. It has a corner library and a reading space overlooking the main road. This space is developed as a reading nook and the cozy couch ensures a relaxed experience. The table spanning across the wall length has a corner space which can be used as a small workstation and the other end works as piano table. The piano, a noticeable replacement of TV, helps unwind the day in soft melodies and soothing music. The colors used are grey for wall cabinets contrasting with plum color used in headboard and couch fabric. The pendant lights with wooden rectilinear grooves in the backdrop alleviate main wall of the room.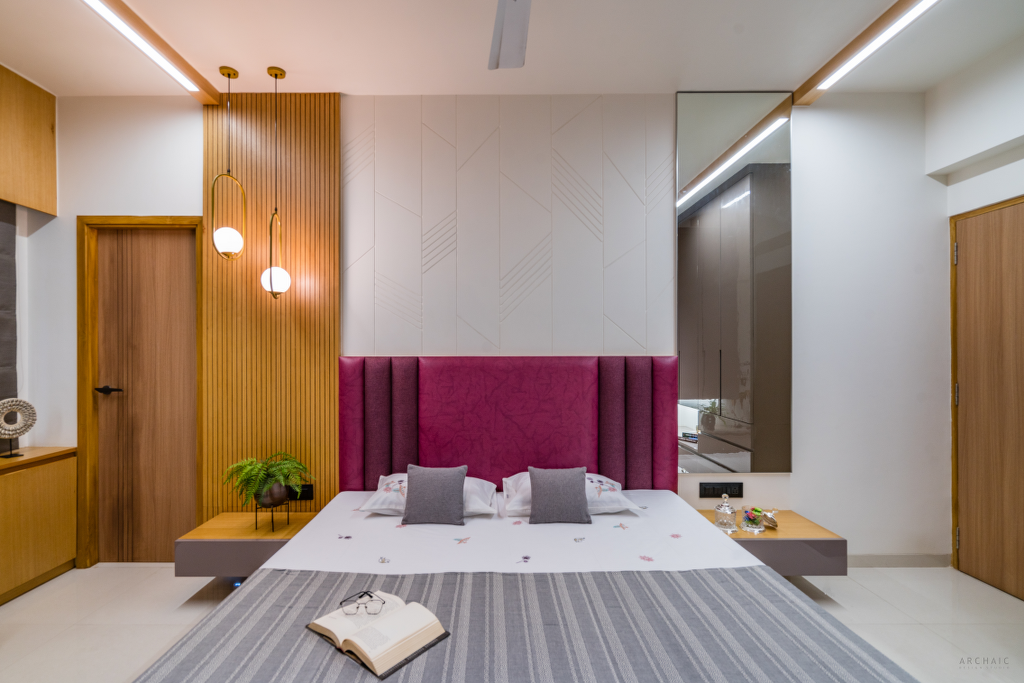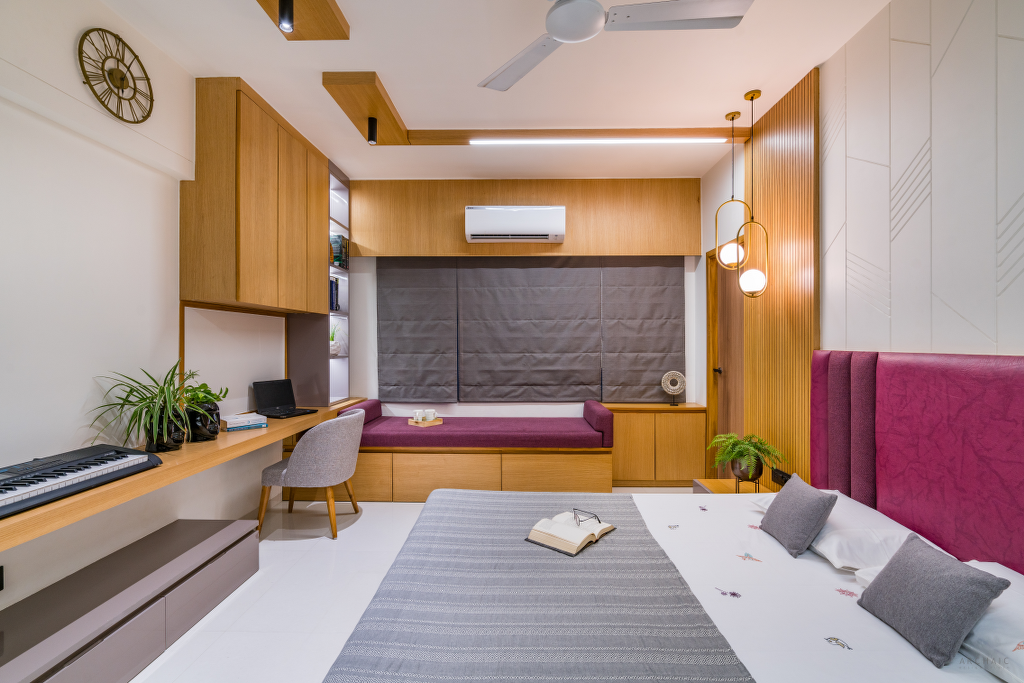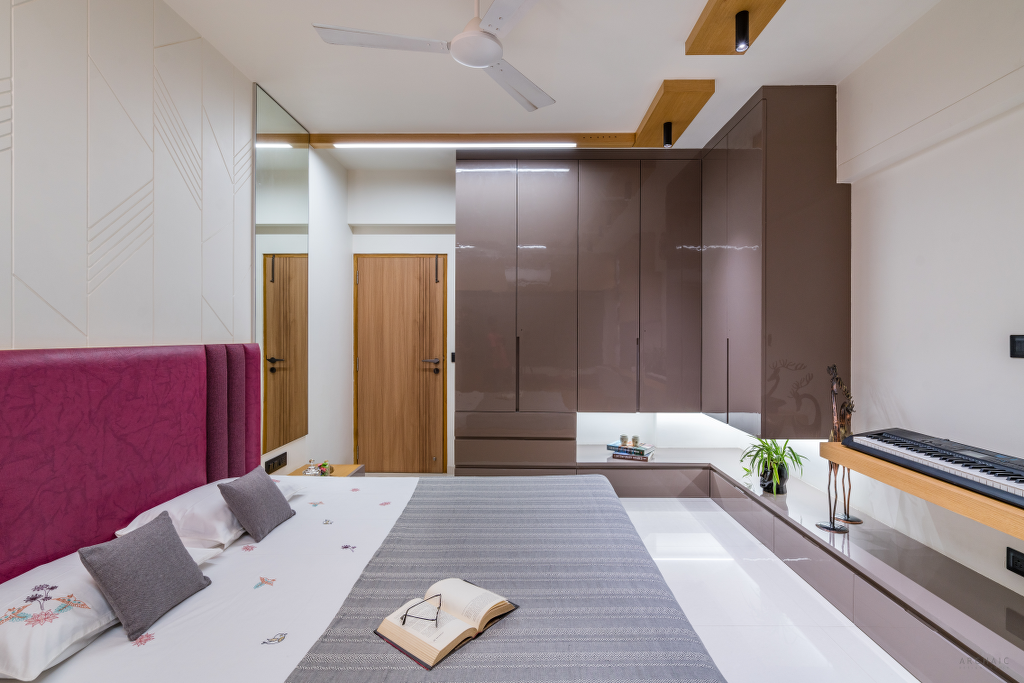 Parents Room
The second master bedroom is dedicated to the parents – a couple who enjoys watching TV as well as spending time doing prayers. It has a small temple, storage space for religious books and related materials. All of this is placed above the TV unit, keeping in mind both the needs and a common wall to arrange it. The placing of chairs is tactically done so that they can enjoy their evenings watching cricket match over a cup of tea or perform their religious rituals with a feeling of calm and comfort. Greige is used as the base colour and shades of blue add to the verve.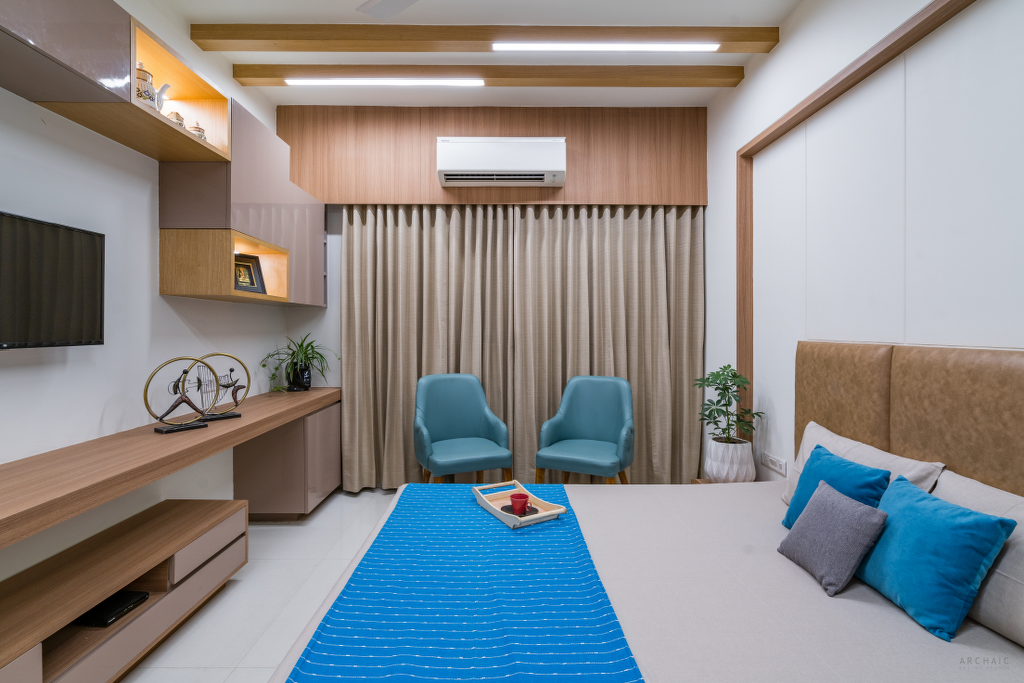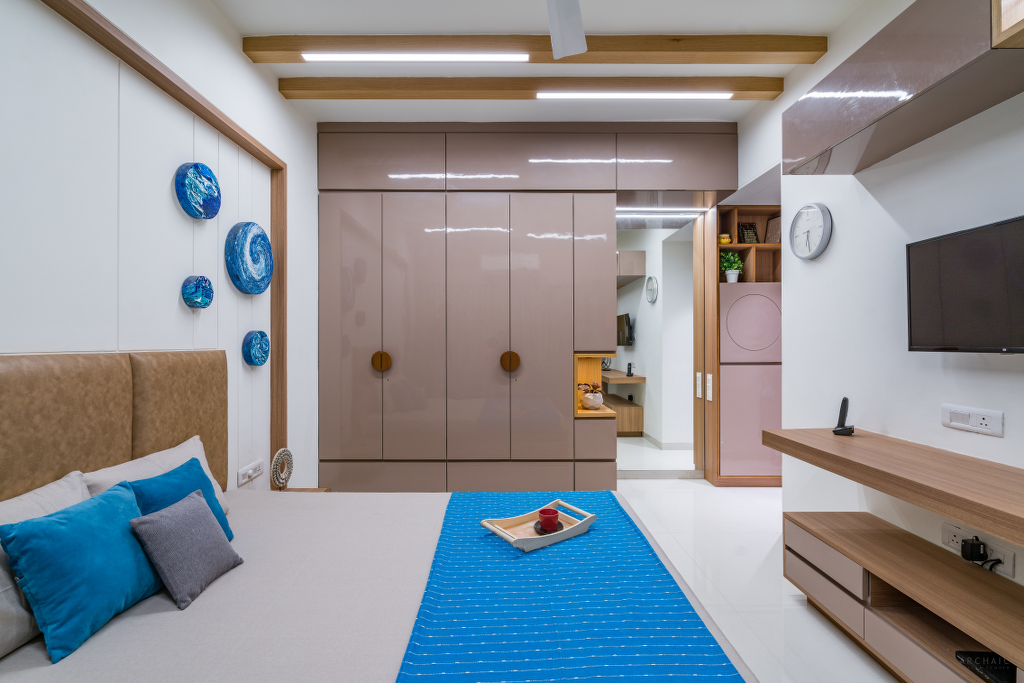 Kids Room
The kids room is adding a new flavor to the house interiors. The plan has a corner bed, a raised study area and a swing to integrate both – study and play zone in the same space. The cute hanging swing chair can be used as a reading seat as well as to sway around. Each wall has a surprise element for the kid (his cousins and friends too!!). The window is overlooking kids play area of the building and the wall opposite has a scribble board. Kids can scribble their heart out and when not scribbling it serves as a natural scene connecting well to Mother Nature in its cute way. Wall cabinets, scribble wall, ombre curtains all are designed using Pantone's color of the year 2021 – Ultimate Gray and Illuminating (shades of grey and sunshine yellow) chosen for warmth and dependability.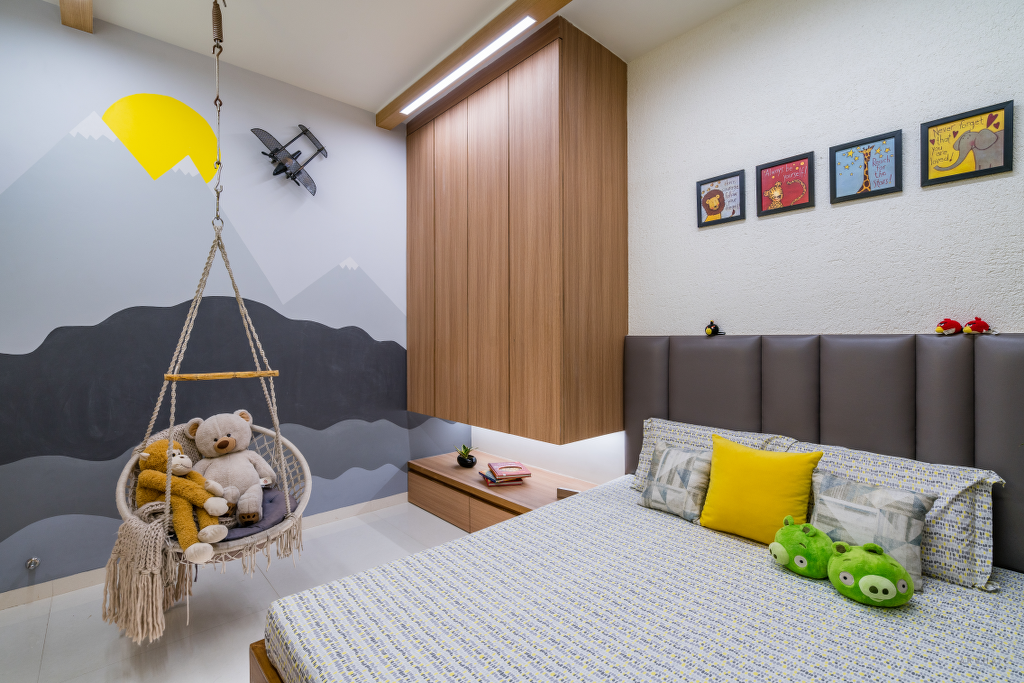 Common areas & utilities
Entrance – Main entrance of the house had a side wall with a depth. This space was creatively used to store footwear, sports goods (rackets, bat, etc.) and other accessories. Welcoming Buddha is perfectly placed in the niche.
Other utilities – the entrance passage to rooms had visible beam grid formation. To hide the beams and to use the space as a small loft, wooden shutters with linear grids were used.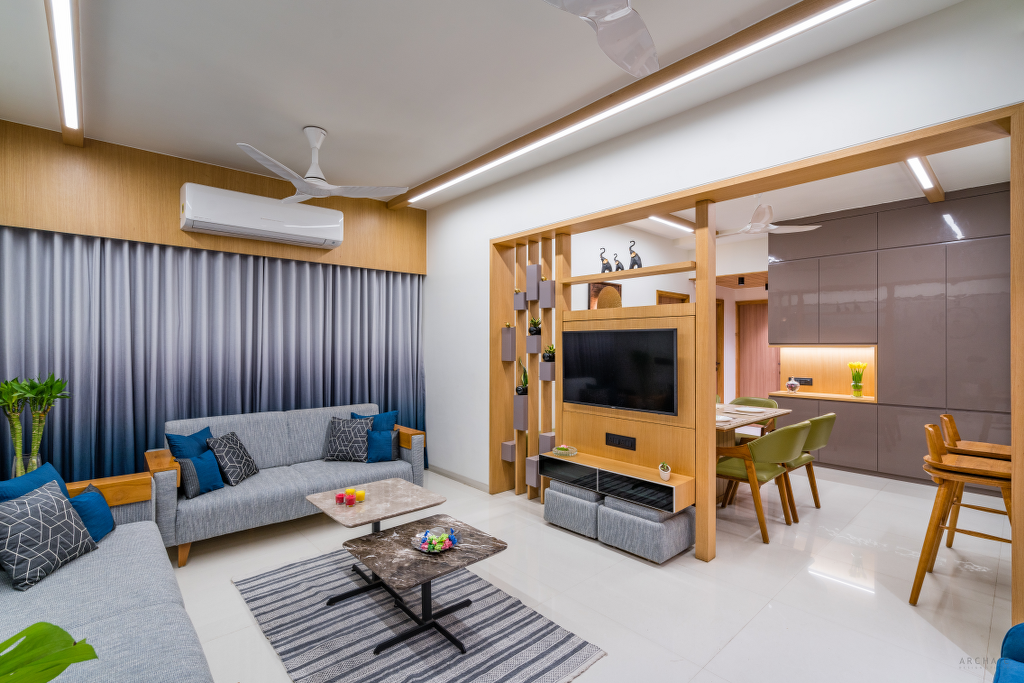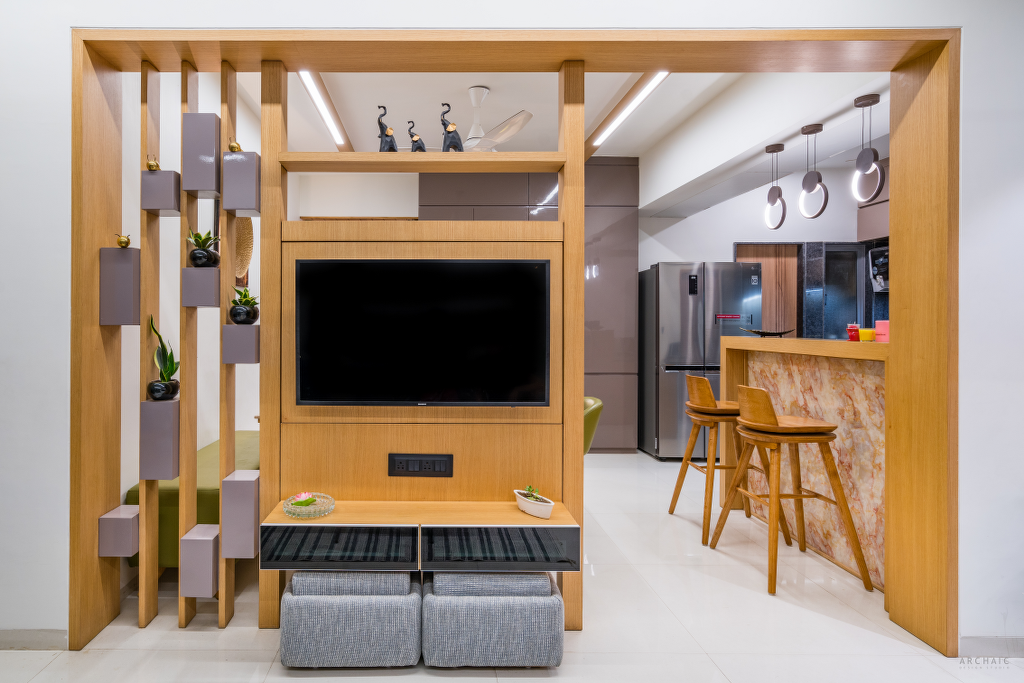 Overall Execution
This project came out exquisitely well, because it brought out the passion of users and designer, which was aligned well by workmen, resulting into a seamless end product. The designer's patience, attention to the design brief, design detailing and innate creativity are highly laudable. His core strength lies in end to end customer satisfaction. The head carpenter's co-ordination with designer and end user was to a level of 0-0 mark. His sharpness and creative solutions worked out really well. Deep gratitude to all the people directly or indirectly associated with the project to make this space called HOME – 'Because Home is not just a place, it's a feeling'.
Fact File
Designed By: Archaic Design Studio
Typology: Residence Interior Design
Project Name: Jhavery's House
Location: Ahmedabad, Gujarat
Year Built: 2021
Duration: 4 months
Project Size: 2100 sq.ft.
Project Cost Appx: 35 Lac
Principal Architect: Kalpesh Mewada
Design Team: Krupa, Abhi Shah
Photography Credits: Inclined Studio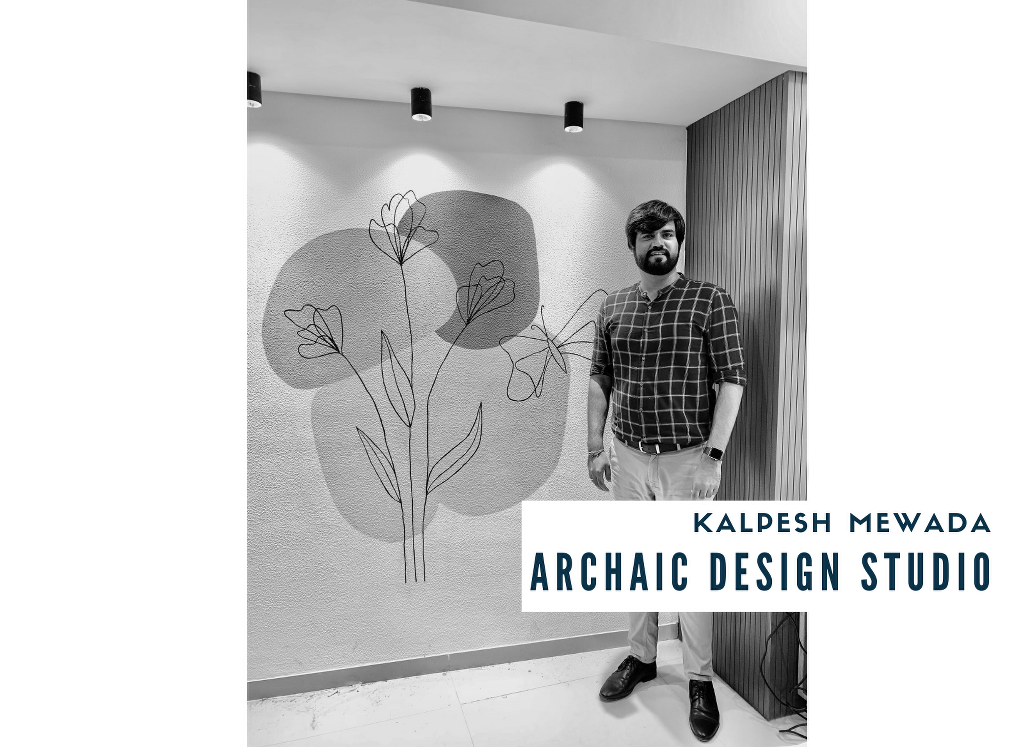 Firm's Facebook Link: Archaic Design Studio
Firm's Instagram Link: Archaic Design Studio
For More Inspirational Projects >> Basic Material Palette and Furniture Adding an Unusual Simplicity to this Residence in Ahmedabad