This contemporary outhouse residence of the royal bungalow named "Nand Barsana" is designed on a neo-classical theme that exudes elegance and sophistication.
Statement of Contemporary Vogue with the Zestful Essence | Design Studio Associates
Visit: Design Studio Associates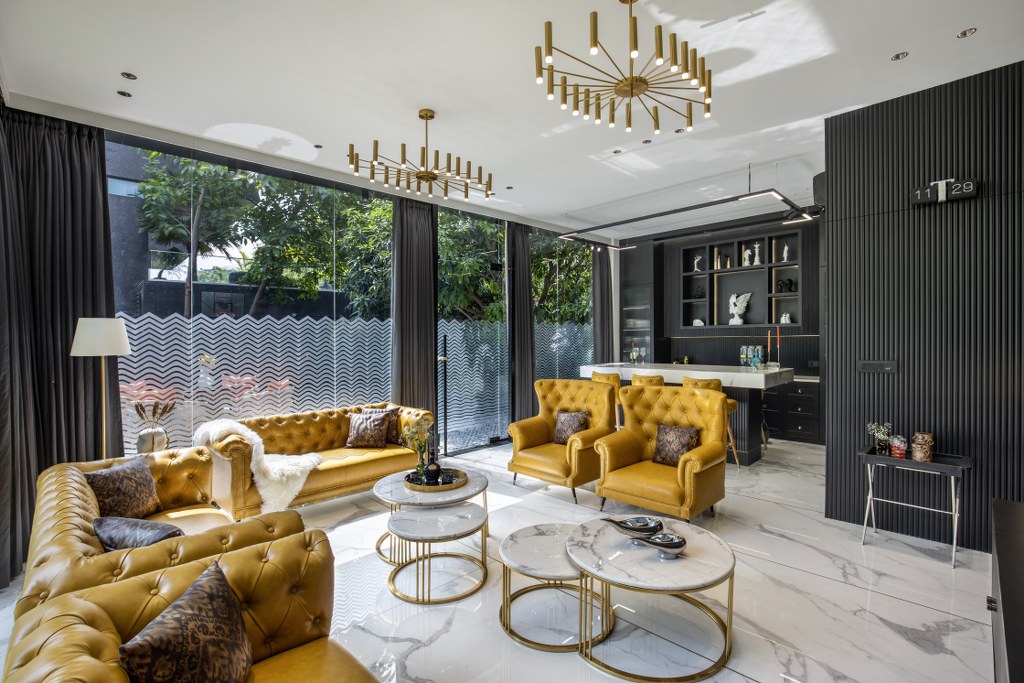 For jazzing up private gatherings, the owners desired to mandate a voguish statement by continuing the zestful essence in the outhouse too, therefore, this 800 sq. ft. outhouse is rigorously developed by the principal architect Ruchir Sheth and designed by Drashti Thakkar to match the requirements.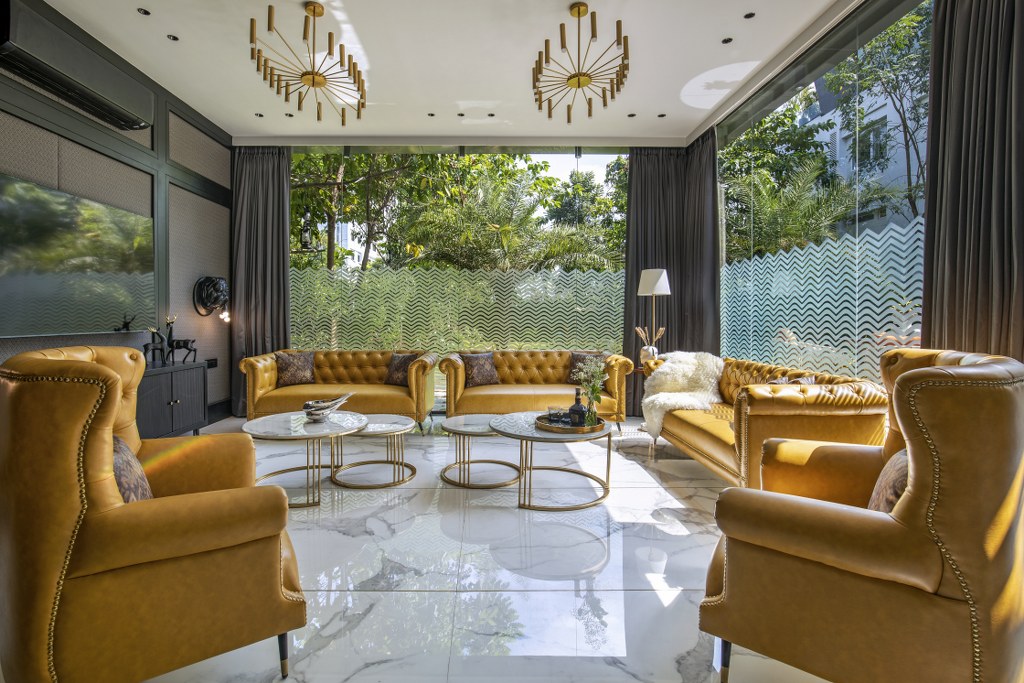 The entrance of this sumptuous house has a captivating landscape with a standing tableau on one side and a contemporary table and chair set on the other, which leads to an alluring door that opens into an oozing opulence.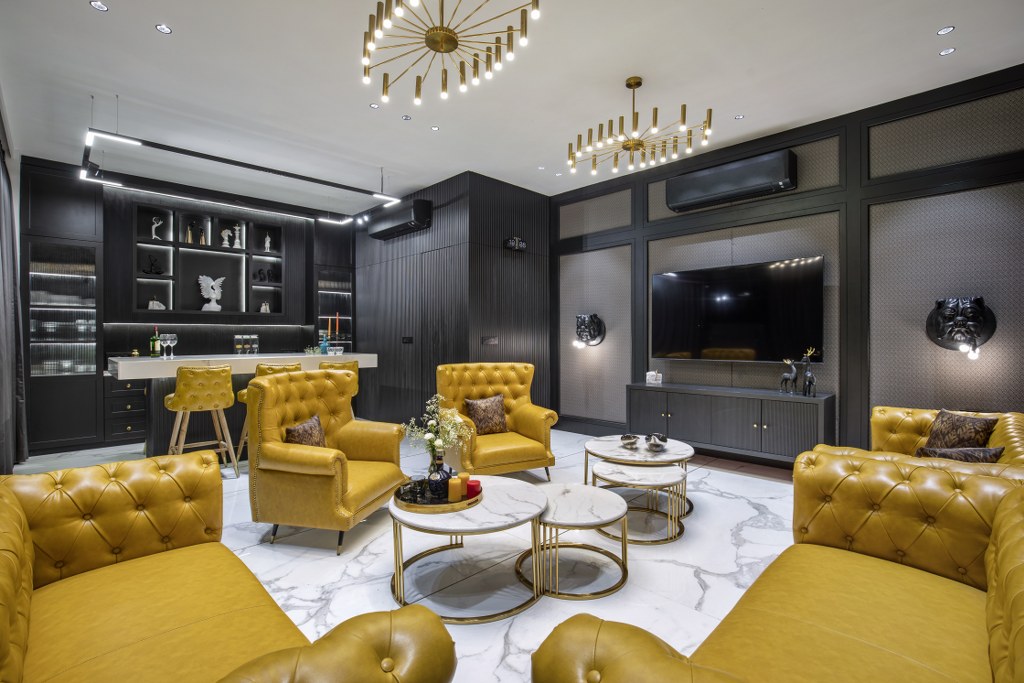 The expansive living room has contemporary furnishing with 6 seaters Mustard leather sofa amidst the black interior paired with a white solid MDF sheet on the ceiling and satvario tile on the flooring for a glorious finishing. Further, in the black décor and artefacts outspread over the living room, the accenting floor lamps, hanging chandeliers, as well as button lights on the ceiling, finely elevate the warmth of the ambience.
With its edgy, minimalist style combined with Mustard leather bar chairs, this black kitchen masterfully pulls off dark hues.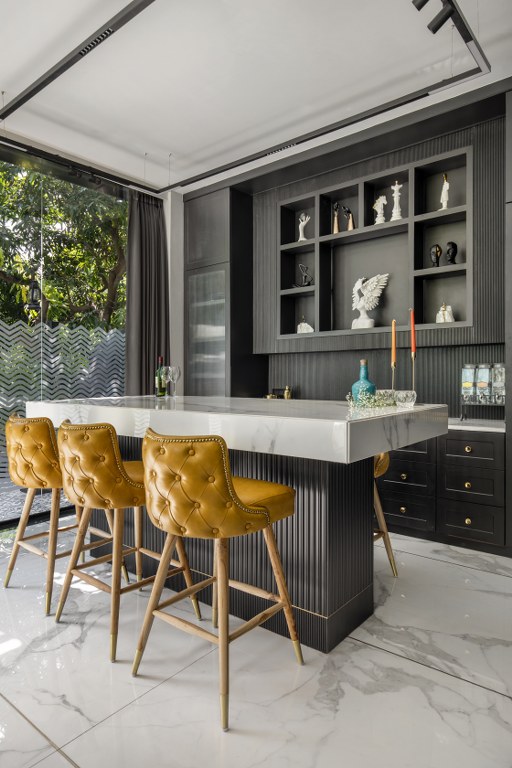 The inside of the cupboards reveal a delightful view mingled with the dark wooden interior and stone table where the guests can definitely enjoy munching and swilling by perching on top those sleek kitchen bar chairs. Catch a sight on the unusual LED wall light in the living room! To enhance the intensity of the ambience, these French Bulldog wall lights are creatively placed that finely illuminate the room and awestruck every person entering the room.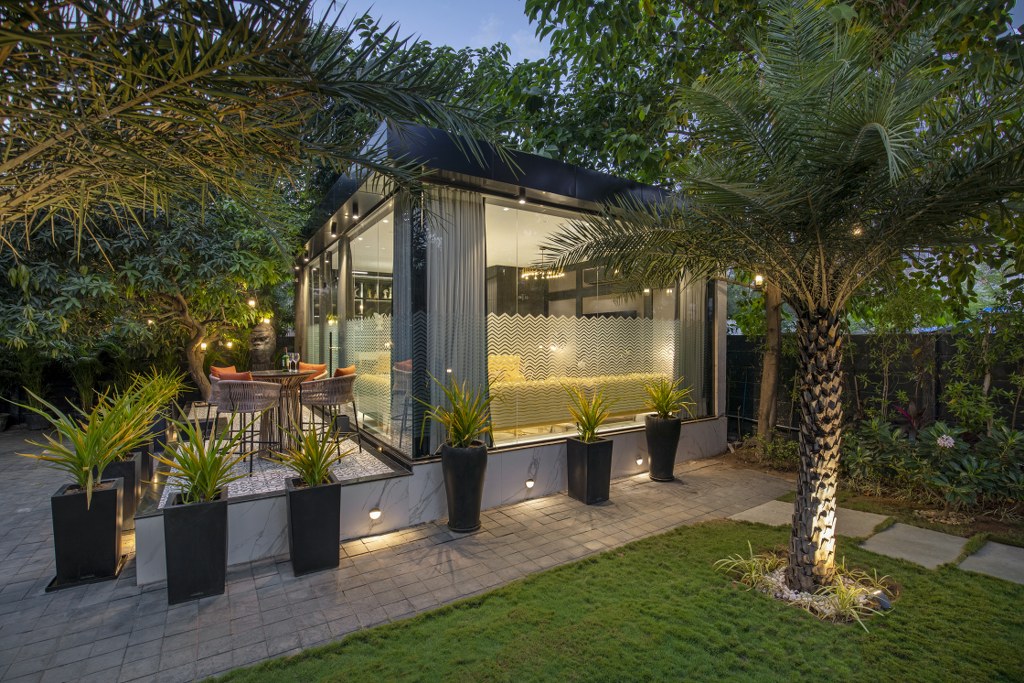 This beautiful outhouse of Nandbarsana is foregrounded with the strong accents of floral designed vitrified tiles. This pristine house is dressed with the remarkable interior, furniture, and decor featured throughout the area.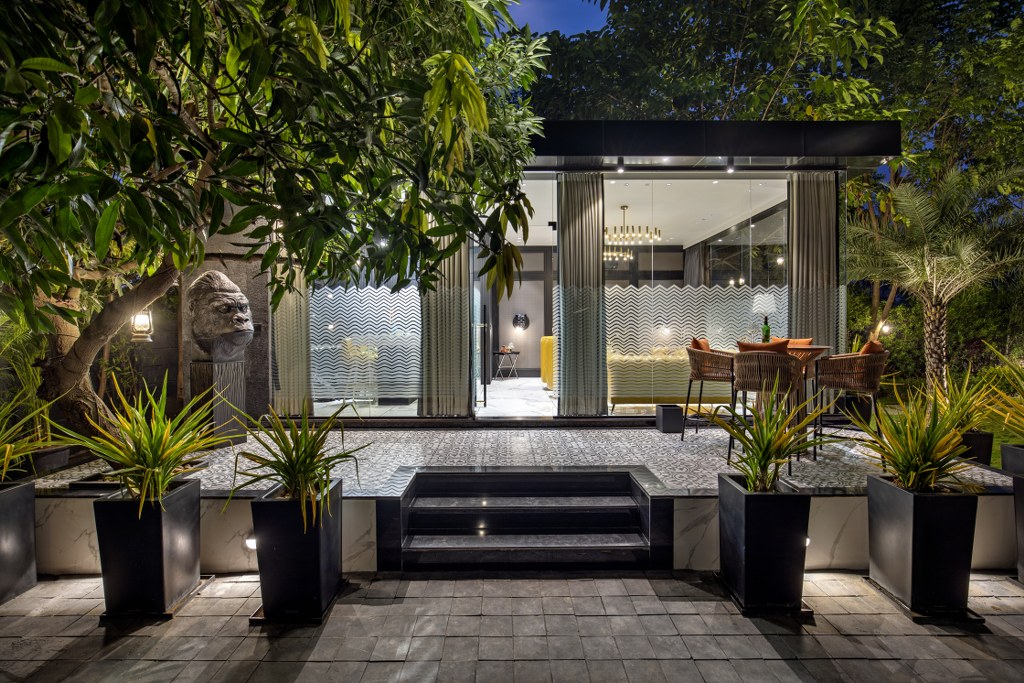 The dark-hued palette paired with Mustard and white highlights in the interior vitalizes the space and richly complements the outdoor manicured greenery.
Designed By: Design Studio Associates
Principal Architect: Ruchir Sheth
Project Size: 800 Sq.ft
Location : Vadodara, Gujarat
Team Design Credits: Drashti Thakkar
Firm's Website Link: Design Studio Associates
Firm's Instagram Link: Design Studio Associates
Firm's Facebook Link: Design Studio Associates
For Similar Project>>Reflecting Modernist Techniques With A Hint Of Contemporary