&nbsp
Simple and Welcoming Apartment Interiors With Quirky Accents | The Design Yard
In a fast-paced city like Ahmedabad, a home provides refuge and peace from the hustle and bustle of the city. For a young couple and their five-year old, The Design Yard envisioned this home to be simple and welcoming with quirky accents where the occupants unwind and connect.
Visit : The Design Yard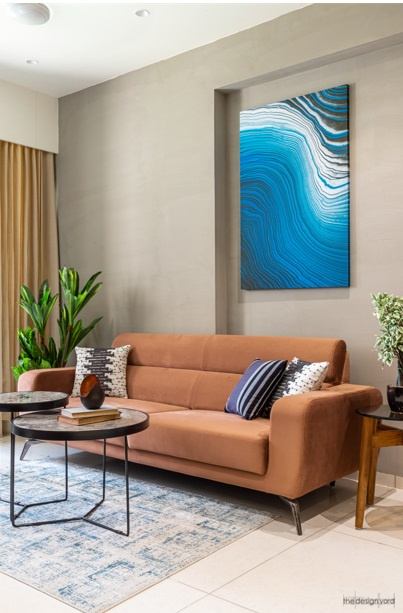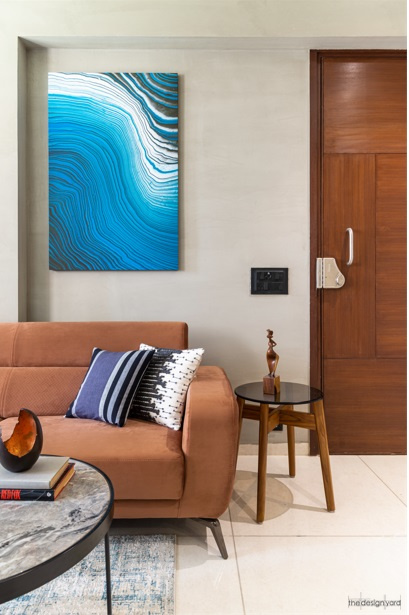 The design ideology of this apartment is grounded on keeping things simple, hence it gets the name 'Apartment Simplex', which is the latin word for simple. The apartment is a fine marriage of the client's requirements and their affinity for certain colours versus the architect's vision of keeping things more on neutral tones to create a sense of calm inside.

&nbsp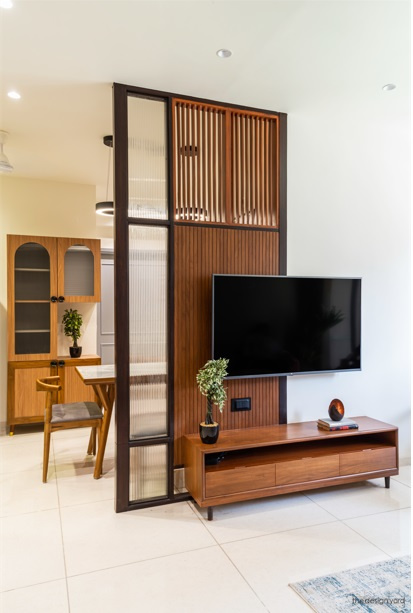 On entering the space, it opens up to the living room on the right with the dining hiding behind the media unit partition. With a material palette that extrudes the right balance of warmth and quirkiness, the living and dining features teak wood, concrete and splashes of brighter furnishings in its elements. Neutral walls in grey and white provide the perfect backdrop for bold artwork and décor.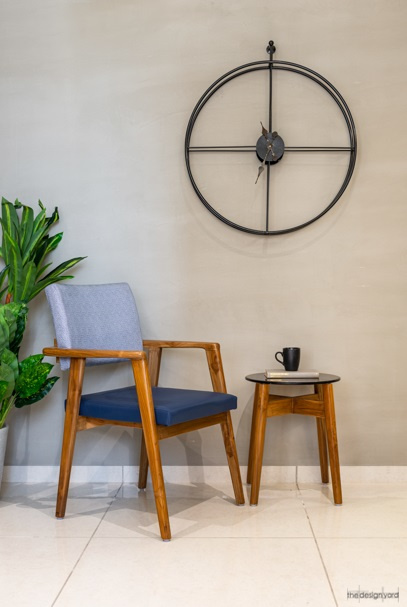 The dining gets tucked behind the media unit partition made in teak wood in ceramic top and is paired with Elbow Chairs by Hans Wegner. To have a nostalgic feel, the wall against the dining holds a photo collage of the family for reflecting on the intangible moments of the family. While moving past the dining a passage leads us to the bedrooms, with the kids room on the right and the master bedroom in the front.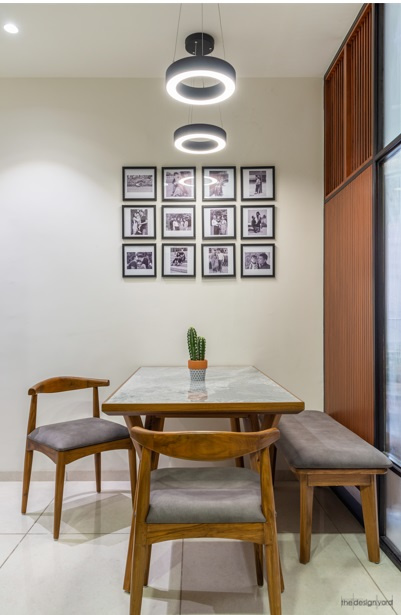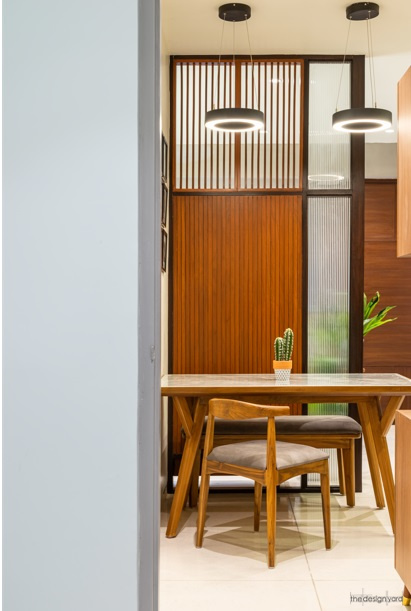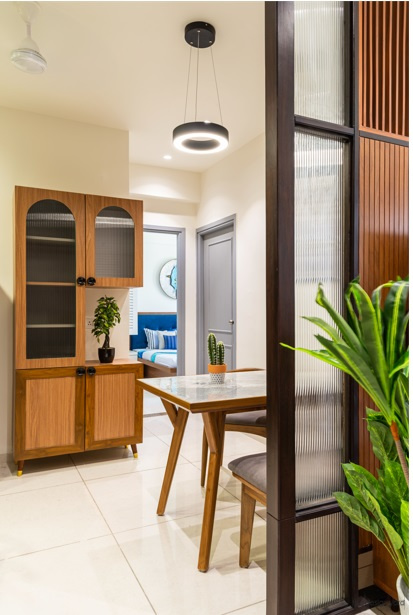 The kid's room is a reflection of a child's affinity with his favorite superhero. A niche within the wall is highlighted in a bright pastel green featuring an artwork of comic characters. The wardrobe is finished in a green upholstery within a white frame. The bed is placed on a raised platform to add a sense of playfulness to the space. On entering the room, one sees a study desk placed on the raised platform in front of the bed custom made in metal and wood.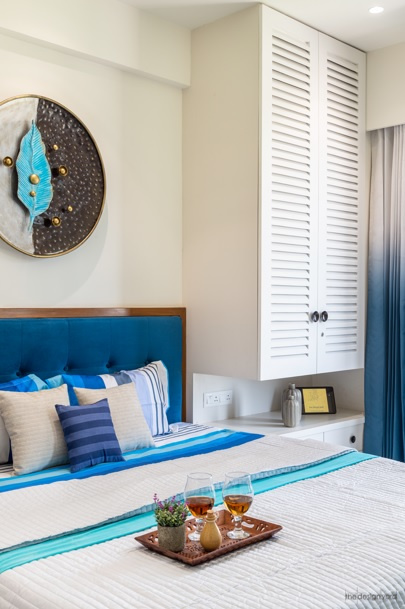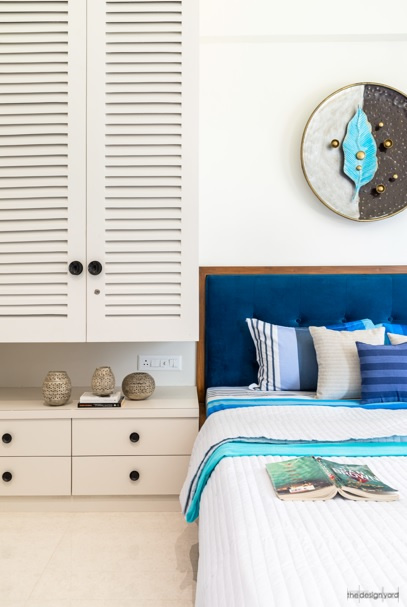 Leading into the master bedroom, white walls act as backdrop for the blue upholstery and furnishings, which is the couple's favorite colour. The bed is delicately placed between the white louvered wardrobes. A pastel blue colour blocked wall in front of the bed carries the overall concept with a small dressing unit placed at the end of the space. The room surely gives away some Santorini vibes!
"In every project, our intention is to create a sense of calm and peace within the space. This apartment has all of it ; a pleasant colour palette, rich materials with a fine overall detailing to the décor. The idea was to create a cocoon from the outside, where our client find peace.
FACT FILE:
Designed by : The Design Yard
Project Type : Apartment Interiors
Project Name : Apartment Simplex
Location : Ahmedabad, India
Year built : 2021
Area : 600 Sq. ft.
Principal Architect: Farhan Sipai
Design Team : Savan Nariya, Harsh Kharadi
Photograph Courtesy: Photographix
Products And Furniture : Furniture – Maruti Furniture, Anand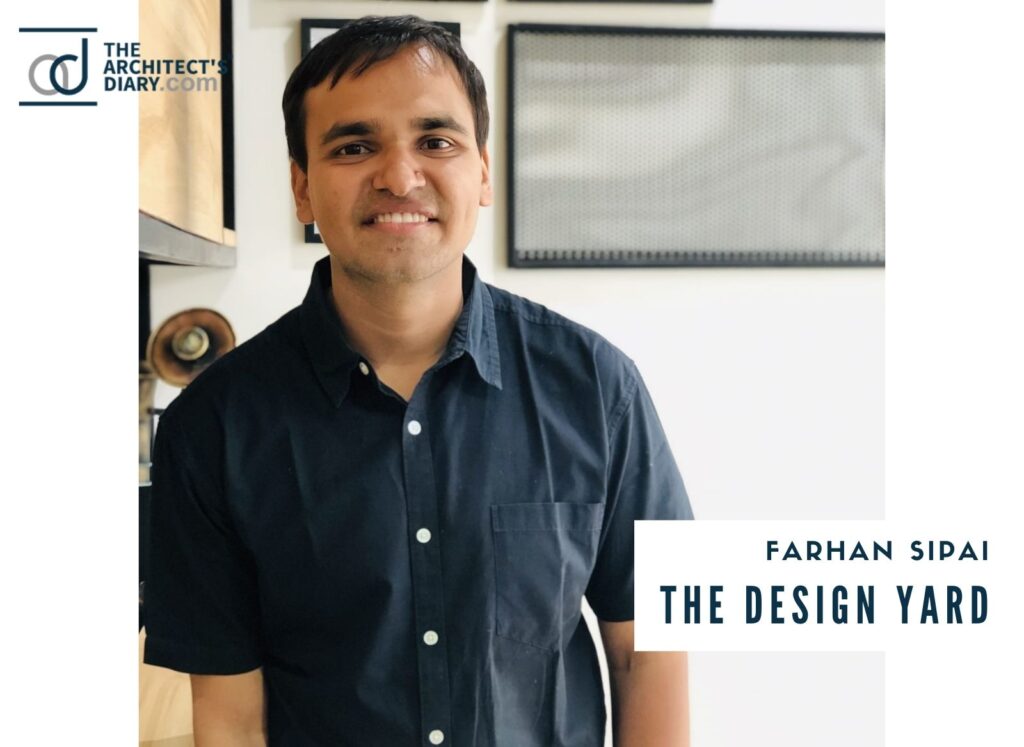 Facebook Page : www.facebook.com/thedesignyard.anand
Instagram Tag : www.instagram.com/the.design.yard

&nbsp