Space Planning Focused on Creating Visually Interconnected Office Space | Studio Infinity
The project came to us with a challenging space and the client's aspiration to have an office that will 'stand-out' from other travel offices in the city. Our initial thoughts focused around proper utilization of the odd shaped floor space and to create a design vocabulary that will personify 'TRAVEL' as a very subtle, but an integral part of the entire office setup. We decided to use items collected by the client during his journey across the globe and weave them in our designs. Further, customized works of traditional and contemporary craftsmen from the city, were incorporated as an additional layer to the design vocabulary. Space planning focused on creating visually interconnected spaces and efforts to control the light gushing in unevenly through glazed facade across the office periphery. Services were aligned to address low ceiling height and odd beam positions. An earthy material palette, customized furniture, integration of arts and use of green inserts wherever possible, helped us to define the overall outcome of this project.
Visit : Studio Infinity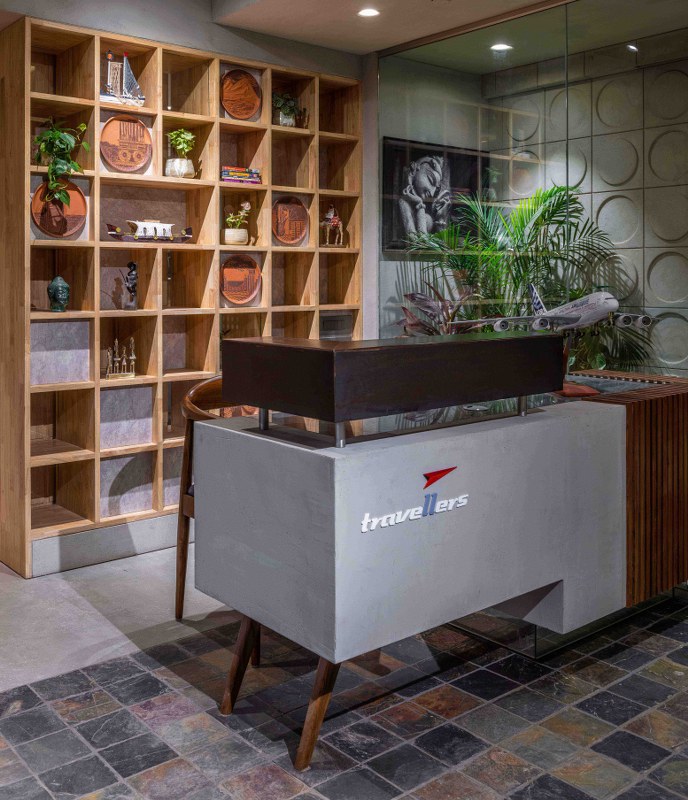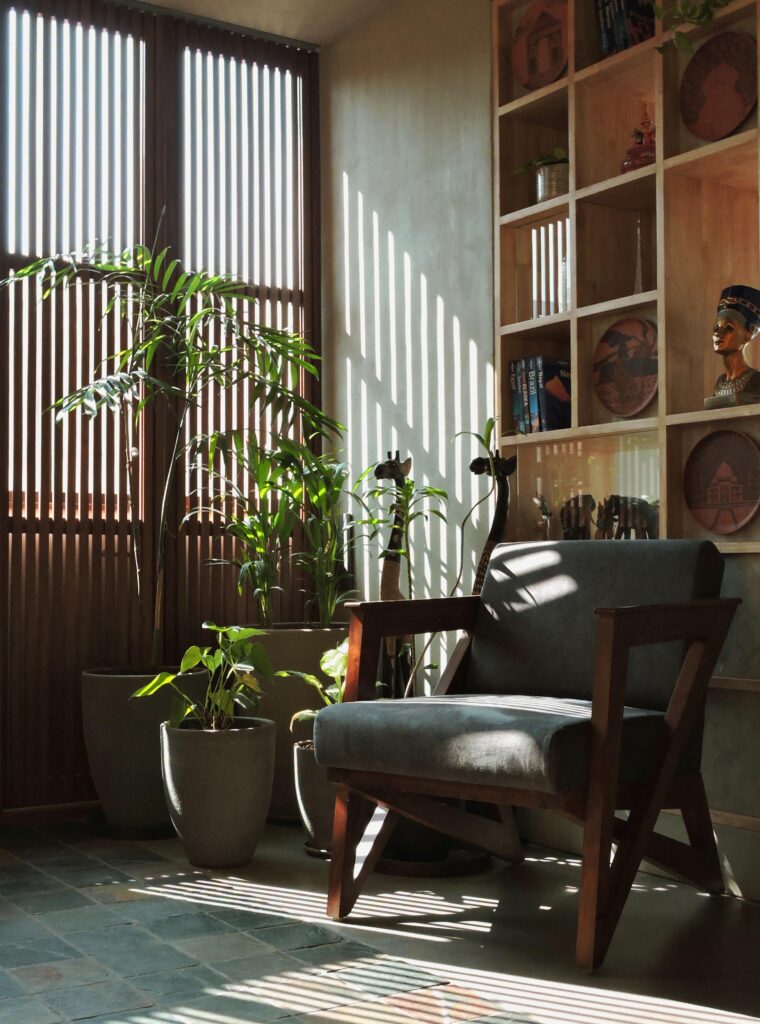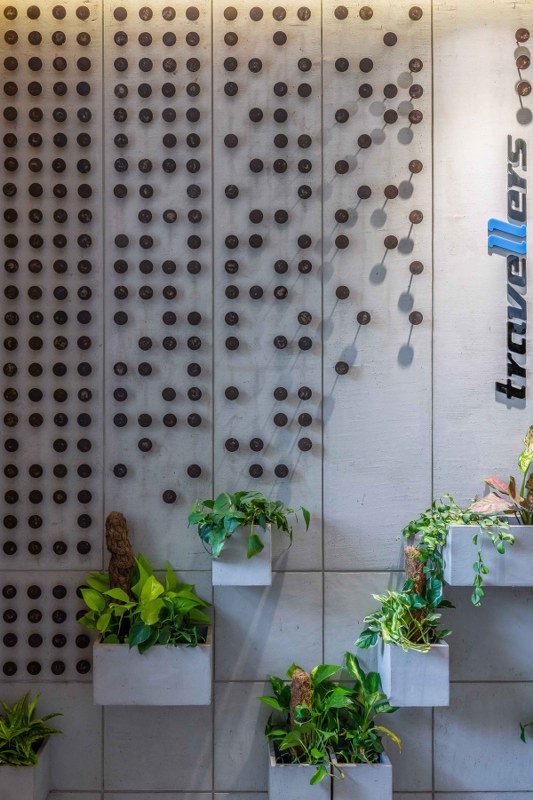 The client, who was planning to expand is business in this new premises, had a big dream to have an office, which will create a lasting impression on the visitors. Like all tourism offices he too wanted to use TRAVEL as a theme for the decor. In the initial discussions, he mentioned his love for photography, collection of travel mementoes and enthusiasm for plants. The client's aspirations, hobbies and his likings became the under-lining factors for our line of thought. We intended to create a space that will address all his inputs, but will be based on a strong aesthetic vocabulary different from all his competitors in the city. Travel' was seen as an integral aspect of the design development and an effort was made to portray it thru' arts, crafts and other elements of space making, than mere graphical representations.
This office is on the third floor of a commercial building abutting one of the busiest roads of the city. The ongoing metro rail work on the adjoining road makes the traffic chaos even worse. As a response to keep away the traffic noise, avoid visual distraction of the metro construction and to deviate from the monotonous feel of being in a commercial building, we decided to make this office a more in-ward looking space by virtue of the seating arrangements and internal circulation.
Overall shape of the floor plate, position of lift & staircase block, plus odd geometry of the space at our disposal, all combined together to form a major aspect to be addressed in the initial stages of design. Long glass facade all around the periphery of this space was a major concern considering the heavy traffic noise on adjoining road, excess light coming in and alignment of internal spaces and furniture. Very low clear height along with haphazard beam levels was one more factor to be considered in the early stages of design.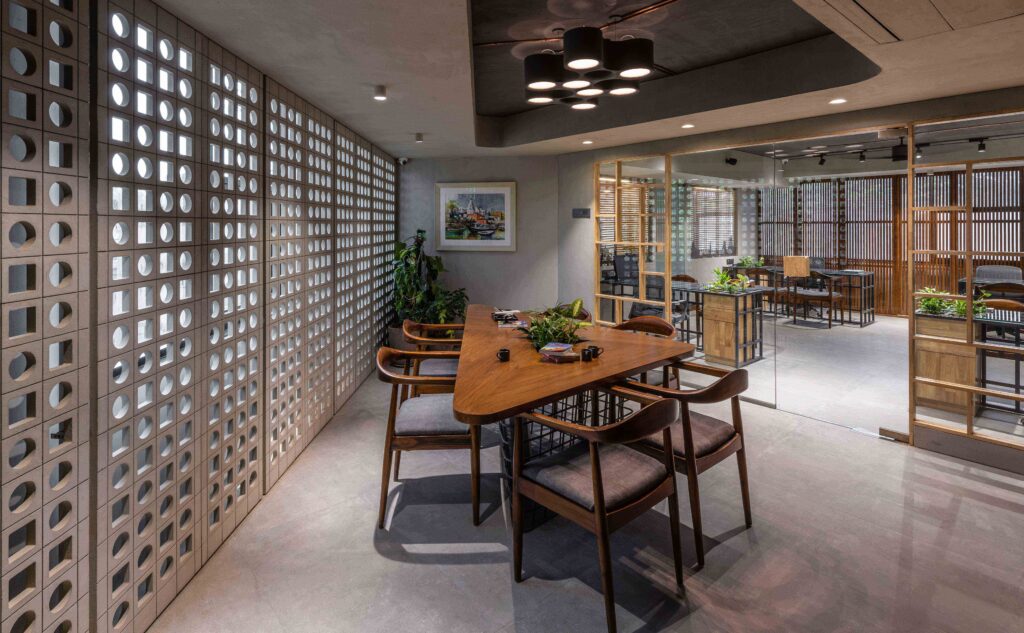 The overall layout planning focused on achieving a desired easy visitor movement and carving out simplified volumes from the available irregular floor plate at our disposal. The otherwise functional items like partitions, storages and screens were devised as elements of space formation and they ended up defining overall aesthetic vocabulary of the entire office. Entire periphery of this office has glazing, which heats up the internal spaces. Moreover, pertaining to the shape of this office, almost thru' out the day, most areas are affected by this. Hence a series of screens were designed to tackle this issue. They filtered the harsh light coming in and due to the cavity, the heat too is reduced. These screens eventually also defined the spatial aesthetics of interior spaces.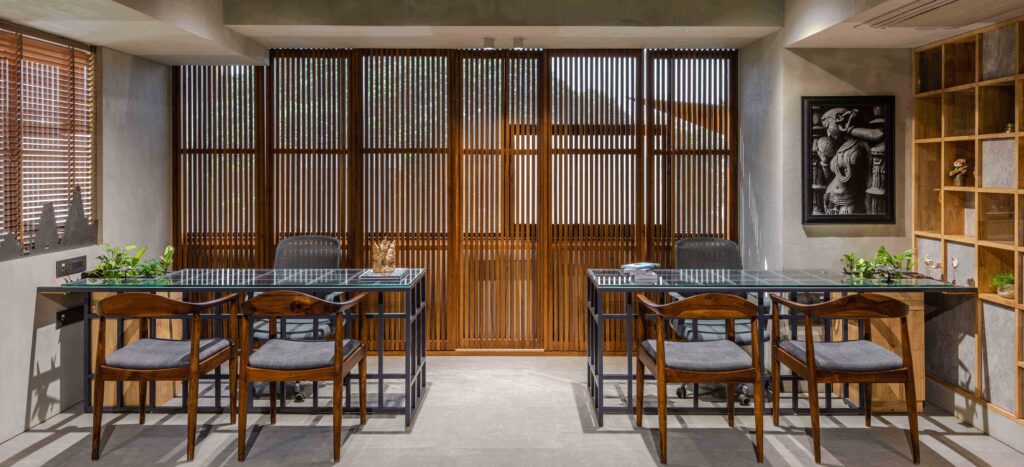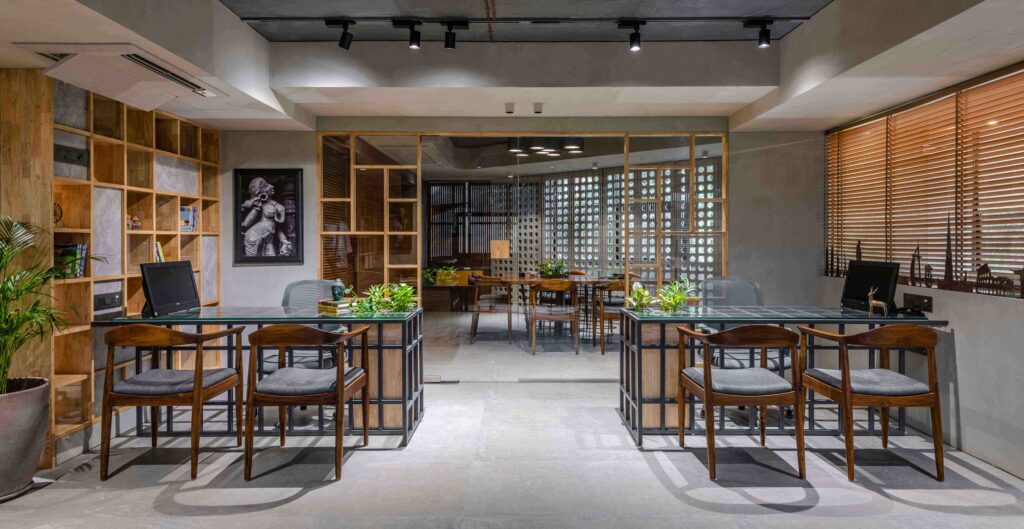 In this project, almost 95% work is customized, while 100% items are locally sourced. Detailing was worked out with available resources & lot of efforts went into getting works done from local skilled / semi-skilled labour.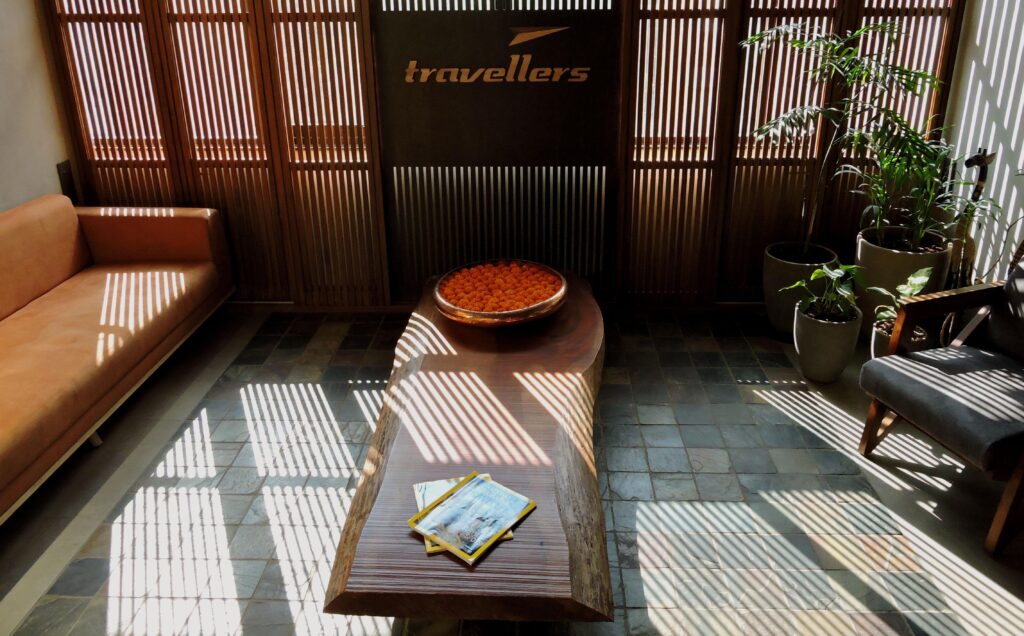 Our efforts for a responsible space creation revolved around naturally lit interior spaces, cutting off unwanted heat, allowing air circulation and using eco-friendly materials. Green rated engineered wood for partitions / storages, fiber cement boards for screens/patterns & MS due to its salvage properties was used in furniture. Optimization: A grid system was derived to optimize use of material & reduce wastage. A 12×12 inches module was repeated in partitions, storages & furniture considerably reducing the overall wastage which is otherwise generated due to random sizes & cuttings. Reuse: Where ever possible wastage was re-used to create some other elements. This helped in using the available resources very thoughtfully.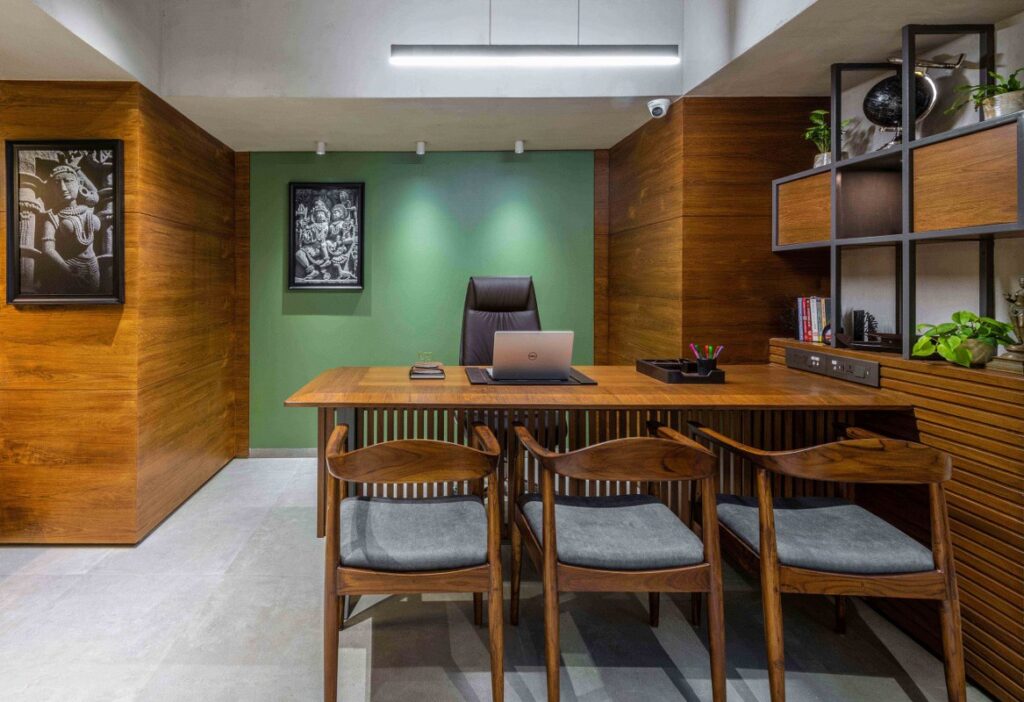 Thru' out the office, indoor plants have been used to provide a visual relief from the typical attributes of an upper floor commercial space and also to incorporate the client's love for plants. A variety of small and big plants have been integrated into spaces, partitions and even furniture like tables and storages. These green inserts were intended to cast a soothing effect on the users and visitors and at the same time they form a strong element of the material palette.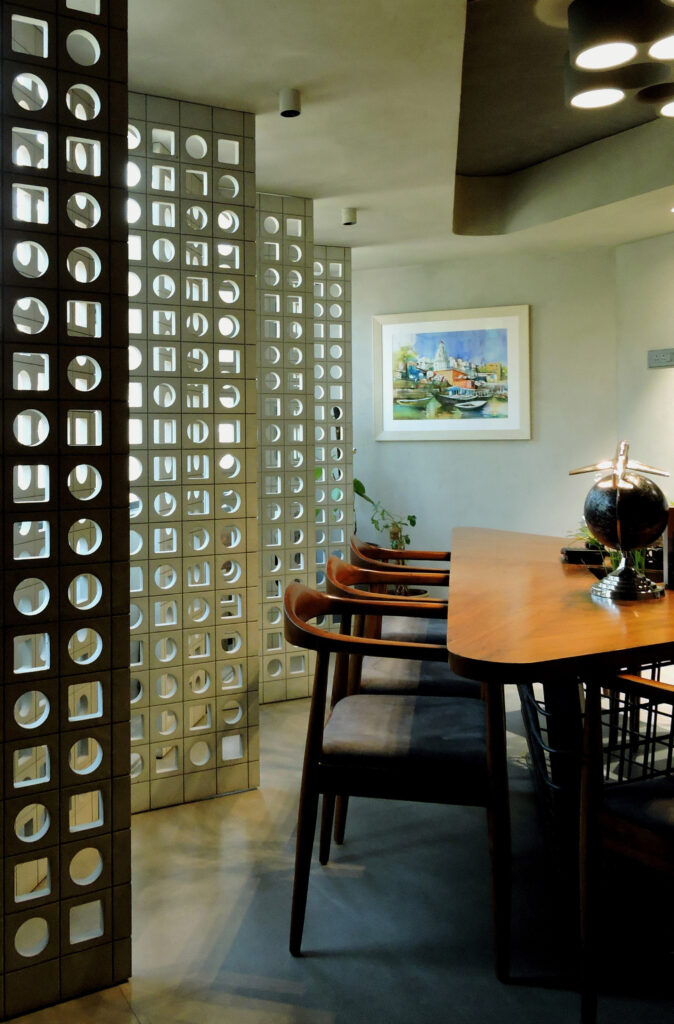 Pune has a rich history of crafts and even today, there are several traditional and contemporary artists in the city. We decided to integrate them into our designs and make them an important aspect of the final outcome. Copper work from the 'tambat ali', Clay work from a local potter, chairs from a family of wood workers and pots from an artist were customized as per our designs and ambience. These elements were conceived and integrated in early stages of design, so as to achieve a desired blend of traditional & modern aesthetics in set timelines.
FACT FILE :
Designed By : Studio Infinity
Project Type : Office for a Travel Company
Project Name : The Travellers
Location : Pune, Maharashtra
Year Built : 2020
Principal Architect : Ar. Tushar Kothawade & ID. Chiranjivi Lunkad
Photograph Courtesy : PHX India ( Sebastian + Ira) & Studio Infinity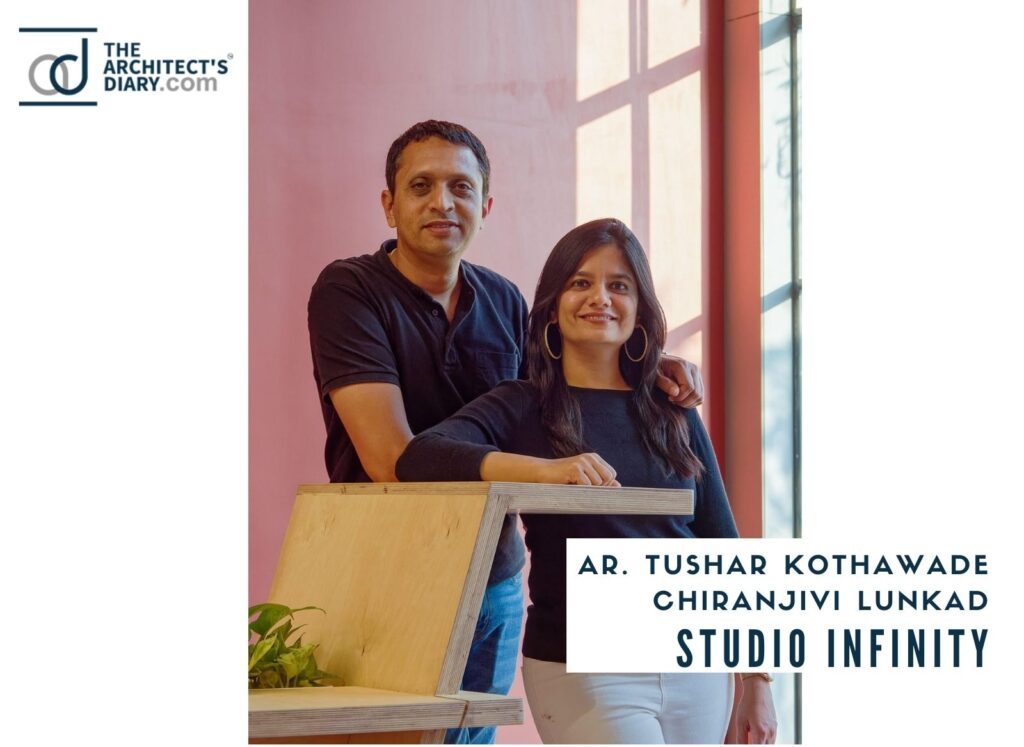 Firm's Website Link : Studio Infinity
Firm's Instagram Tag : Studio Infinity