&nbsp
A confident image and spaces that reassure a brand value can be of utmost importance to a company dealing with immigration services. The revamp for Shreehari Immigration office required not only a facelift in terms of interior space, but also rethinking of the overall functional layout. With a focus on optimising work areas, while also making reception and customer interactions efficient and streamlined, the design brings together various functional elements with thoughtful playfulness.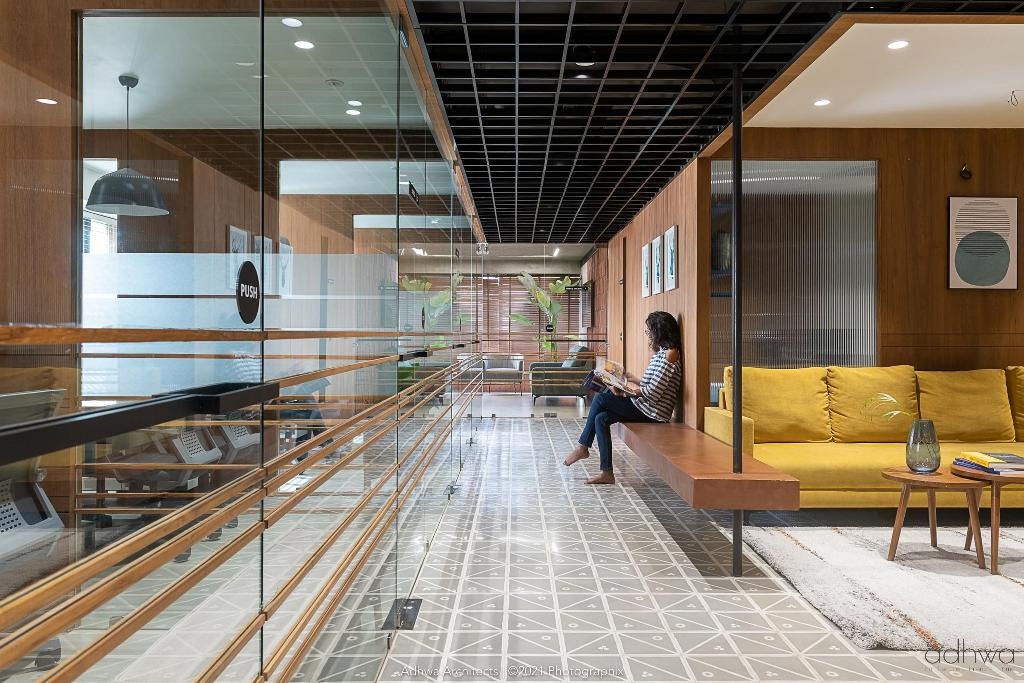 Shreehari : The Office Space Brings Together Various Functional Elements With Thoughtful Playfulness | Adhwa Architecture Interiors
Visit : Adhwa Architecture Interiors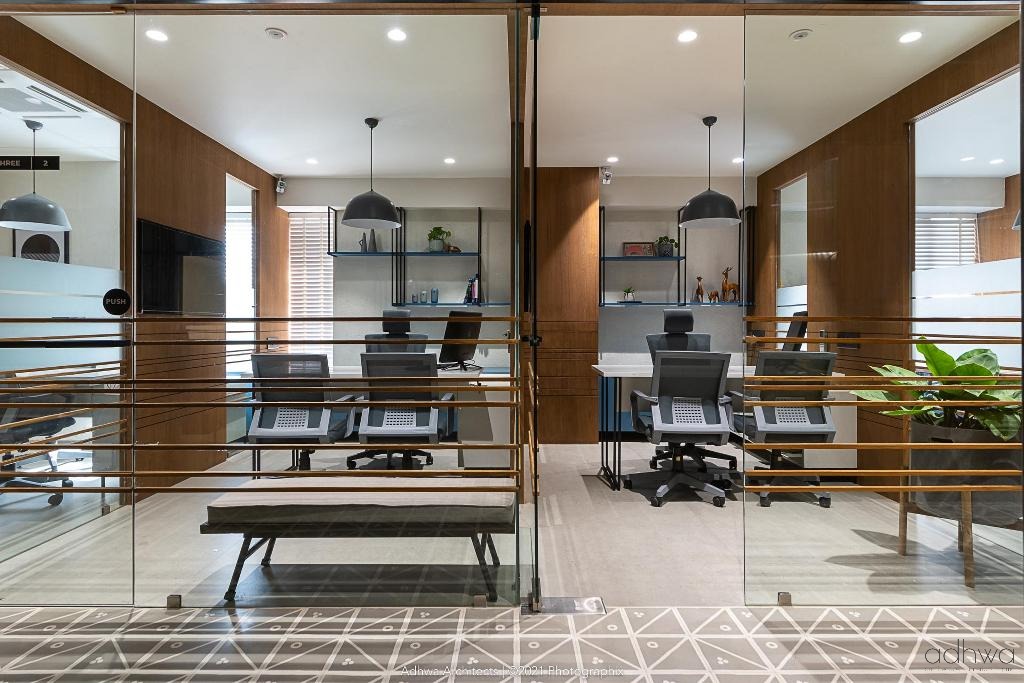 Beginning from the entrance and reception area, the company's branding through an embedded LED screen became a subtle yet important design layer, where the designers chose to do away with traditional and obsolete branding materials. Footfall management in the form of ample formal and casual seating arrangements was a priority during the design process. This allowed for a fluid flow of spaces into each other, while setting appropriate controls to regulate visitor and employee movement.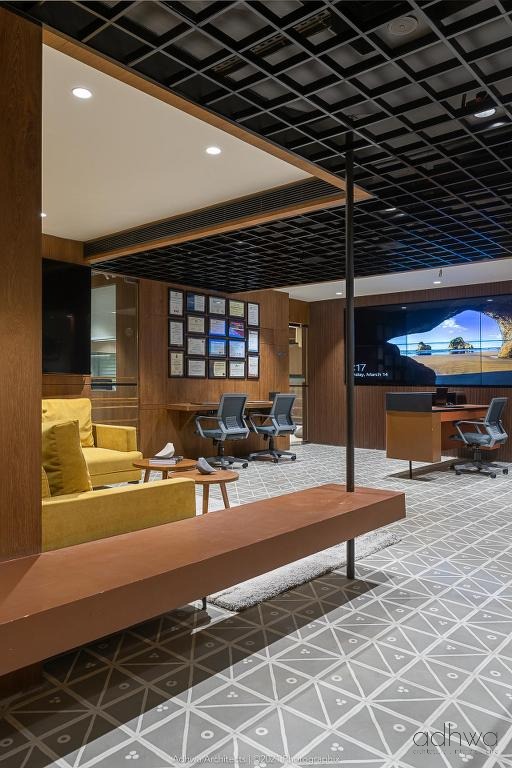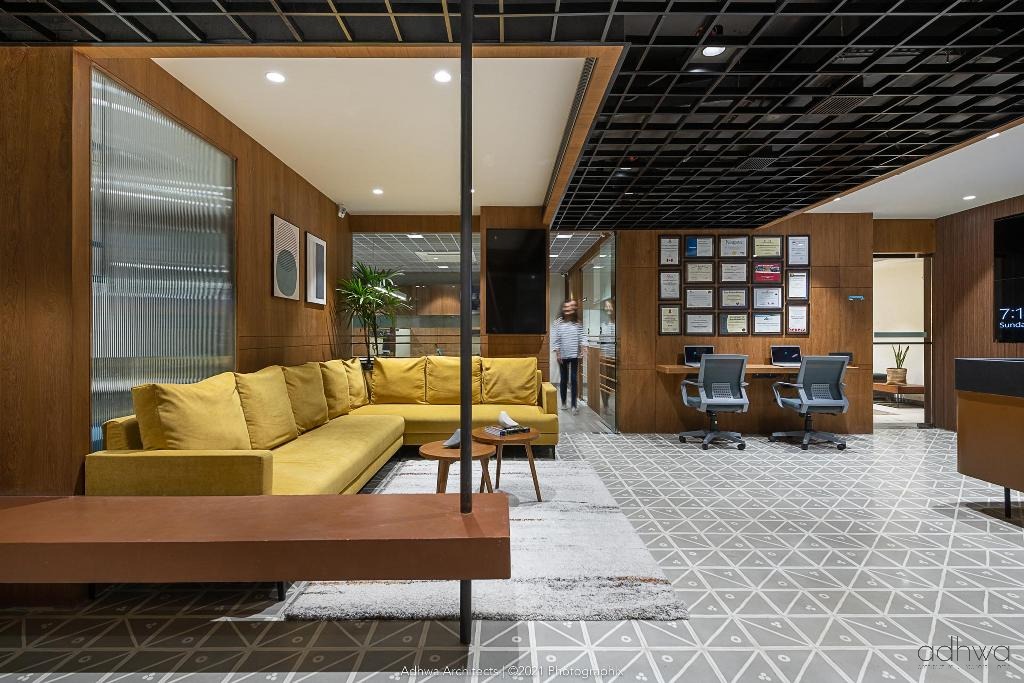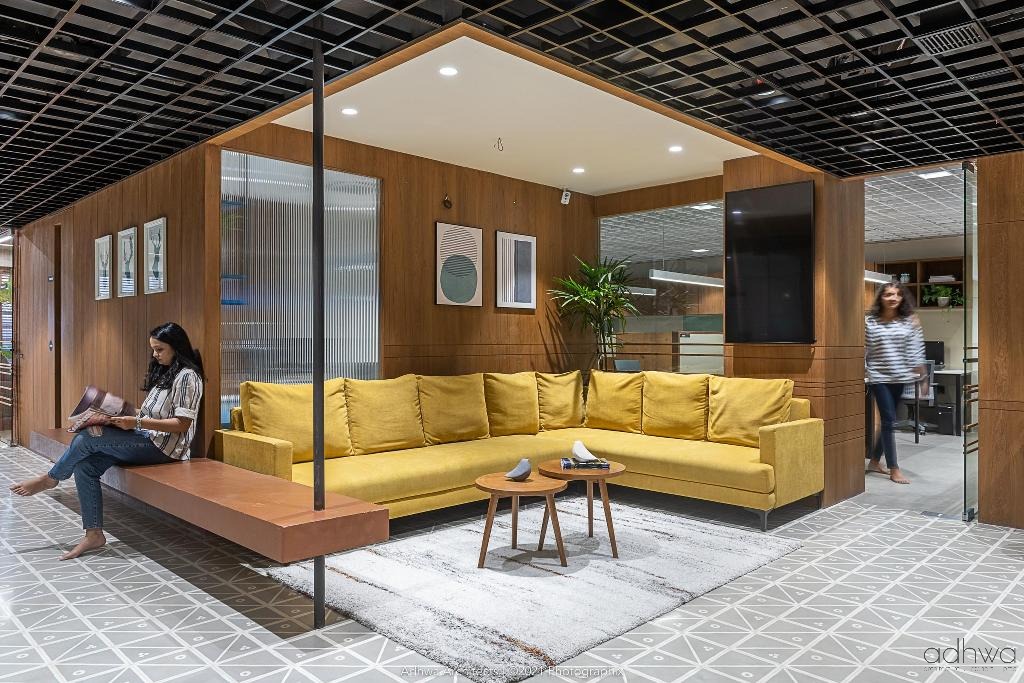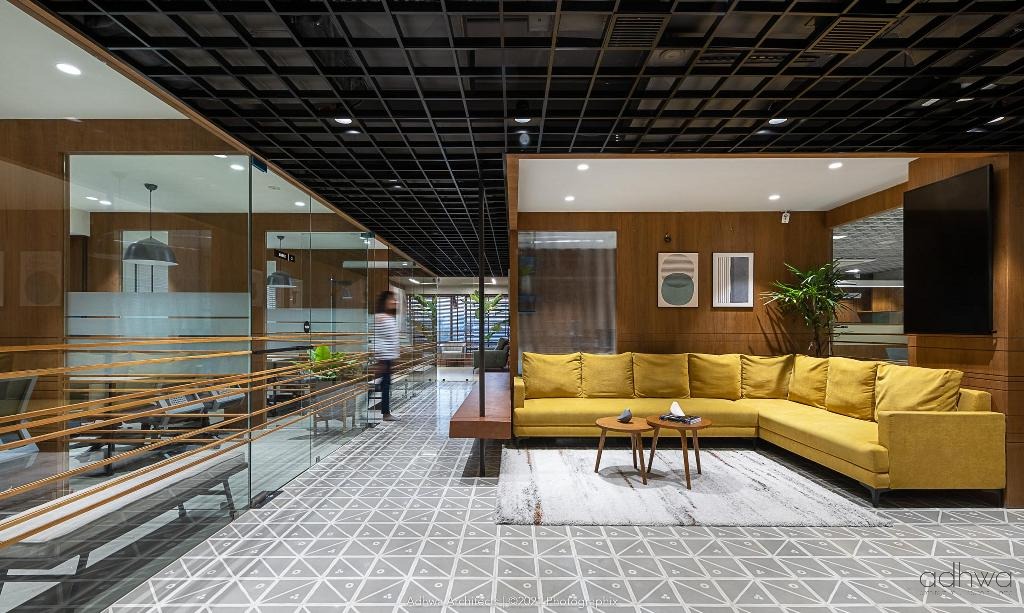 An expanse of BFT patterned cement tile flooring complements and contrasts a metal grid ceiling floating overhead, guiding the visitors view linearly through the space. Meeting and counselling rooms are efficiently zoned together along this linear passage.The individual counselling rooms used by potential visa applicants to discuss their case with the counsellor are simple cabins constructed in translucent glass. This open and light visual language allows transparency, subtly reflecting Shirhari's brand value and company's ethos. Services and ducts are concealed within the grid ceiling.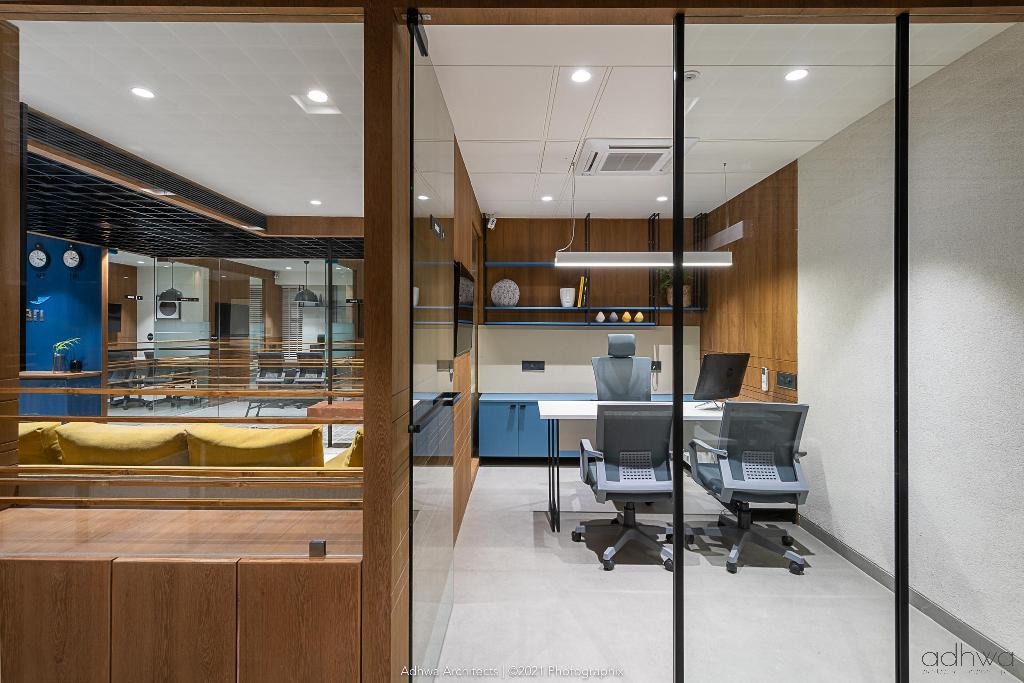 Throughout the office, materials are explored in their truest form, in a geometry of strips, lines and grids which come together in a pleasing way. Similarly, the administrative area essentially functions as a backoffice, yet completely furnished with clean and efficient storage systems in wood, and low-maintenance desktops. Small yet thoughtful design additions such as an accounts window counter, or integrated security system enhance the utility and coherence of the workspace. A constant palette of greys, natural browns and metallic blacks settles the formal tone of the office, often contrasted by a pop of yellow seating and custom-designed colorful graphics.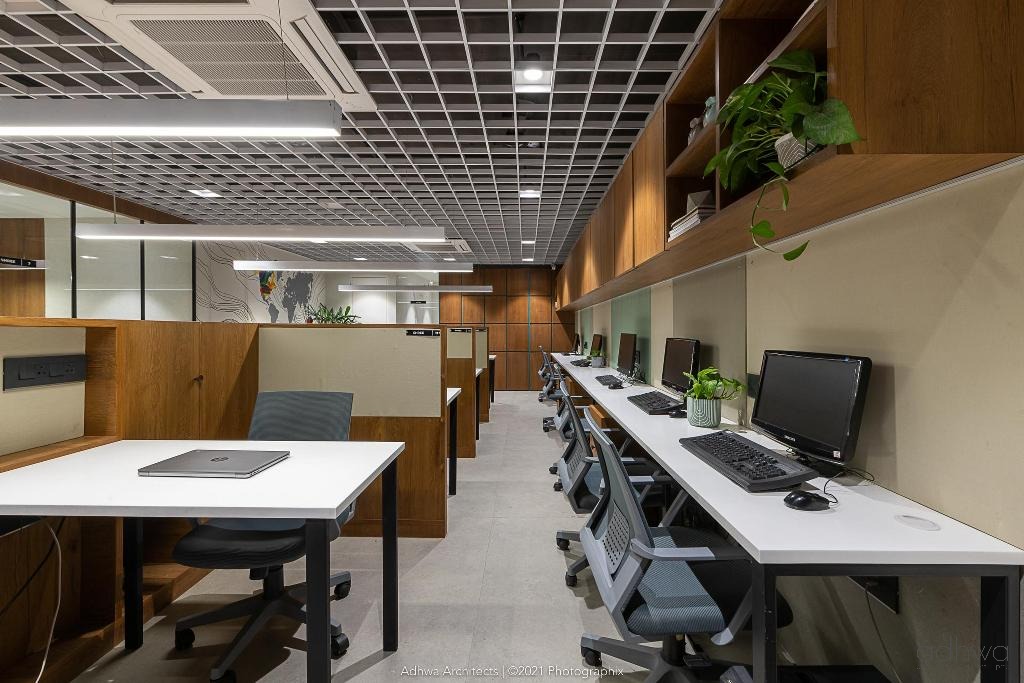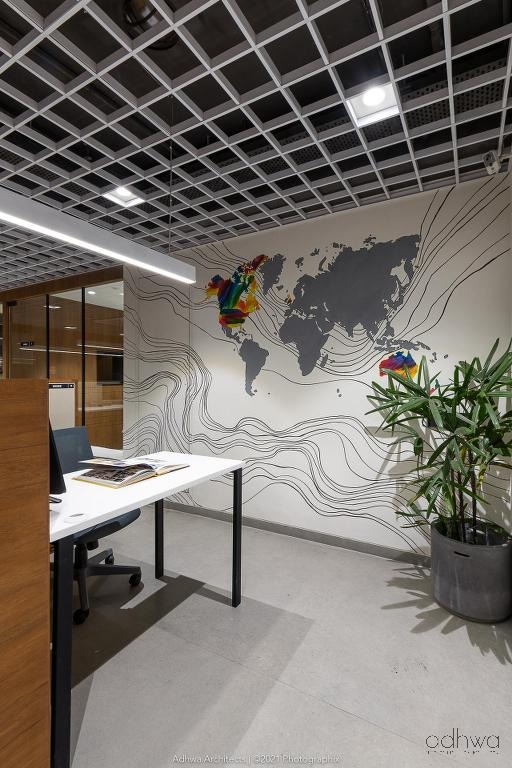 These reimagined spaces in character as well as approach add immense aesthetic and functional value to Shrihari's administrative, workspace and service areas.
FACT FILE
Designed by : Adhwa Architecture Interiors
Project Type : Office Interiors
Project Name : Shreehari Immigration pvt.ltd.
Location : Ahmedabad
Year built : 2021
Size : 2200 sq.ft
Principal Architect : Ankita Adhwa, Dhwanil Adhwa
Photography Courtesy : Photographix India
Firm's Website Link : Adhwa Architecture Interiors
Firm's Instagram Link : Adhwa Architecture Interiors
Firm's Facebook Link : Adhwa Architecture Interiors