&nbsp
Sirjan Group is a Design & Build brand based out of Delhi. With a rich experience of 21 years and numerous executed projects now into quality construction and global business understanding, they are doing projects PAN India with top of the Architects and Designers in the industry.
In an exclusive interview with Editor of The Architect's Diary, Mr. Dalbir Singh, owner of SIRJAN Group, imparts information regarding why SIRJAN is the brand that you need and why it is imperative for a company to associate with SIRJAN Group for an experience which is elegant, luxurious and class apart.
SIRJAN Group has innumerable feathers on their cap, let's explore more about them.
[R.H.] SIRJAN Group has established itself as an impactful and successful Design & Build Group and further dived into subdivisions in Architectural and Construction Industry. Please share with us the idea behind the venture.
[D.S.] We really have been waiting for someone to ask us this question (chuckles)! To understand the depth of SIRJAN, one needs to look around and acknowledge the everyday challenges and struggles while doing a project. Even if you keep separate vendors and heads for each department for example, Design, MEP, Civil, Interior, etc. and to overlook all of this, a separate team of PMC altogether, they collectively still become a couple of groups to engage with, every single day. Plus, getting them all together at one single page practically while the project is being executed, is a very time and energy consuming task. We understood this pain of the client and re imagined a space where they don't have to lose their peace of mind while their dream is taking shape. That is when we re-branded SIRJAN as a group of companies where each company takes care of different sets of responsibilities and at the same time carries an individual identity.
[R.H.] It is refreshing to learn about the concept behind SIRJAN Group. Could you please elaborate on SIRJAN Group as well as other ventures under the umbrella? How each of the divisions works and what was the idea behind creating them all.
[D.S] Sure. I'll take you through each of the 4 ventures under SIRJAN in an elaborate manner.
"SIRJAN Design & Build: In simple explanation, you come to us with your aspiration and we get you the solutions with our team of designers not just from India but International as well depending upon your taste, preferences and budget. We sit with them, work on your design, provide you with practical solutions in terms of civil work, structure planning, project management, MEP, hard interiors, soft interiors and much more, all under one roof." You can go through the link for more insights and glimpses on their projects : Sirjan Build and Design
SIRJAN Contract: This is completely a requirement based business association. We deliver you the service you need, be it BOQ making, construction, MEP, PMC, hard interiors, or any other.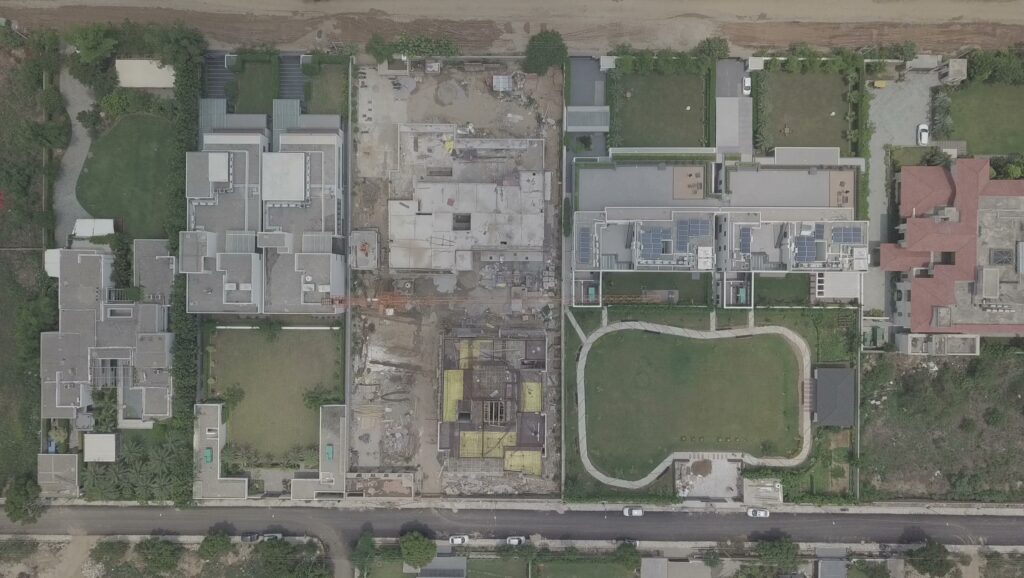 3. "Le Gallery: It is a world in it's own. This company of ours is so wide and diverse that we can get you anything you say from any part of the world at your doorstep. Wardrobes, furniture, lighting, kitchen and bathroom accessories, surfaces, and so much more. Our showroom is based in the heart of South Delhi, Defence Colony." Explore their luxuriously amazing collection on the link here LeGallery
4. HAACE: This is our specialised job venture in which we deliver bespoke projects. For example, if you have a very special staircase that also doubles as a feature article in your space, or any specific wall or a designated area that you want to do in a manner in which nobody has ever done before, you bring us on panel. Our specialised manufacturing unit is based in Ludhiana and the best creative minds in the industry in terms of engineering runs the show. We recently launched "World's Whitest Concrete – BIANCANEVE" under the wings of HAACE.
[R.H.] Sirjan Group's body of work speaks volumes in terms of excellence in execution as well as design. Please take us into the process of one of your products closer to your heart.

[D.S.] Recently we have launched the newest product under Sirjan Group which is a powerful amalgamation of technology and elegance, BIANCANEVE.
It took us almost 8 years to make this beautiful mixture which has taken shape in the name of Biancaneve. Years of expertise, attention to detail and a passion to be amongst the world leaders has brought us where we are today. Now when we look back at our journey, there is immense satisfaction. And looking forward is even more promising. Yes, there were hurdles, many of them actually. But that's the fun, we have always worked on our own terms.
Humbly, we would like to say that there are only a handful of companies in the whole world, who can make concrete closer to our Biancaneve and still not the same. It is the World's Whitest Concrete undeniably.
Here is a glimpse of World's Whitest Concrete by SIRJAN Group
[R.H.] Climate Change is definitely real and is happening by the minute, how would you say that Sirjan Group is contributing and doing their bit towards Sustainability as well as an Environment Friendly world. Are there any Green Features strictly taken into consideration under any of the wings of Sirjan Group.
[D.S.] It is. It certainly is there. This is why we say that SIRJAN is built for generations. A building which is so strong that it is going to last for at least next 80 to 100 years, that is the quality we build. So if you do not have to keep working on its repair every now and then, it in a way is controlling pollution, air, noise, water, everything. Anything that sustains beyond a lifetime is sustainable.
And you see, technology keeps evolving. We work on minimum wastage of resources. Both natural and otherwise. We try to accommodate as much as possible in terms of energy and resource saving in a considerate budget.
[R.H.] As a thought leader, how is Sirjan Group developing it's vision and contributing to the Future of Architecture? What according to you is the future and how is Sirjan adjusting to the rapid change that is upon the world, be it through Covid or otherwise.
[D.S.] Our vision is to emerge as global leaders in this industry. And certainly in the last decade we have taken decisions under our planning process to achieve it. Our associations are such that architects and designers place us at an unmatchable level. Any project that needs an expertise in engineering and innovation in methodology, we are their go to people for it. There is a mutual respect between both the parties in terms of their respective positions and job roles. Very soon the nation would see some benchmark projects and those would become future landmarks of the cities they are built in.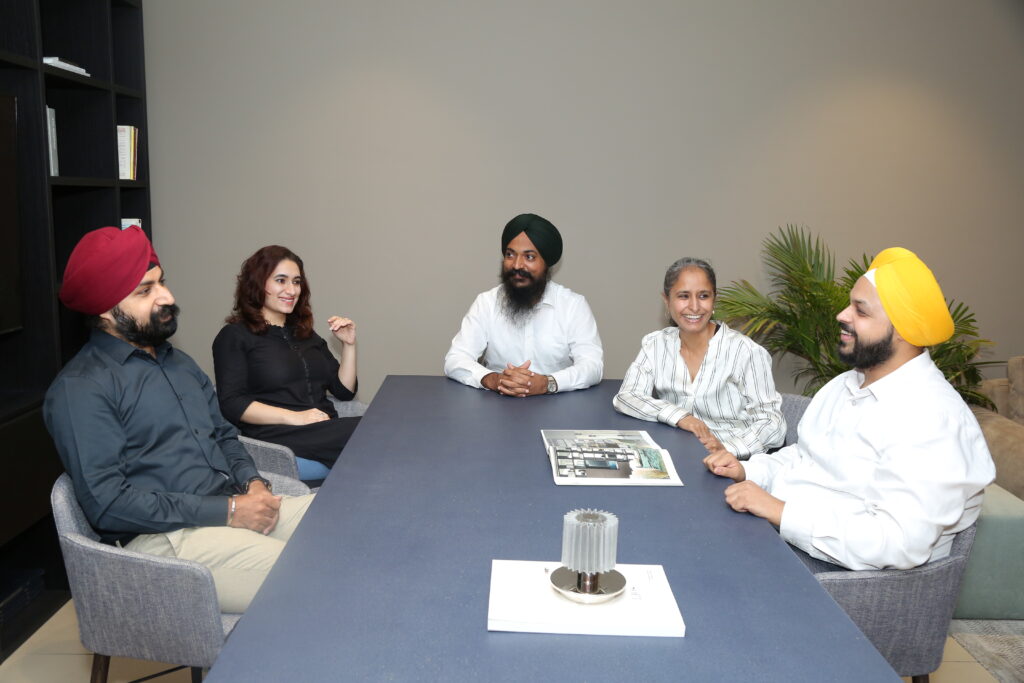 You see, covid has changed the entire game. Even if it is not hitting you directly, it is affecting you indirectly. Decisions are delayed, speed gets hampered because of lockdown and other restrictions. So in total the overheads get increased in the end. Something which is set to be completed within 6 months, can take upto one year now. So it is the companies which are taking the pressure and load of those delays and manpower management.
However, now with the understanding of this pandemic, both client and us usually discuss all these challenges before we sign the contract so there is no scope of misunderstandings later.
It was quite an insight while conversing with Mr. Dalbir. In the next session, we'll be getting more directed towards each of their ventures under SIRJAN Group.
Q. Ar. Radha Hirpara (Editor, The Architect's Diary)
A. Mr. Dalbir Singh (Owner, SIRJAN Group)